From a nature immersion with Qi-gong and breathwork on the South Downs. Cold water swimming and mindfulness on the Cornish Coast. A fitness challenge in the Portuguese sun. Yoga classes, gong baths and sound healing ceremonies in anciant woodlands, and an inflammation fighting fusion of cryotherapy and photobiomodulation in Spain. Here are the best wellness retreat experiences targeted at reducing stress…
South Lodge's New Nature Immersion Spa Experience
This spring head into the wild with Helena Skoog, an expert in forest bathing (Shinrin-Yoku) at The Spa at South Lodge. This weekend experience in the Sussex countryside provides guests with the opportunity to learn about the traditional Japanese awareness meditation of forest bathing, a profound antidote to anxiety, depression, fear, and tension, all whilst enjoying the comfort and exceptional service at South Lodge.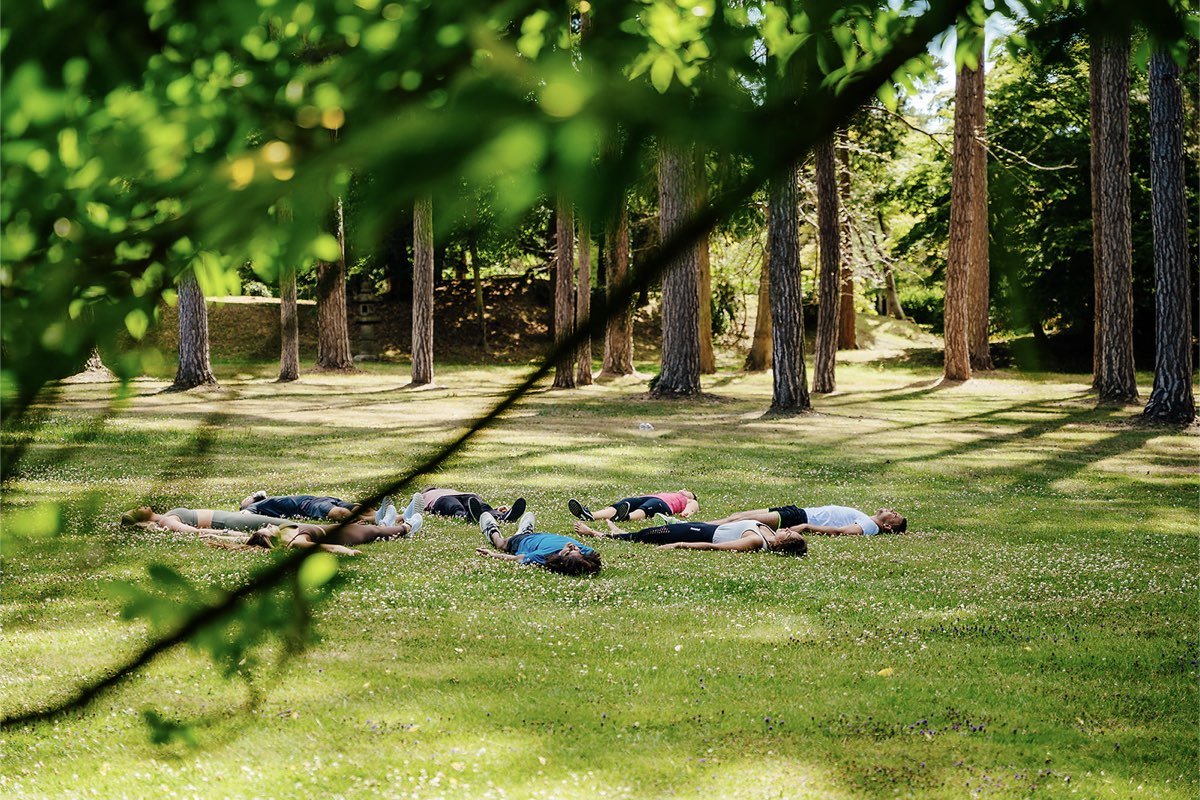 Guests will arrive for a morning wellbeing session of Qi-gong and breath work, followed by a light lunch served in Botanica, a Mediterranean inspired restaurant drawing on the South Downs as a larder for fresh and seasonal ingredients to create a plethora of plant-based dishes. After lunch guests will head outside for a simple forest walk where Helena will facilitate and enable an immersive experience, whereby the forest languages of renewal, growth, change and impermanence will become an experiential second nature. As the nature experiences conclude there will be plenty of time for relaxing in the award-winning spa complete with sauna and steam rooms, infinity pool, outdoor vitality pool and wild swimming pool.
Dinner will be at guests' leisure in Botanica before retiring to bed. The following morning, after a spot of breakfast in the Camellia restaurant or Botanica, guests can continue to enjoy The Spa facilities, or maybe head back outside into nature for some more forest bathing at their leisure.
Rates for South Lodge's Nature Immersion Spa Experience starts from £599 per room for single occupancy and £799 per room for double and twin occupancy. For more information visit the website.
Men's Mental Health Retreats on the Cornish Coast
Following the success of recent resilience breathwork workshops led by former professional rugby player Anthony Mullally, Bedruthan Hotel & Spa and Scarlet Hotel will be setting the stunning, coastal scene for an exclusive series of Men's Mental Health Retreats in 2023. An intricate balance of science and spirituality forms the basis of the one- and two- night retreats, featuring breathwork, mindfulness, hot therapies using the spas' Nordic-style thermal spa facilities including saunas and cold immersion in the natural reed swimming pool.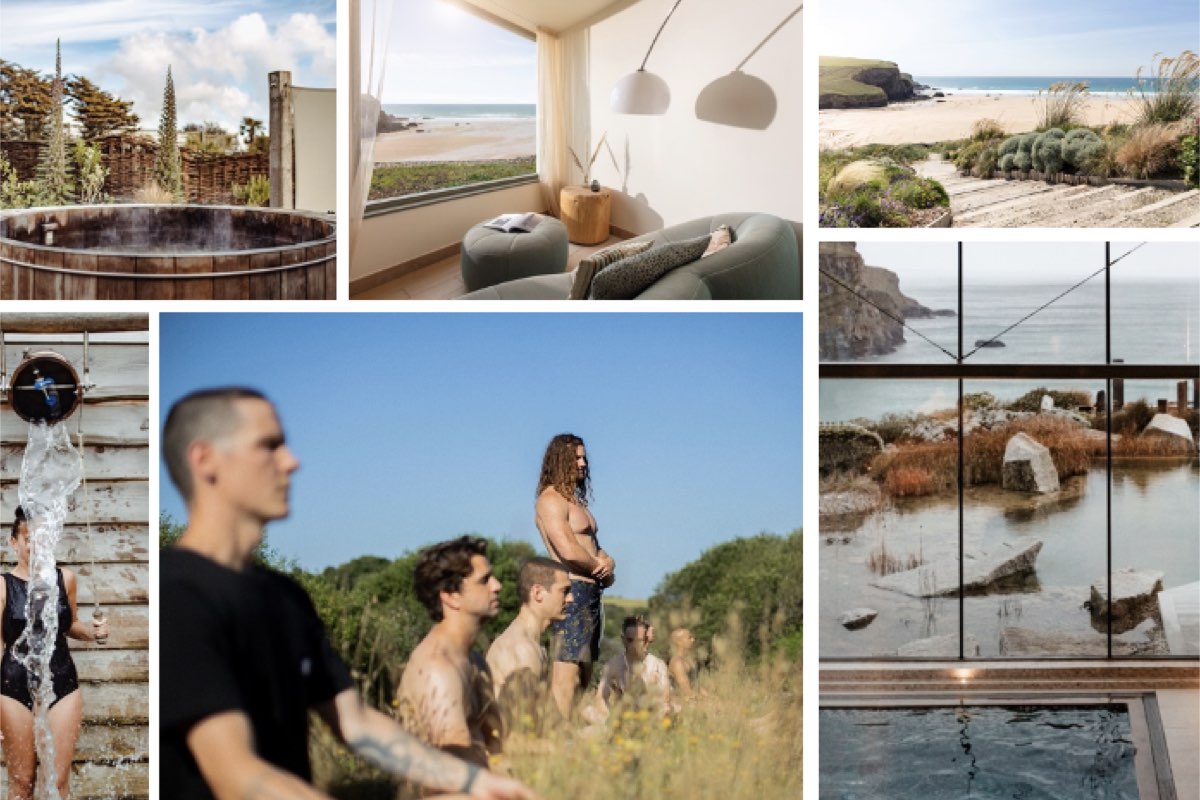 In 2023, the series will be made up of 3 retreats in April, June and October, and will help attendees discover mental wellness and resilience the naturally magnificent surrounds of the Cornish coastline at Mawgan Porth.
Available to book from January 2023. Participants must be 18 years or older. Dates [subject to change]: 29th April – 1st May 2023, 25th – 26th June 2023 and 1st – 2nd October 2023. For more information visit The Scarlet and The Bedruthen.
Beach Hut Suites Outdoor Activity Retreats
Beach Hut Suites at the Beachcroft in West Sussex are launching a series of new outdoor activity retreats for 2023 that will be the first on the south coast to combine guided mountain biking on the South Downs, paddle boarding on the south coast, paddle board Pilates and breathwork, and cold-water sea swimming.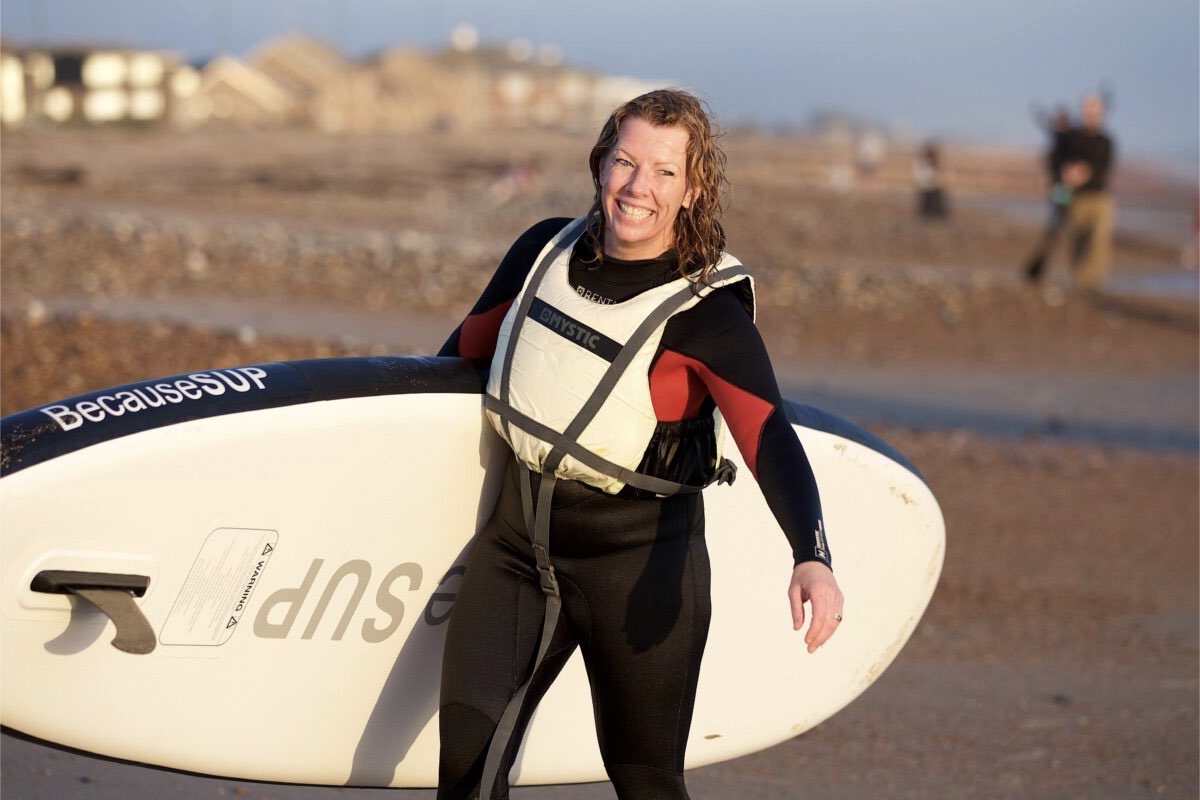 Retreats will be taking place: 21st – 23rd April / 7th – 9th June / 13th – 15th October; and start from £525 per person for two nights and from £600 per person for three nights (based on two adults sharing). For the full itinerary, visit the website.
Pine Cliff Resort 'Insanity' Bootcamp Retreat
Pine Cliffs Resort in the Algarve, a Luxury Collection Resort, has launched a new bootcamp retreat programme called 'Insanity' for those looking for a challenge in 2023. Inspired by military training, the Insanity bootcamp programme includes intensive workouts to build strength, endurance and agility that take place outdoors overlooking the ocean, on the beach and under the ubiquitous pine trees that give the resort its name. Available all-year-round, the three-, five- or seven-night retreats run by Serenity SPA come with a full board meal plan designed by a nutritionist.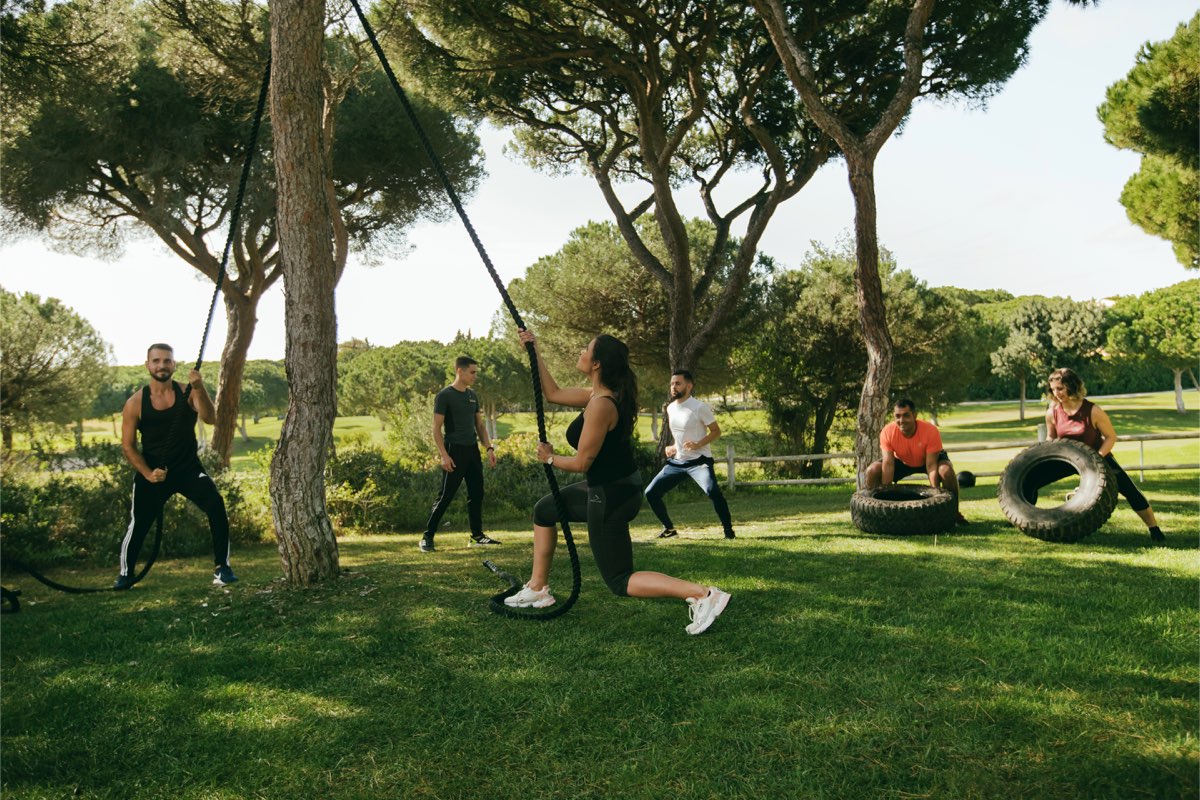 The classes in the programme focus on the development of resistance, strength, agility and energy, through functional training, weight training, cardiovascular exercises and running in short and intense circuits. Each guest benefits from a physical assessment and personal training classes, whilst nutrition consultations and spa treatments and massages to sooth aching muscles, complete the experience and help guests achieve their goals faster.
In downtime guests have complementary access to Thermal Oasis at Serenity SPA with its steam room,  hydrotherapy pool, herbal sauna, outdoor jacuzzi, indoor and outdoor relaxation areas. And those that have any energy left can utilise the full facilities of the resort with its indoor and outdoor pools, tennis academy and the stunning white sand Falésia beach.
The three-night programme costs €788. The five-night programme costs €1,584. The seven-night programme costs €2,280. Prices include breakfast, lunch, and dinner (beverages not included) with meal plans defined by a nutritionist. Guests can choose from the luxury accommodation options at Pine Cliffs or stay at other establishments nearby. The resort offers deluxe rooms at Pine Cliffs Hotel with starting rates from €101/£90 per night, or a Suite in Pine Cliffs Ocean Suites from €126/£111 per night, or at Pine Cliff Gardens from €132/£116 per night for stays when booking the retreats.
3 Night Restorative Cornish Retreat Cocoon Luxury Retreats
Cocoon Luxury Retreats launches its first 2023 wellness experience, from April 21st-24th, at the Boconnoc Estate in Cornwall – the perfect antidote to escape the stresses of modern life.
The exclusive new 3-night retreat, centres around movement, meditation, and mindfulness -offering a blend of restorative Tai Chi, Qi Gong and yoga classes, gong baths and sound healing ceremonies, candlelit meditations, individual aromatherapy consultation (including a gifted bespoke oil blend to take home) and guided nature explorations.
Hosted at The Stewardry, a wildly romantic newly renovated 18th century Manor House hidden in a tranquil valley and ancient woodlands at the heart of the Boconnoc Estate. Expect gorgeous interiors, designed to bring a sense of nature in, all beautifully appointed with touches of luxury.
Using an engaging mix of restorative wellbeing practises, the retreat is designed to help guests rest, restore, and transform – helping to focus on what really matters.
Cocoon Luxury Retreats Founder Kate Browne has a holistic approach to wellness and has curated an expert team of practitioners to deliver exceptional sessions – teamed with delicious, nutritional, and seasonal, plant-based menus, a luxury welcome gift for each guest on arrival, and free time to submerge into nature (nature trails, deer park, wild swimming lake, tennis courts and gardens are all just moments away).
A choice of massages, either the Full Body Holistic Massage, or the Cocoon Signature Treatment, are also available as optional extras.
From £979pp (based on two sharing a twin room) – inclusive of accommodation, guided tuition and sessions, luxury welcome gift, bespoke aromatherapy consultation (and essential oil blend to take home), all refreshments including breakfast, fresh juices, lunch, snacks, and evening meals. Dates: April 21-24th 2023, Boconnoc Estate, Cornwall.
Camiral Golf and Wellness 5-day 'Renew & Harmonise' retreat
This carefully-crafted journey combines movement classes, naturopathic and holistic therapies, and state of the art technologies to garner results and mitigate symptoms, from anxiety and fatigue to bad sleep and weight gain. The aim is to educate and empower while cultivating a deeper connection between body and mind.
'Renew & Harmonise' will be hosted by celebrity trainer and lifestyle coach Monique Eastwood, founder of The Eastwood Movement Method (EMM), whose clients include Emily Blunt, Hayley Atwell, Stanley Tucci and Ruth Wilson. A trained ballerina, Eastwood's wealth of knowledge in understanding how bodies move and her ethos of promoting everyday movement translates perfectly to addressing physical wellbeing at this significant life moment.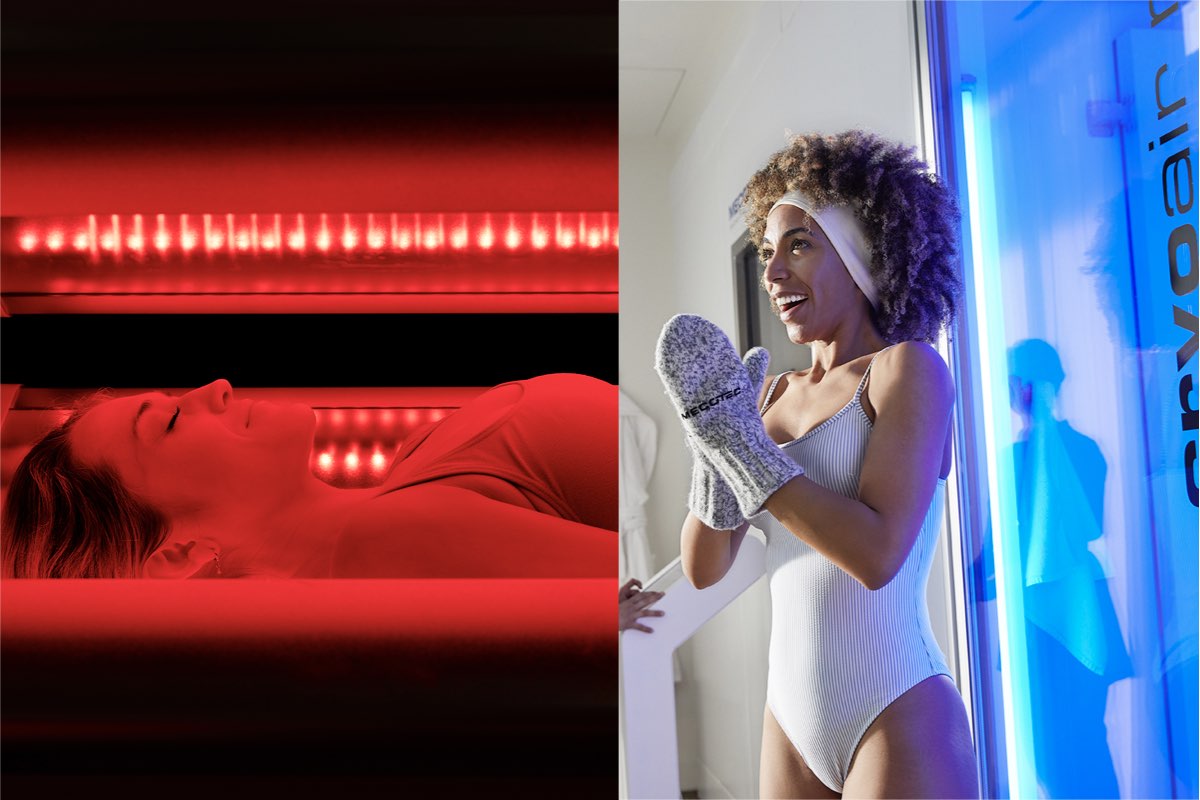 The five-day programme starts with Reconnect, to prepare the body and mind and connect with the here and now. Starting with a session of cryotherapy at Spain's only MECOTEC double cryo chamber to improve circulation, reduce inflammation and deliver a rush of endorphins to help focus on the present moment and create a sense of calm. A one-to-one consultation with the nutritionist to discuss the meal plan for the retreat and an expert-led mindfulness session encourage participants to set personal intentions.
Day two, Energise, is all about embracing movement to strengthen and connect with the body, to cultivate confidence and alleviate menopausal symptoms. Eastwood will lead an active EMM session to stretch and tone, followed by a pelvic floor workshop guided by David Sánchez, photobiomodulation to stimulate the production of ATP energy and help the body regenerate on a cellular level, and ending with a detox massage to relax muscles, activate the metabolism and drain toxins. Dr Saskia Kloppenburg hosts a group session to reveal how hormones impact women's health and offers a holistic approach to safe, evidence-based hormone treatments.
Nourish on day three sees participants learn ways to transform the way they nourish their bodies to maximise bone density and heart health. The itinerary includes a nutritionist-led cooking lesson to learn new recipes to recalibrate hormones, a restructuring Biologique Recherche facial that nourishes and soothes to stimulate melanin and collagen, cryotherapy and photobiomodulation are combined to release endorphins, boost mood and reinvigorate, thereby reducing inflammation and muscle pain. An EMM session with a focus on power and strength concludes the day on a high.
Day four addresses Recovery and how to practice mindfulness and relaxation to promote positivity and reduce stress. This includes a Miriam Quevedo hair and scalp treatment to prevent hair loss from hormonal changes, oxygen chamber therapy and photobiomodulation, a recovery massage, EMM session and a guided nature walk.
Grow, on day five sets participants confidently forwards on a path of positive acceptance of life's natural next chapter, with a final energy-inducing whole-body cryotherapy session.
From £1,847 per person sharing a double room. From £2,194 per person in a double room for single occupancy. To book Camiral Golf & Wellness' 'Renew & Harmonise Retreat' (20-24 March 2023), please click here or email.
Main image:  Philly Stokes