With the weather taking a turn, it's essential to find simple ways to boost our immune system.
This year, not only will we have to ward off the usual colds and flu, but we need to be in the best possible position to combat Covid 19.
Nutritionist Terri Ann Nunns has devised a new immunity-boosting diet programme and has given us an exclusive preview of her four favourite bug-battling recipes.
"It's so important that we eat lots of fruit and vegetables, rest and exercise to maintain a healthy immune system," she tells DOSE. "A strong immune system is extremely important at the moment due to COVID19 as it not only protects us from infections but it also helps us fight and recover from disease."
Her top three immunity-boosting foods? Red bell peppers, almonds and citrus fruits.
Read on for Terri Ann's simple and delicious recipes.
Smokey Butter Beans
Serves 1
Ingredients
• 35g quinoa
• 1 tsp Olive oil
• 150g spring greens, washed and roughly chopped
• 1 garlic clove 3g
•150g butter beans, rinsed and drained
• ½ tsp cumin seeds
• ½ tsp smoked paprika
• 2 tbsp natural yogurt, to serve 90g
Method
Prepare the quinoa according to package instructions.
Place a wide, lidded pan over a medium heat with 1 tsp oil. Add the greens, salt and pepper and cook, with the lid on, stirring frequently, until the greens are lightly steamed and wilted, about 4-5 mins.
Add the garlic and cook until fragrant, then add the butter beans and cook, stirring, until heated through. Add the cumin seeds and smoked paprika. Stir until evenly combined and serve over the cooked quinoa with a dollop of yogurt.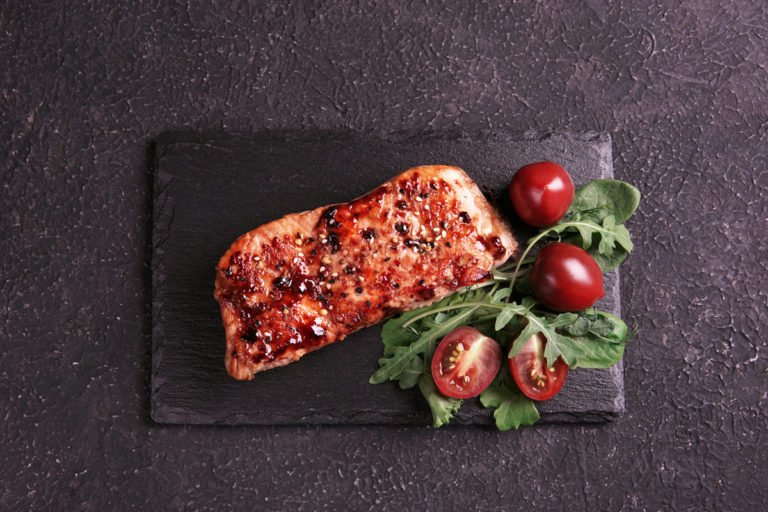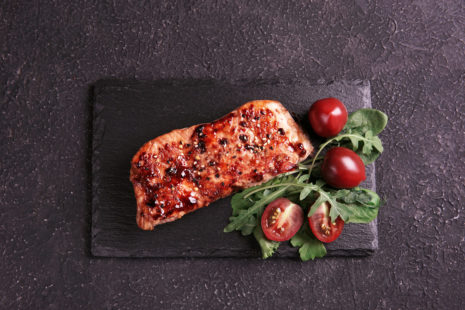 Sticky Teriyaki Salmon
Serves 1
Ingredients
• 100g Salmon fillet
• 1 Tsp Olive oil
• 1 Tsp Teriyaki sauce
• 1 Tsp Soy sauce
• 1 Garlic Clove
• 4g Ginger
• ½ Red chilli
• 50g Sugar snap
• 50g Broccoli
• 70g Wholegrain rice
• Water 150ml
• 1 Spring onion 10g
Method
Put a large saucepan of water on to boil for the rice. Once boiling, add the brown rice and a pinch of salt and boil for 30 mins, or until soft.
Meanwhile, remove the root from the spring onion and thinly slice, deseed and finely chop the red chilli, then peel and grate the garlic (or use a garlic press).
Heat oven to 200C/fan 180C/gas 6. In a bowl combine the soy sauce and teriyaki together. Place the fish inside the bowl and mix. Place the salmon on the baking tray with the sauce drizzled on top and roast for 8-10 mins until glazed and just cooked through. Set aside.
Heat the oil in a wok, then fry the ginger, garlic and chilli for 1 min. Stir-fry the broccoli 3 mins then mix in the sugar snap and cook for 1-2 mins more.
Just before serving fluff up the rice with a fork and mix in the spring onion. Serve alongside with the sticky fish and mixed veg.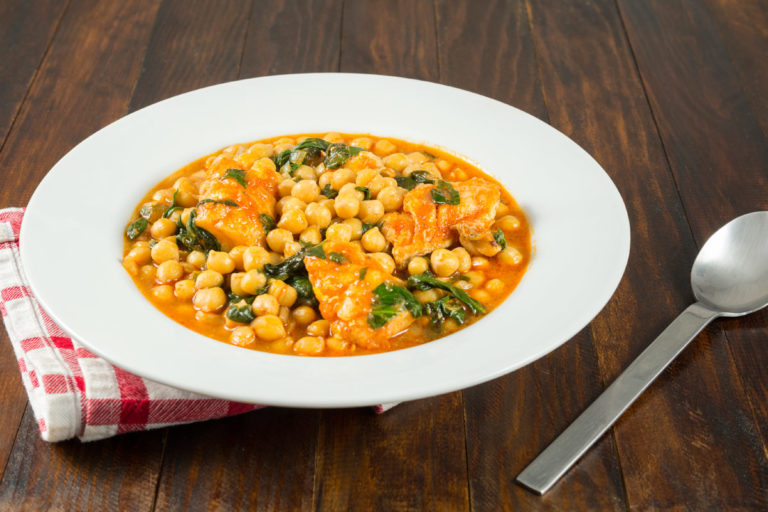 Mediterranean fish and chick pea stew
Serves 2
Ingredients
• 2 Coley Fillets
• 2 tsp Olive oil
• 1 tbsp Tomato puree
• Small bunch Parsley
• 1 tbsp Smoked paprika
• 2 garlic cloves
• 2 Carrots
• 2 sticks Celery
• 180g Chickpea
• 1 Red pepper
• 1 Stock cube
• 2 medium Tomatoes
• 1 Lemon
• 60g Onion
• 250ml Water
Method
Halve, peel and thinly slice the onion, garlic and parsley. Halve the red pepper and discard the core and seeds. Slice into thin strips. Trim the carrot and celery and finely chop. Heat a tsp of oil in a large saucepan over medium high heat. Add the onion, pepper, celery and carrot and cook until softened, stirring occasionally, 5-6 mins.
Meanwhile, chop the vine tomato into small pieces then zest and halve the lemon. Drain and rinse the chickpeas in a sieve and pop into a mixing bowl. Use a potato masher to roughly mash up about half of the chickpeas.
Once the veggies have softened, add the garlic, tomato, half the parsley, the smoked paprika and tomato purée to the pan. Stir well and cook for 1 minute, then tip in the chickpeas, water and stock powder. Stir to dissolve the stock powder, bring to the boil then simmer for 5 mins. Place the coley fillets onto a board. Sprinkle over half the remaining chopped parsley, all the lemon zest and a good pinch of salt and pepper. Add a small tsp of olive oil then use your hands to rub the flavourings all over the fish. Carefully lay the fillets on top of the stew. Pop a lid on the pan and continue to cook gently for 12-15 mins.
Once the fish is cooked squeeze lemon juice and a sprinkling of almonds all over.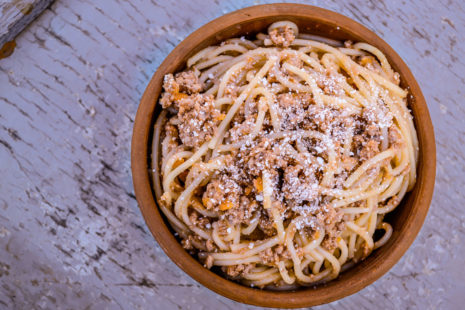 Spaghetti V Bolognese
Serves 4
Ingredients
1tsp olive oil
1 onion, finely chopped
2 celery sticks, finely chopped
1 large carrot, diced
160ml vegan-friendly red wine
2 garlic cloves, finely chopped
1tbsp tomato puree
1tbsp balsamic vinegar
2tsp dried oregano
100g closed cup mushrooms, diced
1 aubergine, diced
75g green lentils
2 x 400g tins chopped tomatoes
1 vegan friendly vegetable stock cubes
300g spaghetti
1tbsp soy sauce
3tbsp almond milk
Fresh basil, to serve
Method
Heat the oil in a large saucepan over a medium heat. Add the onion, celery and carrot and cook gently for 10 mins, stirring regularly, until softened. Pour in the wine and let it reduce for 2-3 mins then stir in the garlic, tomato purée, vinegar and oregano. Cook for 1 min, then add the mushrooms, aubergine, lentils, chopped tomatoes, stock cube and 200ml water.
Bring to a boil then reduce the heat to a gentle simmer. Cover the pan loosely and cook for 40-50 mins until the sauce has thickened to your desired consistency. Stir often and add a
splash more water if the sauce starts to catch on the bottom of the pan.
Meanwhile, cook the pasta to pack instructions. To serve, stir the soy sauce and almond milk
into the sauce and spoon over the drained pasta. Garnish with a few fresh basil leaves, if you like.
Get your weekly DOSE fix here: SIGN UP FOR OUR NEWSLETTER