The Balearic Islands, which include Ibiza, Menorca, Majorca and Formentera, have been added to the green list as of June 30th 2021. Whether you're in search of a private adults-only hotel in a former fortress, a quiet sliver of paradise with white-sand beaches, a romantic minimalist white-washed farmhouse or a bold, playful hangout in the heart of the action, we have 5 of the best Balearic Island Hotels for your perusal…
Balearic Island Hotels
The Mediterranean's most private and secluded resort
Where better to feel secure than in a former fortress? A true hideaway, where social distancing happens naturally. Not only is the hotel set on a secluded peninsula, in the middle of a 30-hectare nature reserve with a 2km marine protected coast, where the natural surroundings are undisturbed by man, but this is a residents-only, adults-only hotel.
Cap Rocat may be only 20 minutes from Palma airport but it is a world away. All the accommodation is intensely private, with private outdoor areas for relaxing and food service, some rooms have private pools and, everywhere, there are wonderful views over the Bay of Palma.
The Sea Club, the outdoor restaurant on the rocks above the water is an outdoor restaurant, has tables are already spread out, there is plenty of space. This is a place for wellness, switching off and true peace of mind. As Pablo comments, "Really, we have been social distancing here for 10 years, ever since we opened. It's why people come here."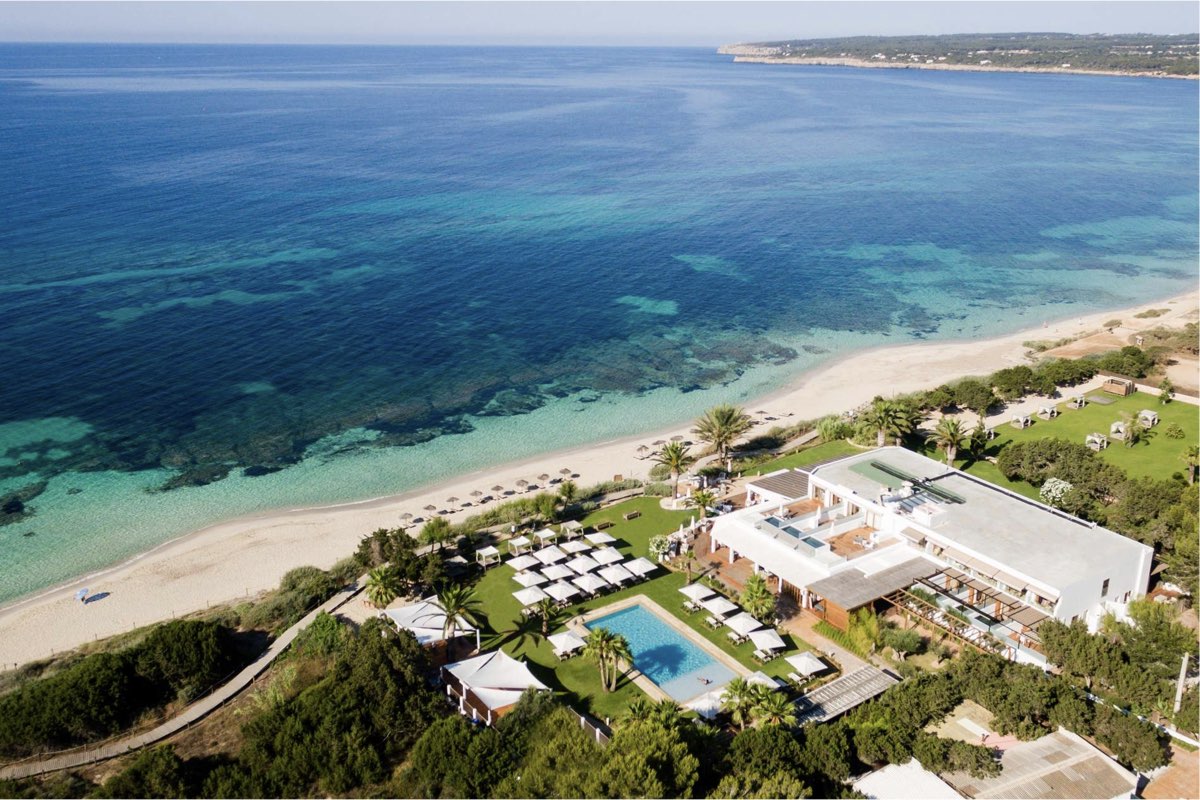 A quiet sliver of paradise
The island of Formentera is just two miles south of Ibiza. It has always been an escape, a quiet sliver of paradise much loved for its beautiful white-sand beaches and off-the-grid vibe. There is no airport, so getting here is an adventure in itself, the only way in is by boat from Ibiza. Once on the island, which has been practically Covid-free, it's all about natural beauty and laidback boho-chic.  This is personified at Gecko Hotel & Beach Club, a haven of relaxed glamour overlooking the dazzling Migjorn beach.  Gecko is a flagship on the island for yoga and wellness. The resident yoga guru, Yiannis Mukta Om's daily yoga classes are much loved by regular guests.  
Private cabanas and sunbeds in have been set up the garden, still close to the pool – for sunbathing with a frozen cocktail in your own space.  For swimming, as well as the long beach, half the hotel's rooms have their own private plunge pools, which follow a very strict re-filtering process – or just take a short bike ride to one of the many empty beaches and wild swimming spots on the island.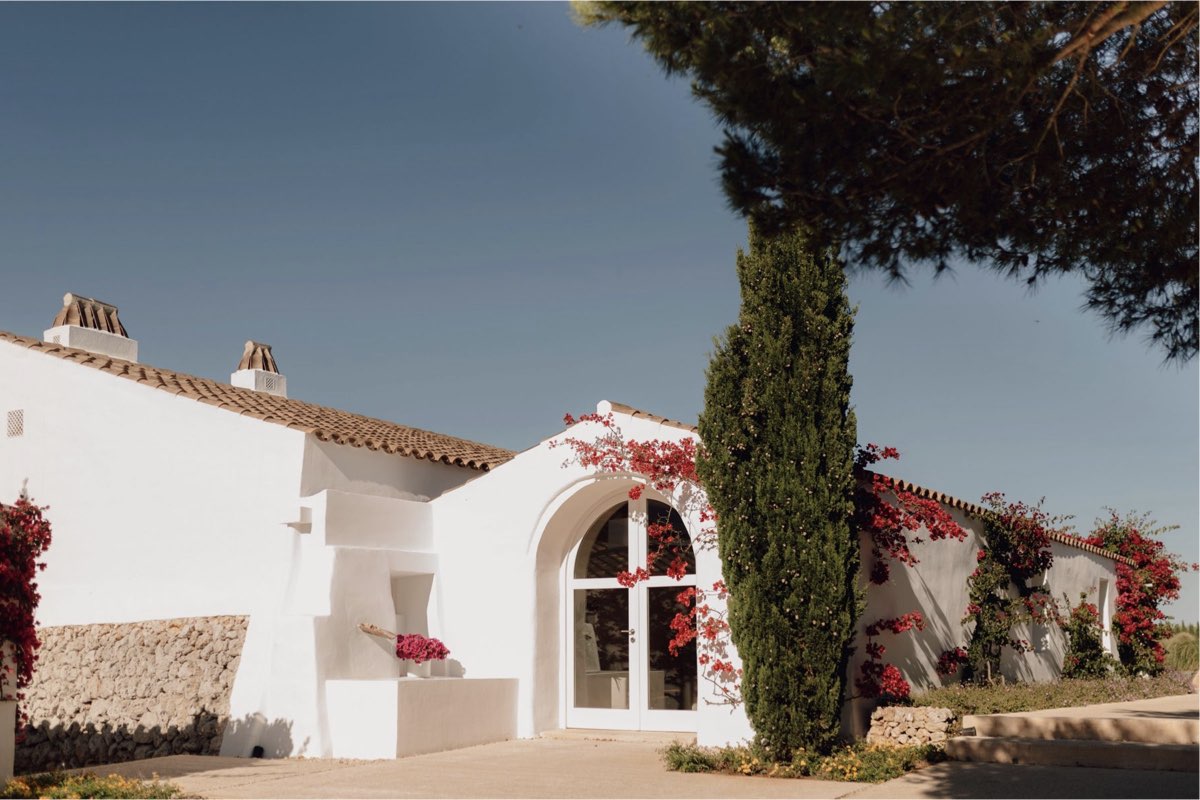 Nature, space and peace
Tranquillity in Menorca… this romantic minimalist white-washed Menorcan farmhouse has wonderful, stylish, spacious guest rooms in chic buildings, all with private terraces and nature on the doorstep. Only a 15 minute drive from Mahon airport, but it feels a world away in a 77 hectare private farming estate, of which 14 hectares are now a vineyard, producing Torralbenc's own label wine.  Exquisite organic and local cuisine, is served outside – with plenty of space to spread out in the evening.
Spread out and sunbathe by the hotel's large private pool. Cycle or horseback ride through the countryside – and discover this unspoilt, quiet island, full of ancient monuments, hidden coves, the coastal path, perfect swimming and diving in the crystal clear sea.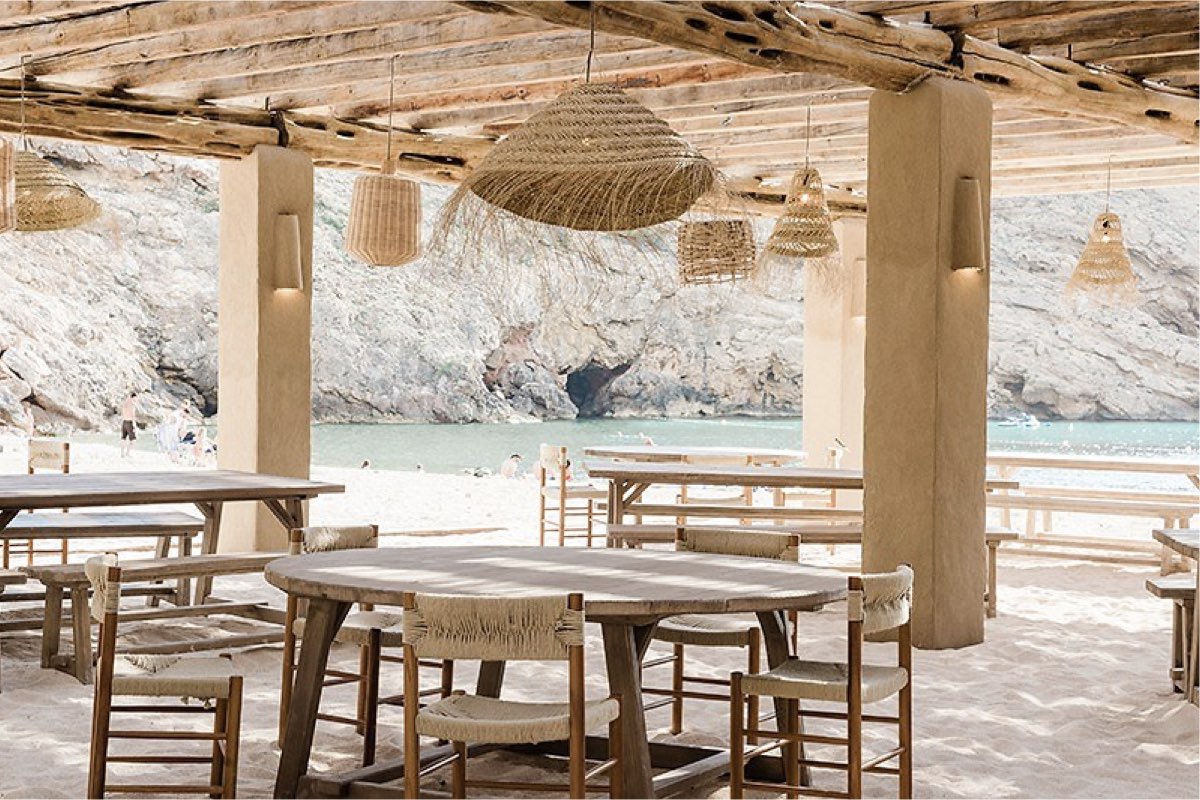 Trendy hangout for global creatives
A new addition to our list of the best Balearic Island Hotels is El Silencio. A beach house in Ibiza from the iconic Parisian brand Silencio. It launched on the 16th June 2021, in partnership with ToShare (restaurant concept by Jean Imbert, Pharrell Williams), Miranda Makaroff, Moredesign and Arman Naféei.
El Silencio is a hangout for global creatives, at a time when people are seeking inspiration, revitalisation, and much-needed human connection. The new venture promises to provide space and sanctuary for locals and island visitors alike, with an eclectic mix of Mediterranean cuisine, delicious cocktails, and unpredictable cultural programming.
Nestled in a serene cove in the east of the island, El Silencio is set against the backdrop of Cala Moli, a wild beach that was prolific in the 70s. The beach house features four main spaces, including a main restaurant, contemporary tapas restaurant by the pool alongside a cocktail bar, a private dining room and chill out area. There is a rich cultural programme on offer including screenings, music and events, in a similar vein to Silencio's much sought-after Paris club.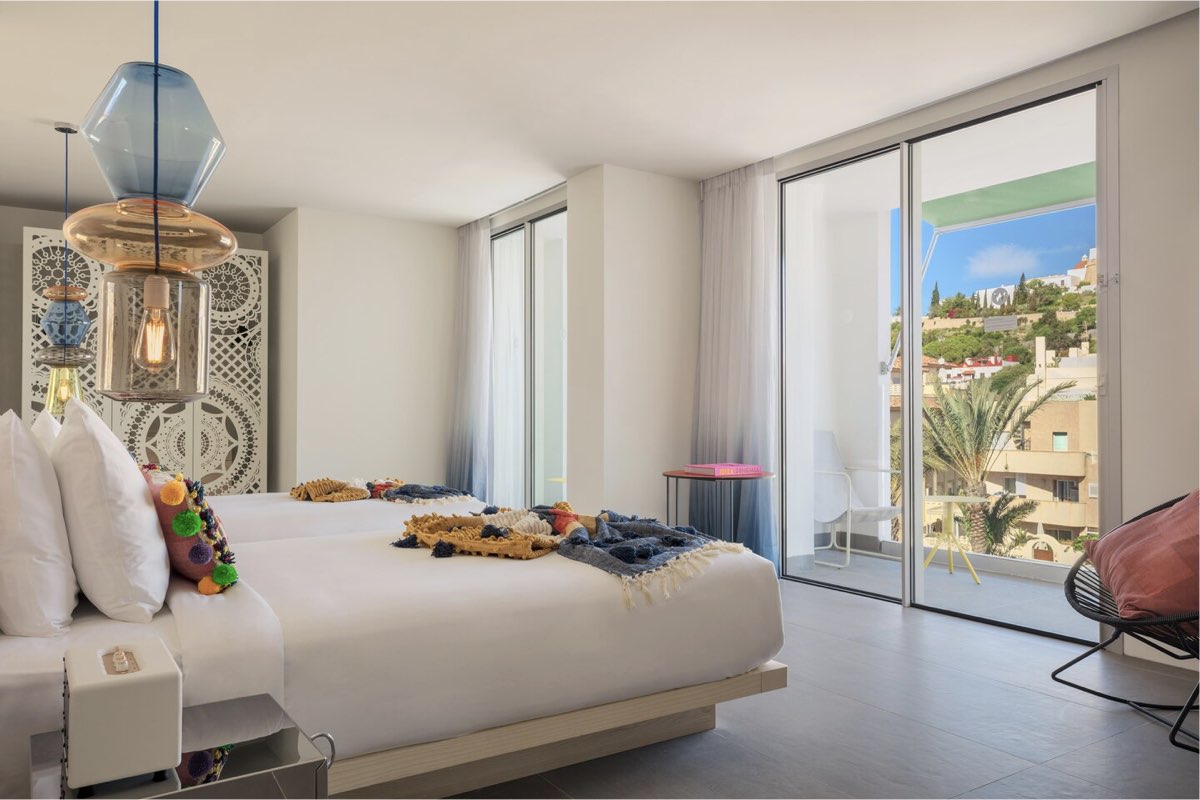 Bold, playful cosmopolitan vibes
Previously a beach front Balearic structure from the 1980s, W Ibiza Hotel sits off the beaten track and on the palm-fringed beachfront of Santa Eulalia – Ibiza's largest resort. Baranowitz + Kronenberg (B+K) have transformed W Ibiza into an incredible social hub that connects with guests, sets the scene, and sparks imagination, while incorporating the bold and playful themes of W Hotels. The practice has set out to design a hotel to match the relaxed pace and cosmopolitan vibe of Santa Eulalia, resulting in an idyllic escape with the playful charm of Ibiza.
The bohemian theme which is synonymous with the island, is handled with a refined sophistication, amplified through the spatial arrangement and choice of materials and finishes. The overall impression is of a refreshing and engaging simplicity expressed by a minimum of means: colour, sun and shade.
Consisting of 162 guest rooms and suites, the hotel boasts a jaw-dropping rooftop swimming pool and picturesque sunset bar boasting spectacular views of the Mediterranean Sea, as well as a 4,000 square foot spa and gym.
Liked this article on 5 Balearic Island Hotels? Read more travel articles.
Get your weekly DOSE fix here: SIGN UP FOR OUR NEWSLETTER
Hettie is the editor and co-founder of DOSE. A keen runner, she's also partial to a blast of high-intensity and hot yoga. A country girl at heart, she divides her time between London and the lush rolling hills of North Devon. When she's not jetting off on her next adventure, Hettie can be found in a candle-lit alcove with a laptop, a spaniel and a full bodied Malbec.