Outdoor entertaining is more popular than ever now that we can now meet up with friends and family in our back gardens. And with summer on the horizon, we're in barbecue planning mode. We've rounded up some healthy BBQ ideas that pack in the 5 a day. From a vegan beetroot burger to pork and apricot kebabs with quinoa. Grilled veggie skewers. A pineapple and plant based "sausage" burger to Thai red fish skewers with pak choi. Hre are some healthy BBQ ideas to leave you salivating and feeling ever so virtuous… We'll be teaming ours with those gluten-free LEON waffle fries… and balancing health with a little hedonism with a Pimm's cocktail of course.
Healthy BBQ ideas for 2021
Vegan Beetroot Burger
Topping our list of healthy bbq ideas is this Vegan Beetroot Burger recipe from Violife – the vegan alternative to cheese.
Prep time: 15 mins / Cooking time: 12 mins / Serves: 6
Ingredients
1 pack Violife Greek White Block, crumbled
6 Violife Original Slices
6 wholemeal seeded bread rolls or bagels
100g wholemeal couscous
250g grated beetroot
180g hummus, store bought
1 small onion, grated
2 cloves garlic, crushed
1 flax seed egg (1tbsp flax seed, 1 tbsp water)
1 tsp ground cumin
1 tsp ground coriander
2 tbsp extra virgin olive oil
A few valeriana leaves(optional)
1 carrot, in ribbons
Sea salt and cracked black pepper, to taste
Method
1. Place the couscous in boiling water in a large bowl, cover with plastic wrap and set aside for 5 minutes.
2. Once all the liquid has absorbed, fluff with a fork, add the beetroot, onion, garlic, salt, pepper, cumin, coriander, egg and Violife Greek White, and mix to combine.
3. Shape the mixture into 6 patties and set aside in the fridge for at least 1 hour.
4. Heat 1 tablespoon of the oil in a large frying pan over low heat or heat up the bbq and cook the patties for 10–12 minutes each side or until firm.
5. To serve, spread the hummus on the base of each roll and top each with a patty, valeriana leaves and carrot, a slice of Violife Original and top with the remaining roll half.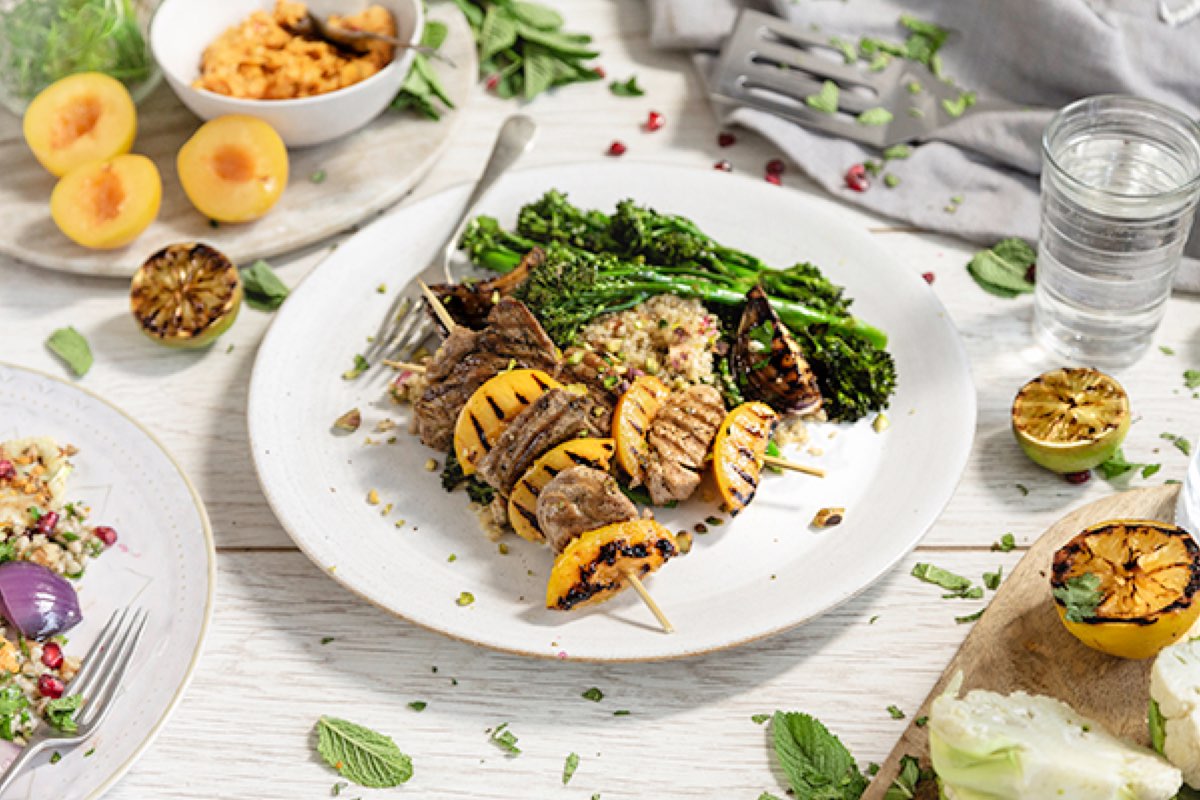 Pork & apricot kebabs with pistachio quinoa
Recipe for two people, halve the ingredients for one person
Wondering what you can BBQ besides meat? This healthy summer recipe from Mindful Chef is bound to leave you salivating. Pork and apricot are a winning pairing and they have combined them here for a fruity summer kebab. Their heritage pork is outdoor reared for a lean, complex flavour. Served with pistachio quinoa. Save yourself the hassle of shopping and order a Mindful Chef delivery box!
Ingredients
120g tenderstem broccoli
15g pistachios
1 lemon
1 red onion
1 tbsp oil
2 x 150g pork loin
4 fresh apricots
4 skewers
80g quinoa
Medium handful of flat-leaf parsley
Medium handful of fresh mint
Method
1. Boil a kettle. Slice the apricots into quarters and de-stone. Trim the broccoli stalks. Remove the skin from the red onion, trim the root end but don't cut off as you want the layers to stay intact when you grill them. Cut the red onion into quarters. Rub the vegetables with 1/2 tbsp oil and a pinch of sea salt.
2. Rinse the quinoa and place in a saucepan with 300ml boiling water and a pinch of sea salt. Simmer for 15 mins.
3. Remove the fat from the pork. Slice each pork loin into 8 pieces. Thread 4 pieces of pork and 4 apricot quarters onto each of the skewers. Drizzle over 1/2 tbsp oil and sprinkle with sea salt and black pepper.
4. Preheat a BBQ (or griddle pan) to a medium-high heat and cook the pork and apricot skewers for 15 mins turning every 3-4 mins, until the pork is cooked through.
5. At the same time, add the onion quarters and broccoli stalks to the BBQ (or griddle pan) for 3-4 mins until softening and chargrilled. Meanwhile chop the parsley and mint finely.
6. Drain the quinoa and stir through the chopped mint and parsley, pistachios and half of the lemon juice.
7. Spoon the quinoa onto two warm plates and serve alongside the chargrilled onions and broccoli. Top with the pork and apricot kebabs and drizzle over the remaining lemon juice.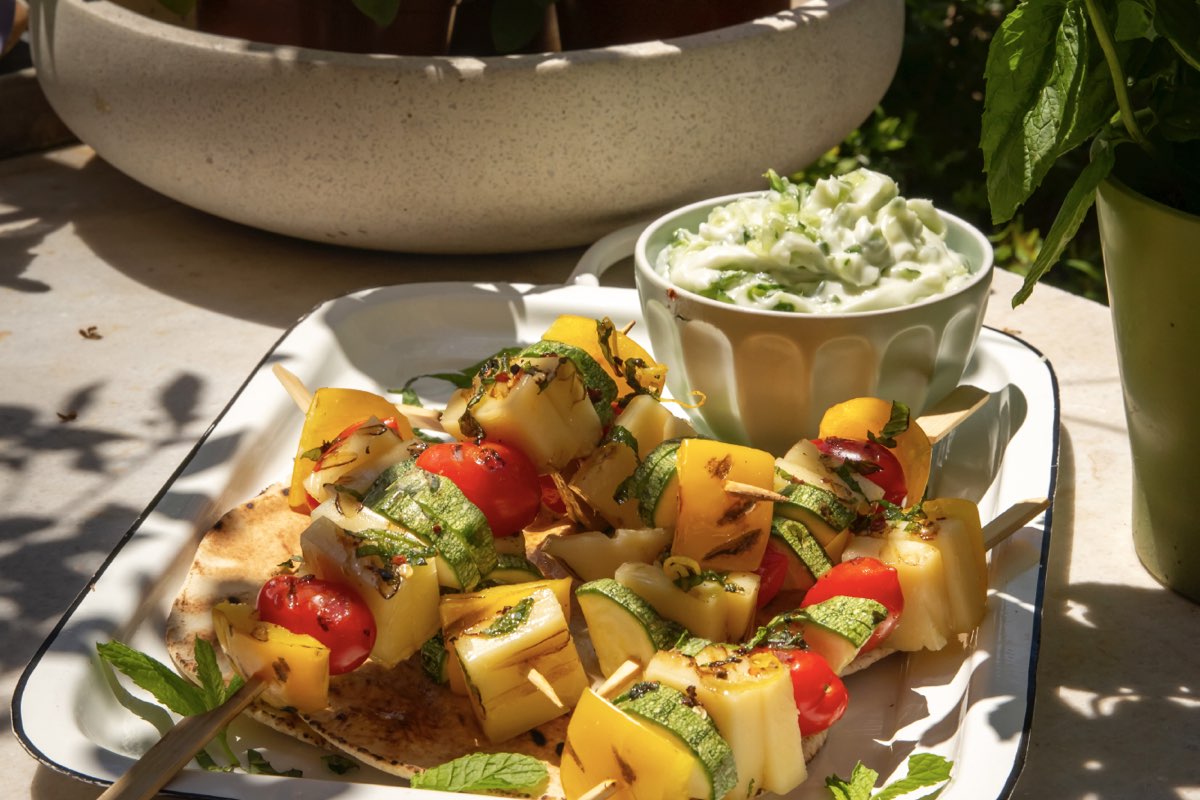 Grilled Veggie Skewers
Try this Grilled Veggie Skewers recipe using Violife – the vegan alternative to cheese.
Serves 2 / Prep time 10 mins / Cook time 30 mins
Ingredients
For the veggie skewers:
1 pack Violife Mediterranean Style Block
1 yellow pepper
1 courgette
140 g cherry tomatoes
½ a bunch of fresh mint
½ tbsp dried red chilli
1 lemon
olive oil
Flatbreads or pittas, to serve
For the dip:
1 Violife Creamy Original
1 cucumber, grated
1 handful mint, chopped
Olive oil
Salt and Pepper, to taste
Method
1. Place 6 wooden skewers into a tray of cold water to soak.
2. On a chopping board, cut the Violife Mediterranean Style Block into 2cm cubes, then add to a large mixing bowl.
3. Carefully cut the pepper into 2cm pieces and add to the bowl.
4. Cut the courgettes into half-moon slices and finely chop the mint leaves. Add to the bowl.
5. Add lemon zest, chilli and olive oil. Season with pepper, then mix well to coat.
6. Preheat the grill to high.
7. Thread and divide the vegetable pieces between the skewers.
8. Place onto the bbq and cook under the grill for 10-12 minutes.
9. For the dip, add salt to the grated cucumber and squeeze until all liquids are gone in a sieve. Place in a bowl with other ingredients and mix.
10. Serve the veggie skewers with the dip on the side and some flatbreads or pittas.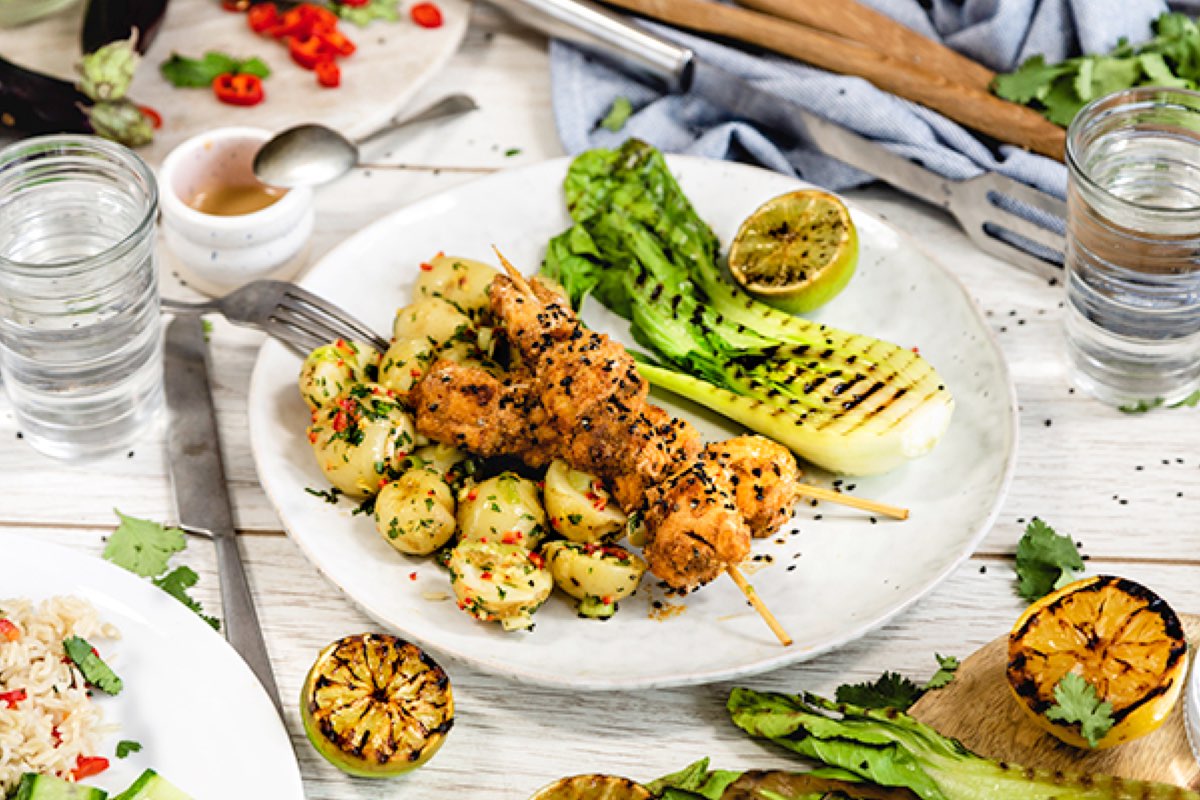 Thai red fish skewers & grilled pak choi
Recipe for two people, halve the ingredients for one person
Looking for healthy bbq ideas that are also aesthetically pleasing? Mindful Chef use fresh and sustainably caught cod for these delicious skewers. Tossed in Thai red curry paste then grilled, they're accompanied by a spicy baby potato salad, loaded with ginger and spring onions, and grilled pak choi.
Ingredients
1 lime
1 pak choi
1 red chilli
2 spring onions
2 tbsp oil
2 tbsp red Thai curry paste
2 tsp black sesame seeds
2 x 150g cod fillet (skin off)
400g baby white potatoes
4cm fresh ginger
4 skewers
Handful of fresh coriander
Method
1. Boil a kettle.
2. Slice the baby potatoes in half. Place them into a saucepan with a pinch of sea salt and cover with boiling water. Simmer for 10-15 mins until tender, then drain.
3. Peel and grate or finely chop the ginger. Finely chop the red chilli (remove the seeds for less heat) and the coriander leaves. Finely slice the spring onions, removing the root ends. Cut the pak choi in half lengthways and rub with 1 tbsp oil.
4. Chop the cod into bite-sized pieces. In a small bowl, mix the red Thai curry paste with 1 tbsp oil. Add the cod pieces to this bowl and coat well. Thread the cod through the skewers.
5. Preheat a BBQ (or frying pan) on a medium heat and cook the fish skewers for 10-15 mins, turning occasionally, until cooked through. Towards the end of cooking the skewers, place the pak choi on the BBQ (or frying pan) for 2 mins each side until softened.
6. Place the cooked potatoes into a large bowl, and stir through the ginger, chilli, coriander, spring onions and half of the juice from the lime. Season with a pinch of sea salt.
7. Spoon the spicy potatoes onto two warm plates, top with the fish skewers. Sprinkle over the black sesame seeds and serve with the remaining juice from the lime.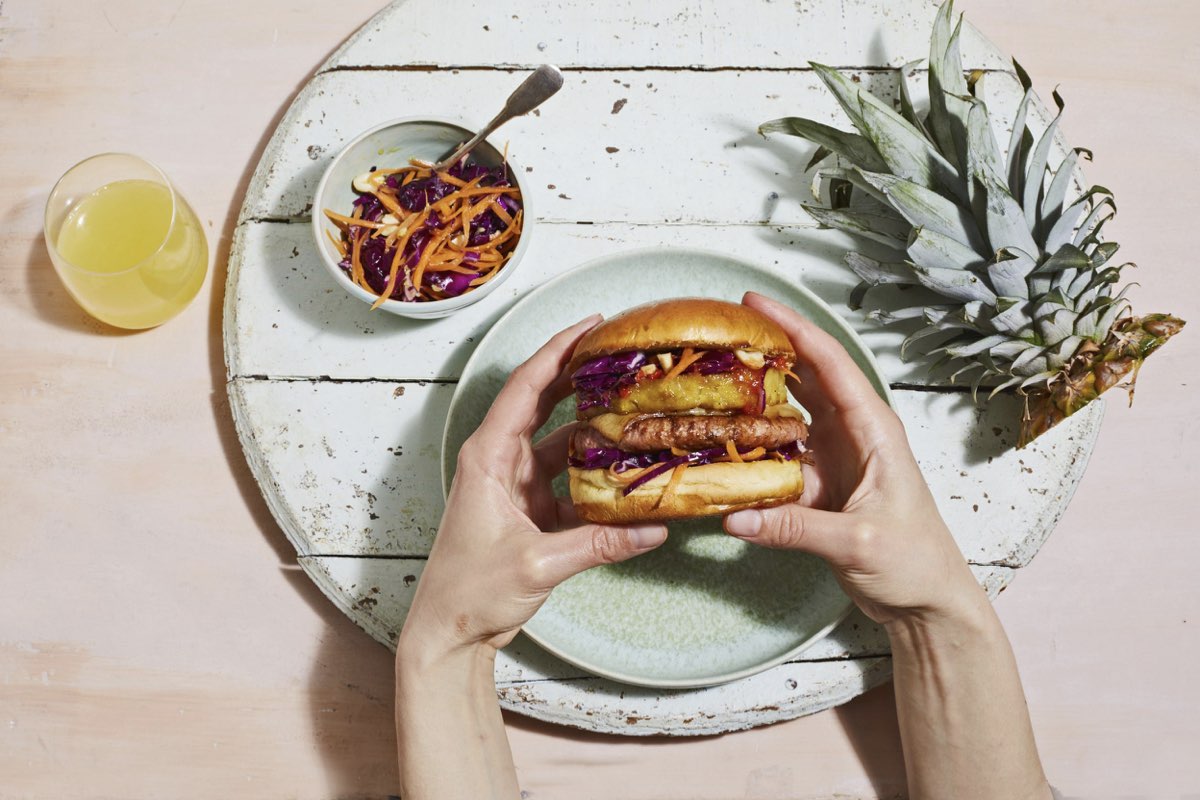 Moving Mountains Pineapple Sausage Burger
This mouth-watering Pineapple plant-based "sausage" burger is ideal for lunch or dinner and can be enjoyed alongside crispy fries, crunchy coleslaw and a sweet chilli sauce.
Serves 2 / Prep Time 15 mins / Cook Time 15 mins
Ingredients
2 Moving Mountains® Sausage Burgers
1 slice pineapple, peeled and cored
1 tbsp rapeseed oil
2 slices plant-based smoked cheddar cheese
¼ red cabbage, approx. 50g
1 small carrot, peeled and julienned
20g salted peanuts, crushed
1 tbsp olive oil
Salt
Pepper
1 tsp maple syrup
1 tsp tomato puree
1 tbsp cider vinegar
½ red chilli, seeds removed, finely chopped
2 burger buns
Method
1. Heat a griddle pan or a griddle plate on a BBQ or cooker over medium heat. Add the pineapple slices and cook for about 10 minutes, flipping over halfway through and making sure they are not sticking to the griddle. After the first 5 minutes drizzle the griddle with the rapeseed oil (avoid getting the oil to the section where the pineapples are).
2. Add the burgers and grill them for about 5 minutes on one side, then flip over and place the cheddar slices on the top of each patty. Grill for another 3-5 minutes. Remove the pineapples and burgers from the griddle and cover them with a piece of kitchen foil, to keep them warm.
3. Mix the cabbage, carrot and salted peanuts in a small bowl. Add the olive oil and seasoning and mix again.
4. In another bowl mix together the maple syrup, vinegar and red chilli.
5. Halve and toast the burger buns and assemble the burgers. Put the slaw on the bottom half, top with the patty and pineapple, a generous drizzle of the sweet chilli sauce and finally the other half of the bun.
Liked this article on 'Healthy BBQ ideas'? Read'Food You Never Knew Were Vegan' 
Get your weekly DOSE fix here: SIGN UP FOR OUR NEWSLETTER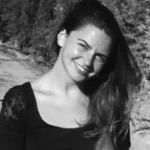 Hettie is the editor and co-founder of DOSE. A keen runner, she's also partial to a blast of high-intensity and hot yoga. A country girl at heart, she divides her time between London and the lush rolling hills of North Devon. When she's not jetting off on her next adventure, Hettie can be found in a candle-lit alcove with a laptop, a spaniel and a full bodied Malbec.