We're told that Christmas dinner is a calorific, indulgent event, where we eat our body weight in food and feel sick for days after. But actually, it doesn't need to be as bad as you may imagine. Load your plate with the below, heeding advice from Sophie Dhillon, nutritionist at meal delivery service Fresh Fitness Food, and you're into good-for-you territory.
1. FOCUS ON BALANCE
We obtain nutrients from the three macronutrients: protein, carbs and fats, which our body requires in large quantities. Christmas dinner can actually provide us with a perfectly balanced plate in terms of macronutrients. Whilst turkey provides us with a lean source of protein, approximately 17g per 100g meat, our delicious roasties are a great whole food source of carbohydrate. Add to this a spoonful of your favourite stuffing packed with nuts which are full of Omega-3 fatty acids, and you have yourself a deliciously balanced festive plate.
2. BOOST ENERGY
Not only is turkey one of the leanest sources of animal protein but it's also packed full of vitamins and minerals such as iron, zinc, potassium and phosphorus; as well as vitamin B6 and niacin, which are essential for the body's production of energy.
3. PACK IN THE PROTEIN
Brussel sprouts are surprisingly high in protein for a cruciferous vegetable and contain large amount of vitamin C and vitamin K.
4. IMPROVE VISION
Carrots are one of the richest sources of beta-carotene, a precursor for vitamin A which is essential for eye health and vision.
5. LOAD UP ON VITAMIN C
Cranberries contain essential vitamins C, A and K, and are a low-calorie addition to your Christmas plate.
6. AND… ANTIOXIDANTS
When it comes to dessert, if you're still looking to obtain nutrients wherever possible, go for dark chocolate – it contains a higher content of cacao, which contains powerful antioxidants called flavanols.
7. EAT MINDFULLY
Since there is no reason to rush at Christmas, we can finally allow ourselves to take our time over each meal and to digest. We are used to rushing from meeting to meeting, grabbing lunch and possibly dinner on the go. The issue with this is that you are more likely to overeat if eating while distracted, and may not recognise the signals that you are full. Christmas allows us to take a moment to eat our meals without distraction. This includes electronics, work and errands.
So sit back, relax, and eat to your heart's content. It's Christmas, after all.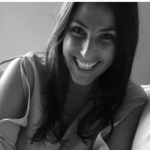 Charlotte is a London girl through and through. She sweats through spin and puffs through Pilates to justify trying the latest restaurants and devouring copious amounts of sweet potato fries, burrata and bread – preferably on holiday. Her favourite destinations include Italy, the Maldives and anywhere where the sun's shining and there's a strong breakfast buffet. She's obsessed with walking, visiting farmers' markets and reading. She's also learning to cook. Wish her (and her husband) luck.