It's hard to stay motivated at the best of times, not to mention when battling post-Christmas fatigue, plummeting temperatures and a pandemic that shows no sign of abating. What's more, you've officially run out of Ferrero Roche and all your mates have turned vegan or sober. Welcome to January 2022. But enough of the doom and gloom, why not focus on the things that make you feel motivated. Like how good you'll feel after packing in more workouts (hello endorphins!), eating healthier and drinking less. To help you on your way is Dare Motivational Shakes that are not only packed with essential vitamins and minerals you need with high quality plant-based protein, but taste amazing. Creamy and smooth, the range includes Cocoa Vanilla Frosting, Cocoa & Peanut Butter, Cocoa & Jaffa Orange and Black Forest Gateau… DOSE editor Hettie gives 5 reasons why a daily Dare Motivational Shake will help you to smash your New Year goals…
Dry January I can do, no problem. Veganuary… at a stretch. But giving up sugar and coffee? Two things I depend on to get me through my day? Near impossible – for the stage of life I am at anyway. With family demands and a whirring laptop draining my resources, the temptation is all too often to reach for the cafetière and something sweet to charge up energy levels. But with a New Year focus, I'm ditching the sweet stuff (not the coffee) for a shake that packs in all the vitamins, minerals and protein I need to get me through a busy day. Here are my 5 reasons why a daily Dare Motivational Shake will help you to smash your New Year goals…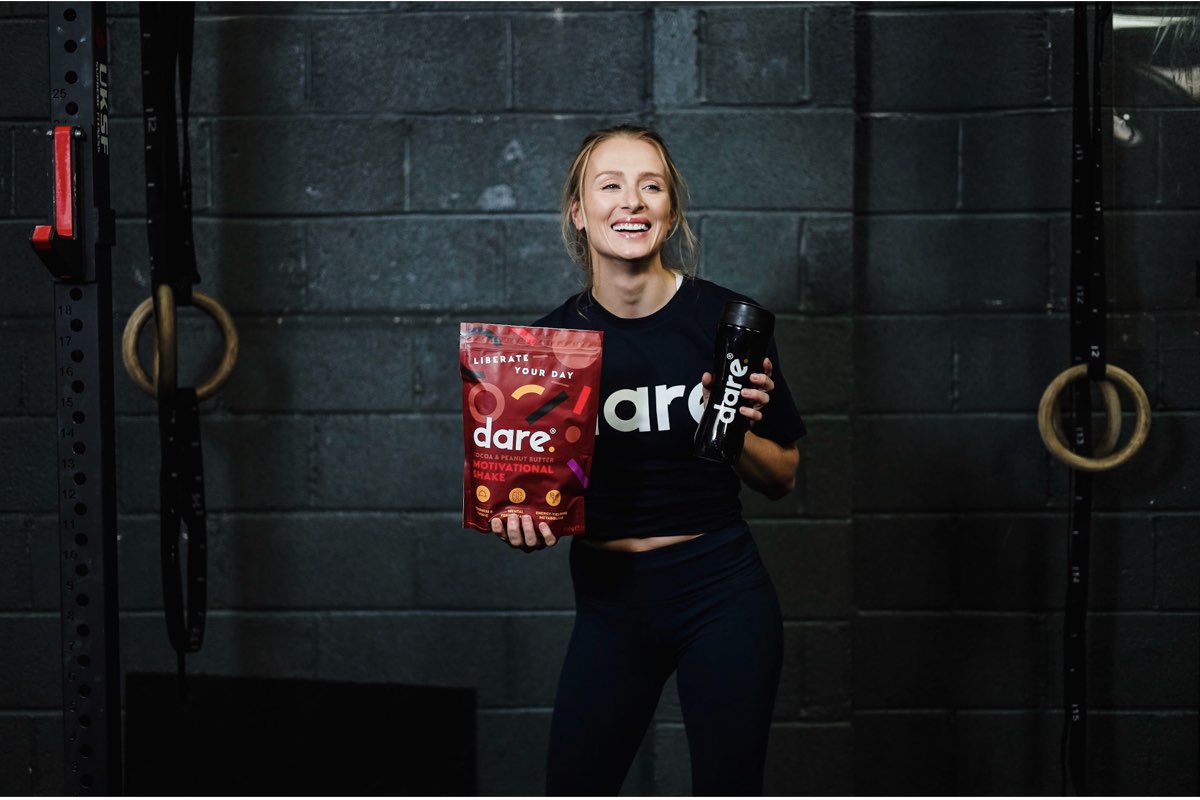 1. It's convenient
When you're time poor, running around in fire-fighting mode, there's nothing worse than having to worry about a complicated healthy recipe. Why it's all too tempting to reach for a sweet treat. But this nutritious snack takes seconds (15 to be exact). Simply pour 300ml of cold water, dairy or plant milk, add 2 scoops of powder and shake. Before you know it, you'll be packing in the vitamins, fibre, omegas and protein. Essentially, a load of seeds, oats, brown rice, green tea and Acai berry, which in the case of the Cocoa & Jaffa, is the next best thing to your favourite biscuit-sized cakes with the tangy orangey bit in the middle. You know the ones. And what's more, the convenient on-the-go format ensures you don't skip meals – especially important for anyone who has no time for a sit-down meal. I find a Dare Motivational Shake is best consumed as breakfast on the go, as a post workout shake or a mid-afternoon nutritious pick-me-up. My favourite has to be Cocoa Vanilla Frosting… It's in the name really.
2. It keeps you on your A-game
When you want to smash fitness goals, if you're not taking care of your nutrition it's easy to burn out, or become susceptible to illness. And with our immunity being threatened on a daily basis from everything from Omicron, stress, sleep deprivation and the weather, it pays to pack in the immunity boosting vitamins to prevent yourself from getting run down. This complete nutrition shake contains immunity superheroes such as Turmeric curcuminoids (great for reducing inflammation in the body) and antioxidants like Maca, Green Tea and Acai Berry.
Each serving of this nutritionally complete shake contains 100% of the recommended daily intake of all vitamins with all 26 essential vitamins and minerals you need in a convenient format. It also contains folate, which contributes to the reduction of tiredness and fatigue, while pantothenic acid contributes to mental performance helping you to stay on your A-Game. Need we mention that Vitamin C contributes to a normal energy yielding metabolism.
3. Helps you to feel fuller, longer
It depends on your physique and physical activity of course, but I felt full for at least 4 to 6 hours drinking my Dare Motivational shake. It's easy to see why some might use them as a meal replacement, weight loss shake or diet shake. When it tastes this good, it's truly a win win.
But that's not to say you should use these as meal replacements. Dare Motivational shakes ensure that you don't cut back on important nutritional content from your diet. It provides all essential vitamins and minerals you need with high quality plant-based protein to support active lifestyles and goals.
Each serving is dosed at the right levels for a perfect balance of performance protein, essential fats, Omega-3, slow-releasing complex carbs and fibre for a ridiculously tasty, filling, nutritious and motivating all-purpose shake to help you to keep going.
You can create a super shake by adding favourite ingredients to your shake like coffee or banana for an extra boost. Ingredients such as coffee (music to my ears) or banana, boosting the calories to approx. 400kcal or more if needed.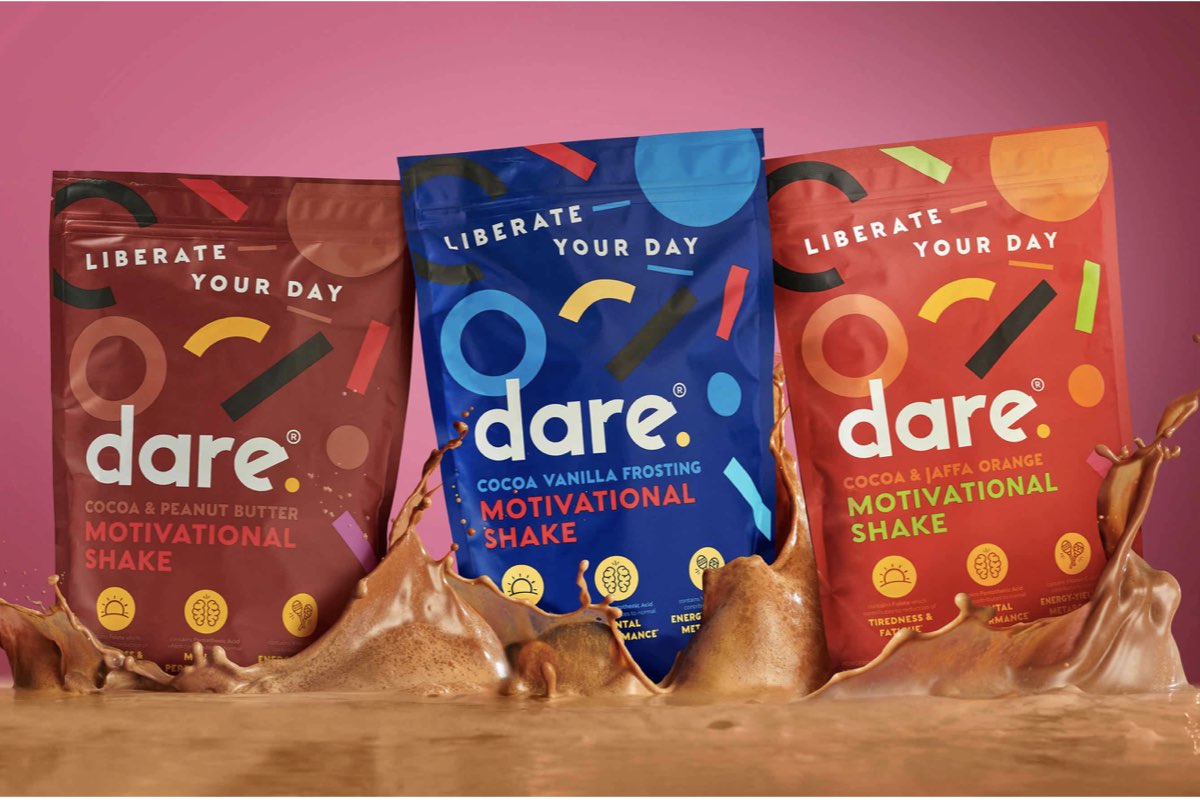 It's vegan (perfect for Veganuary)
If you're doing Veganuary 2022, you'll be pleased to know that Dare makes it easier for vegans to ensure they are getting all those hard-to-achieve nutrients including iron, vitamin B12 and vitamin D, not to mention 20g of high-quality plant-based protein. It's climate friendly too – a certified 'Climate Hero' brand that has partnered with One Tribe, meaning you too can fight the climate crisis every time you shop at dare. Every order placed saves 25 trees!
Free shaker & T-shirt with all first orders
Who doesn't like a freebie to spur on some motivation? Did I mention the delivery is free too? And what's more, DOSE Readers can receive 20% off their first order (includes both single purchase and subscription). Simply add the promo code 'DOSE20' at the checkout. What are you waiting for? Go and smash those new year goals…
All in all, Dare Motivation Shake is the perfect solution if you're on the move but still want to hit your New Year goals. Visit Dare's website here. Find out more about the motivational shake here.
Shop for Dare Motivational Shake.
This is a partnership feature with Dare Motivation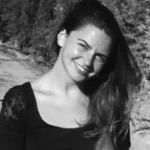 Hettie is the editor and co-founder of DOSE. A keen runner, she's also partial to a blast of high-intensity and hot yoga. A country girl at heart, she divides her time between London and the lush rolling hills of North Devon. When she's not jetting off on her next adventure, Hettie can be found in a candle-lit alcove with a laptop, a spaniel and a full bodied Malbec.