New York City; a hedonists dream. Whilst the buzzing city might be famous for pizza, bagels and partying all night, Ishbel proves that you can spend your time satisfying your healthy desires as much as your indulgent ones. All, of course, peppered with awesome workouts, relaxing (vegan!) beauty treatments and even some theatre for those who can't sit still…
[smartslider3 slider=128]
LITTLE BEET TABLE
Little Beet Table is the grownup sister to Little Beet, the veg-centric lunch spot that's spread its cute beetroot seed around New York. The 'Table' version in Mid-Town has a trendy restaurant feel, which when we visited on a Friday night had an awesome buzzy NY vibe.
The menu is entirely gluten free and focuses on vegetables, whilst including some carefully sourced meat dishes. The cauliflower hummus (the perfect combo of two favourite obsessions of mine) is awesome; tastes indulgent but isn't. For entrees we had the salmon which was light and fresh, and the real stand out – the cauliflower steak with green curry sauce; which is served with the strangest mushrooms you can get without heading to a beach in Thailand. Oh and the sprouts! Trust me – get the sprouts. NYC has taken the much-maligned Christmas side and made it trendy.
Puddings are a must – especially if you are gluten free and miss a good brownie. That was divine (but big enough to share).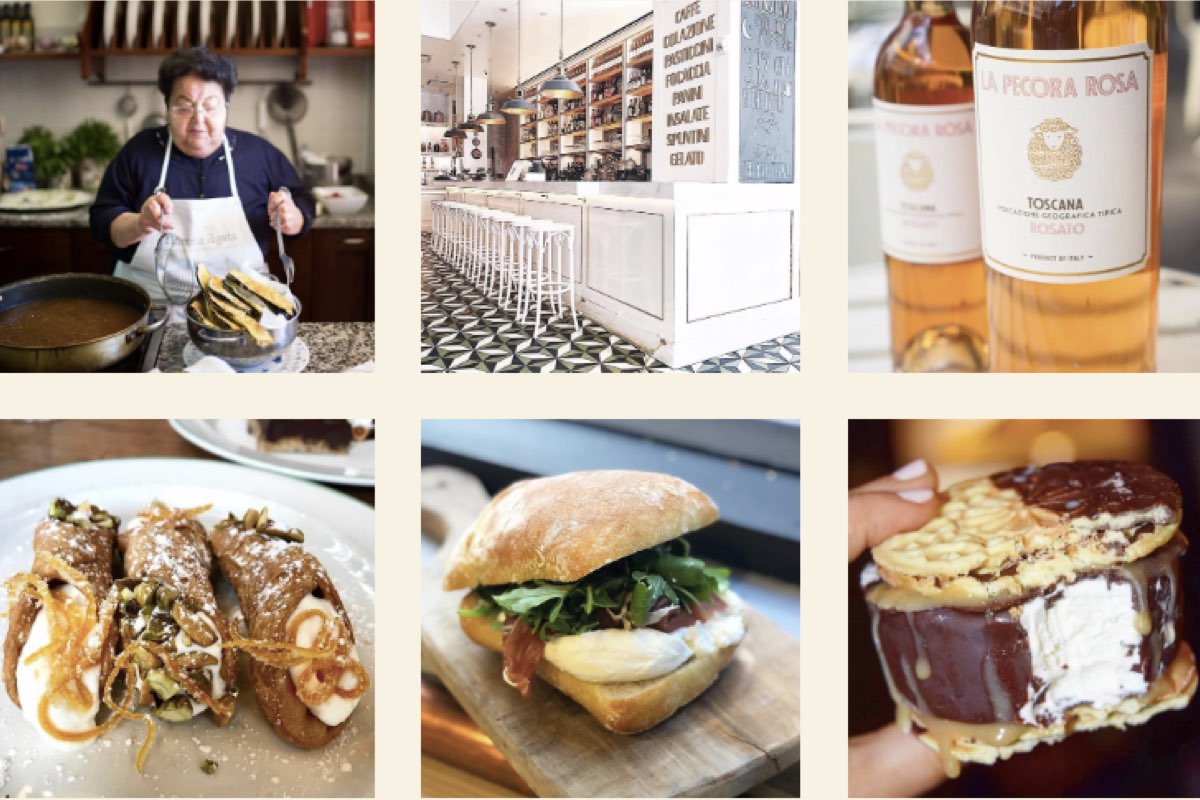 LA PECORA BIANCA
In between the Flatiron and Empire State, La Pecora Bianca (NoMad location) is the perfect spot if you are taking on NYC's iconic buildings. Start your meal at this modern Italian with a Spritz. They have every Londoner's favourite – Aperol – but try the Lambrusco and you can introduce something new to your friends this summer.
The starters shone for us – we had the Polipo octopus and the burrata (can't resist this on any menu – ever), which was served with crisp apple that brought an amazing freshness. I had the Farro salad for my entrée with delicious pickled red onions that perked up the whole dish.
And to finish? There is a Nutella tart. I need not say more.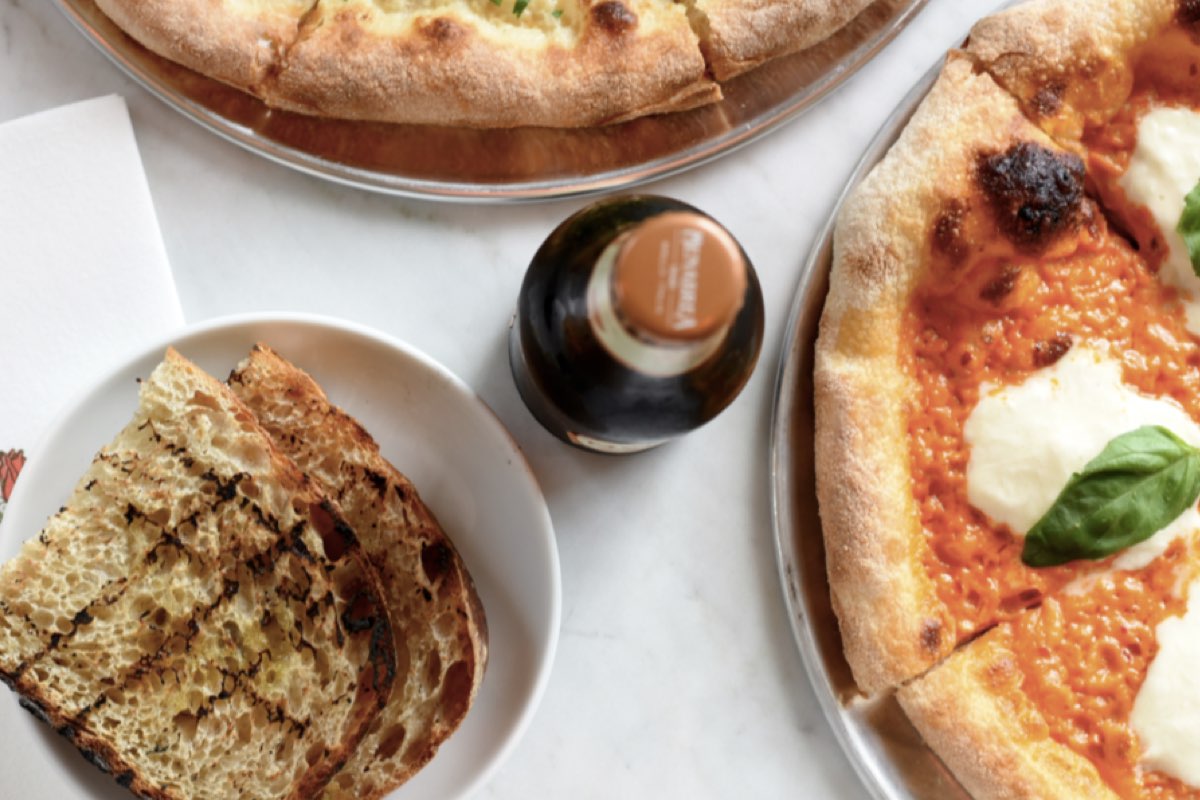 OLD ROSE
Old Rose is the restaurant attached to the quirky Jane Hotel in the Meat Packing district, right by the Hudson River. The gorgeous and bright corner spot is known for its awesome weekend brunches (if only every day was a Saturday in NYC) where you can sit surrounded by plants and awesome art.
The menu features a range of dishes best shared. We went for a pizza (when you walk around all day you simply need it) which was crispy and delicious, the calamari squid, and our absolute unexpected favourite – the crispy rice salad. The crisped rice brings an amazing texture to the salad to contrast the creamy avocado.
They also have a great cocktail list, and choice of craft beers – perfect for a late weekend brunch that slides into evening drinks.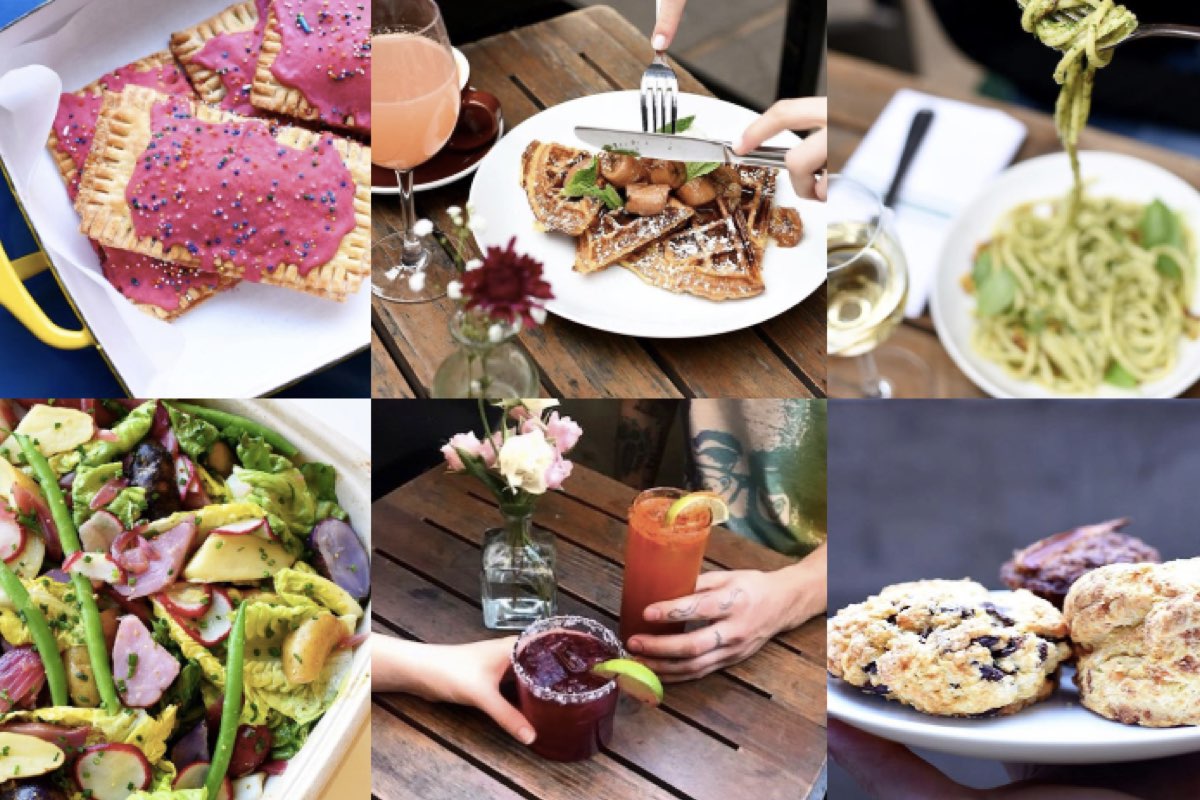 SMILE TO GO
The Smile is one of those trendy NYC spots that feels totally undiscovered – despite everyone knowing about it. Their ethos of health-minded but delicious and special food has been translated into Smile To Go. Bringing grab and go (or sit down) lunches to SoHo, they have now opened a second location in Dumbo, and since our visit a third in Flatiron.
Dumbo, in Brooklyn, has unbelievable views of Manhattan (and the bridges), so pop in, grab your lunch, go sit down by the water and enjoy watching the world go by.
The simple menu features choices of proteins (we had the chicken – a generous portion and delicious) alongside a range of veggie friendly side dishes like sumptuous heritage carrots and fresh kale salad. There are sandwiches also, along with soups and changing specials. The chocolate and sea-salt cookie is also WELL worth a try.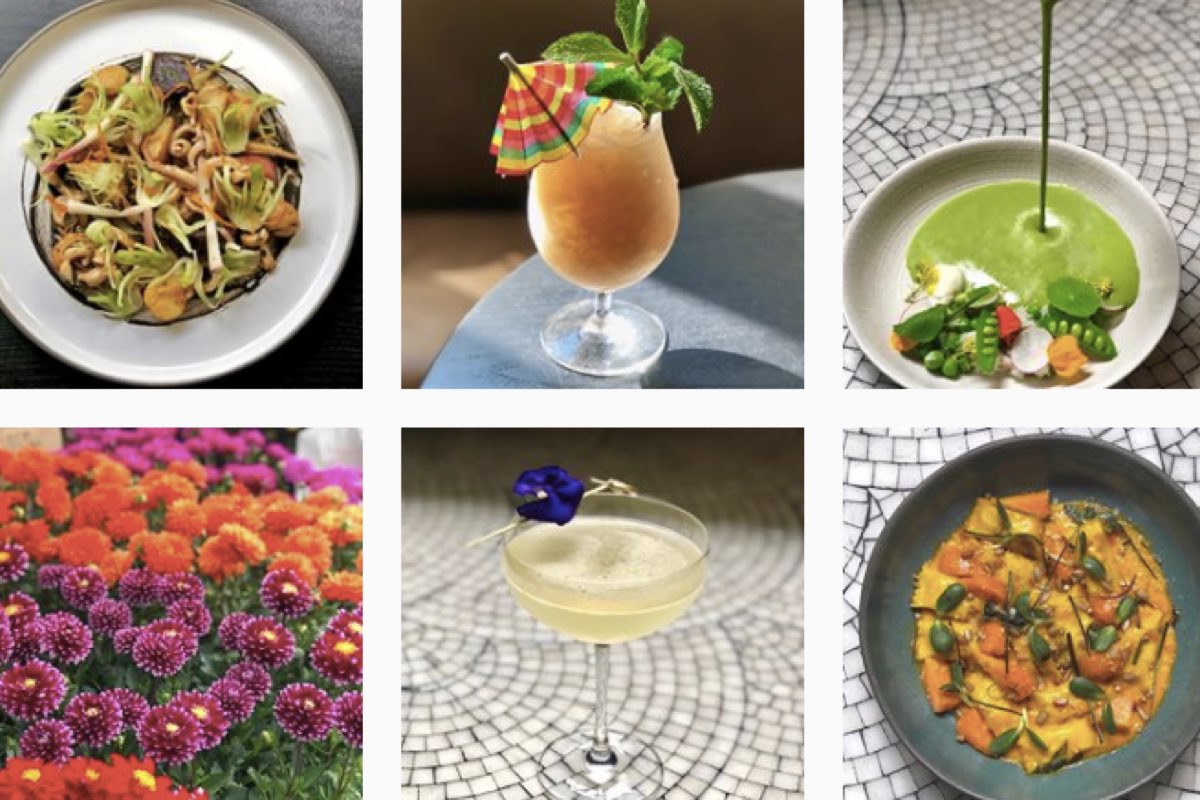 LITTLE PARK
Little Park in TriBeCa is one of those perfect restaurants that you can lose yourself in for hours. The beautiful interior offers intimate tables as well as an awesome bar, and the waiting staff are so great you almost want to invite them to join you.
The menu celebrates seasonal ingredients, sourced where possible from local farmers, ranchers and foragers. Little Park proves, yet again, that New York is a city that has woken up to the vegetarian-revolution, with so many dishes built around amazing organic vegetables.
For starters we enjoyed the kohlrabi with hazelnut and pomegranate (my favourite), the carrots and the endive salad. Each with its own freshness and delicate flavour, you can tell that the preparation of the vegetables aims to retain as much nutrition and taste as possible. For entrées we had the creamiest beetroot risotto spiked with goats cheese, and the rainbow trout with almond and fresh blood orange. We finished with a beautiful chocolate tart, all enjoyed with a crisp organic wine which our waiter chose for us.
Little Park serves an amazing looking breakfast too, but for me this is the perfect spot for a special dining experience to remember!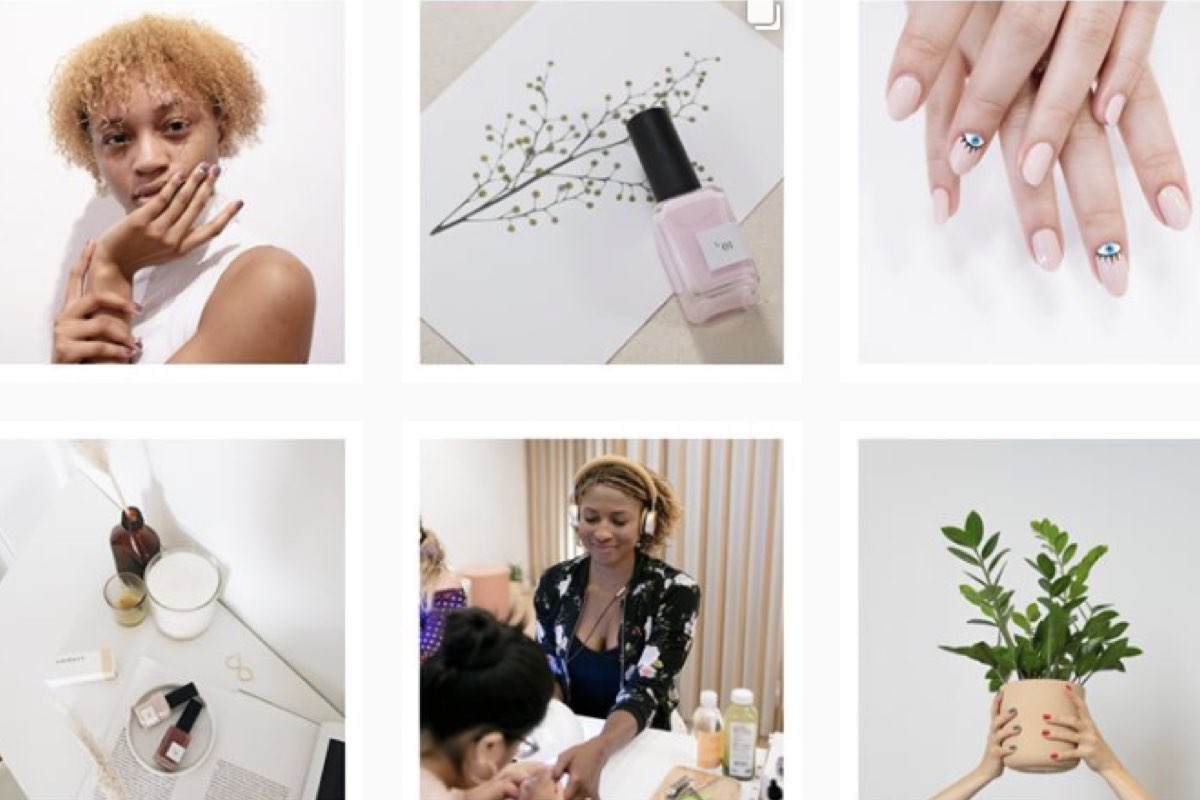 SUNDAYS
Sundays gave me the most serene and chilled out manicure experience I have ever had. The beautiful little salon is in NoMad, with a second branch in Saks Fifth Avenue Downtown, and is a total oasis from the craziness of Park Avenue. The scandi design is all light woods and beautiful furniture whilst the amazing staff look after you with absolute grace.
But the most important thing about Sunday's is their treatments offer non-toxic, cruelty free and vegan nail care products. Amy, Sunday's founder, prioritises the health of both her customers and her technicians, meaning that everyone is benefitting from this holistic and more natural approach.
And if you want to be even more holistic, try their signature 3 in 1 treatment which includes gentle nail care, Essential Oil massage all whilst listening to a guided meditation to help focus the mind and reconnect with your body. Short enough to fit into a lunch break!
HAVEN
The aptly named Haven on Mercer Street is a beautiful spa where you can truly escape the bustle of Manhattan. The front of the space has a bright and airy manicure and pedicure area, whilst at the back of the space you will find yourself in a gorgeous lounge (enjoy an iced tea here) before heading into one of the secluded treatment rooms.
I was booked in for 'The Geek Massage' – designed for people who sit hunched over a computer most of the day (sounds familiar?). The upper body-focussed massage works your shoulders, back, chest and neck to alleviate tension and after five minutes I was melting into the table; my wonderful therapist Rhakeim worked wonders on a back so knotty even he was shocked. The treatment makes use of T-Spheres, rubber balls that allow for deeper muscle release, which you can also take home after the treatment.
Haven also have a massage called 'The Tourist' for anyone who has been sitting for hours on a plane or walking for miles around the city (easy to do!).
MILE HIGH RUN CLUB
The morning of my first Mile High Run Club class I woke up with that familiar fear in the pit of my stomach. Reserved only for a brutal Barry's class, it's a nervous excitement that means one thing; it's going to be hard but you're going to love it.
Not quite sure what to expect, even as a regular runner and Barry's goer I was scared. The 'High 45' class is 45 minutes of treadmill intervals, but as soon as we got started I relaxed into it, the fear melted away and pretty quickly I was greeted with that illusive runners high (now I totally get the name, too).
The 45 minutes is broken into 'efforts' of around 4 – 6 minutes where you increase speed or incline in various ways, some based on endurance and some on strength, ending on speed sprints. You are in complete control of your pace which is a good way to listen to your body, and learn when to push through.
The addictive class is a must for any long-distance runners or class junkies alike. I loved it so much that I booked in for a second class two days later at 5:30am (making the most of jet-lag) and then AGAIN for The Distance (60 minutes…trust me; do it).
SLEEP NO MORE
Call it adrenaline, call it sugar-rush, but I can't sit still for long when visiting a city. So what happens when you want to delve into New York's incredible theatre scene but don't want to sit down in an audience for 3 hours?
Enter 'Sleep No More'. The immersive theatre company Punchdrunk's long-running New York show sprawls across four (or maybe five…perhaps six) floors through which you are free to wander and explore (and get lost in). Every audience member wears a mask throughout the performance. The idea is to make you bold with anonymity, brave enough to chase after an actor when you spot them down a corridor.
You traverse the huge space, happening upon fragmented scenes that fpcus on physical acting and contemporary dance. Chase after the actors, or go off on your own; you can explore room after room, pull out a drawer, leaf through the books, read the hand-written letters. The set design is truly astonishing and just as interesting as the acting you will witness.
Based loosely on Macbeth, Sleep No More is less about following a plot, but more a chance to lose yourself in a truly unique experience.