We know serenity, nature and wellness aren't the first three words that come to mind when Marbella is mentioned. However, as we found out, there's much more to Marbella than parties, glitz and glamour. Kate reports back on an active Andalusian adventure…
Just 45 minutes from Malaga airport and in the middle of Puerto Banús and Marbella Old Town, on the Golden Mile, you'll find the 5* Puente Romano resort – a health, wellness and gastronomic oasis. It has long been regarded as the go-to luxury destination in Marbella, but it's also a great place to base yourself for a weekend of healthy hedonism, too.
ARRIVAL
I took an early flight from London, so was delighted to be welcomed with ice cold water and champagne served by the friendly and helpful resort staff, just what I needed to start the trip. On the journey from reception to my room, I could instantly feel the homely and small village feel, which is a rare but welcome feeling when staying at a resort so big (183 rooms).
When I arrived at the suite I realised that my companion and I were in for a real treat – thanks to a king size bed with massive fluffy pillows, flat screen TV, huge marble bathroom with rainfall shower and all the amenities you could wish for. Most of their suites have had a swanky modern refurbishment and ours, complete with a beautiful sea view from the private terrace, was definitely one to write home about.
LUNCH AT SEA GRILL
I really didn't want to leave the room but hunger had kicked in, so I headed to the resorts own Sea Grill restaurant for the chicest 'all you can eat' buffet. Here they take the term buffet to another level – you can pick your fresh meat or fish to be grilled, there are two types of traditional paella, more salad options than I ever thought possible, desserts galore and there is even a whole course dedicated to cheese – I'm pretty sure I ate more than the average Christmas Day!
ACTIVITIES
Unashamed but eager to regain some balance and explore, I walked off lunch with a wander around the subtropical gardens – there are over 400 types of quirky plants and stunning flowers so this place is a botanical Instagrammers dream. There's plenty to do here as the resort is home to four pools, a state-of-the-art gym, fitness studio for yoga and Pilates, plus golf course and tennis courts (I heard that guests have spotted pro-player Novak Djokovic practicing on the courts there). On top of all that, there's no fewer than eleven places to indulge in after you've worked up an appetite – perfect for the healthy hedonists amongst us. So, no matter what you fancy to eat, there is something for everyone and I was spoilt for choice. Enter, Nobu.
DINNER AT NOBU
Before the trip I have to admit that I did question whether the famous Nobu name would really live up to the hype, and I can confirm the answer is 100% yes. Fellow Marbella guests and residents travel from other resorts to enjoy the vibrant party vibe in Puente Romano's plaza and Nobu is right in the centre of it. I took all of the waiters recommendations. My favourites were the avocado tempura, wagyu beef tacos and the house red was perfection. If you're a fish fan you must try the black cod miso and a selection of their fresh sushi, it was the best I've ever had.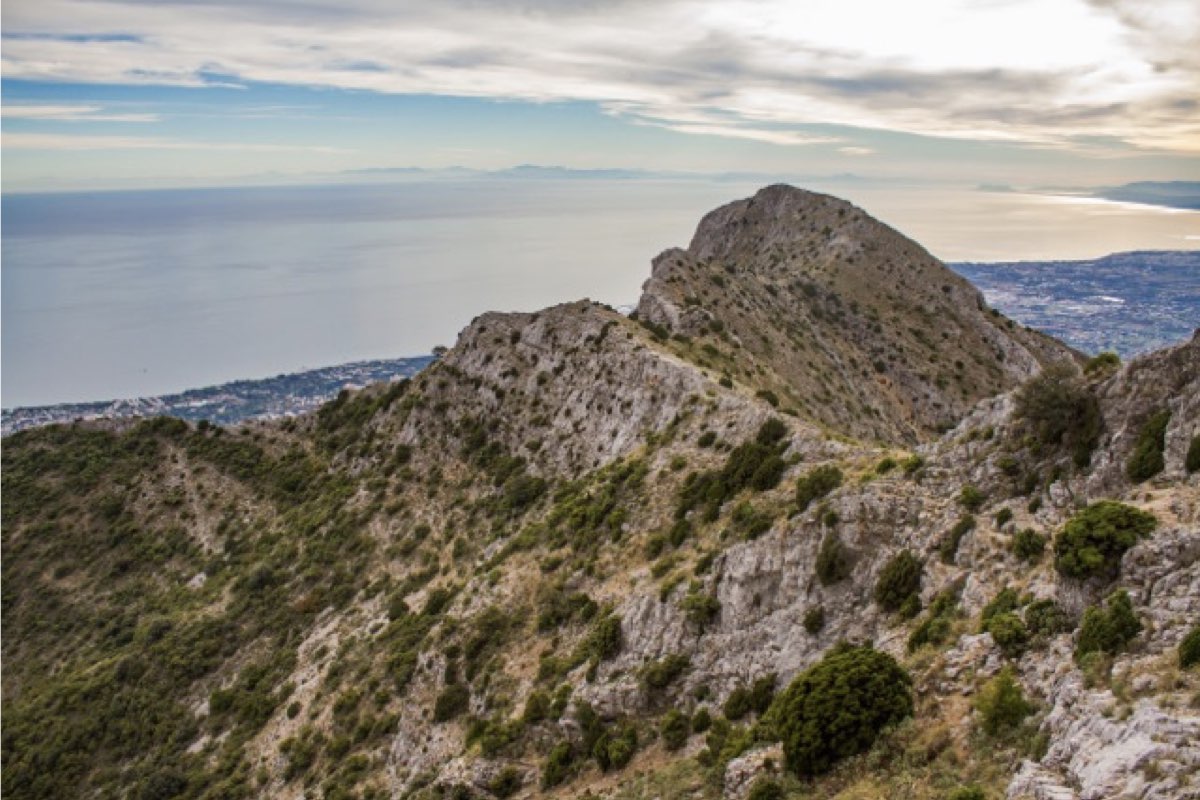 BREAKFAST & HIKING
The next morning, I woke up definitely not hungry but refused to miss out on breakfast (it's the most important meal of the day, right?!) I knew I was heading on out on a hike that afternoon so used it as excuse to indulge in an extra course of meat and cheese after the omelette, bacon, pastries, fruit, toast and granola (they cater for everyone, whether you're dairy free, veggie or vegan).
I was trying out the "Live the High Life" package which includes a seven-hour guided hike to the top of La Concha mountain – at 1200 metres above sea-level, the views at the top are AMAZING and a really unique experience, well worth the trip. Be sure to pack the right footwear though; whilst the route isn't overly challenging, the terrain is rocky and as I found out, HIIT trainers don't quite cut it.
DINNER AT BIBO
Exhausted from the hike, but deserving of my next meal, I ate dinner at Dani Garcia's tapas joint, Bibo, also in the plaza (his Michelin starred restaurant is next door). Here at Bibo the décor is fun and eclectic and with its unusual menu it's not what you'd usually expect from a tapas place, but I loved it. I recommend the creamy ham croquettes (see Instagram Stories highlights for the amazing presentation!) and the 'Nutella to Die For' dessert (chocolate, hazelnut, ice cream, popcorn and toffee caramel all on one plate, yes really it is to die for).
SPA
After all that overindulgence and the DOMS kicking in, I was ready for a detox the next day so booked in for a Movement Restoration massage at the hotel's Six Senses Spa –  the perfect way to relieve the aches and pains from yesterday's hike. Be sure to allow extra time before your appointment to enjoy the incredible facilities – there's a hydrotherapy pool, plunge pool, herbal steam room, as well as heat and ice experience showers.
LUNCH AT RACHEL'S ECO LOVE
Afterwards, and still in a state of pure relaxation, I took a short walk to Rachel's Eco Love, which is a poolside café, serving lighter lunches and the menu is full of delicious vegan options. The hotel describes Rachel's as 'food for the soul' and I couldn't agree more. Balance restored.
That afternoon I made sure I made the most of the room because I knew I'd seriously miss it when I was gone. Relaxing on the terrace and soaking up the serene atmosphere whilst reading a book was the ideal break from urban life in London.
DINNER AT SEA GRILL
For my last dinner, my companion and I headed back to the Sea Grill Restaurant and bar, opting for the Surf 'n' Turf (because it's too hard to pick when both lobster and sirloin steak are on offer, right?) followed by the fried banana doughnuts, which was served with an extensive choice of sauces and dips, pure satisfaction for anyone's sweet tooth.
The food and service was impeccable which helped make it a really special final night at Puente Romano.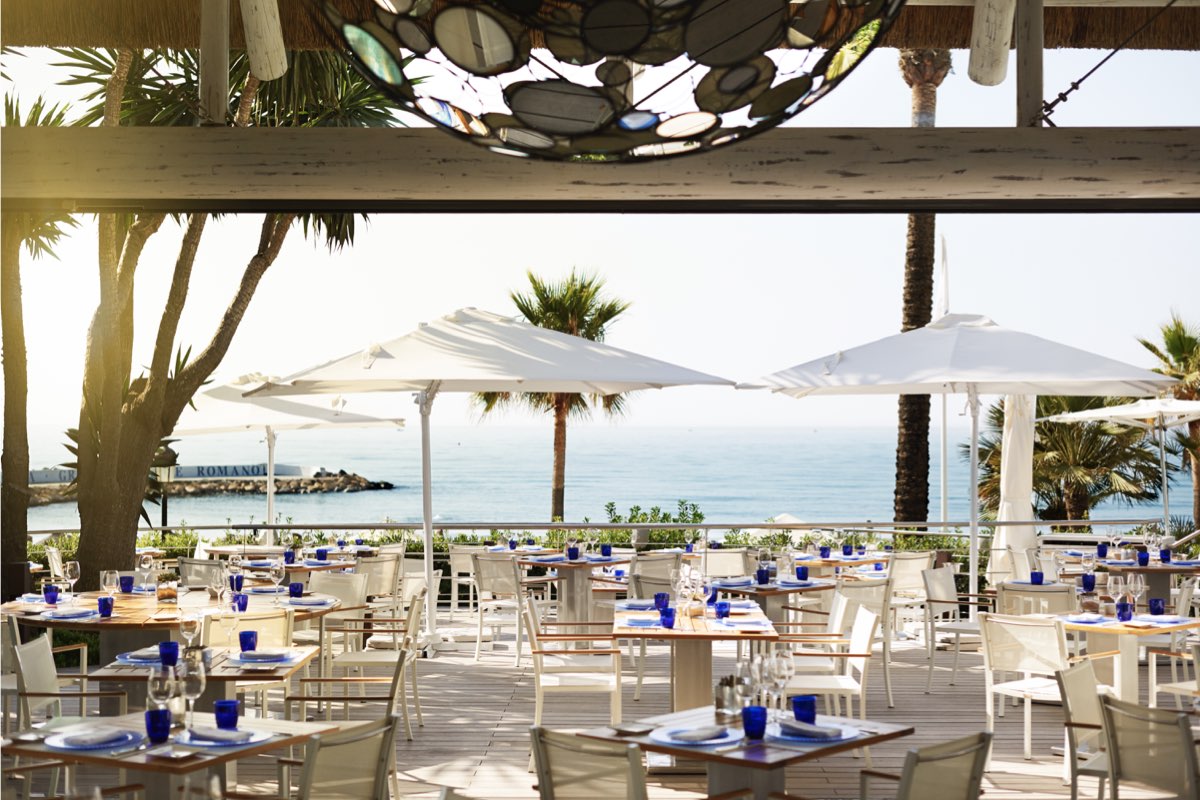 SUNRISE YOGA
On the last day, I set an early alarm for sunrise yoga on the beach, the perfect time to enjoy the beauty of the seafront as it was super quiet because nobody gets up this early in Marbella. I booked a private session via the health club and hotel guests can use the gym facilities as well as enjoy unlimited classes there for free.
That afternoon we hired bikes from the hotel (€17 each) and took a leisurely ride to Marbella old town, just twenty minutes away. We explored the narrow pretty streets and flower adorned walls (Instagram moment, obvs), then grabbed a spot of traditional tapas and checked out the local boutiques before heading back to check out.
Puente Romano has been quietly changing perceptions of Marbella for years and my stay was no different. Luxury without the often-accompanying pretention. With simple but excellent service all round, incredible food and amazing facilities, we certainly did not want to leave for our return to London. But left with a warm heart knowing I will be back.
THE HIGH LIFE PACKAGE: Ascend on an Andalusian adventure, connect with nature and hike Marbella's most famous La Concha mountain, with views of the Mediterranean, Gibraltar and the Atlas mountains. Get your backpacks and have some fun all together. This package includes 3 night stay in a Junior Suite including breakfast. Guided hike including private transfers. Movement Restoration massage in Six Senses Spa to improve mobility and flexibility, and release muscle tension. Priced from €2,560 for two people. Visit the website for more details.
By Kate T
Hettie is the editor and co-founder of DOSE. A keen runner, she's also partial to a blast of high-intensity and hot yoga. A country girl at heart, she divides her time between London and the lush rolling hills of North Devon. When she's not jetting off on her next adventure, Hettie can be found in a candle-lit alcove with a laptop, a spaniel and a full bodied Malbec.