If you're looking for a blissful escape – we've found it. Check into Co. Limerick's Adare Manor for a real treat…
The hotel
An easy flight to Shannon and a 35 minute drive and you'll be at Adare Manor, a super luxe hotel and golf course. The hotel itself has 104 rooms and looks exactly like a fairytale castle, turrets and all. Originally a Georgian manor house belonging to the Dunraven family, it is designed as what's called a calendar house: 365 (leaded) windows, 52 chimneys, seven pillars and four towers, to denote the seasons.
Now, it's been added on to as a gothic, romantic hotel that opened in 2016, with a wonderful spa, 28-person cinema, boutique and ballroom too.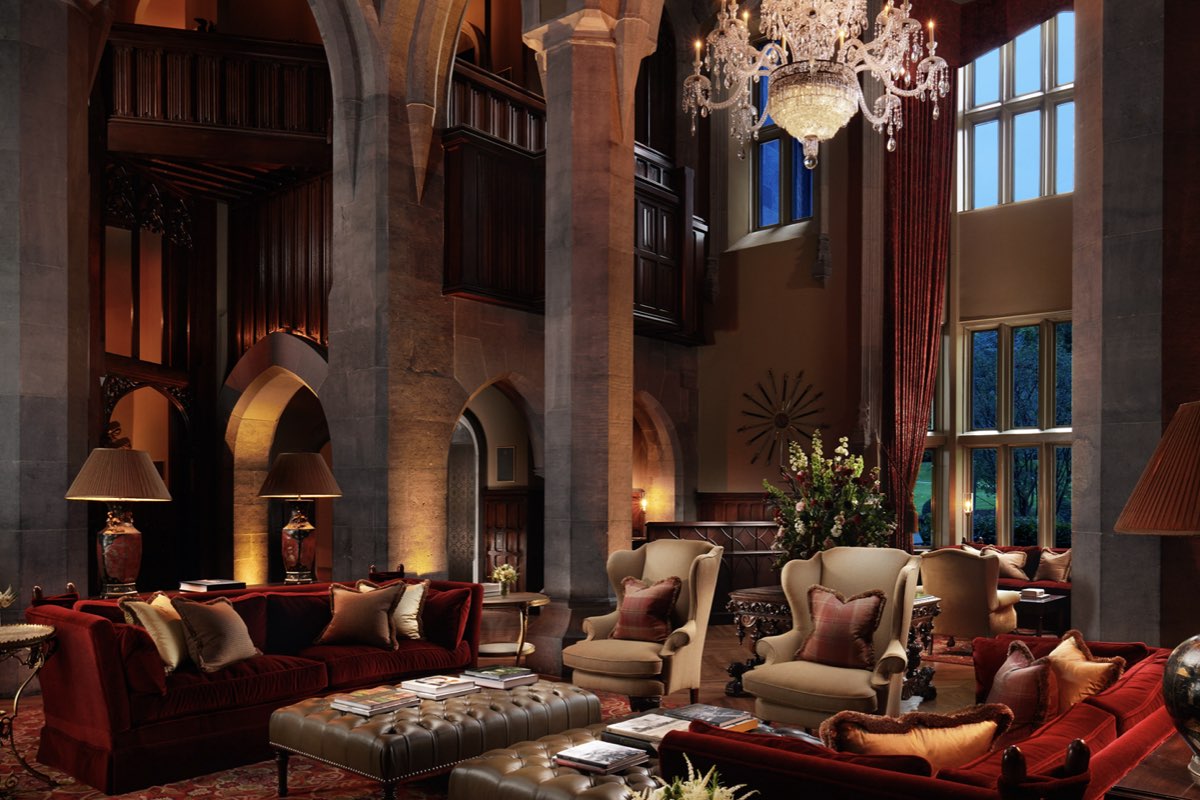 Decor throughout is grand and traditional, with unbelievable chandeliers and sumptuous fabrics. Squishy velvet sofas, oversized tassels on floor-to-ceiling curtains and large, opulent rugs abound. Some rooms are dark and cosy, others light and airy, but all are beautifully inviting.
The rooms
The rooms in the main house are traditional and luxurious, complete with four-poster beds, plush furnishings and soft colours. But we're staying in one of the hotel's two cottages, a three-bedroom house on the property that is a couple of minutes walk to the main house. Designed for self-catering and perfect for larger groups who want more space, there are 300-thread-count sheet, Nespresso machines and full size Acqua di Parma bath products. In other words: bliss. Beds are super comfy, there are TVs in every room and you can even order takeout pizza, should you so wish.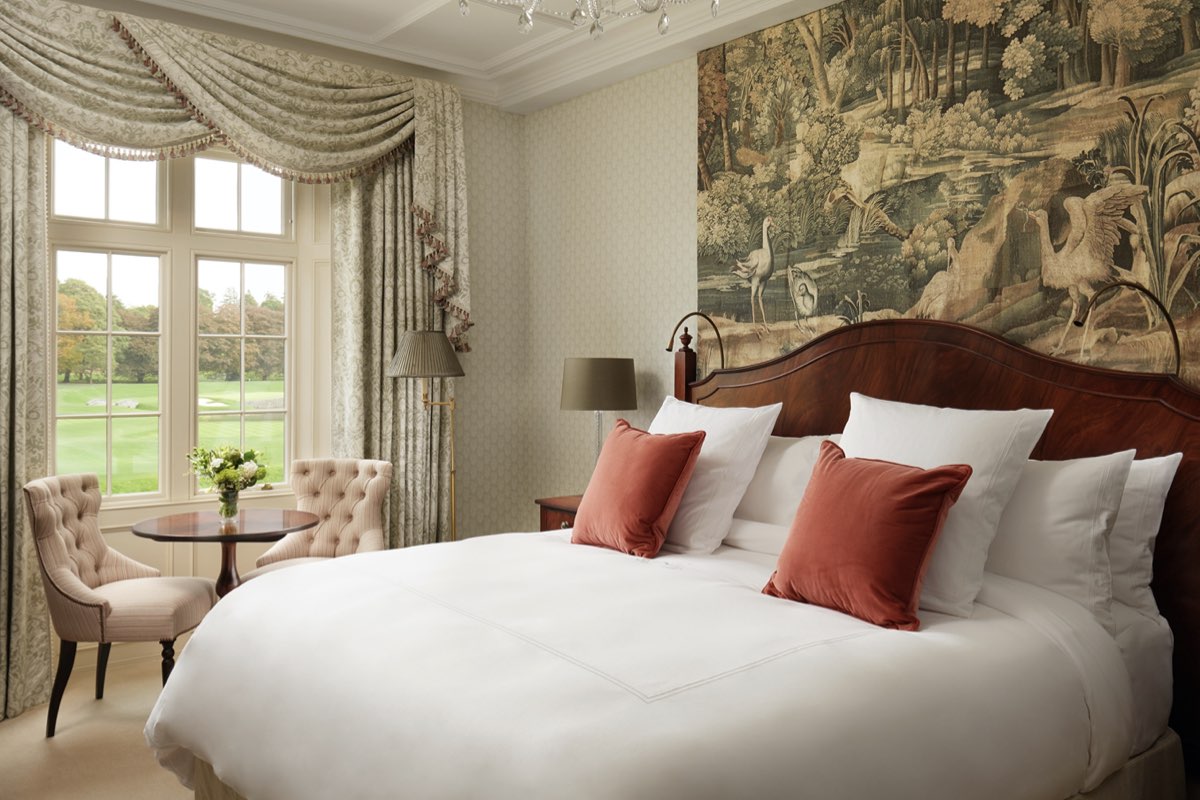 What to do
Outdoor activities abound here. The hotel is set on 840 acres of parkland, and I can't overemphasise how beautiful and manicured these are. Do explore on foot and enjoy some gorgeous walks. You can also cycle (just grab a bike at the front door) and try archery, fishing, horse riding or the Irish Gundog Experience. During the latter, you get to meet the beautifully trained Irish Labradors, and their trainer, Willie. They are brilliant at hunting game on the estate and perform a series of little obedient tricks for us.
Even if you're an amateur, the golf here is spectacular. The hotel is hosting the Ryder Cup in 2026 (a big deal for those in the know) and we play the last nine holes with our excellent caddy Dave, a font of knowledge about the course, hotel and wider area. It's a fairly tricky course, with lots of nifty rivers and lakes in which to sink balls, but with blue sky and sunshine – yes, in Ireland in November – there is no better way to spend a morning.
Pampering
Then there's the spa. One of the only La Mer spas around, facials use this renowned brand and focus on layering cream after cream. There is a lovely mani pedi suite, and do try one of the signature body treatments, of which there are two, both totally different.
The Sleep Sound treatment is perfect for those who struggle to get a good night's zzzz, as it's a soothing massage that uses careful pressure and Swedish techniques, working to balance the nervous system and ease an overactive mind. You'll be ready to drift off at the end.
The Misneach treatment – the Irish term for Inner Strength – is spiritual as much as physical, created around the meaning of the number seven. It targets the seven Chakras in the body and is based on Ayurvedic philosophies. The speed of the massage goes from quick to slow and back again throughout the treatment, to trick you into relaxing and not guessing what's to come.
The spa has a little lap pool, so do bring swimwear if you fancy a dip – and more so if you visit next year, as the hotel is currently building a fitness centre with a larger offering.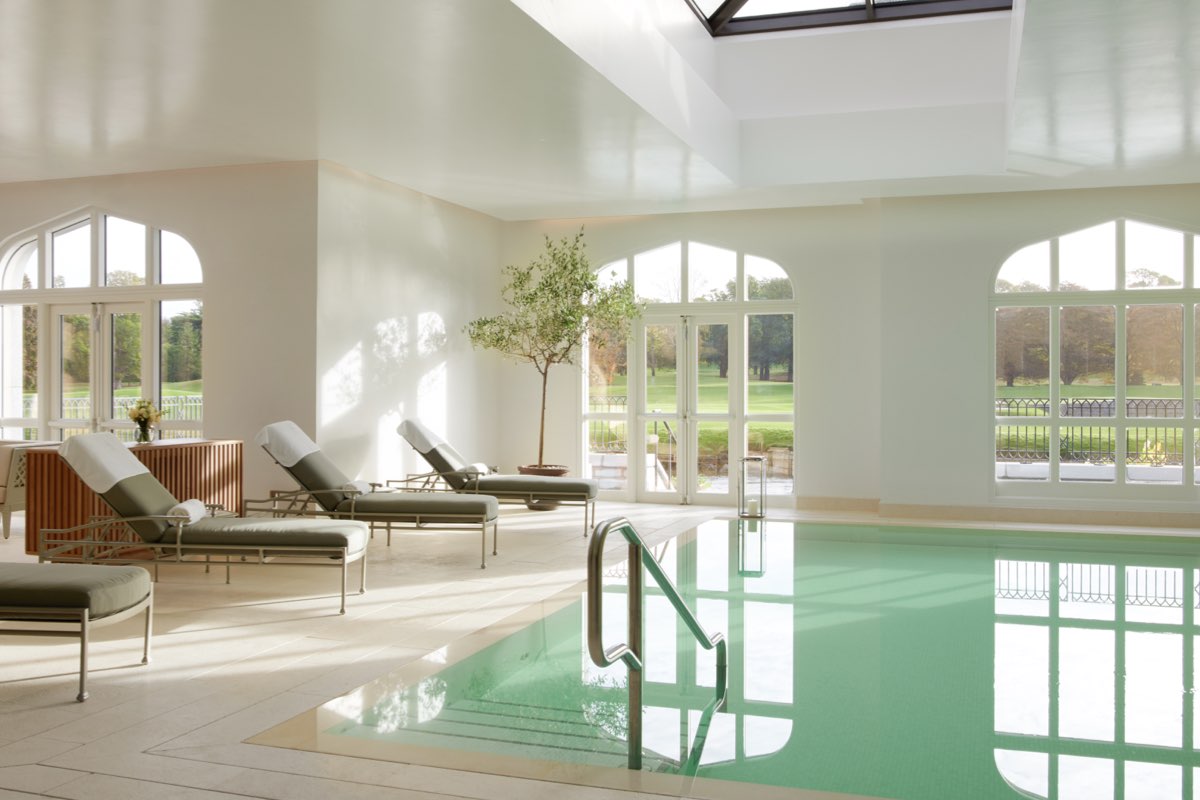 Food
It's worth noting that Adare Manor was awarded a Michelin star this year. It's Head of Wines & Beverages was also awarded the New Sommelier Award 2020. Clearly, the food scene here is prestigious.
Fine dining
If you want fine dining, book into The Oak Room. Formal and opulent, the menu showcases top quality seasonal produce from Irish growers, farmers and fishermen. The chef and his team also forage from the grounds of Adare itself. Choose from à la carte or a tasting market menu with thoughtful wine pairings for both options. There is a vegetarian menu too – the artichoke truffle risotto is out of this world, and the bread basket supreme. It's one for a special occasion.
All day
The Oak Room is one of several places to eat at Adare Manor. The Carriage House restaurant offers more relaxed all day dining. It is large, with mosaic floor, oversized greenery and pendant lighting and marble table tops. The kitchen is open and there's a buzz to it, with a menu of burgers, grilled meat – the choice of steak sauces was excellent – and fish and chips. Save room for hearty delicious desserts, like berry crumble, sticky toffee pudding and Knickerbocker Glory.
We take lunch in The Drawing Room, a fabulously pretty room. It has views over the formal gardens, heavy silk curtains, an opulent gold and cream ceiling and a roaring fire. Come for lighter fare like sandwiches and salads, or to while away the afternoon over the newspapers.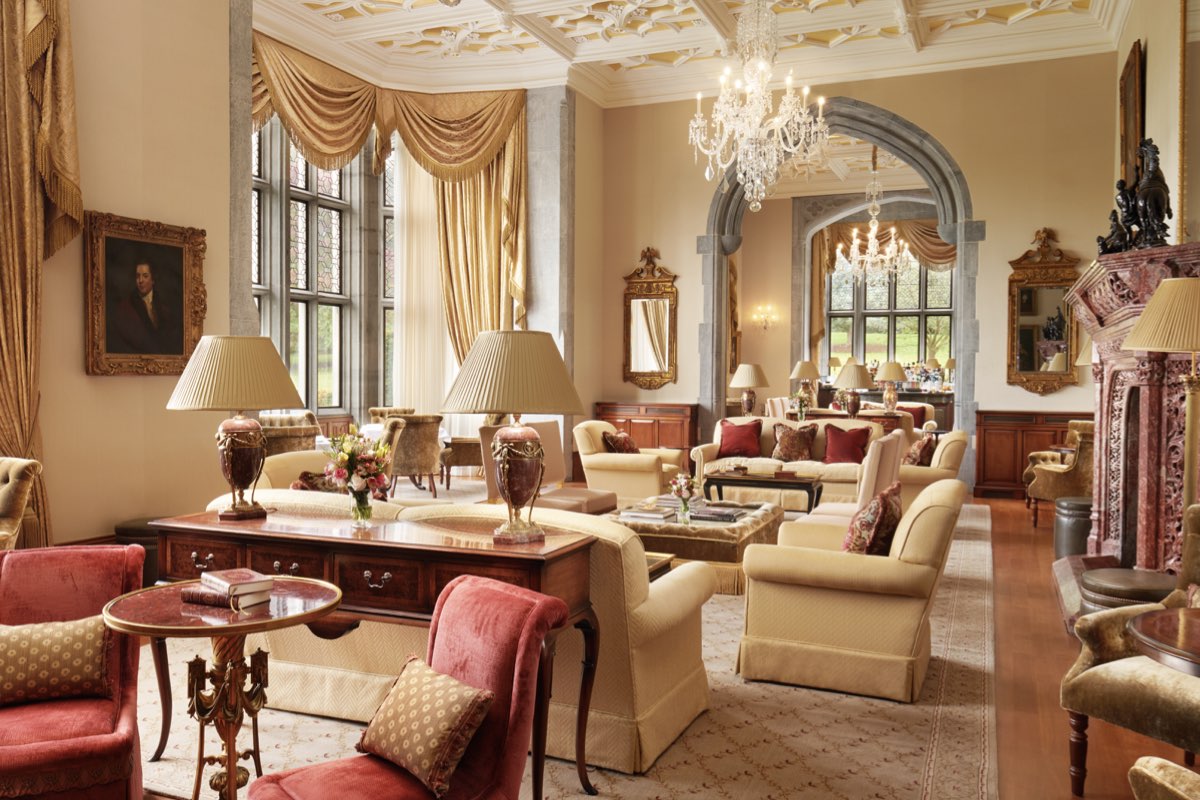 The Tack Room is the seductive and dark cocktail bar, home to rare international whiskies.
But our favourite spot is The Gallery, where both breakfast and afternoon tea are served. The room, formerly the family's living room, is 132 foot long with wonderful stained glass windows. Breakfast is both a la carte and a buffet. The latter has the nicest and most abundant options I can remember seeing in a hotel. There's doughnuts and pastries and cereals; smoked trout and dried fruits and everything in between, supplemented by a menu of eggs, bacon and more. Even diehard Londoners seeking avocado toast will not be disappointed.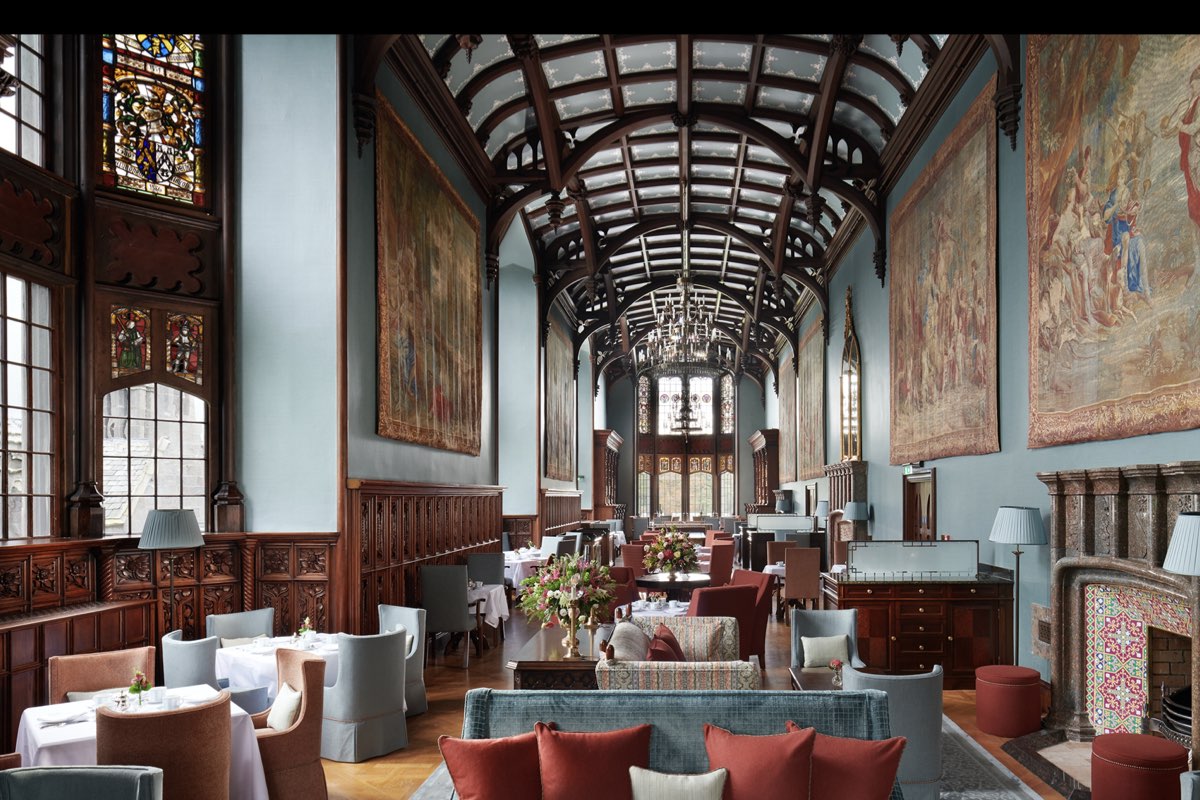 The verdict
My first visit to the Emerald Isle and Adare Manor made it a total joy. I visited with my dad and we have different ideas of what constitutes a holiday. But, we both had a fabulous time. It's impossible not to in a place this beautiful, luxurious and special. I can't wait to go back.
Get your weekly DOSE fix here: SIGN UP FOR OUR NEWSLETTER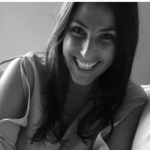 Charlotte is a London girl through and through. She sweats through spin and puffs through Pilates to justify trying the latest restaurants and devouring copious amounts of sweet potato fries, burrata and bread – preferably on holiday. Her favourite destinations include Italy, the Maldives and anywhere where the sun's shining and there's a strong breakfast buffet. She's obsessed with walking, visiting farmers' markets and reading. She's also learning to cook. Wish her (and her husband) luck.