Burnt out and in dire need of a life-affirming nature break to relight your fire and joie de vivre? Look no further than Another Place. The sister hotel to Watergate Bay Hotel in Cornwall, Another Place in the Lake District, is a relaxed, contemporary hotel on the shores of Ullswater, suitable for families, dogs and couples, where you can eat, drink and explore the lake and fells to your heart's content. The perfect antidote to the stresses of modern living. DOSE writer Hettie reports back on a romantic two night stay in one of the newly launched Shepherd's huts, nestled within natural surroundings..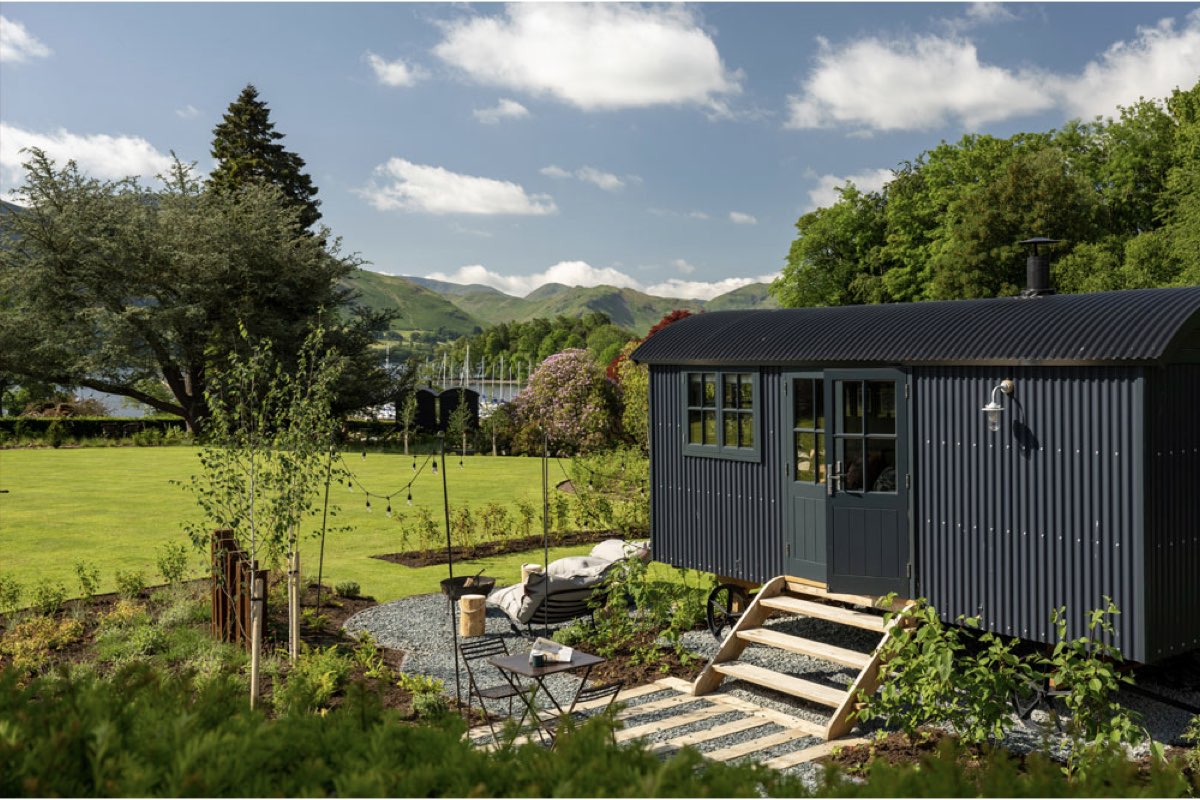 Arrival at Another Place
A 6 hour drive to check into a shepherd's hut in February, with an itinerary comprised of icy lake swims and wet and windy hikes, might not sound like the obvious Valentine's celebration. But it's the sort of life-affirming elixir that's required for a couple of burnt out parents in dire need of a break. And this is no ordinary shepherd's hut but two, expertly joined together, made of FSC-certified French oak. Inside is a double bed with stargazing roof and copper bath with lake views.
It's beautifully kitted out with everything you could possibly need for a romantic night in; with inspired design and interior comforts, a log burner, land&water bathroom amenities and pantry packed with marshmallows for eating round a fire-pit, coffee and teacakes. And what's more they are warm as toast thanks to 100% renewable electricity and heating from the hotel's biomass boiler. Our shepherd's hut is dog friendly and some are kitted out for families.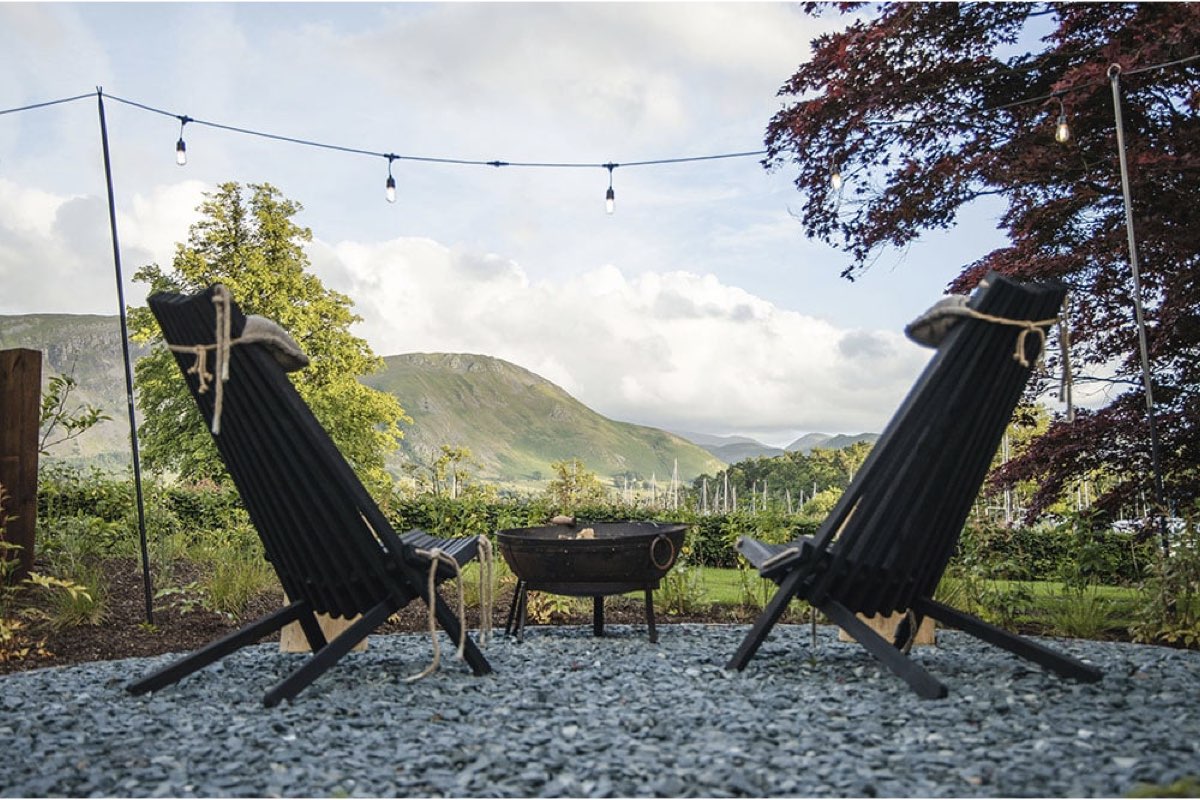 Dinner at Rampsbeck Restaurant
That evening we dine at Rampsbeck with a British menu focussed on great tasting Cumbrian produce. We dine on crab and turnip ravioli with rosemary, pink peppercorn, sweet and sour dressing. "Just to manage your expectations, there's no pasta in the ravioli", our waitress informs us nervously. The pasta comes in the form of wafer thin crab meat.  We order a couple more sides to accompany our main course, but find the pan fried salmon with spinach, baked new potatoes, tomato salsa, sesame mustard dressing and toasted hazelnuts is more than sufficient without an extra portion of fries. Dessert is a dark chocolate mousse with chocolate aero, salted caramel and yogurt sorbet. The menu is clearly marked with allergens and information regarding intolerances. 3 courses will set you back £55 per person. That evening we huddle around a firepit, concealed by rhododendron glades, breathing the clean air, gazing up at the stars.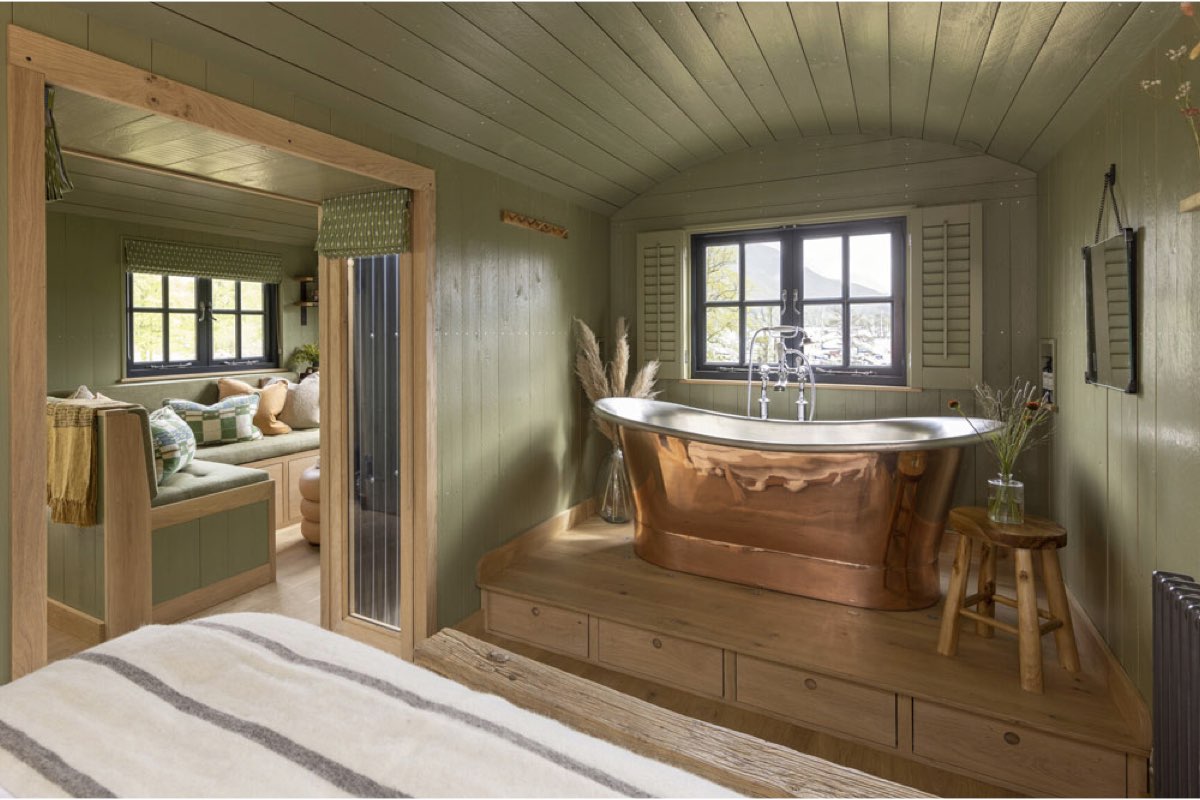 If you don't fancy the Shepherd's hut option, the hotel houses 40 bedrooms within the original Georgian building and a new contemporary wing, including a number of family suites and dog friendly rooms. Gathering spaces are woven throughout the hotel and grounds and include a library, a cosy escape in the original Georgian building, complete with fireside sofas, board games and floor- to-ceiling windows.
Breakfast & Lake Swim
The next morning, we walk our dog, taking in the beautiful views before heading back to Rampsbeck for breakfast. The first course is a selection of fluffy scrambled eggs, mushrooms and beans. Just before we begin to tuck into a cinnamon swirl, a wetsuit clad man can be seen darting through reception enquiring about our whereabouts.
Within ten minutes we're at the Sheep Shed lakeside cabin, donning out wetsuits and submerging ourselves into Ullswater, Britain's second largest lake, in a cold water swimming session, guided by Colin Hill, one of the country's most experienced open water swimmers.
7 miles long, 60m deep, formed by three glaciers, Ullswater is a sight to behold. The experience is thrilling and charges the endorphins, not to mention a great way to view the surrounding scenery. In summer months, Colin tells us that he paddle-boards to work from his house across the water.
For keen swimmers there's a swim camp running in October to help you flourish in the open water, fine-tune your technique and swim under the stars. Wetsuit hire is available from the Sheep Shed if you want to swim solo and Dryrobes are available to keep guests warm pre and post swim. For active types, other lake activities include SUP, kayaking and canoeing.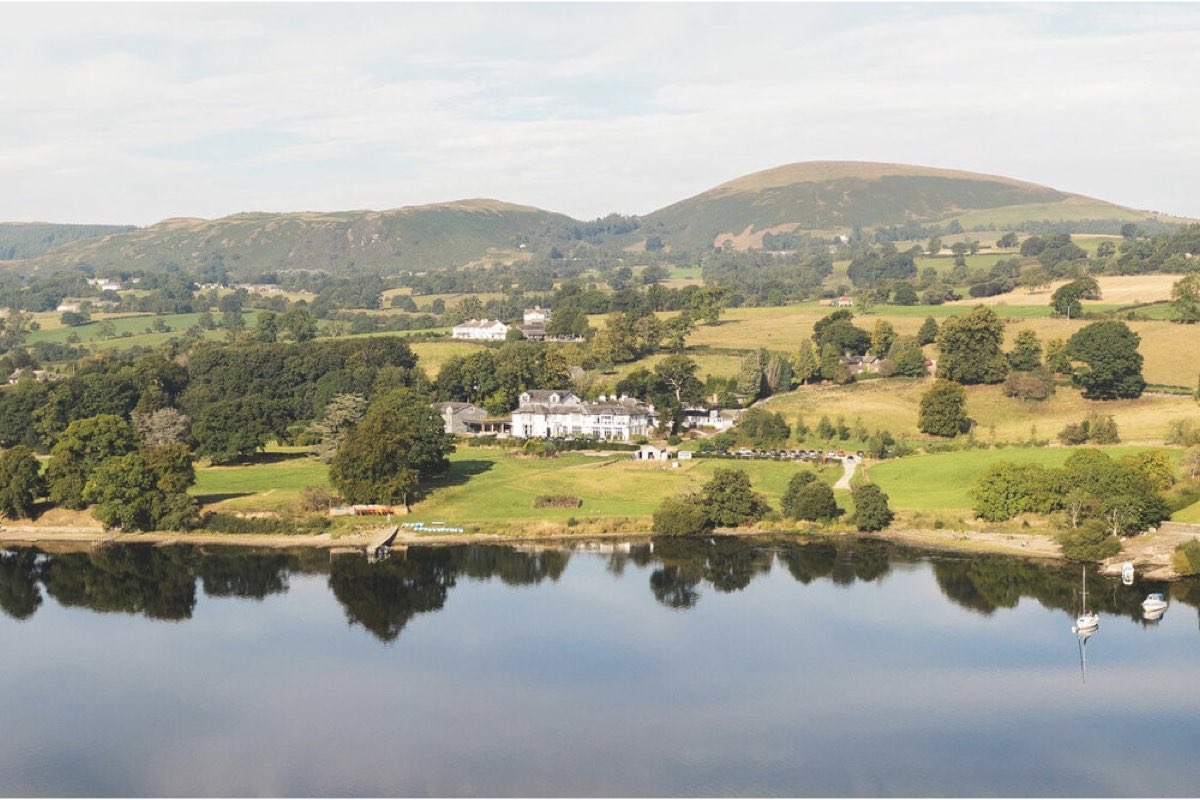 Hiking Arthur's Peak
After a hot shower, we pack our bags and drive to our starting point in Pooley Bridge ten minutes away from the hotel, to commence our hike to Arthur's Peak.
A gently sloping 2.7 mile walk, with steeper sections crossing two streams, passing cairns and reaching an elevation of 1000ft. Arthur's Pike is the highest point visible from Another Place and once ascended, the view sprawls below.
Wet, windy and exhilarating, on returning back to the car we feel alive and ravenous. We stop off at a nearby pub for lunch before heading back to the hotel. For more walking routes, be sure to visit Another Place's walking guide.
Swim Club at Another Place
The swim club contains a 20-metre indoor pool, an outdoor hot tub, a sauna, a cardio room and treatment rooms. The pool is flanked by two walls of glass, like Watergate Bay and has views that blur the boundary between you and your lakeside location.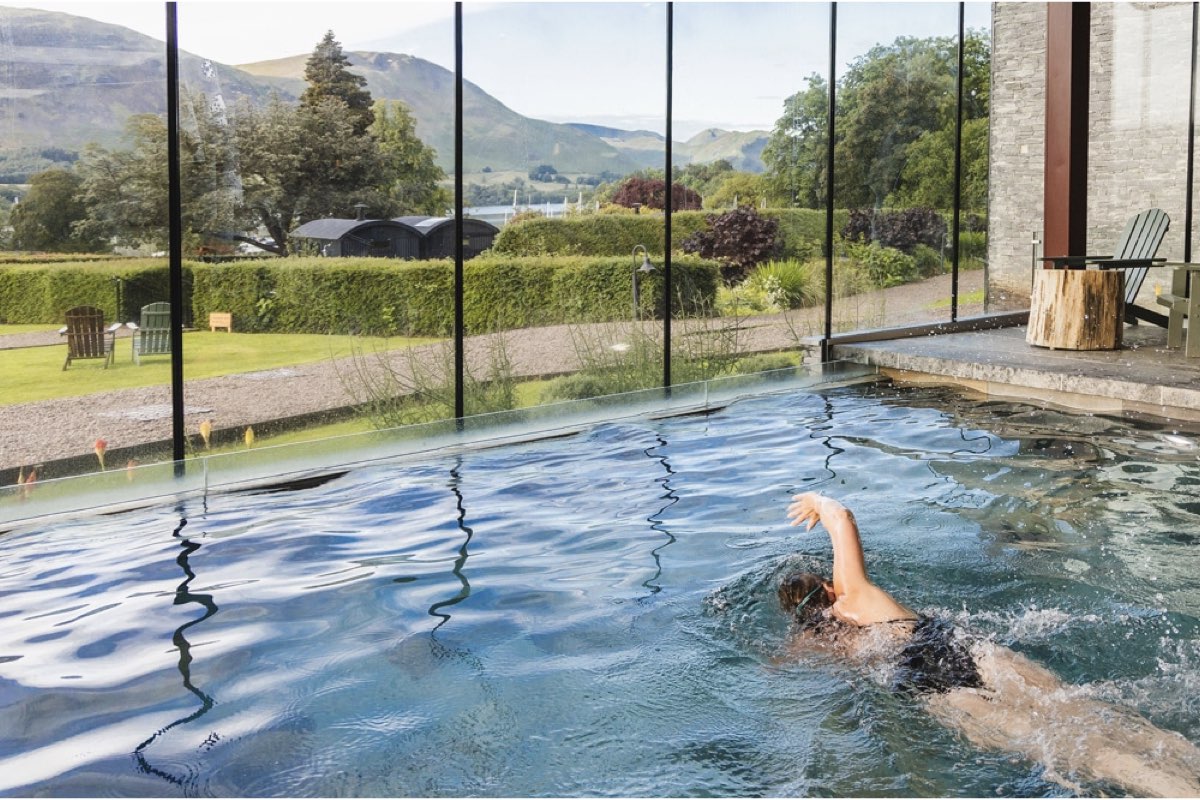 A skylight floods the pool with further natural light – you can float beneath the clouds, indoors. Slate flagstones surround the pool and ultra-violet filters in the water keep the pool low on chlorine. For young children, the pool has a shallow area. The pool hall leads to the outdoor hot tub – plain and simple, with no bubbles or jets – and the sauna.
The hotel swimming pool is open from 7am to 9pm with dedicated adult and family swim times. Accessed from the pool area, the sauna and hot tub are designed for soothing aching bodies after a day scrambling up fells or hours spent paddling up the lake. Inviting the views in, glass doors on the sauna give glimpses of the lake and Arthur's Pike (where we hiked this morning), on the other side of Ullswater.
Step outside and you can plunge in to a heated outdoor hot tub. Swedish in design, meant for warming up your toes while you soak in the views, listening to birdsong.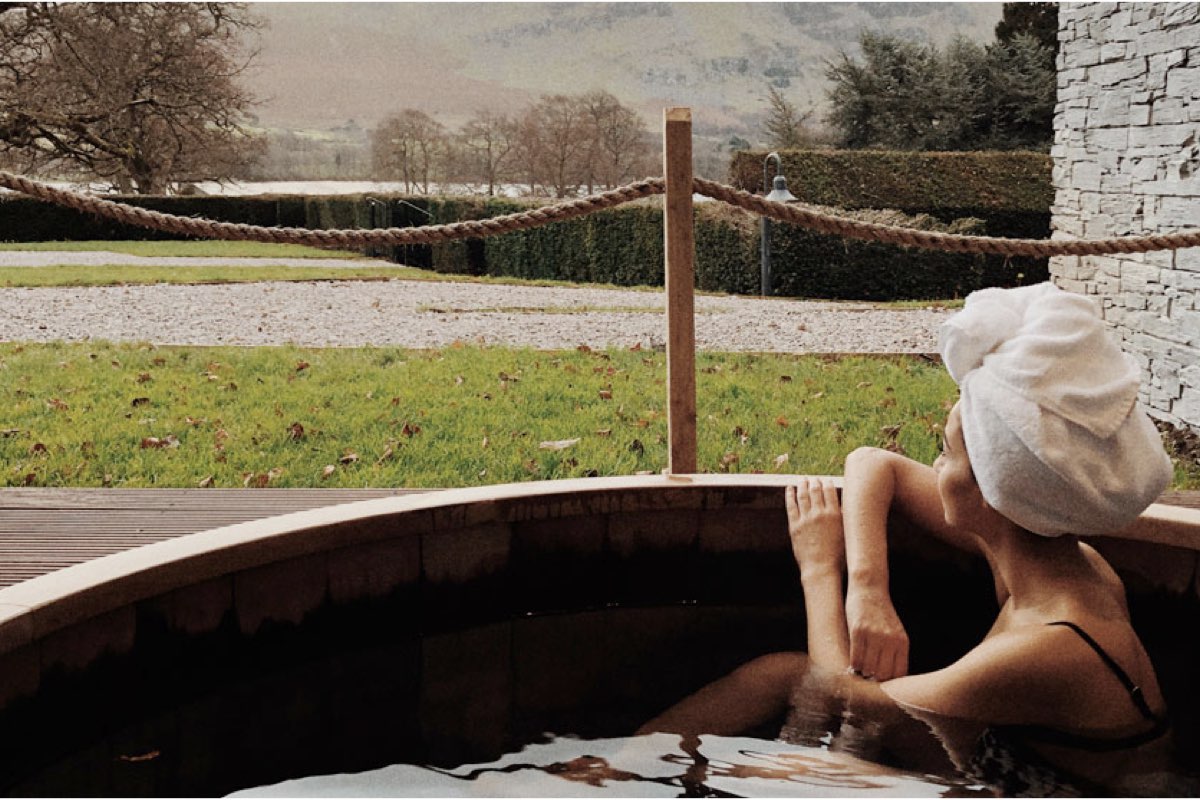 Spa treatment at Another Place
Less spa, more remedial massage, my "no frills" body treatment came with no bedside manner but a firm hand to unlock areas of tension built up from many months hunched over a phone and laptop. The experience left me woozy and de-stressed, albeit a little tender in places.
All 60 minute massages can be personalised according to your concern, and couples can have a side by side treatment for face and body. The hot rocks detox massage focusses on the back, neck, shoulders and back of legs massage with hot rocks, whilst the land&water body treatment uses a body brush, salt scrub, body lotion, scalp, neck and shoulder massage with land&water body oil.  'The works' is a 90 minute treatment with body brush, salt scrub, wrap, fast facial and full body massage. Mani/pedi and Pregnancy treatments are also available.
Dinner at The Living Space
The next evening we dined at The Living Space, a casual dining restaurant where dogs are welcome. We sat at a sofa and picked on crispy vegetable gyozas with edamame, radish salad and dipping sauce, followed by roast hake, salt and vinegar scraps and seaweed and king prawn spaghetti with chilli, basil, cream cheese and sumac, herb crumb.
Another option for dinner is the Victorian-style Glasshouse, which offers a great selection of woodfired pizza. The Glasshouse, created by Hartley Botanic, sits in the gardens – the closest building to the lake shore – as a focal point for all hotel guests. It is next to the vegetable and herb garden, which supplies produce for Glasshouse chefs, who grow some edible plants inside – from tomato vines to fresh herbs.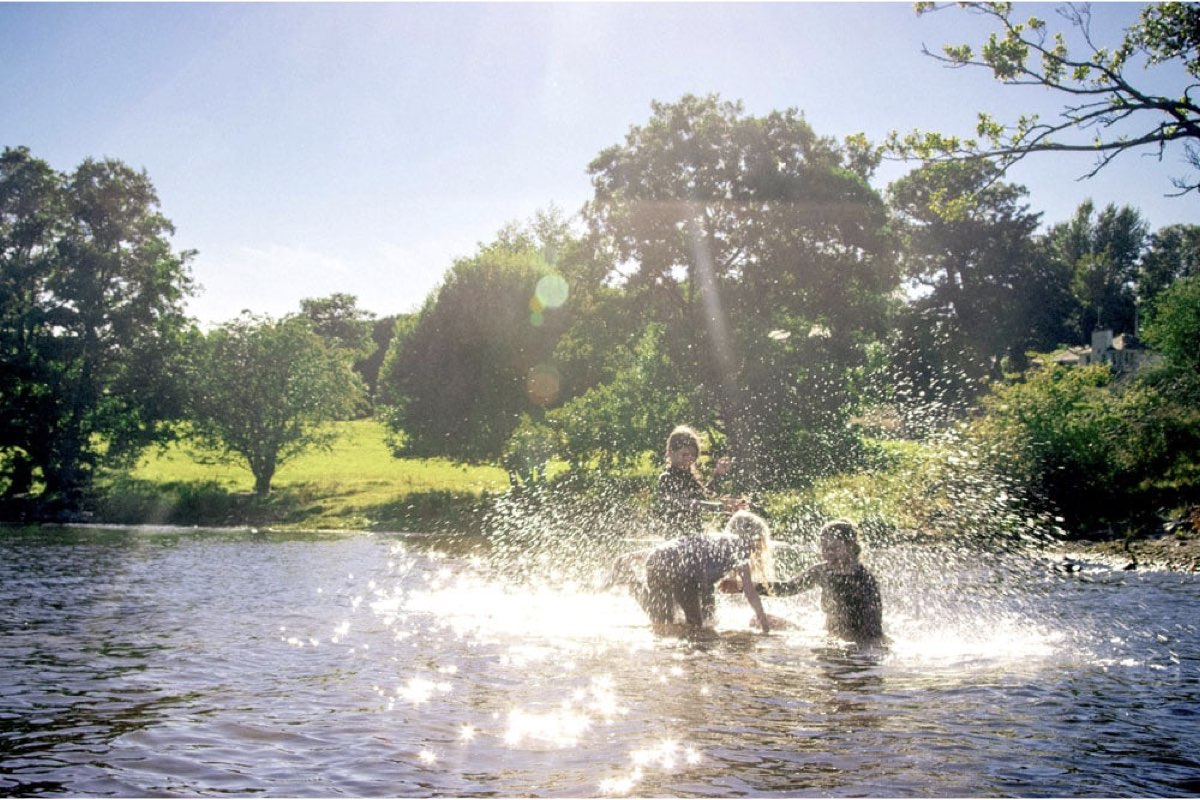 The next day
We spend another evening stargazing from our shepherd's hut and the next morning rambling the land and enjoying bracing winter dips, endorphins charged, feeling alive and rejuvenated, dark circles and stress levels visibly reduced…. Before the 6 hour drive back home looms, beset with road closures and road rage.
Once home, we resume our role as workers and parents and are brought back to reality – but the dream was beautiful while it lasted. Yes, we could have flown to the Cape Verde Islands with 26ºC sunshine in the time it took for us to drive to the Lake District but the jaw dropping scenery of England's largest National Park is hard to beat and it proved just the tonic to relight our fire and joie de vivre. Whether it was the Lake District water or the bathroom amenities, our hair felt so great on returning home, we instantly bought a set of shampoo and conditioner from the brand's landandwater range.
Liked this article on Another Place? Read more information, visit the Another Place website.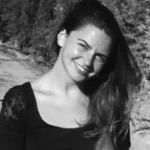 Hettie is the editor and co-founder of DOSE. A keen runner, she's also partial to a blast of high-intensity and hot yoga. A country girl at heart, she divides her time between London and the lush rolling hills of North Devon. When she's not jetting off on her next adventure, Hettie can be found in a candle-lit alcove with a laptop, a spaniel and a full bodied Malbec.