With saunas and gyms closed, many of us have had to up our home self care game, and a sauna blanket is the cherry on top that many of us are missing. The benefits of infrared sauna blankets are endless, from improving immune system function to fat loss. Having an at home sauna has never been easier and DOSE has got you covered with everything you need to know about sauna blankets and where to buy them.
What Is An At Home Sauna Blanket?
Sauna blankets penetrate Far Infrared rays (FIR) into your body, unlike normal saunas, they heat up your body from the inside. Infrared energy is not only safe but also highly beneficial for our bodies. FIR is a harmless invisible light, which gives warmth to our bodies as well as improving our wellness levels.
When FIR reaches tissue, it transforms from light energy into heat energy. The thermal effect promotes better blood circulation, and helps to rid the body of toxins and metabolic wastes through sweating. It's claimed that in 4o minutes you can burn up to 600 calories with a sauna blanket.
MiHigh recommend using the sauna blanket '2-3 times per week – there is no strict rule, so listen to your body and go with what makes you feel best.'
Sauna blankets usually offer three separate zones of infrared heating therapy. Each zone controls the heat ranges individually for the upper body, waist section, and lower body part. The temperature for each zone can be adjustable from 30-85 Celsius.
What Are The Benefits Of A Sauna Blanket?
There have been many claims about the main benefits of sauna blankets, just from using it for 30-45 minutes a day. These include:
Remove Body Fat And Cellulite
The high heat raises the heart rate, speeding up the circulatory system and enabling you to burn more body fat. The rays in sauna blankets give at least twice the depth of heat penetration into cellulite, combined with up to 10 times the level of heating in these tissues.
Ease Muscle Pains
If you've been aching from your at home workouts a sauna blanket will be the answer to your prayers. The high heat can reduce muscle inflammation and sooth those aches and pains.
Increase Mood And Sleep Quality
A sauna blanket increases your heart rate, leaving you feeling like you've had a workout. So with tired and relaxed muscles comes deeper and longer sleep, and can even help you to fall asleep faster. And due to the sauna blanket increasing your heart rate, mimicking a workout, your mood gets elevated, helping you to stay motivated throughout the day.
Immune System Support
The detoxifying qualities of a sauna blanket recharge your body's cells, and speed up the renewing process to replace the old ones with new, stronger ones, more able to fight off new illnesses.
Which Are The Best Ones To Buy?
When selecting a sauna blanket, you should also consider the blanket that is waterproof and made of soft material and flexible enough to ensure your comfort whilst you relax in the blanket.
Infrared Sauna Blanket from MiHigh, £399.00 – Buy here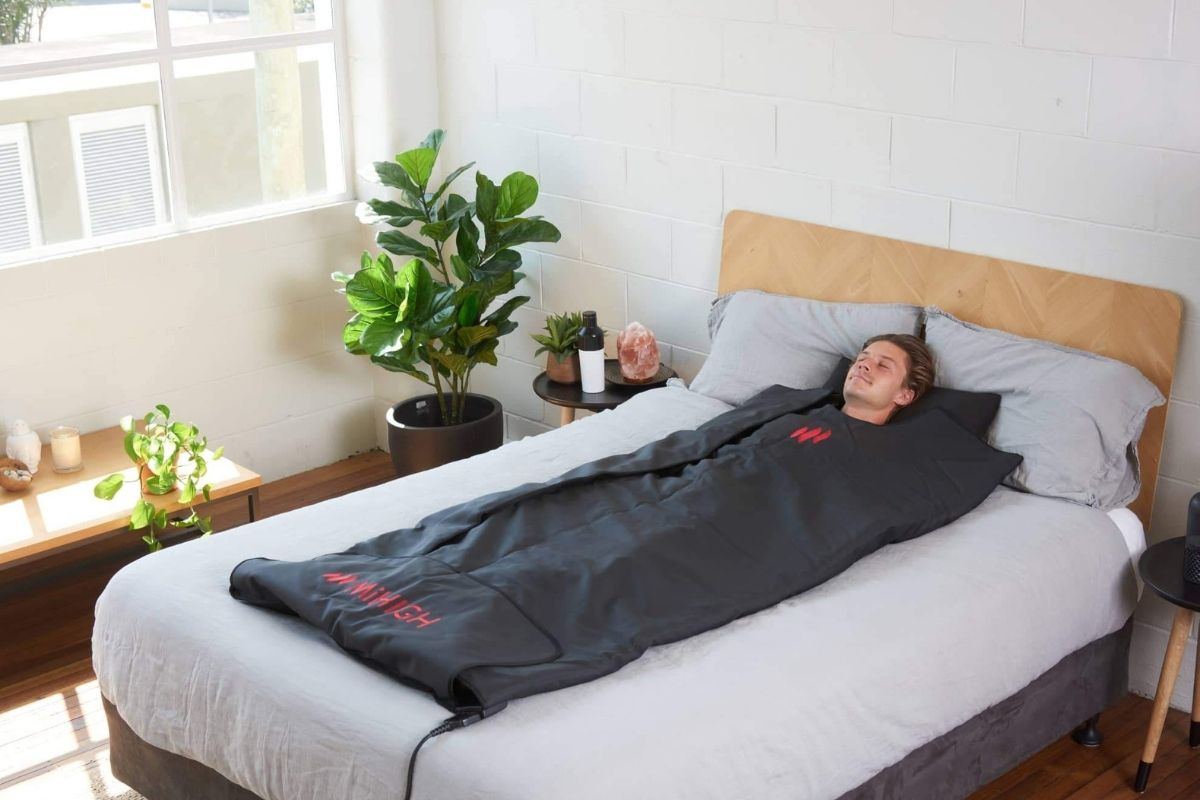 Infrared Sauna Blanket V3 from HigherDose, £469.00 – Buy here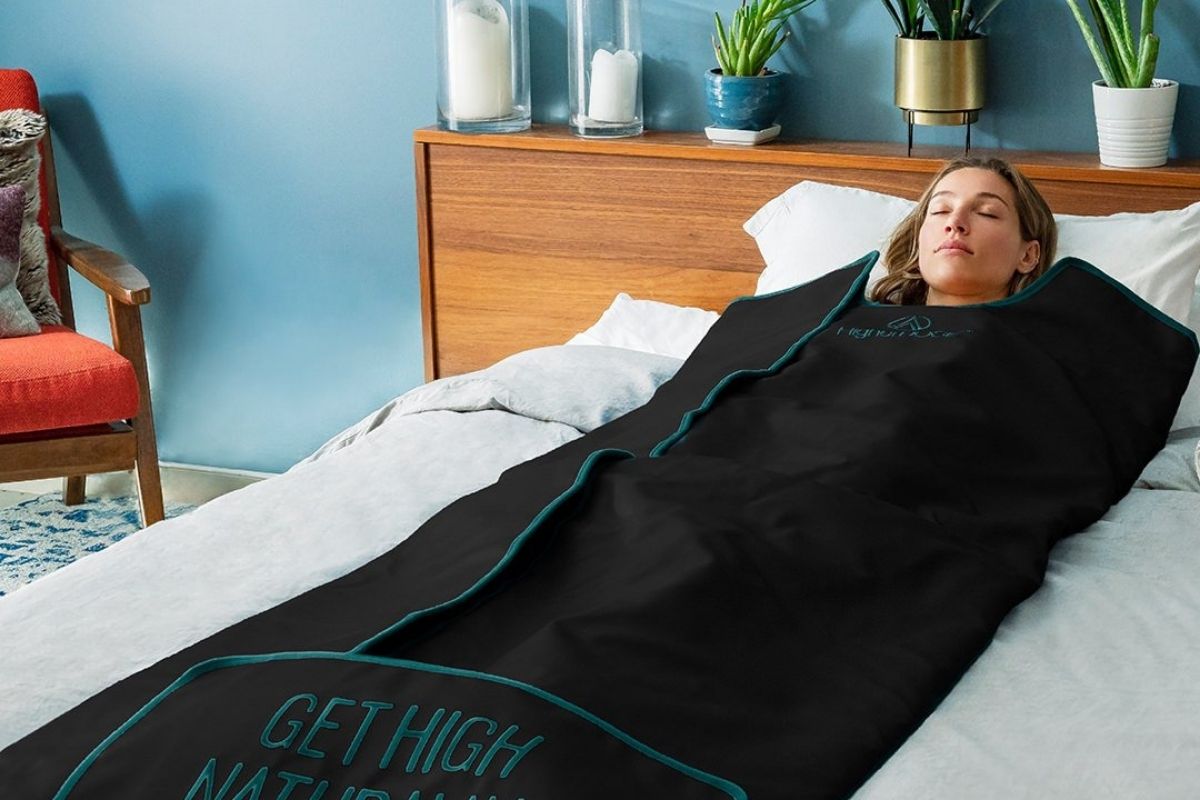 Another option is an infrared mat. They are designed for holistic wellness, helping to reduce inflammation and reduce muscle pain. An infrared mat will become your post workout best friend. Perfect for stretching and meditation, the infrared mat won't make you sweat as intensely as the sauna blankets will and therefore can be used for longer.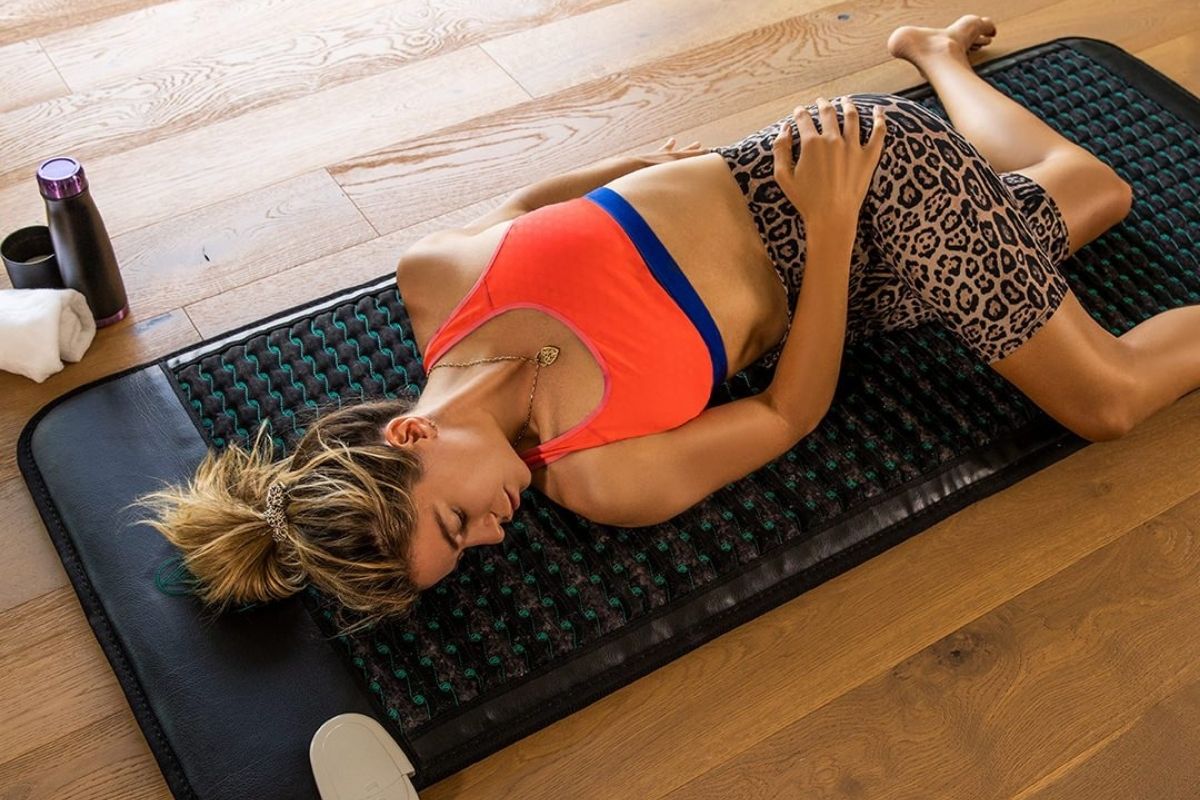 For more info about the benefits of infrared sauna rays and heat check out these DOSE articles; IT'S GETTING HOTTING IN HERE: HAVE YOU TRIED AN INFRARED SAUNA YET? and CAN A SAUNA CURE A HANGOVER?
Get your weekly DOSE fix here: SIGN UP FOR OUR NEWSLETTER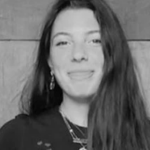 Born and bred in London and an avid vegan, Demi has explored most of the hidden vegan spots in London and is on a mission to try them all. Her experience working for wellness and vegan startups has enhanced her passion for health trends and vegan food. Her time is mostly spent in vintage stores, painting or cleaning her growing sneaker collection. Her next goal is to earn her scuba diving license and hopefully explore oceans all around the world.