Bath is a destination fully committed to relaxation. From its remarkable spa culture to the soothing riverside strolls, it really feels like the ultimate UK wellness staycation. DOSE writer Emily reports back on her city break…
A WELLNESS STAYCATION IN BATH
As a boutique city with all of the vibrancy of other sprawling UK towns, Bath felt more intimate to me. With way less crowds, a lot more space to explore and everything just a short amble away from each other, we ticked off a handful of experiences on our short wellness staycation.
WHERE TO STAY IN BATH
As one of the city's oldest hospitality buildings, the Abbey Hotel instantly gave off those home away from home feels. To make the most of our wellness staycation, we set off from home (Surrey) around 6am, arriving at the hotel a good few hours before check-in. No problem though, the welcoming staff held our bags until the room was ready and let us use the oversized guest bathrooms to get ready for our day. With its central location, the hotel doesn't have parking available on site but there's a long stay car park just around the corner. It felt very safe and was great value for money. Just £16 for over 24 hours? You wouldn't find that in London… Our day was off to a great start.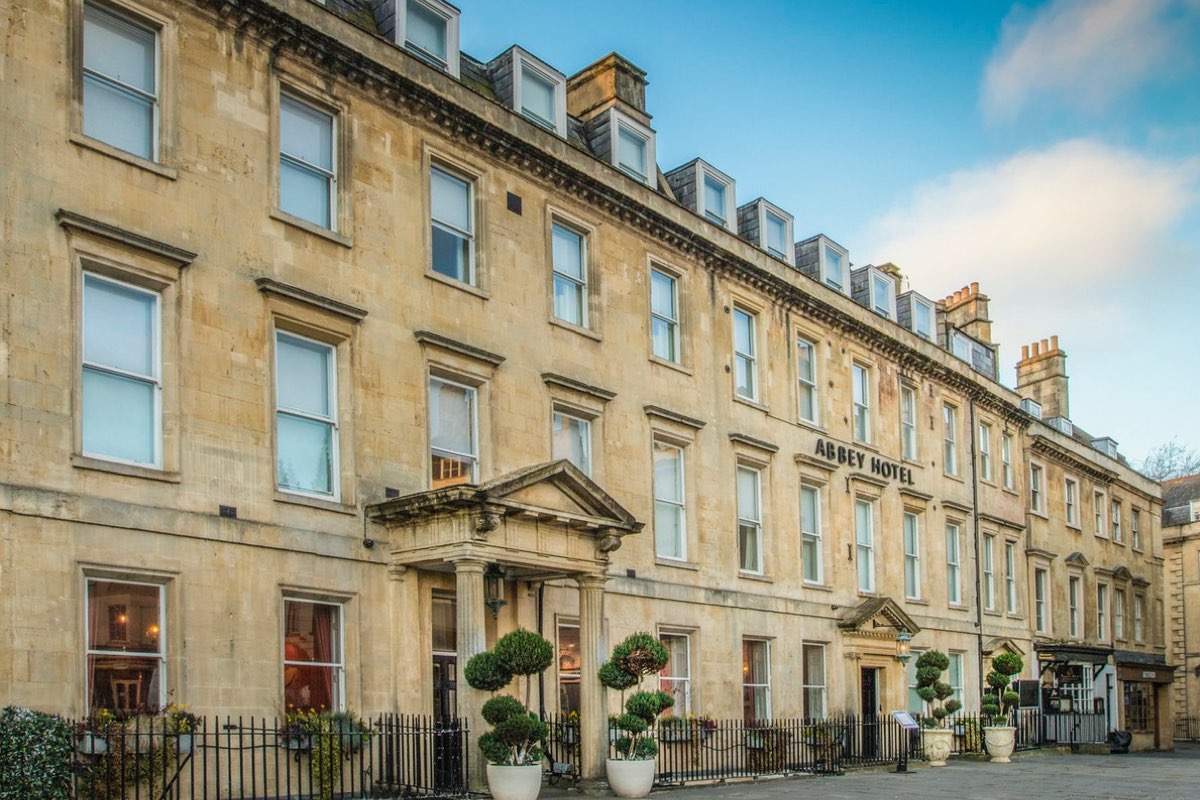 Just minutes from the train station (it only takes an hour and a half to get from London to Bath by train), The Abbey is conveniently based in the hustle and bustle of Bath. Neighbouring the finest hidden gems, the best restaurants and lots of independent shops, the hotel's storytelling epitomises its feel. Overlooking Bog Island, it's encased by Bath's architectural heritage. It really felt like a voice in Bath's historical culture to me. And this is a concept running throughout the whole hotel. From the handmade stencilled murals of Bath in the bedrooms, to the carefully curated package stays paired with some of Bath's most traditional experiences. 
THE ROOM AT ABBEY HOTEL BATH
Each floor has a different artistic theme that moves throughout the bedrooms and corridors: print, cinematography or gallery. We stayed on the cinematography floor. You can probably imagine the kind of room decor from the theme but if you need help picturing it, think of retro phones, reclaimed wooden furniture and old school polaroid cameras. The design of the room made it feel open and spacious yet I felt really cosy at the same time. With a front facing room, our window framed the outside calmness of Bath and with natural light flooding through in the morning, it was quite the sight to wake up to. The bathroom was impressive too. With an oversized walk-in shower and luxury toiletries from a local wellbeing company, it felt like the perfect spot to stay on our wellness staycation.
WHAT TO DO IN BATH:
What better way to kick off the first day of our trip than with a sweaty gym session? Standing for 'First Love Yourself', FLY is an endorphin filled studio with a pumped vibe and even more pumped instructors. With a spacious gym floor where guests can smash out a personal session, FLY also offers three group curated classes. FIRE (fast-paced HIIT), FORCE (weight training to build muscle and perfect technique) and FLOW (barre, pilates and yoga to unwind and improve flexibility). Obviously we chose to go all out and get FIRE'd up.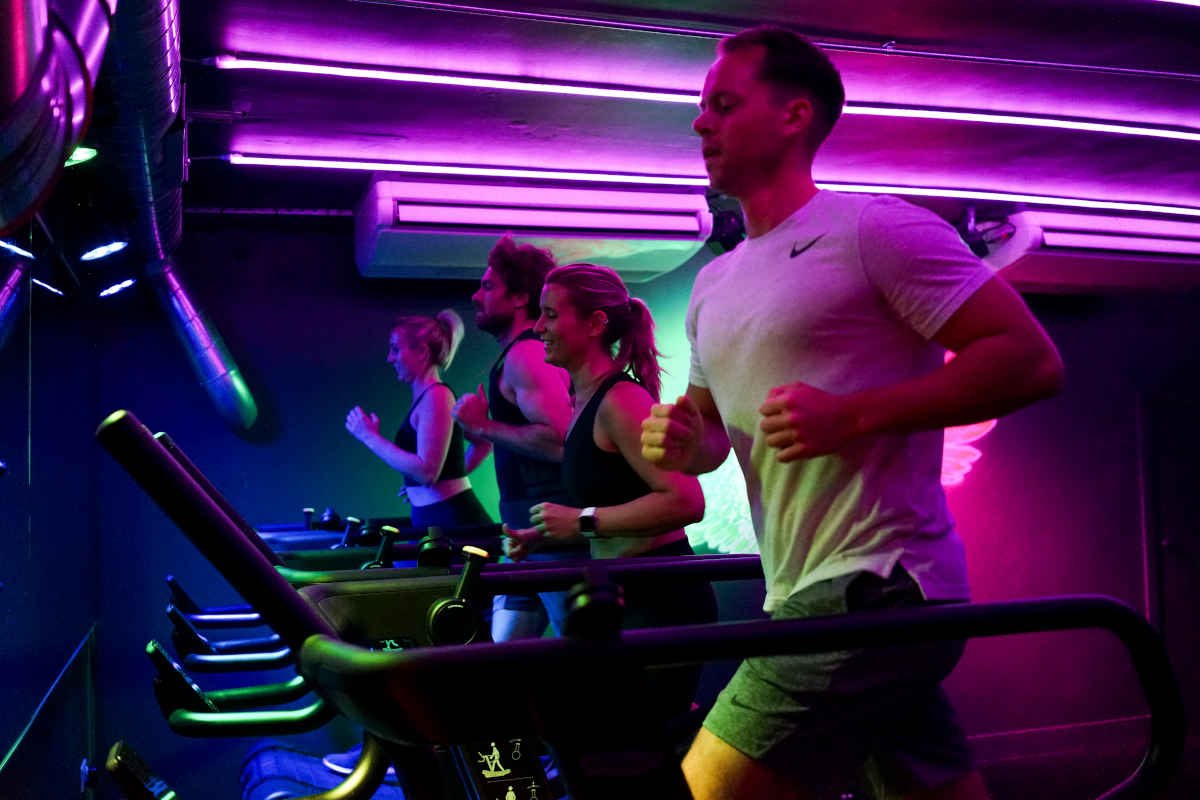 Masks off, bags in the locker room and in we go into The Dungeon, FLY's energetic basement studio. As we were new to the studio, before we got started our friendly instructor Chris filled us in on the circuit style class dynamic and how to use the machines. A mixture of cardio and weights, we had kettlebells, skillet sprints, core and box step ups to crush. A quick spritz of my DOSE HIIT ME UP mood mist and I was ready to smash it. The surround sound speakers were blasting out an absolutely five star playlist (think old school bangers remixed to the next level) and the black studio was lit up with overhead strobe lights. The lights were even colour coded meaning we could fully focus on sweating. Bright red when we worked for 45 seconds and a cool green to indicate it was our (much needed) rest time. 
So what was my verdict? Well, as the first in-person gym class I've done since before the pandemic, I was nervous. But this was everything I had dreaded and more in the BEST possible way. I left the studio feeling empowered to smash the rest of my day and that feeling stuck with me long after I left. 
Once we'd ticked off training our body, we were ready to hit a different kind of gym. One for the mind. Tucked away down a classic Georgian alleyway in the city's spa quarter sits The Soul Spa. A dedicated space for mind-body therapies using a holistic and natural approach to wellbeing. The entrance (a little blue door, just like the iconic one in Nottinghill) is actually so hidden that we almost missed it, which made the three stories of sanctuary behind it feel even more secluded and special. From that point on, we entered our own little world for a couple of hours and were not mad about it.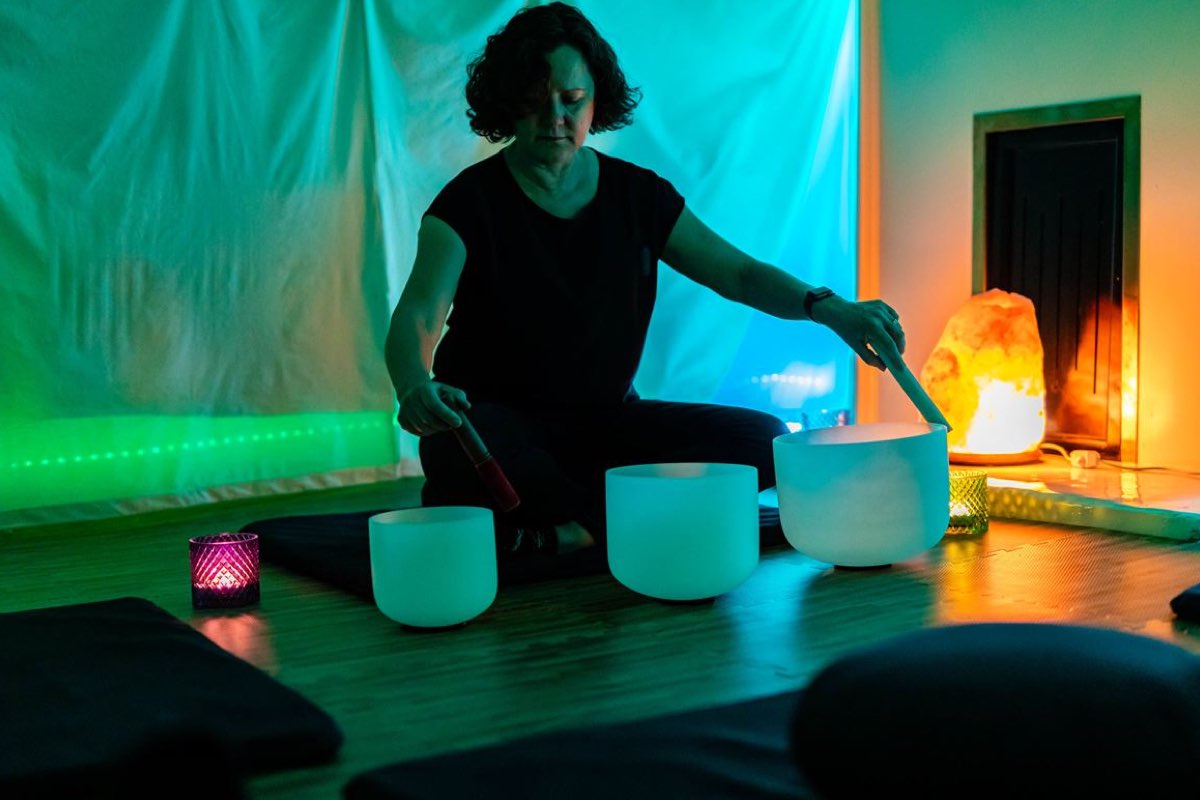 As soon as I stepped foot inside, instantly I felt grounded. And it's no wonder. When owner Madeleine later told us that ancient healing waters run underneath the building, the calming energy I felt all made sense. Well, that and the powerful crystals, Himalayan salt lamps and elements of nature nestled around every corner of the spa. From angelic healers, reiki sessions and sound baths to laughter yoga, acupuncture and holistic reflexology, there are a handful of treatments to calm the mind, body and spirit here. 
Sensory Lounge Preview Night
We were lucky enough to experience the new Saturday night lounge preview with a multi-sensory sound frequency meditation using crystal bowls and music from DJ Carlo Zen. If you've ever done a sound bath then you'll know but they can send you on an intense inward journey. The Soul Spa describes it as reaching the peak of mental relaxation. And all you have to do is simply absorb the sounds and words around you. These sounds aim to realign you as your healing hormones of serotonin, dopamine and oxytocin are released. 
While people would usually return to their normal day afterwards, the idea behind Madeleine's taster allows people to soak in their own calmness for that bit longer. Post sound bath, we could take our self-care that bit further with a reflexology massage, chat about our experience with the others around us or simply stay within our own inner world. And boy did my stress simply melt away. Surrounding myself with the vibrations of crystal singing bowls left me with insights to my creative thoughts, a heightened awareness and all round feeling at peace with myself. Those Saturday nights where you simply want to kick back (come on we all have them)? Yeah well, this new offering at The Soul Spa will revolutionise those.
Undoubtedly Bath's most famous spa experience, a visit to the Thermae Bath Spa is a must on your wellness staycation. But this place isn't just a spa, it's a healing retreat. And for one blissful hour before it opened, we had it all to ourselves. You've probably heard that Bath Spa water is no ordinary water. It fell as rain over 10,000 years ago at the nearby Mendham Hills and then sank to the depths of 2km underneath Bath. As Madeleine had told us before, this is why you can feel healing energy around every corner of the city, wherever you are.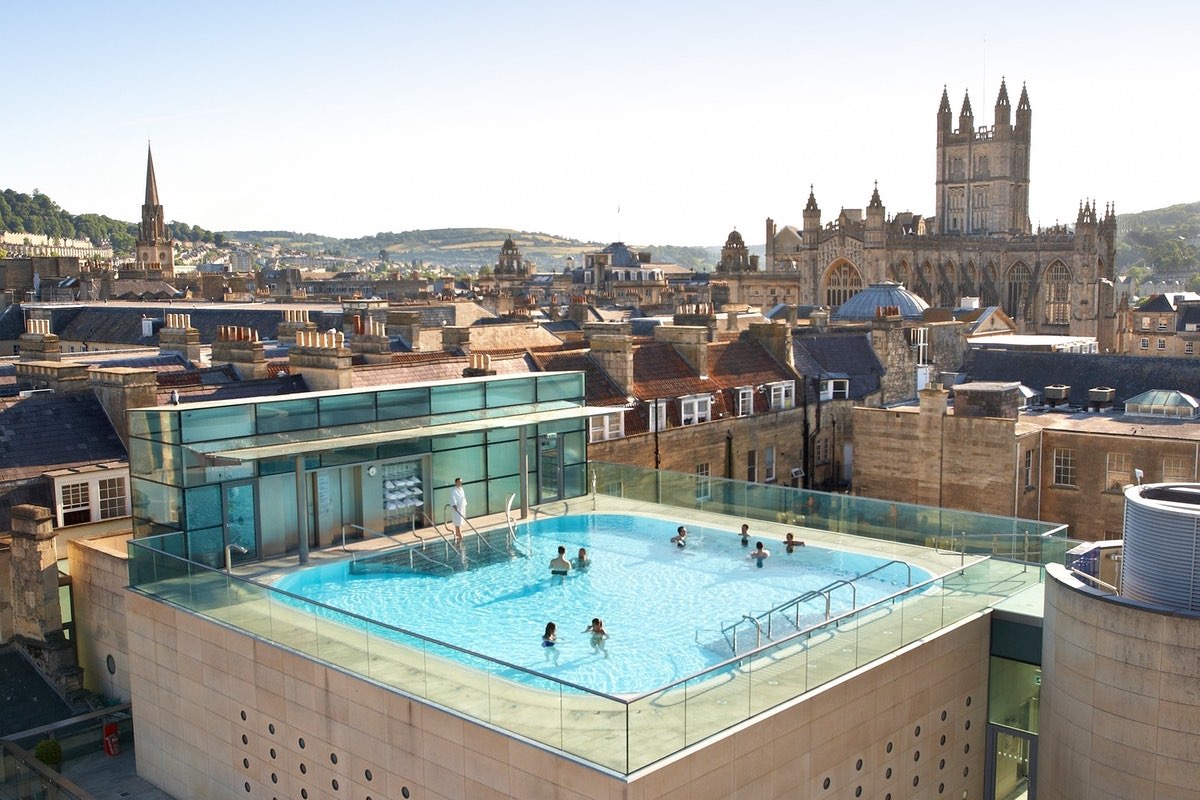 Housing the only natural thermal hot springs in the whole of the UK, the Thermae Bath Spa definitely taps into its underground vein of ancient mineral waters. Aka their own dose of healing magic. With over 42 concentrated minerals and trace elements, the healing water was first discovered by Prince Bladud in 863BC, whose rare skin disease was cured after regular bathing. Fast forward to today and doctors are actually prescribing people a trip to the spa because of the health benefits. After all, the word spa literally translates to salus per qua (health through water). 
Take a plunge in the Minerva Spa which, with flowing curves, a lazy river and massage jet, is proven to restore aching muscles and help lower blood pressure. Or for something a bit more boujee, head to the rooftop pool which is without question the spas highlight. For us it was made even more spectacular by the atmospheric steam of a cold-ish day (well that and the fact there was no-one else around). I've never felt solitude quite like being here. We've forgotten that the Earth can nourish us and the Thermae Bath Spa reminded me of these natural powers right at our fingertips.
SOMETHING ELSE PERFECT FOR EVERYONE:
Bath = bookshops galore. Take your pick or hop from one to the other (my favourite was

Topping & Company Books

, they even offered us a cuppa while we were mooching around the store *inserts eyes welling up emoji*)

Explore the more rural terrain of the city on foot by walking the Bath Skyline. Or if you prefer being on water, soak up the city's history by joining one of the regular boat trips
WHERE TO EAT IN BATH
A wellness staycation isn't just defined by working out, meditating and going inwards. Wellness to me is all about feeling good, and you know what makes me feel good? Yummy food and even better cocktails. Bringing a piece of South Asia to Bath, The Coconut Tree serves traditional Sri Lankan street food cuisine with inventive Cocotails (sweet and fiery cocktails). This place OVERFLOWS with flavour. Every touch point throughout the restaurant educates you about Sri Lanka and showcases their beautiful traditions. The food menu highlights the inspiration behind the dishes. The oversized map of Sri Lanka shows you exactly where your food originates from. The interior design and decor is exactly what you'd get in a traditional Sri Lankan bar. You get the drill. After such a long time without travelling, it felt amazing to truly immerse ourselves in a culture without actually going.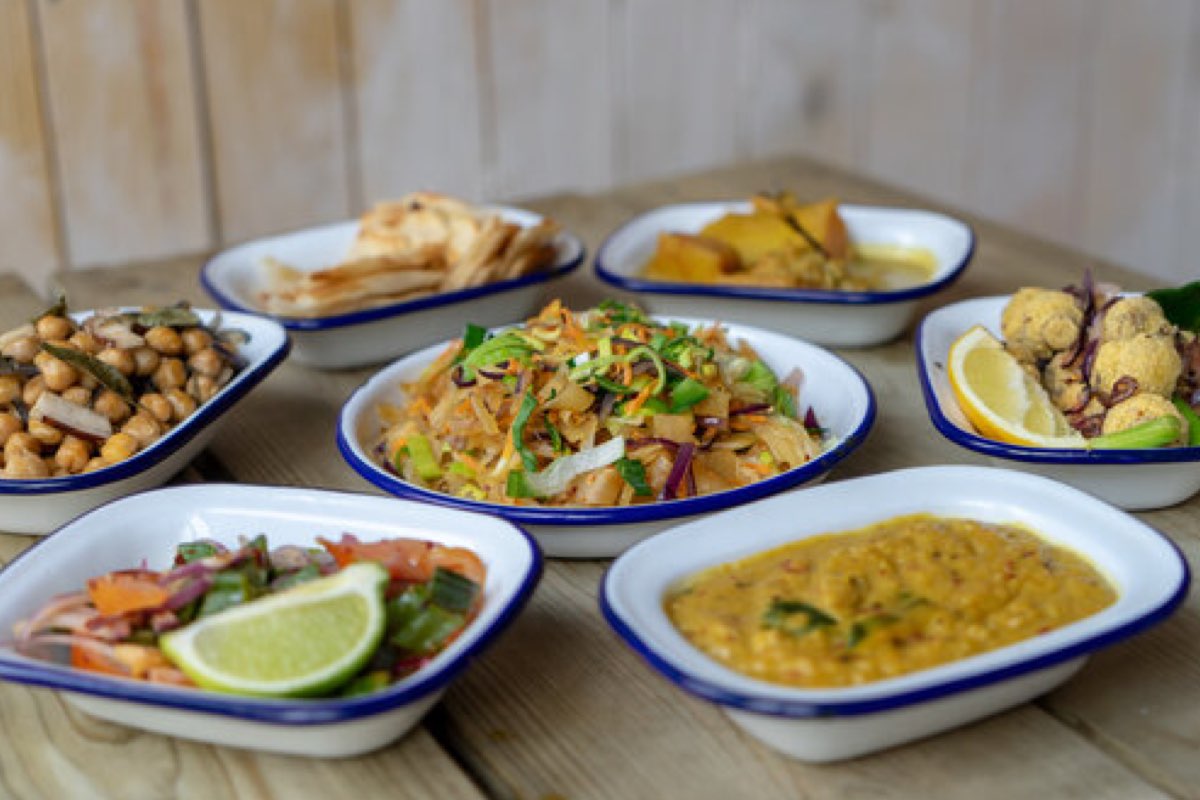 THE FOOD
To start, of course we had to go for the signature Sriki-Tiki cocktail. A perfect blend of coconut rum, pineapple, guava, lime and raspberry. That first sip gave me the same feeling of  hot air when you step off a plane on holiday. No lie. It was THAT good. They were almost going down a bit too smoothly.
The food menu was also overwhelming (only in a good way though). Every dish you could dream of, they had it (including plenty of vegetarian, vegan and gluten free options). Offering both small sharing plates and larger dishes for one, our waiter recommended we go for six dishes between us. I wasn't going to complain. With so many dishes available, the concept of trying lots of flavour excited me. Hands down, my favourite was the signature egg hopper. Served in a bowl shape, this coconut pancake is rolled up with egg, Sri Lankan salsa and caramelised onion. Although, the devilled chicken wings with spicy sticky sauce came in at a close second. Ah *chefs kiss*.  
To find out more about the city or plan your next wellness staycation, head to www.visitbath.co.uk or check out the @visitbath Instagram account for inspiration 
By Emily
Get your weekly DOSE fix here: SIGN UP FOR OUR NEWSLETTER