Beauty products and hormones: it's a minefield. You may not think the two are correlated, but they most definitely are. Here's what you need to know and look out for – always read the labels.
"It's so important to remember that our skin is a major site of absorption and the industrial chemicals in beauty products can be absorbed into our bloodstreams transdermally," says registered nutritional therapist Lola Ross.
Viola, founder of natural skincare brand Lani, agrees. "The skin is the largest organ of the body and is to some degree able to absorb what you out on it."
Parabens
Parabens are often used to provide a preservative and anti-fungal effect. "They are antimicrobial preservatives that stop mould and bacteria growing in products such as make-up, deodorants, anti-bacterial soap, toothpaste, hair care and sun care products," says nutritionist Angelique Panagos.
However, they act as endocrine disruptors. "Due to their structure, the body mistakes parabens for oestrogen and the reaction to this fake influx can lead to imbalanced hormones and reproductive issues," Angelique says. 
"Some types of parabens can mimic the hormone oestrogen's activity in the body. The oestrogen exposure has been known to link to hormonal imbalances, and at the very worst, cancer," says Nataliya Robinson, founder of Quantum Botanika.
Lola says that oestrogen dominance has been linked to "fibroids, endometriosis, heavy periods, PMS, PCOS, long term insulin resistance, obesity and some cancers."
Phthalates
"If you see a product that has a "nice pearl-like texture" it's possible that it contains phthalates, like in nail polish," Natalya says, and they're also in plastic.
"Phthalates (also known as plasticisers, will be listed as something-phthalate, DEP, DBP, DEHP or fragrance), that can be found in hair care, nail polish, bug spray, body washes and sanitary towels," Angelique says.
She goes on, "research has linked them to reproduction and fertility issues, type II diabetes, obesity and even breast cancer," Angelique says.
"Phthalate can cause earlier premature menstruation in teenagers. It is also bad for men's reproductive system," Natalya says.
Consider buying a toxic-free nail polish (10-free is the holy grail, followed by 7 -free, 5 -free and 3-free). Also try to buy products in glass, not plastic.
Chemical Sunscreens
There's a difference between chemical and physical sunscreens. Chemical ones contain oxybenzone which may have an adverse effect on hormones – it can work to mimic them and has been linked – although is not a clear cause of – endometriosis and early puberty in girls. Men are affected too, as it can be linked to certain cancers and male infertility.
Things to remember
"Endochrine disrupting chemicals (EDCs) can also be transferred from mother to baby during pregnancy through the placenta and breast milk, so if you are considering pregnancy it's ever more important to go natural. Do your research, swap to natural brands, or make your own natural products," Lola says.
"A good natural skin care product includes ingredients are as clean as possible. Using plant-based ingredients /extracts is much safer than chemically produced," Natalya says.
She goes on, "it's not only ingredients that are important for keeping the body clean from nasty hormones but the packaging too . All natural skincare products should be in glass packaging to avoid the leak of plastic into the product."
Brands to snap up
"We need to take charge of our own health and one way to do that is to know what you are putting in and on your body. Take a few moments to check beauty and skincare ingredient labels for parabens, phthalates, and bisphenol A/BPA and avoid anything that says 'fragranced', 'perfume' 'natural' – these are not protected terms and can mean anything. Or, to make it easier, you can shop from natural brands; my favourites at the moment are BY SARAH, Evolve, REN and Tata Harper. I also find the team at Content Beauty & Wellbeing and Space NK really helpful," Angelique says. 
Free from parabens, sulphates, gluten, synthetic fragrance, harmful chemicals, dyes and anything else you'd want to avoid, the products are fully of Aussie wholesomeness. Try the exfoliator, cleanser and manuka honey.
This brand calls itself the Mediterranean Diet for your skin. Each product is handcrafted in Italy using active ingredients grown in Sicily on Rocco Forte's Organic Farm. Think olive oil, nuts, plants, herbs, fruits and flora, along with oligomineral water. All the products are vegetarian and have been dermatologically tested. We like the prickly pear face cream.
Lani's Blue Mint Cleanser contains Blue Spirulina, purifying clay, creamy oats, and hydrating coconut. Totally natural – it sounds good enough to eat.
Above all, don't worry. Arm yourself with information, make small changes and stick to them.
Get your weekly DOSE fix here: SIGN UP FOR OUR NEWSLETTER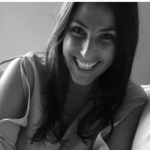 Charlotte is a London girl through and through. She sweats through spin and puffs through Pilates to justify trying the latest restaurants and devouring copious amounts of sweet potato fries, burrata and bread – preferably on holiday. Her favourite destinations include Italy, the Maldives and anywhere where the sun's shining and there's a strong breakfast buffet. She's obsessed with walking, visiting farmers' markets and reading. She's also learning to cook. Wish her (and her husband) luck.