When you don't get enough beauty sleep it can really mess with your face – cue dark circles, fine lines, and dry and lacklustre skin. Luckily the beauty gods at Murad have come up with a night time skin treatment that allows you to wake up looking fresh – even if you don't feel it…
What is it?
Night Fix Enzyme Treatment is an overnight skin treatment that works together with the body's circadian rhythm to treat the signs of sleep deprivation including dryness, dullness, dehydration and fine lines.
Ingredients inspired by the science of sleep support skin's natural overnight repair, boosting hydration, visibly minimising fine lines and wrinkles and reviving radiance so your skin looks well rested by morning. Result.
Why you need it
Lack of restorative sleep can lead to increased stress hormones in the body that increase the severity of inflammatory skin conditions, slow down the body's natural regeneration of skin cells and reduce skin's ability to retain water. Studies also show that those who experience quality sleep better recover from skin stressors, such as sun and environmental toxins.
Sleep is the ideal time to flood skin with ingredients that fuel cellular recovery and repair. Night Fix Enzyme Treatment, uses an anti-ageing peptide, in sync with the body's circadian rhythm, to support natural repair for renewed skin vibrancy.
Plus, it contains three encapsulated enzymes that provide potent antioxidant protection and detoxification to reduce visible signs of premature ageing.
Did you know skin loses water 3x faster at night? Ingredients found in Night Fix Enzyme Treatment can also help skin hold more water and can help prevent overnight skin dehydration.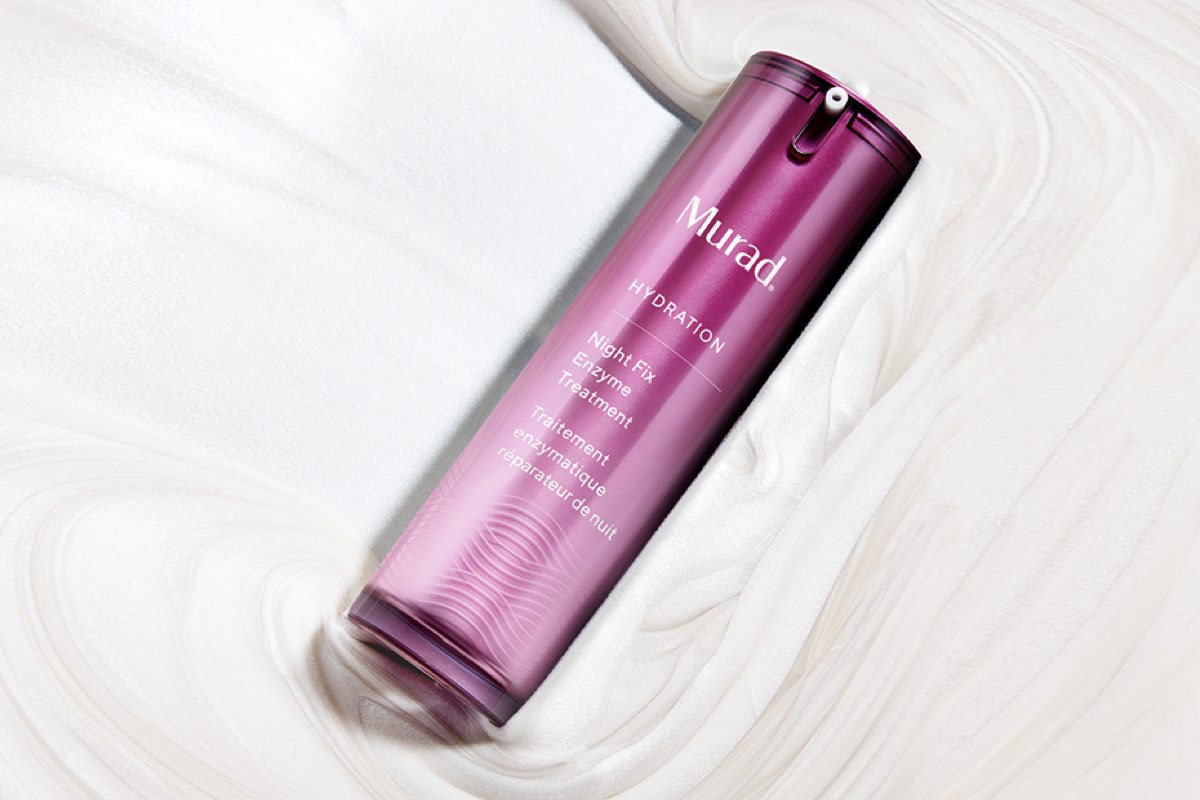 How to use it
Night Fix Enzyme Treatment is a 'boost' treatment to be massaged over the face and neck after applying your night moisturiser. For best results, use it right before you go to sleep to boost the benefits of the aroma technology – notes of violet bring comfort to the mind, while the earthy aroma of cedarwood helps relax and de-stress for a deep and restful sleep. It's safe for sensitive skin, too.
Pro tips:
• Place Night Fix Enzyme Treatment on your nightstand or near your bed so you can smooth over skin just before lying down
• Smooth Night Fix Enzyme Treatment over face, then cup your hands loosely over your nose
• Take a deep breath through the nose and down into your belly, counting to three during the process
• Hold your breath for 1 second, then release through the mouth, counting again to 3
• Repeat 3 times
What do the experts say?
"Beauty sleep is not a myth, it's a fact," says Dr Howard Murad, founder of Murad skincare which is famed for its retinol ranges. "Our body gets set to rest when the sun goes down, but our time-compressed schedules don't align. Sleep is the first thing we sacrifice from our schedule as daytime responsibilities stretch well into the night and shows upon waking as dark under-eye circles, dullness, deep-set wrinkles and dehydration.
"I created Night Fix Enzyme Treatment to encourage overnight skin repair through ingredients inspired by the science of sleep. Night Fix Enzyme Treatment is skincare that doubles as self-care, and is an essential part of a nightly routine that can help you rest better to rise and glow."
DOSE readers will receive a free AHA/BHA Exfoliating Cleanser (worth £38) with purchase of £50 or more. Use discount code MURADXDOSE. Valid until June 30th 2019.
Also receive a 15% off discount on site when you sign up to murad.co.uk. Please note that the 15% discount cannot be used in addition to the exclusive DOSE reader offer.
*This is a partnership article