Now that foreign travel is looking likely to start ramping up again following the Transport Secretary's recent announcement, now is the time to plan your summer getaway. Portugal and the regions of Madeira and the Azores could be included in the list of lower risk 'green areas' where Covid rates are low. Why not book a trip to Madeira, known for its warm, subtropical climate, for a stay at Belmond Reid's Palace. DOSE editor Hettie reflects on her stay at the best hotel in Madeira that fuses indulgence with active adventure…
Planning a holiday to Madeira and the Azores
Like many people planning a holiday last summer, the topic of Portugal's air bridge, or lack thereof, left me befuddled. I may as well have set up google alerts for "Portugal quarantine news" and "Portugal travel latest", I typed in thoe search terms so frequently. But in August 2020 my prayers were answered, as Britain's oldest ally was finally put on the 'green' list, granting quarantine-free travel for English holidaymakers. An air bridge that included autonomous regions of Portugal such as Madeira and the Azores – Madeira being the chosen destination for my highly anticipated holiday. "Highly anticipated" being a colossal understatement.
Since finding out that I was pregnant with my second at the start of the first lockdown, I had pinned all my hopes on this holiday. A moment of calm before a second, third or fourth lockdown of sleepless nights and the general discombobulation that comes with the arrival of a newborn, set in. And perfect holidays don't come much better than Belmond – the LVMH owned hospitality company, known for their iconic hotels and unrivalled luxury experiences.
Belmond Luxury Hotels – The Ultimate Indulgence
Despite my teams' numerous visits to Belmond hotels over the years, from Le Manoir aux Quat'Saisons in Oxford, Cap Juluca in Anguilla and Castello di Casole in Tuscany, to name a few, I had yet to stay in one. This was until my dream of the perfect babymoon became a reality, as I touched down in the balmy island of Madeira.
A negative Covid-19 test in my back pocket (all travellers to Maderia were required to take one 72 hours before travel or at the airport where a 12 hour quarantine was imposed while you waited on your results), and a private transfer waiting to whisk me away to Reid's Palace – known as the best hotel in Madeira. I almost had to pinch myself as my heart's desire was finally granted.
Arrival at Belmond Reid's Palace – the best hotel in Madeira
After a smooth 20 minute transfer from Madeira airport, my husband and I arrived at a breathtakingly beautiful clifftop haven with panoramic views of the wild Atlantic.
With its black and white marbled terraces, high ceilings, crystal chandeliers and backdrop of exotic palms, "the pink palace" as it's known, is a fusion of European comfort and tropical luxury.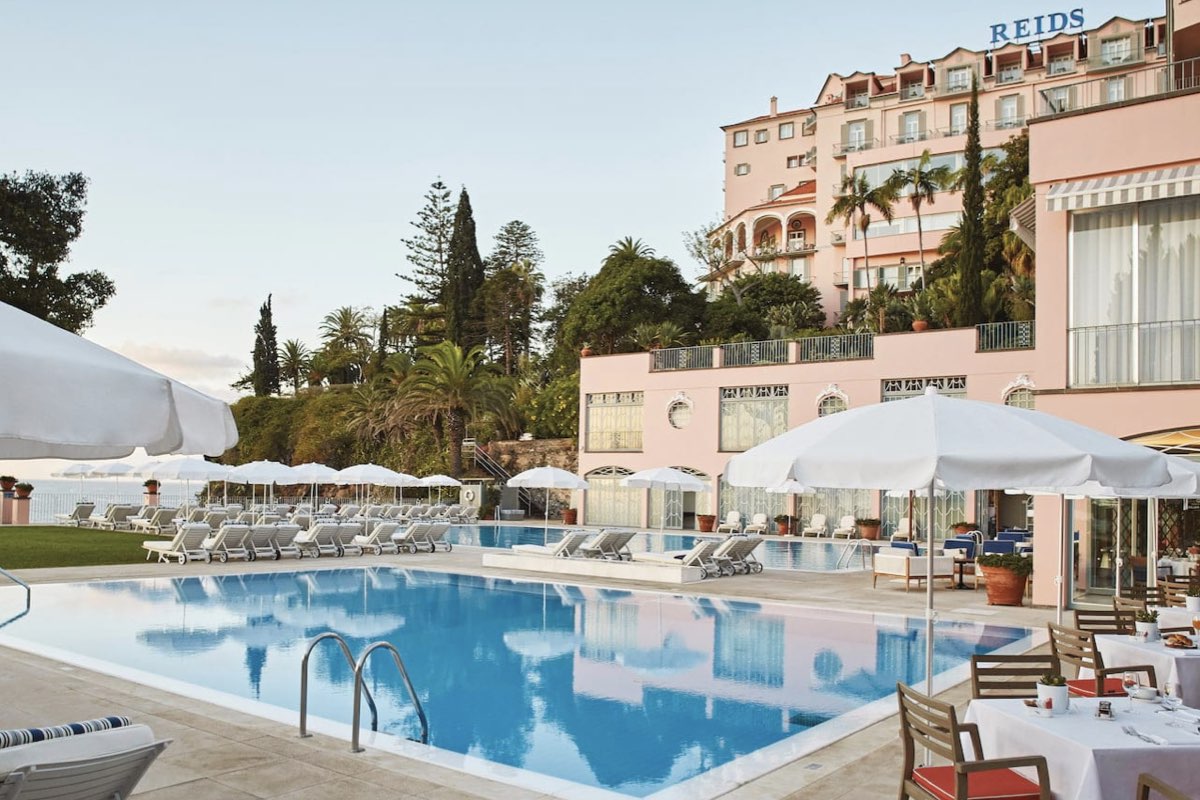 It's the sort of place you might retire to for your last days on earth, or in Winston Churchill's case, where you go to recuperate before taking on the mantle of Prime Minister for the second time. The exceptional service that Belmond is universally renowned for was evident from my first email exchange but continued from the moment I stepped foot into the hotel.
Covid-19 measures were in place throughout with hand sanitisers and a thermometer at check in. Guests were also required to wear face masks when walking through the hotel's public spaces.
The room at Belmond Reid's Palace
My Junior Deluxe suite was a sanctuary of comfort with Portuguese-style dark wood furniture, plush furnishings, floral drapes and inviting cream linens, with balcony views of the palm filled gardens, swimming pools and the Atlantic ocean. It was crowned with a welcoming carafe of Madeira and Bolo de Mel – a traditional cake made with honey, almonds, walnuts, and cinnamon.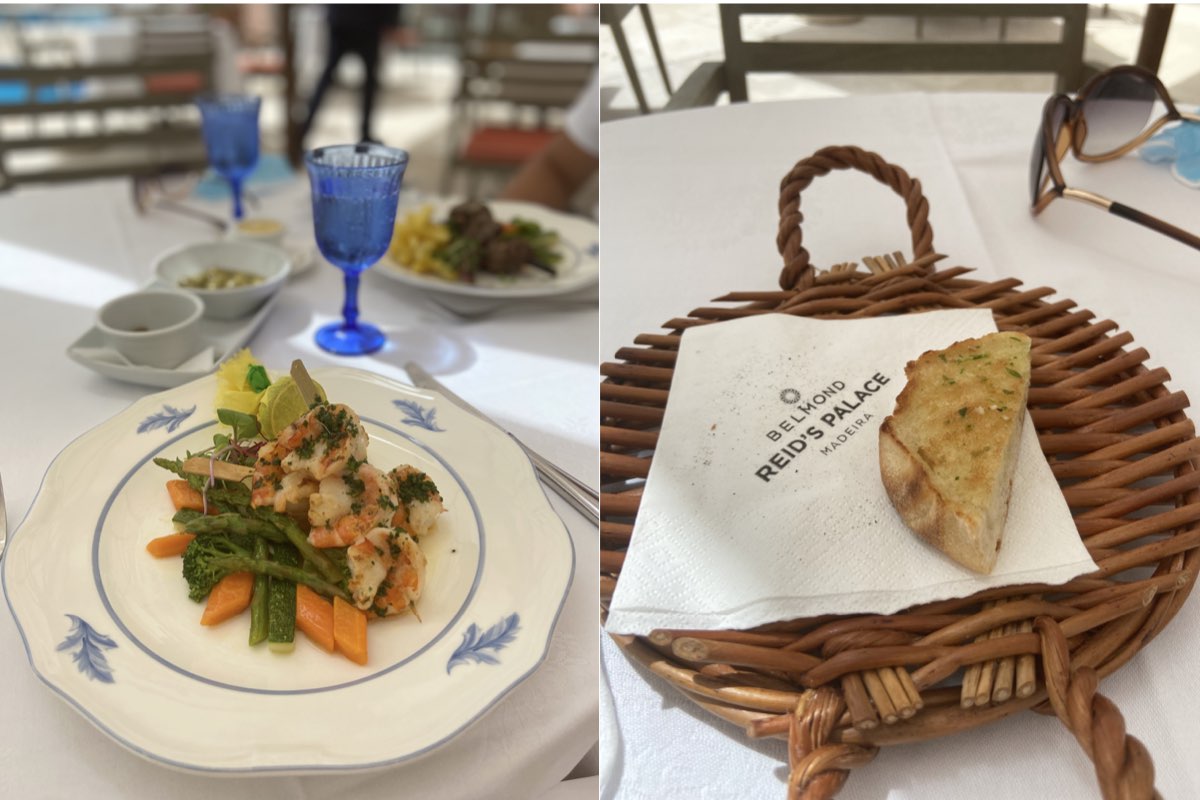 Lunch at Reid's Palace
We headed to the Pool Terrace that overlooks two of the three swimming pools, and tucked into rounds of Maderian bread that to my delight came slathered in warm garlic butter. My fantasy rolled on as I tucked into garlic prawn skewers on a bed of summer vegetables, whilst my husband feasted on a sizzling grilled beef skewer, cooked to perfection, with yet more garlic.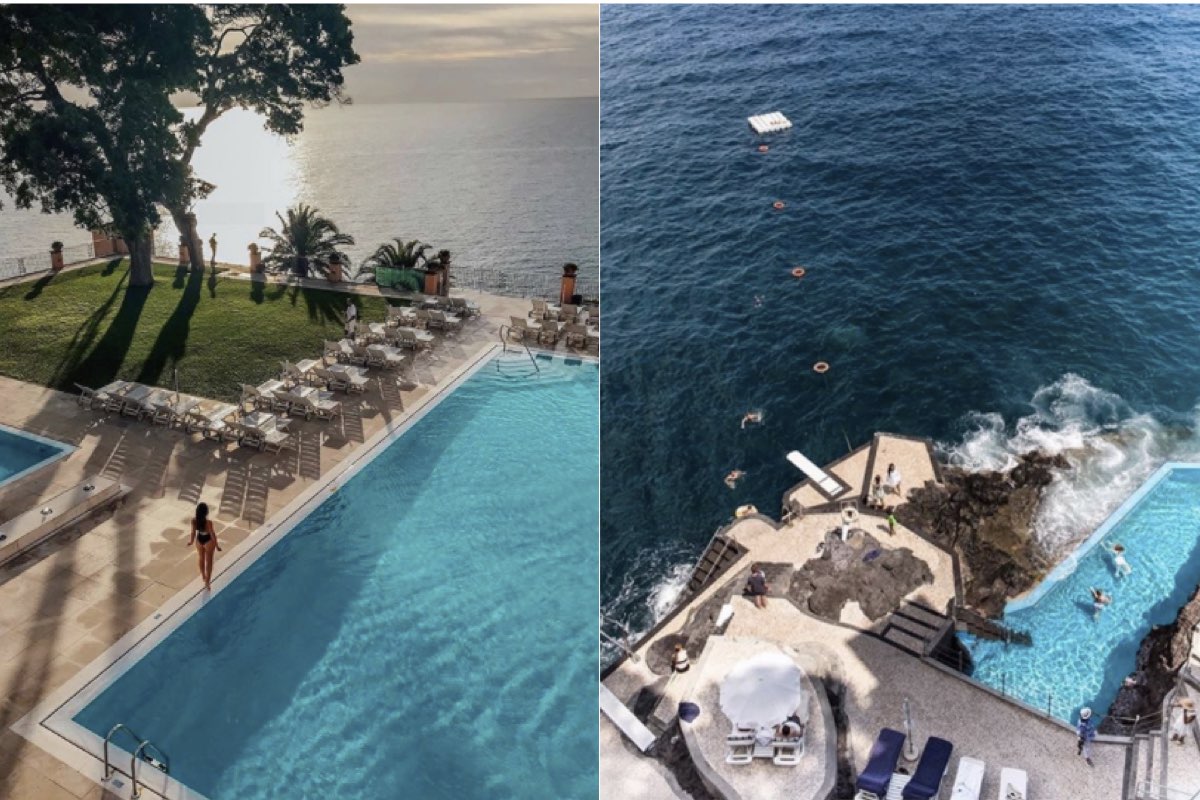 The pools at Belmond Reid's Palace
While the heated pools on the terrace offered an oasis of calm, our minds wandered to the tidal seawater pool below. Helped by an extremely attentive pool attendant, we set up camp on two sun loungers on the cliffside platform and enjoyed exhilarating dips in the sea, the waves lapping dramatically around us as we swam out to the buoys. This is definitely the place to be. With experiences like this, it's no wonder why Reid's Palace is known as the best hotel in Madeira.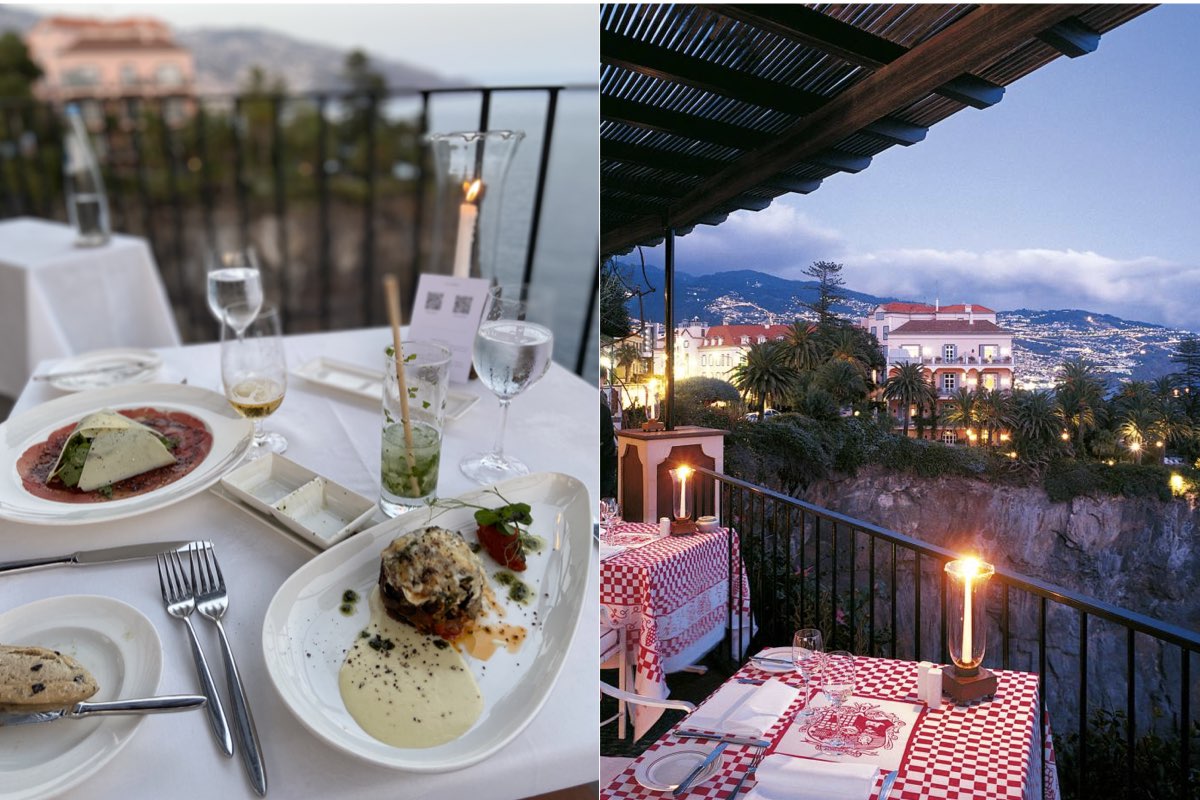 Dinner at Ristorante Villa Cipriani
That night we dined at Ristorante Villa Cipriani. The traditional Italian restaurant, a two minute walk from the hotel, is the stuff of dreams, with a romantic ambiance and spectacular sea views that makes it a prime spot for a special engagement, or in our case, an anniversary celebration.
Seated in the alfresco terrace we enjoyed rosemary focaccia with lashings of homemade olive oil and pesto followed by carpaccio, eggplant parmigiana, tuna with a sesame crust and mixed grilled fish and seafood with garlic and herbs. I just about had enough room for a crème brûlée which, on seeing the portion size, I was grateful we ordered to share. My enjoyed a nightcap of Madeira before slipping off to bed in a bubble of contentment, reminiscent of our honeymoon.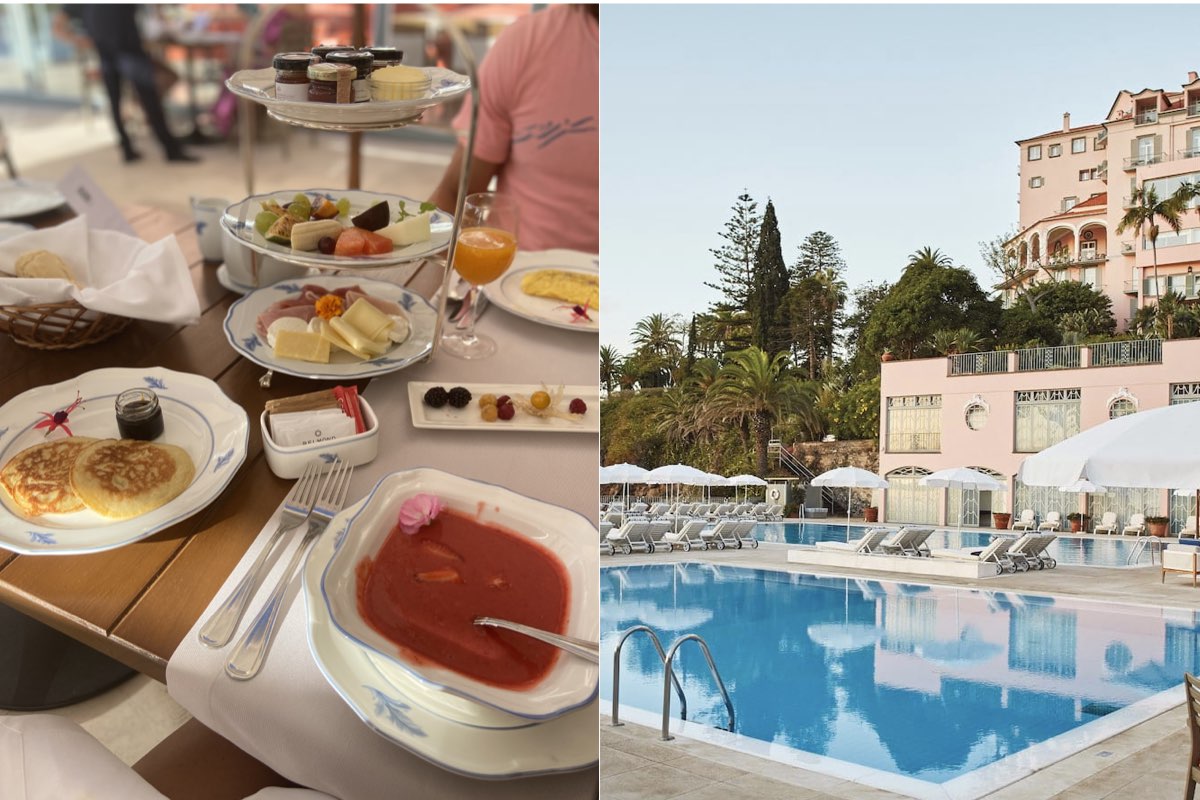 Breakfast at Belmond Reid's Palance
We returned to the Pool Terrace for a sumptuous breakfast that was a picture perfect affair, served almost like a high tea, with tiers of exquisite cakes, tropical fruit, foraged berries and traditional ham and cheese, complimented by smoothie bowls, warm plates of eggs and pancakes.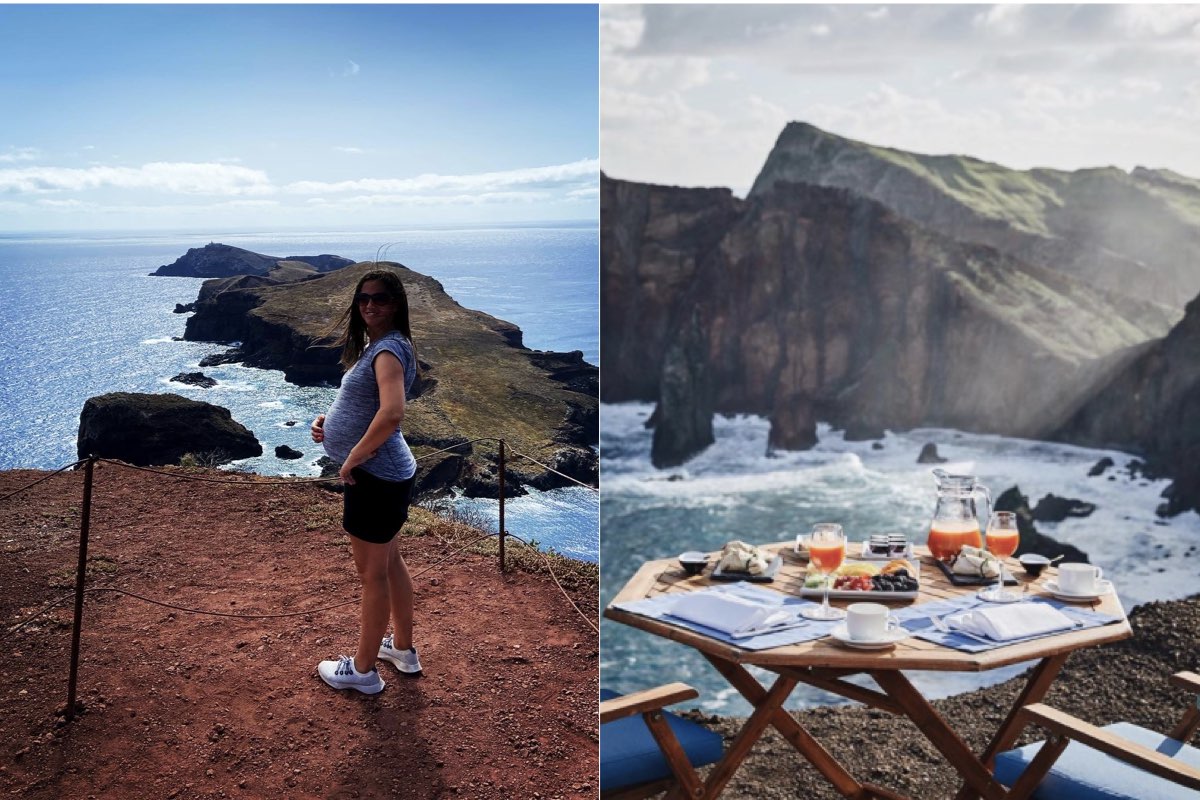 Wild Peninsula Experience
Never to shy away from an active adventure, we set off to the southeastern end of the island, to tread along the undulating trail of São Lourenço Peninsula. The rugged basalt landscape is devoid of vegetation, a stark contrast to the island's lush levadas. But it was an epic walk nonetheless with its volcanic rocks and crashing waves.
6km in length, the trail is a favourite with all ages and abilities, though for someone entering their third trimester, it was testing at times, especially towards the end at the final lookout point. I was grateful to our guide for stopping at regular intervals to allow me to catch my breath. In spite of the blasting winds, the sun was ever present so be sure to pile on the SPF, or run the risk of resembling last night's carpaccio.
After the enlivening walk, we were driven to the 'Ponta do Rosto' viewpoint, where an energy-replenishing spread of detox juices, granola bars, healthy wraps, goji berries and fruit awaited us. It was the perfect spot to soak up the invigorating vistas.
Funchal – out and about
We spent the rest of the day exploring the capital Funchal at our leisure, taking the cable car up to the botanical gardens and Monte palace. We were a few euros short for the toboggan run, a popular attraction that sends tourists whizzing down the hillside at 48km per hour on two-seater sleds, steered by two men, who use their rubber-soled boots as brakes. But once contained inside an air conditioned taxi back to Reid's Palace, we agreed that it was probably a good thing.
Later that day, we cooled off with a dip in the sea (the tidal pool was out of action during our stay due to Covid-19 restrictions), before venturing to Funchal's old town for a late night supper. Though my heart soon started pining for Belmond as Tripadvisor favourite 'Regional Flavours', proved to be a disappointment and a tourist trap despite the well-intentioned staff.
Belmond's Michelin-starred William Restaurant was only open on Wednesdays during the time of our visit so we weren't able to experience its culinary delights but if you time it right, it's the place to go for indulgent fare such as scallop carpaccio, fresh langoustines and open lobster ravioli.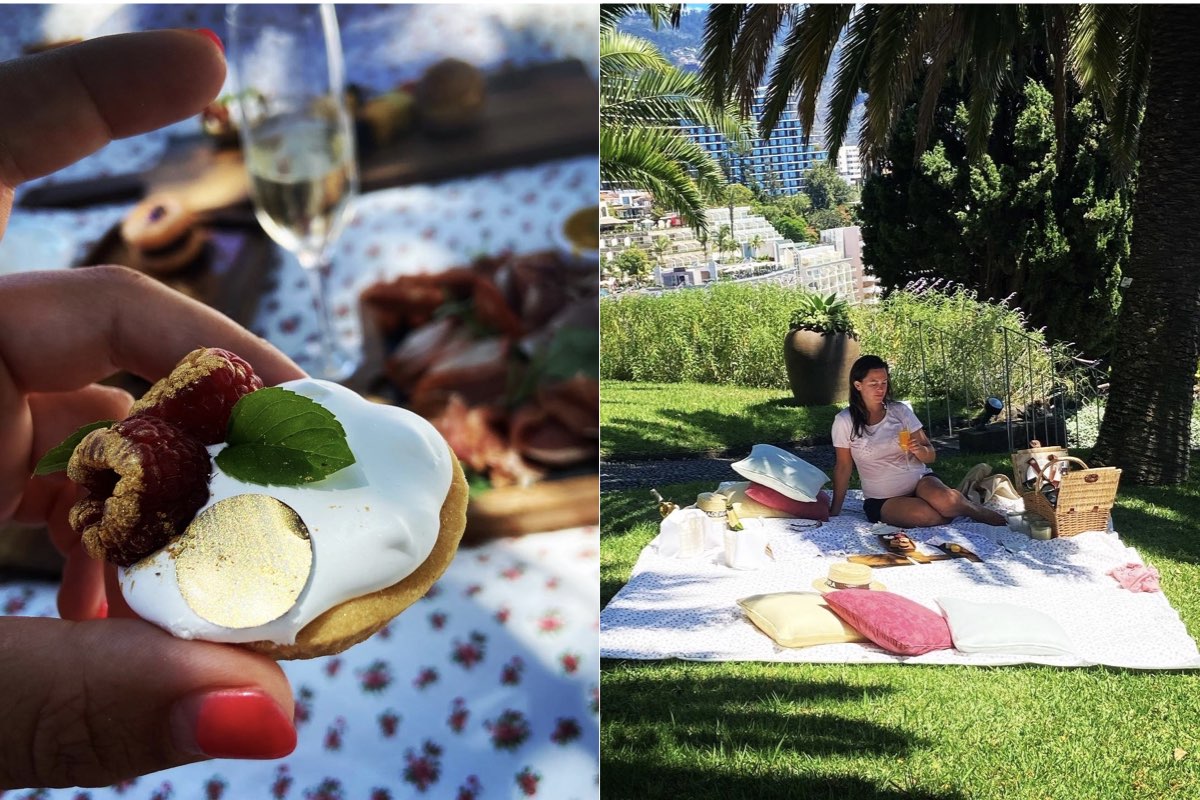 Picnic under the palms at Belmond Reid's Palace
The next day, after a final breakfast, we ventured down to the ocean platform for a day of sunbathing and reading punctuated by invigorating dips in the sea. It was a genuine novelty to read a book from start to finish without being pulled from every direction by an energetic toddler, neurotic spaniel and a whirring laptop. As if the experience couldn't get any better, a mango sorbet ice cream was spontaneously delivered to my sun lounger.
The finale of our trip was a picnic under the palms experience. We are guided by reception staff to a clearing beneath palm trees where an elegant Instagrammable alfresco spread, conjured up by Michelin-starred chef Luís Pestana, was laid out for us amongst plush blankets and cushions.
We relaxed in comfort beneath rustling palm trees, savouring sweet and savoury delicacies from caesar salads and smoked salmon sandwiches to melt-in-the-mouth macarons, fruit skewers and the prettiest cakes that you have ever seen. Champagne on ice, red and white wine were all provided but being heavily pregnant at the time, I made do with a solitary glass of bucks fizz. It's experiences like this that help to cement Reid's Palace as the best hotel in Madeira.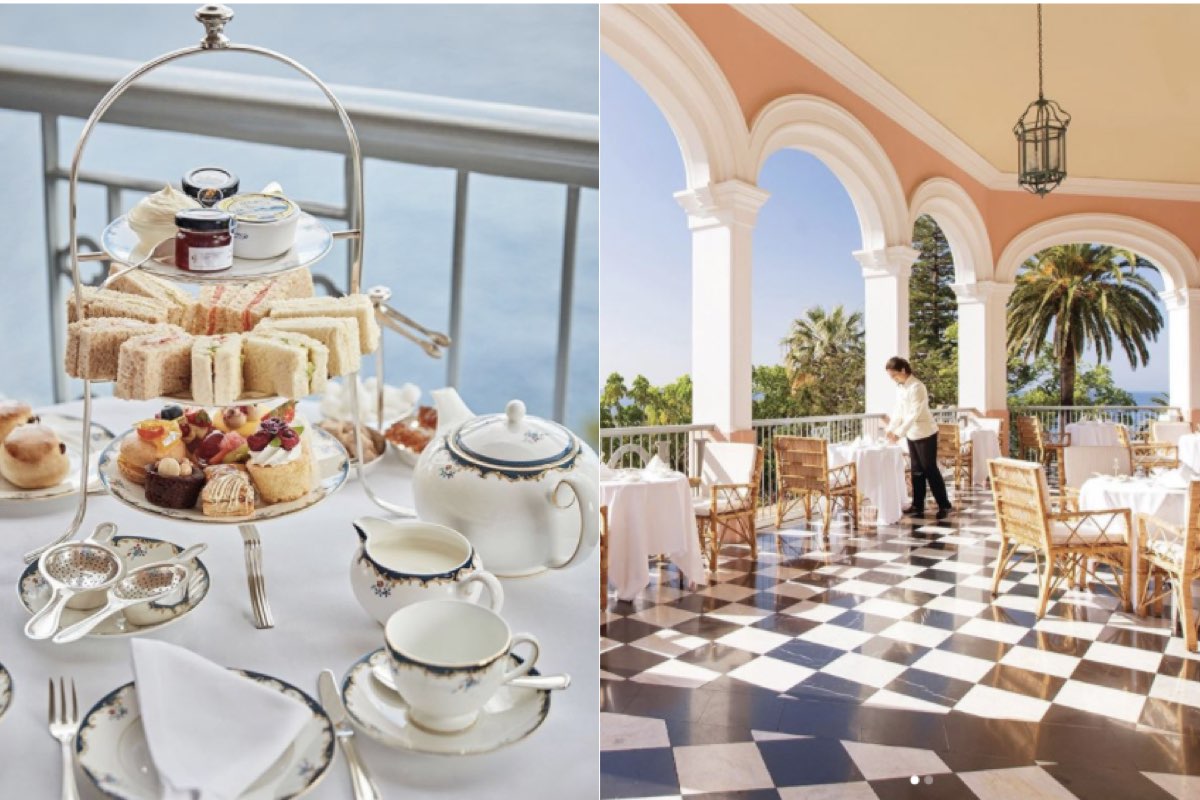 The Best Hotel In Madeira For Healthy Hedonists
I would definitely recommend this experience to those looking for an extra special way to end their trip to Madeira. Alternatively, if you are travelling between a Wednesday and Sunday, book in for the famous afternoon tea at Reid's Palace, where you can expect delicate finger sandwiches, freshly baked scones and homemade pastries, all accompanied by your choice from a selection of 24 teas or an indulgent glass of champagne. But note the dress code is smart casual dress – no sportswear or shorts.
Wellness offerings at Reid's Palace Madeira
If you're looking to balance out the excess with a little wellness, Pilates is offered every Tuesday and Friday at Reid's Palace. The 'Breakfast Workout for Earlybirds' package gives you the chance to watch the sunrise in the lush surroundings of the gardens, whilst a personal trainer puts you through your paces, after which you're rewarded with a delicious, healthy breakfast in a magical location. That or stride out along the breathtaking São Lourenço Peninsula, as we did.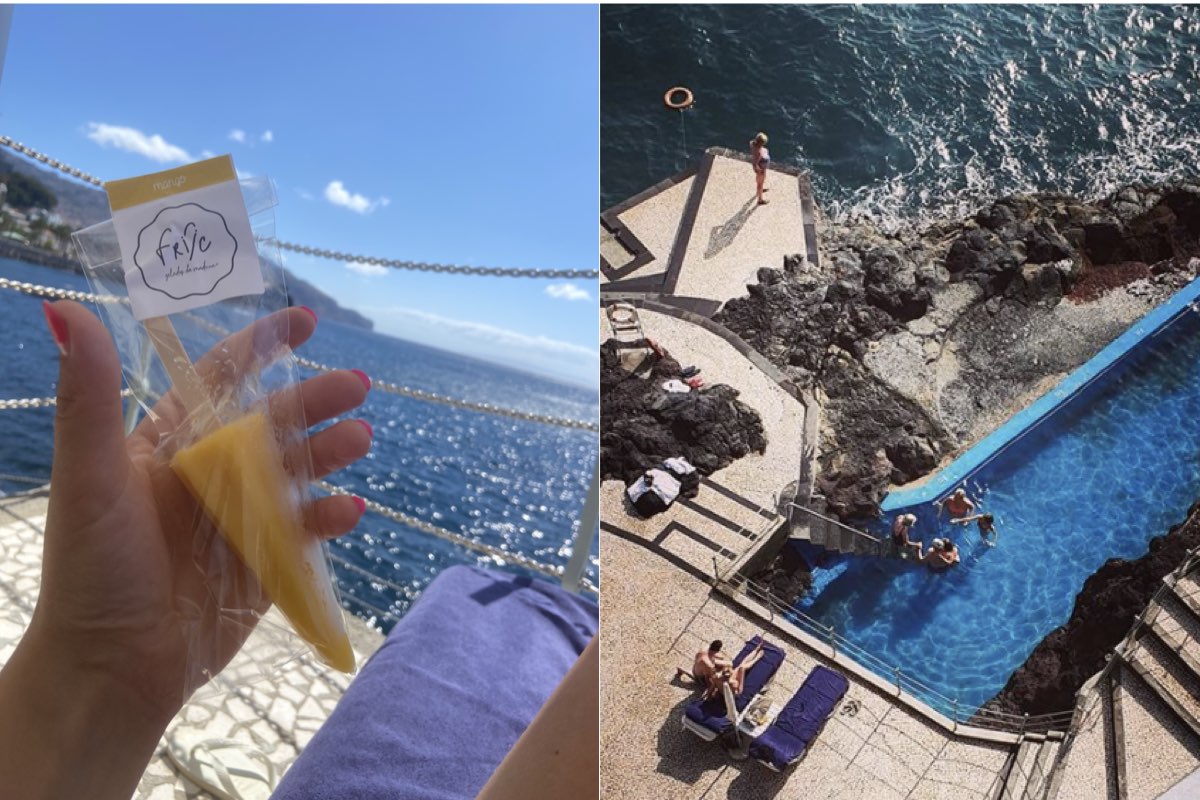 In a nutshell
My stay at Belmond Reid's Palace was like something out of a dream. From lying on the crisp white sheets in our air conditioned suite immersed in a good book, an ice cold bottle of Coca-Cola from the minibar in hand, to basking on sun loungers punctuated by exhilarating dips in the sea, to feasting on everything my heart could possibly desire, I felt thoroughly indulged, pampered, relaxed and at peace. Whilst hiking the wild peninsular helped to balance out all the indulgence. It's definitely the best hotel in Madeira for healthy hedonists seeking a mixture of indulgence and adventure.
We spent two nights here before renting a car to explore other parts of the island. I recommend a stay at Airbnb favourite UNI studios, in surf spot Jardim do Mar, a traditional barbecue at Xama and a day trip to Porto Moniz natural swimming pools. A scenic point with natural pools formed by volcanic rocks. But if budget allows, linger longer at Belmond, I know I would.
Please check the latest government guidelines before making any bookings.
Liked this article on 'Belmond Reid's Palace – Best Hotel In Madeira For Healthy Hedonists'? Read Best places to visit in Portugal for an active holiday.
By Hettie
Get your weekly DOSE fix here: SIGN UP FOR OUR NEWSLETTER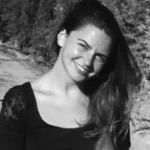 Hettie is the editor and co-founder of DOSE. A keen runner, she's also partial to a blast of high-intensity and hot yoga. A country girl at heart, she divides her time between London and the lush rolling hills of North Devon. When she's not jetting off on her next adventure, Hettie can be found in a candle-lit alcove with a laptop, a spaniel and a full bodied Malbec.