With outdoor restaurants reopening on April 12th 2021, we will soon be able to eat out with groups of six alfresco. Here, we round up the best outdoor restaurants, open air dining spots and terraces across London – whether you're looking for casual dining, something fancy or fun and Instagrammable…
Best outdoor restaurants in Central London
Rail House Cafe – Heated outdoor terrace in Victoria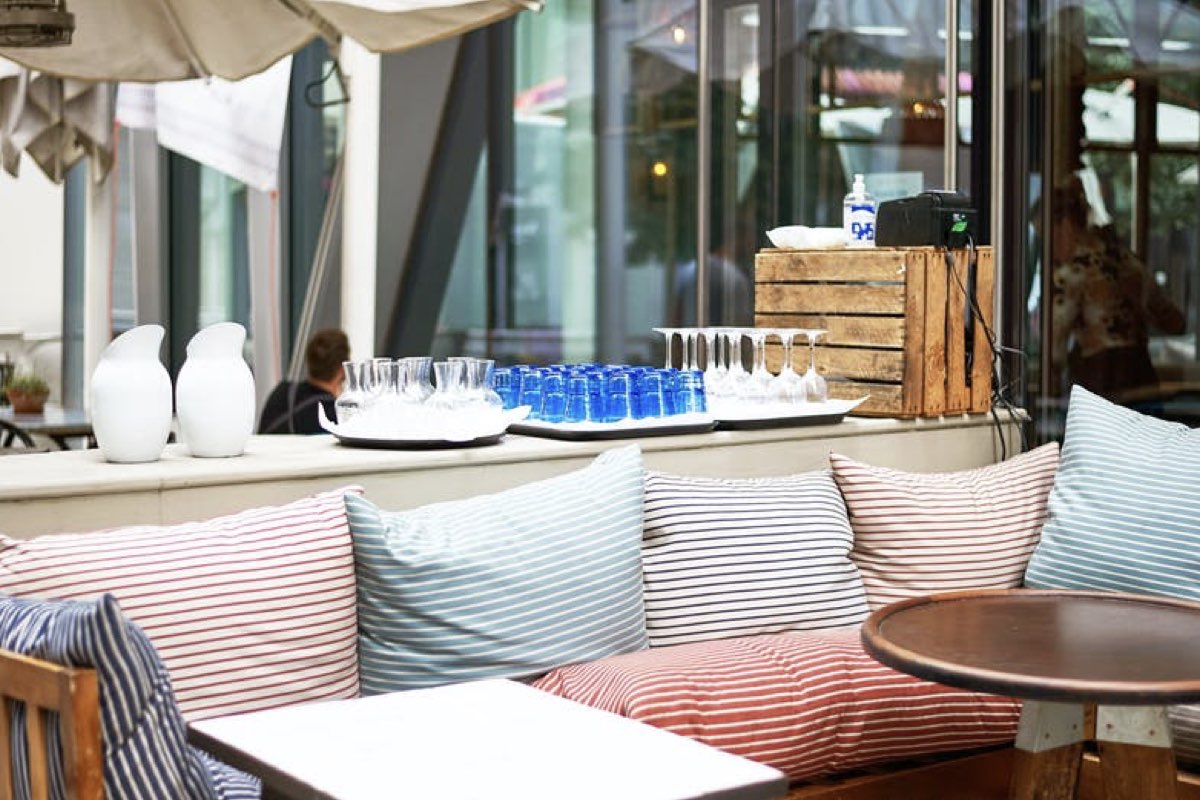 A modern cafe and bar in Victoria, London serving healthy choices for every day and weekend naughty comforts. It's our go-to brunch spot for a good shakshuka, smashed avocado or Burgerdict. A poached egg with a dry-aged beef patty with special hollandaise and tomato in a muffin. With an extended terrace seating 120, both covered and heated, Victoria's Rail House Cafe is a perfect place to gather with groups up to six for drinks or dining. Imaginative all-day menus will be revealed closer to opening, but weekend brunch is sure to be a fixture.
Orrery – Outdoor terrace in Marylebone.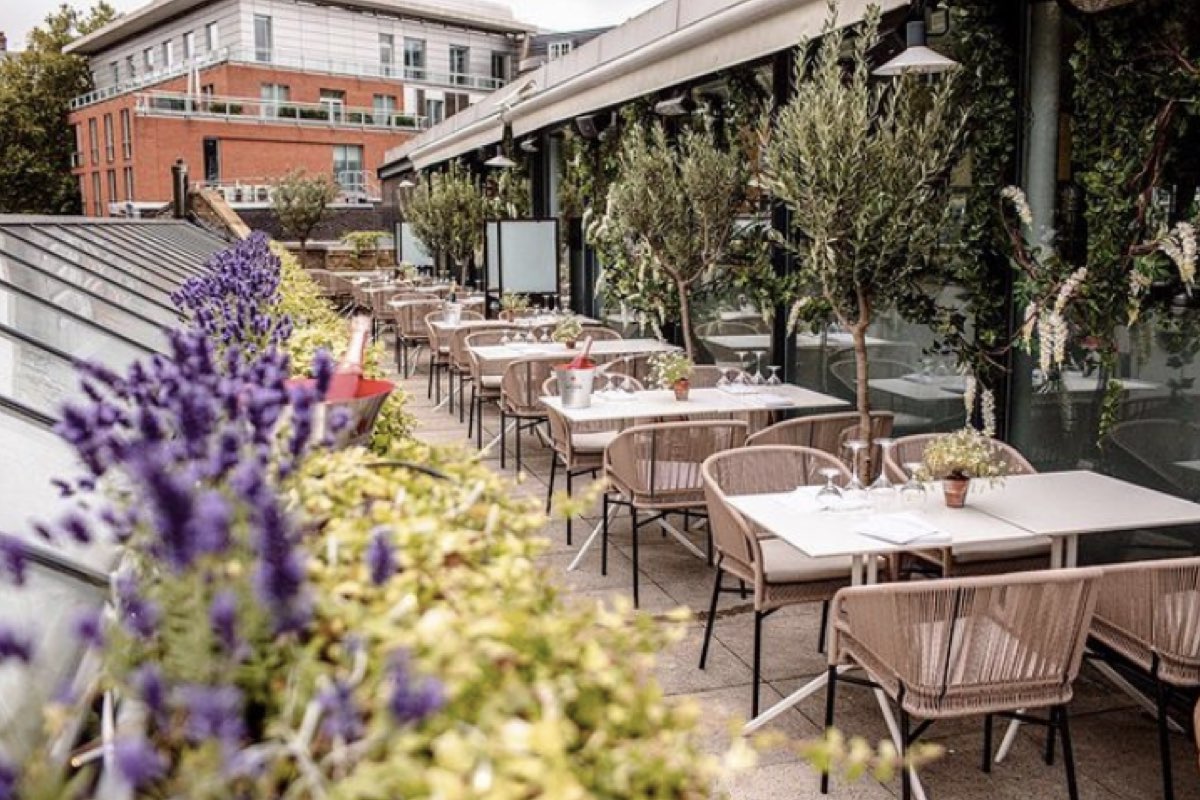 Orrery, located on the first floor of a converted stable block, has a beautiful terrace overlooking St Marylebone Church gardens in the heart of Marylebone Village. An elegant spot for cocktails and dinner in the sun.
Riding House Cafe – covered outdoor terrace in Fitzrovia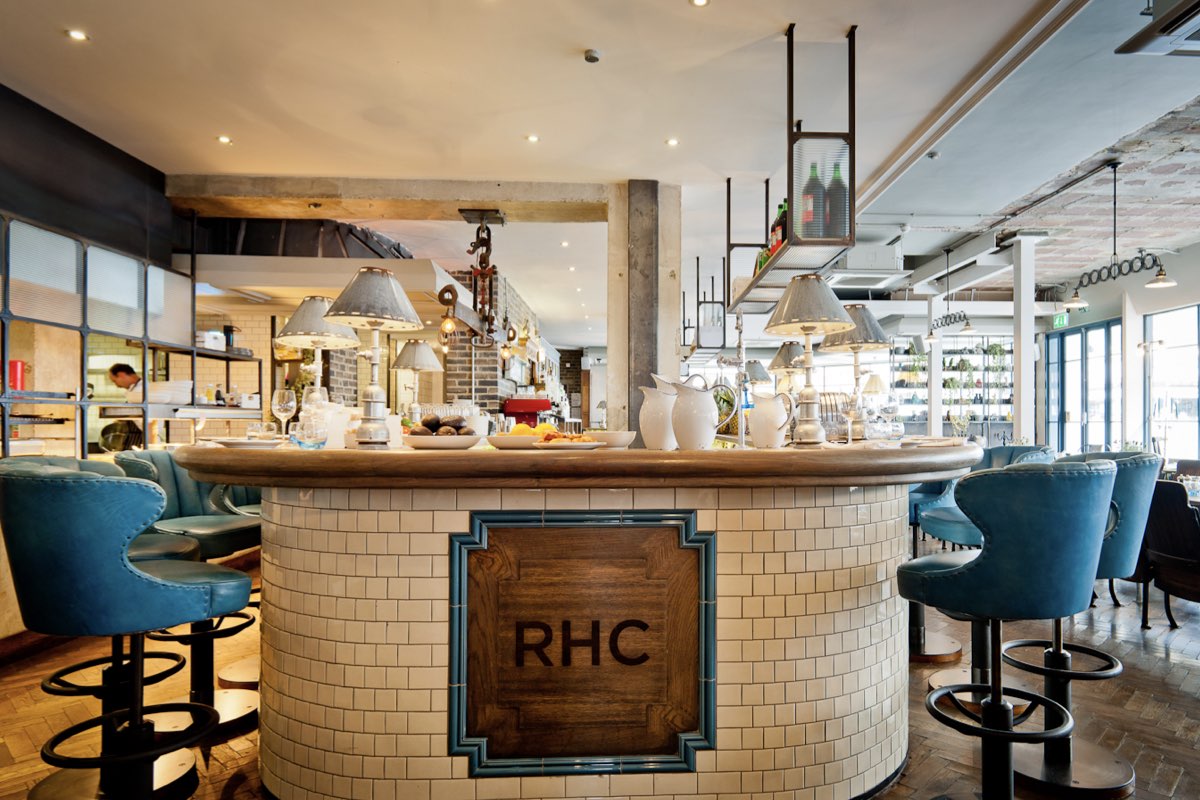 Riding House Cafe in Fitzrovia is a fun, informal, all-day neighbourhood brasserie situated amidst Fitzrovia's creative and media community. They will reopen on April 12th, with a covered outdoor terrace on Great Titchfield Street.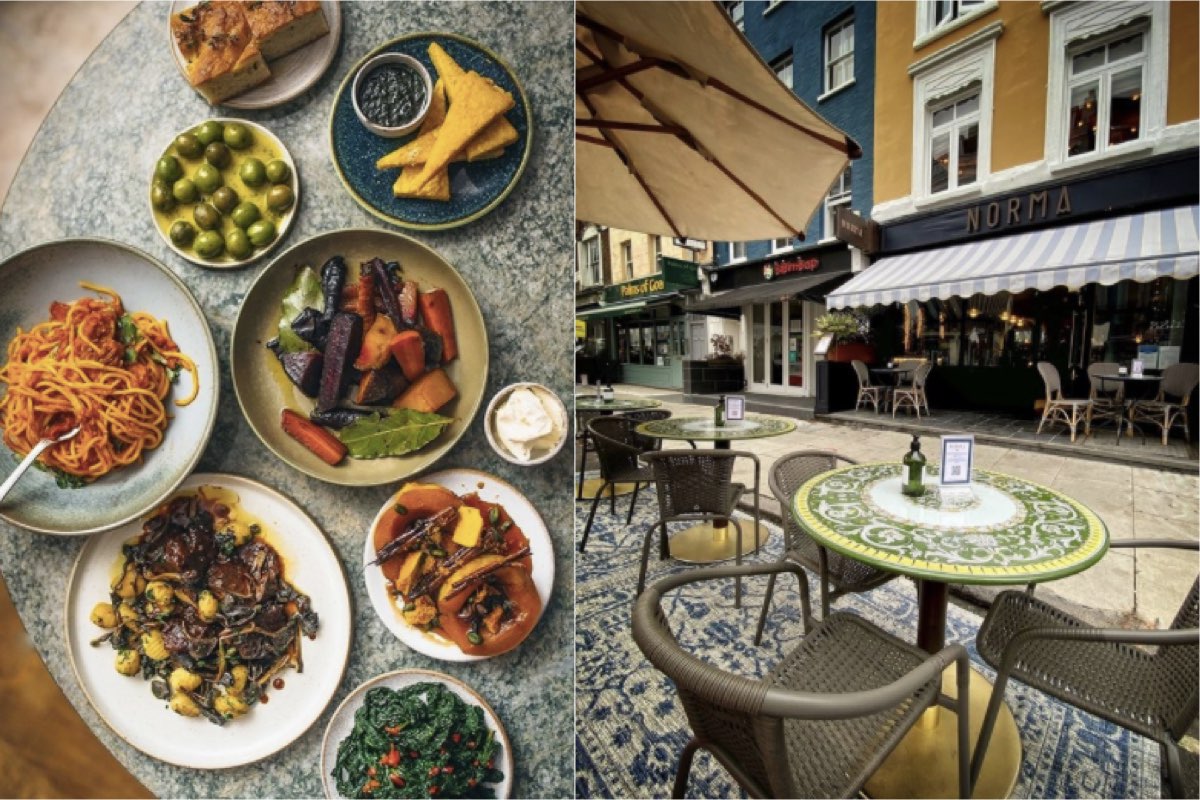 Norma – al fresco lunch spot in Fitzrovia
Norma embodies the celebrated old-school hospitality and grand café culture found in Italy. Head chef Ben Tish (ex Salt Yard), showcases the fresh and vibrant flavours found on the island of Sicily, imbued with Arabic influences and North African spices. For an al fresco lunch date the patio dining provides the perfect place to devour the delectable pasta dishes available, all centred around fresh, seasonal produce.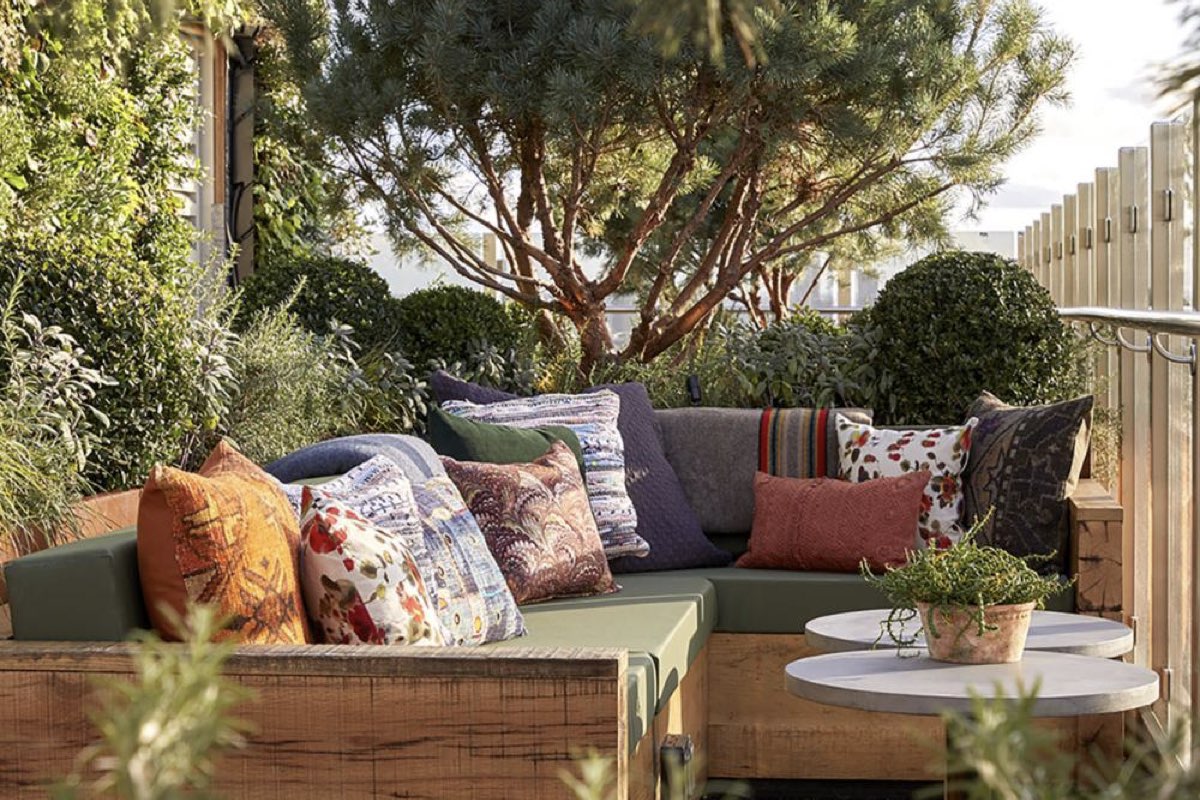 The Nest

– outdoor terrace for a sundowner cocktail
The Nest's Terrace at Treehouse London will reopen for outdoor dining from 12th April. Cosy up on the outdoor wraparound terrace decked with loungers and take in the panoramic view.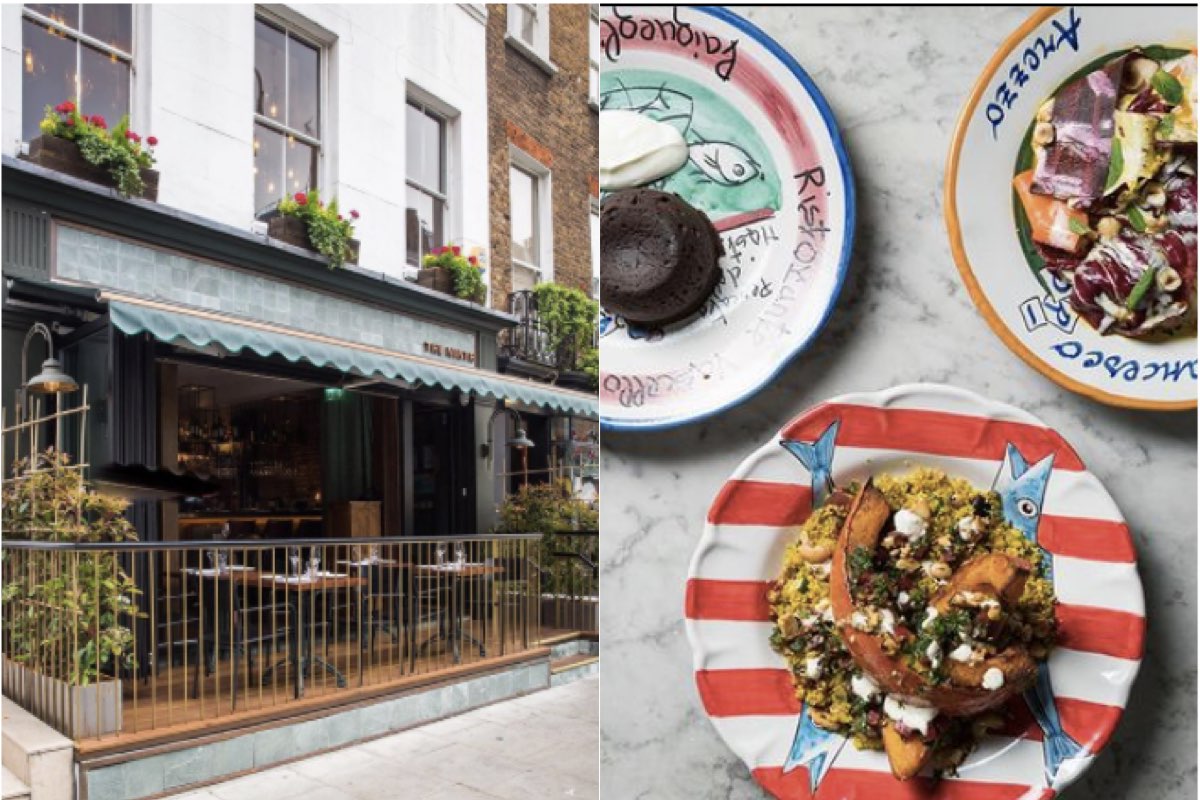 The Ninth – Outdoor terrace for al fresco meal
Featuring a covered cosy 8 seater, The Ninth offers one of the best outdoor terraces for the perfect al fresco meal. Awarded a Michelin Star, the Mediterranean style restaurant offers specialities including a variety of house cured meats and vegetarian dishes made from the best seasonal produce. The Orecchiette with egg and truffle is a must!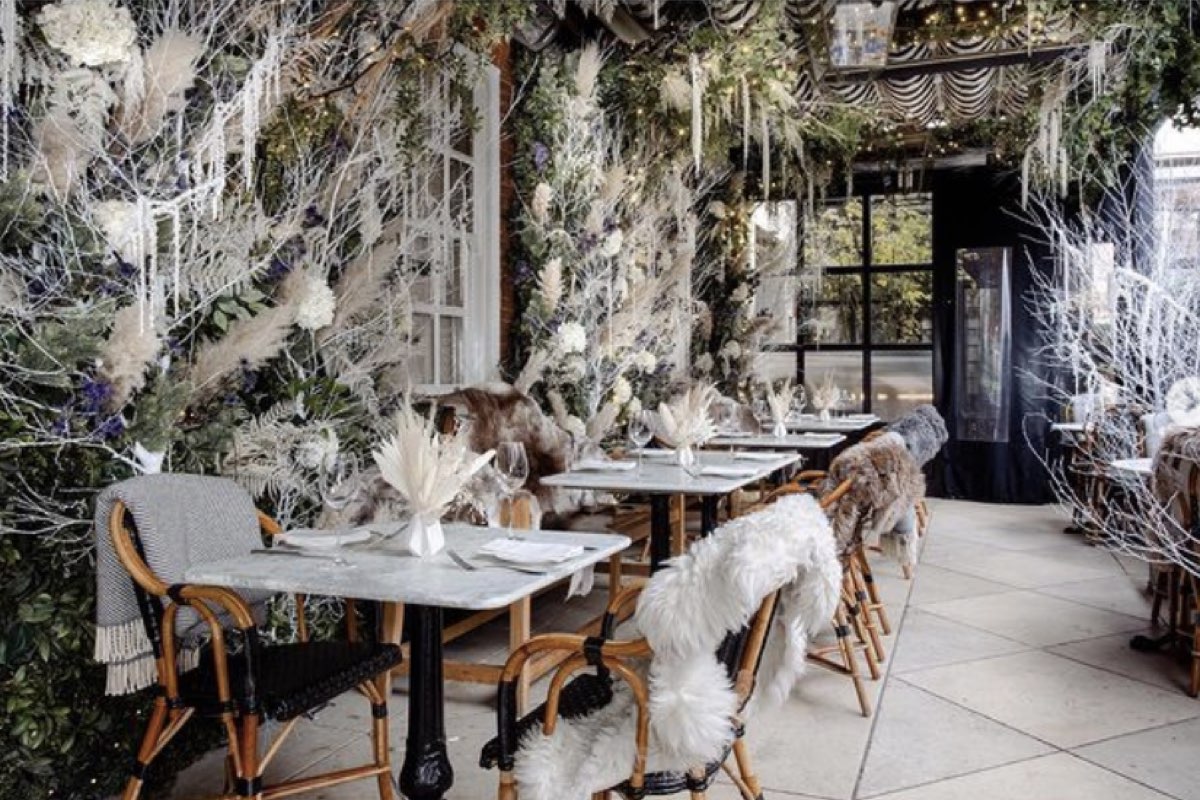 Dalloway Terrace – Instagrammable outdoor terrace
Dalloway Terrace at The Bloomsbury Hotel is one of the most Instagrammable al fresco spots in London. Drop in for a weekend brunch or round of cocktails from 12th April and admire the decadent decor courtesy of McQueen flowers.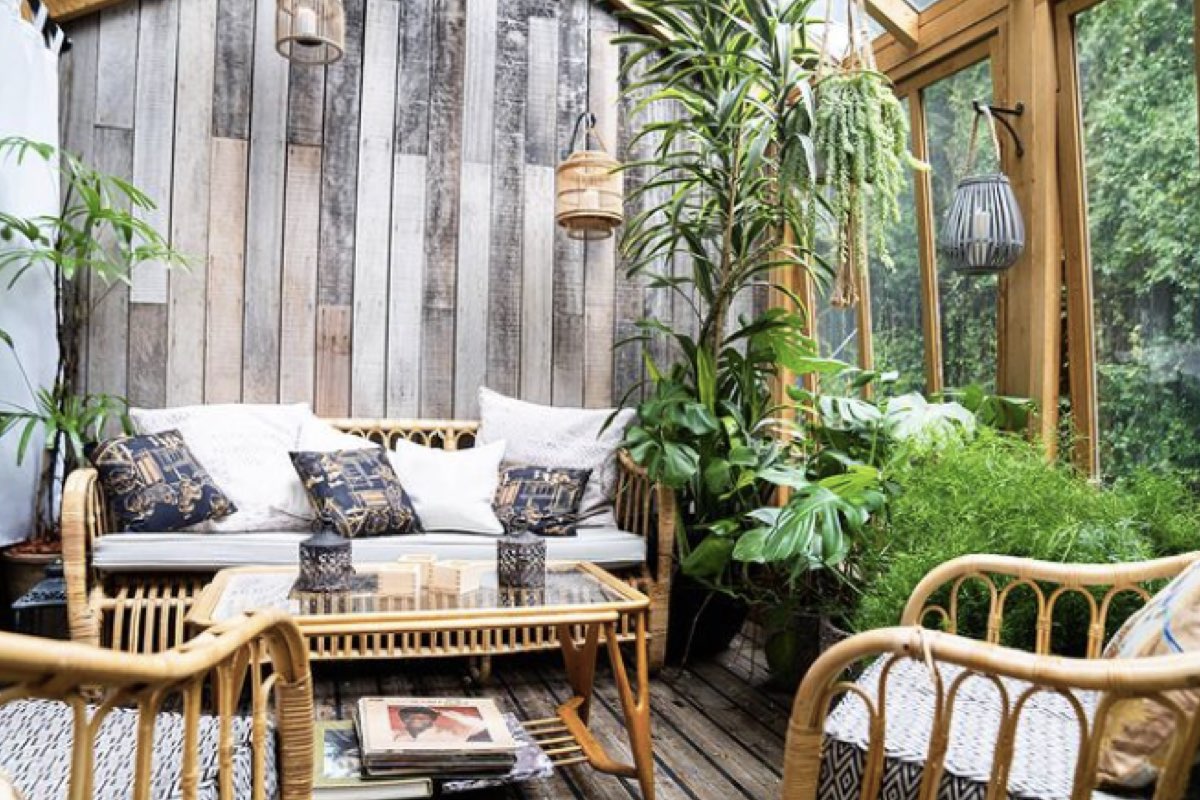 Outdoor bar for drinking at Yopo, Mandrake Hotel
Yopo at the Mandrake Hotel is a laid-back cabana affair surrounded by a lush, evergreen sanctuary of hanging passionflower and jasmine plants with a wooden shack-style bar and feel-good summer-time cocktails. Open from 19th May.
Best outdoor restaurants London – Mayfair & Belgravia
Malfy Gin's Lemon Grove Outdoor Terrace, Harvey Nichols
Malfy Gin will be taking over the Harvey Nichols Knightsbridge terrace on the Fifth Floor to launch Malfy Gin's Lemon Grove Terrace. The terrace will be available from 12th April until 27th June and will see the space transformed into a Mediterranean escape. Guests can expect to live 'La Dolce Vita', sip on delicious cocktails and dine an Italian inspired Spring Menu, exclusive to the terrace.
Roka – outdoor terrace for sophisticated Japanese food
Roka, on North Audley Street in Mayfair, will be opening its terrace to diners. Just moments from the bustling Oxford Street, Roka brings a unique style of contemporary Japanese robatayaki cuisine and its sophisticated design to Mayfair.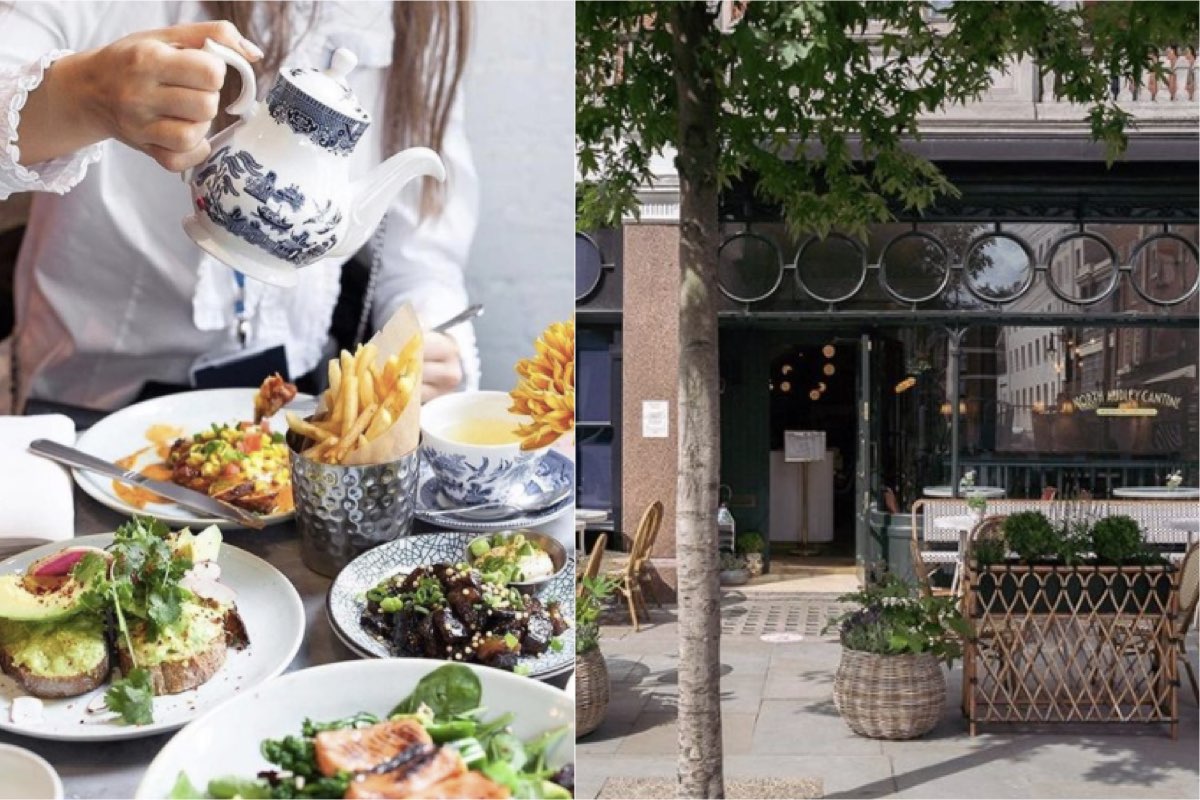 NAC – modern French bistro with outdoor seating
NAC modern French bistro on North Audley Street, and known for their totally instagrammable and delightful brunch dishes, will be opening their terrace to diners.
The Berkeley Beach Huts will be ready to welcome you for outdoor dining. Think irresistible seafood, seaside fare and retro classics – lobster grilled whole, freshly-shucked oysters, five-star scampi and octopus galore. The beach hut menu will spill out across The Berkeley's terraces and on outdoor countertop dining.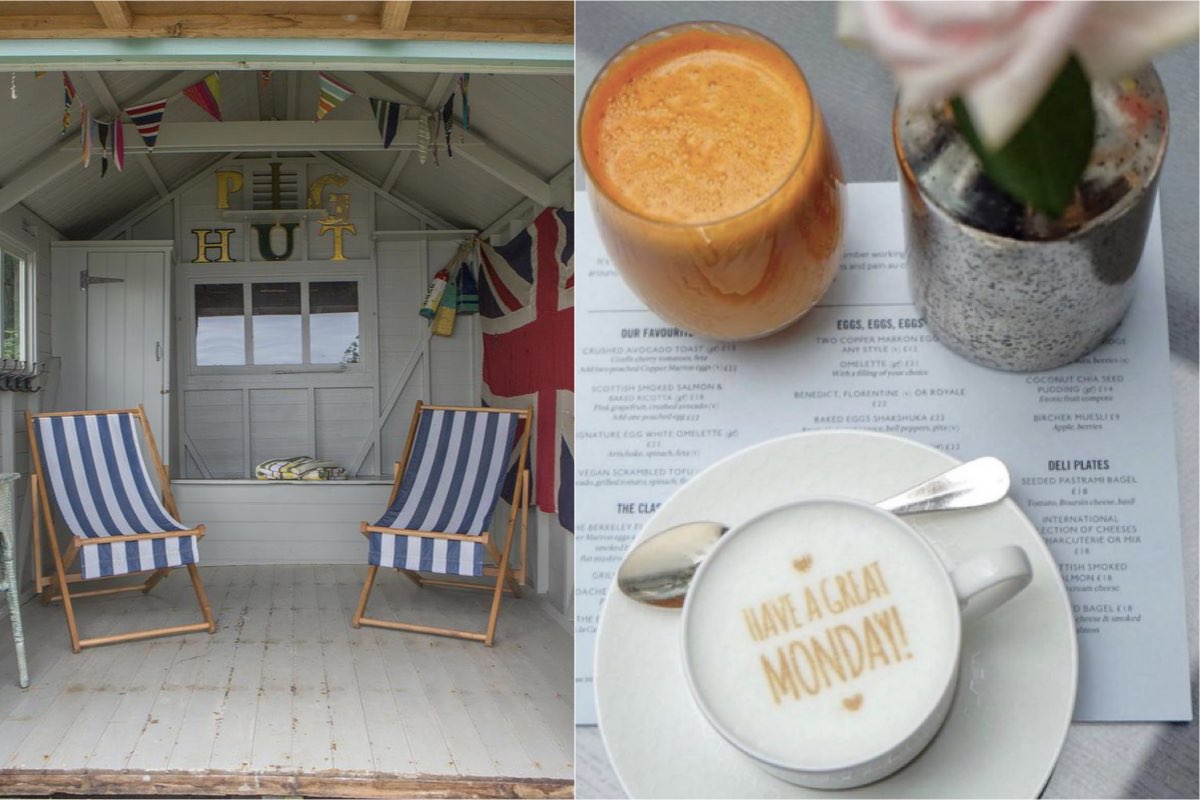 Wild by Tart – covered outdoor seating
Wild by Tart offers a relaxed, all day dining menu serving food with big flavours and seasonal ingredients, sustainably sourced where possible. They will be open with a scaled back menu, offering diners courtyard seating in Eccleston Yards for Monday – Saturday dinner, and Wednesday Lunch. The area is covered, providing a roof and insulation from the unpredictable British weather to ensure an enjoyable dining experience. Still craving the Wild by Tart experience? The restaurant will be open for Easter weekend, offering takeaway pizza, cooked beautifully in their wood oven.
Sussex Bar & Restaurant is partnering with Noilly Prat to bring an oyster and vermouth bar to the streets of Soho. The oyster bar outside the Sussex will serve fresh Maldon oysters, shucked to order, which guests can pair your oyster with a seasonal, signature cocktail, such as the Summer Spritz.
Independent wine specialists, 28-50 Wine Bar & Kitchen Covent Garden & 28-50 Wine Workshop & Kitchen Marylebone will open up both terraces for guests to dine outside whilst sampling Executive Chef, Julien Baris' new seasonal dishes. Highlights from the new menu include: freshly caught seafood platters; including mussels, rock oysters, prawns, clams and crab which pair perfectly with 28-50's varied wine-list with vintages have been chosen from their own vineyard in the French Alps.
Poppies – al freco fish and chips
Recognised as one of the best independent fish and chips shops in the UK, Poppies Covent Garden offers a large selection of outdoor terraces across its three locations. Enjoy locally sourced fish wrapped up in recyclable newspaper al fresco in the sunshine.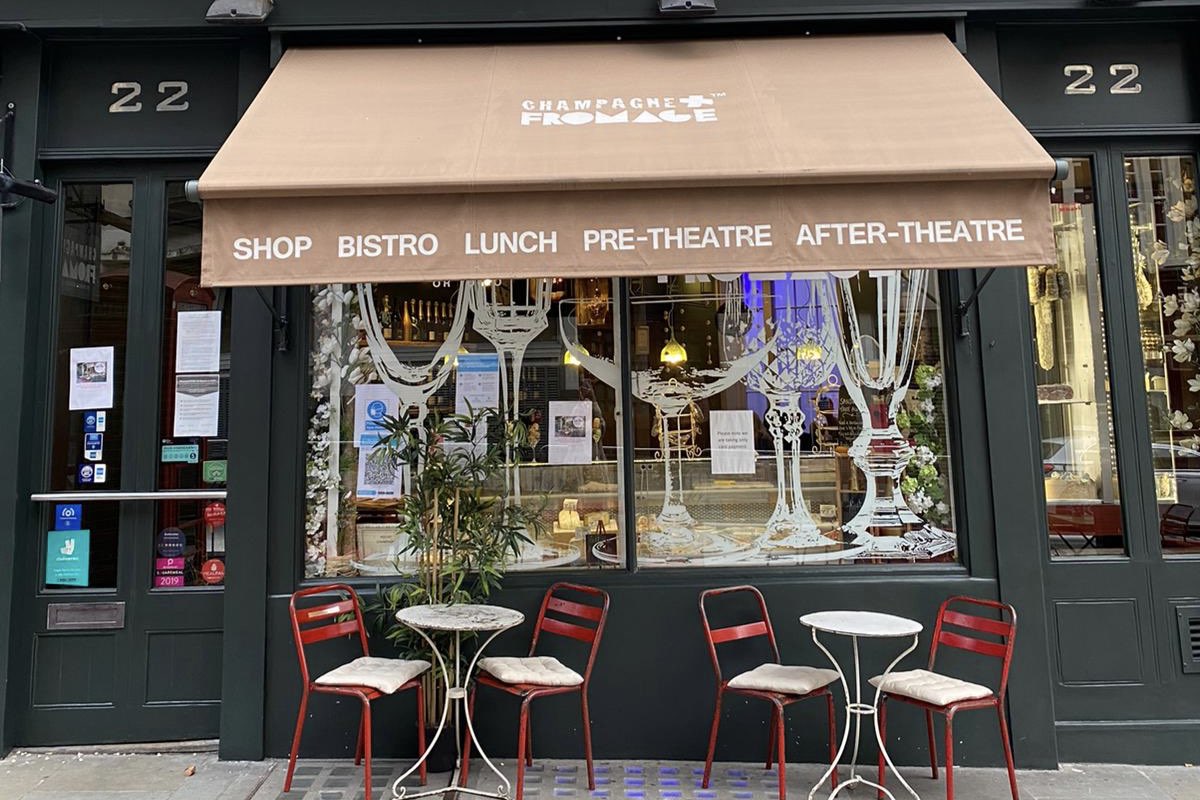 Perfect for a romantic evening drink, Champagne and Fromage is for lovers of authentic French produce. The small bistro tucked away on Wellington street, offers a variety of 25 award winning Grower Champagnes and artisanal charcuterie platters. The outdoor seating provides soft blankets, outside heating and baked cheese to warm our hearts up.
London's first sparkling wine specialist, Grays & Feather is a quirky wine bar and speakeasy, that offers a delectable selection of sharing plates. Our go to order is the super sized fried Buffalo Oyster, paired with a glass of bubbly. It's the perfect boozy woozy al fresco afternoon delight for soaking up the spring sunshine.
Bar Douro – Portuguese style outdoor dining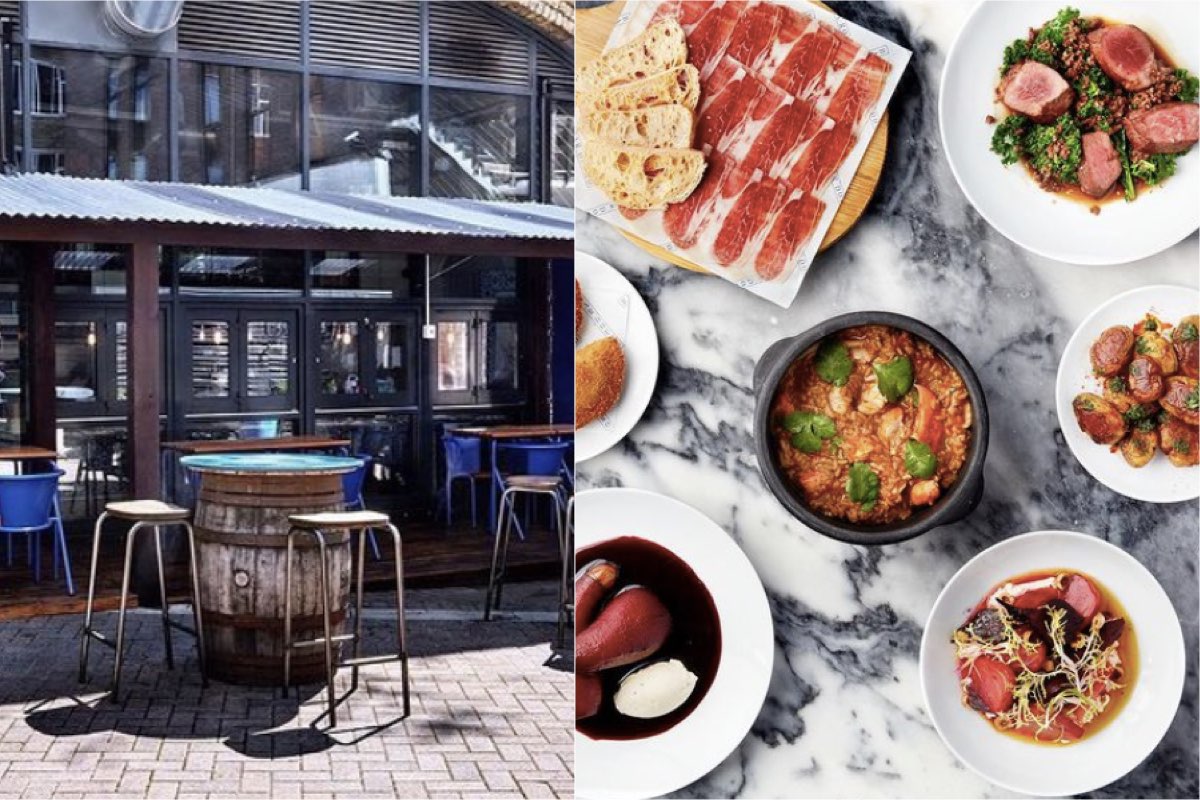 A little slice of Portugal in London, Bar Douro London Bridge's restaurant and wine bar will open on 13th April, complete with both an extended outdoor terrace and authentic Portuguese sharing plates. Bar Douro's rustic terrace spilling out into Flat Iron Square is a great spot to enjoy a Churchill's White Port and Tonic alongside a superb array of classic Portuguese plates, whilst relaxing in the sun.
Best outdoor restaurants in East London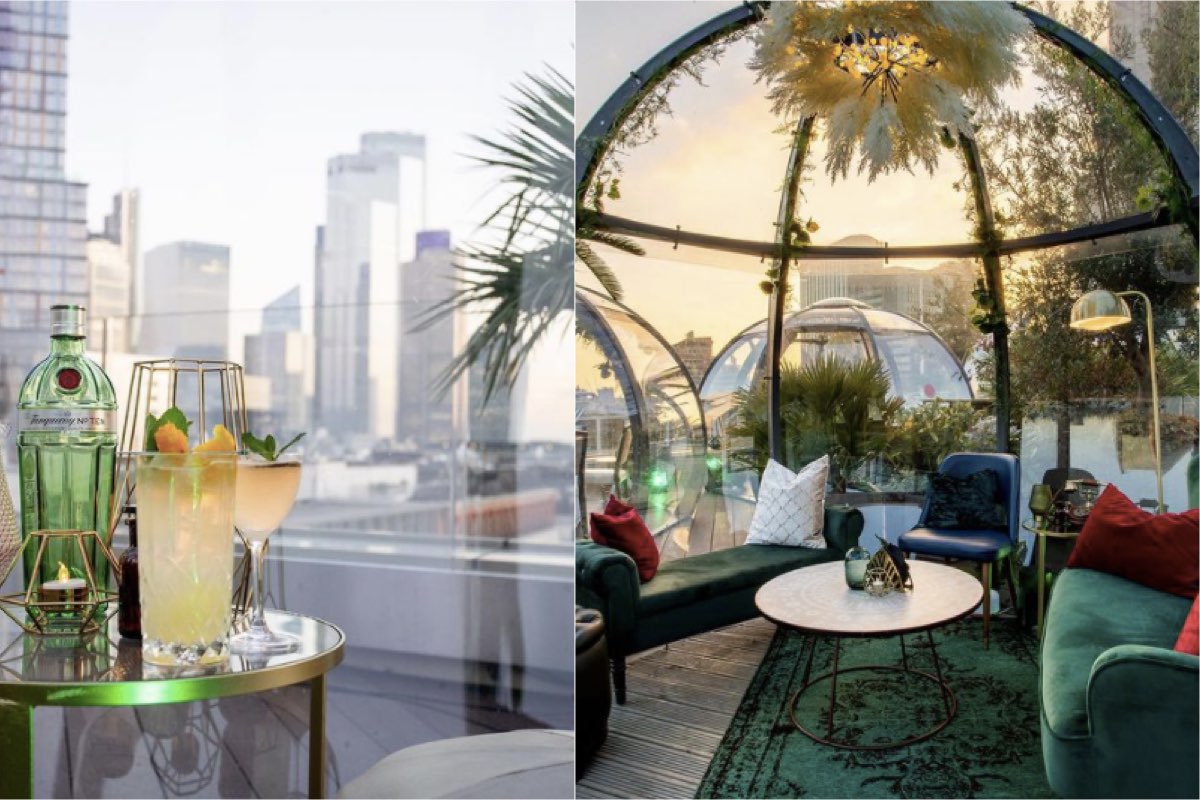 Aviary Rooftop Restaurant & Terrace Bar is located on the 10th floor of the Montcalm Royal London House Hotel. It's one of London's bet rooftop bars with some of the best views of the City. So much so, our editor chose it as the venue for her 30th birthday. The Aviary is back from April 12th. Enjoy beautiful views over London when dining, sipping drinks on the terrace or in their famous igloos that are perfectly suited for groups of up to six.
Yauatcha City – Outdoor seating in Broadgate Circle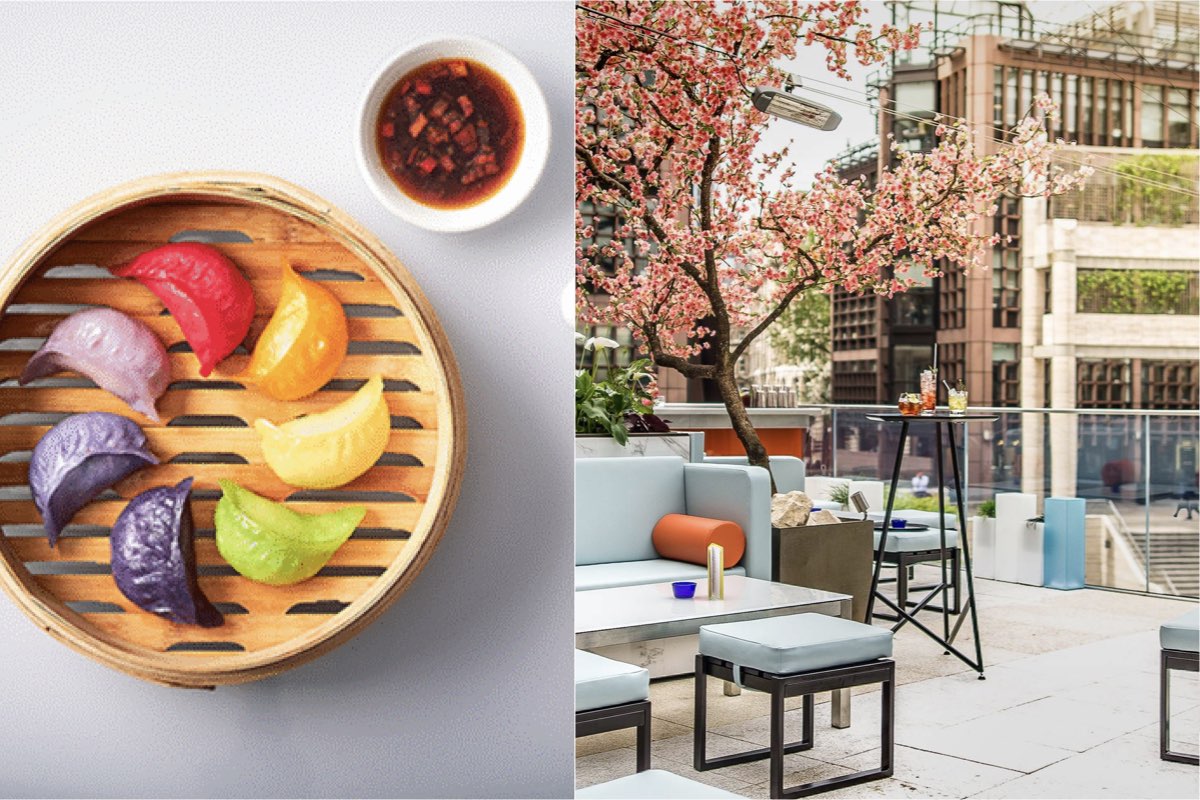 The expansive double wraparound terraces overlooking Broadgate Circle at Yauatcha City, have recently been revamped providing a sophisticated urban destination for guests to catch up over dim sum and expertly prepared cocktails. Over on Broadwick Street, enjoy dim sum and patisserie whilst soaking up the atmosphere from the heart of Soho at Yauatcha Soho (from 12 April).
COYA Angel Court – Peruvian inspired outdoor terrace
As the weather gets warmer, in the City, COYA Angel Court's Peruvian inspired terrace is the ideal place to dine outside post lockdown. The tucked away space will be open from the 12th April for guests to use as a City escape. Available every Monday to Friday, guests can enjoy the outdoor bar and enjoy food from both the lunch and dinner menu as well as enjoy one of COYA's famous Pisco Sours.
Edū – outdoor terrace at BoxPark in Shoreditch
Edū brings the taste of Spain with a contemporary twist to BoxPark in Shoreditch. Customers can expect an outdoor terrace, with world cuisine paired with traditional Spanish flavours. We love the Spanglish Burger, featuring an Angus beef patty with a chorizo crumble and manchego cheese. What more could you ask for? Find also in Flat Iron Square.
Best outdoor restaurants in South Bank
Skylon – outdoor terrace in South Bank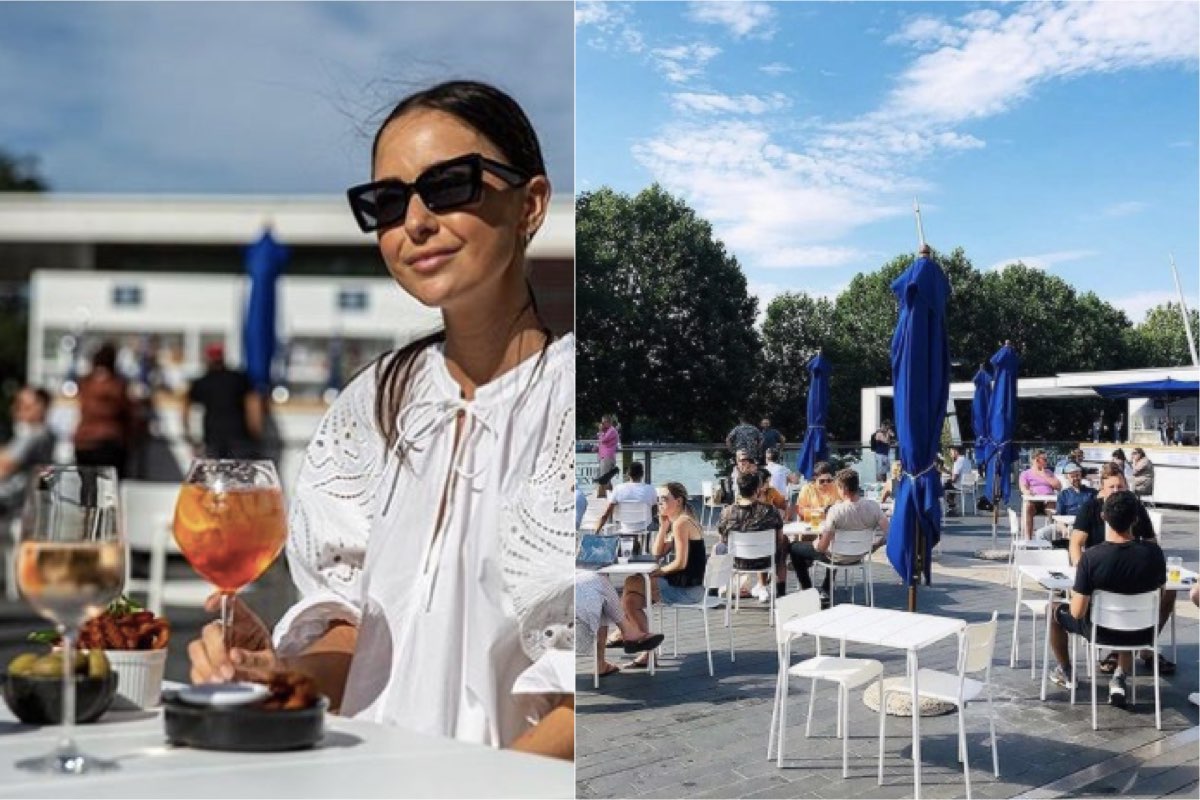 Skylon is located in the Royal Festival Hall with panoramic views of the South Bank and River Thames. The elegant restaurant terrace serves modern British cuisine and innovative cocktails in a relaxed atmosphere.
OXO Tower – outdoor terrace with panoramic views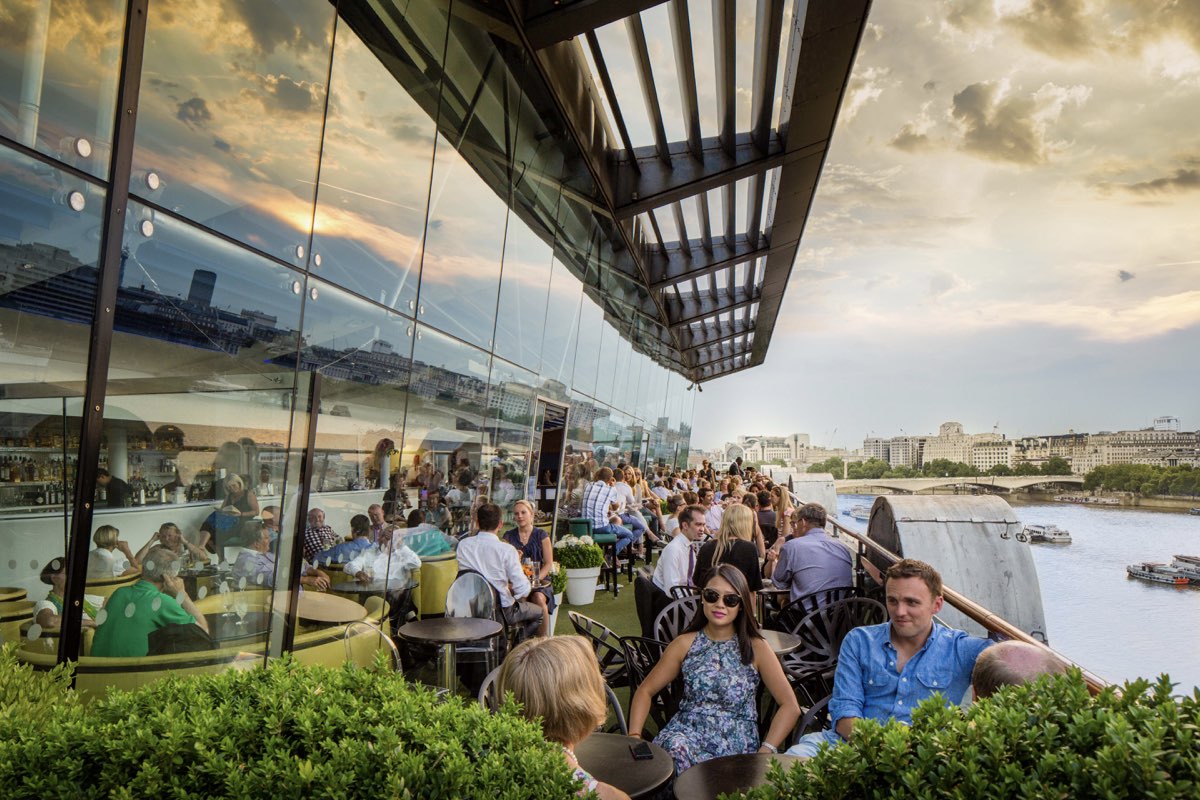 OXO Tower Restaurant, Bar & Brasserie will have the full run of the terrace open to guests from the 12th April to enjoy its iconic views across the Thames of St Paul's. Whether it's for a quick coffee, an afternoon tea or an indulgent 6-course tasting menu with paired wines, guests can enjoy refined dining outdoors.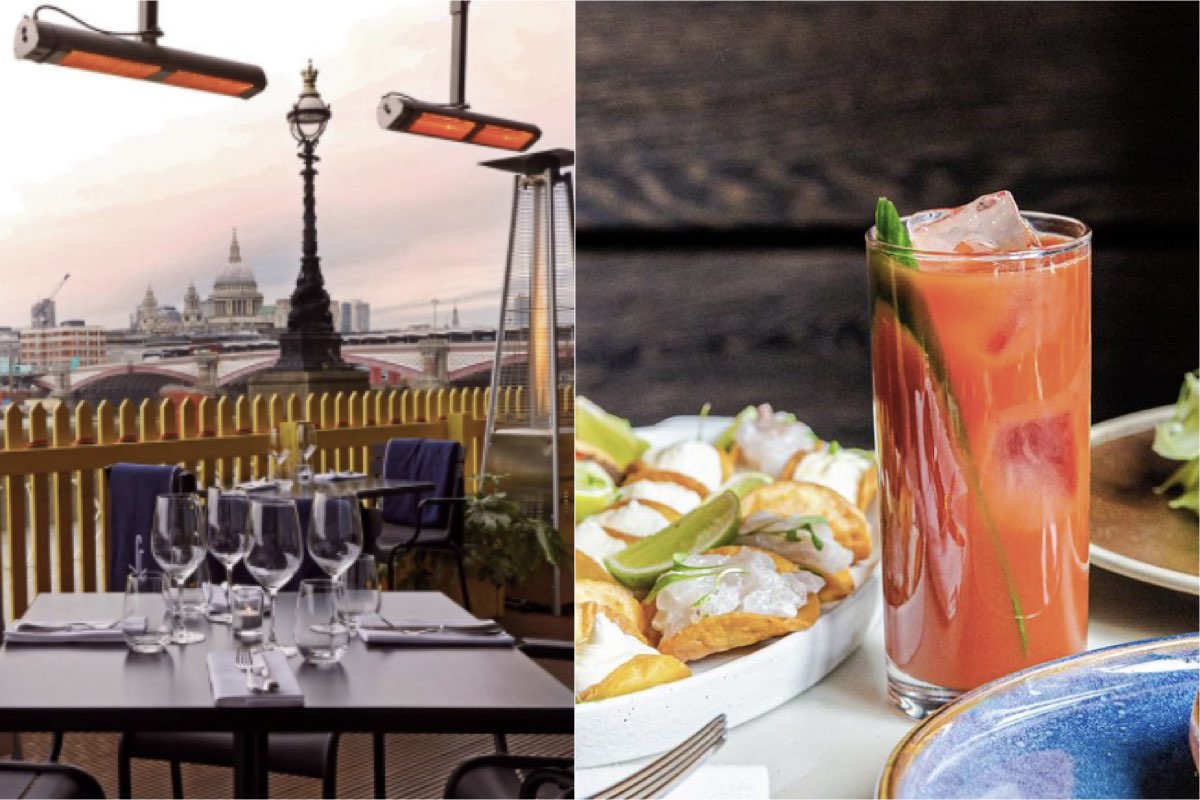 Sea Containers – outdoor terrace in South Bank
Formerly Mondrian, Sea Containers London is a sophisticated design-led boutique hotel with luxury dining and award-winning bars like Lyaness, formerly Dandelyan, from the team behind the world's best bar. The outdoor terrace at Sea Containers, with show-stopping of the River Thames will re-open on 16th April. Order a round of Grey Goose Bloody Mary's for Sunday brunch.
La Nonna – authentic Italian in Flat Iron Square with outdoor seating
Devour bowls of fresh pasta "Nonna style" in Flat Iron, London's foodie hub for open air restaurants this Spring. Dani and his team at La Nonna use authentic Italian recipes, serving up handmade pasta dishes with the finest ingredients prepared to order. We love the slow cooked beef and pork ragu, mozzarella sticks and Nutella mini.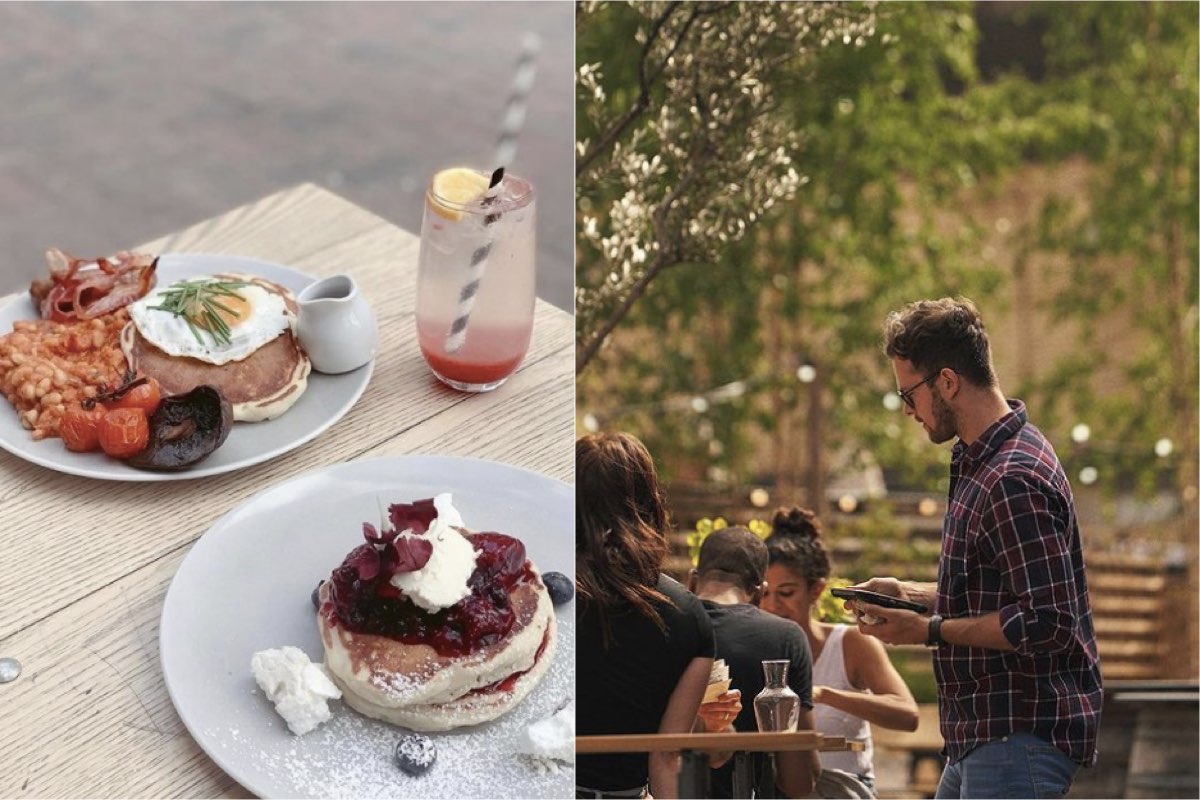 Whether you like your pancakes sweet, savoury or even gluten free, Where the Pancakes Are has you covered. Using only carefully sourced, nutrient packed ingredients, we adore the selection fresh toppings available. Why not pair your pancake perfectly with a house juice, cocktail or coffee? The open air restaurant overlooking the buzz of the Flat Iron square is open 09:00-16:00, Thursday through to Monday. Bookings are now being taken via ResDiary, but walk-ins on a first come first served basis are also welcomed.
Best outdoor restaurants in South London
Mercato Metrapolitano in Elephant & Castle is one of the biggest outdoor dining and drinking spaces in London, with over 500 seats and 40 food and drink vendors. Home to more than 40 vendors, a micro-brewery and a number of community projects. Discover flavours from Italy to Japan, Colombia to Germany, Vietnam to Argentina, and many more
Butlers Wharf Chop House – the relaxed riverside destination, with its famous view of Tower Bridge, is the ideal terrace destination to enjoy their menu of meaty dishes and expertly curated wine list.
Cantina – relaxed outdoor dining in Tower Bridge
A traditional Italian trattoria by the River Thames, with views of Tower Bridge, Cantina in a nice spot for a quick bite of lunch or relaxed dinner. The ambience will transport you right to the heart of Italy.
Fiume – al fresco lunch in Battersea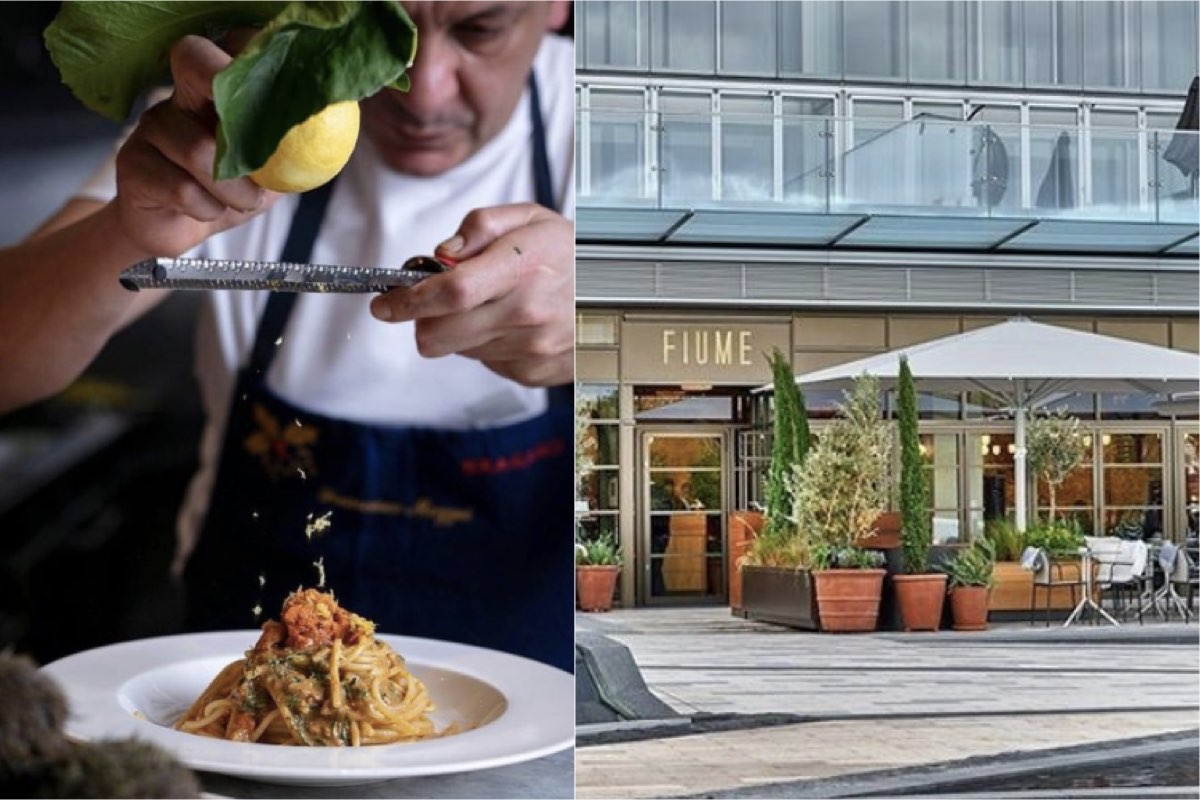 Fiume sits right on the bank of the River Thames in Battersea Power Station's Circus West Village. With unrivalled views of the Thames and a large Mediterranean piazza-style terrace to enjoy them from, the restaurant is the perfect setting for tucking into rustic southern Italian recipes and aperitivos.
'The Terrace' by Megan's is a new outdoor dining concept adapted for more casual dining on the common. Perfect for takeaway picnics in the park (try their Prosecco picnic box). Their main focus is their new sourdough pide (said pee-deh) pizzas; a boat shaped Turkish pizza, filled with tasty fillings. Pop in to try one from 2nd April for takeaway & you will understand why.
Perfect for a romantic evening drink, Champagne and Fromage is for lovers of authentic French produce.
Best outdoor restaurants in West London
Bluebird White City is a relaxed and stylish destination with a beautiful terrace, perfect for drinking all dining all day, from a breakfast meet up through to cocktails and dinner.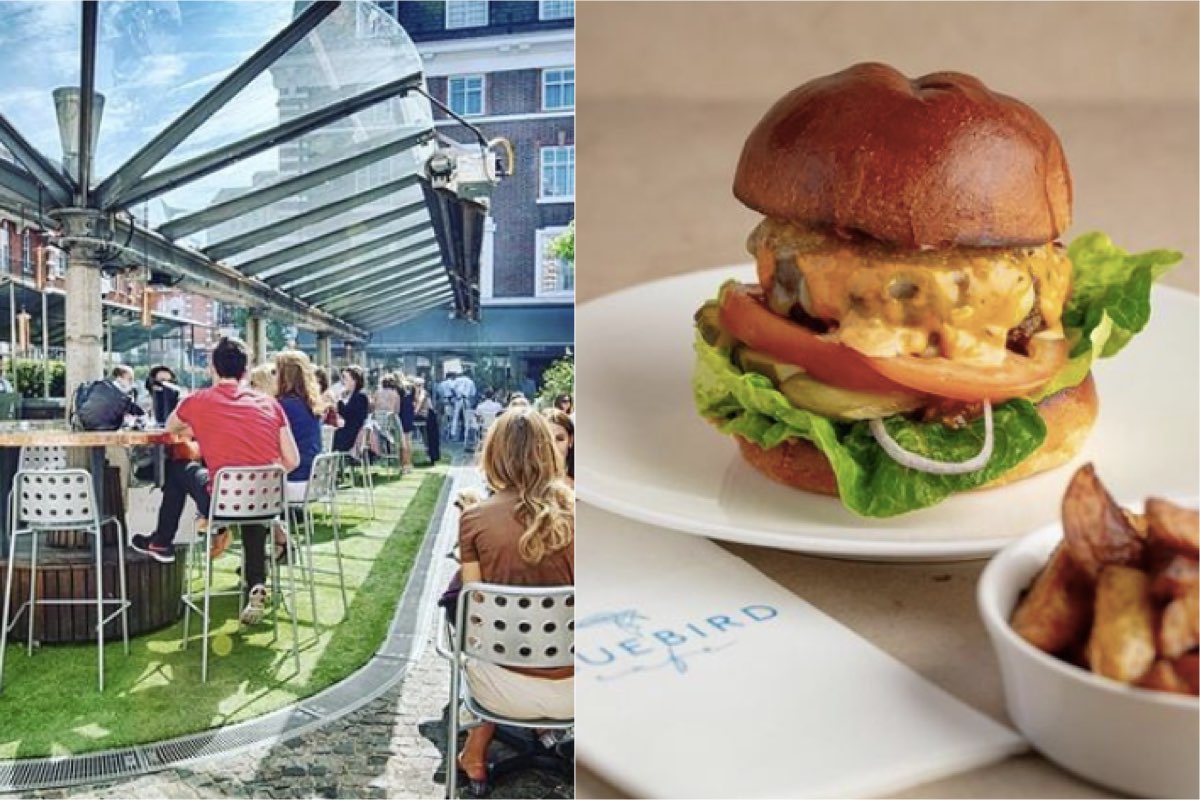 Hangout on the terrace hot spot at Bluebird Chelsea, just off the Kings Road, the perfect summer outdoor oasis for drinks, nibbles and food.
Beach Blanket Babylon has unveiled plans for its al fresco offering. With two outside areas – a 20-cover rear garden and a terrace immediately in front of the building that has been extended to accommodate up to 50 guests.
Best outdoor restaurants in North London
German Gymnasium – alfrescho lunch spot in King's Cross
London's most popular German restaurant, German Gymnasium, is reopening its beautiful terrace, ready to host those special reunions and missed celebrations over alfresco lunches, dinners and cocktails.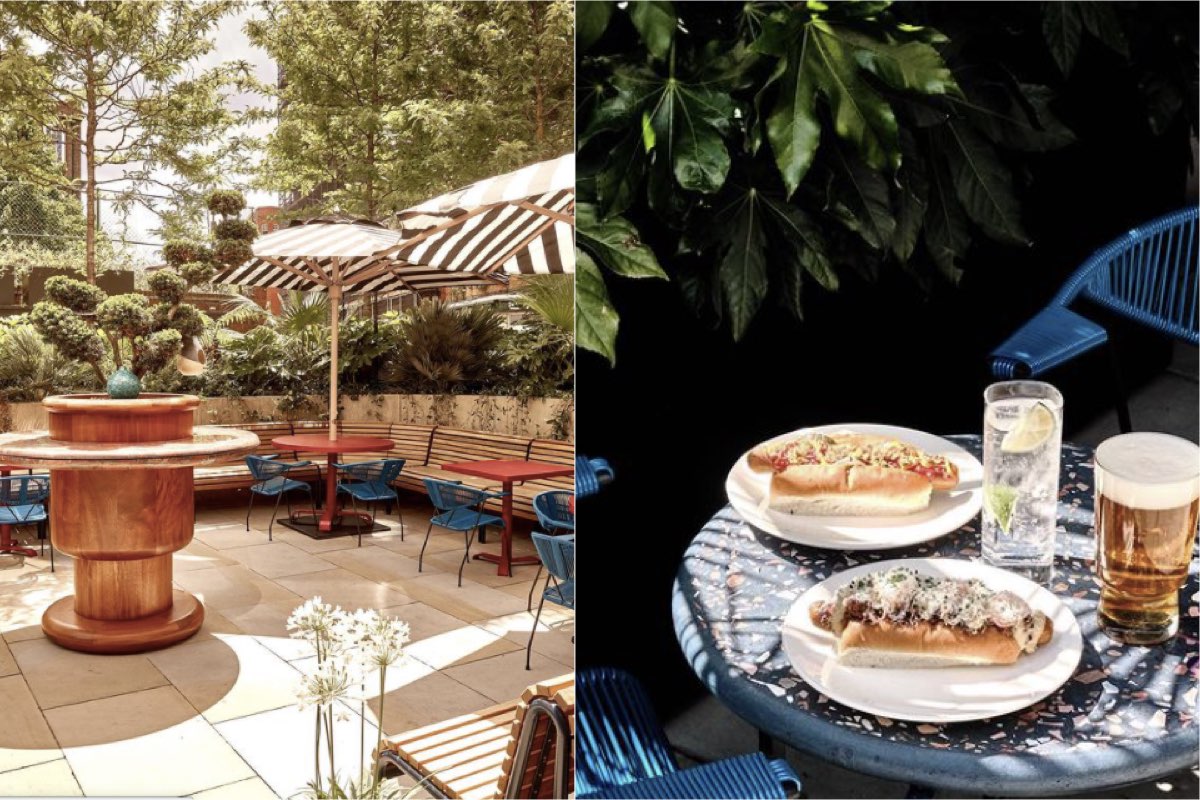 Double Standard, The Standard, London's bar and terrace, reopens on 12th, serving delicious hearty fare accompanied by beers, classic cocktails and slushy Aperol spritzes. Double Standard has become best-known for its famous burgers, DJs and bottomless Sunday Brunch all enjoyed in the 70s-inspired bar space or in the sun-soaked terraces.
Radici – outdoor terrace in Islington
Radici serves southern Italian dishes including pizza, pasta and delicious small plates, perfect for enjoying on their terrace whilst sipping an Aperol Spritz or two.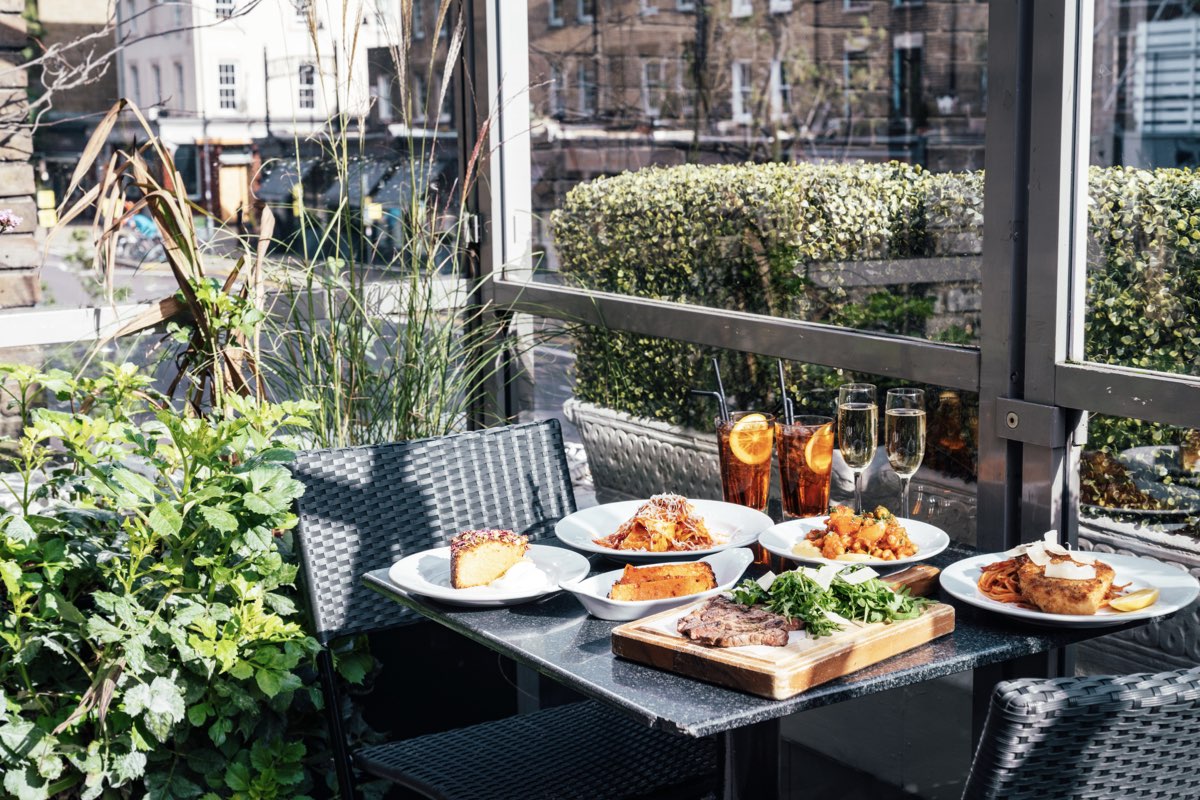 Arenella – heated and covered outdoor restaurant
Arenella, a recently launched outdoor restaurant located on The Chapel Bar's terrace, is reopening on 12 April with a new spring menu. The charming space adorned with heaters and a covered roof is beautifully boarded by plants and hedges; an ideal spot for catch ups with long lost friends, afterwork hang outs and romantic midweek date nights.
Liked this article on 'Best Outdoor Restaurants In London To Book Now'? Read 'Best Rooftop Bars In Shoreditch'.
By Hettie
Get your weekly DOSE fix here: SIGN UP FOR OUR NEWSLETTER