A second lockdown means it's time to rekindle that sourdough starter lurking at the back of the fridge to start baking bread again – this time with no flour shortages (we hope).
If you're jumping back on to the sourdough hype but are struggling to find ways to use the discard from your starter, we've rounded up the best recipes to save you throwing it away.
Turn it into crackers, brownies, pancakes or banana bread for a whole new level of lockdown baking.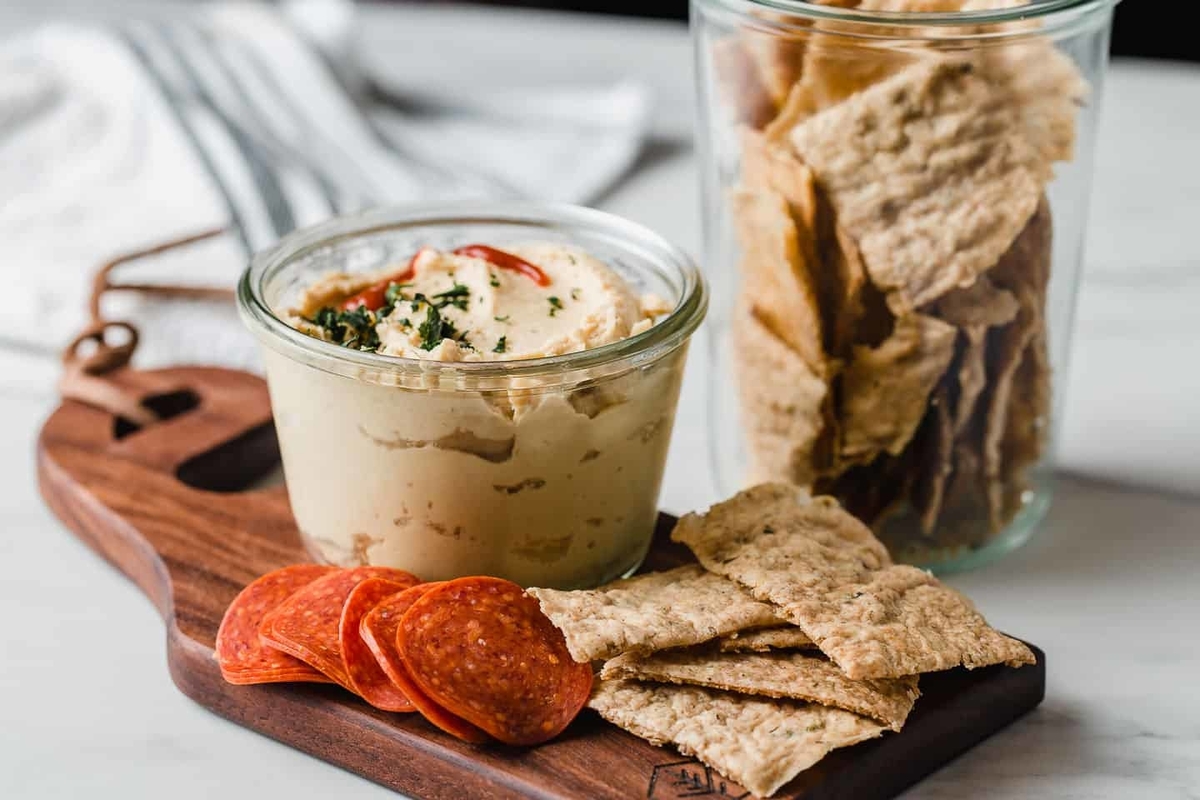 BEST SOURDOUGH DISCARD RECIPES
Recipe: Little Spoon Farm
Makes one large baking tray of crackers
Sourdough discard crackers are thin, crispy and have that amazing tang that you can only get with real sourdough. Warning: these are dangerously easy to make and even more addictive – fortunately they're relatively healthy, with only a tiny amount of butter or oil required to let the sourdough tang really sing.
Ingredients
200g discarded sourdough starter
2 tablespoons melted butter or oil
1/4 teaspoon fine sea salt, plus another 1/4 teaspoon for sprinkling on the top
2 teaspoons dried herbs
METHOD
1. Preheat the oven to 160°C and line a baking sheet with parchment paper. Melt the butter (if using) in a mixing bowl and let cool.
2. Mix the sourdough discard, dried herbs and melted butter or oil thoroughly until well combined. Use a spatula to spread the mixture in a thin, even layer onto the parchment paper. Sprinkle the top with salt.
3. Bake for 10 minutes. Remove from oven and score the crackers. Bake for an additional 40-50 minutes or until the crackers are golden brown. Let cool completely before breaking into squares.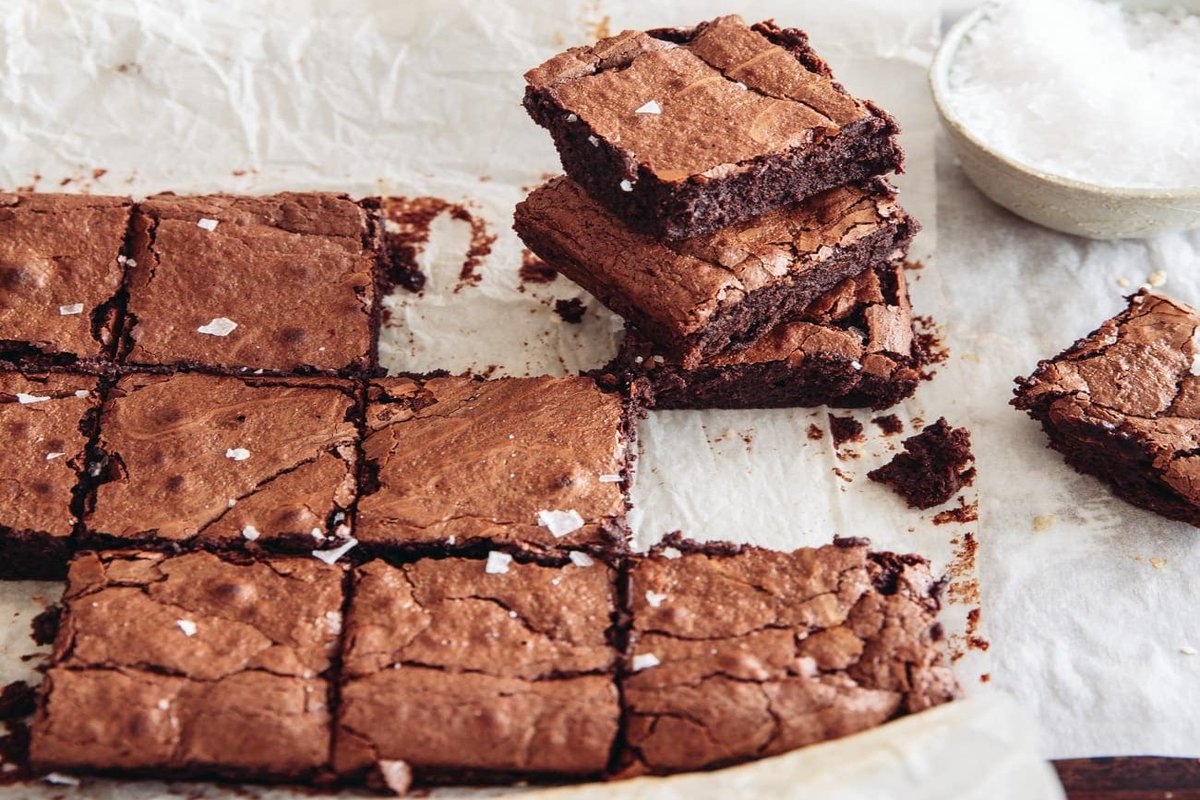 Recipe: Izy Hossack – Top with Cinnamon
Makes 16 brownies
Exceedingly fudgy with a crispy meringue-like top and a gooey centre, these are rapidly becoming our favourite vegan brownie recipe.
Ingredients
120g aquafaba (chickpea/black bean/kidney bean water)
1/4 tsp cream of tartar, optional
250g caster or granulated sugar
100g vegan block 'butter' (75% fat content minimum)
150g dark chocolate (60-70% cocoa content), broken into small chunks
200g sourdough discard
1 tsp vanilla extract
50g cocoa powder
70g ground almonds
30g cornflour, optional (see notes)
1/4 tsp bicarbonate of soda
1/4 tsp fine table salt + flaky salt for sprinkling (optional)
METHOD
1. Preheat the oven to 180°C (350°F) fan or 200°C (400°F) non-fan. Line a 7.5 x 9.75-inch (19 x 25 cm) rectangular OR an 8 or 9-inch (20 or 23cm) square brownie pan with baking paper.
2. Place the aquafaba and cream of tartar (if using) in the bowl of a stand mixer fitted with the whisk attachment (or in a large bowl, if using a handheld electric whisk). Whisk on high speed until it becomes a thick pale foam, like whipped egg whites. Whilst continuing to whisk, add the sugar a few tablespoons at a time. Once all the sugar has been added, continue to whisk for 5 minutes more to ensure as much sugar as possible has dissolved. The mixture will still feel slightly grainy if you rub some of it between your fingertips (if it feels VERY grainy, keep whisking to allow more of the sugar to dissolve). It should look glossy, thick and opaque white, like egg whites whisked to semi-stiff peaks.
3. Place the vegan butter and broken up chocolate into a small pot and place over a low heat. Stir until almost fully melted. Remove from the heat and set aside so the residual heat can melt it all fully. Once fully melted, stir the sourdough discard and vanilla extract into the pot of melted chocolate/butter mixture. It may look kind of split/grainy but this is fine.
4. Mix around 1/4 of the whisked aquafaba into the melted chocolate mixture. You don't have to be gentle here as this step is to help loosen the texture of the chocolatey mixture. Now pour that loosened chocolatey mixture into the bowl of whisked aquafaba. Sift the cocoa powder, ground almonds, cornflour, bicarb and salt on top.
5. Use a silicone spatula to fold the mixture together gently, trying to maintain as much of that air in there as possible. Make sure you get right to the bottom of the bowl and scrape the sides too.
6. Pour the batter into the prepared pan and bake for 25-30 minutes – the top should look dry, matte and the brownies shouldn't wobble when you shake the pan. If you insert a toothpick into the centre, it should come out with some thick, gooey batter attached to it. Remove from the oven and run a knife around the edges whilst they're hot to loosen any bits which may be stuck. Leave to cool for 20-30 minutes before removing from the tray and cutting into squares. They will sink in the centre as they cool so may crack a bit as this happens. Sprinkle with flaky salt to finish.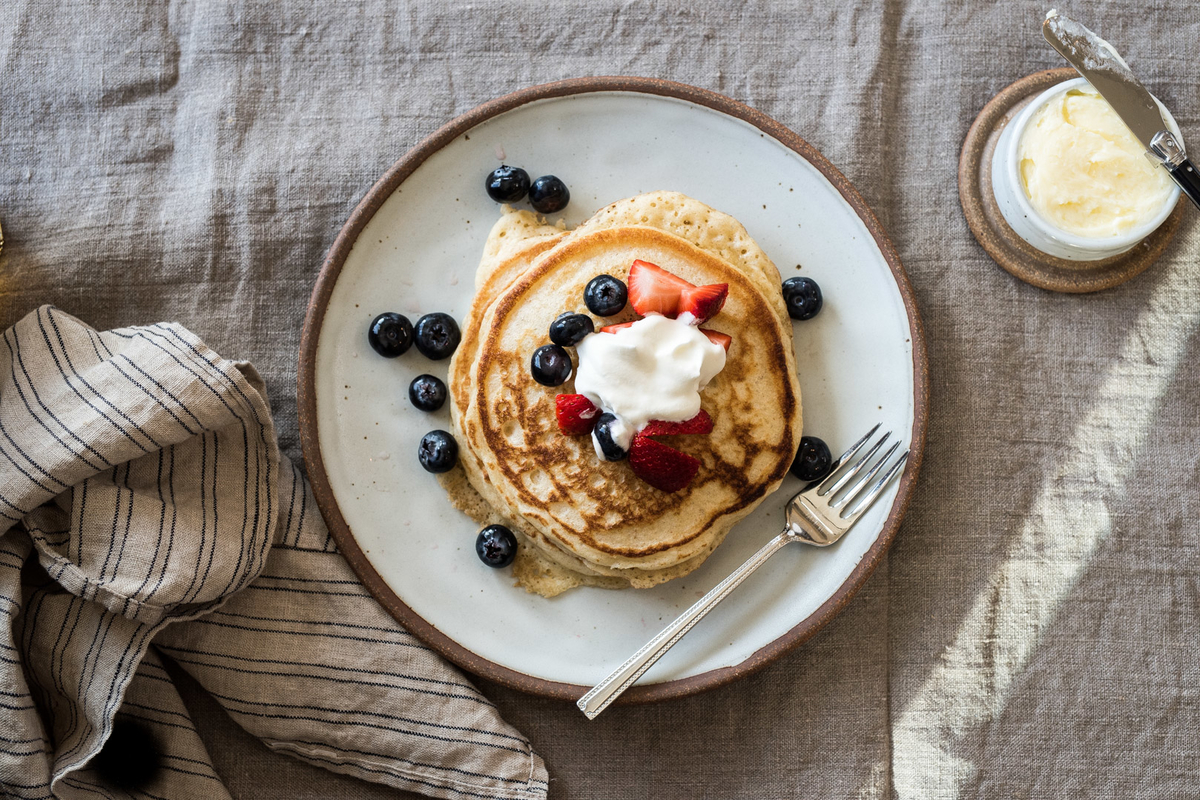 Recipe: The Perfect Loaf
This recipe is super easy to whip up, making it the perfect on-a-whim weekend breakfast.
Ingredients
2 large eggs
245g whole milk
60g Greek yogurt (optional)
250g sourdough starter
1 teaspoon vanilla
180g plain flour
1 teaspoon baking soda
1 teaspoon baking powder
1 teaspoon sea salt
50g granulated sugar
60g melted butter
METHOD
1. Beat eggs in a medium bowl. Add milk, yogurt (if using), sourdough starter, and optional vanilla. Stir to incorporate.
2. Sift together flour, baking soda, baking powder, salt, and sugar. Add dry mix to the egg mixture, mixing well. Stir in melted butter. Wait about 30 minutes to let your sourdough starter get going just a bit.
3. Lightly grease a hot pan. Drop the batter onto the pan and cook until light brown and bubbles start to appear on top, then flip to cook the other side. Refrain from flipping multiple times.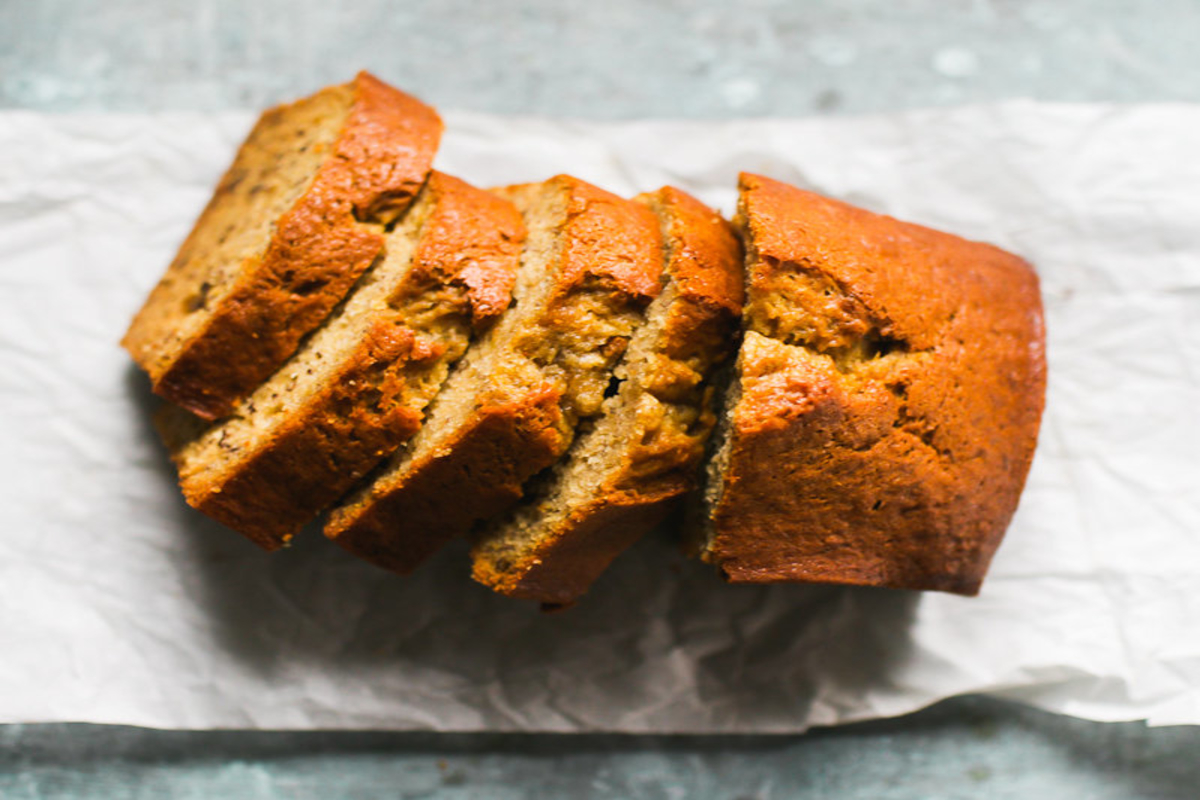 Recipe: The Clever Carrot
Because it wouldn't be a lockdown baking round-up without a banana bread recipe, now would it?
Ingredients
375g overripe bananas, weighed with the skin on (about 2 medium bananas)
225g light or dark brown sugar
1½ tsp vanilla extract
2 large eggs
100g sourdough starter
250g all-purpose flour
1½ tsp baking soda
1/4 tsp fine sea salt
125ml neutral flavored oil
60ml milk
METHOD
1. Add the bananas, sugar, and vanilla to a bowl. Cream with a hand held mixer or stand mixer fitted with the paddle attachment, about 30 seconds to 1 minute (some small lumps of banana are okay).
2. Add the eggs, one at a time until fully incorporated. Add the sourdough starter.
3. Sift the flour, baking soda, and salt together in a separate bowl. Working in batches, add this to the banana mixture.
4. Add the milk and oil and mix until just combined. Do not over do it; the banana bread will be tough.
5. Pour the batter into a lined loaf tin. Bake for roughly 60 minutes at 180 degrees, until rich golden brown and a toothpick comes out clean. Cool in the pan for 20 minutes, and then transfer to a wire rack to cool completely.
Main photo: The Perfect Loaf
Get your weekly DOSE fix here: SIGN UP FOR OUR NEWSLETTER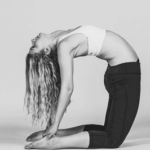 After graduating from Cambridge University with a triple First, Rosie decided to pursue a career in the fitness industry rather than follow the traditional path of her peers in investment banking. Unable to shake off the fast-paced routine she developed in her City job, she achieves balance by winding down in yoga sessions, escaping on fitness retreats, and going for extended brunches that somehow seem to wind up in a hidden gem of a cocktail bar.