Looking to make your period more green? DOSE writer Emily rounds up the best sustainable menstruation products to buy in 2021…
Did you know that it takes one tampon longer to deteriorate than the lifespan of the woman who wears it for just a matter of hours? And on average, she wears up to 11,000 single-use tampons in her lifetime. That's almost 200kg of waste ending up in landfill or beaches. As one of the least obvious and spoken about sources of single-use plastic, the figures surrounding period products can seem shocking.
So, let's break it down. Conventional period products can contain up to 90 per cent plastic, with just one box of mainstream tampons laced with almost as much plastic as five carrier bags. In the UK alone, over 4.3 billion disposable, single-use menstrual products are used every year. And those that are flushed down the toilet (a huge no-no for the planet by the way) end up in the sea, among the fifth most common item found on European beaches.
We may be contributing to the problem without even realising but, great news – we are also the solution. From simple swaps to long lasting lifestyle changes, here are our favourite tried and tested sustainable menstruation products to try in 2021. Not only better for you, but our planet too. 
Best sustainable menstruation products
DAYE: THE CBD-INFUSED SUSTAINABLE TAMPON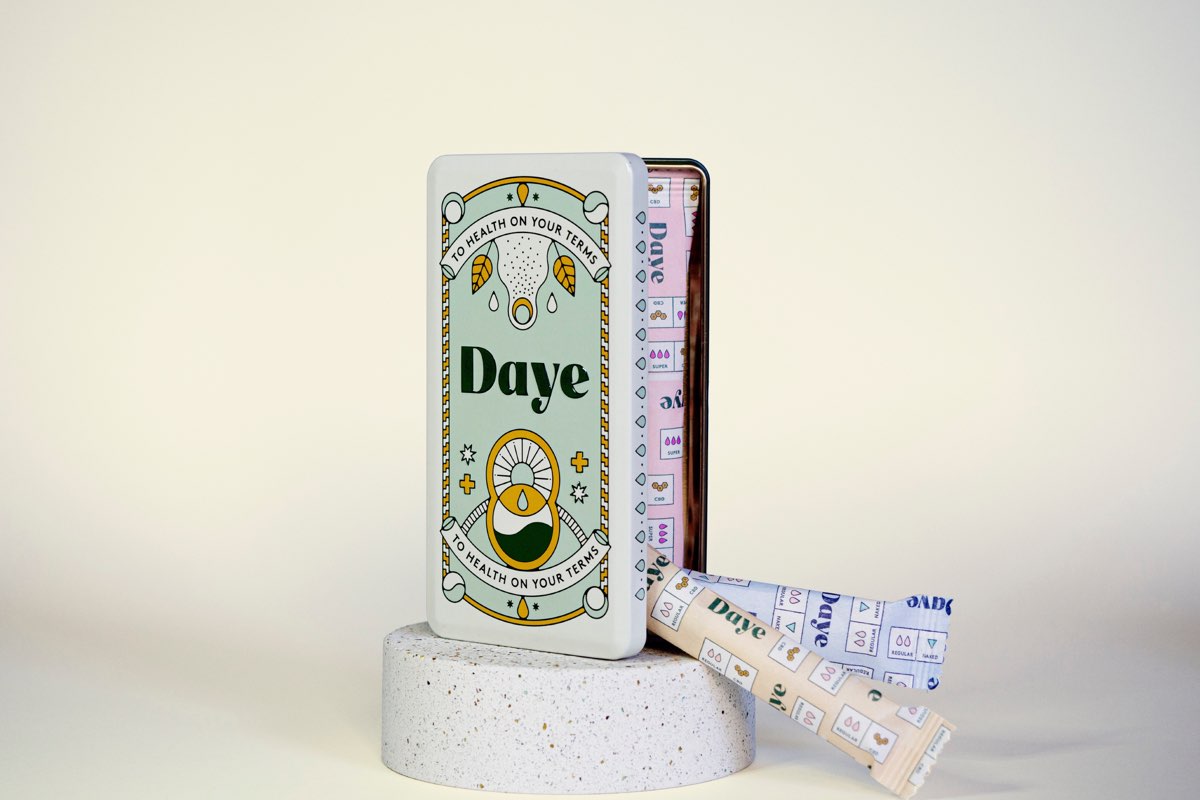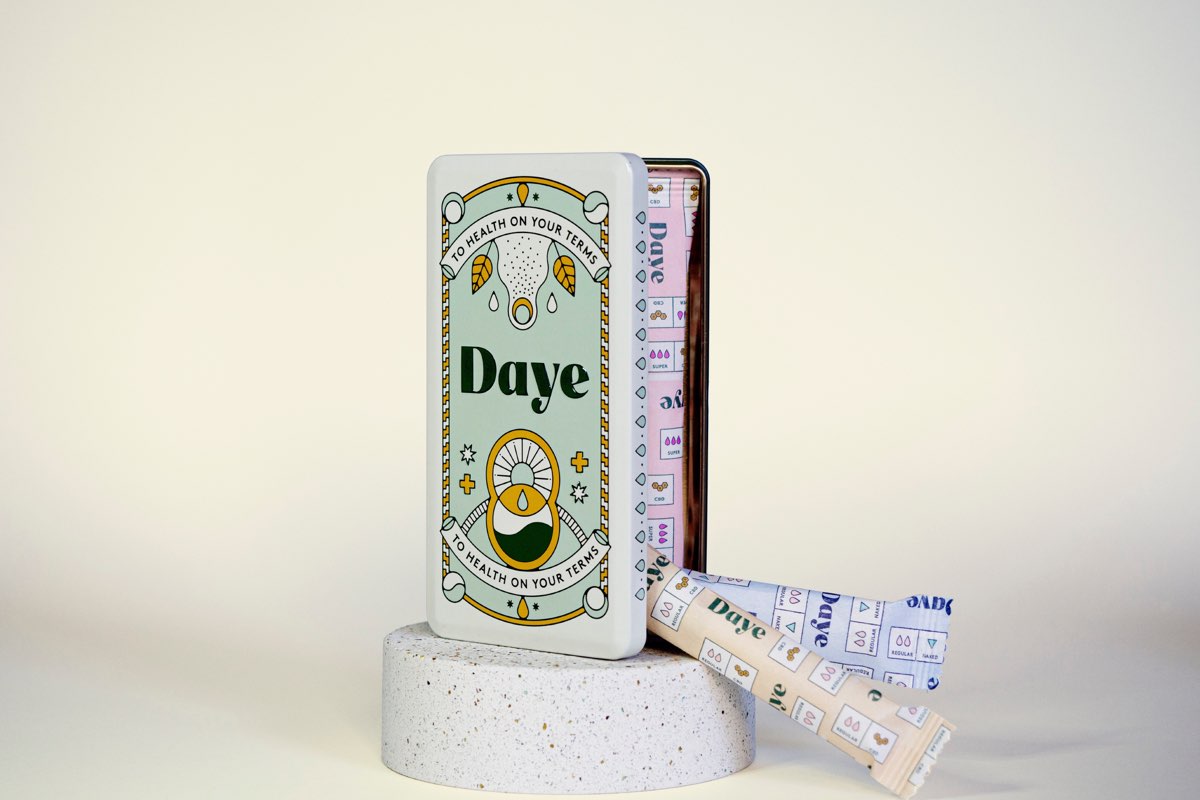 Why we love them: Up to 50% of women experience primary dysmenorrhea (menstrual cramps) when bleeding and sometimes a trusty hot water bottle just won't do. Enter CBD tampons. Recognising the potential that cannabinoids have to naturally alleviate menstrual discomfort, Daye's CBD tampons are designed with a 30% full spectrum CBD-infused layer. Clinically validated, Daye's tampons are toxin-free and have a protective sleeve which stops fibre loss, minimising the growth of bad bacteria. And with packaging that's easy on the eyes and the planet too, their tampon wrappers are water soluble, completely dissolving under water whilst the bio-based applicator can be recycled, if washed thoroughly.  
A 12 box of tampons starts from £6 – available to buy here
THINX: THE REUSABLE PERIOD BRIEF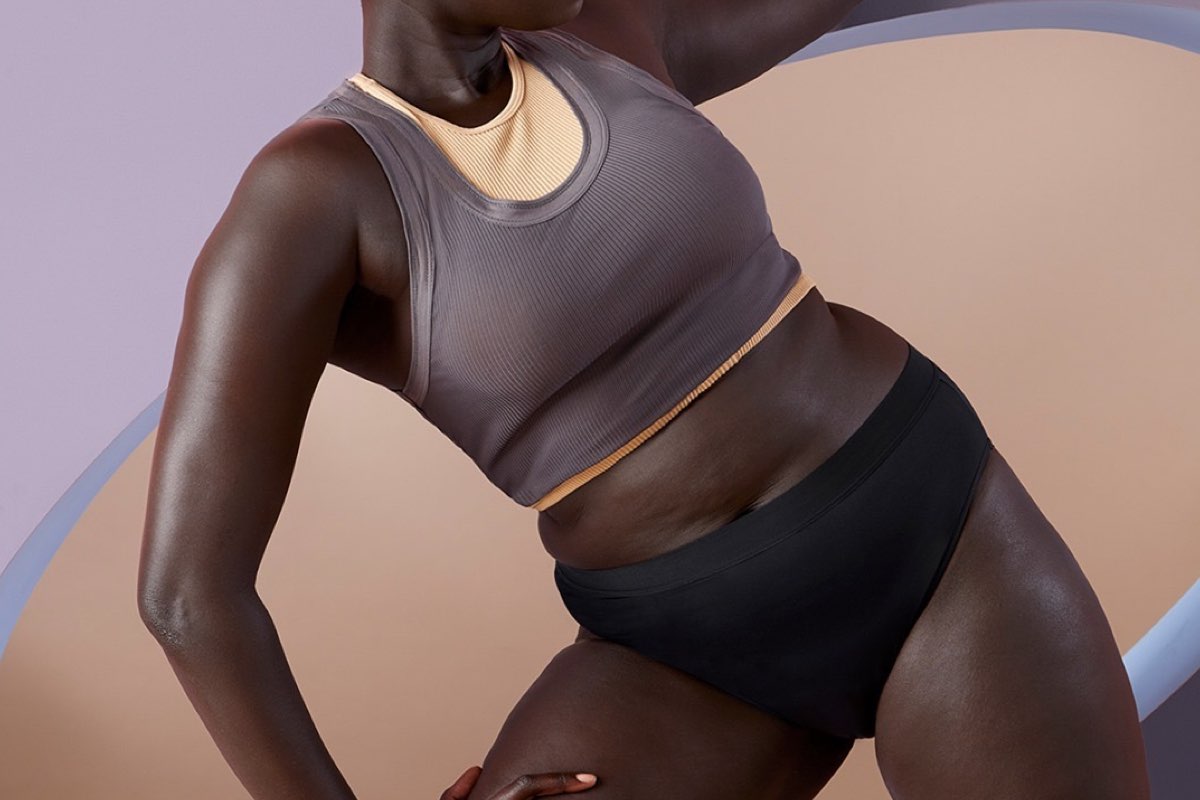 Why we love them: Imagine a world where you don't have to worry about carrying around (or forgetting!) your sanitary products? Designed to absorb your period, Thinx's washable, reusable briefs can sustainably replace mainstream products. Or depending on flow, can be worn alongside tampons and cups for extra protection. With a range of styles, colours and absorbances available, each pair are odour-controlling, super-absorbent and leak-resistant, keeping you fresh all day long. Not to mention the signature, moisture-wicking technology keeping the top layer free of any icky wet sensations. 
The pants feel only slightly thicker than normal underwear and are so comfy that you'll probably end up wearing them on non-period days too. Lasting for up to eight hours throughout the day, night and even during an intense workout, we definitely feel empowered whenever we wear ours.
Thinx pants start from £18.08 – available to buy here
MOONCUP: THE ORIGINAL MENSTRUAL CUP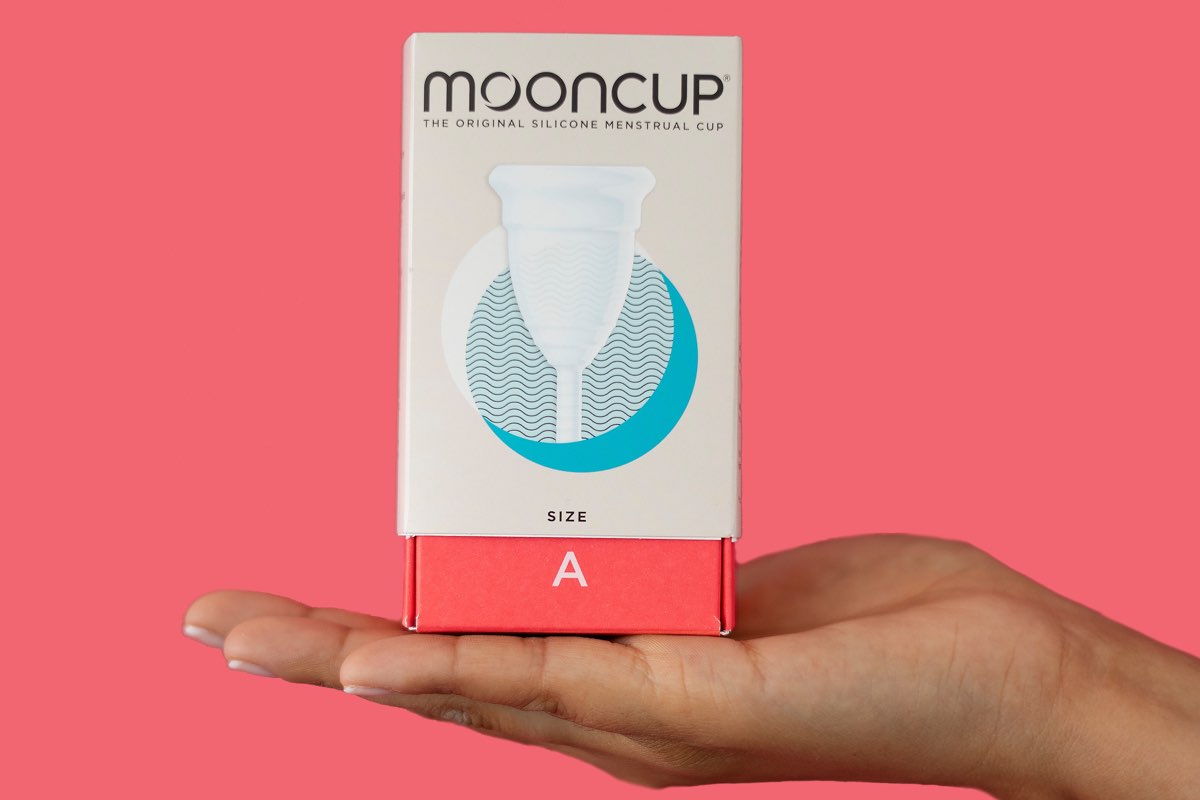 Why we love them: As the original menstrual cup, this is a zero waste and completely plastic free solution. Eliminating pad and tampon waste all together, the Mooncup is perfect for those looking to put their eco-warrior hat on.
Made out of soft, durable and 100% medical grade silicone, the cup is around two inches long. Folded into a C shape, the cup is inserted into the vagina (much like a tampon), before creating a suction to the vaginal walls to catch any blood. Holding up to three times more than a mainstream tampon, the cup can be worn during both light and heavy days and even when working out. Aside to the immense reduction of waste it creates for our planet, each cup lasts for up to ten years. So, the initially higher price tag redeems itself after just six months when saving on other sanitary products. 
If this feels daunting to you at first glance, don't worry, it was for us too! If you need a little reassurance before converting, Mooncup's friendly team are always on hand for personal advice, or you can read their first timer top tips to put any doubts to bed. But honestly, when we tried it, the Mooncup made us forget we were on our period. 
The moon cup costs £20.95 – available to buy here
OHNE: THE 100% BIODEGRADABLE TAMPON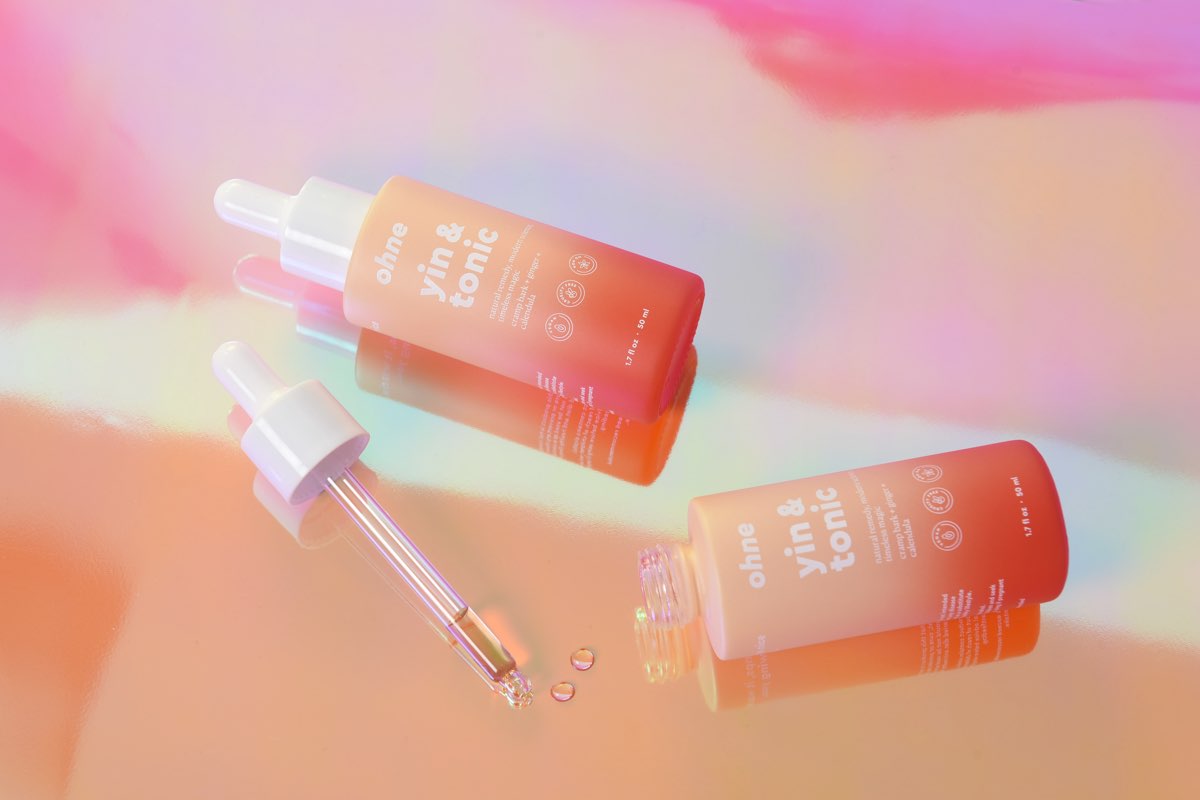 Why we love them: Don't fret, you can care about the environment and still use tampons. But not just any tampon should be getting up close and personal with the thinnest and most absorbent skin on our bodies. Ohne's 100% biodegradable tampons are totally natural, unscented and unbleached, include no nasty toxins and their protective sleeve prevents shedding. With a free monthly subscription service, you can personalise your pack to suit you and your flow. Picking from regular, super, super+, naked or applicator tampons in just one delivery. We like to think of them as our empowering period fairy.
They don't just make tampons. Ohne produce the UK's first pro-period CBD oil – 'Holy Cramp' – a tropical CBD oil to fight period pain. The latest product 'Yin & Tonic' is also proven to reduce muscle spasm and period pain, replenishing depleted minerals and vitamins. Ohne really does have your back throughout your whole cycle. 
Buying Ohne's sustainable menstruation products won't just improve your period but other women's too. The brand helps alleviate period poverty across the world, donating 5% of their revenue to the Menstrual Health Management programme with School Club Zambia, improving hygiene, product standards and education of young women about their bodies. That's pretty bloody brilliant if you ask us. 
The oils start from £22 – available to buy here 
Tampons start from £4.80 – available to buy here
DAME: THE REUSABLE APPLICATOR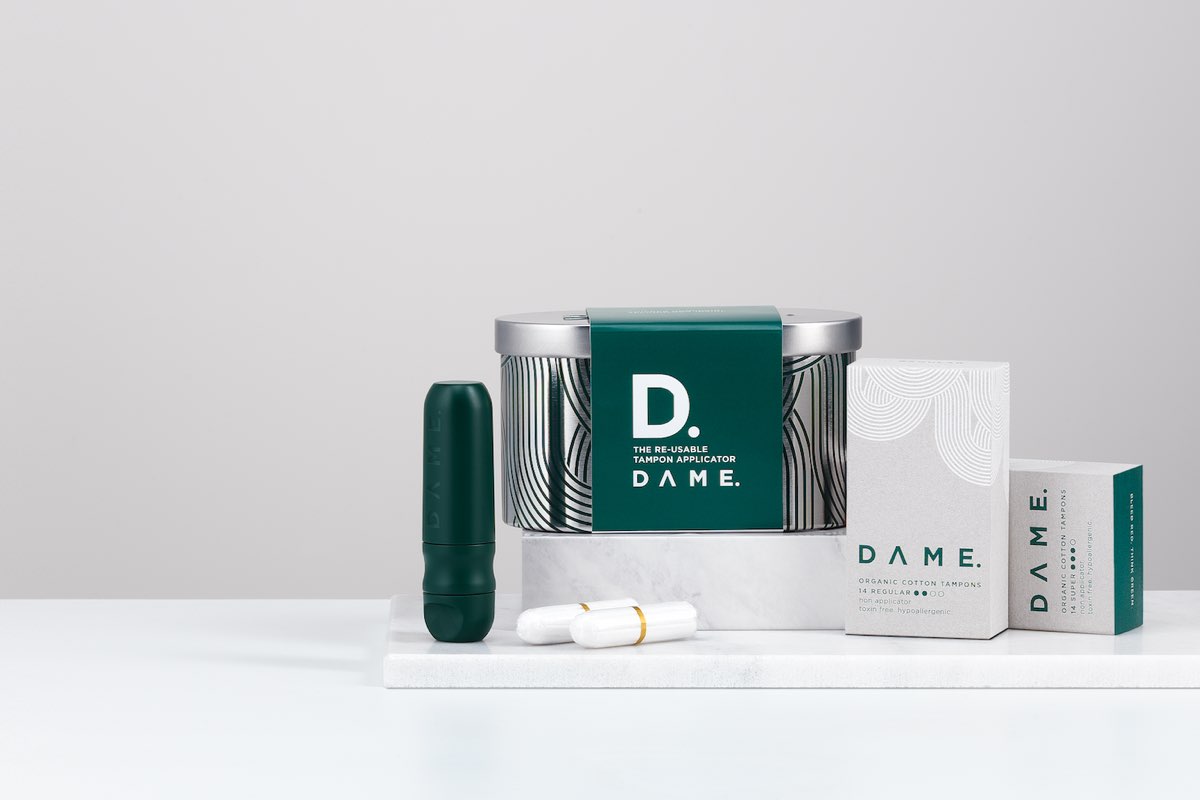 Why we love them: Why throw away thousands of plastic applicators when you can reuse just one? Since launching the world's first ever reusable tampon applicator, DAME has saved over 2.5 million plastic applicators going to waste. An easy entry point for women who enjoy using tampons, this applicator fits all sizes from light to super+. It works like a normal applicator too but just never finds its way into the bin. Bravo!  
With an award-winning design, the applicator is made from BPA-free medical-grade mediprene, packed with antimicrobial properties. It's also self-cleaning and only needs to be run under water after use. Making waves in the industry and normalising period chat, the applicator is designed to be on display in the bathroom. No more hiding your sanitary products away in the cupboard. It even comes with a sleek tin container and organic cotton pouch for when you're out and about. The kit comes with DAME's organic tampons for first use, but when re-purchasing, any other naked (organic!) tampon will do. 
Considering that on average, each woman has her period for almost 2,535 days during her lifetime, investing in a reusable, sustainable menstruation product like DAME's reusable applicator provides an affordable, eco-friendly option.
The set costs £23.79 – available to buy here
&SISTERS: THE NÜDIE CUP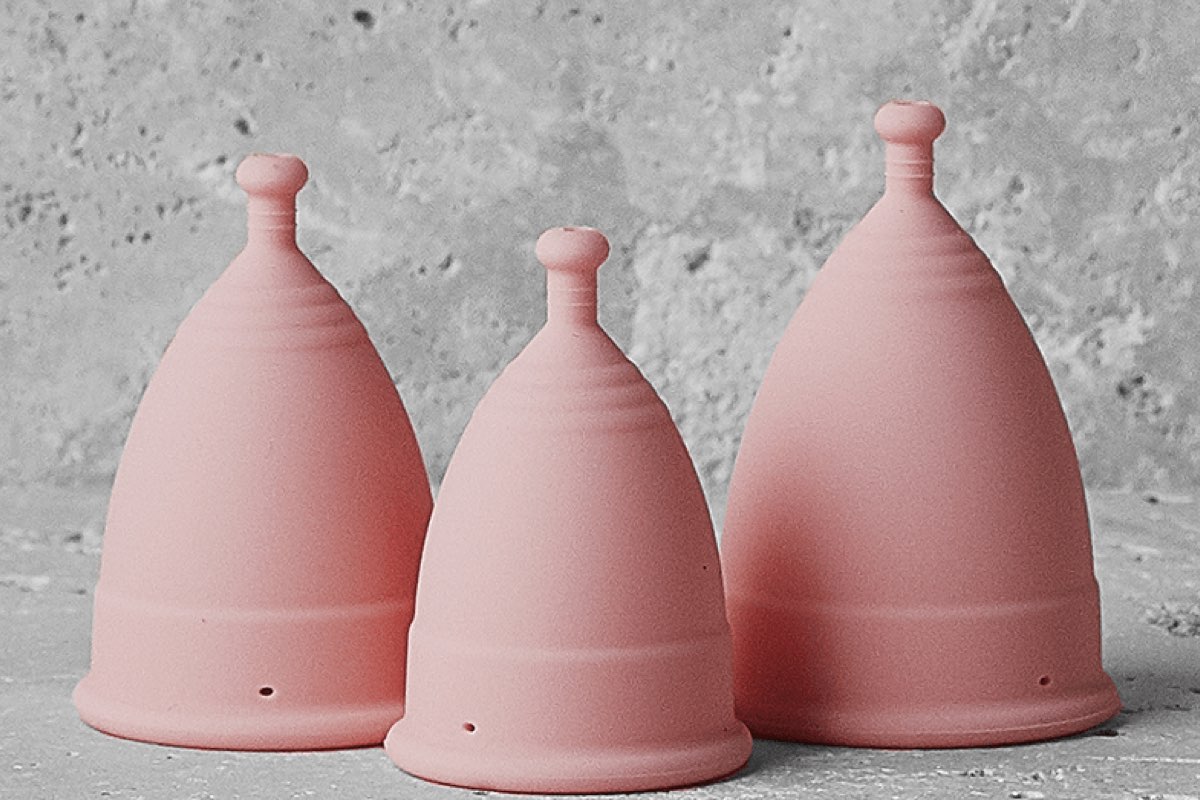 Why we love them: Designed by women for women, the &SISTERS menstrual cup collects your fluids rather than absorbing them. The nüdie cup is made from hypo-allergenic, soft, medical-grade silicone, lasting for up to 12 hours leak-free. It also helps to maintain the natural pH balance of your vagina. Some women find removing the cup the hardest part but luckily for them, the nüdie cup has an easy-to-hold PebbleTM pull for extra comfort and three release holes that break the suction easier. But if you're really having trouble with the fit, &SISTERS promises to send you another sized cup free of charge. 
Saving over 2,000 disposable period products from harming the planet in its lifespan, the nüdie cup won't only minimise women's carbon footprint but also help them to discover more about their flow and what's really going on inside their bodies. Once you've got the hang of it, you've bagged yourself a lifelong period solution. 
The nüdie cup costs £24.95 – available to buy here 
WUKA (Wake Up Kick Ass): THE PERIOD BRIEF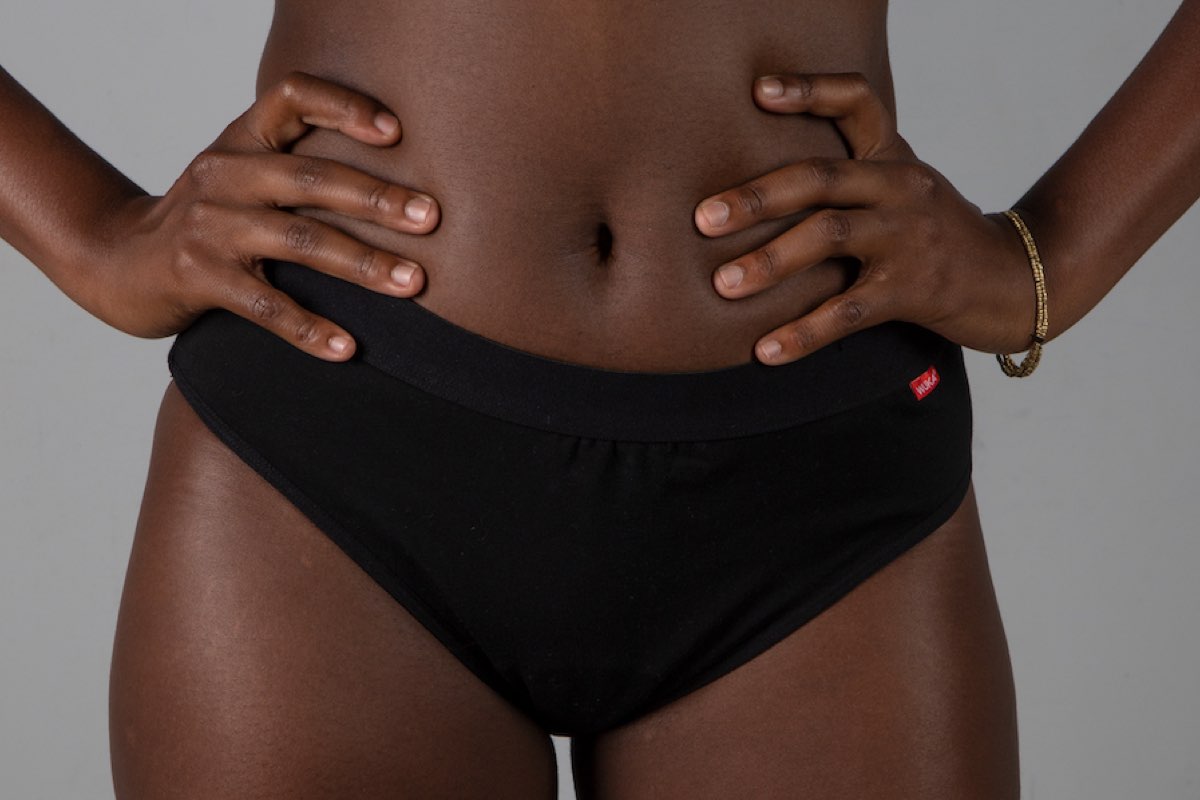 Why we love them: Female-led startup WUKA produces the first ever UK-based reusable and leak-proof underwear. Comfortable, easy to use and no instructions needed, these breathable briefs have an unparalleled four layer structure, promising to hold up to three tampons worth of blood. Reigning supreme in the sustainable period underwear world, WUKA's signature Lenzing Modal fabric means these pants are not only carbon neutral but up to three-and-a-half times softer than cotton. Yes please!
With each pair lasting for up to two years, you'll prevent over 200 disposable sanitary products from going to landfill. A life-changing choice for both you and the planet. WUKA earns extra eco-friendly points for their bright red, empowering packaging that's completely recyclable. If we were you, we'd grab a pair and Wake Up Kick Ass.
Pants start from £12 – available to buy here (and in Sainsbury's across the UK)
TOTM (Time Of The Month): THE ORGANIC TAMPON AND PAD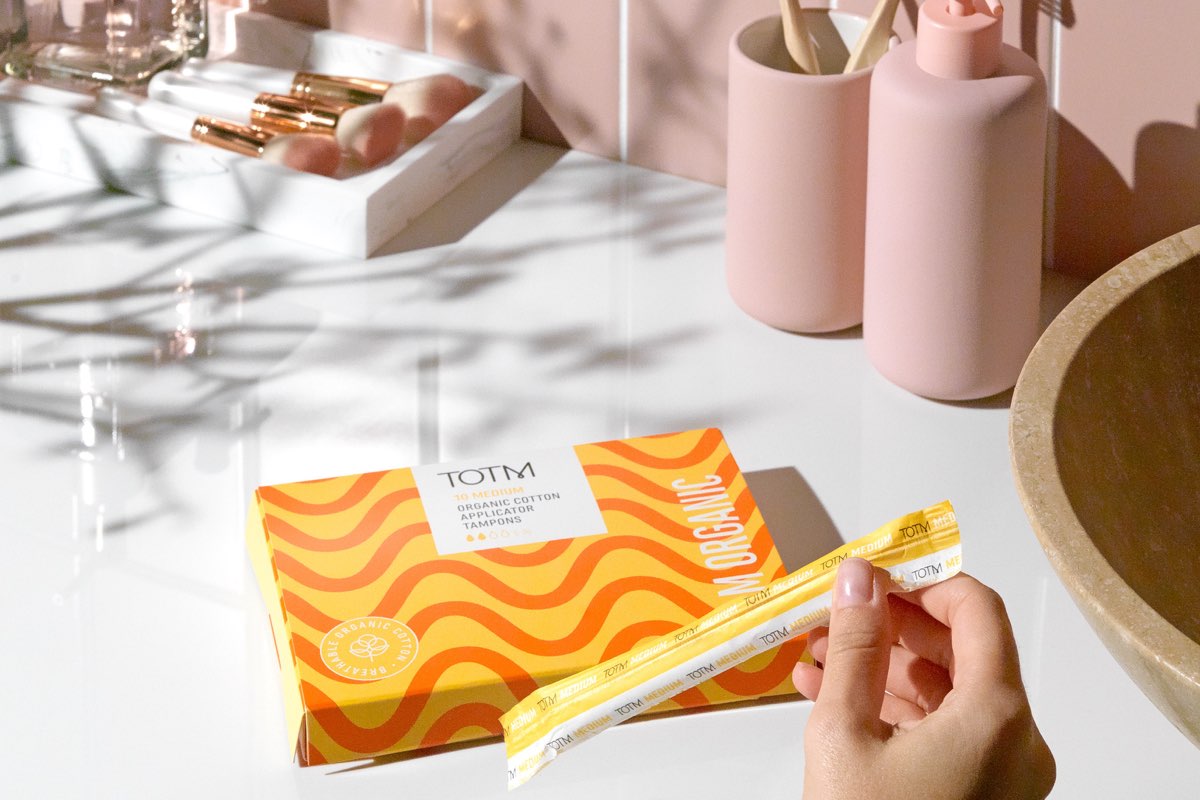 Why we love them: Tackling period plastic and ending the silence surrounding menstruation, TOTM's period care range is certified plastic-free by A Plastic Planet. Unlike mainstream period products, TOTM's sustainable menstruation products are designed for comfort using GOTS certified organic cotton. They're also free from fragrance, deodorants, wood pulp and chlorine (yes, ingredients that are actually more common than you'd think).
TOTM's tampons have an organic cotton core and veil to prevent shedding, a biodegradable cardboard applicator and 100% recyclable packaging. The breathable pads are also wrapped in compostable biofilm (heads up, mainstream pads are plastic). TOTM wins all the sustainable points from us. For every purchase, TOTM also donates a percentage of their profits to Binti International and Endometriosis UK. Here's to a period powerful future where all women can have menstrual dignity.
Tampons start from £2.60 – available to buy here 
Pads start from £2.95 – available to buy here
SO, WHAT NEXT? WE'VE CURATED OUR TOP TIPS TO HELP MAKE YOUR SUSTAINABLE MENSTRUATION FUTURE A REALITY 
Get your best girl gang together to cheer each other on along your journey (or hold each other accountable)

Buy a separate recycling bin for your bathroom, to easily dispose of your period products in a sustainable way 

Pop the money you save on mainstream period products into a self-care savings pot. Spend on those days you need a pick-me-up! 

Be kind to yourself throughout the process and remember, every swap, however small is making an impact on our planet

But most importantly, don't forget to high-five yourself for changing the world, one period at a time
By Emily
Get your weekly DOSE fix here: SIGN UP FOR OUR NEWSLETTER