With international travel being a little but more of a hassle this summer. Curb holiday blues and escape for a UK countryside staycation. Venture off the beaten track with one of these unique treehouse holidays. We round up the best ones with distinctive features from outdoor baths and wood burners to hot tubs…
Best Treehouse Breaks UK
Treehouses With Hot Tub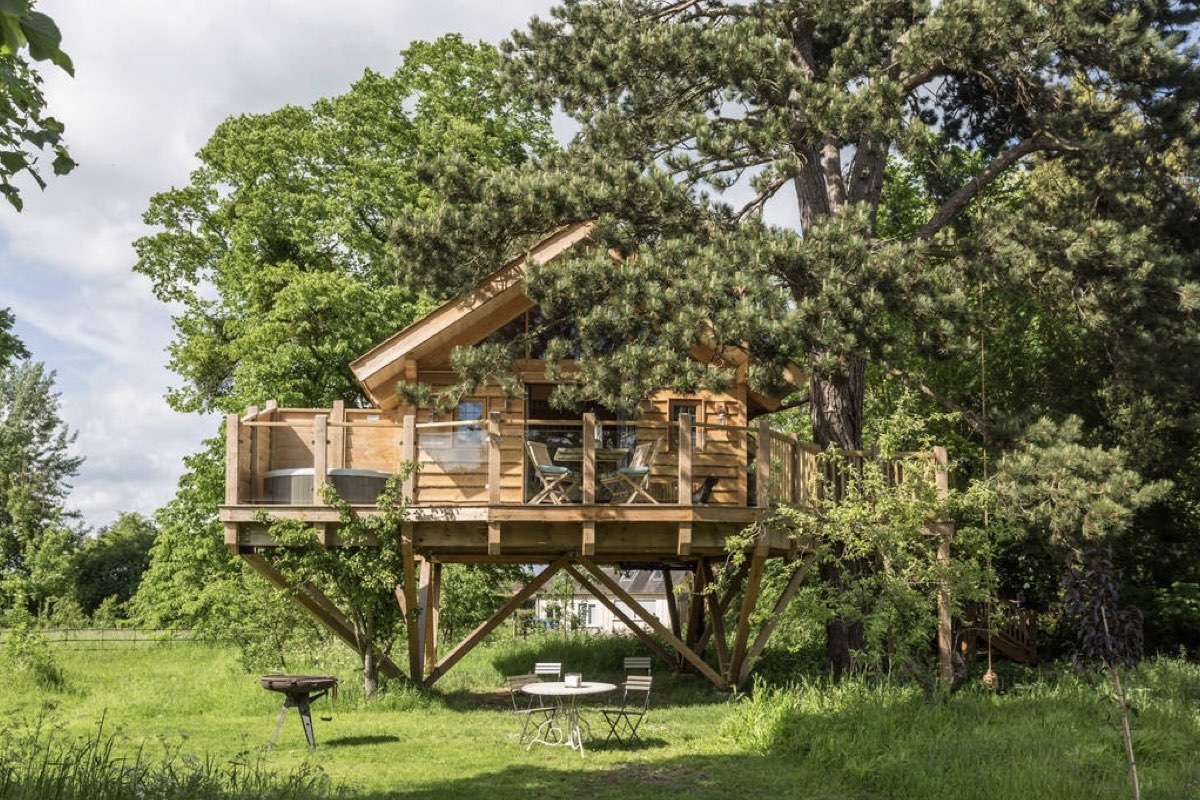 Pears, plums and cherry trees, a babbling stream, Kunekune pigs and sunsets can all be watched from your steaming hot tub on the deck. Also, this treehouse retreat in Worcestershire comes with a wood burner and hot tub. Great for those seeking luxury.
Location: ///crescendo.doghouse.force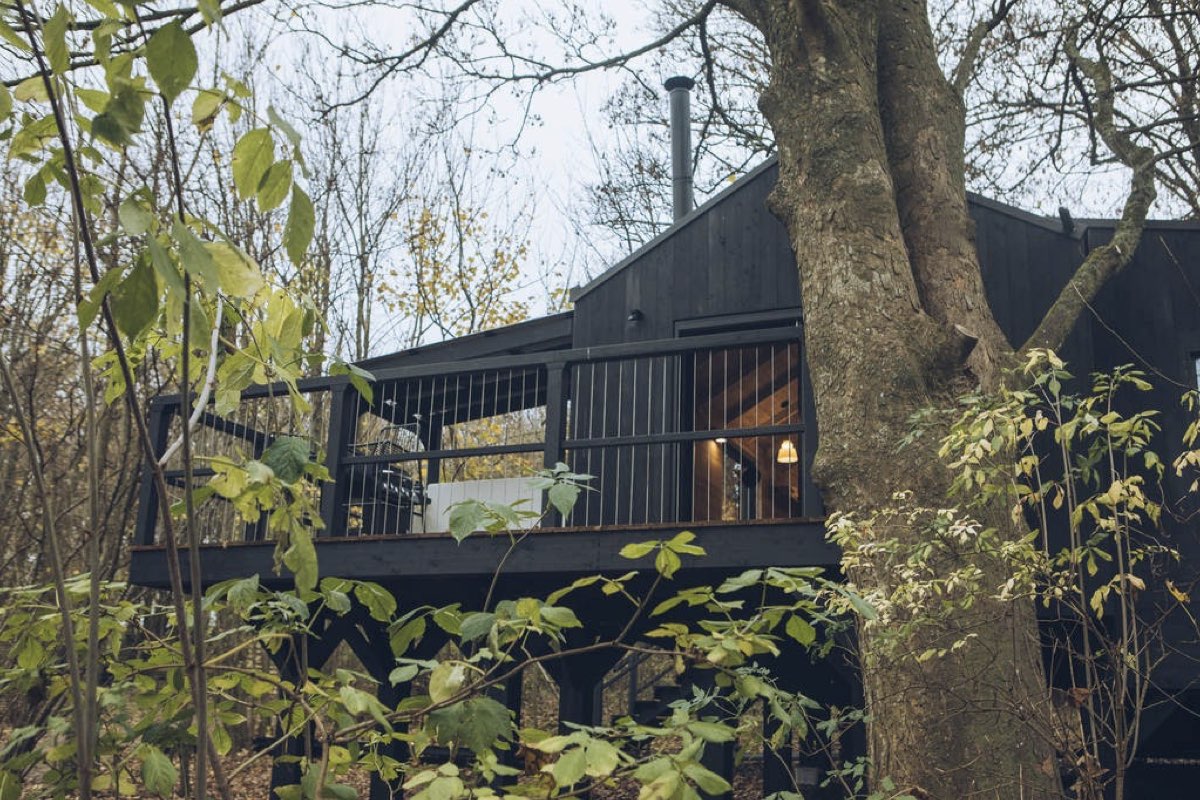 Settle into the casual luxury of a magnificent treehouse – the first ever built on a UK vineyard. Gaze out across the rows of vines from six metres off the ground, sipping on the beautiful wine made from their fruit that you'll find in the fridge, and maybe head over to the winery for lunch or a guided tasting. This treehouse retreat in Hampshire is fitted with an outdoor bath and wood burner – another great one for nature lovers.
Location ///prepped.cackling.sticking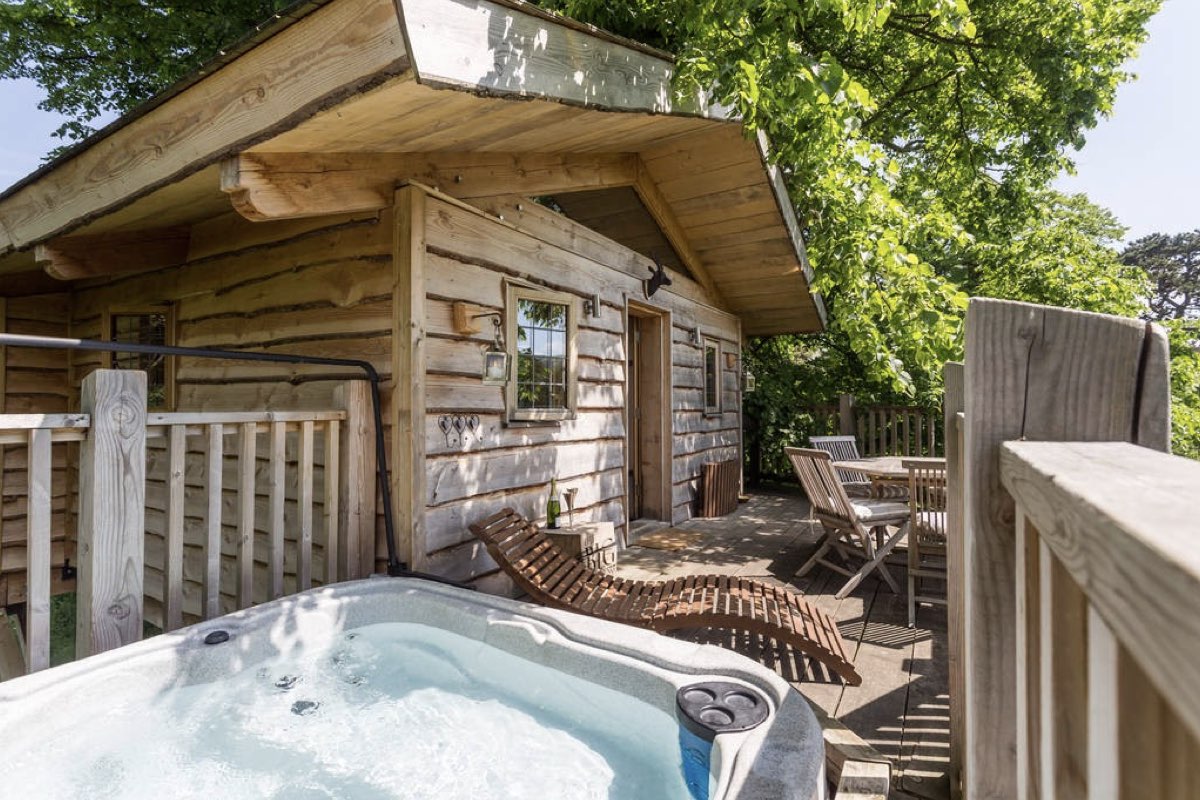 This wonderfully chic treehouse sits within the branches of a beautiful lime tree, growing just behind the medieval Manor house on the edge of the charming village of Little Comberton. Additionally, this treehouse escape comes with a hot tub and wood burner and is perfect for nature lovers wanting to escape the city.
Location: ///crescendo.doghouse.force
Best Treehouse Holiday Destinations For Design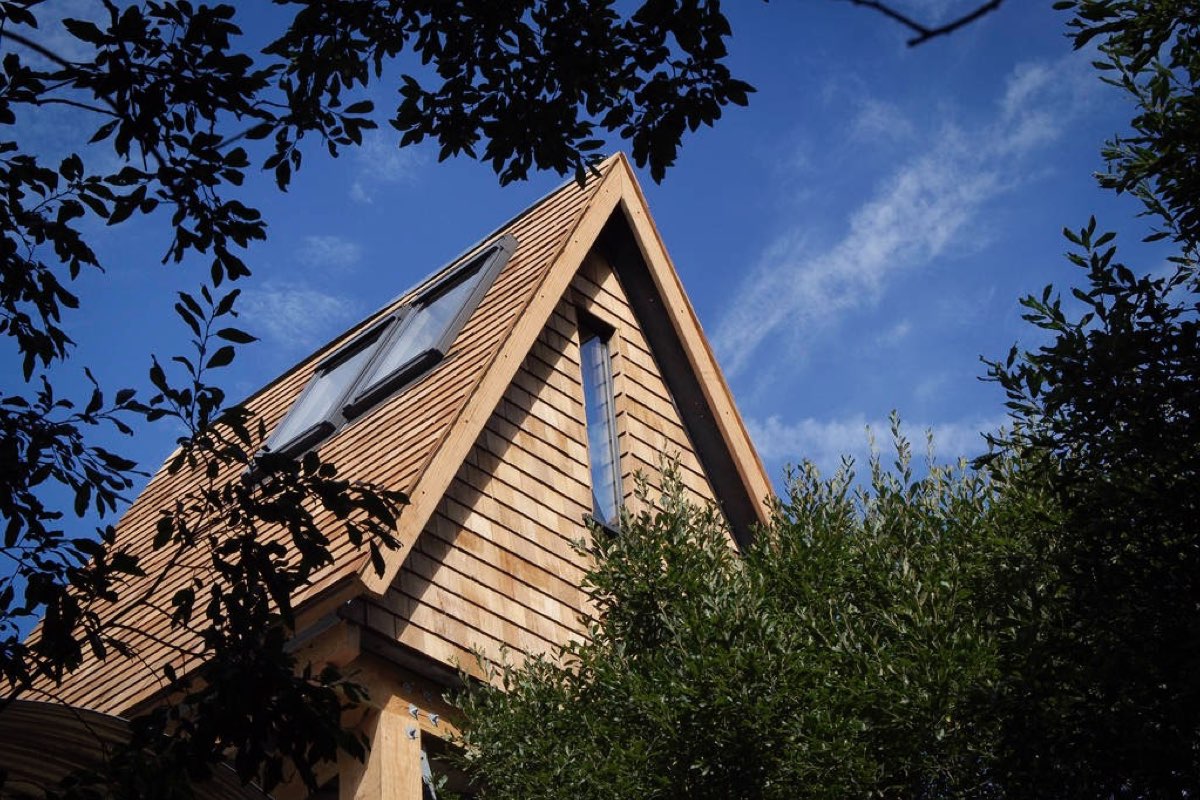 The Sky Den is a beautiful treehouse retreat for nature lovers. Built by William Hardie Designs for the second series of his imagination-catching Channel 4 programme George Clarke's Amazing Spaces. In an original move, this treehouse is composed of three different shapes that each blend together the best of outdoors and indoors, taking in everything from the red squirrels in the trees around you to the sweeping river just below.
Location: ///armrests.positions.alarm
Best Luxury Treehouse Holidays
Looking for the ultimate luxury treehouse escape? Chewton Glen offers 12 stunning treehouse suites spread across 130 acres of woodland, gardens and parkland. These opulent hideaways are set 35 feet above the ground and offer guests a truly unforgettable experience.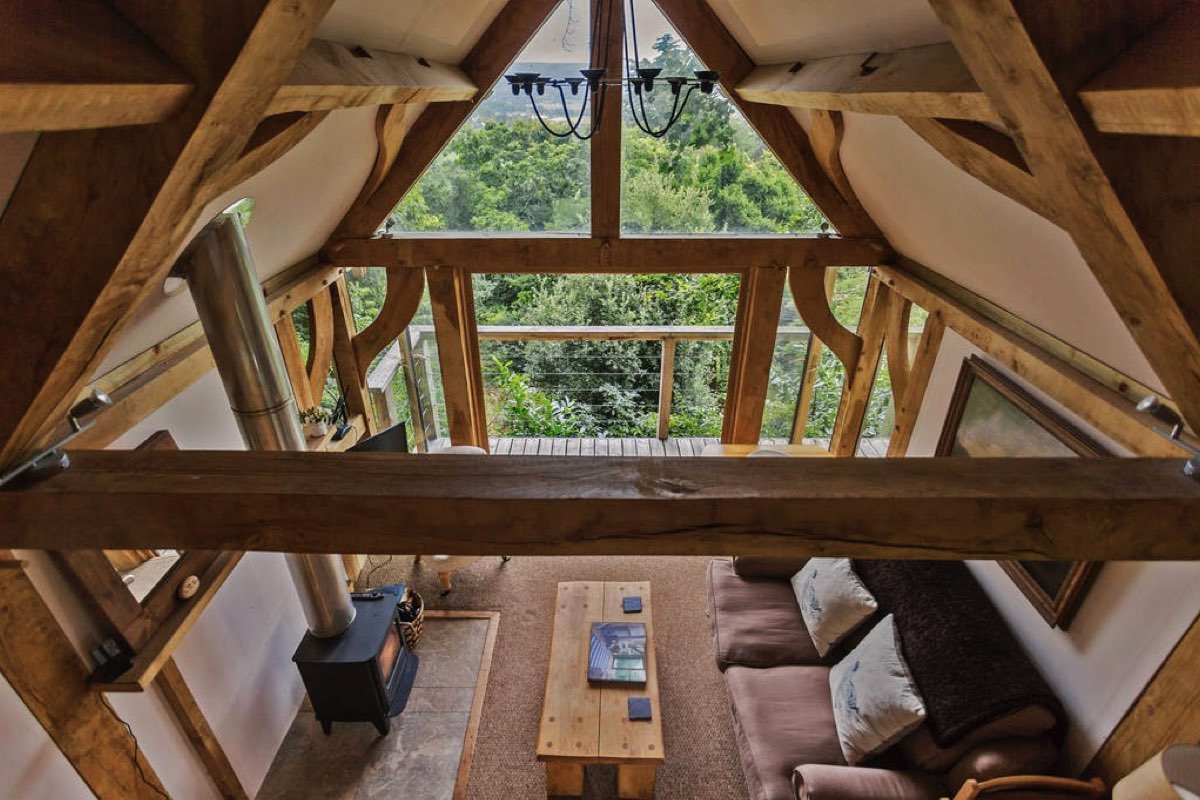 Next is a self-contained treetop hideaway just outside Bristol, with a field of friendly alpacas alongside… While Uplands is wonderfully calm and green, planes from nearby Bristol airport will pass over from time to time and remind you of the outside world. This treehouse escape in the South West is a luxury option with a wood burner.
Location: ///clearcut.sped.lakeside
Best Treehouse Holidays For Nature Lovers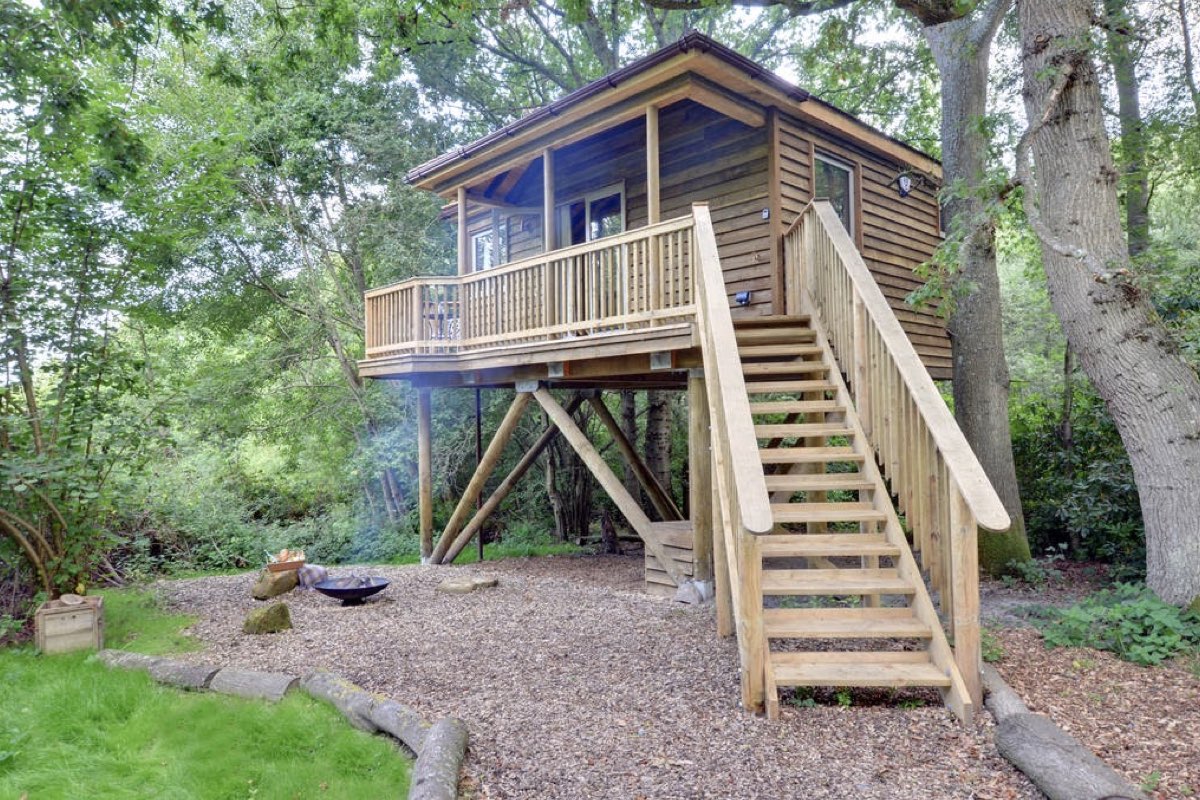 Escape to a stunning treehouse hidden in the woods just an hour from London, a fabulous fusion of urban sophistication and rural solitude. Wherever you roam in this peaceful area, you'll soak up more of the calm countryside feeling that Tinkers Treehouse instils in you from the moment you arrive. This treehouse escape it kitted out with a wood burner. In other words, this is the perfect spot for nature lovers.
Location: ///notes.teaches.soggy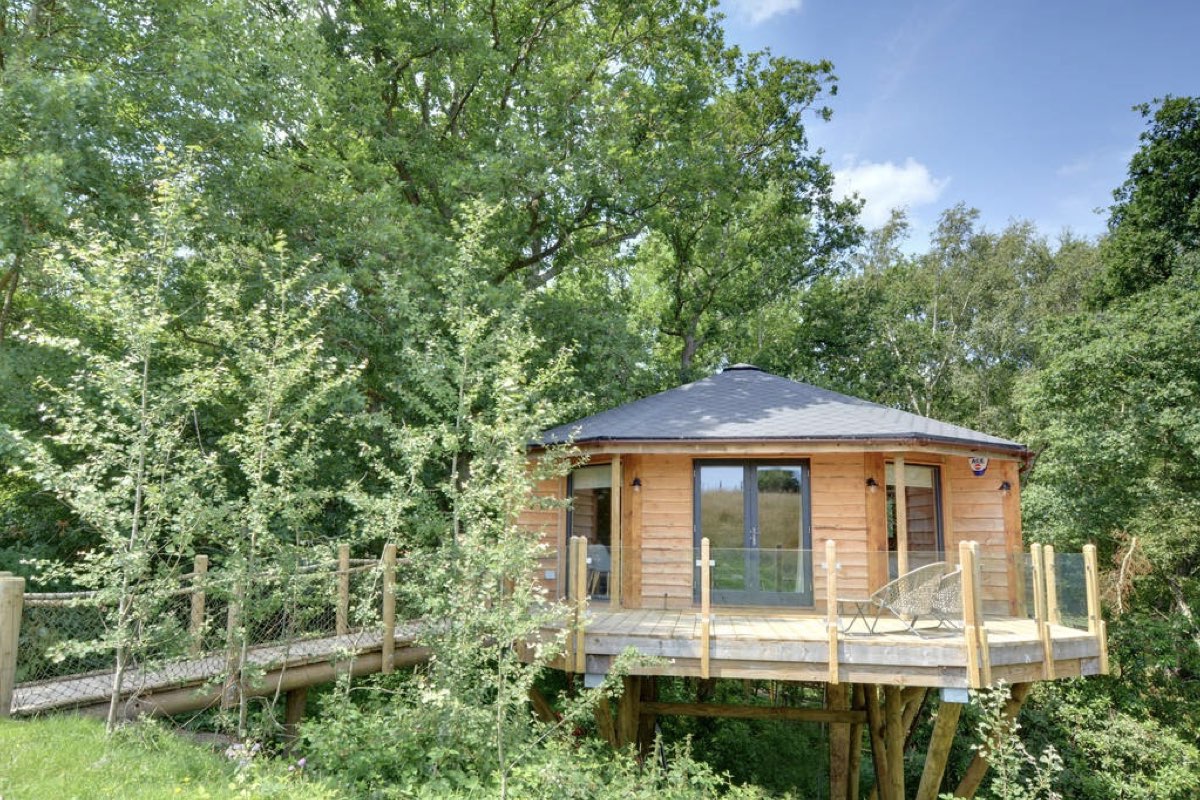 When you arrive at The Oakey Koakey Treehouse, cross the walkway and sink into the chairs on the deck as the kids explore, you can't help but sigh in relaxation. In just an hour or so you can go from the bustle of London to sitting in the treetops looking over your private meadow. A great one for families and nature lovers. Additionally, this treehouse retreat comes with a wood burning fire pit and kids room.
Location: ///notes.teaches.soggy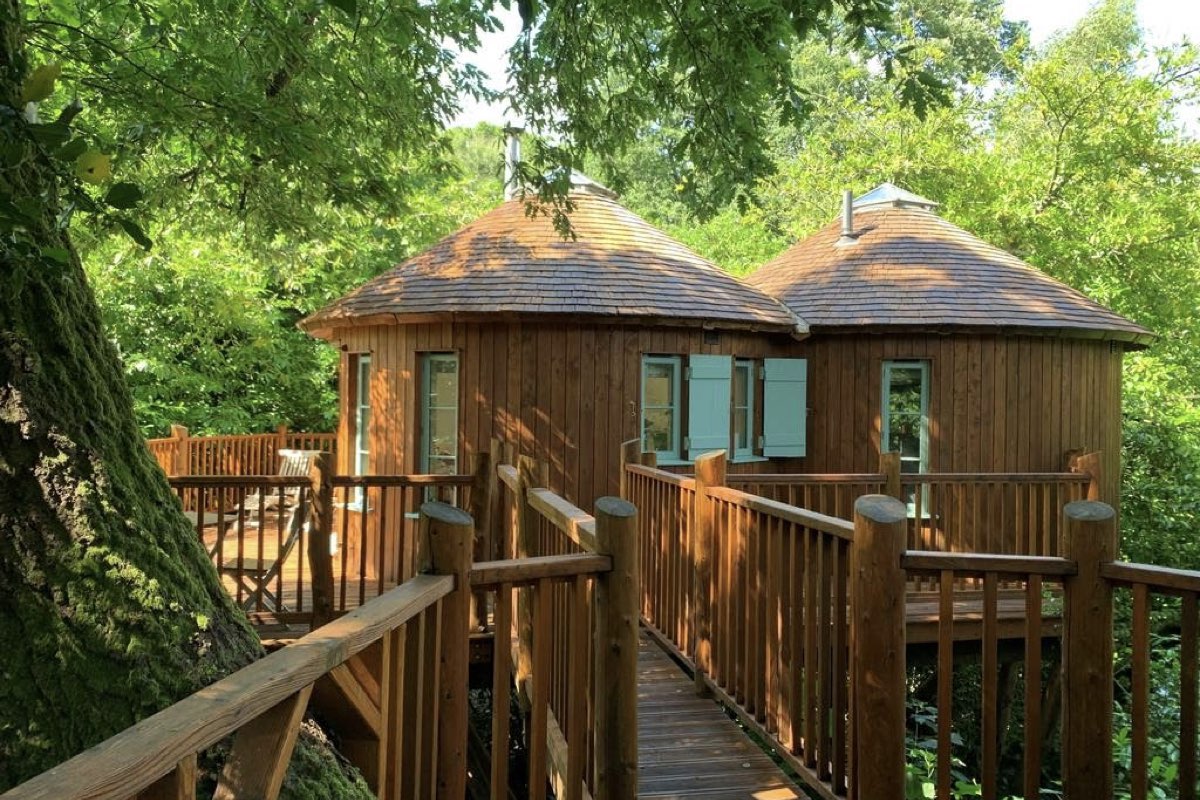 Simply gorgeous double-circle treehouse with a giant copper tub, across a walkway in the woods of a beautiful estate near Bath. Great for nature lovers this retreat is fit with a wood burner.
Location: ///fork.deck.shun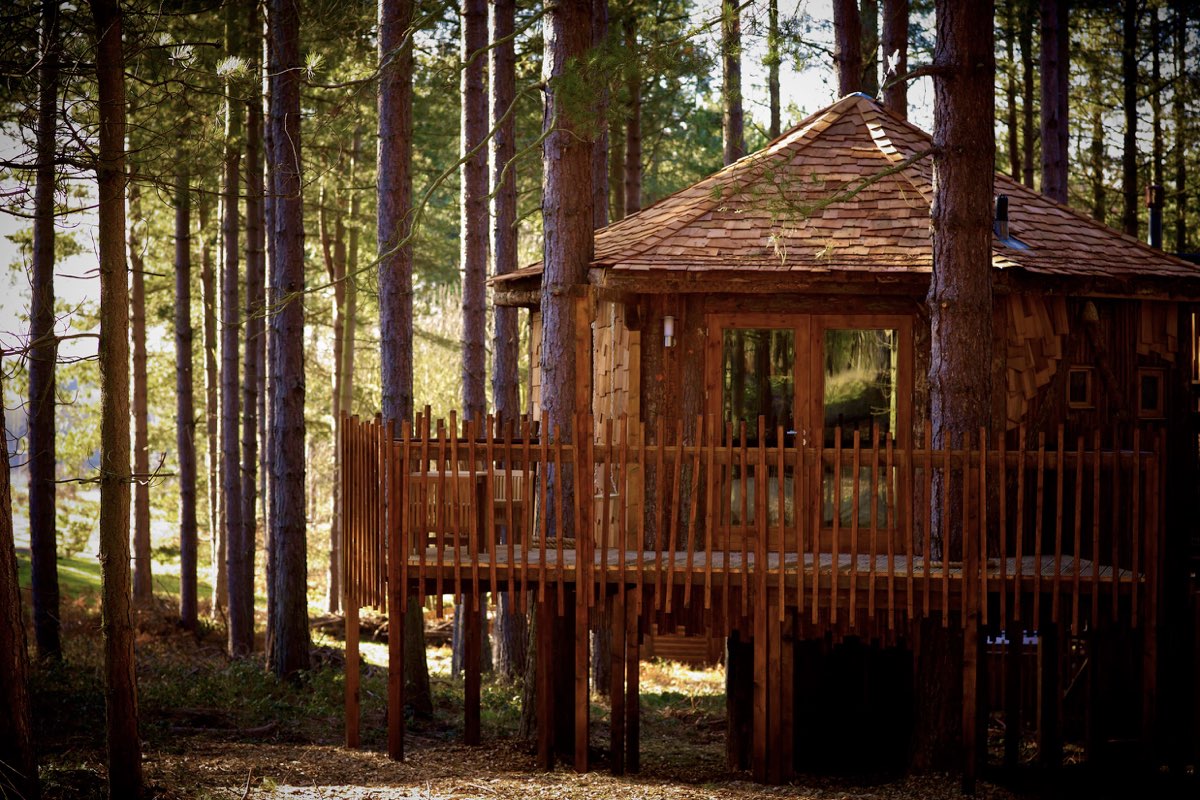 Perfect for nature lovers. Forest Holidays' luxurious cabin retreats are spread across nine idyllic locations ranging from deep forest woodlands to the edge of stunning lochs to bright forest meadows.
Each treehouse cabin comes complete with cosy underfloor heating, towering windows with dramatic views and a private outdoor hot tub. Days can be whiled away watching for birds as they flit from tree to tree, relaxing in the hot tub or exploring the surrounding area.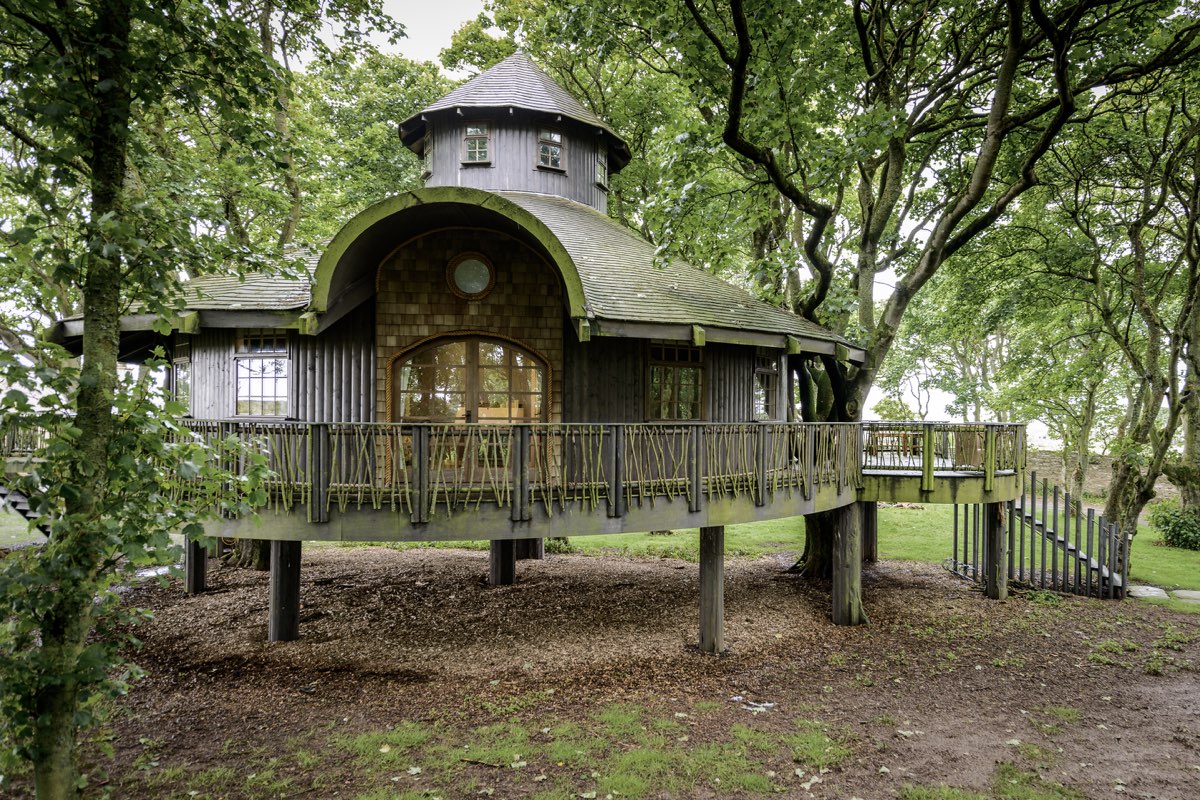 Next is Ackergill Tower. Home to the largest treehouse in Europe. This secluded hideaway, perched within a spectacular sycamore tree, offers guests a breath-taking 180 degree view of the surrounding woodland and the chance to gaze up at the stars shining through the branches. As well as this, guests may also have the chance to watch the northern lights dance in the night sky above them, whilst enjoying a sumptuous home-cooked meal.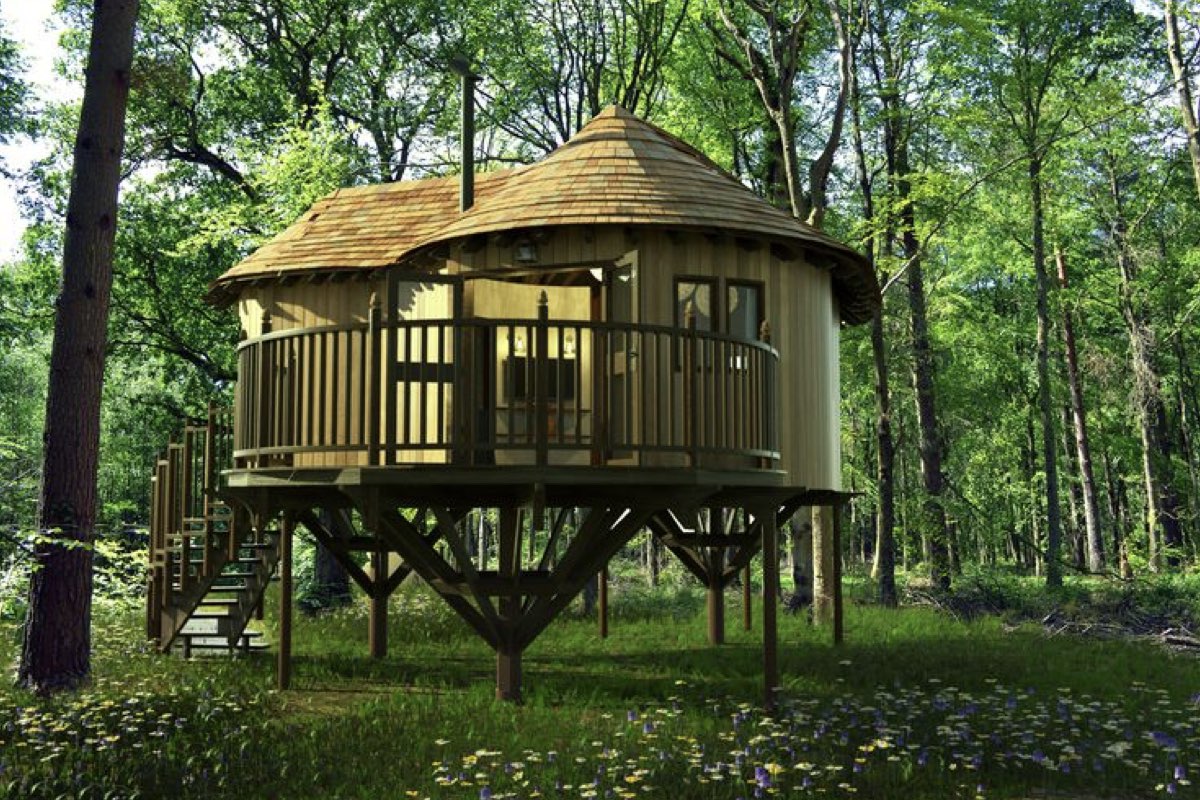 Nestled amongst the woodland of the historic Hothorpe estate in Leicestershire, guests can stay in a beautiful treehouse hideaway for a truly peaceful experience. Perched on stilts and looking over the verdant forest greenery with only the birds for company, this countryside retreat is the perfect place to come and stay with a loved one.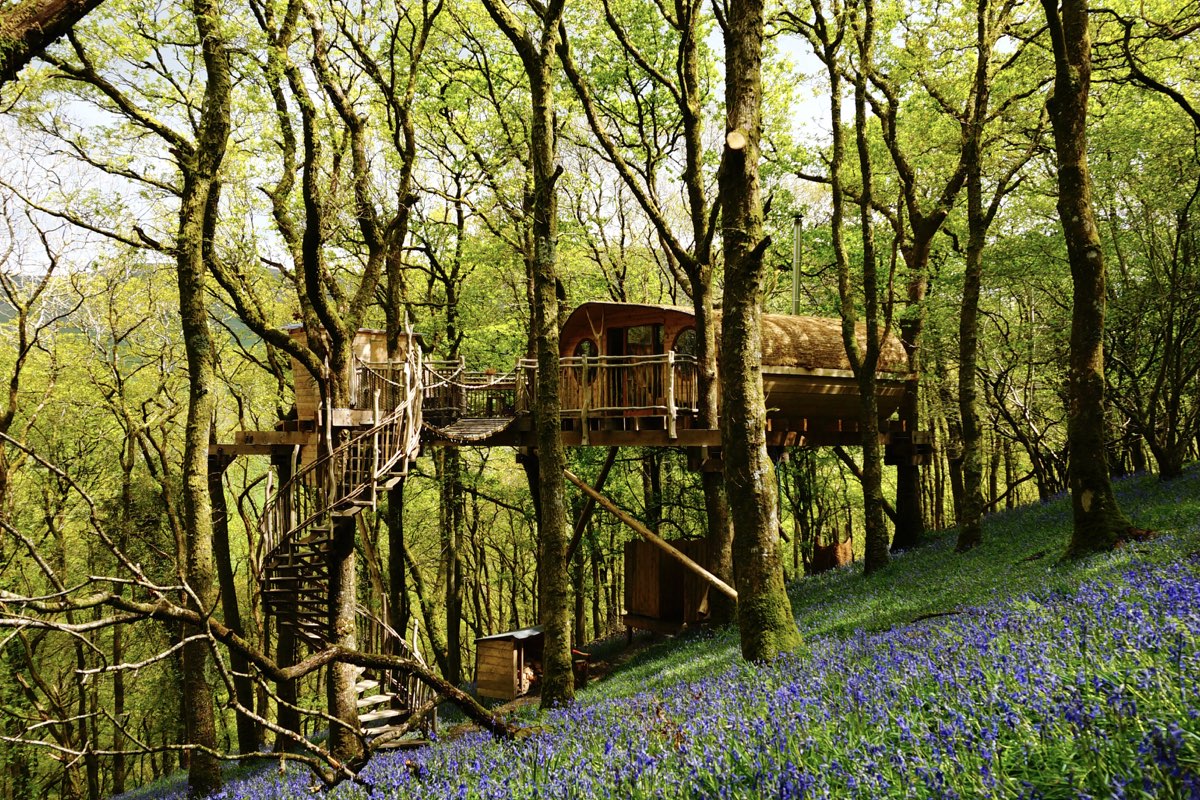 Featured on George Clarke's Amazing Spaces where they came in for high praise, the off-grid Living Room Treehouses are remote and magical. With a lot of wow factor and en-suite facilities. They're wonderful for families and romantic for couples, with beautifully designed interiors and a stunning woodland setting – nestling on the edge of the Snowdonia National Park. Treehouse breaks don't get much better than this.
Best Treehouse Holidays In South West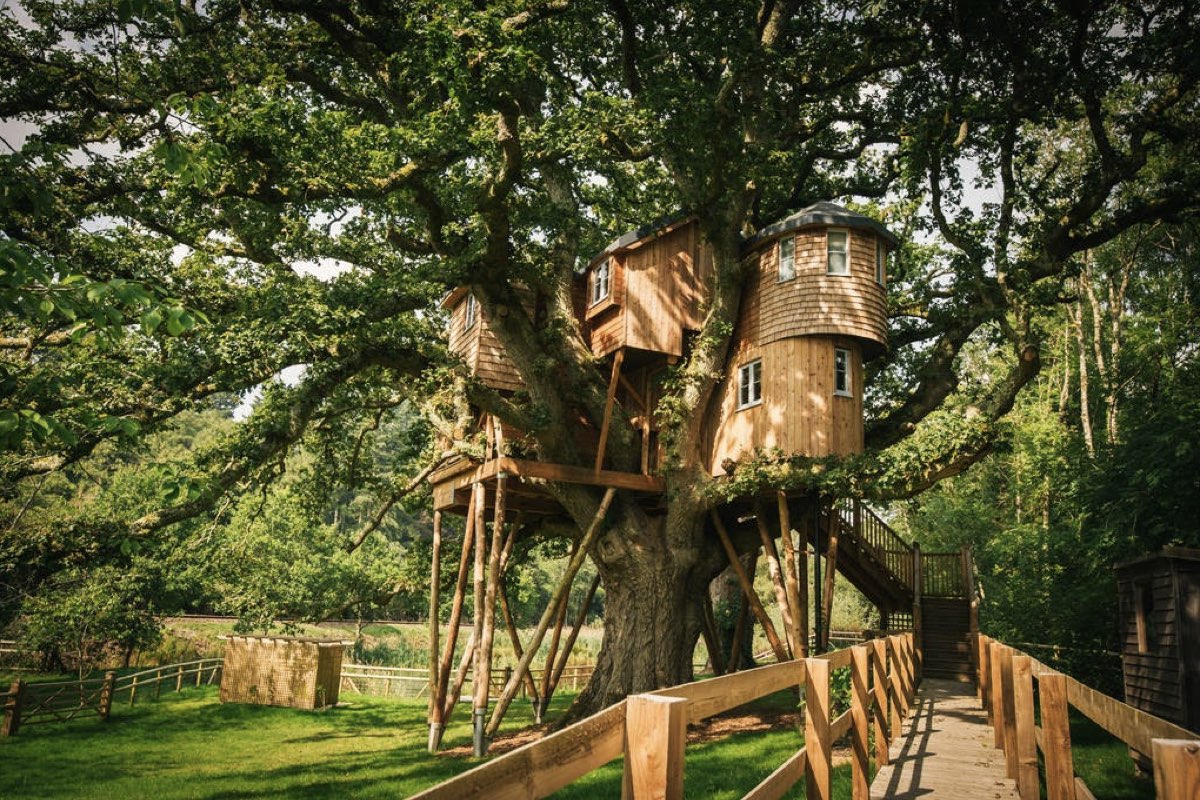 A fabulous, multi-storey wooden palace in a huge ancient oak; fill the giant copper bath and soak surrounded by birdsong. This treehouse retreat in North Devon in the South West is a great option for nature lovers.
Location: ///numeral.liberated.party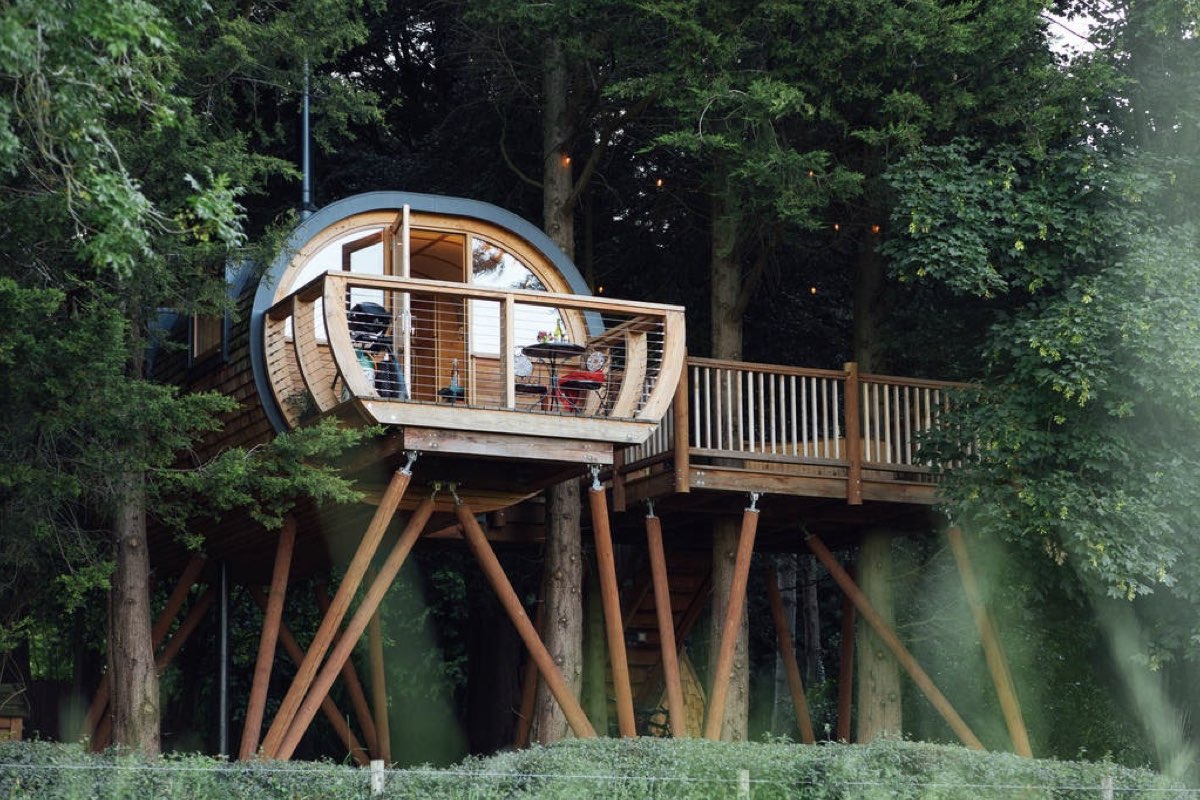 Similarly, Dabinett Treehouse is a chic, stylish haven. Meanwhile, sip your morning coffee looking out across miles of the Somerset levels, nip over to the neighbouring vineyard to pick up a bottle of something special, then bathe under the stars at the end of a perfect day of indulgence. In addition, this treehouse retreat in the South West comes with a wood burner and outdoor bath. Perfect for nature lovers.
Location: ///midwinter.stood.grower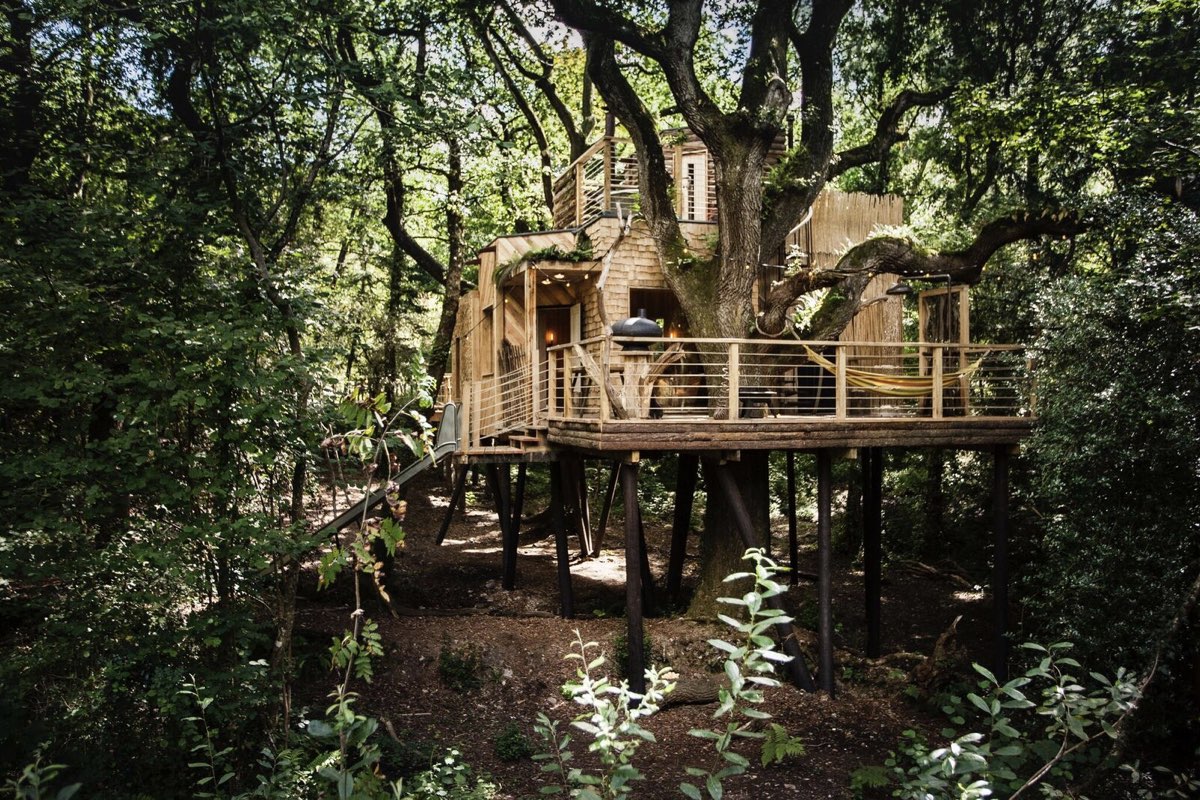 Finally, the Woodman's Treehouse in Dorset, South West, provides the ultimate retreat in the woods. It is located in an area of outstanding natural beauty and is just a short drive away from the stunning Jurassic Coastline. In addition, inside, guests will find a bespoke kitchen, leather armchairs and a rotating fireplace.
In addition, the outside of the treehouse features an open-air tree shower, a wood-fired pizza oven as well as a hot tub and sauna. Moreover, for couples looking for somewhere extra special to spend the weekend, The Woodman's Treehouse will not disappoint.
To conclude, we're spoiled for options when it comes to treehouse holidays in the UK. But we quick to book as this seems to be the trend for 2021.
Liked this article on 'The Best Treehouse Breaks For A UK Countryside Staycation'? Read 'The Best Staycation Holidays – from Camping To Glamping'.
Main image – Living Room Treehouses
By Hettie
Get your weekly DOSE fix here: SIGN UP FOR OUR NEWSLETTER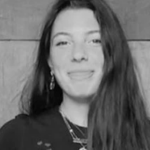 Born and bred in London and an avid vegan, Demi has explored most of the hidden vegan spots in London and is on a mission to try them all. Her experience working for wellness and vegan startups has enhanced her passion for health trends and vegan food. Her time is mostly spent in vintage stores, painting or cleaning her growing sneaker collection. Her next goal is to earn her scuba diving license and hopefully explore oceans all around the world.