If you thought CrossFit was just for chalk dusted brutes slamming barbells, think again. To dispel this myth is the blonde, and very bronzed Laura Hoggins, who turned her back on a career at L'Oreal to pursue her love of weightlifting.
You can now find her training at top studios from; Lifted Fitness, ONE LDN, Ministry Does Fitness and The Foundry. Her mantra? "Nothing looks as good as strong feels".
How did you become a fitness trainer? 
I have always been 'sporty'. I used to play for Chelsea Girls FC and have always been passionate about competitive team sports.
At the age of 21, I arrived in the corporate world as a Marketing Graduate at Unilever. I went on to spend 5 years at L'Oreal UK Head Office, with numerous roles in Category Strategy and Commercial Management.
One day I finally decided to take a leap and pursue my passion. I have genuinely, not for one second, regretted it.
When did you discover CrossFit?
I believe everyone discovers 'fitness' at some stage in life. Every individual's journey is very different. We all have different goals, physically, emotionally and aesthetically. What works for one person, may not work or be aspirational for another, and that's OK.
For me, I knew I wanted to make a sustainable change. To train for life and discover my version of success, without judgement or comparison. The CrossFit community delivers that for me.
I joined my box about 2.5 years ago. One year into training, I took my CrossFit L1 Trainer qualification to enhance my experience and a thousand deadlifts later, I have never looked back.
Every day, I am excited to go and train and work hard to improve my lifts, my technique, or just have a laugh and sweat out the day!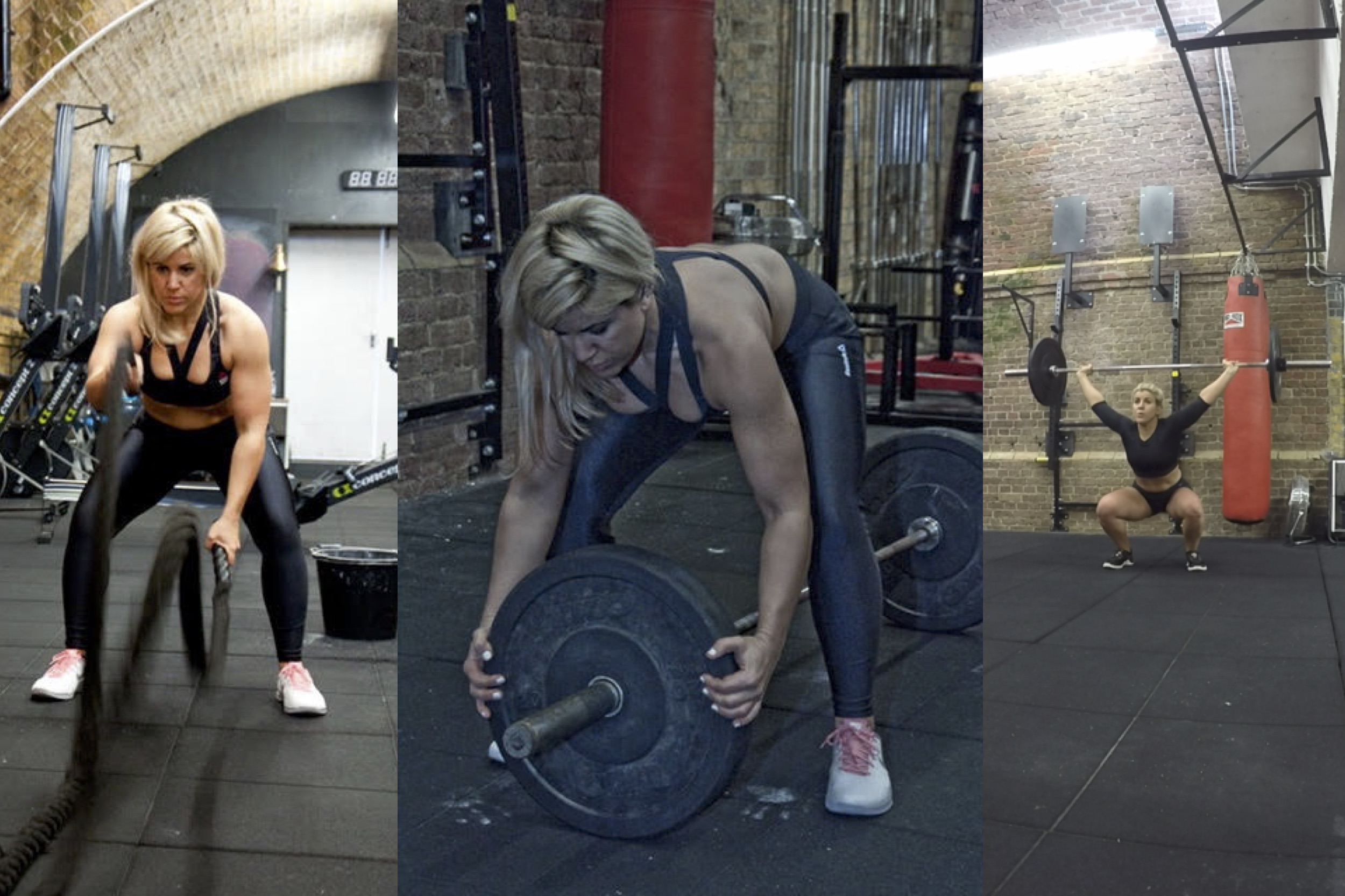 Have you seen the interest in CrossFit rise in recent years?
CrossFit is now starting to get huge awareness in the UK, especially in London. Among my peers it had kind of been this weird weightlifting thing I had been obsessed with that no one really understood. But now people are now seeing the benefits of being and feeling 'strong'. Hours on the treadmill alone will not deliver this for you, or have the ability to transform your body composition and physique that resistance training mixed with conditioning will.
CrossFit focuses on the foundations of functional movement. it is varied and you train across different domains of Gymnastics, Metabolic Conditioning and Olympic Lifting, so you will never get bored. There is always room to improve. For the first year, you could walk out of the gym with a PB most weeks!
Why do you think people are scared of doing CrossFit and what advice would you give them?
I appreciate the reasons why people are scared of going. The slamming barbells, sweat and grunts, and chalk covered hands. It's not easy, or particularly glamorous, but it can be a lot of fun and very effective mentally and physically.
I have watched people walk in for the first time, arrive petrified, and leaving elated. Once you try it, you are hooked, and wonder why you didn't start it earlier.
The biggest thing I hear is: "I don't want to get bulky…"
I didn't achieve weight loss and lean muscle tone by slogging it out for hours on the cross-trainer. It was through discovering the benefits of strength and conditioning, weightlifting, mixed with cardio HIIT and a diet that fuelled my life and training that I saw big results. Getting "bulky" really is a myth.
I definitely spend too long on 'Upper Body' day because I enjoy it. As a result I have big arms and shoulders, but I work hard to try to keep it that way!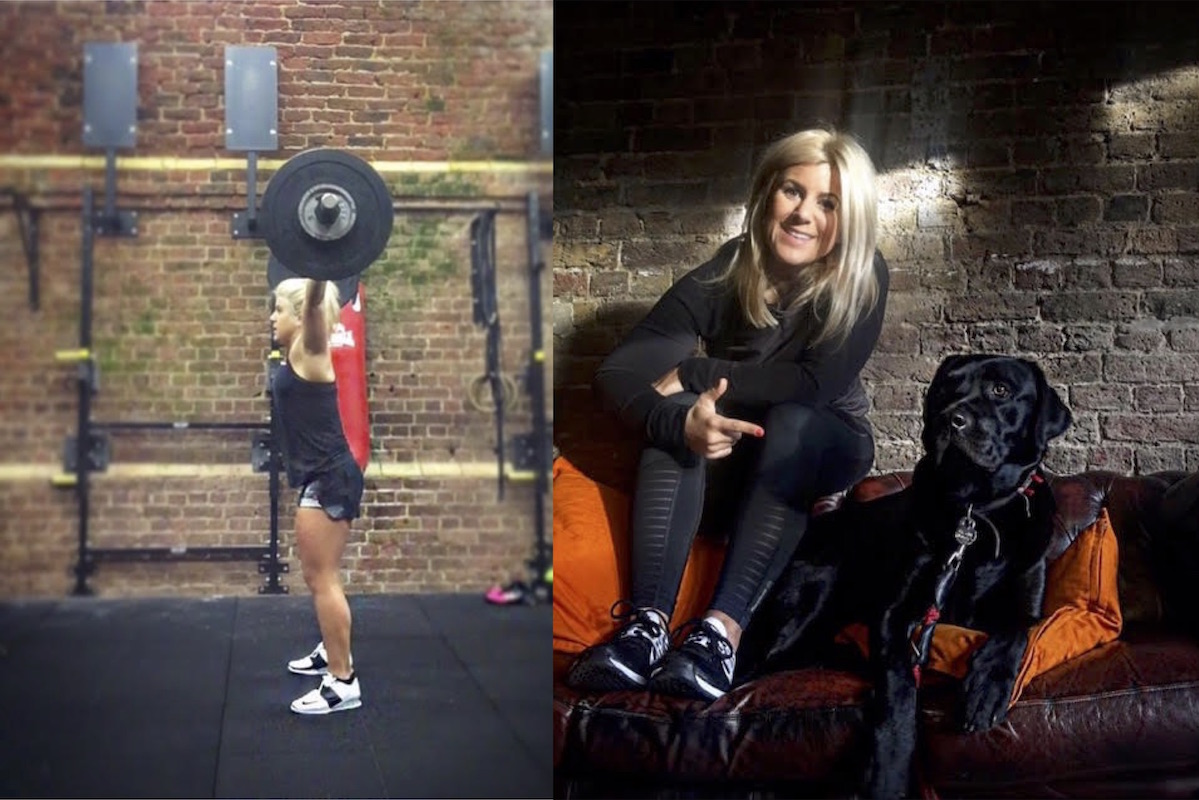 Do you train in any non strength and functional fitness to compliment your weight training? 
For a long time, I just trained at CrossFit, with a class at Barry's Bootcamp or KOBOX, once or twice a week. However, mobility is so important in strength and conditioning and with any functional movement. It can end up limiting your progress if your range of motion and flexibility isn't as good as it could be.
I have found Vinyasa Yoga really helps with this. I wish I could tell you I do it every week, but I foam roll regularly, and always ensure I prepare for any big lift sessions with the right warm-up and mobility.
What do you do to relax?
I was taught how to meditate by one of my best friends who is a healer. Two years ago, she taught me how to sit in silence, with my eyes closed and just focus in on my breathe, listening to my body, assessing the day, setting my intentions and just being.
It seems like a really hard thing to do, but the benefits are huge. Not only does it give me that 10 minutes a day I need for me, but it helped to lower my cortisol levels, leaving me less stressed about the busy day ahead.
You will be surprised how much something you were just stressed about, 10 minutes later, doesn't even matter. You find it is better to get over it and move on!
How do you fuel your body pre and post training?
I view nutrition as fuel to train. I have not historically been well educated or have an excellent relationship with food. Aligning my diet to help me perform physically has been an incredible game changer.
It's not about restricting yourself, it's about ensuring the tank is just full enough to help you be the best version of yourself amongst all the physical and mental demands you face throughout the day. I am a vegetarian, so protein is so important for me to ensure I get enough of, especially on a training day.
My highest carb meal is after a workout, probably oats and almond butter. I try to keep 50% of every meal 'green'. But I don't track macros obsessively. I loosely try to monitor my topline calorie intake vs. my activity that day.
I swear by BCAA's before training. they help me to develop lean muscle mass, and I prefer to train fasted after a cup of coffee in the morning. It's the best way to start my day.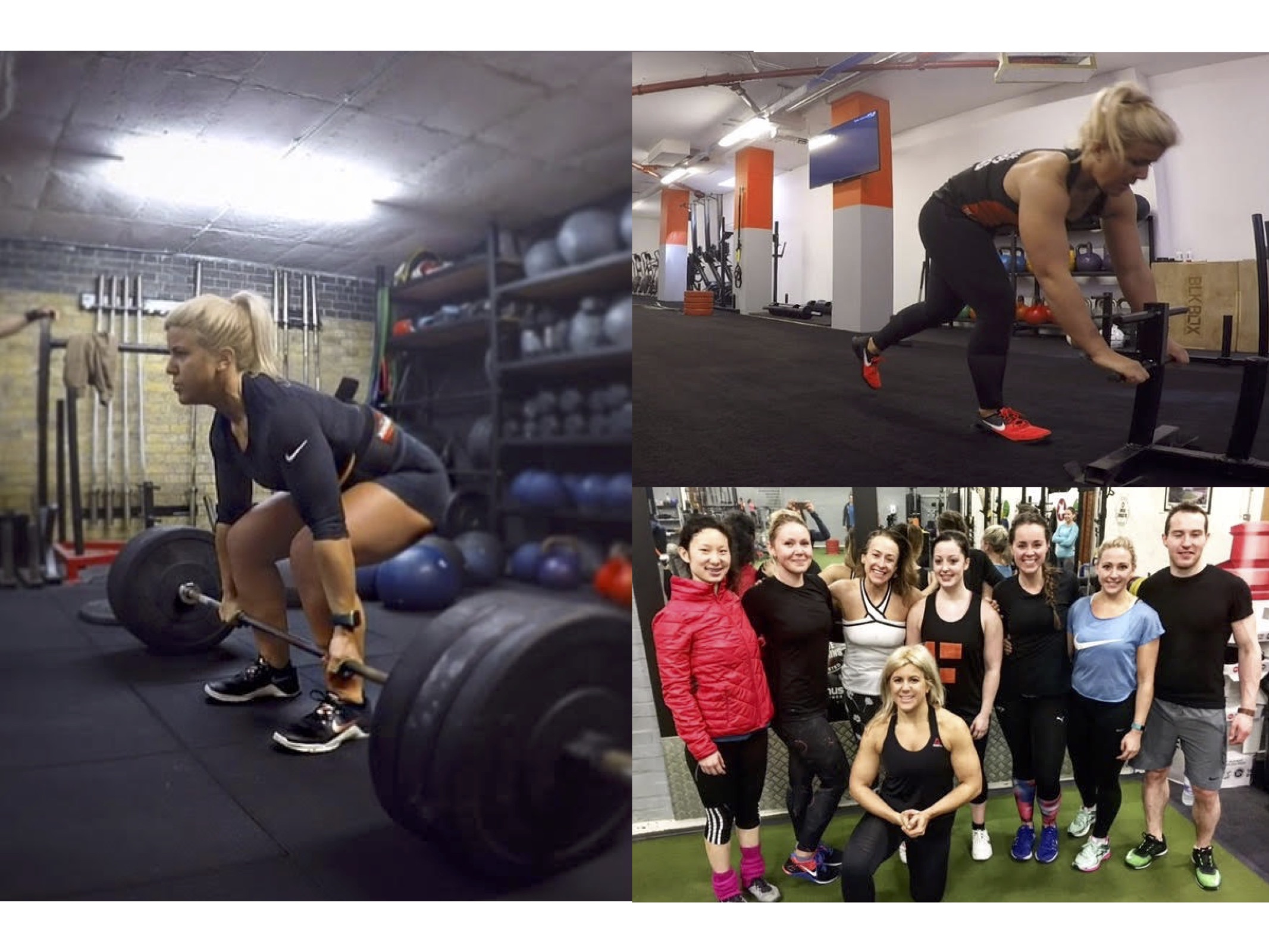 You obviously have a strong passion for the type of training you do and teach. What's next for biceps and bronzer in 2017?
I am SO passionate about the benefits of strength and conditioning, and the impact it can have on your confidence, how you feel and what you see in the mirror.
I am not a size 6, nor do I want to be… i'm a little bit Dale Winton. A natural blonde. I have a shelf ass, big quads, big arms. But I work hard for it and I feel amazing.
I genuinely believe there is no perfect size or shape. I am just happy. Especially amongst women who do experience those barriers to weightlifting. It's not an easy thing to just go and pick up a barbell or a DB and start lifting!
I run a weightlifting class for beginner females on a Sunday at my CrossFit box to some dodgy Beyonce playlists. It's about creating a comfortable experience for people to feel safe to learn and try something new and realize what their body is capable of.
I am a trainer at The Foundry, which has sites in Vauxhall and City. They run Strongman and Sweat classes as well as semi-private PT sessions focusing on strength and conditioning with functional, personal and progressive programming.
I am also a Coach at Ministry Does Fitness, I take their STRENGTH classes every Tuesday night. I recently led  a workout for the press launch of Be:Fit supported by Reebok. A real night to remember.
I am also a Strength & Conditioning Coach at the new ONE LDN Tower Hill site launching at the end of April to add to their Imperial Wharf gym. It's an absolutely incredible space with the best equipment and team!
Favourite classes in London right now that you like to take part in?
I absolutely love KOBOX. It's a great vibe and there is nothing like punching the hell out of a bag to relieve some stress, to some amazing tunes and burpee tuck jumps.
I am a sucker for the Barry's Bootcamp treadmill paincave… and I absolutely love the new SWEAT by BXR Skills, S&C and Versa classes. It is SO much fun, so different and an amazing burn.
Life Mantra
Nothing looks as good as strong feels.
Where can find out more about your classes?
LIFTED Weightlifting & PT
Trainer @ The Foundry
Coach @ Ministry Does Fitnes
Coach @ ONE LDN