Contrast therapy is a ritual that dates back to Ancient Greece. Now you can experience it at Harvey Nichols. We sent Hannah to biohack her body with this fire and ice treatment that left her air-punchingly joyful with an endorphin rush that lasted for hours…
We've all seen them… our favourite fitness trainers in their black crop tops, shorts and face masks, giving a 'thumbs up' to the gram as they brave the Cryo chamber. But what's it really like? Can an average person handle -85 Degrees C for 3 minutes? Off I went to Harvey Nichols' 111 Cryo Clinic to see.
First of all, let's take a minute to remind ourselves of the last time we went to Harvey Nichols? Ever since the end of Absolutely Fabulous, we all accidentally forgot to use THAT exit of Knightsbridge, right? On my way up to the 4th Floor, I have to say the womenswear buying is still stunning – so when it comes to wedding, christening and Summer Party time for 2020, pop yourself along for some incredibly well laid out non-high street Prestige price point (and luxury if you can stretch that far) perfect outfitting… not worn by your cousin Karen .
As soon as you arrive on the 4th floor, you are ushered quietly into the 111 Cryo Studio where you have to complete a rather large medical questionnaire. It's good they are thorough, after all, this is serious stuff to put your body through.
Arrival
I was led to my own studio where I could undress and pop on the obligatory Insta-famous black crop top, shorts, gloves, slippers and socks, ready to try their new offering of Contrast Therapy. After completing the 3 minute Cryotherapy section at -85 Degrees C, I was then going to pop into a space-age heat chamber for 30 minutes of Thermotherapy at +85 Degrees C. The perfect yin and yang of treatments.
Cryotherapy
On entering the room with the Cryo chamber I was nervous. Would I be able to cope with 3 minutes of crazy-sub zero temperatures? The technician instructed me that she would be in the room the whole time and that a countdown clock was on the wall for me to watch and that I could dance. I thought it strange at the time – how could she possibly know I have a penchant for deep shoulder action at the merest opening of a disco beat?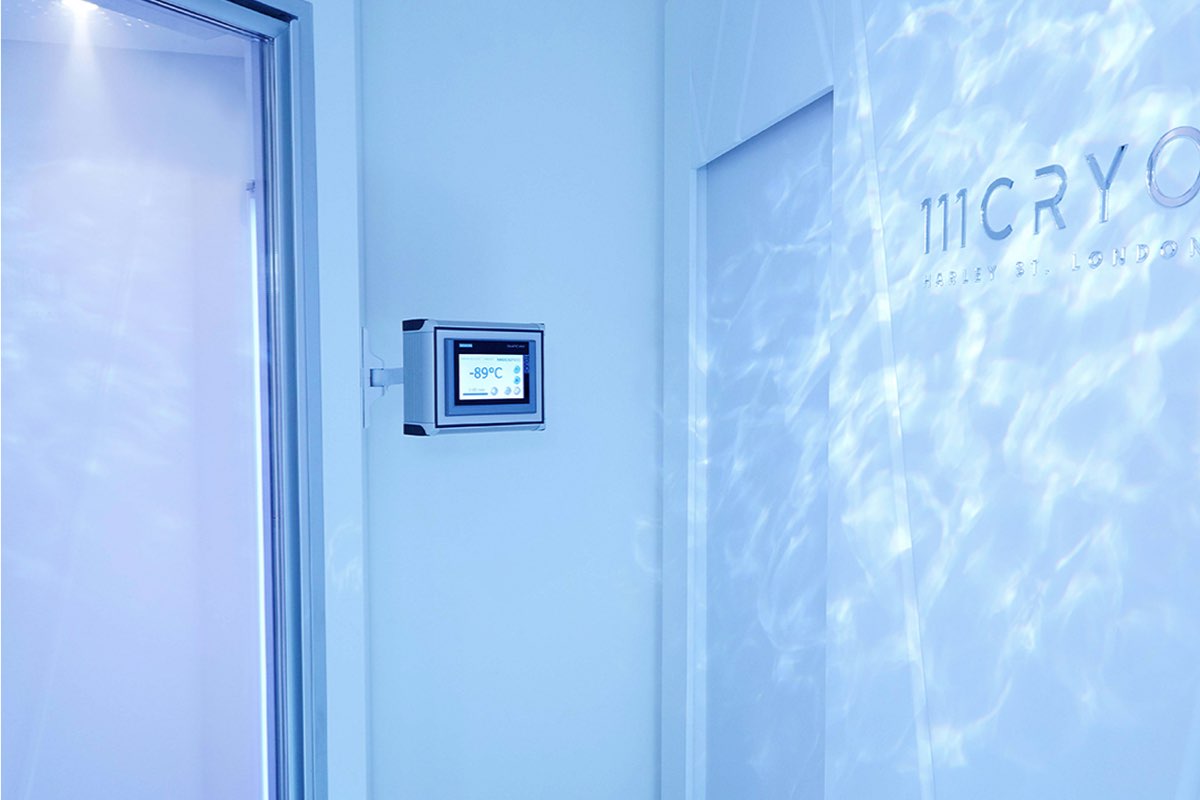 As I stepped in, the freezing air took my breath away. My body started to dance of it's own accord. You literally can't NOT dance because your body cannot handle staying still. It was therefore doubly fortuitous that there was music played into the chamber – hilariously the 70's classic Ring My Bell by Anita Ward. As the burning cold danced over my skin, I danced over the floor to just keep my mind off the countdown clock. The last minute I jogged on the spot as if I was Jennifer Beals in Flashdance. You are desperate to leave and yet strangely engaged to just get through it. When the technician opens the door again, the relief and surge in energetic triumph is intense. It's truly, personally air-punchingly joyful to know you've made it. Cryotherapy is thought to incite stimulation across your circulation, collagen production and epidermal firmness while reducing inflammation, pain and fatigue.
Thermotherapy
Next, I slid into the comforting warmth of my own personal heat chamber that delivers 30-minutes customised programs using combinations of innovative technology including LED light therapy for full body, vibrational massage and aromatherapy. The UK's first thermotherapy and infrared sauna wellness treatment says it can help with a multitude of benefits including detoxification, increased circulation/ metabolism, muscular recovery, tension relief and skin health. It's nothing short of delightful. It's serene, utterly relaxing and perfect to restore the body temperature.
The verdict?
Altogether this is a fun experience that without question releases a surge of merry-making endorphins. I'm not sure I felt or saw the often reported physiological upticks that are so well reported by others, but I will say I was alert, upbeat and felt fantastic for the rest of the day. Am I going back? Hell yes – with icicles on.
Contrast Therapy is available exclusively at the 111 Clinic at Harvey Nichols and is £200 for one session . To book contact 02072018489 or email via [email protected] for more information .
By Hannah
Get your weekly DOSE fix here: SIGN UP FOR OUR NEWSLETTER