Gone are the days of under-the-knife beauty procedures. Instead of surgical facelifts, we are turning to non-invasive beauty biohacking techniques, to boost our confidence and improve our physical appearance, in new natural ways. While genetics play a significant role in how we age, our DNA doesn't have to be our destiny. By incorporating the following biohacking techniques into our routines, we can slow down the process of ageing and promote skin rejuvenation. Here are the best therapies and products to biohack your beauty regime…
LED Light Therapy
LED therapy devices are gaining popularity is the anti-ageing category for their complexion-enhancing, beauty-boosting powers.  The main types of light are; blue light for treating acne, red light for improving circulation and accelerating skin repair and infrared for improving elasticity, reducing inflammation and accelerating wound healing. Whilst Dermalux LED Phototherapy is our go-to for a professional grade LED light therapy treatment, there are a range of powerful at-home light therapy devices on the market to accelerate rejuvenation and repair of the skin. Some of our favourites include:
Lua Anti-Aging Red LED Eye Patches – These reusable silicone patches provide visible results in 8-12 weeks. Minimise fine lines, wrinkles, and under eye darkness in just six minutes with FDA cleared red LED light technology.
Luminiel Beauty Device – Reveal a youthful radiance after using the Luminiel Beauty Device, targeting and brightening dark under eye circles and wrinkles.
Solawave Advanced Skincare Wand – This four-in-one skincare tool provides LED light therapy, microcurrents, therapeutic warmth and facial massage for the ultimate at home spa facial.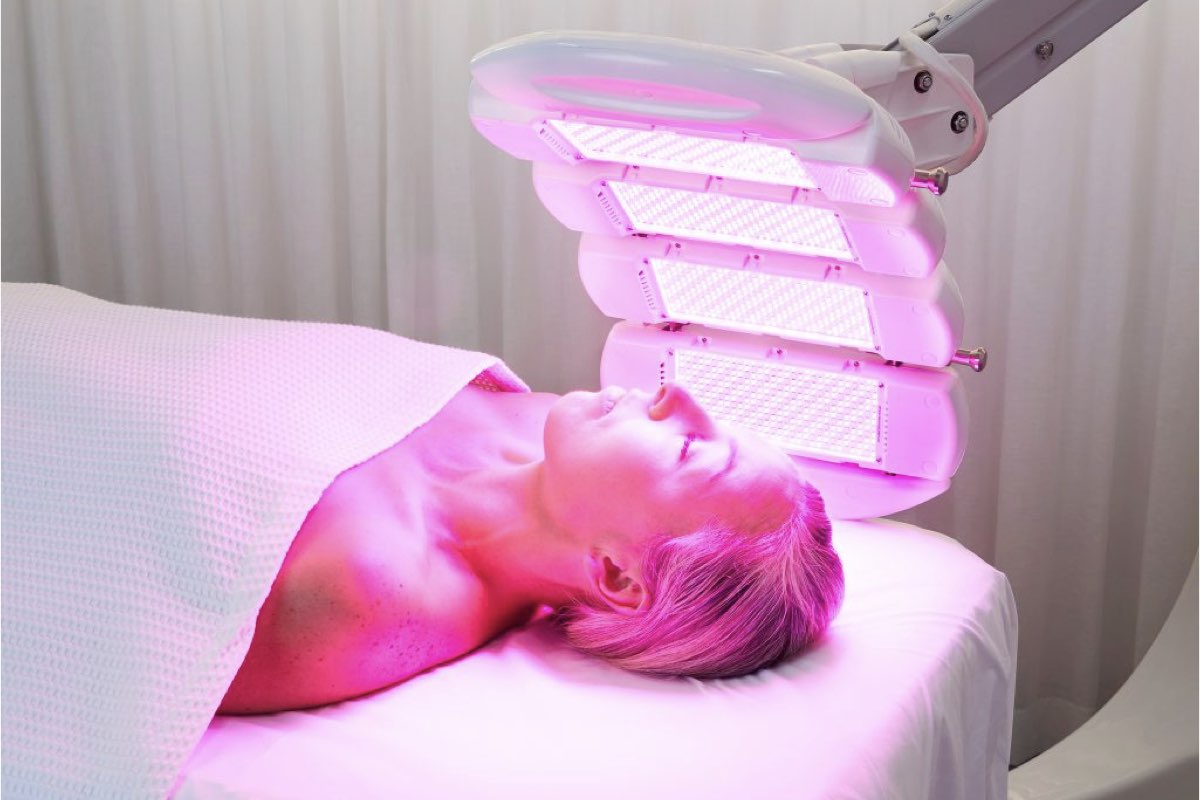 Stem Cell Therapy
While stem cells may sound scary, this ingredient is rising in prominence within the world of wellness. Stem cell enriched skincare possesses the biohacking abilities to boost the body's healing powers through stimulating the duplication of the skin's dermal stem cells. This generates the production of collagen and elastin, which maintain skin's density, strength and resilience.
There are also stem cell facelifts, where doctors extract stem cells from a sample of fat tissue and mix them with a special combination of growth factors, to be later injected into the face. These stem cell solutions mimic and stimulate the cells around them, thus restoring and rejuvenating the skin with a more youthful appearance.
Where to try it?
Head to BelleCell, the home of molecular wellness, for a Stem Cell Lift Facial. Their signature treatment combines Exilis 360 Radiofrequency and Dr.Levy stem cells skincare to stimulate, lift and tighten the skin. Softmesotherapy is then used to infuse hyaluronic acid, vitamins and growth factors for a plump and hydrated appearance.
Microcurrent Facials
Handheld microcurrent devices work by providing tiny electrical currents to the face, stimulating the muscles and thereby lifting, toning and tightening the skin. Essentially, it's a pocket-sized PT for your face. Some products also claim to stimulate collagen and elastin production, as the low voltage currents mirror our bodies own.
Foreo BEAR Smart Microcurrent Facial Toning Device – The pulsing T-Sonic™ microcurrent spheres stimulate deep into the pores, working to boost collagen production, circulation and minimize facial tension.
TheraFace Pro – Theragun percussive therapy, now designed for the face with skin-toning microcurrent and rejuvenating light therapy.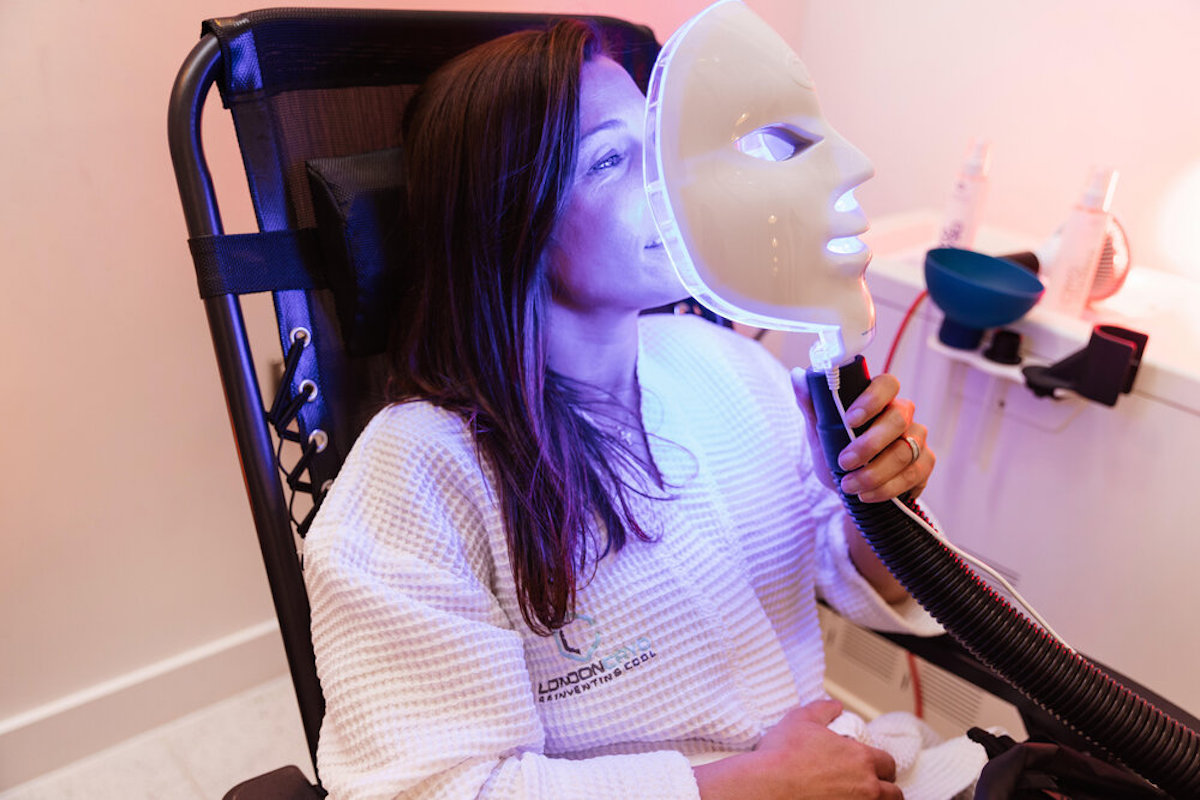 Cryotherapy
As Kate Moss once said in an interview with Stylist, "If I wake up looking tired and puffy, I fill a sink with ice and cucumber and submerge my face". Indeed, there has been a recent surge in at home cryotherapy tools which promise to provide contouring and depuffing effects. Whether you're suffering from a rosacea flare up, or deprived of a good night's sleep, cold therapy can help to reduce redness and inflammation, while increasing blood circulation.
In CryoSlimming treatments, Cryotherapy involves exposing the body to extreme temperatures for a brief period. This method can be used by those who desire to get rid of stubborn fat pockets, as it eliminates fat cells by inhibiting their metabolism. They are then removed from the body by the lymphatic node, ensuring fat loss.
Fraicheur Paris Ice Globes – You most likely will have already witnessed these cryo balls on countless influencer and celebrity social media channels as the ultimate self-care tool for depuffing and sculpting.
Charlotte Tilbury Cryo Recovery Mask – Inspired by the high-performance ice-tech of cryotherapy and the ancient art of facial acupressure techniques, this unique, reusable mask works in synergy with Charlotte Tilbury's research-powered skincare secrets.
CryoSkin services at Londoncryo, include slimming, toning and double chin-focused facials.
MECOTEC cryoair has produced a non-invasive facial device that gives amazing results for anti-ageing effects, such as lifting, tightening and regenerating the skin.
Facial Acupuncture
Just like microneedling, facial acupuncture relies on the technique of tiny needles puncturing layers of the skin. However, in this ancient practice, the needles are placed strategically and poke even deeper. This procedure can help with a variety of ageing concerns, whether that be crow's feet, acne, scarring, smile/frown lines, or loss of volume within the lips.
Basically, it's a biohackers version of Botox. As renowned Traditional Chinese Medicine Doctor John Tsagaris stated in an interview with Harper's Bazaar, 'Unlike Botox, cosmetic acupuncture can influence the health of the skin, working on more than the superficial signs of premature ageing'.
Cloud Twelve provides 5 element Chinese facial acupuncture. Sessions stimulate microcirculation and promote oxygenation to the local tissues, thereby energising, repairing and addressing all signs of skin concerns.
Microneedling
This process involves puncturing the skin with tiny needles which results in rejuvenated skin – one of the many miracles of microneedling. Several studies have found that with just four treatments spaced one month apart, there is a 400% increase in collagen and elastin six months after the treatment series completion. If your skin is looking tired, not responding well to serums or just generally needs a boost, give it a go.
Equally, if you're looking for a haircare hero to save you from stress or postpartum induced hair loss, then look no further. As well as an antiaging skin treatment, microneedling can help to boost scalp health by stimulating hair follicles and collagen formation. Hello luscious locks worthy of a L'Oreal advert.
FaceGym Faceshot Electric Microneedling Device + Liquid Vitamin Ampoules – Developed with medical-grade stainless steel microneedles, Faceshot™ creates active-pathways to help the AHA penetrate deeper into the skin where it's needed to give stronger, longer lasting results.
BelleCell offers Mesotherapy, a technique that uses micro-injections to deliver cocktails containing hyaluronic acid, amino acids, antioxidants, enzymes, plant extracts, vitamins and other ingredients into the middle layer of the skin, promoting skin rejuvenation and re-establishing skin tone and elasticity.
BeautyBio Rejuvenating Scalp and Fuller Hair Therapy – Formulated with proprietary FolliGRO Complex (a nutrient-rich cocktail of loquat leaf, rosebay extract, larch tree, camellia leaf extract and zinc), the serum penetrates the 'micro channels' made by the accompanying microneedling device, to ensure visibly thicker hair in as little as 60 days and full results in six months' time.
Lymphatic Drainage Massage
Want chiselled cheekbones? Lymphatic drainage massages can manipulate the movement of lymph fluids around the body, stimulating blood circulation, enhancing skin's oxygen levels and regulating our internal balance, whilst removing toxins and stagnation. The result? A lifted, sculptured and brightened complexion.
Invest in a FaceGym Multisculpt for a DIY facial workout, or visit a FaceGym studio where trainers perform high-energy knuckling movements and whipping strokes to stimulate blood circulation, collagen production and cell renewal.
Check out Repose for a facial sculpting massage, where East Asian therapies are used to stimulate pressure points on the face and neck, increasing vital energy and blood flow, resulting in a youthful glow. Repose also offers Body Ballancer treatments, the market-leader in compression therapy. Ideal for faster muscle recovery post-workout, Body Ballancer's specially designed air chambers apply a fluent compression to the lymphatic system, speeding up the removal of toxins caused by the build up of lactic acid, carbon dioxide and other metabolic waste.
Modified Skincare
In an interview with Vogue India, skin health specialist and biohacking enthusiast, Jasmina Vico, predicted the future of skincare – "I think the future will focus more on prevention than it has done and at a cellular level. We'll be tracking our sleep patterns and 'sleep depth' with monitors on our beds and using grounding mats to help reduce inflammation. We'll use our own personal 3D skin printers to deposit sheets of skin, which sounds wild, but a handheld printer has already been developed to deposit bio-ink on large burns to help with wound recovery'.
Indeed, Neutrogena has released the 360 Skin Scanner, an iPhone attachment that uses sensors to measure moisture levels on various parts of the face and imaging technology to track wrinkle depth and pore size. Based on these readings, the new MaskID app will recommend ingredient combinations for different facial zones, enabling the creation of bespoke face masks available to buy (launching soon).
OPTE Precision Skincare System – Swap your beauty blender and bottle of foundation for a handheld 3D inkjet printer. OPTE's first-of-its-kind technology intuitively scans your skin for dark spots, age spots, and sunspots, then prints skin-enhancing coverage only where you need it. Lauded as an IRL Instagram filter, it's one of the biggest beauty innovations of the year.
Liked this article on beauty biohacking routines? Read more beauty articles. 
By Helena
Main image: BelleCell
Hettie is the editor and co-founder of DOSE. A keen runner, she's also partial to a blast of high-intensity and hot yoga. A country girl at heart, she divides her time between London and the lush rolling hills of North Devon. When she's not jetting off on her next adventure, Hettie can be found in a candle-lit alcove with a laptop, a spaniel and a full bodied Malbec.