Broga, the yoga for bro's concept that's taking the world by storm with expansion plans in Europe and the Middle East. The brainchild of macho American Footballer and Bodybuilder Matthew Miller aka "Miller The Pillar", Broga is smashing the yoga is for girls myth by tapping into male sensibilities. We talk to him about what it's like for a Californian living in London (keeping up with hedonistic Brits), what got him into yoga and that Gaga video…
What's it like for a sunny Californian living in London? Everyone always says, "you're from Laguna Beach! What the hell are you doing here!?" The answer is simple (especially after the recent election), London in my opinion is the centre of the world – in every way. Yes the weather is unpredictable but I can hop on a cheap flight and escape for some sun any time of year!
Tell us about your journey from American Footballer to Bodybuilder? When I was injured on the field (that resulted in me being the youngest person to receive a titanium hip) I thought my life was over. We athletes naturally wrap ourselves in our sport, it becomes our whole personality, especially as it takes up so much of our time. Bodybuilding for me started as rehab but then like everything else, I wanted to be the best at it!
When did you get the nickname "The Pillar"? That was given to me by a London PR company. I was chosen by Gymbox to be the face of the brand (think David Gandy for M&S – just kidding I am no David!). But seriously, I was everywhere – tube ads, posters, web, flyers, as the crazy Californian programming all the unique classses and concepts that made the gym special. Funnily enough, it was one of those outdoor ads of me dressed up in fetish drag as Lady Gaga holding a pug (to promote my new "Go-Gaga" dance video class) that caught the attention of Channel 4. The next thing I knew, they built a prime time show called Fat Fighters around the "Miller the Pillar" character!
When did you discover yoga? After Fat Fighters I was approached by lululemon athletica (who at the time were thinking about expanding to Europe and the UK) to be one of their first brand ambassadors in Europe. I thought they were crazy but I said yes and became the first male ambassador in Europe with 6 other women who were ALL famous yoga rockstars! Obviously I was like shit, now I have to do yoga!
What was the inspiration behind Broga? One of the other ambassadors was a bit fat and feeling out of sorts so we traded services – training for private yoga. With some individual attention on my tight body I knew it was something I needed. I started going to classes but class after class I found there was nothing out there for me so I set out to make one that was. People say, "yoga is for everyone" and "my yoga teacher is a man" or "it's just about doing what you can with your body". What a load of shit that is! The whole yoga culture is built on 80% women participation (Yoga Alliance statistic) who must already be flexible and able to bend. Broga® was specifically designed to smash that clubhouse down and let more people in to land comfortably on the mat.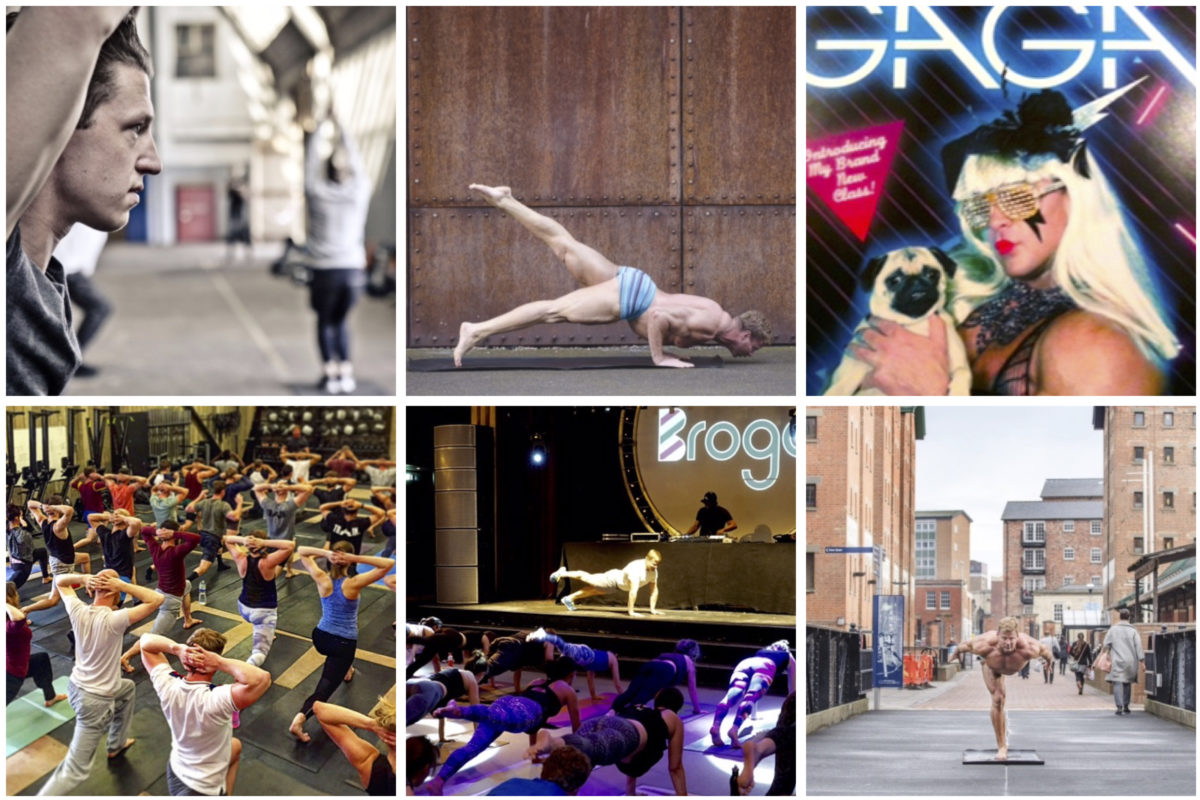 Favourite yoga matt and apparel… Uh lululemon of course! I don't own anything else – and yes the mat is like a million pounds – but it is also mad dog natural ethically sourced rubber NOT plastic and grippy as a gecko!
How has your diet changed over the years? Good question. I am from the old school bodybuilding days of making protein shakes from raw egg whites before protein powders existed! I am fascinated by human biology and have a degree from UCSF in this. Recently I created a whole nutritional guide, which I give away for FREE on www.Broga.online (look under "access the plans") called the Provenance Diet. Have a look, I promise you will learn something new.
What do you love most about your job? I help people be better – for a living. It's like being on stage and hearing applause. The energy you get and give in that process is unbelievable and I am honestly humbled and privileged to be doing what I do.
Where is your favourite place to grab healthy food on the go? I am a huge fan of restaurateur Henry Dimbley who created Leon. I can eat almost everything in there and he is a huge promoter of making people eat better and make better choices without making a fuss about the ingredients. You want the chocolate brownie no matter what. What you did not know is the flour was actually almonds and there was no cane sugar. He is even a champion of school meal reform, so I love to support his restaurants as a customer.
Favourite restaurant? Busaba. I can eat almost everything on the menu. Even on a veggie-only or carb free night and still be totally happy.
Do you cook at home or order in? I am a massive Abel and Cole fan and customer. I love to cook and have a massive cooking library. Their meals and ethos tick all my boxes and the meal boxes allow me to play chef at night without spending the time to shop.
Choice of drink at the bar? Out and about I typically order wine or a cider as I think cocktails are a total rip off for what you get. But at home I have two great drinks: Winter: diet ginger beer and Jack Daniels Tennessee Honey. Summer: diet Lilt and a Barbados rum with a squeeze of lemon.
Are Brits more hedonistic than Californians? Fucking hell are they! I am always shocked – even still – at the feast and famine culture of the Brits. Binge drink all winter then train in a month for an ultra marathon or take on Kilimanjaro. We are just healthy lifestyle 360 days with a little moderate party on the side on rare occasion!
Londoners move at such a fast pace, what's your advice to them to help them stay balanced? Man are we ever. You have to be to live here just to keep up. Three rules for staying balanced in London:
1.  You must take 1 hour for yourself 3 x a week to do something you want physically. No matter what it takes. The work will still be there and is not going to crumble with out you if you take an hour off I promise!
2. Plan your weekend mini breaks to be restorative and not binge. Make sure you have them booked every other month in advance so you have something to look forward to.
3. Make sure you eat SOMETHING in the morning before rushing off. EVERYONE has time for a protein shake at a minimum!
You feel happiest when… I am making progress on any of my set goals.
The fitness industry will be better when… The personal trainer industry in the U.K. is set at a higher educational standard like in Canada or Australia so PT's with that title are actually well rounded and educated professionals. There are too many trainers with too little education on gym floors which brings down the quality of the industry as a whole.
Favourite music track to work out to and why? I am a huge fan right now of Sigala.
Who is your inspiration and why? Lou Ferrigno – he was my original fitness inspiration as a kid watching the Incredible Hulk on TV. Now even at 65 he's super healthy, looks freaking amazing and is still inspiring!
Describe your perfect grooming regime… Aesop is my go to brand. I discovered them in Melbourne 10 years ago and have been a supporter ever since. I have three 'all you need' staples:
Crème cleanser, Day time camélia nut matte moisturiser, Night time face oil. That's it. Easy. Look I am like 150 years old and my skin still looks great!
Can anyone come and train with you at the W-Hotel Leicester Square? Yes my private studio called FIT at the hotel is open to hotel guests and my private clients.
What's the future for Matt Miller…Broga is now taking up more and more time with our expansion into Europe and the Middle East so I don't know how much longer I will be taking on individual clients. We have the DVD out now on broga.online and now I have been approached by a top publisher to do the coffee table book which is really exciting. Further afield I think is more management and policy setting. I love training and inspiring people in fitness so it will be something along those lines! I have done three pilot shows since the Fat Fighters that never quite made it to the airwaves. But motivational and inspirational television is always a good thing. Until then the Miller the Pillar YouTube channel is a great way to follow what I am doing and thinking!
Life mantra… Create the life you want.