Another day, another new beauty treatment. The latest is 'brow pinching' at Blink Brow Bar. Charlotte puts it to the test…
The what
I'm no stranger to brow treatments: I've been waxing or threading my eyebrows monthly for the last 15 years. But brow pinching is new. First of all, it's not a hair removal treatment. It fancies itself a sort of Botox, minus the needle, focusing on a smooth, lifted brow area. It works to target key pressure points and rejuvenate the upper third of the face.
The how
My therapist applies an oil, and starts to smooth the area around my brows, pinching it firmly but totally comfortably – in fact, it's utterly relaxing. At some points she strokes the area in upwards motions, too, paying attention to my under-eye area. Later, I see it's worked almost as a lymphatic drainage, reducing my general puffiness there.
The technique is Ayurvedic-inspired and supposedly works to delay the onset of wrinkles, while pinching breaks down toxins that have built up.
Ayurvedic health coach Sunita Passi says, "as well as relieving tension, stimulating the brow area with pinching helps encourage lymph drainage and improve circulation. The increased blood flow allows cells to be nourished with essential nutrients that rejuvenate the skin and allow the body to heal. As a result, collagen production is increased, which improves skin elasticity and helps reduce the appearance of wrinkles." The treatment ends with a brow oil and refreshing rosewater mist.
The results
It's a really enjoyable 10 minutes. I'm glowing and there's no redness – it's pampering but also feels like it's doing something. As a one-off, it's not a game-changer. But if this was regularly added on to all your brow treatments, the massaging and pinching may just pay off.
Brow Pinching, £15, Blink Brow Bar
Get your weekly DOSE fix here: SIGN UP FOR OUR NEWSLETTER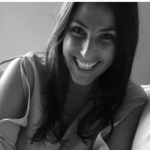 Charlotte is a London girl through and through. She sweats through spin and puffs through Pilates to justify trying the latest restaurants and devouring copious amounts of sweet potato fries, burrata and bread – preferably on holiday. Her favourite destinations include Italy, the Maldives and anywhere where the sun's shining and there's a strong breakfast buffet. She's obsessed with walking, visiting farmers' markets and reading. She's also learning to cook. Wish her (and her husband) luck.