Meet Elyse Moland, a former competitive dancer turned designer and weightlifter, who pooled together her talents to co-found one of London's most exciting new boutique studios, Flykick…
Tell us about your journey from design student to brand consultant and co-founder of Flykick…
Design is one of life's most powerful means of communication. It marries form and function to connect with a customer, and make their daily life more elegant, and seamless. In my opinion that's not dissimilar to what we do at Flykick, understanding a customer's needs and helping to bring fitness into their lives with ease.
My love for fitness began at an early age; I danced competitively for 17 years, and later took up weightlifting and boxing. It was after University that I had my 'Aha!' moment; I needed to find a way to combine my passion for fitness with my skill set as a designer.
Lululemon embodied a mix of design, innovation and fitness, which was completely aligned with my personal aspirations, and so I was pulled towards being a part of that team. Here I experienced how a large scale brand could maintain the spirit of innovation, supreme customer experience and inspire a team of A-players to chase goals – personally and professionally. The company was embarking on international expansion to London, and I set a goal to be part of a renegade team introducing a Canadian brand to a new market.
That goal was realised and there I was on the London Lululemon team! Whilst finding our place in a new market we had amazing highlights (300 yogis practicing in tandem in the Royal Opera House) and some incredible learning's (apparently British men prefer their active wear shorter, brighter and tighter than the Canadian market!) The exposure to the fitness community in London inspired me to push my own limits, and that year I entered my first bikini competition. Let me tell you, getting up on stage in a bikini is a challenge in itself, let alone months of training, meal prep, and sore muscles!
Once a big goal is met, it was time to refocus… I had made it to London, I had completed my first competition… what was next? The entire experience of training, the mental barriers, and the transformation left me inspired, more confident and strong, and I wanted to help others experience that feeling. This is when I realised I wanted to make fitness my life's work.
I took hold of an opportunity to work as a Studio manager for Psycle, where I was able to live and breathe fitness and be closer to that goal of helping others transform their relationship with health and wellness. At that time the conversation around fitness was negative, punish yourself for that weekend party, or lose weight. Conversations rarely focused on feeling happier, healthier, and stronger.
Unlike Lululemon, which had established processes and brand guidelines, Psycle was still developing, which meant that I could contribute to building a brand, a community, and a dream team. That transition from a large established brand to a start-up was an invaluable experience.
During my time with Psycle I invested in myself and became a level 3 personal trainer, I spent more time off the bike and in a boxing gym, and knew that I wanted to work more closely with this style of training. I had learned as much as I possibly could, ready to leap toward my goal of building a fitness company. Before joining Flykick, I spent 6 months as a Brand Consultant. There are very few people in the industry that understand how to visually communicate a brand's intention to a customer base, while also understanding how fitness boutiques operate, Designer meets Business Developer. As a Brand Consultant I had the pleasure of researching and supporting a new concept in Zurich, and sharing my knowledge with many luxury studios in London. Through this I was introduced to Ben and Charlie who shared with me their vision for Flykick, and I knew it was where I needed to be.
To be an entrepreneur, what qualities do you need…
There are the obvious: understanding your industry, understanding your own strengths, work with a team that are strong where you are weak, don't be afraid of hard work etc. Each journey will be unique, so it is difficult to make any blanket statements, but for my journey these are the qualities that have served me well:
– Adaptability, be willing to try, fail, and adjust if necessary. Don't get stuck in the mud, allow change to happen.
– Love what you do, it catches on and inspires a team.
– Integrity, always
– Prioritisation – there are so many moving parts with a start up and being able to work through them systematically is crucial.
– Surround yourself with an amazing team who challenge and push you to be better.
You've worked at some of London's best fitness studios, what sets Flykick apart?
We have done our homework, enabling us to innovate on every level of the business. From our recruitment process and team training, the building of our internal culture, the hands on approach of our Co-Founders, the research put into the workout and its effectiveness, customer service excellence, – literally all elements were intentionally crafted. This means we are trailblazers; there is nothing else like us! .
Studios often find that a singular concept does not serve their client's needs entirely and so a variety of disciplines are needed. What's unique about Flykick is that our concept is an all-encompassing workout. The Flykick formula incorporates strength, stamina, agility, coordination, and multi-plane movement. The benefits of our signature class build a strong core, increasing energy levels, feeling strong and dynamic, but also provide a mental release.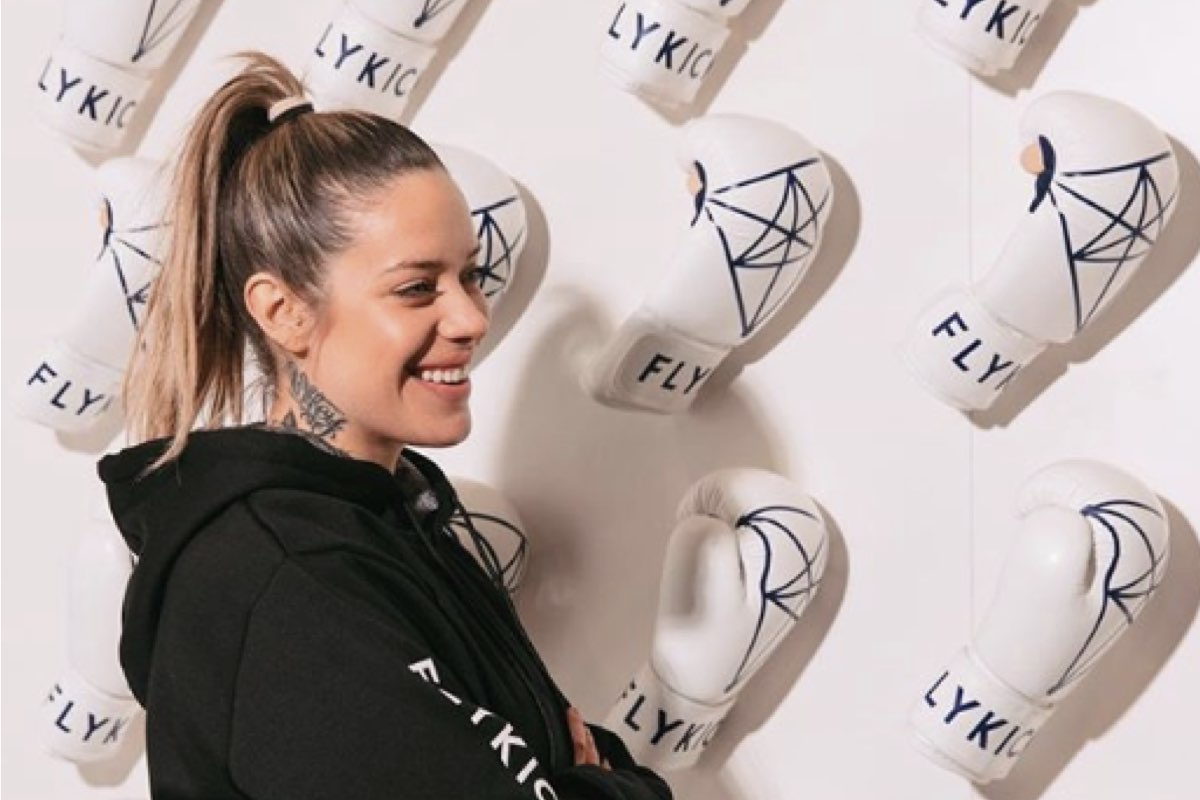 How does weightlifting compliment your boxing and kick boxing?
Weightlifting makes me feel strong and empowered, which is why it has stayed as a staple in my fitness regime. I found the same fulfilment when I put on my first pair of boxing gloves 4 years ago. What I learned is that strength training is essential in both boxing and Muay Thai practices, so for me it was a perfect compliment. The combination of both has brought more balance to my capabilities physically and mentally. Not only am I stronger and faster, I have improved coordination and mental focus, and my core and body have visibly transformed.
The physical benefits are rewarding, but what makes this combination truly amazing is what happens to your stress level and mental clarity. Your energy and thoughts are channelled into singular focus. Those emails you need to reply to or that stressful lunch meeting will melt away. This is why I believe in Flykick. Our concept combines strength, HIIT, mobility, and kickboxing, workouts that compliment each other providing guests with amazing results.
Can you describe a typical 'day in the life'…
My day always begins with the same routine; warm lemon water to start, a quick smoothie bowl – my husbands "secret" recipe, and a 15 min walk to the tube. I use this time to reflect on the previous day, review my calendar, and set intentions and priorities for the day ahead. I step through the doors at Flykick and it's go time.
One of the most amazing aspects of my role is that every day is different! It always focuses on our team, meeting new guests, and connecting with our community! We are all about people, how we can share Flykick with new guests, and genuinely make those who come to our studio feel great! We want to be the best part of your day. Ben, Charlie and I are always in the studio taking class side by side with our guests, instructing classes, wrapping hands, getting to know our community, and learning what our guest loves and needs from us.
The day ends back where it all started, at home reflecting on the day with my partner in crime Sebastian.
London's fitness industry will be better when…
Currently we see a lot of brands spreading themselves thin, trying to rapidly expand, or introduce concepts to their original offering in order to compete in a highly competitive industry. What I think is important is reflection and analysis – to ensure that during your growth as a brand you keep authentic to your original purpose, hold strong to your values, share the commitment and experience you give to your clients, to your team, and be agile.
Guests can feel the effects of rushed expansions or early releases of unrefined concepts in the form of high staff turnover and inconsistent class experiences. We are all programmed to focus on what's next, what's up and coming, who to see, where to go, that we don't give ourselves the time to be present, or to look back, reflect and learn so that we can make methodical plans to benefit ourselves, our companies and our clients going forward. Expansion is great, but it needs to be balanced with in-depth planning to ensure the quality is kept high for the guest and team experience, which is ultimately what it's all about..
What do you hope to achieve with Flykick?
We are all about innovation and rethinking the model of boutique fitness. From our development of the most well rounded workout available to how we build culture within our team.
Ben, Charlie and I bonded over the desire to reinvent the wheel in so many ways. We focused on how we could reduce waste in our studio – removing disposable bottles, not providing plastic wet kit bags in change rooms, reduce the amount or aerosols in our studio. We made it integral to create a team of independent empowered staff who felt valued, and part of the company. Culture is big for us, we hold each other accountable, we always act with integrity, and we keep motivated by discussing goals, sharing our learnings and never settling.
A Flykick Signature class focuses on wellness, not just fitness; presenting our guests with a truly unique concept, unseen anywhere else, that ticks all the boxes. We know it helps make our bodies more agile and flexible, builds strength and stamina, and significantly reduces stress… so why wouldn't we want to share Flykick with the world?
For those who haven't experienced Flykick, what can they expect?
Flykick is an experience in itself. From the moment you walk in the door you will be blown away by our open white airy reception space and luxury facilities, where small details make a big impact. You'll be greeted by our passionate staff, who go above and beyond to welcome you in and nurture the Flykick community.
We take all new guests in for a pre-class induction with one of our two trainers. The technique of each strike for class is broken down ensuring everyone feels part of the team and ready to take on the new challenge.
Class open, volume up, it's go time! Guests pair for our warm up before blazing through the HIIT rounds (a sweaty blur of mountain climbers and squat jumps). Next, it's time to stretch out those muscles and prepare to take to the bag where you'll practice a combo of jabs, hooks and kicks demonstrated by our instructors. Finally, you'll grab a partner for our core finisher, we start and end together, unified and working hard.
…And breathe. Take the time to cool down and soak up those stress-free, zen vibes after 54 minutes of the Flykick formula.
The class is accessible to any fitness level, and our customers range from people who have never boxed or even been in a gym before to hardcore fitness junkies and athletes who mix in a weekly Flykick class or two with their Barry's and F45 visits.
Life mantra…
"My mission in life is not merely to survive, but to thrive; and to do so with some passion, some compassion, some humour, and some style." – Maya Angelou