A new take on a brownie recipe made with red wine and spices like cinnamon and ginger to pack in the flavour and fill your home with the aromas of Christmas. Mulled wine brownies? What's not to love. Read on for more Christmas recipes to satisfy your sweet tooth this festive season…
Mulled Wine Brownies
Makes – 10
Preparation time – 10 minutes
Baking time – 15 minutes
Ingredients:
100g dark chocolate
150g unsalted butter
200g The Groovy Food Company Coconut Sugar
1 large egg and 1 egg yolk
100ml red wine
50g cocoa powder
100g The Groovy Food Company Coconut Flour
pinch of nutmeg and ground cloves
¼ tsp each cinnamon and ginger
Method:
Heat the oven to 180C/160C fan/gas 4, butter and line the base of a 20cm x 20cm brownie tin with parchment paper.
Melt the chocolate in the microwave or in a glass bowl over a pan of simmering water.
Mix the flour and cocoa powder together with the spices and a pinch of salt set aside.
Using an electric whisk, beat the butter and sugar together until super light and fluffy then whisk in the egg and yolk.
Pour in melted chocolate, red wine and flour mixture and whisk until just combined.
Pour the batter into tin and bake for 15 mins until just set, don't worry if there is a slight wobble in the centre, it will set up as they cool. Put into the fridge to firm up.
Chocolate & Clementine Fridge Cake
Makes – 18
Preparation time – 50 minutes
Ingredients:
2 clementines
175g equal mix of sultanas, dried cranberries and dried
mango, roughly chopped
100g The Groovy Food Company organic virgin coconut oil
100g The Groovy Food Company organic agave nectar,
light amber & mild
200g dark 70% cocoa solids chocolate, roughly chopped
50g cocoa powder
100g digestive biscuits, roughly broken into 2cm pieces
75g pistachios, roughly chopped
Method:
Line a 20cm square baking tin or dish with baking parchment.
Finely grate the zest of one clementine and set aside, then squeeze the juice into a bowl. Tip 150g of the dried fruit into the bowl with the juice, mix well and leave to soak for 30 mins.
When the fruit has finished soaking bring a small pan of water to the boil. Put the coconut oil, agave, chocolate, and a good pinch salt in a heatproof bowl and set over the simmering water, (making sure the bottom of the bowl doesn't touch the water). Stir well until everything is melted and combined.
Remove from the heat and sift over the cocoa powder. Mix thoroughly, then stir through the fruit and its soaking liquid, the biscuits, reserved zest of one clementine, and half the pistachios. Once everything is combined tip into the tin and level. Scatter over the remaining pistachios, 25g dried fruit and grate over the zest of the second clementine.
Chill for 2-3hrs, or until set, then cut into bars.
Gingerbread Snowflake Biscuits
Serves – 25 people
Preparation time – 40 minutes
Baking time – 10 minutes
Ingredients:
100g The Groovy Food Company organic virgin coconut oil, melted and cooled
85g The Groovy Food Company organic virgin coconut sugar
100g The Groovy Food Company Rich & Dark agave nectar
2 tsp vanilla extract
1 egg
350g plain flour, plus extra for dusting
1 tsp bicarbonate of soda
1 tbsp ground ginger
1 tsp ground cinnamon
icing sugar for dusting
Method:
Beat the coconut oil, coconut sugar, agave, vanilla and egg together in a bowl with electric beaters for 4 mins, until thickened and pale.
Add the flour, bicarb and spices, and beat until just combined. Cover and chill for 30 mins, or until firm.
Heat oven to 180C/160C fan/gas 4. Shape the dough into two discs and return one to the fridge. Place a large sheet of baking parchment on your work surface and dust with flour, top with a disc of dough and dust that with flour too. Cover with another sheet of parchment and roll out the dough to the thickness of a £1 coin. Using your choice of cutters cut out the biscuits, re-rolling any leftover dough.
Transfer to parchment lined trays and bake in batches for 8 mins, until golden brown – if you like them extra crunchy bake for 10 mins.
Cool on a wire rack and repeat with the remaining dough. Once cool dust with icing sugar before serving or enjoy as they are.
Fruity Mince Pies
Serves – 8 people
Preparation time – 30 minutes
Baking time – 30 minutes
Ingredients:
To make the fruity mince meat:
225g (8oz) sultanas
225g (8oz) raisins
60g (2oz) dried cranberries
225g (8oz) dried apricots
110g (4oz) dried figs
110g (4oz) dried dates, pitted
110g (4oz) chopped almonds
3 dessert apples, washed, cored and chopped
2 pears, washed, cored and chopped
3 lemons, juice and zest
2tsp (10ml) mixed spice
1tbsp (15ml) ground cinnamon
1tsp (5ml) ground cloves
pinch of freshly grated nutmeg
75ml (5tbsp) rum or brandy, optional
100ml (4floz) Groovy Food Agave Nectar Rich and Dark
To make the shortcrust pastry:
200g (8oz) plain flour, sifted
100g (4oz) unsalted butter
25g (1oz) ground almonds
50g (2oz) icing sugar, sifted
1 egg, beaten
To make the glaze:
1 egg yolk and 1tbsp milk
400g fruity mincemeat
Method:
To make the fruity mincemeat:
Wash the dried fruit.
Chop the apricots, figs and dates into small pieces with scissors.
Place all the dried fruit in a large bowl and cover with apple juice or boiling water. Leave to soak for an hour.
Drain well and mix the dried fruit with the spices, fresh fruit, lemon zest and juice and nuts and place in batches in a food processor.
Pulse gently to chop the mixture but do not over-process.
Warm the Agave Nectar slightly with the rum (if using) and add to the mixture making sure to mix well.
Place in airtight containers or jars and refrigerate or freeze in batches.
To make the shortcrust pastry:
Place the flour, butter, almonds, sugar and egg in a food processor and whizz until it comes together to form a ball.
Knead gently on a lightly floured work surface then cover in clingfilm and chill in the fridge for 30 minutes.
Preheat the oven to 200ºC, gas mark 6.
Roll out the pastry on a lightly floured surface and stamp out rounds to line a bun tin.
Fill each case with mincemeat.
If covering with a top, cut out slightly smaller rounds of pastry and dampen the edges. Press these on top of the pies and seal the edges well. Alternatively, stamp out little pastry stars and place on the top of the pies.
Mix the egg and milk together and brush over the pies to glaze.
Prick the lids with a fork to allow steam to escape. Bake in the oven for 10-15 minutes until golden brown. Cool in the tin for 5-10 minutes then turn out on to a wire rack to cool completely.
Dust with a little icing sugar and serve warm.
To make Mincemeat Cake Bars:
In a large bowl combine 250g wholemeal self-raising flour with 2tsp baking powder.
Stir in 450g mincemeat, 4 beaten eggs and 2tbsp Groovy Food mild agave nectar.
Stir to combine then spoon into a rectangular shallow tray bake tin.
Bake in the oven at 180ºC, gas mark 4 for 25-30 minutes until golden brown.
Cool in the tin then cut into bars.
Christmas Recipes courtesy of The Groovy Food Company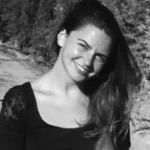 Hettie is the editor and co-founder of DOSE. A keen runner, she's also partial to a blast of high-intensity and hot yoga. A country girl at heart, she divides her time between London and the lush rolling hills of North Devon. When she's not jetting off on her next adventure, Hettie can be found in a candle-lit alcove with a laptop, a spaniel and a full bodied Malbec.