The Algarve is usually a go-to for a summer holiday. It's a haven for sun-starved Brits in dire need of rest, relaxation and vitamin D. We love the slower pace, friendly locals and easy-going vibe. Shara escaped for a last minute holiday before Portugal was put on the amber list. And we seriously recommend you check out Conversas de Alpendre in the Algarve – a rustic hidden gem when the light goes green again. Here's why…
Conversas de Alpendre, Algarve
I don't know what the Algarve means to you, but to me, it was an easy place to go for guaranteed sunshine and a place to relax. If you're looking for both – and more – I highly suggest a trip to Conversas de Alpendre.
Family-owned, Conversas de Alpendre is run by the charming Jose, Cristina, Marta and their immediate family. Having left behind their stressful lives in search of a more peaceful way of living, the family have aptly named each room after a phrase around escaping the rat race. No Troubles, No Boss, No Suit, No Clock – check in to whichever takes your fancy, and breathe a sigh of relief.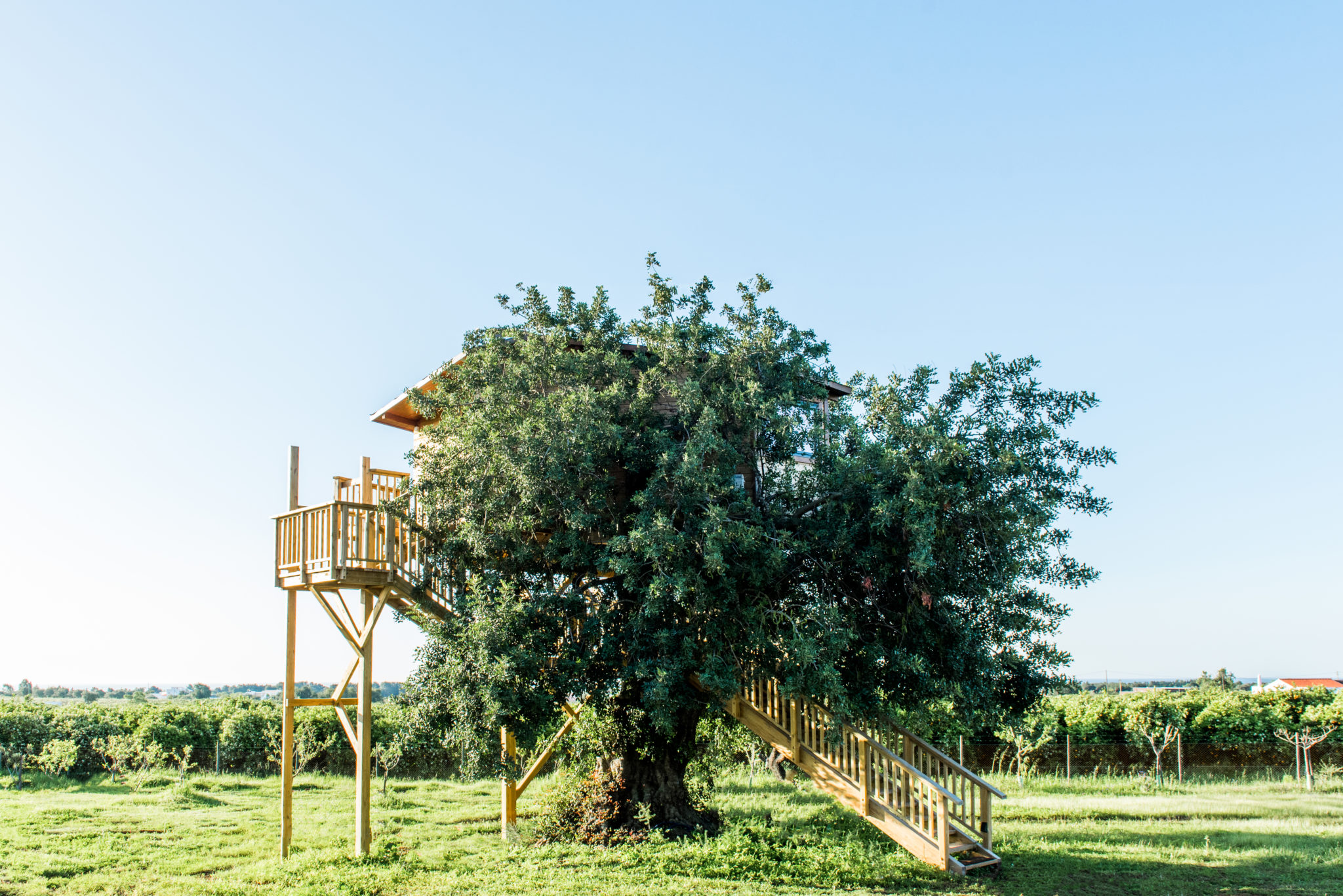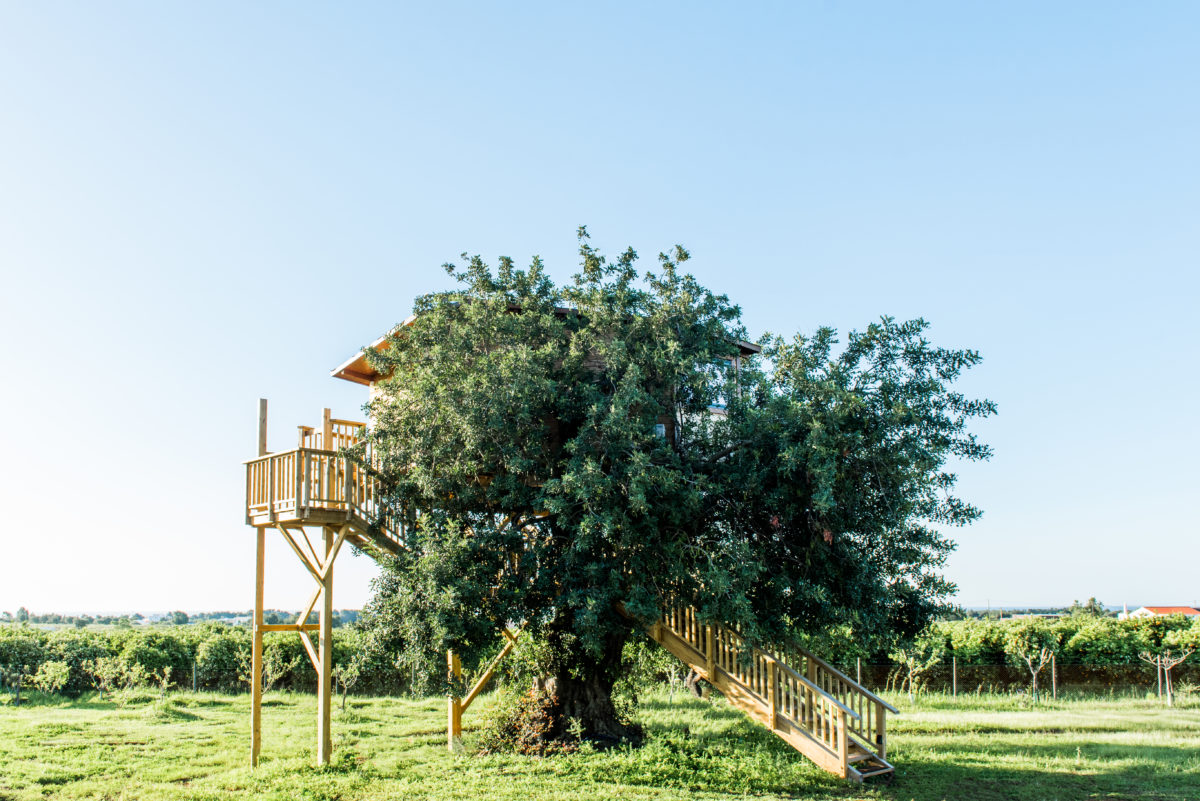 Eat local food
You can't not relax here. Conversas de Alpendre is set among beautiful orchards of fruit and olive trees. Jose, Cristina and family are excellent hosts. Nothing is too much trouble, from helping us select local wines to supplying us with free fresh cake daily. Food is farm to table and all fare is unbelievably fresh, mostly coming from the hotel grounds and surrounding local farms. Small touches abound. For example, breakfast is on offer until 1pm for a true holiday lie in. It's worth getting up for, to try delicious orange juice and everything you could fancy eating, from local eggs to homemade jam, served in a relaxed a la carte manner.
Dinner is a 'surprise' each night; as is the very reasonable price of €35pp for three courses. It was truly incredible food. We dined on foie gras and mushrooms followed by fresh fish and potatoes and vegetables (which is very Portuguese) and homemade almond cake with sorbet for dessert. More bread is provided within seconds and no detail is overlooked.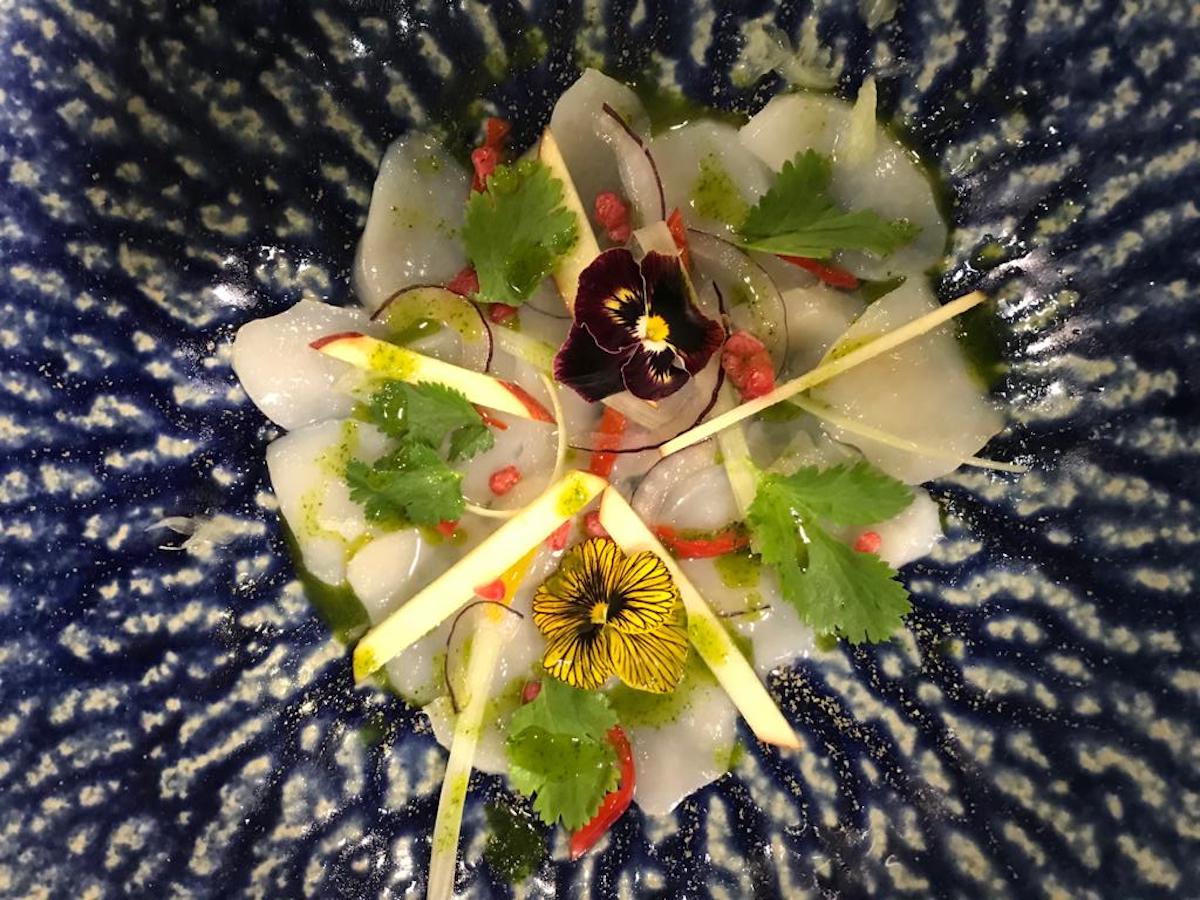 Sleep soundly
Accommodation comes by way of 12 suites, some with terraces and jacuzzi. For a special occasion ask for the Treehouse Room. It's located at over 6m high on top of a carob tree, built entirely in wood and by hand. Our room is simply decorated with light wood and Portuguese tiles, but is very luxurious, complete with Nespresso machine, insanely comfortable king size bed and great WiFi  – though if there was ever a place to switch off, it's here. If you can't, there's also a community area you can pop to to bang out some emails before enjoying an activity.
Explore the Algarve
And as for activities, there are so many to choose from. The idea here is wellbeing but in a simple, back-to-basics sense. Try your hand at horse riding, rent a bike, go bird watching, enjoy a guided walking tour through the stunning rustic Algarve, take a boat out for the day or simply ease into a massage. You can pop to the beach which is just 2km away or make the most of the saltwater pool on site.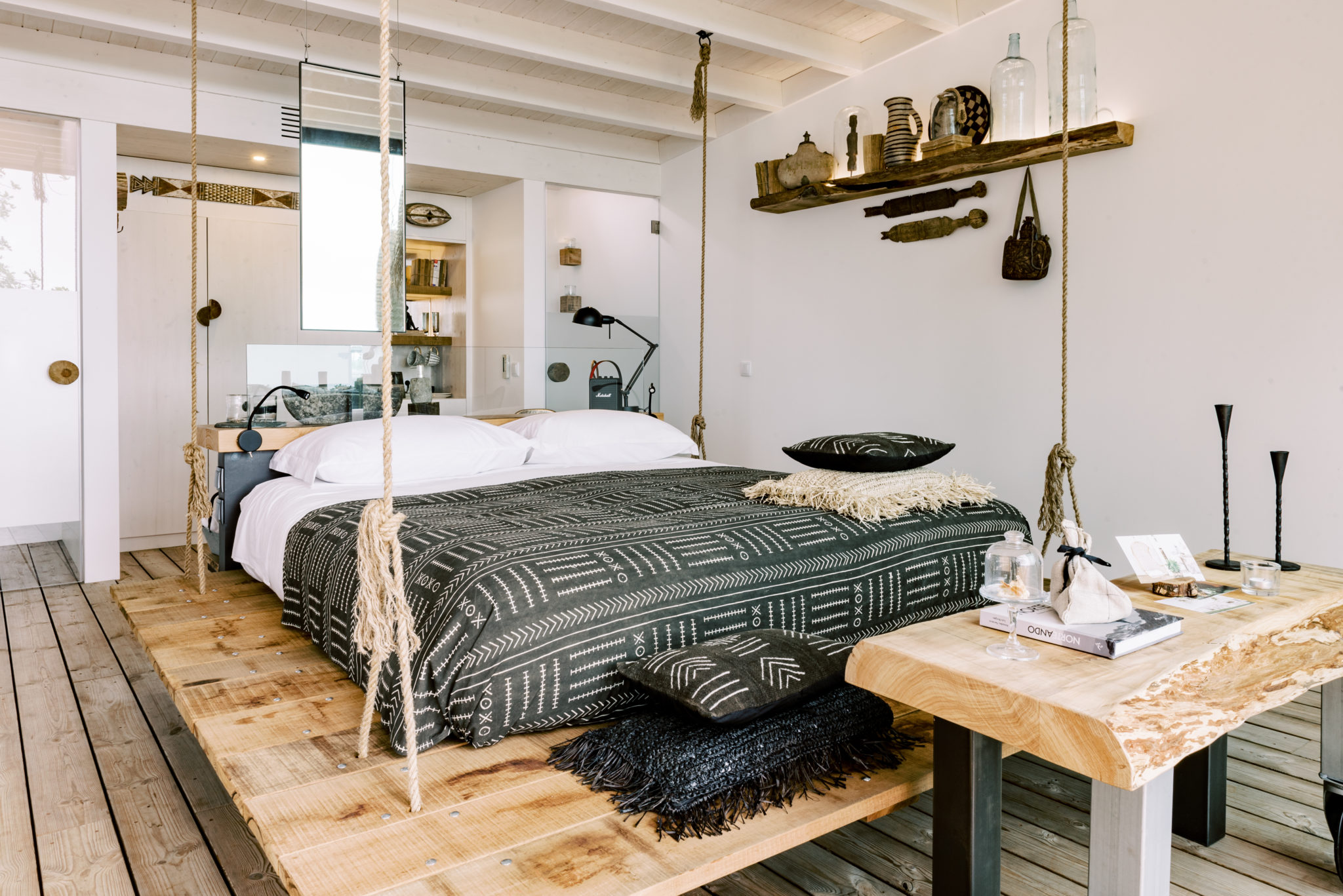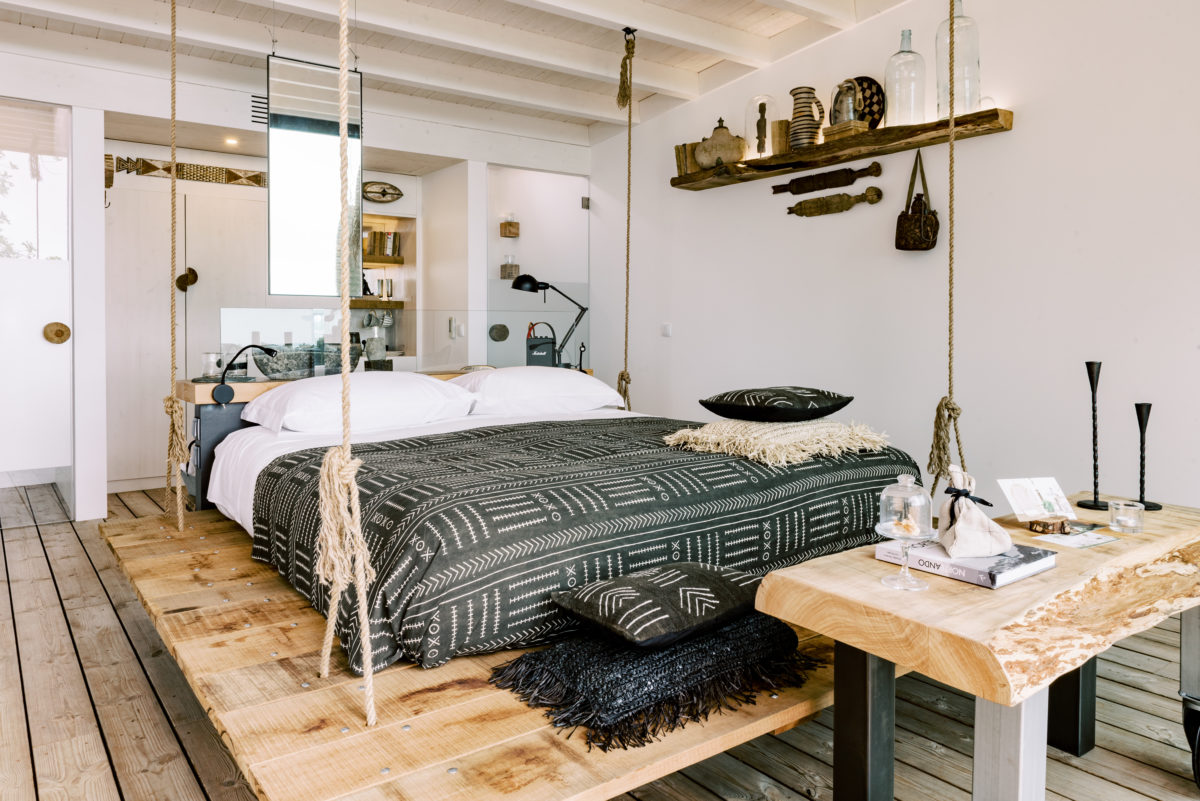 We mostly stay on site, and I can't overstate just how peaceful the setting is. Young families and couples sit happily around the comfy poolside sun loungers. There are also wonderful day beds, and time seems to slow down in the best possible way.
Fans of Conversas de Alpendre with be pleased to hear that the owners are opening a new hotel in Tavira, the nearest town, with 20 rooms. That said, with Portugal and indeed the Algarve currently being such hot tickets, they're sure to go fast. So do yourself a favour and book in now – I know I will.
Get your weekly DOSE fix here: SIGN UP FOR OUR NEWSLETTER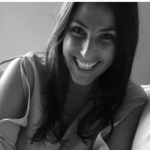 Charlotte is a London girl through and through. She sweats through spin and puffs through Pilates to justify trying the latest restaurants and devouring copious amounts of sweet potato fries, burrata and bread – preferably on holiday. Her favourite destinations include Italy, the Maldives and anywhere where the sun's shining and there's a strong breakfast buffet. She's obsessed with walking, visiting farmers' markets and reading. She's also learning to cook. Wish her (and her husband) luck.