Cryotherapy, once a method of recovery for sports injuries, turned collagen booster and cellulite blaster that will rev up the metabolism like taking a plunge in an ice cold lake. But is freezing one's assets really worth the price tag? We sent Stacey to three sub zero chambers across London to put it to the test..
I have to admit, I was intrigued when I saw a post from a friend in the States who had been using cryotherapy as an addition to her wellness regime. "It's great – you have to try it," she enthused when I DMd her.
Since she'd started it, she'd been sleeping better and her long-held knee issues seemed to be feeling better. "And way better than an ice bath," she mentioned (Sitting in a tub freezing your *** off? No thanks. Baths are for candles, salts, music, and being warm and cozy, full stop…maybe also a glass of wine. But I digress).
And given that I have ongoing back issues which are always getting worse given long-haul flights, and a lot of travel coming up, I was tempted. "It only takes 3 minutes," she promised. "You'll feel amazing and it will help your back."
But cryotherapy isn't just about pain management. In addition to relieving pain, cryotherapy is touted by providers and their clients – often including top athletes, models, and movie stars – as being able to relieve stress and insomnia, reduce inflammation and jump-start sluggish metabolisms. In addition, it's meant to create an overall feeling of wellness by releasing endorphins – the feel-good hormones we experience during a great workout.
Determined to try it for myself, I headed off to three of the top sites in London for cryotherapy, and jumped right in to the freezing cold to see for myself: was it fabulous? Or just a fad? Here's what I found…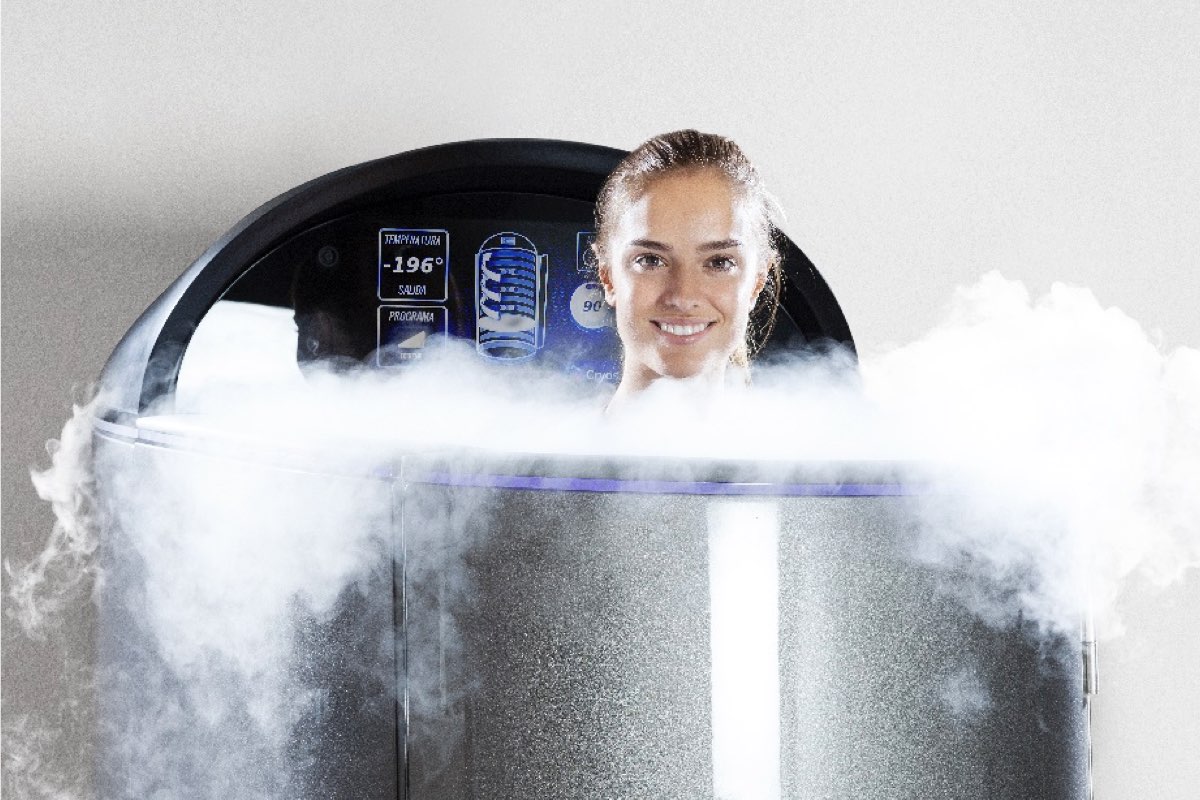 Located on Kensington High Street, towards the Design museum, Ice Health looks like a chic ski lodge. Owner Alla Pashynska greets me and given that I'm a first-timer, takes me into a smaller treatment room and uses a small wand over my hand to demonstrate that the cold, generated by liquid nitrogen, will be dry and bearable.
"You'll go into the chamber and it will be warm, then it will be cold. We're the only ones who have this approach – but we find it makes it much more bearable. Then we will reduce the temperature to -180 Celsius for three minutes, and you'll come out," she says. "It will give you increased blood flow, which means you'll get rid of toxins and your body can rejuvenate itself," she says. Since I've come right from a spin class and am feeling tight, "you'll feel like you've skipped the recovery and gone straight to feeling great," Alla promises.
While we talk, a well-dressed client goes into the chamber, and comes out three minutes later. "How was it?" I ask. "It's great," he says, plunking down his card for a new package of sessions. Alla says he's a regular, and adds that many of her clients consider cryotherapy to be part of a wellness regime, "like a massage, or a facial," she explains. "It's part of the holistic wellness approach to life, to make us all live longer and happier." She says she also has people with serious long-term illness who use cryotherapy therapeutically to help manage their illness.
She takes me into the room, which is a clinical white with pretty disco lights, and explains that the machine is her own proprietary design (this is her second location in the UK). The machine itself is a long tube, like an ovoid refrigerator, and a digital panel is on the top with metrics including temperature and time. I'll be standing in liquid nitrogen fumes up to my neck, while the head is held above the cryogenic air, Alla explains.
She tells me to take off my clothes and leave my underwear and bra on, and primes the machine, which will start at a balmy 40 degrees celsius. I get in, she raises the platform until only my neck and head is exposed…and it's fine. For about 20 seconds.
And then the temperature drops and little fingers of vapour start to curl over the edges. It starts to get cold fast, and I feel everything goosepimple. Alla puts on Beyonce. "Dance!" she encourages. I feel silly but do so, and it feels just a bit more bearable. "Turn around!" she instructs, while I dance. I comply, and as part of my whirl see there's only a minute left, which momentarily makes me feel better. But it's the last 30 seconds that absolutely stretch out forever. Finally, it's over, I step (ok, I practically leap) out and get dressed.
"How do you feel?" she asks.
To be honest, I feel like I've escaped death, but I know that's a bit dramatic, so I go with "Energised!"
She nods vigourously. "That's why this is so great! Your body just went through fight-or-flight, and is working at its top potential now!" The benefits of just one treatment, according to Alla include reduced inflammation, and an improved immune system, plus a "significant" calorie burn, but she recommends multiple treatments to really feel the benefits.
Did it work? I went home afterwards and had literally the best nap ever, and woke up without any stiffness or soreness from the hard class earlier in the day. The jury is out on the metabolism benefits, but I felt really energetic that night when I went out.
Would I do it again? Yes.
Pricing: Single session £95, packages available
Located on a narrow City street, London Cryo attracts a City crowd looking for sports recovery, pain relief and the other purported benefits of cryotherapy, and even people looking for a rush prior to a night out. According to the front desk staff, the facility treats about 30 people a day. I'm given a bottle of water and a key to a changing room, where a robe, socks and gloves await (you're allowed to keep earrings on, but have to take off other jewelry and underwire bras) and strip down.
Once in the room, I see a stainless pillar with a panel and a selection of foot coverings to choose from, from fluffy slippers to clog-like shoes, to slip on before I go in. The cheerful therapist, Martha Segalin, says that many first-timers are nervous but quickly get hooked. "I see a lot of sports people, people with autoimmune issues, City workers needing release from stress," she mentions, while she prepares the chamber. What's the perfect regimen? "After your first time, we recommend 2-3x a week at 3 minutes per session," she said.
Vapour starts pouring top of the stainless pillar while the digital panel starts ticking downwards. Standing there in a robe, socks, undies and not much else, I immediately start to shiver, watching the mist curl down. "Don't worry," Martha said, noting my expression. "It's only 2 minutes for a first session."
Martha goes through a set of positions I need to hold – hands in prayer, hands overhead, and tells me I'll turn a quarter turn each time she tells me, but that I'm not to move otherwise (in other words, no dancing). "But you can come out any time you want," she promises, showing me the door mechanism. Has anyone ever done that, I ask. "Only one person that I can think of," she answers.
The digital panel chimes, she opens the door, and I'm in. As expected, it's FREEZING. Martha keeps talking with me as I stand there, not moving, with my hands in prayer position as instructed. "Keep going, you're doing great," she encourages, as my teeth chatter and I turn the tiny ¼ turn. The inside of the chamber is crusted with ice crystals and I do my best not to brush it with an arm or elbow. At the 1:30 mark, she tells me to lift my arms "to let the lymphatic system benefit," she says. Honestly, it's one of the hardest things ever – my impulse is to cover everything. But I do it. Finally, the timer goes and I'm out of there, feeling that same rush of happiness to be in the warm again.
During the next 24 hours, Martha reminds me, I can expect to feel energised, sharper, and will probably sleep like a baby, Martha promises, in addition to feeling less pain in my back. And my metabolism will be supercharged as well, she says. She encourages drinking extra water during the day to help my body recover from the fight-or-flight response that cryotherapy induces.
I unlock the cabin, put on my clothes and – sipping dutifully at the water bottle – get back to work.
Did it work? I was really hoping for the promised baby sleep, given I was off a 12 hour flight, but jet lag beat the cryotherapy and I was up with insomnia. My back, however, felt great for the next day- which coming off a long haul flight is usually not the case. But there was an unexpected plus – usually I hit that 4p slump at work and never recover. Following this session, I went back to work and not only powered through work but gave a fantastic presentation that got top scores.
Would I do it again? Yes, especially if I have a tough presentation to give and need the extra boost.
Pricing: Single session £90, packages available including unlimited monthly passes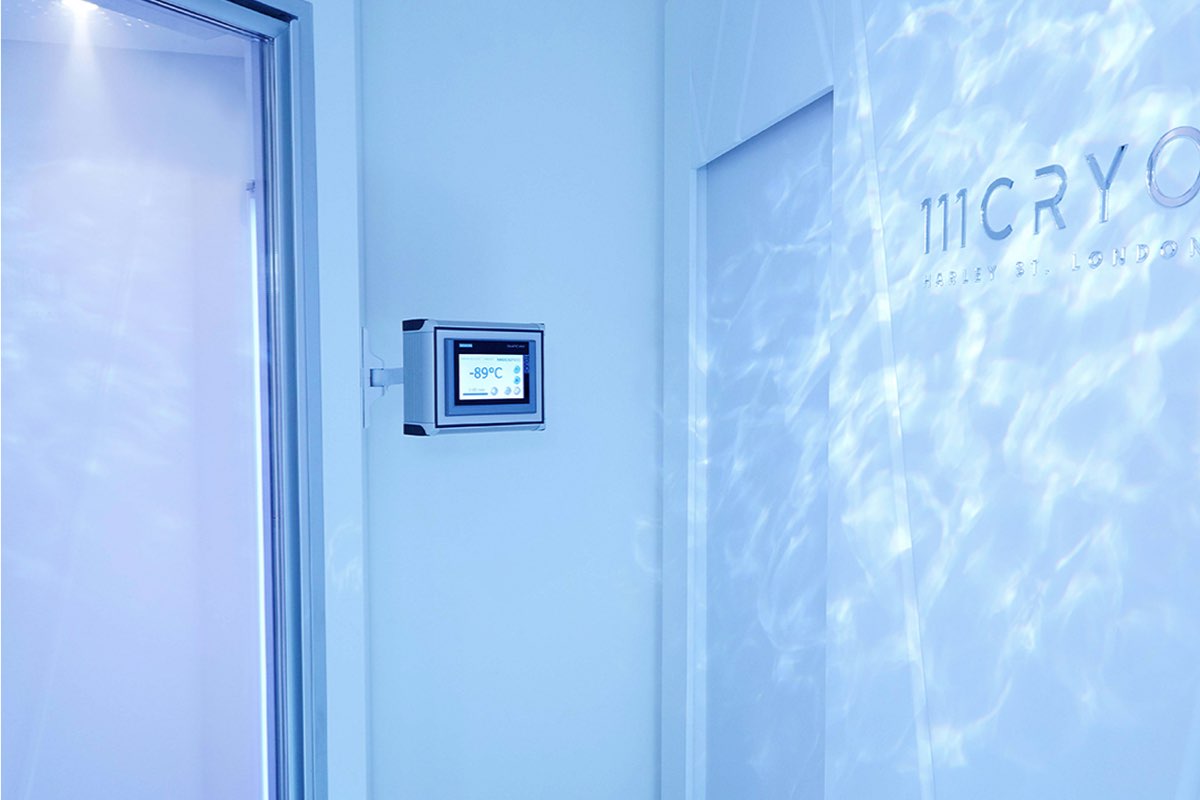 Tucked away in the back of the fourth floor at Harvey Nichols, 111Cryo offers a full-body cryotherapy experience right next to the Hersheson salon and behind the tempting shoe section. Once I complete the intake form on an iPad, I'm taken to a small changing space which has a tank, shorts, a set of North Face padded booties and gloves, with a little mask that looks like a surgical mask. I'm told to keep underwear on but jewelry off (little earrings are ok, though)
Before I change, the technician and I have a brief discussion about my hair, which is still a tiny bit wet from my class that morning; you're supposed to go in with fully dry hair, but given that it's just a bit damp I decide it's not a big deal, particularly when I find out I have to wear a fleece band anyway to cover my ears – I just pull out my trusty wool beanie that my mom made about a zillion years ago and cover my head – job done.
The mask perplexes me a bit. "I'll help you put that on," promises the lovely technician. The mask is necessary because I will be fully enclosed, he explains, and it will make breathing easier in the cold. He leaves me to change and goes to prep the cabin.
I'm not going to win any fashion awards with this outfit, but I go padding down the hall anyway to the room, which has a refrigerated cabin that's built into the corner. Ice crystals gleam all over the cabin, which is kept at -90 Celsius.
The technician points out the digital timer on the wall, which I'll be able to see when I get in, and reminds me I can come out at any time, but that the best benefits are found when you stay in the whole time. (Of course). Some of the benefits I'll experience, he says, include better sleep, a feeling of wellness, higher energy, and the ability to fight off illness (which at this time of year is actually a pretty big concern).
He asks me what I'd like to listen to while I freeze, and I pick Sigala. "Cool," he says, unironically. "Sweet Lovin'" starts playing over the speakers, he opens the door, I get in and start dancing. Little ice crystals swirl around me while the music plays, making for a bizarre winter wonderland-type scene while I flail around. He very kindly looks straight ahead at the wall, where the digital timer slowly ticks down.
As with the previous treatments, the first two minutes go by relatively quickly, and then all of a sudden time seems to slow down. Finally, it reads 30 seconds and I really start dancing around, excited to get out.
By the time the clock runs out I am more than ready to get out. The technician opens the door and uses a little gadget to measure my body's surface temperature; he pronounces me fine, and I'm off to change and get home.
Did it work? The normal aches and pains I feel after spin seemed to be far fewer following the session and throughout the day, and I felt more energetic as well. The location is ideal for power shoppers; I could see doing this in the middle of a major shopping session as a way to perk up rather than getting a coffee.
Would I do it again? Yes.
Pricing: Single session £95, packages available
Sign up for our newsletter to get the best of DOSE delivered to your inbox.
Hettie is the editor and co-founder of DOSE. A keen runner, she's also partial to a blast of high-intensity and hot yoga. A country girl at heart, she divides her time between London and the lush rolling hills of North Devon. When she's not jetting off on her next adventure, Hettie can be found in a candle-lit alcove with a laptop, a spaniel and a full bodied Malbec.