Crystals are all the rage. It has been known for people to carry their crystals with them to maximise their potential. But infusing crystals in our water? Here's everything you need to know about crystal water bottles and where to find the perfect one according to DOSE writer Demi…
Why a crystal water bottle?
Crystals can transfer their energy to other objects they're placed next to. So in addition to sleeping with a crystal under your pillow or holding them whilst meditating, having one in your water bottle will manifest its positive energy and power.
When crystals are infused with water, they produce an elixir that helps clear your mind and get rid of those negative thoughts hanging over your head. And don't worry, having a crystal water bottle won't change the taste of your drink.
Our 5 favourite crystal water bottles:
Earth's Elements Crystal Bottle Divine Love
This bottle includes tumbled Amethyst, Clear Quartz and Rose Quartz to help you attract love (from others and yourself). Made from a non-toxic airtight bamboo cup that will never leak.
Remember to handle with love and care, and don't force your crystals in if they're fragile.
Buy here $ 59.99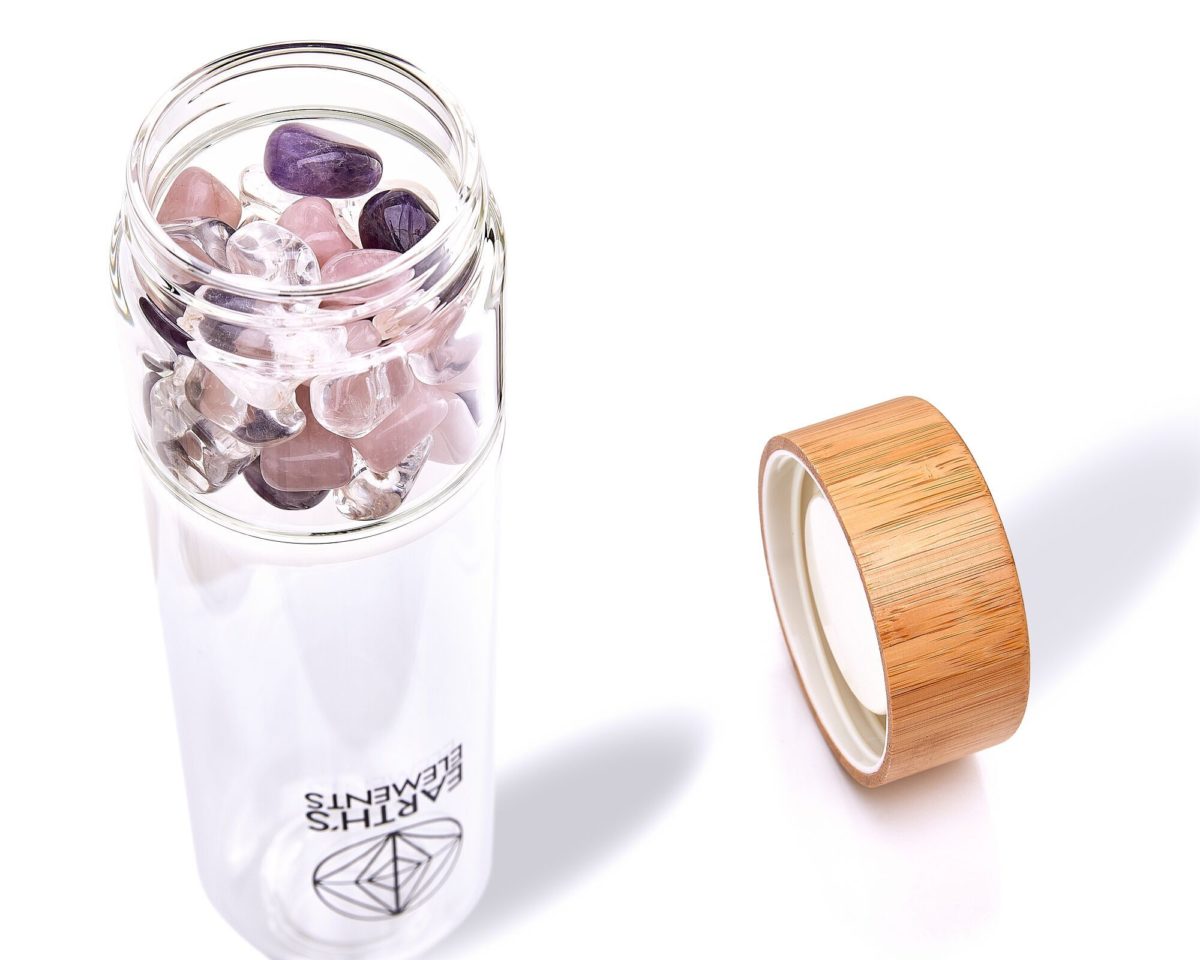 Golden Tiger's Eye and Clear Quartz crystal infused glass water bottle
This bottle will give you the power you need to boss anything. The crystals can enhance your personal power, courage, strength and luck – not much more you could ask for.
An affirmation to go with these crystals is – I am courageous, strong and powerful.
Buy here£33.00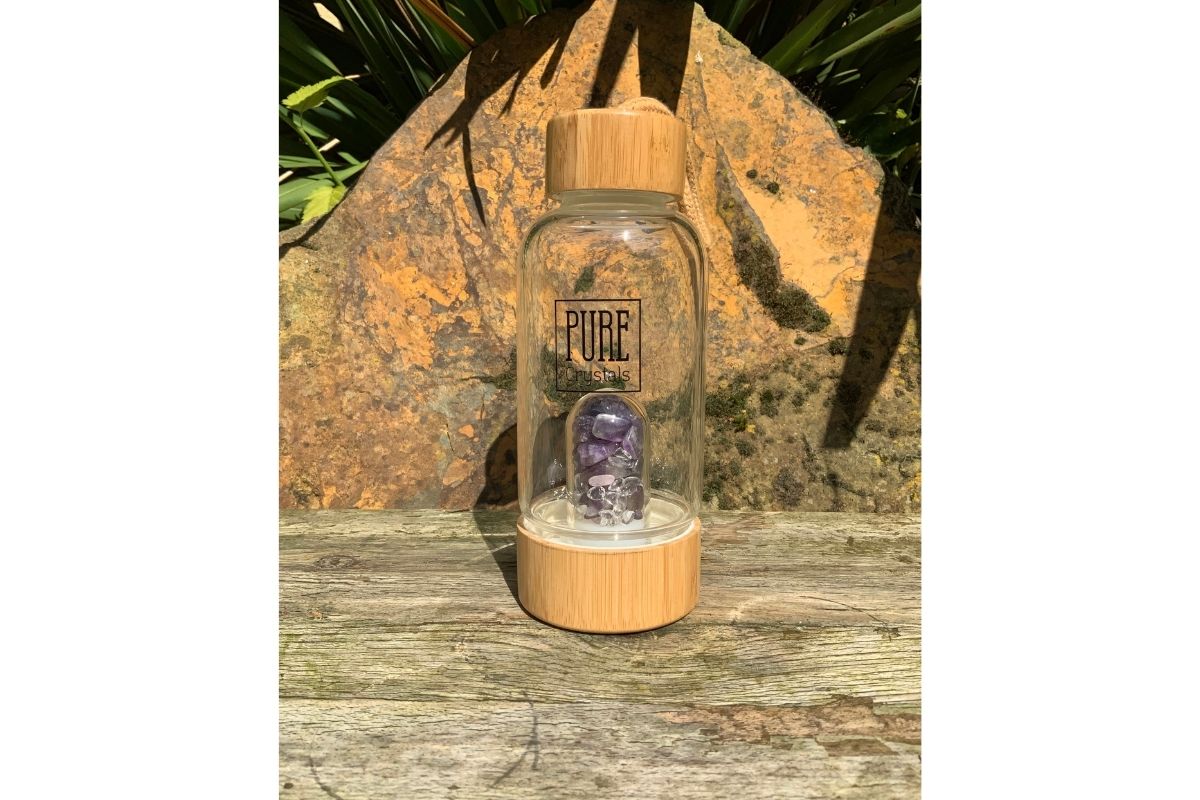 The wellness VitaJuwel crystal water bottle
This is a BPA-free glass bottle, including a pod filled with one of several carefully selected gemstone blends. The gems are sealed inside the pod to prevent contamination.
This bottle includes amethyst, rose quartz and clear quartz. Amethyst is known for stimulating the mind and soothing emotions. Rose quartz encourages tranquility and harmony. And Clear Quartz is a stone for clarity and perception. The perfect combination to improve your wellness throughout your life.
Buy here $78.00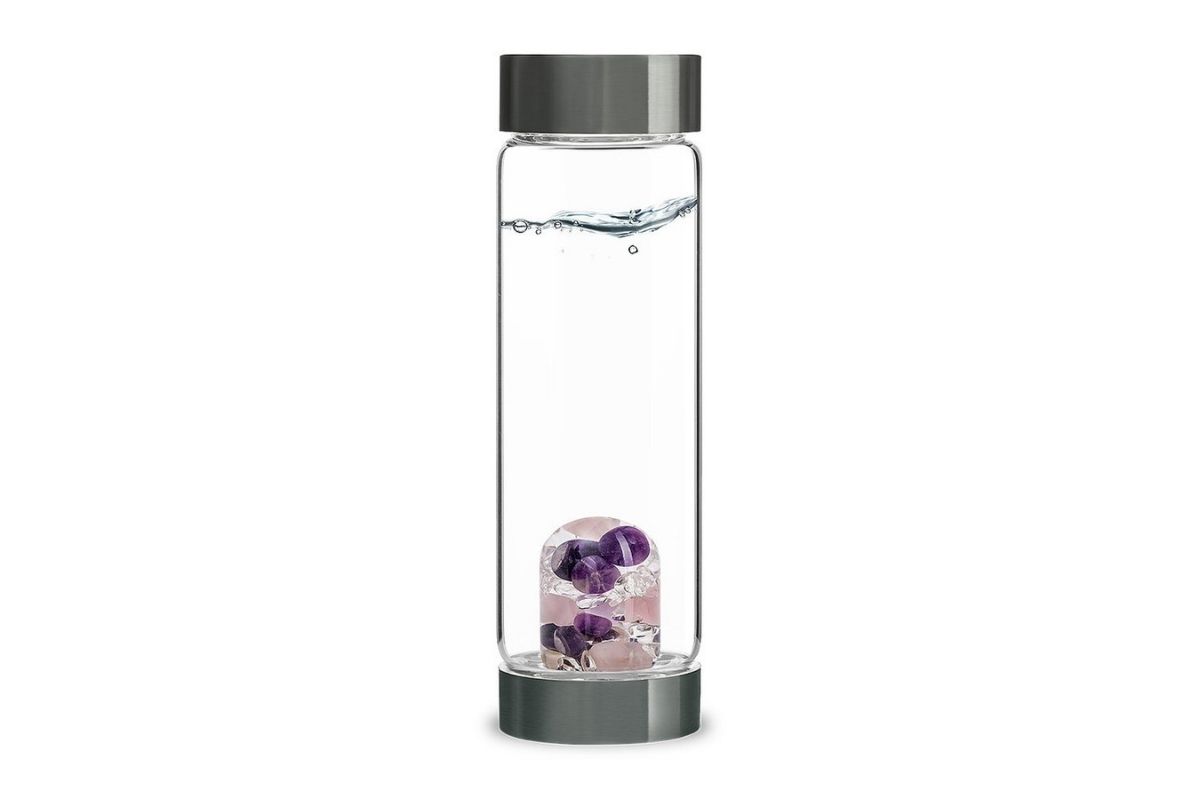 Bewater Abundance glass crystal water bottle
Citrine healing crystals are used to open chakras and sharpen intuition. Citrine is known as "The Merchant's Stone" or "The Success Stone" and is known to bring fortune and wealth to the user. It enhances creativity and motivation, opening up a world of abundance.
This beautiful 650ml glass water bottle contains Citrine Healing Crystals. With this bottle you don't have to buy a new one if you ever want to change your healing crystal power. It has a removable chamber, meaning you don't have to buy different bottle each time.
Each bottle is approx 24cm in height and are dishwasher safe. The bottle has a steel lid and base and is made from BPA free glass. The crystals in the bottles can be charged as per your normal method.
Buy here £39.95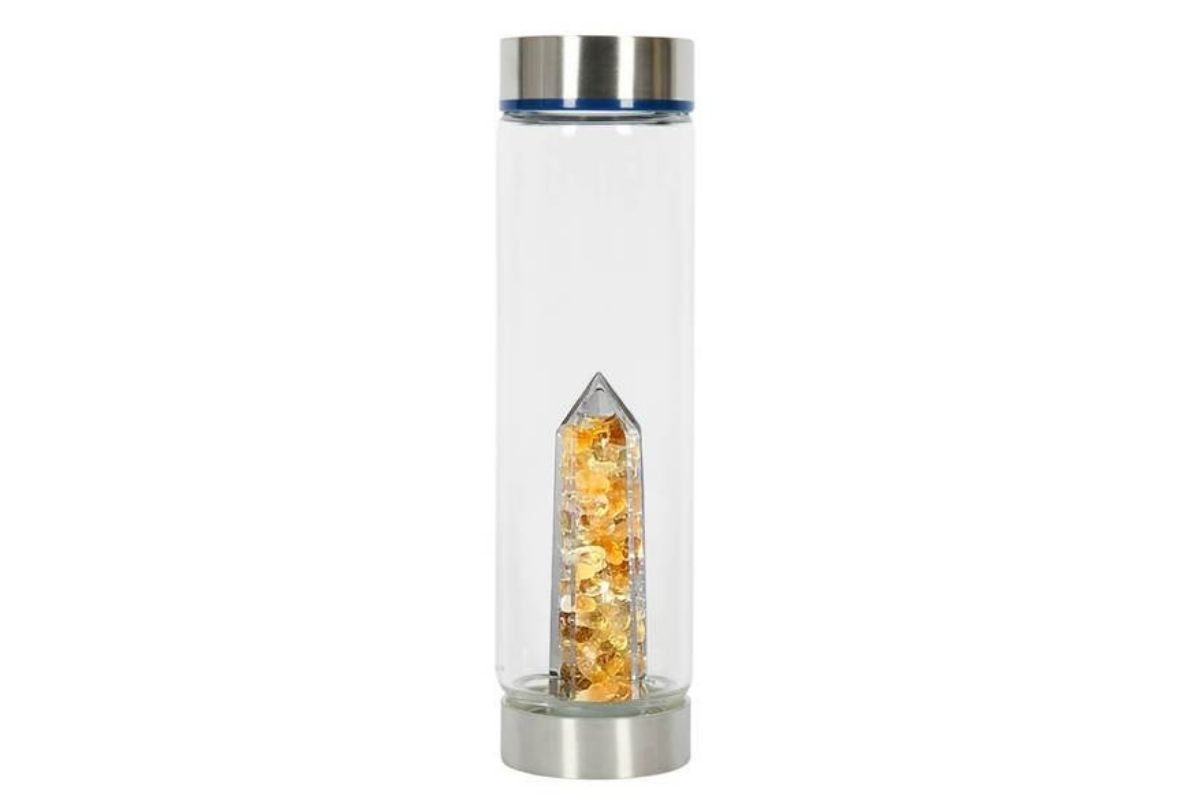 Rose quartz and rock crystal water bottle 
This is one of my favourite on the go crystal water bottles. Rose Quartz has a strong but gentle energy. It is all about love, friendship and compassion. It is associated with staying calm and connecting with others. The bottle holds approx 500ml and has a flip top, lockable lid. It's made from BPA and BPS free plastic and suits hand washing best.
Buy here £22.95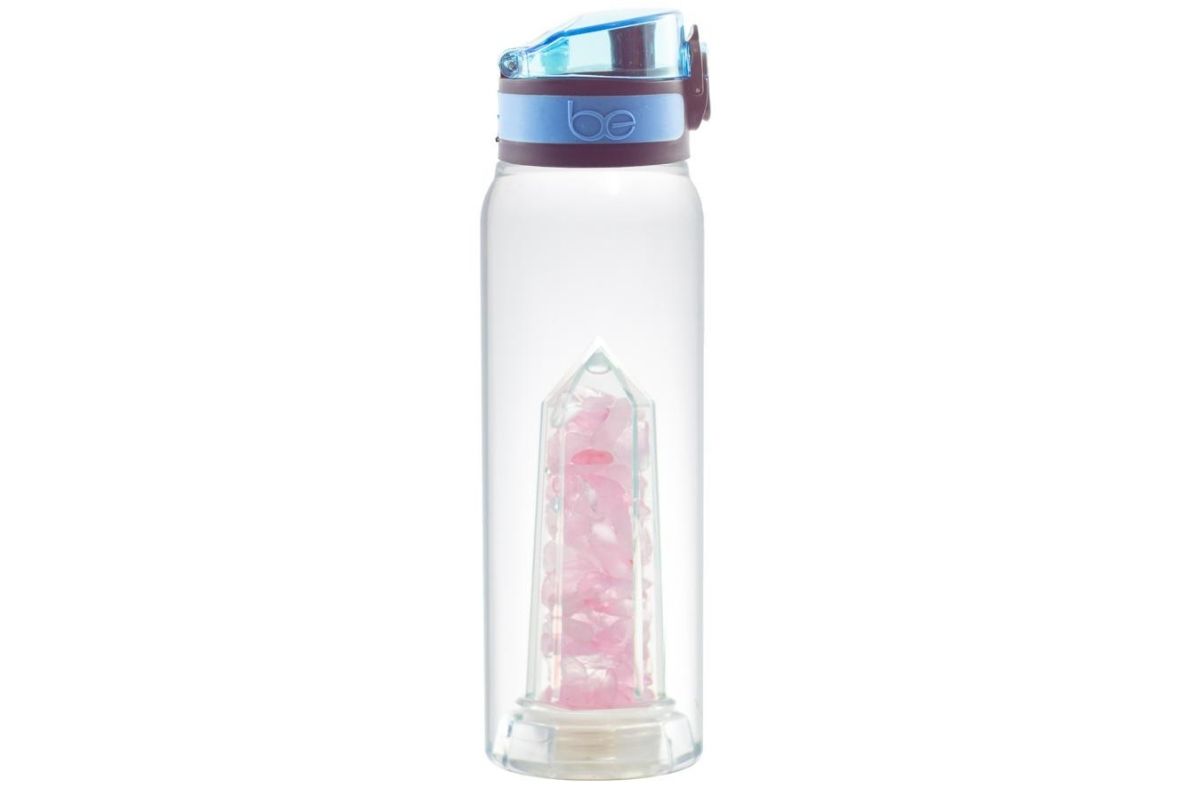 There are an abundance of ways to absorb your crystals energies, but if you're like me and don't go anywhere without your water bottle, then this is the perfect way to soak in all your crystal goodness with minimum effort. Finally, if you're enjoying the crystal hype and want to know more – check out our article on mood crystals – how to find the right one for you
Get your weekly DOSE fix here: SIGN UP FOR OUR NEWSLETTER
FAQs
How do crystal water bottles work?
The crystals in the water bottles are believed to have healing properties that can positively affect the body and mind.
What are the benefits of using crystal water bottles?
The benefits of using crystal water bottles include increased energy, improved mood, and a sense of calmness and balance.
What are the best crystals to use in water bottles?
The best crystals to use in water bottles include amethyst, rose quartz, clear quartz, citrine, and black tourmaline.
How do I clean my crystal water bottle?
To clean your crystal water bottle, simply rinse it with warm water and mild soap. Avoid using harsh chemicals or abrasive materials that can damage the crystals.