We're hurtling towards Christmas and what sounds better than warming up with a Boozy Coconut Hot Choc after a bracing Christmas Day walk? Rude Health have developed three dairy-free cocktail recipes including an Eggless Eggnog and Almond Espresso Martini to ensure every Santa is catered for, after the discovery that as many as 1/3 will opt for dairy-free this Christmas.
It's standard practice to leave out something for Santa to eat or drink on Christmas Eve, as a polite thank you for all their hard work during the festive season, but Rude Health have uncovered 1/31 of Santa's aren't being catered for.
The usual suspects left out include a mince pie, a glass of whiskey but most commonly a tall glass of milk. 41%2 of people said they opted to leave the latter for Santa and his reindeer to enjoy. However, Rude Health have recently learnt that 22 million3 Santa's would prefer a dairy-free option.
This festive season, to spice up your offering to Santa, Rude Health have created three deliciously festive dairy-free cocktails. Whether your Santa is a chocoholic, a coffee connoisseur or has a soft spot for spice, there is a recipe catering for all.
Boozy Coconut Hot Chocolate
Creamy Coconut Drink and hot chocolate are a match made in gastronomic heaven. Turn up the tropical flavours with a shot of rum. A boozy hot choc, fit for a festive celebration.
Serves: 2
Prep time: 5 minutes
Ingredients:
400ml Coconut Drink
25g Chocolate buttons
50ml Rum
Top with marshmallows and a dusting of chocolate
Method:
1. Gently heat the Coconut Drink in a saucepan over a medium heat.
2. Stir in the chocolate buttons until completely melted then add the rum.
3. Take off the heat and top with marshmallows, and grated chocolate.
4. Enjoy!
Dairy-free Eggless Eggnog
No one's ever said no to eggnog. This dairy-free version made with Rude Health Oat Drink is lighter with a subtle sweetness and strikes the perfect balance between nice and naughty (hello, brandy).
Serves: 6 (355ml per serving)
Prep time: 25 mins + 3 hours chilling time
Ingredients:
800ml Rude Health Oat Drink
12 tbsp of aquafaba
130g coconut nectar
130g maple syrup
325ml brandy/cognac
300ml cashew cream (160g of cashews, soaked + 160 ml water)
1 tsp nutmeg
1 tsp cinnamon
2 tsp vanilla extract
Extra nutmeg for grating
Method
1. Mix together the coconut nectar, brandy and maple syrup and let this sit for about an hour.
2. Next, make the cashew cream by whizzing together the drained cashews with water and a pinch of salt in a high-speed blender. Adjust the water if needed, adding more to thin out the cream.
3. Whisk the Oat Drink, cashew cream, vanilla, nutmeg and cinnamon into the mixture from step one. And put this in the refrigerator to chill for 1-2 hours.
4. When this has chilled, whisk your aquafaba with a pinch of sea salt to form stiff peaks and fold these into the boozy Oat Drink mixture. Check the flavour and adjust with more brandy or spices, if you wish.
5. Return to the fridge and chill before serving. Serve chilled with an extra grating of nutmeg.
Recipe by Nena Foster
Almond Espresso Martini
Served with a side of sophistication, Almond Drink adds a subtle nutty sweetness in this twist on a classic cocktail.
Serves: 1
Preparation time: 5 minutes
Ingredients
25ml Rude Health Almond Drink
17.5ml Mr Black's Coffee Liqueur
35ml Chase Vodka
35ml cold brew coffee
Coffee beans to garnish
Method
1. Combine all ingredients in a cocktail shaker with lots of ice and shake for several minutes until combined
2. Pour the cocktail into a martini glass and garnish with coffee beans
3. Enjoy!
For dairy free milk alternatives, visit rudehealth.com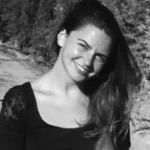 Hettie is the editor and co-founder of DOSE. A keen runner, she's also partial to a blast of high-intensity and hot yoga. A country girl at heart, she divides her time between London and the lush rolling hills of North Devon. When she's not jetting off on her next adventure, Hettie can be found in a candle-lit alcove with a laptop, a spaniel and a full bodied Malbec.