Whether you're looking to mix up your midweek meals, or play the domestic goddess, these recipes are sure to impress!
In celebration of Organic September (yes, it's a thing…) the team at The Soil Association have put together some easy, cheap, organic meals to make at home. From curried cauliflower with quinoa by organic fruit and vegetable delivery box Abel & Cole to coffee infused burgers by organic coffee roasters Cru kafe.
Bon Appétit!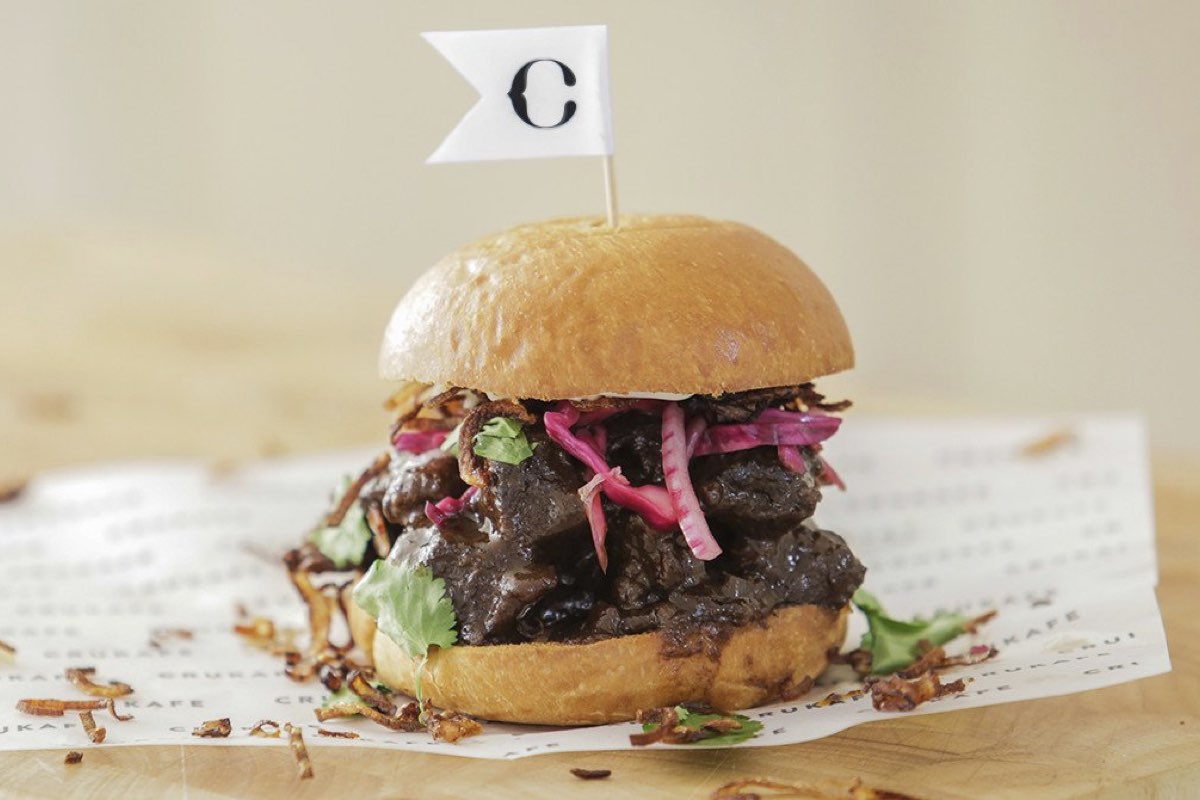 CRU Kafe's Organic September Coffee Burger
"If you're looking to combine your love of coffee with your love of food then we have the perfect recipe for you. This one is slightly more complex than our usual recipes but it's definitely worth the effort, and just in case you feel overwhelmed our co-founder John is on hand to walk you through it step-by-step." – CRU Kafe
Ingredients – Serves 4
• 250g organic beef cheek diced
• 75g organic streaky bacon sliced into strips
• 2 organic shallots sliced
• 50g organic plain flour
• 25g organic English mustard powder
• 50ml organic olive oil
• 300ml CRU Kafe Dark Roast espresso
• 2 tbsp organic garlic puree
• 1 tbsp organic tomato puree
• 2 tbsp organic chipotle puree paste
• 2 tbsp organic muscovado sugar
• 4 x organic brioche burger buns
Garnish
• 1/4 organic red cabbage
• 1/2 organic red onion
• 250ml organic red wine vinegar
• Organic coriander
• Organic crispy fried shallots
• Squeeze of organic mayo
Method
1. Pour over 2-3 tbsp of olive oil into a large earthenware dish, place on stove and bring to a medium/high temperature.
2. Meanwhile dust the beef cheek in the flour and mustard powder, season with salt and pepper.
3. When the oil is hot, brown the meat off in batches; making sure not to overfill the pan.
4. Once all the meat is done, fry the bacon and shallots. Cook until it caramelises.
5. Next add in the garlic puree, tomato puree, chipotle puree and cook for a further 2 minutes.
6. Finally, add the coffee and sugar. It will thicken to form a jam-like mixture.
7. Once that is done add the beef back into the pot, place a lid on it and reduce the heat to a bubble. Cook low and slow for 2 1/2 hours.
8. In the meantime, slice the cabbage and red onion thinly, pour over the vinegar and leave to pickle.
9. Once the meat is cooked, so it falls apart on the fork, turn the heat off and allow it to cool slightly.
10. Toast the brioche burger buns – a griddle pan is best to get the core marks. Pick some leaves of coriander and drain the red onion and red cabbage pickle.
11. To serve, spoon the beef cheek mixture into the burger bun, slightly straining excess coffee gravy first. Then place the pickle on top and scatter with coriander leaves. Crumble the crispy shallots on top and then dress with mayo before sticking the top bun on.
Abel & Cole's Organic September Curried Coconut & Roast Cauliflower Quinoa
Abel & Cole deliver boxes of organic fruit & veg to happy, healthy homes across the country.
Ingredients – Serves 2
Takes: 50 mins
• 1 organic cauliflower
• 2 tbsp organic olive or coconut oil
• A pinch of organic cayenne pepper
• Organic sea salt
• 150g organic quinoa
• 1 organic onion
• A thumb of organic ginger
• A thumb of organic turmeric
• 1 organic garlic clove
• 6 organic cardamom pods
• 1 tsp organic mild curry powder
• 200ml organic coconut milk
• 200ml organic boiling water
• 25g organic raisins
• 50g organic baby leaf spinach
• 1 organic lemon
• 35g organic peanuts
• Organic freshly ground pepper
Method
1. Heat your oven to 200°C/Fan 180°C/Gas 6. Chop the cauliflower into bite-sized chunks, saving the leaves. Toss the cauliflower florets with 1 tbsp oil, a pinch of cayenne pepper (it's spicy) and a light sprinkle of salt. Place on a baking tray and slide into the oven for 15 mins.
2. After 15 mins, add the reserved cauliflower leaves to the tray and turn everything to mix. Slide back into the oven for 10-15 mins, till the cauli is tender and golden at the edges, and the leaves crispy.
3. While the cauliflower is roasting, pop the quinoa in a sieve and rinse well under cold water (this stops it tasting soapy). Set aside. Peel and finely chop the onion. Peel and grate the garlic, ginger and turmeric. Using the back of a knife, crush the cardamom pods to open them a little.
4. While the cauliflower is roasting, pop the quinoa in a sieve and rinse well under cold water (this stops it tasting soapy). Set aside. Peel and finely chop the onion. Peel and grate the garlic, ginger and turmeric. Using the back of a knife, crush the cardamom pods to open them a little.
5. Place a large pan on the heat for a couple of mins, then drizzle in 1 tbsp olive oil. Add the onion and cook for 5 mins. Then add the garlic, ginger, turmeric, 1 tsp curry powder and the cardamom pods. Cook for 1 min, stirring constantly.
6. Pour in the coconut milk and 200ml boiling water. Add the quinoa and raisins. Bring to a bubble, then pop on a lid. Simmer on a low heat for 15 mins, till the quinoa is cooked and the liquid has been absorbed. Stir every now and then. Remove from the heat and leave to rest for a couple of mins.
7. While the quinoa is simmering, set a frying pan on the heat, still set to low. Toast the peanuts for 3-4 mins, shaking the pan now and then. Tip them on to a clean tea towel to cool. When cool, rub the skins from the peanuts and roughly chop them.
8. Stir the spinach through the quinoa. Zest in the lemon and add the juice from 1 half. Taste and adjust the seasoning. Spoon the quinoa into warm bowls and top with the roast cauliflower florets and leaves. Serve with a scattering of toasted peanuts, lemon wedges for squeezing and more cayenne, to taste.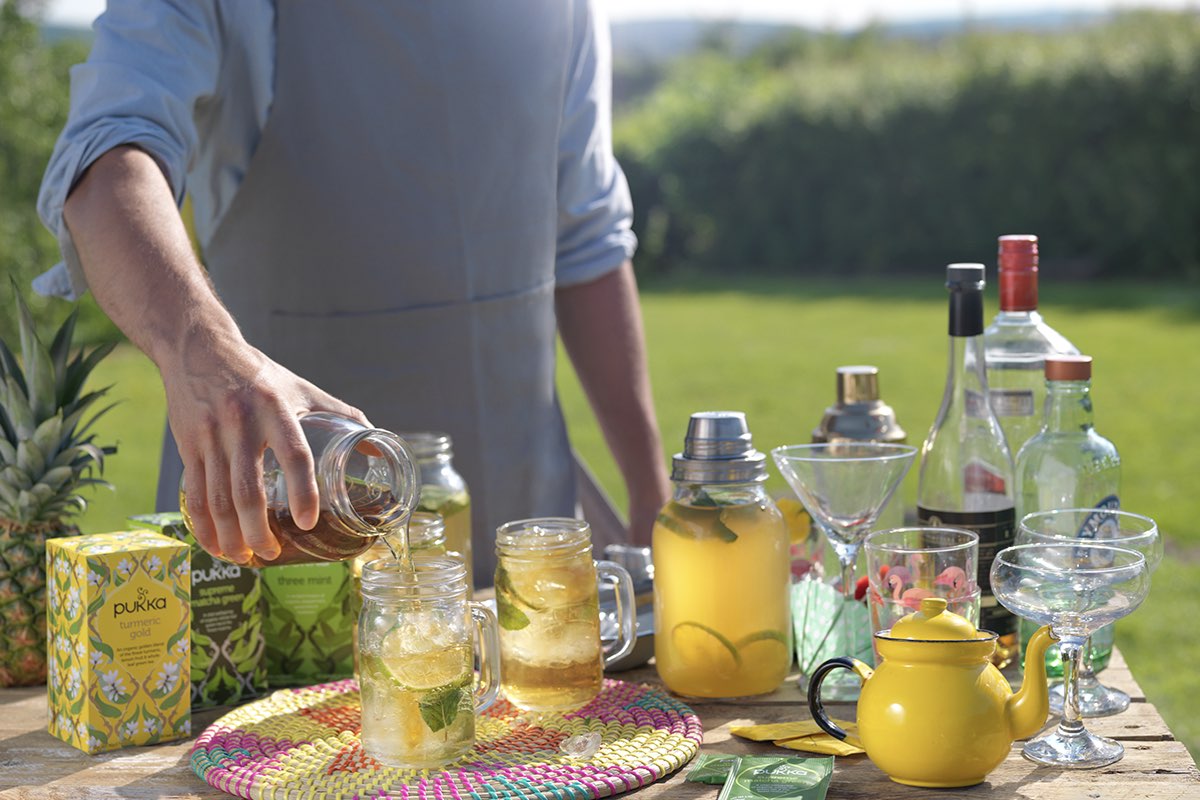 Pukka's Organic September Supremely Wild Sparkler
"This fabulous, fizzy cocktail lets the wild ones sparkle. Infused with Pukka Herbs' energising Supreme Matcha Green and sweet Three Licorice blends, this is the perfect drink to enjoy with friends" – Pukka
Ingredients – for 15 servings
• 3 bags Pukka Herbs' Supreme Matcha Green tea
• 1 bag Pukka Herbs' Three Licorice tea
• 1 bunch fresh mint leaves
• 2 1/2 tbsp brown sugar
• 25ml /1 shot white rum (per glass)
• 1 bottle Prosecco
1. Cover the tea bags with 750ml freshly boiled filtered water
2. Leave to infuse for 15 minutes in a covered container
3. Strain and leave to cool to room temperature, then place in the fridge for 15 minutes
4. Muddle the mint leaves in brown sugar and add one or two leaves to each glass
5. Fill half of each glass with the tea, add a shot of rum to each glass and then top up with Prosecco. Enjoy!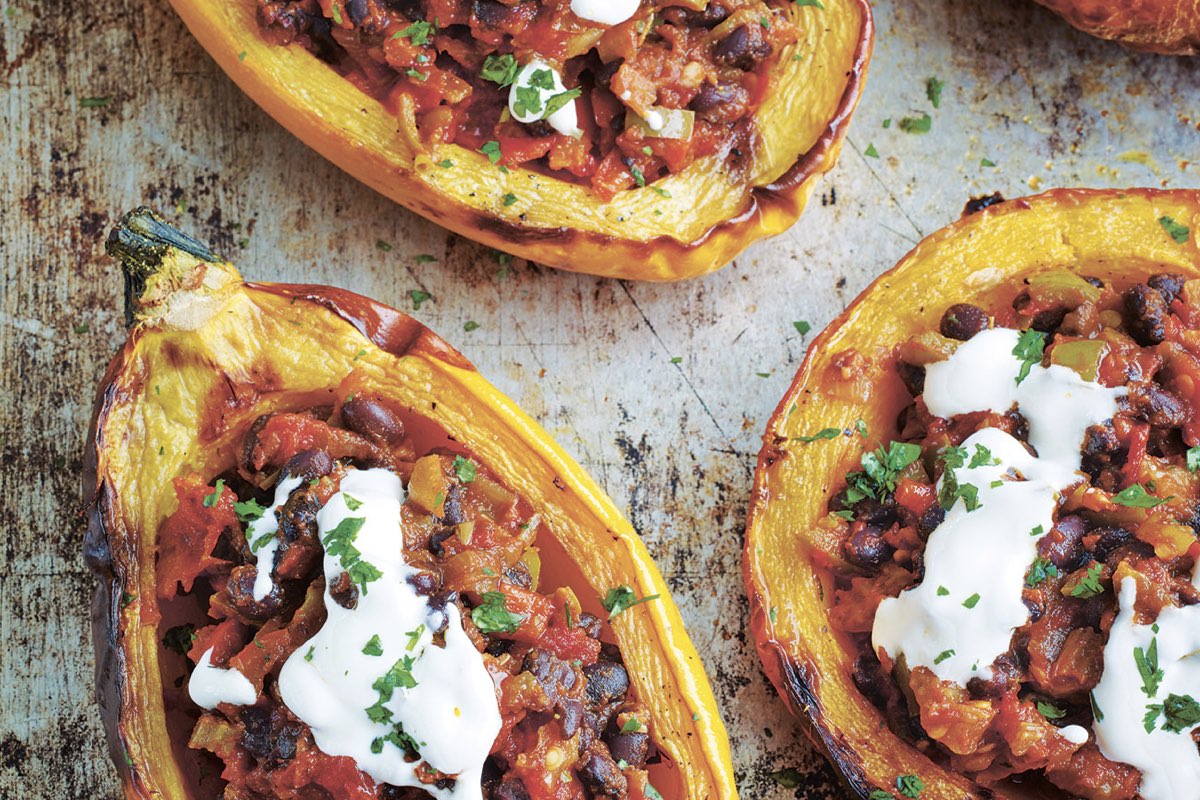 Riverford's Organic September Squash and Black Bean Chilli
"Either stuff a whole squash with the chilli, or dice and roast the squash and add it to the chilli. The latter opens up a whole variety of serving suggestions: eat it with rice or in a baked potato; top it with a dollop of soured cream, some spicy tomato salsa or some guacamole; stuff it in a taco with some grated cheese; or spread it over a tortilla. If you are stuffing the squash you will need to use one that is a suitable size and will hold its shape when cooked, such as onion squash." – Riverford
Ingredients – Serves 4
• 1 medium organic butternut, large onion or smallish crown prince squash
• 2 tbsp organic olive oil, plus extra for roasting
• 1 large organic onion, chopped
• 4 organic celery sticks, finely chopped
• 1 organic red pepper, deseeded and chopped
• 1 organic green pepper, deseeded and chopped
• 3 large organic garlic cloves, crushed
• 1–2 tsp crushed chipotle organic chillies (if you can't source them, substitute another fresh or dried red chilli)
• 1 tsp dried organic marjoram or handful of fresh oregano
• 2 organic bay leaves
• 2 tsp organic ground cumin
• 1 x 400g can organic chopped tomatoes
• 2 x 400g cans organic black beans, rinsed and drained
• juice of 1 organic lime (approx. 2 tbsp)
• small bunch of organic coriander, finely chopped
• organic salt and black pepper
• grated organic cheese and/or organic soured cream, to serve (optional)
Method
1. Heat the oven to 180°C/Gas 4.
2. If stuffing a whole squash, cut it in half, scoop out the seeds and pulp, and stuff each half; or roasting in chunks.
3. Heat the oil in a large heavy pan over a medium–high heat. Add the onion and celery. Reduce the heat to medium, and cook, stirring occasionally, for about 10 minutes until soft. Add the peppers and continue cooking for a further 10 minutes or so, stirring frequently.
4. Stir in the garlic, and cook for another minute. Add the chilli, 1–2 teaspoons of salt, 1 teaspoon of black pepper, the herbs and cumin. Give everything a good mix then add the tomatoes. Simmer, uncovered, for about 30 minutes. Stir in the beans and continue to simmer for a further 10 minutes.
5. Remove the bay leaves, stir in the lime juice and coriander and adjust the seasoning to taste.
6. If using roast squash, add it now, heat through, and then serve. If stuffing a whole squash, fill each roasted squash half with the filling mixture.
7. Top with grated cheese or soured cream (or both), if you like.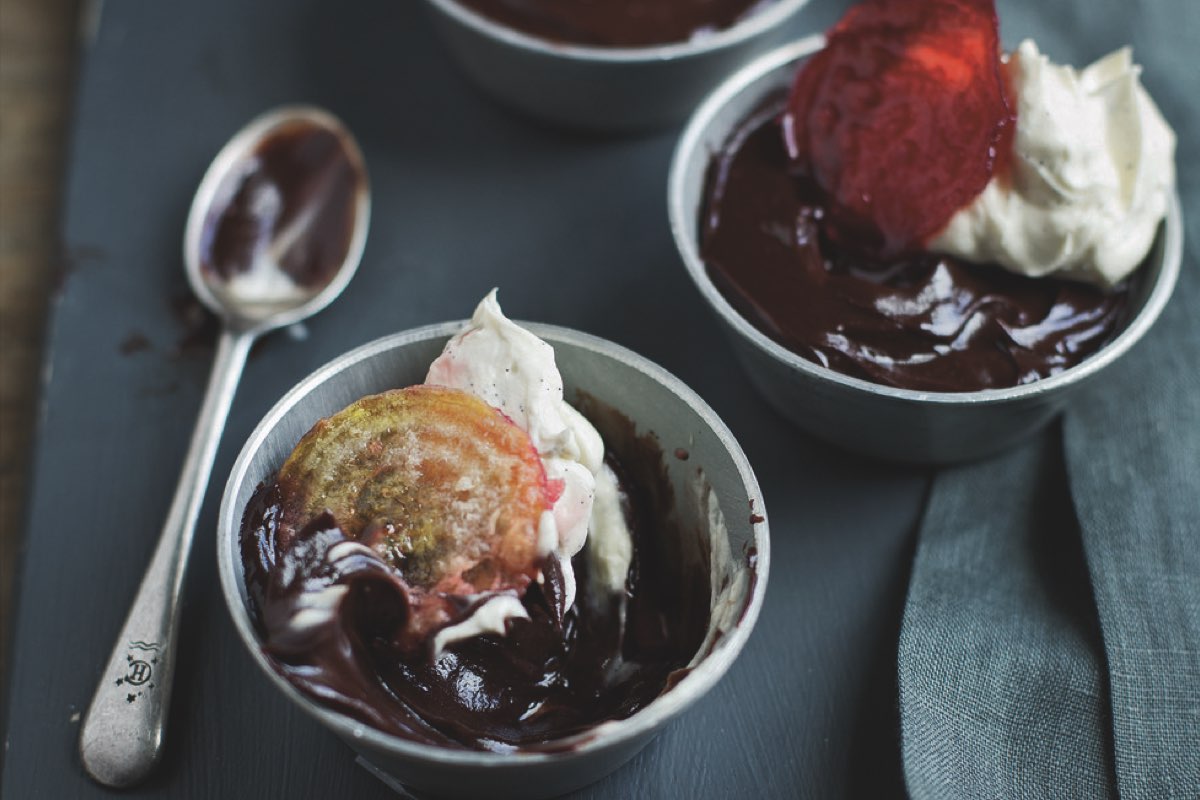 Tom Hunt's Organic September CANDIED Beetroot Chocolate Pot
"This is an intensely rich dessert, so the smallest pot is all you need. The candied beetroots make nice chewy morsels." Tom Hunt
Ingredients – Makes 6-8 small pots
For the candied beetroot:
• 150g organic unrefined sugar
• 100ml water
• 1 medium organic beetroot
For the chocolate pot:
• 100g caramelized organic beetroot syrup
• 200g organic Dark chocolate 70% cocoa, broken into small pieces
• 220g organic double cream
Method
Candied beetroot:
1. Wash the beetroot and peel if the skin is very rough. Cut into slices as thinly as you can.
2. Boil the sugar with the water, stirring until the sugar is dissolved. Add the beetroot slices and simmer for 10 minutes until the beetroot is sweet and soft.
3. Lay the beetroot slices onto a sheet of baking paper on a tray. Keep the syrup to use as a sauce.
4. Put in the oven at 170C for ten to fifteen minutes to caramelise them further. Be careful not to overcook them as they will go bubbly and burnt, tasting of nothing. Allow to cool.
Chocolate pot:
1. First prepare the candied beetroot from the recipe above. Put 8 aside to decorate the pots. Chop the rest into small pieces.
2. Melt the chocolate in a bowl over a pan of hot but not boiling water. Chocolate melts at body temperature so doesn't need excessive heat to melt it. Stir gently. When melted remove from the heat.
3. Slowly stir in the beetroot syrup, then the cream.
4. When the mixture is smooth add the chopped caramelised beetroot.
5. Pour into 6-8 small pots. Serve with a spoon of whipped cream, a slice of candied beetroot and drizzle of beetroot syrup.
Storage: Candied beetroot will keep for a month in a tub in the fridge. Chocolate pots will keep for 4 days covered in the fridge.
More recipes and variations:
Chocolate spread – if in the unlikely situation you have spare, this makes an amazingly decadent alternative to Nutella.
Candied beets with goat's cheese – top the candied beets with some organic soft goat's cheese as a canapé. Good for an amuse bouche or as part of a cheese course.