It can be really tough when you're, ahem, "well-endowed" to keep the girls under control during downward dog, a fast jog on the bike. And let's not even talk about the feeling during long runs or star jumps when you feel your breasts might be making a run in a totally different direction. Looking for the best sports bras to tame those ta-tas? We sent Stacey to test drive the biggest brands – so you don't have to.
Let's get it right out there – I'm a 36DD and for years, I've been wearing the UnderArmour Mid-Impact, which squashes me down nicely.  But unfortunately, every time the bra gets wet (and this girl sweats), that bra also stretches and allows for jiggle – and that jiggle is gonna get you when you've got bigger boobs (as will the show-through).
So before checking out the best active/high-impact bra options (and sharing all of my details on this epic quest), I talked to Ashley Scott, Brooks Technical Representative – Greater London & East Anglia, to find out what I needed to look for.
First, "Sports bras should be comfortable! Comfort is key!" Ashley says. To ensure you have the right fit, she explains, you need to make sure the shoulder straps aren't digging in, the band should lay level around the body and not be pulled up at the back with about 5cm of give when pulled from the back. If the bra has a clasp/hook and eye at the back "you want it to fit perfectly of the last clasp, that way as the elastic gives over time you can tighten the bra," Ashley adds.
Finally, check yourself in a mirror. "Cups should not pucker or wrinkle when standing straight with arms at the side; if they do, it's probably the wrong cup size.  Also all breast tissue should be help inside the cup. So look for overflow under the arms and cleavage should be covered. Even though it is trendy at the moment to have a little on show, know that it means your bra may not be supporting to the level you need," Ashley points out.
So do I really need a high-impact bra? Depends on what I plan to do for exercise, Ashley says. "Most women who start approaching a D cup will prefer a high-impact bra. DD and up it's almost a must for high impact activities such as running, horseback riding, but for cycling, yoga, cross training, or Pilates, you could use a mid-impact.  Structured bras or high-impact bras tend to be made out of stiffer materials without as much elastic. And the bottom band tends to not give as much as well," she adds, reminding me that most of the support in a bra comes from the bottom band, so the stiffer the band, the more supportive the bra.
So what about all those gorgeous, sexy, strappy bras on show in every Insta post of every influencer everywhere? Well, turns out they have a place too – and my A-B cup sisters can absolutely rejoice and wear those with pride. "We have found that low or medium impact level bras actually support smaller breast sizes better than high impact," Ashley notes. And the reason we don't see the strappy, sexy look in high-impact, larger size bras? "More panelling is required for bras to properly support larger sizes."
Finally, everyone should be prepared to try on different sizes – one of the things I learned in testing the bras was that my bra size (36DD) was not necessarily the size I needed in a high-impact bra. In some of them, 38 DD or E was a better fit. So be prepared and if it's your first time in a style, definitely go to the store and try some on first before purchasing (sorry, Amazon).
So with all that in mind, I went and tested #ALLTHEBRAS over a month. To make it a bit more scientific, I noted how easy/hard each were to put on, and wore each bra to run, to spin, and to do a mat-based class (yoga, pilates or tone) to see how they performed.
Here's what I found (listed in order of testing):
Putting it on:  WOW this is tight, and I ended up doing that thing where you accidentally punch yourself in the face getting it situated. Note that you have to really move the girls around to get them in so it fits and the bra is on properly. But the overhead pull-on is a plus – no fiddly hooks. That said, the band is tight. Like TIGHT tight.
Looks: I like the lightning storm print. Unfortunately for me it's very skimpy in cut – so if you've got side boob like mine, prepare for some unsightly underarm spillage and also quite a bit of cleavage; I pull out a high-neck tank to go over it because it really just does show too much to consider wearing without. There's no lining per se but fortunately minimal show through.
Performance: There's a reason that this bra is considered the "go-to" bra for girls with boobs – absolutely nothing moved in any class or during the run. No jiggle. No bounce. But there were some real downsides for me – the band rode up a bit, and the fabric, while nice and light, doesn't wick at all (though it doesn't stretch when wet) and I spent a lot of the workout with wet boobs as a result, plus the combo of tight and wet chafed a bit.
Verdict: Does what it needs to do in keeping the girls tamed once positioned – but the cut is too skimpy for me, and the lack of wicking is a big problem. That said, if they made a fuller-coverage version, in a different type of fabric, I'd try it.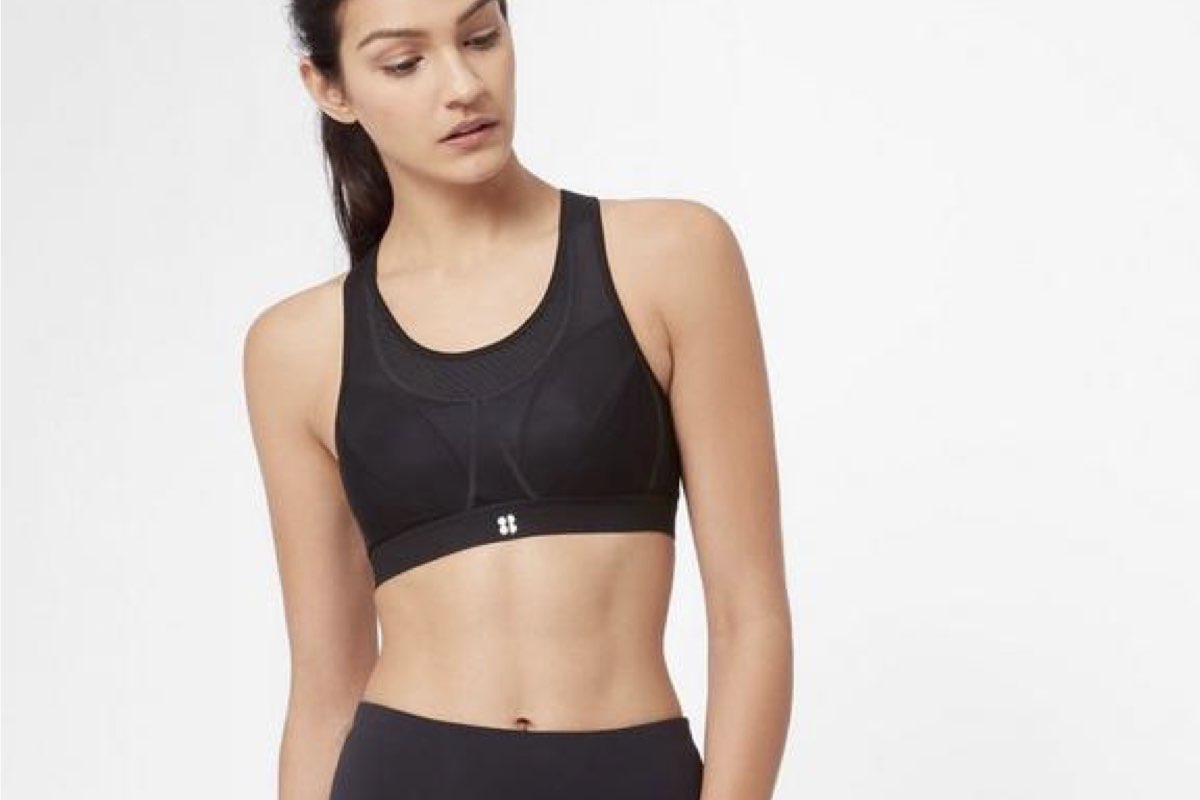 Putting it on: Turns out that I actually need a 38E instead of my normal 36DD in order to get into the bra and have the band work. This one has hooks – and it's bit hard to close, but after a few tries (ok, it took about 5 minutes, I'm not good at this) I make it close on the last hook.
Looks: OK, so this one looked like my Gramma's bra from the 50s – it's that structured. That said, once you get past that aesthetic, it's got a higher neck which I love – no cleavage – and gratefully, absolutely no side boob due to the high cut arms (the highest of the ones I tested). Coverage is great – but it still looks like Gramma's bra, so I tug on a tank. Surprisingly, this bra did that magical thing where when I pulled a top on over it, made me actually look leaner overall due to its overall coverage.
Performance:  It stayed firmly in place through two classes plus a jog home, no jiggles. And while normally my bra is drippy wet after one class, this beauty wicks like a champ and I felt cool, not drippy. It felt great.  The band stayed firmly in place. The only minuses? It's really not a pretty bra, there is a clip between the shoulder blades on this model, and you must clip the shoulder clip BEFORE putting it on or you'll yank your shoulder out of its socket trying to make it happen. (Trust me on this). And you do feel those shoulder hooks when lying flat and in really twisty poses.
Verdict: Going into regular rotation for workouts; I absolutely love the wicking and the support combo. Perfect for pretty much anything, but I felt the hooks dig a bit during my mat-based class; that said, it gets bonus points for keeping me mostly dry and cool and for not feeling as structured as it looks, and for making me look amazing in a tank top.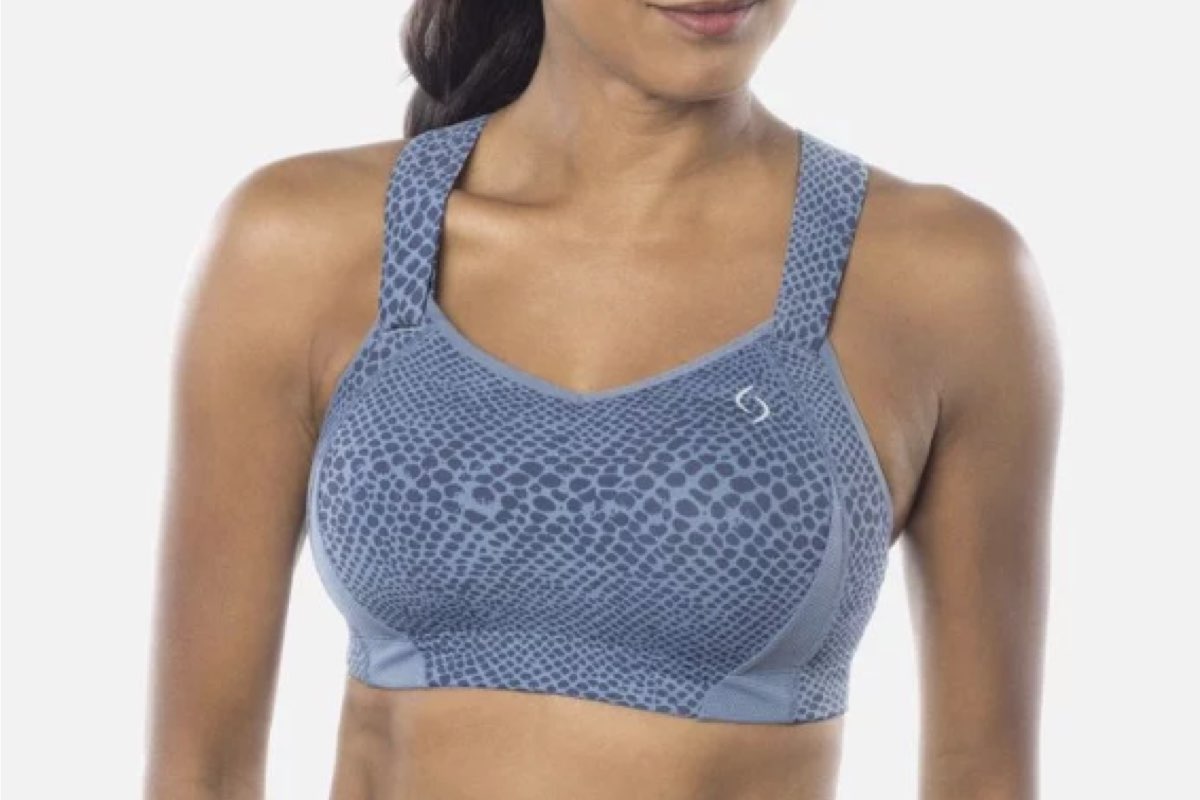 Putting it on: The band on the 36DD is CRAZY tight and after 8-10 minutes hopping, stretching and trying to get the band to clip, I gave up, pulled it overhead and undid the straps, then did the down and around move I've perfected with my normal bras – (fortunately the strap Velcro made that a possibility) and MacGyvered it into place.
Looks:  Moulded cups (for those of us with happy nips that's a huge plus), and it gave me a decent line under my tank without giving me the dreaded "shelf" look, though it's not cut as high under the arms as I'd like to avoid side boob. It has straps that adjust with Velcro in the front – allowing really exact strap length changes without all the reaching – and the straps are nicely padded. I'd definitely wear a tank or shirt over it, though.
Performance: The band stayed really tight and didn't have much give, and the hooks dug in quite a bit; the most chafing happened during a mat pilates class where I felt the hooks just poking at me like that was their job. That said, it was absolutely fine and supportive during a run and nothing moved through three hours of workout. It also had nice uplift which made me feel more feminine while giving me the support I need, but the band did ride up during the run. The biggest drawback? The padding is a moisture magnet.
Verdict: The padding makes this bra incredibly hot – I sweated extra hard with this one. Also, I "felt" the bra the entire time I worked out. Would be best for long (cold) runs.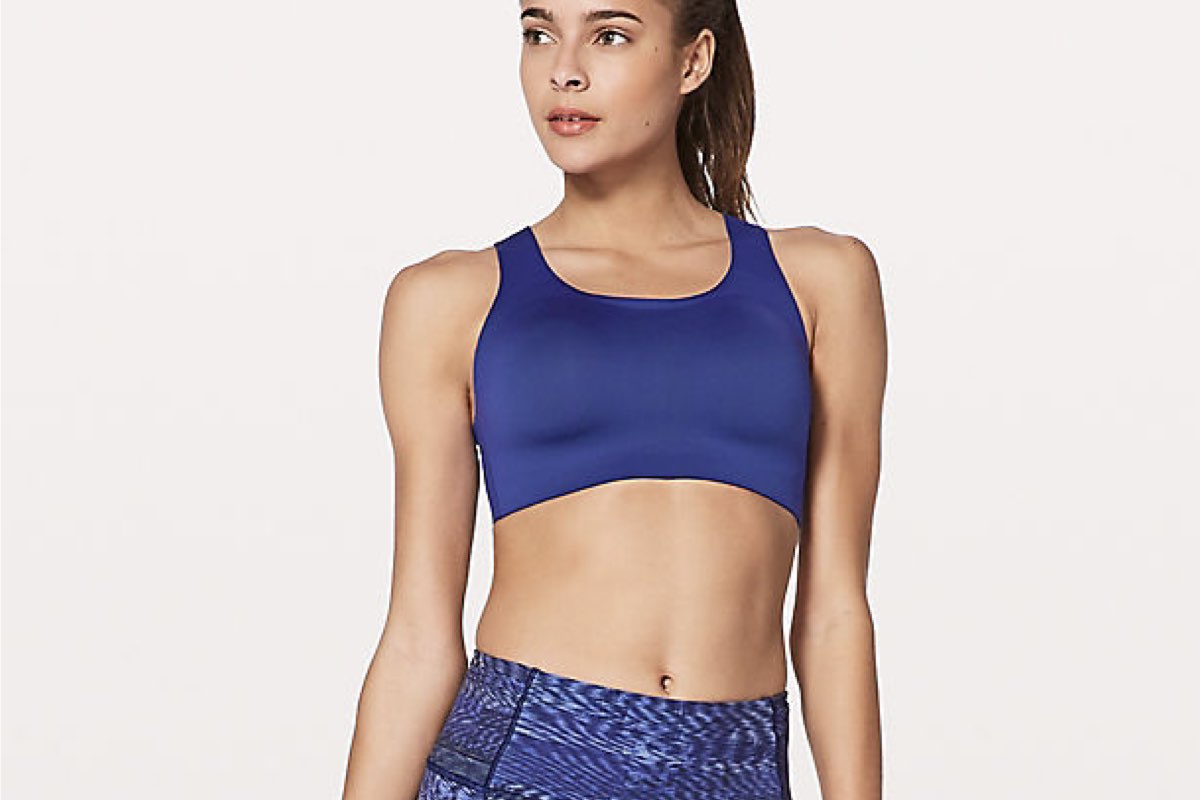 Putting it on: Like the Sweaty Betty, I need to go up a size to make it work (this time to 38DD), and these back closures always get me (seriously, why don't designers sort this out? There has to be an easier way?) That said, once I lift the hooks a bit from the material (where they lie totally flat) it's a bit easier, and hooked on it's the most comfortable I've tried. I know it's there – but the tech material is incredibly soft, there are NO seams anywhere, which is really nice.
Looks: It's a pretty design – they've done their best to make it look pretty in back, with multiple straps that do lay completely flat. The front – full coverage but very smooth. Moulded cups, high cover under the arm – NO side boob – and a perfect line under the tank top – but for once, I could actually see wearing this bra without a tank over it (result!)
Performance: I feel supported but comfortable; didn't feel it at all when on the bike, knew it was there keeping me tucked in during a run – note there was bounce but it was very muted bounce when running – and the hooks don't even dig during a mat class. The moulded cups do collect sweat but not terribly so, and overall it keeps me pretty dry and cool.
Verdict: Definitely going into the front of the drawer for regular use; comfortable enough to wear all day. I might wear a more structured bra for long runs, but otherwise, this is my choice for all-round use.
Hettie is the editor and co-founder of DOSE. A keen runner, she's also partial to a blast of high-intensity and hot yoga. A country girl at heart, she divides her time between London and the lush rolling hills of North Devon. When she's not jetting off on her next adventure, Hettie can be found in a candle-lit alcove with a laptop, a spaniel and a full bodied Malbec.