Whether you stick it, spray it or roll it – you want to know what's in it. Natural deodorant is on the rise as more of us are waking up to the harmful ingredients found in synthetic versions. But are natural underarm products as effective as their chemical packed counterparts? Only if you're prepared to go on a deodorant detox first say the experts…
Do you need to go on a deodorant detox?
If people can make it through three month's of lockdown without shaving or waxing their body hair, you'd think I'd be able to make it through a two week deodorant detox. But it's a daunting prospect.
Malin and Goetz products have almost become synonymous with my gym routine. The mainstay of most shower cubicles in London's top fitness studios, their peppermint infused shampoo and bergamot body wash always leave me feeling fresh and energised, as I revel in my post-workout high. Despite its cult status, I have yet to try their best-selling eucalyptus deodorant, put off by reports from friends that natural deodorants in general simply "don't work". But following the launch of Malin's new bergamot deodorant, I decide to put it to the test.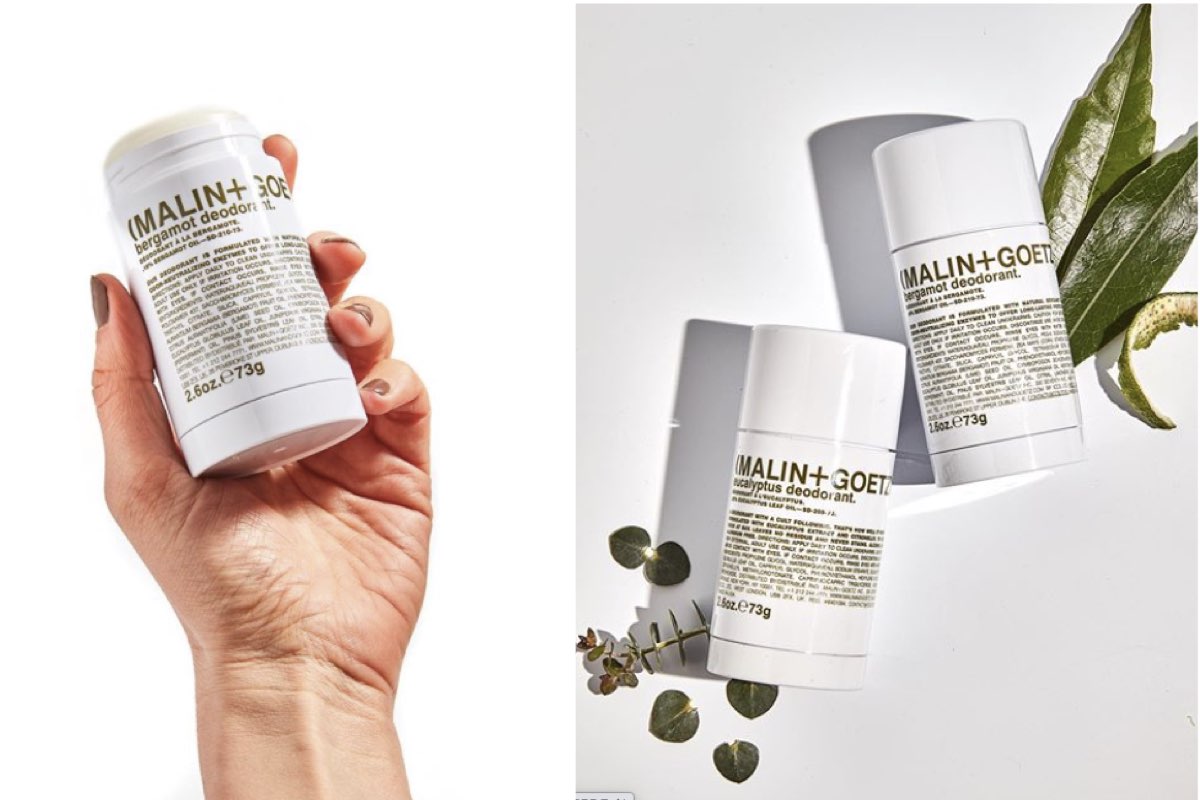 Week 1 of deodorant detox
The first swipe of the botanical oil infused stick, like the rest of their products, is a joy to the senses, with its fresh, citrussy aromas of cedar, bergamot, eucalyptus, lime, peppermint, lemongrass and pine. But by the end of the first day, my armpits are undoubtedly damp. On the plus side, it seems the saccharomyces ferment filtrate, derived from vegetable fermentation, rich in probiotic enzymes, have kept my underarms fresh and free of body odour
But it's only day 1 and I'm told by the experts at Malin & Goetz, who have been making clean, natural deodorant for over 10 years, that if you are making the switch from antiperspirant to natural deodorant, you need to first put in a little sweat work, to detox yourself from the chemicals found in your standard deodorant. Two weeks minimum – apparently. "Ingredients like aluminium that are found in traditional deodorants disrupt the body's natural process of perspiration. When you stop using these, your body produces more sweat than it naturally would in order to purge all the built-up toxins in your sweat glands", they say.
Week 2 of deodorant detox
At the start of week two, I start using a bergamot hand and body wash to cleanse my underarms to prep them for the deodorant before applying. This makes the deodorant work even better, warding off odour for longer.
Why am I doing this again? I have to remind myself, when a quick blast of my trusty antiperspirant would keep damp pits at bay through a 12 hour cycle. Because what's the point in exercising and trying to eat well but then slathering myself with chemicals like; aluminium, alcohol, baking soda and parabens – especially when there's research linking these chemicals to health complications and irritation.
Chemical irritation
According to The National Cancer Institute, aluminium-based compounds are used as the active ingredient in antiperspirants. These compounds form a temporary "plug" within the sweat duct that stops the flow of sweat to the skin's surface. Some research suggests that aluminium-containing underarm antiperspirants, which are applied frequently and left on the skin near the breast, may be absorbed by the skin and have oestrogen (hormonal) effects.
Oestrogen can promote the growth of breast cancer cells, and some scientists have suggested that the aluminium-based compounds in antiperspirants may contribute to the development of breast cancer.
And about those stubborn yellow t-shirt marks that require yet more chemicals to remove. That's also down to aluminium, which is used in anti-perspirants to inhibit perspiration and the chemical reaction with the sweat is what causes staining.
Other harmful ingredients found in synthetic versions include alcohol, which can dry out the skin and cause irritation, and baking soda, which has a pH level of 8.3, incompatible with the skin's natural pH level of 5.5. When used in deodorant, it may cause a reaction on the skin and can lead to irritation.
The verdict
By midway through the second week, the detox is finally working its magic, my underarms feel more dry, thanks to a natural corn starch that absorbs excess moisture, and I am also now in the a routine of prepping my underarms with a bergamot body wash and applying the deodorant. All things considered, worth it for the invigorating, citrussy aroma and the longterm health of my underarms – with no stained white tees to speak of.
Malin & Goetz Bergamot Deodorant costs £19. It's vegan, cruelty-free and what's more, the packaging will be transitioned to 100% recyclable polypropylene by the beginning of fall 2020.
This is a partnership feature with Malin & Goetz
Get your weekly DOSE fix here: SIGN UP FOR OUR NEWSLETTER