Perhaps the most bucket list trip ever, Chira explores three different Balinese destinations. They're envy-inducing and seriously dreamy. First up: Eden in Seminyak…
Where
There's a little bit of culture shock in Bali, in the best possible way. We land at the airport to find hundreds of drivers holding names and calling out signs, but within minutes we are headed to Eden, a gorgeous villa complex in Seminyak. There, we are met with a welcome drink of coconut water and syrup, plus a cool towel from the fridge, which is a real blessing even at 11pm at night. The temperatures are balmy throughout our stay. There are lots of staff to hand – service is excellent and so much more attentive than we're used to in the UK – and we happily make our way to our private vila.
The villas
EDEN is home to 13 villas, many of which are across two and three storeys. We booked through The Luxe Nomad (a website curating the most luxurious bucket-list stays). Our villa, called Mana, has three bedrooms and is super relaxing. Secluded and quiet, it would be ideal for a group of around six to eight, leaving all of you in the lap of luxury. It's open plan in style and feels very spacious, helped by the fact that decor is white and minimalist. The villa has a beautiful infinity pool and the grounds are lushly green and beautifully maintained, a joy to look at and stroll among.
The food
Naturally, we overslept but the lovely staff have kept our breakfast of local delicacies – mie goreng, a fried noodle dish, and satay – warm. Portions are vast and the coffee is fresh. It's clearly a honeymooners paradise – we're asked if we're on ours at least three times. (Spoiler alert: no, we're not.) Dinner is no less delicious, a wonderful green chicken curry, and we also enjoy a beer or two while watching the sunset on the top floor garden terrace, which has a beautiful outdoor bath.
Things to do
The hotel is just a five-minute walk to Batu Belig beach – though a potentially hairy stroll. We spy a snake and several lizards through the shortcut path we take. The beach feels fabulously secluded and authentic, surrounded by very little in the way of amenities or tourist attractions. Stop for lunch on the way back: we have a roadside feast at Warung Belong that comes to around £10. Then, it's home to our slice of zen paradise.
Be sure to treat yourself to a massage in the hotel's lounge. A 30 minute-long Swedish-meets-Balinese experience, it was the best £10 (yes, £10) I've ever spent.
Then, it was on to our next destination…
Get your weekly DOSE fix here: SIGN UP FOR OUR NEWSLETTER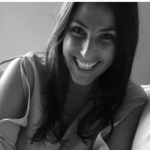 Charlotte is a London girl through and through. She sweats through spin and puffs through Pilates to justify trying the latest restaurants and devouring copious amounts of sweet potato fries, burrata and bread – preferably on holiday. Her favourite destinations include Italy, the Maldives and anywhere where the sun's shining and there's a strong breakfast buffet. She's obsessed with walking, visiting farmers' markets and reading. She's also learning to cook. Wish her (and her husband) luck.