Ahh, the City of Angels. The home of cold-press juices, gorgeous tans and yoga classes in the sun. Where 'salty hair, don't care' vibes and rooftop happy hours are a dime a dozen.
Los Angeles has always been a dream holiday destination for the Brits, and as your LA representative, I feel it's my duty to take you on the ultimate tour to satisfy your pleasure seeking needs. Whatever your dose may be.
Firstly, a disclaimer. I was born and raised on the Westside of LA, in Marina del Rey, Venice and Santa Monica. To say that I am a sucker for these areas would be an understatement.
That being said, each time I head back for a visit, I find myself venturing out more and more to West Hollywood and Beverly Hills (not just to take pictures on Melrose Ave with its iconic street art backdrops – don't judge me). West Hollywood has produced some of the best fitness studios and watering holes that LA has to offer, and Beverly Hills continues to follow suit.
So if you're thinking of planning a trip to La La Land this summer, let DOSE be your ultimate wellness guide to this sunny destination. No matter where you find yourself in the City, we hope to give you our full round up, so you can balance health with a little hedonism…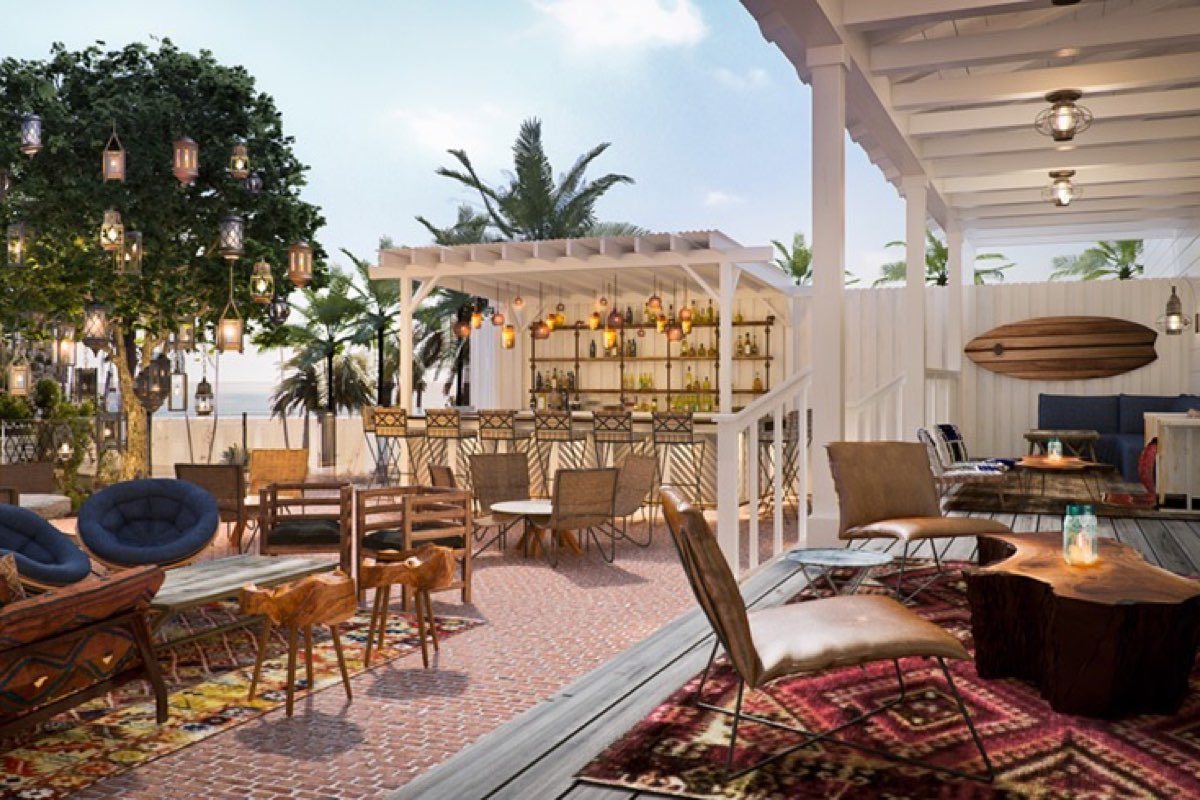 WEST SIDE (Marina del Rey, Venice, Santa Monica, Culver City)
DayAxe: This brand new app will get you exclusive access to LA's hottest hotel pools and amenities without the cost of a room. Day Axe is partnering with new hotels all the time, so keep an eye out for their latest additions.
We recommend chillin' poolside at the Fairmont Miramar in Santa Monica after a quick TRX session on the deck overlooking the pool #treatyoself.
After spending the day lounging, head over to The Bungalow, the hotel's beach cocktail bar, for a breezy evening of tipples.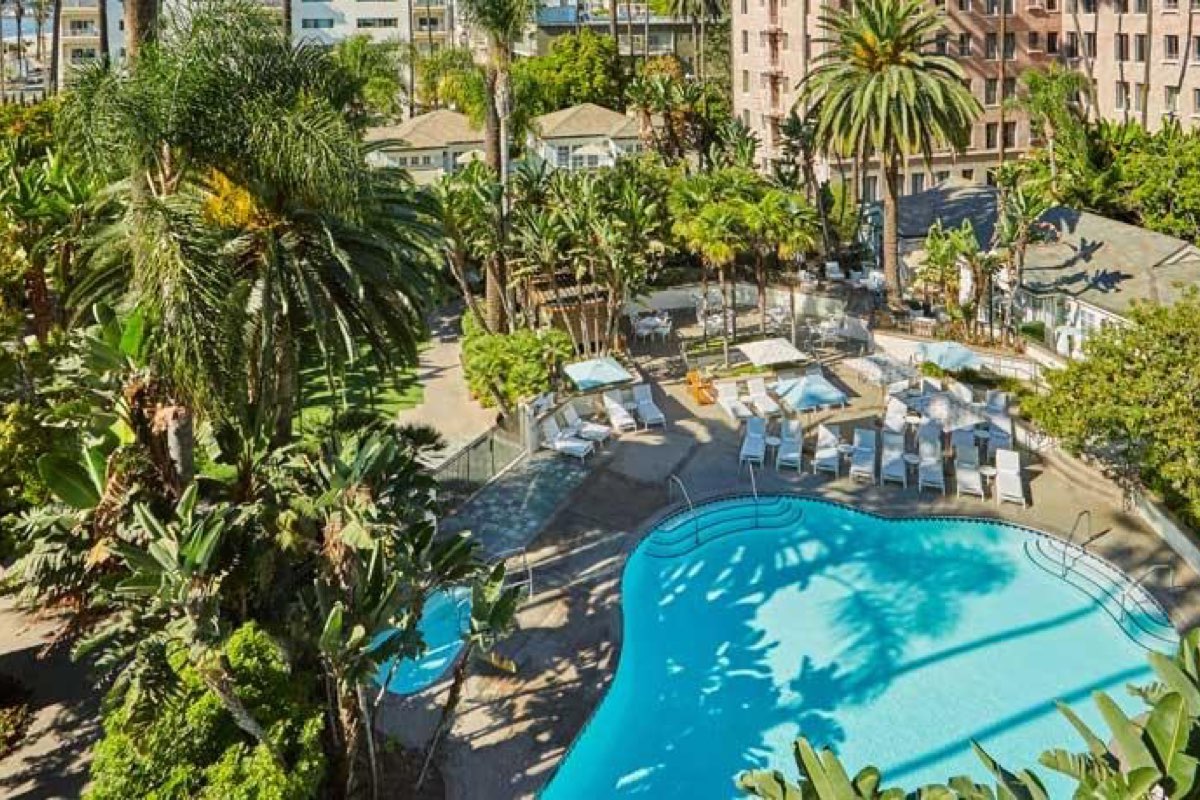 The Butcher's Daughter: Our favourite new Abbot Kinney spot has an interior that we thought only existed in dreams (my dreams, at least).
Their vegetarian (plus eggs) dishes and cold-pressed cocktails will leave you feeling rejuvenated but also a bit tipsy since it's too hard to only have one…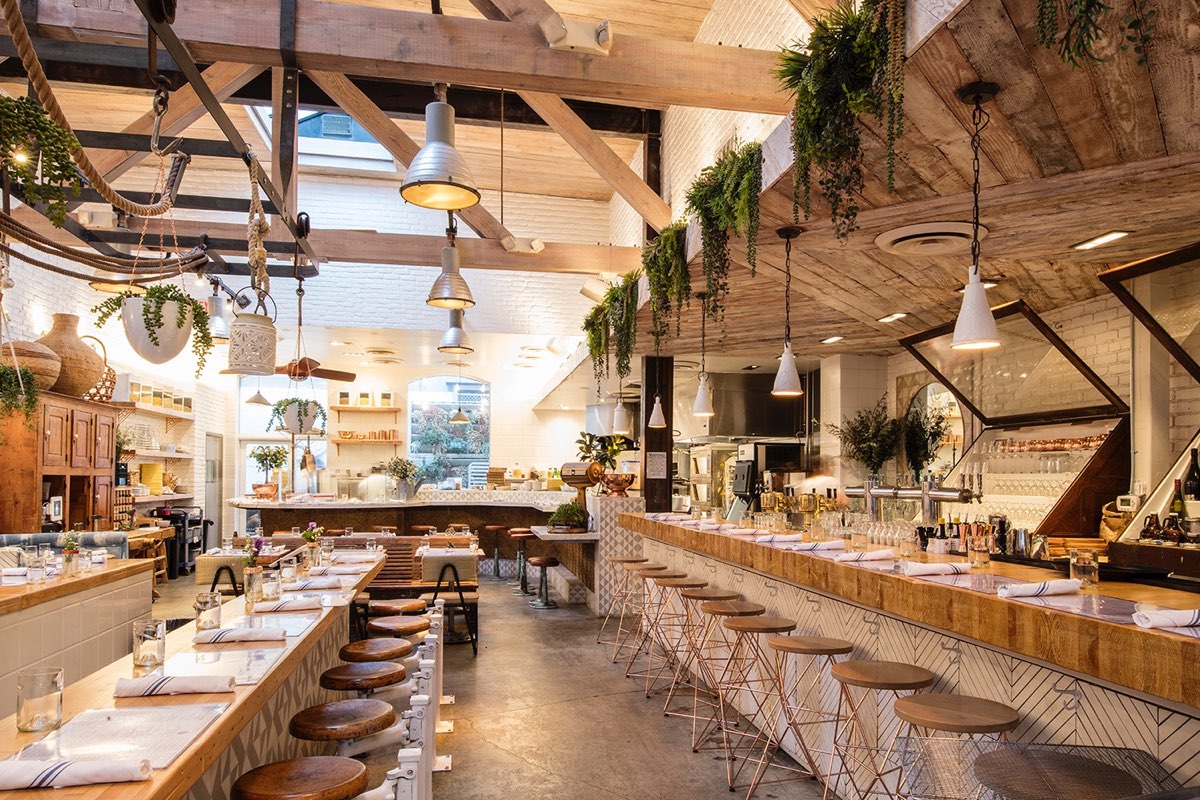 Address: 1205 Abbot Kinney Blvd, Venice, CA 90291
Moon Juice: Admittedly I am kind of a sucker for anything a little "out there", if you will, so places like Moon Juice are right up my alley. Their 'Sex Dust™', which Gwyneth Paltrow puts in her smoothie every day, "is a lusty edible formula, alchemized to ignite and excite your sexy energy in and out of the bedroom. The warming elixir sends waves of sensitivity and power to all the right places." Now to pour a little of that in my latte…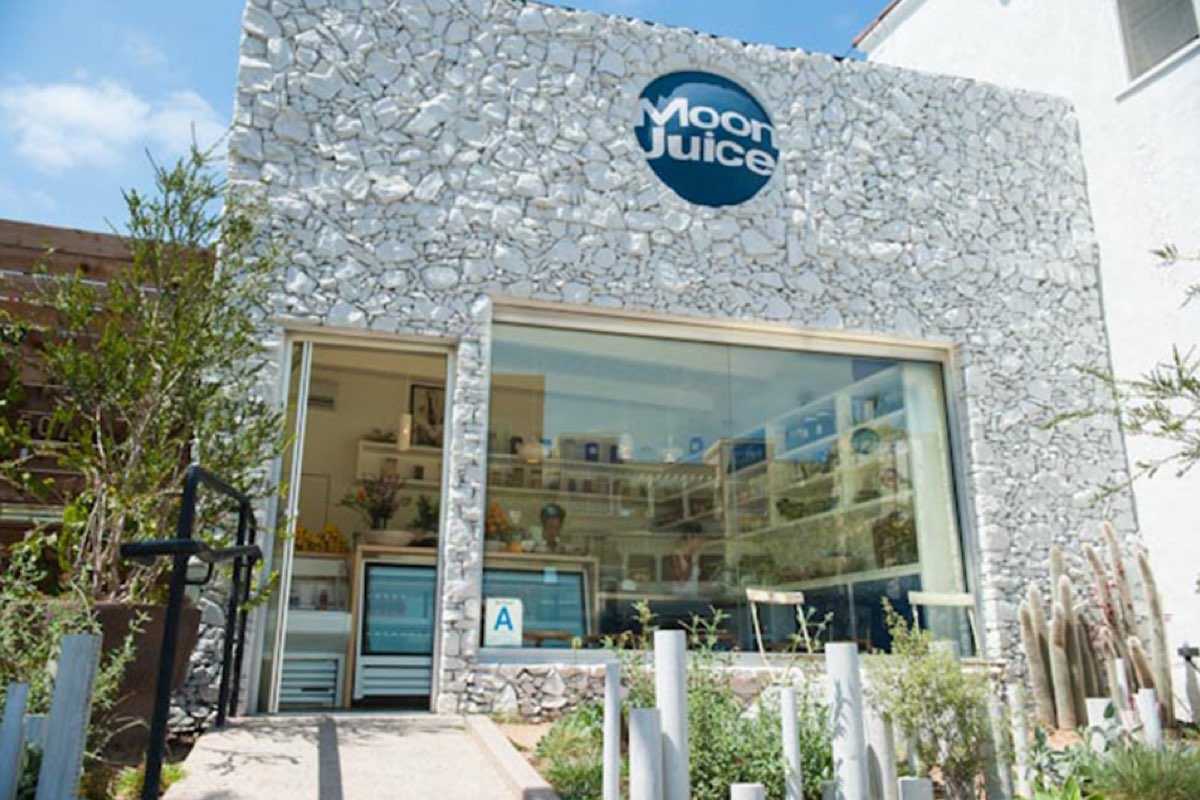 Address: 507 Rose Ave, Venice, CA 90291
The Venice Whaler: Ever since their renovation in 2014, 'The Whaler', as us locals call it, continues to hold the top spot in our beachside hangouts.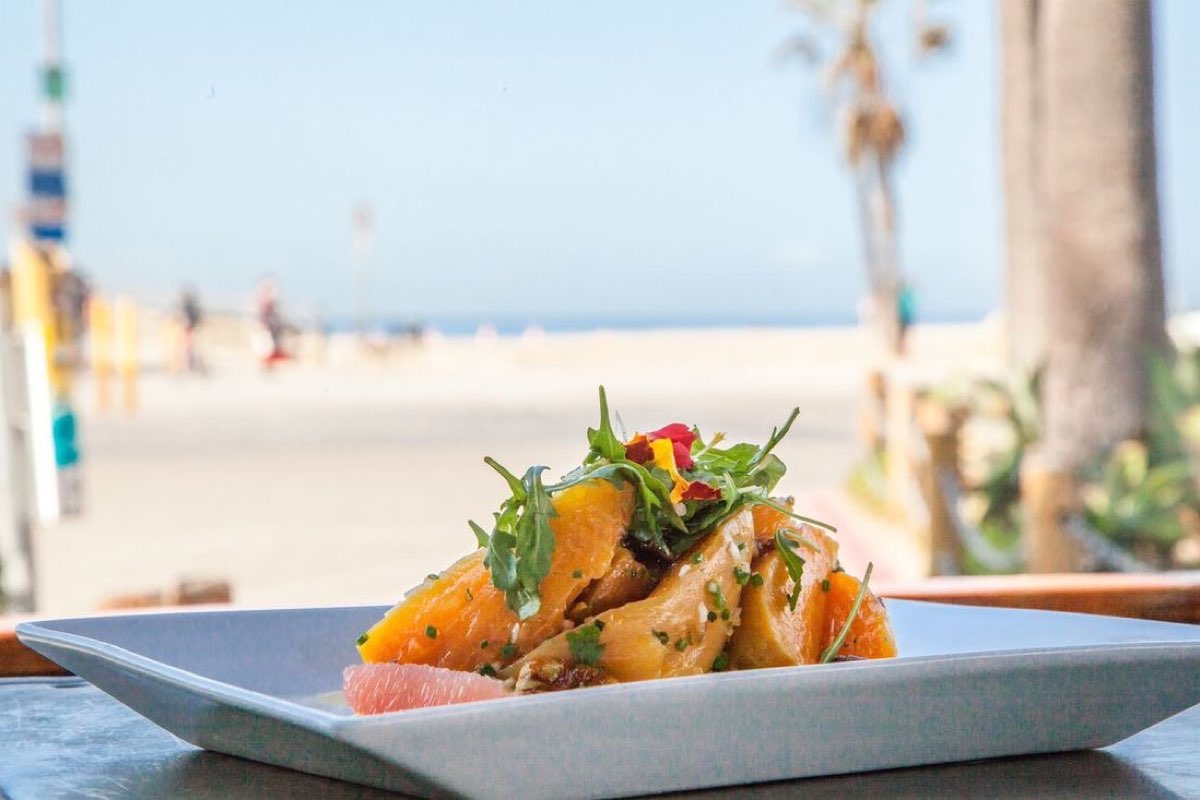 They've got, arguably, the most underrated fish tacos in LA (they're sublime!), which we usually enjoy with a muddled fruit Bellini.
Oh and the views? They're unbeatable… come just before sunset, you'll thank us later.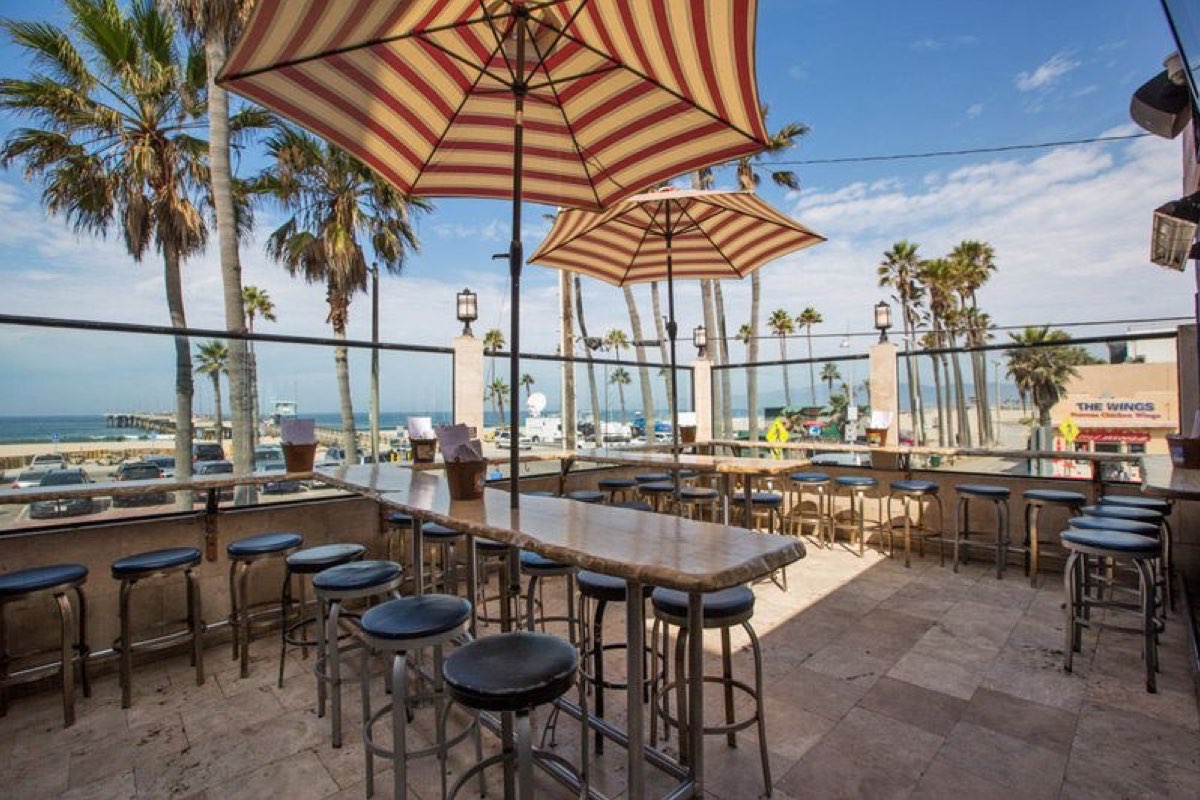 Address: 10 Washington Blvd, Venice, CA 90292
The Studio (MDR): Don't let the hot pink lacquered ceiling or the laid-back beach vibes fool you. This workout is not for the fainthearted.
The pumping music and smiling instructors will surely distract you, but this Pilates-inspired Lagree method, combining the best of strength and cardio exercises on an innovative machine called the 'Megaformer', will leave you dripping sweat, guaranteed.
With classes running almost every hour and 3 locations in Marina del Rey, Playa Vista and Culver City, you will have no problem finding a time to fit your schedule.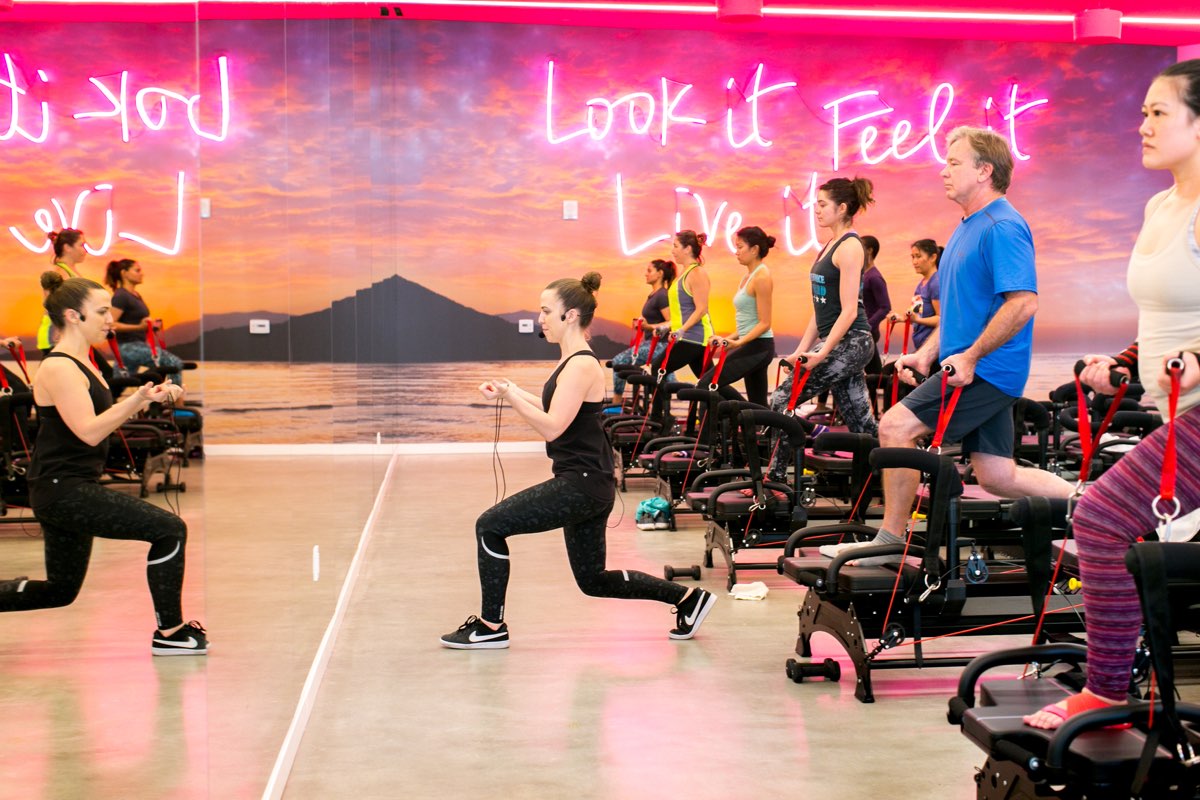 Address: 12775 Millennium Dr #150, Playa Vista, CA 90094
WMN Space: Think of WMN Space like a spa retreat for your soul. Within moments of walking in, your body relaxes and your spirit opens.
While many of their events are catered towards new and expectant mothers, this new space runs daily like full moon circles and meditations or special events like 'Hustle & Flow: How to be a Lady Boss by Day, and a Mystical Priestess by Night'.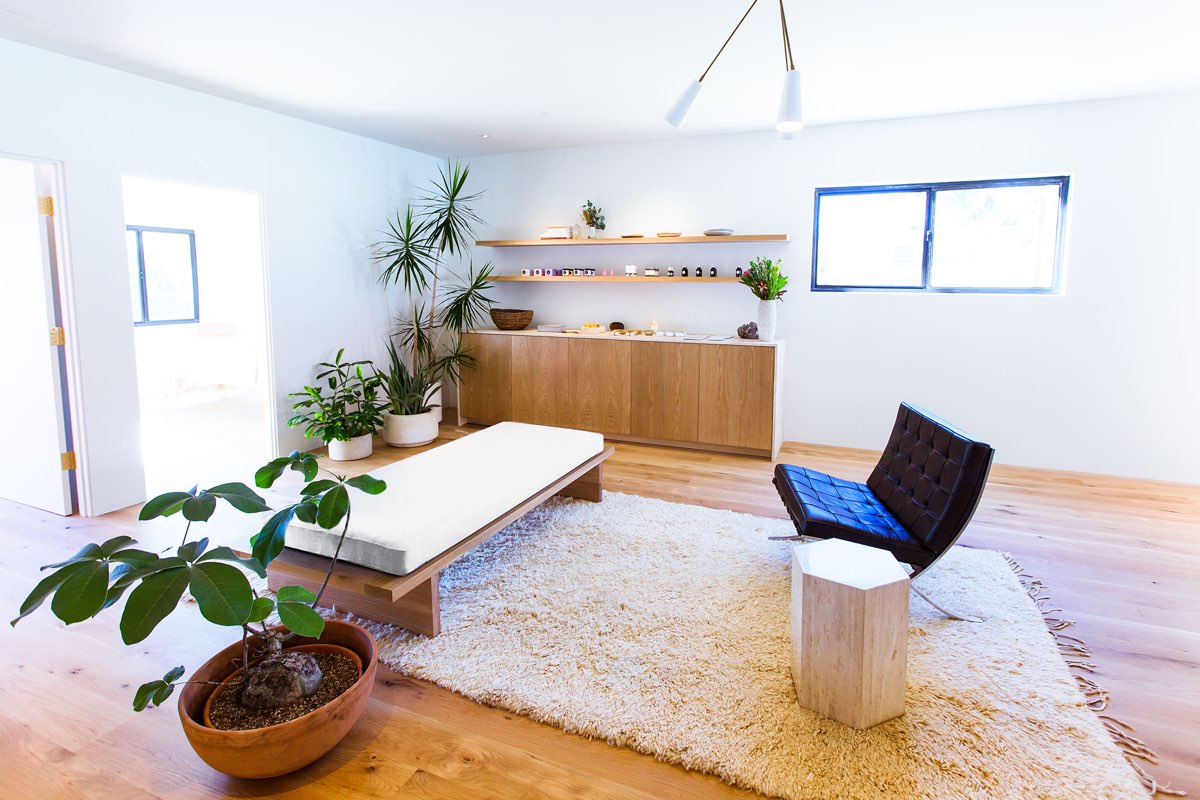 Address: 10764 Washington Blvd, Culver City, CA 90232
Box Union: The Westside's latest addition to the boutique fitness scene comes this beachside boxing studio.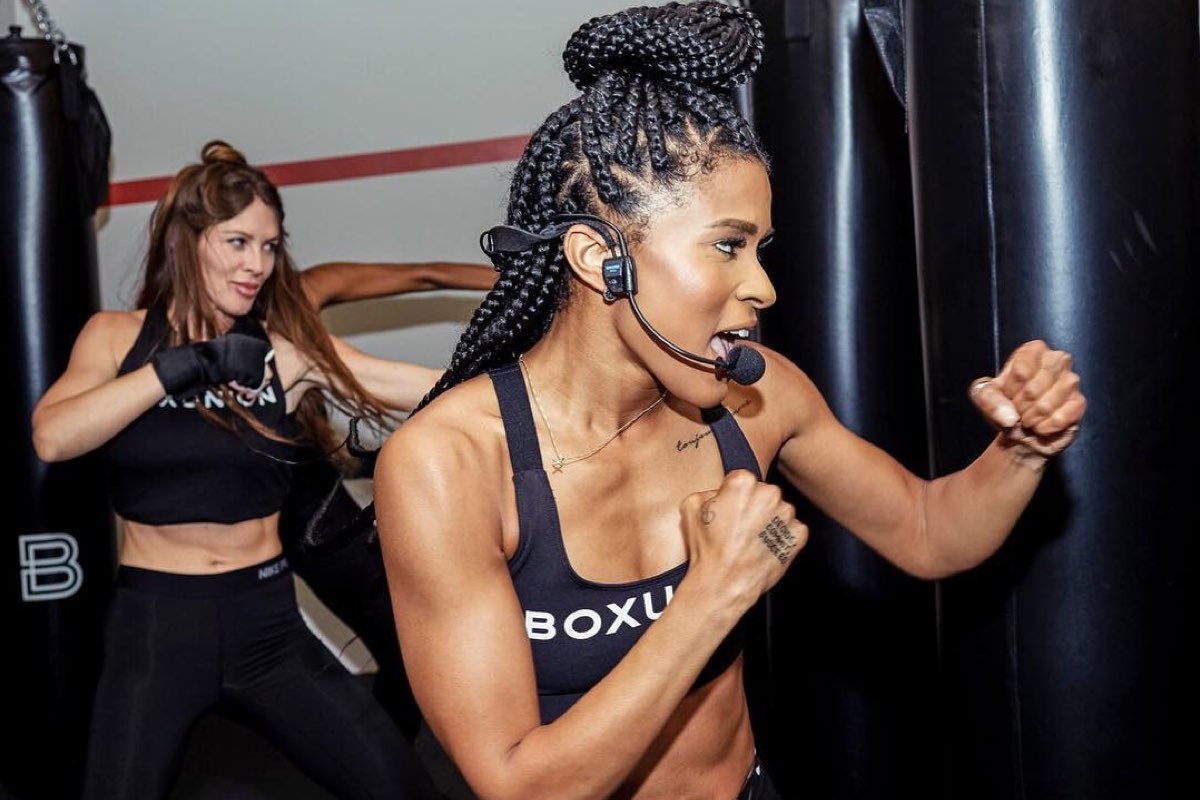 There is no better way to deal with your newly acquired road rage from LA's traffic jams, then in one of these high intensity, high energy boxing HIIT classes. Boxing has taken over the fitness scene and it's for good reason. This workout really packs a punch ;).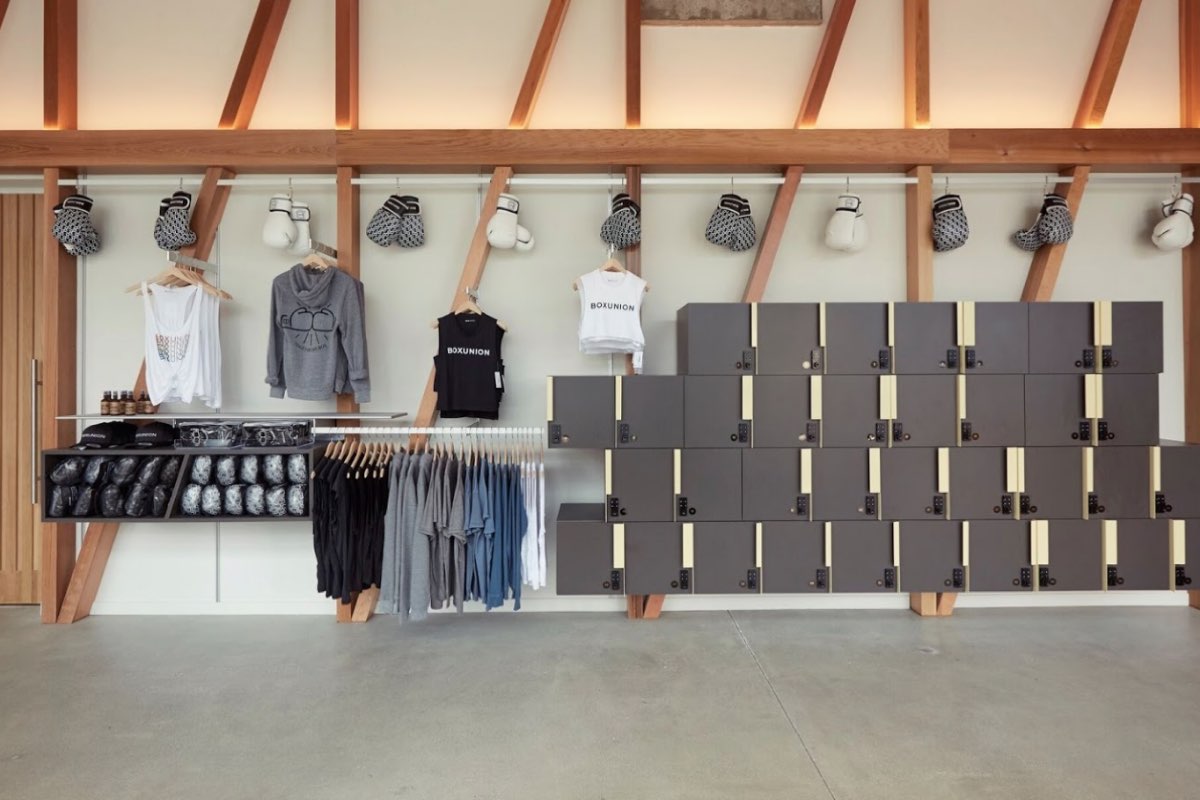 Address: 1755 Ocean Ave Suite 104, Santa Monica, CA 90401
Barry's Bootcamp Venice: The newest location of the Hollywood fitness staple, Barry's Venice hosts their infamous bootcamp using a combination of weights and speed and interval training on the Woodway Treadmill.
They also offer a double floor option for those who would rather skip the running. Come for the calorie burn and finish with a shake from their Fuel Bar and the coolest picture against their Kelly Montague wing mural (the largest ever!).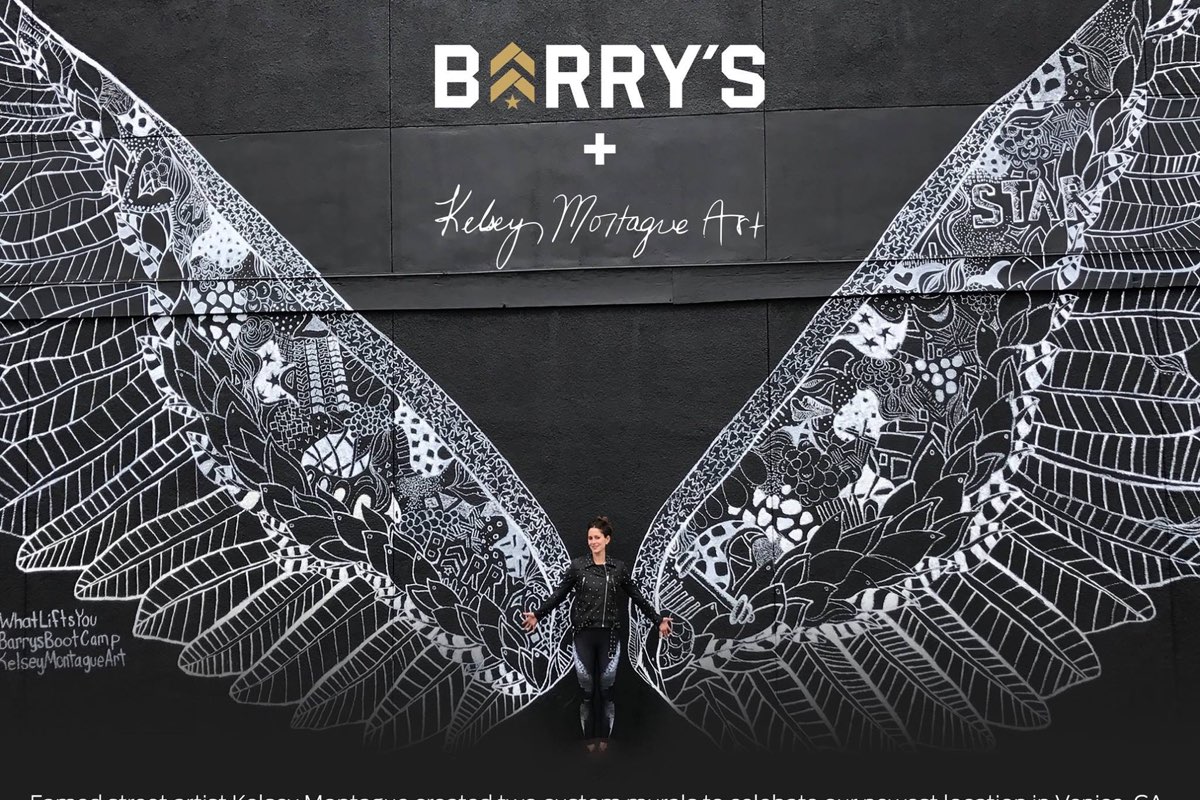 Address: 1500 Lincoln Blvd, Venice, CA 90291
MID – CITY (Beverly Hills & Brentwood)
Alo Yoga: Their Beverly Hills flagship location offers rooftop yoga, every day! After your yoga class with one of their top LA instructors, head back down to the first floor, grab a 100% Organic Stumptown coffee or cold-press raw juice and overload on their incredible athleisure.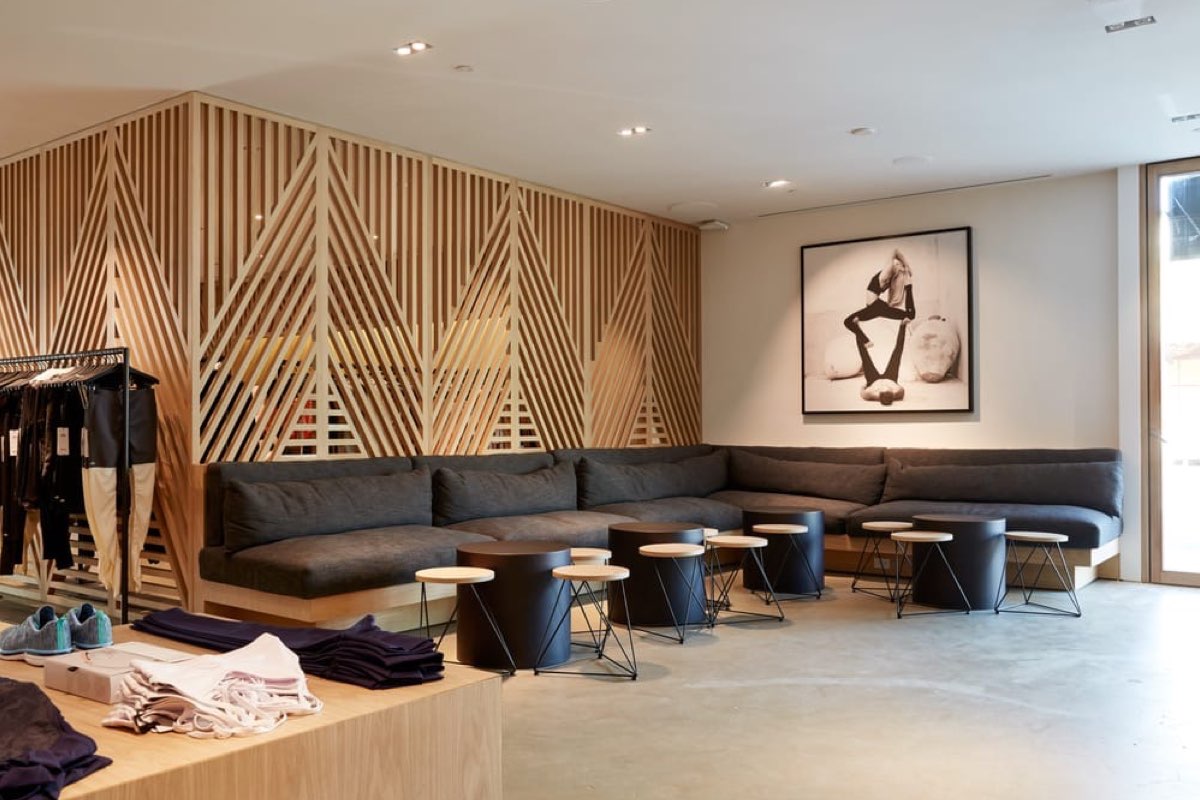 Take note, many of these styles can't even be found on our side of the pond, so it's okay to indulge a little…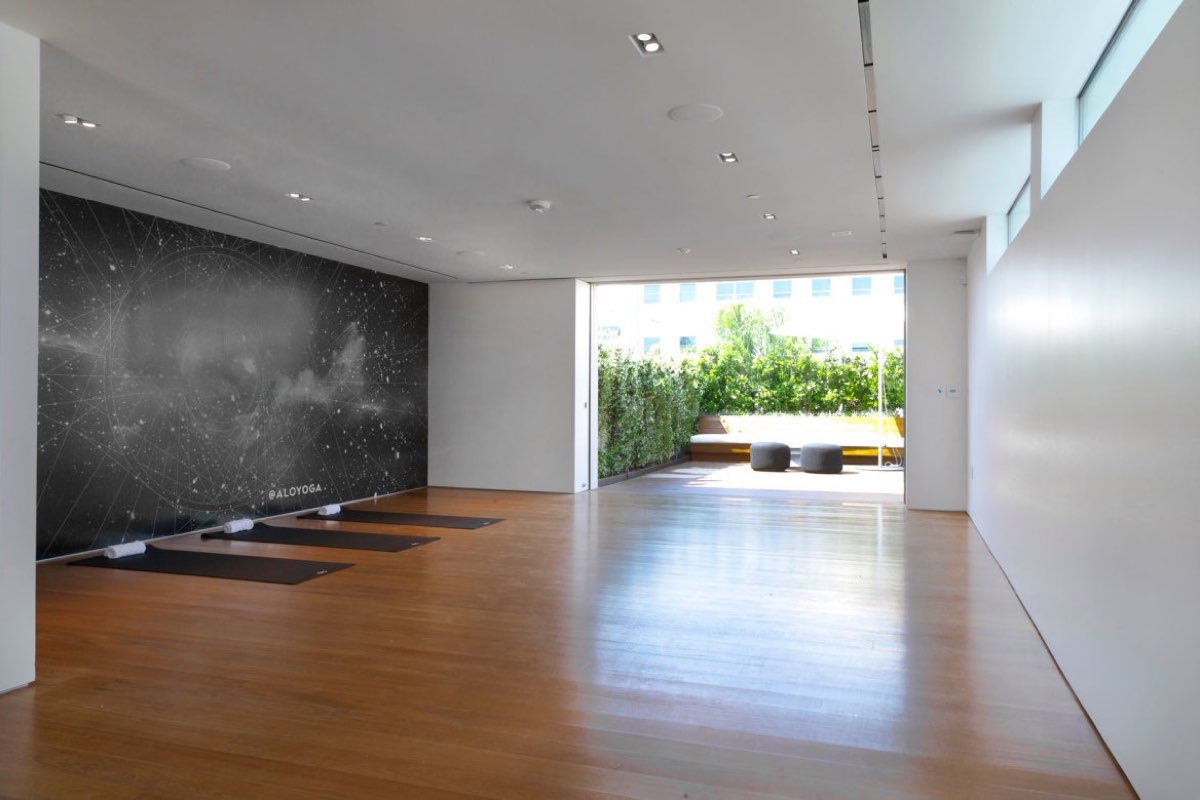 Address: 370 N Canon Dr Beverly Hills, CA 90210
Gratitude: The upscale version of Café Gratitude Vegan Café and sister restaurant to WeHo's Gracias Madre opened May 24, where you can restore and re-balance your gut with the 'Outrageous' Progurt Probiotic. It contains 1 trillion CFU of Human Probiotic Isolates.
The gorgeous patio and bright airy space might be the best spot in town to soak up Rodeo Drive's infamous people watching.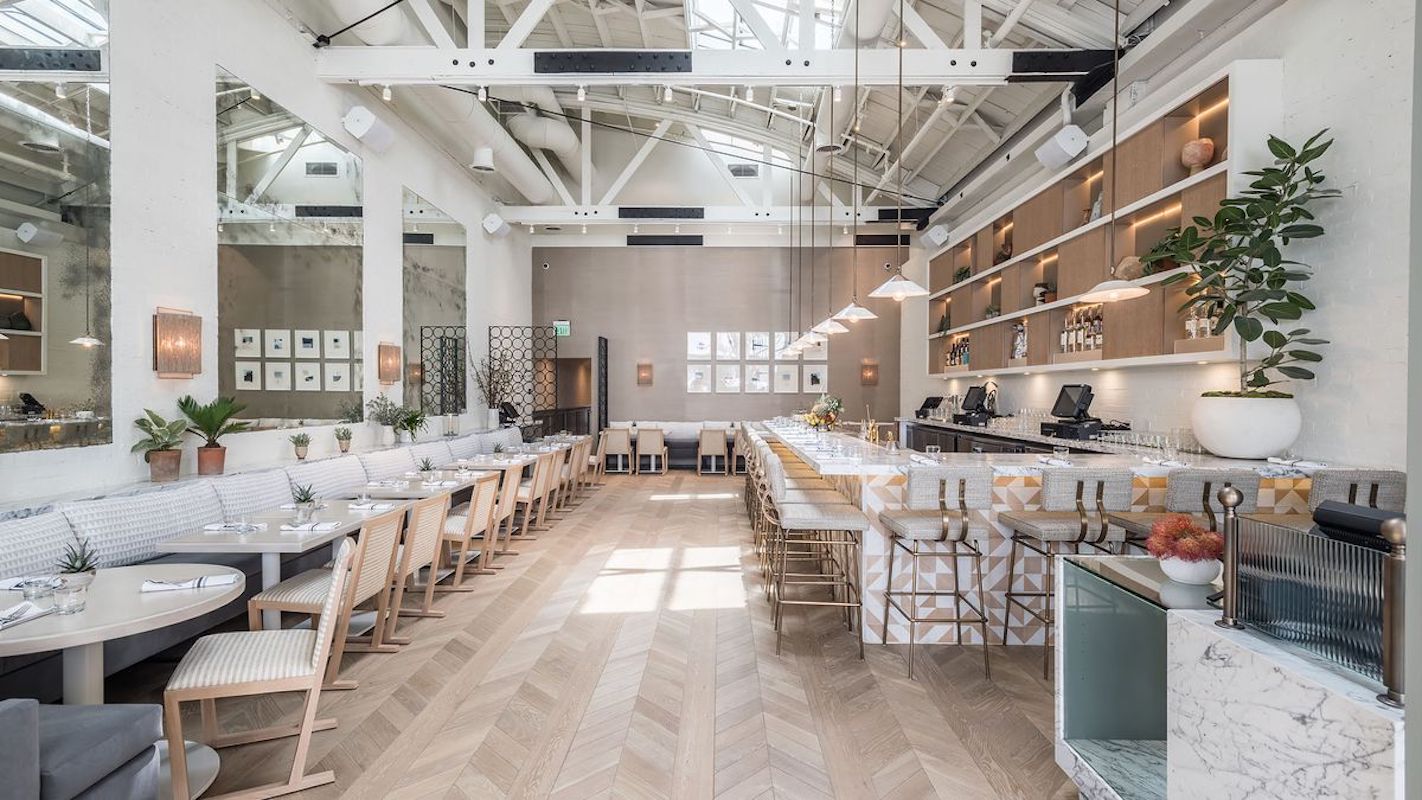 Address: 419 N Canon Dr, Beverly Hills, CA 90210
SoulCycle: This wouldn't be a fair list if we didn't include Soulcycle. With 13 locations across Los Angeles and the surrounding area, you'll be able to get your spin fix wherever you find yourself.
One class is all it takes for you understand what all the hype is about. With killer soundtracks and major vibes, you'll walk out feeling invigorated and re-charged, you might even find yourself 'tapping' back all day.
If this is a 'cult' then consider us drinking the kool-aid. We challenge you to #FindYourSOUL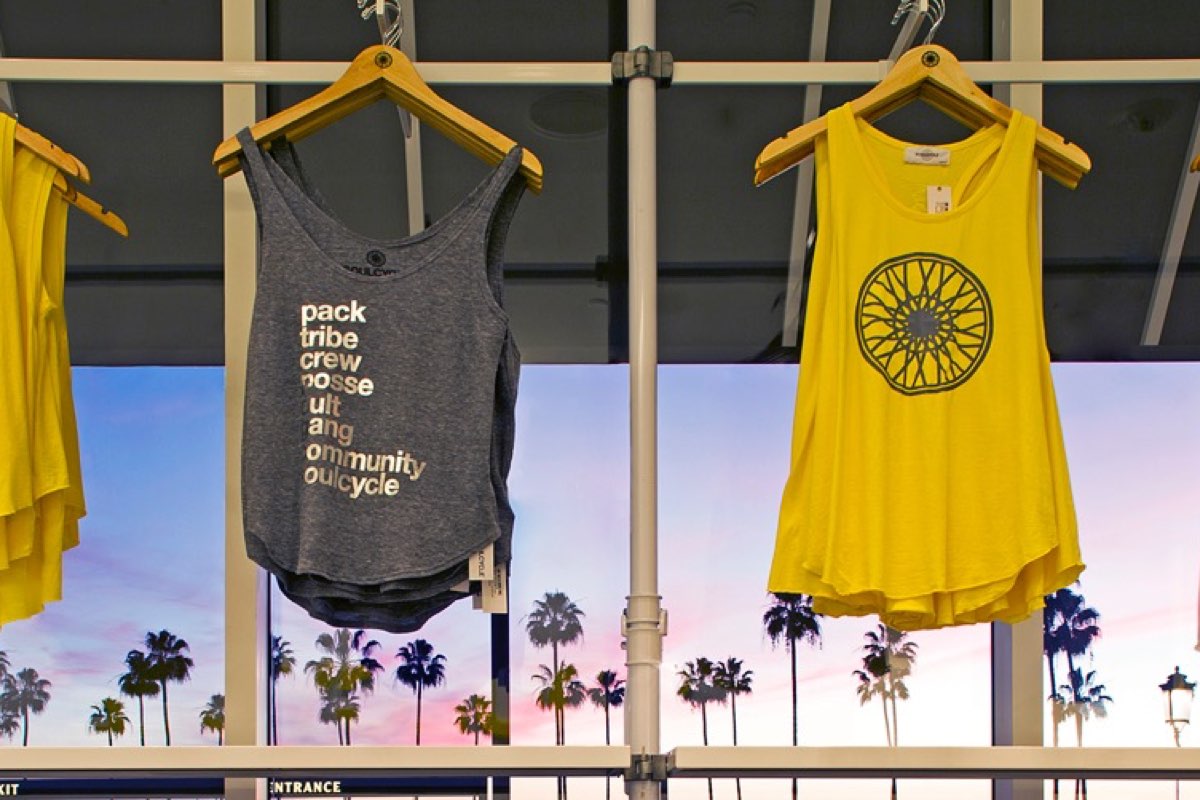 11640 San Vicente Boulevard Los Angeles, CA 90049
Sweet Green: The perfect healthy grab and go, pop in to this café for a nutrient packed salad with funky options like 'Beets don't Kale my Vibe' and 'OMG Omega', you'll feel like an LA local 5 LA locations.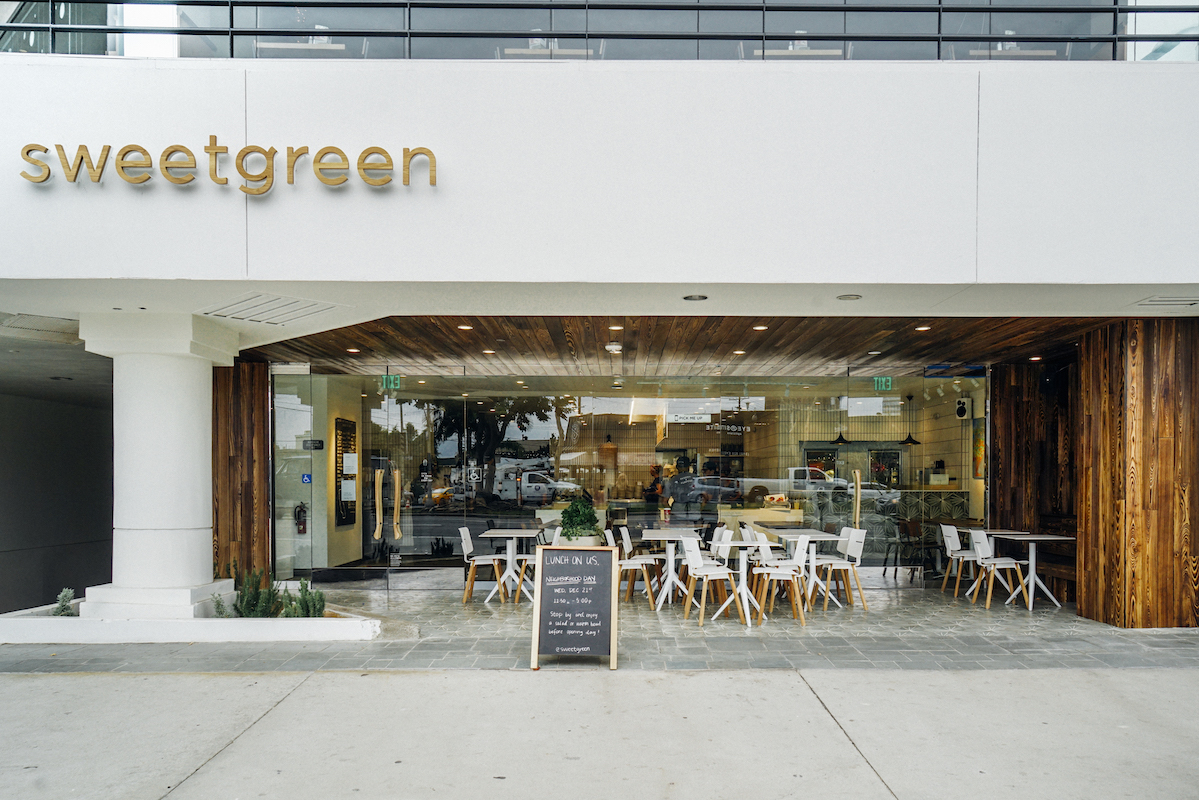 Address: 11677 San Vicente Blvd, Los Angeles, CA 90049
WEST HOLLYWOOD & HOLLYWOOD
Rise Nation: London might be new to the game with its recent addition of Europe's first-ever Versaclimber workout at Sweat by BXR, but Rise Nation has been dominating the LA scene with the VersaClimber workout since 2014.
Step into the room and the black curtains come down, the neon ceiling feature comes alive and the music starts pumping.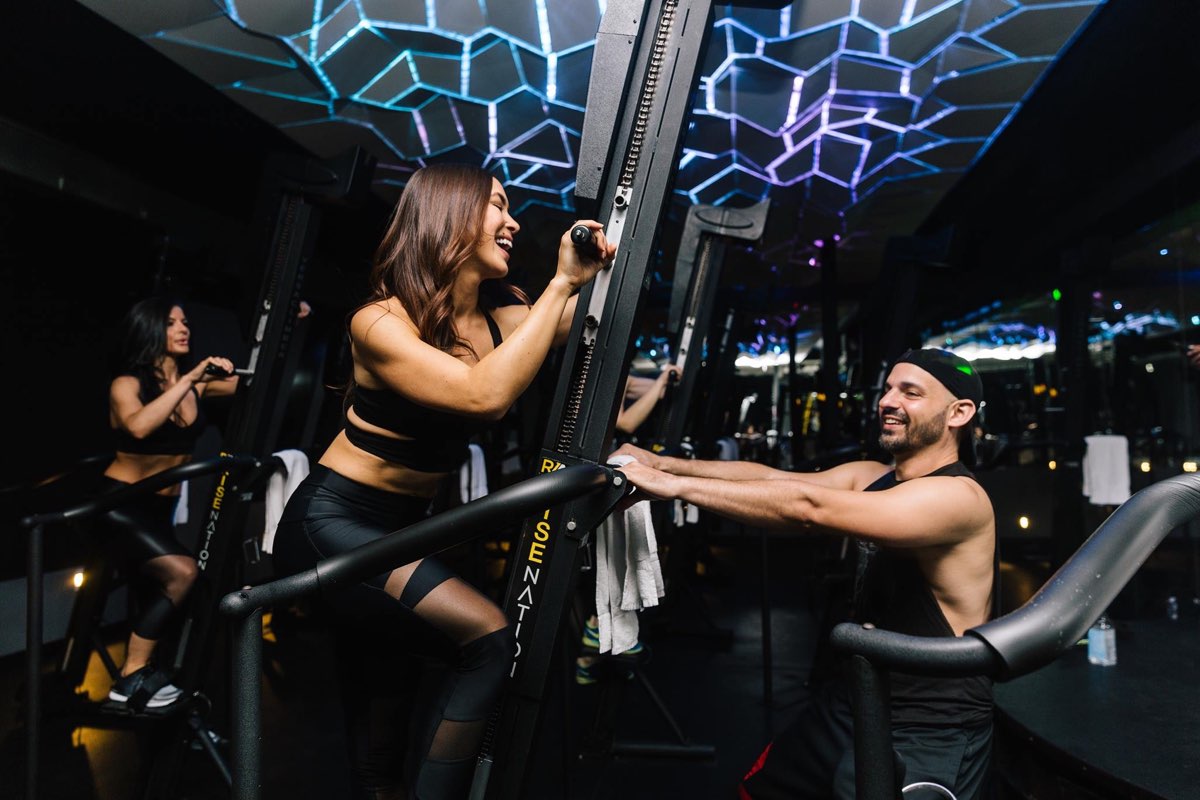 Before you know it, this high energy class will have you climbing your way to the top in a cool 30 minutes. No wonder so many celebs are raving.
The upright cardio machine promises a high calorie burn with minimal impact to the joints. #RiseNation has fashioned quite the movement and their fully booked classes show no sight of them slowing down.
Address: 613 N La Cienega Blvd, West Hollywood, CA 90069
Carrera Café: This café is Melrose Ave's latest fixture. Set on the corner across from the pink wall, it is known for its wall, displaying a fresh new wall mural every few months.
They've been making waves lately for their awesome customizable latte art. They also have a number of healthy salads and vegan 'Fonuts'. It's the perfect afternoon pick me up.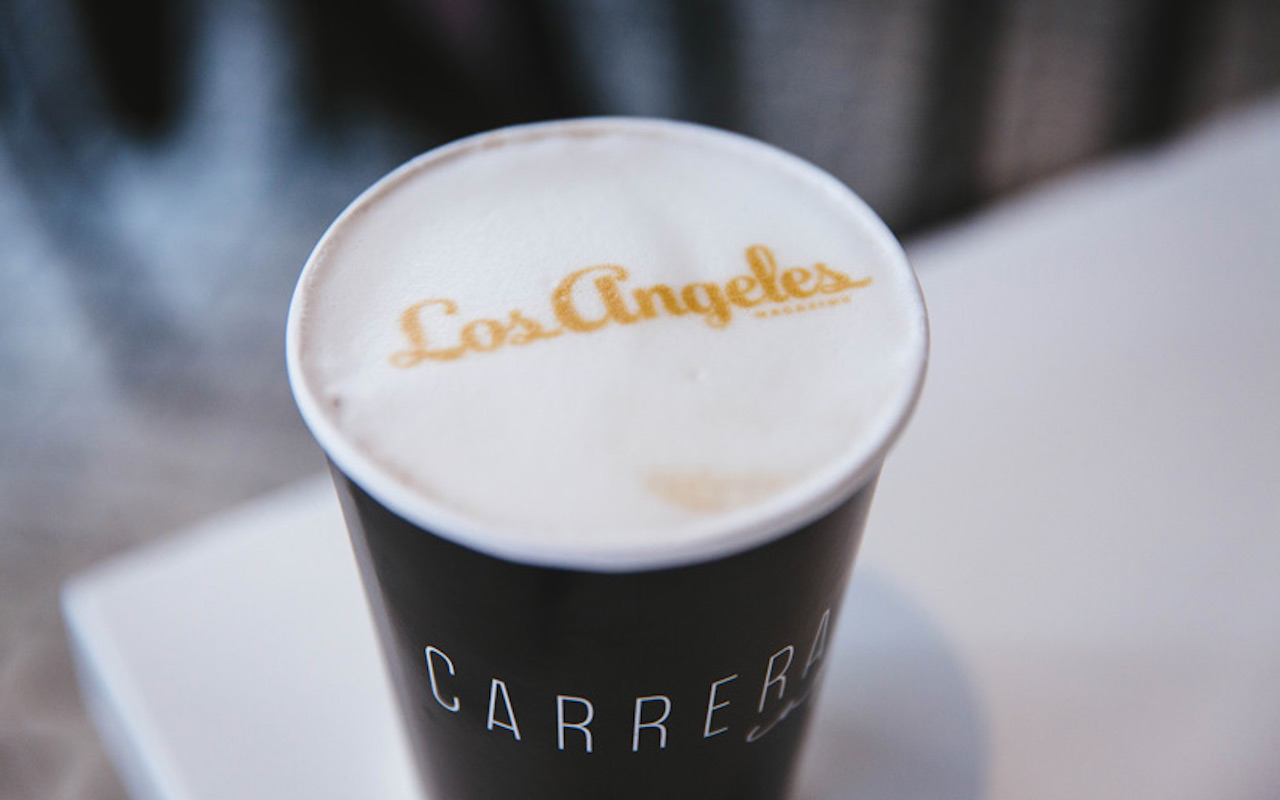 Address: 8251 Melrose Ave, Los Angeles, CA 90046
Mama Shelter: If you enjoy a rooftop lounge as much as we do, then you will love the colourful daybeds that line the rooftop bar of this West Hollywood Hotel.
Drinks are available everyday on the roof, but food is only available on weekends up top.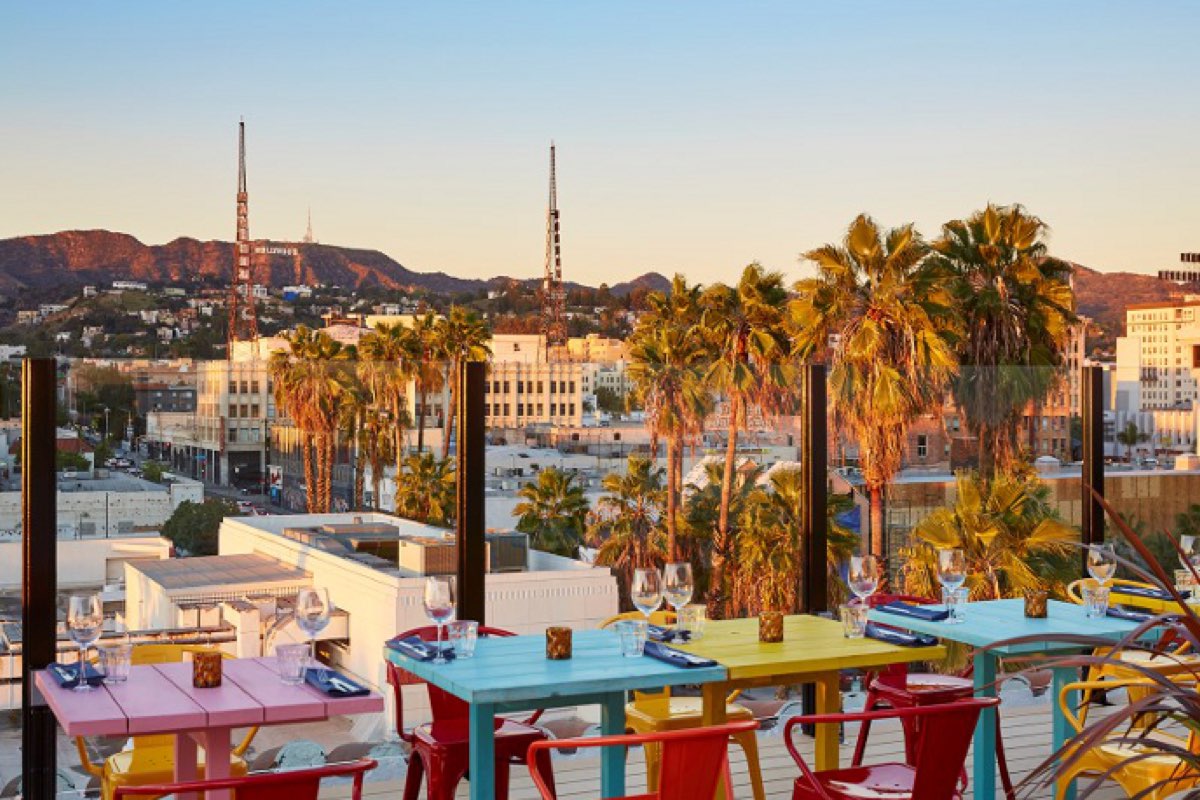 While we admit that while Mama Shelter isn't the pinnacle of health, they do have fresh fruit Sangria, which counts as a serving of fruit per glass, right?
With views of the Hollywood sign in the near distance, sit back and soak up the sun, and cool off with a pitcher of Sangria.
Oh, and if you've had too many tipples, you can ask for one of the 70 funky rooms in their hotel downstairs. #mamasaysrelax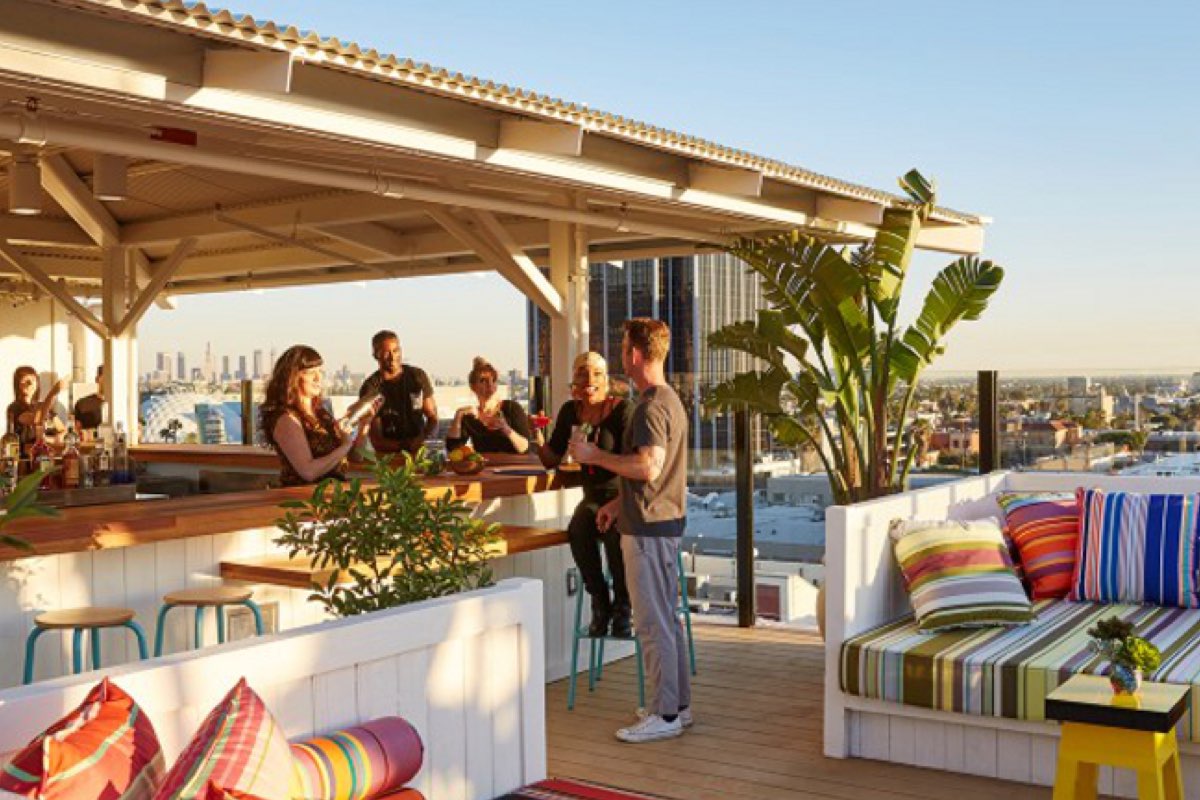 Address: 6500 Selma Ave, Los Angeles, CA 90028
Gracias Madre: Healthy Mexican food? Is it even possible? It is, thanks to this plant-based and 100% organic Mexican restaurant in WeHo with cocktails like their 'Matcha Do About Nothing' made with tequila blanco, matcha green tea, coconut milk, tapioca pearls, agave, lime bitters or their signature 'Boozy Popsicle' with pineapple jalapeño popsicle, tequila blanco.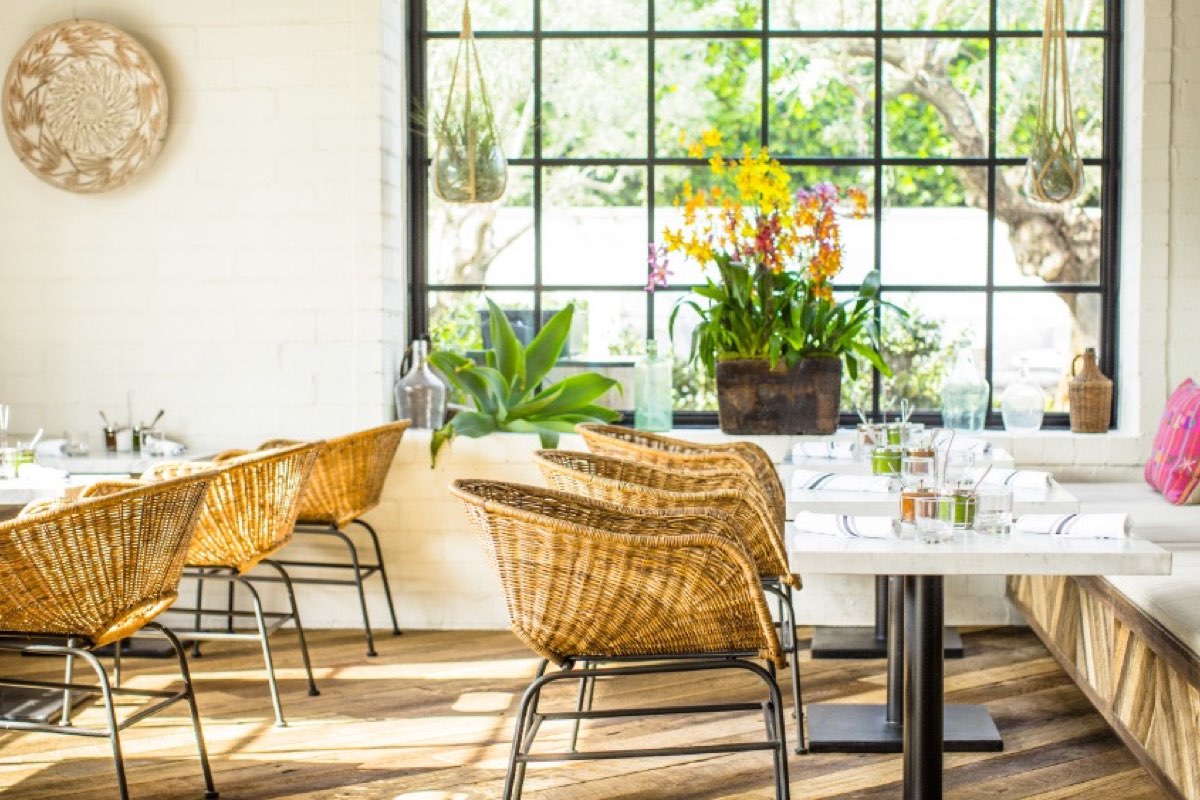 Add some coconut ceviche or their jackfruit tacos and make it a meal. They also offer a $6 happy hour 3-6p on weekdays in their gorgeous restaurant. Would be rude not to…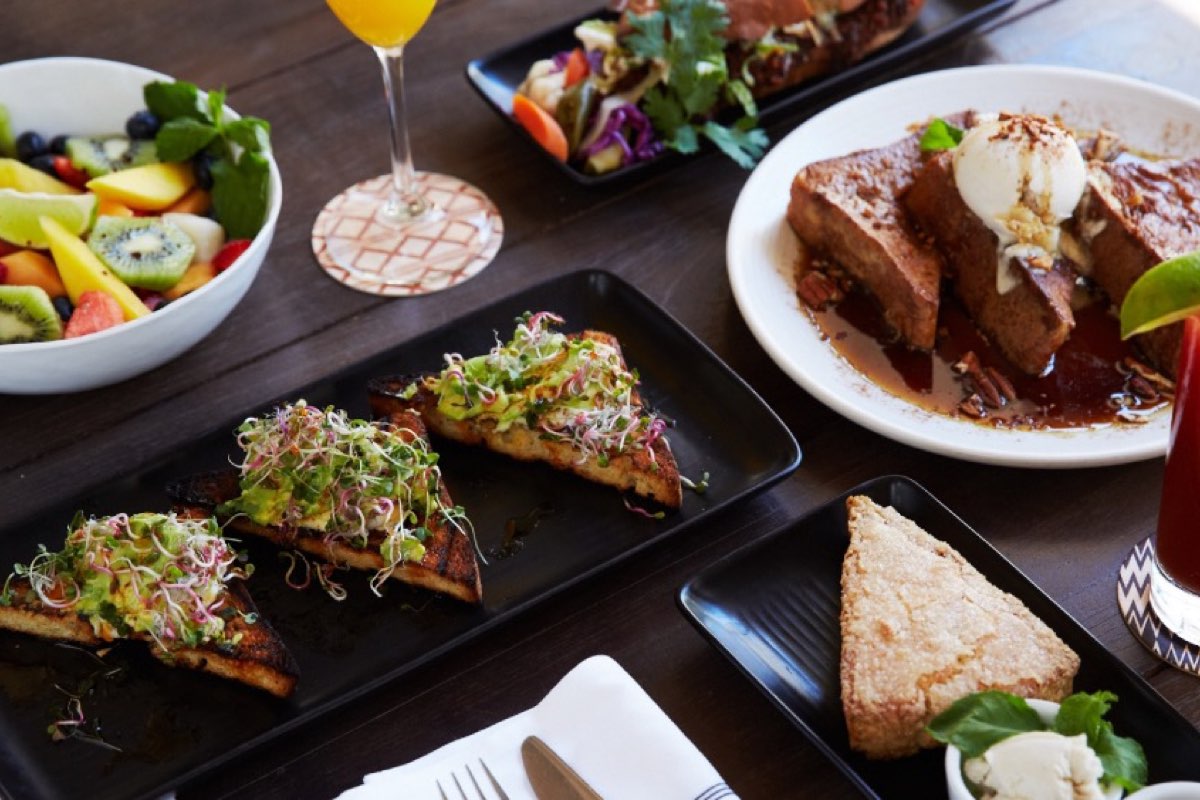 Address: 8905 Melrose Ave, West Hollywood, CA 90069
Set & Flow: We love this studio for the neon lights, variety of fun classes and their friendly environment. We recommend the hot booty yoga or hot barre with Emily Cummings, but we hear their 'Abs, Buns & Guns' is a real killer too.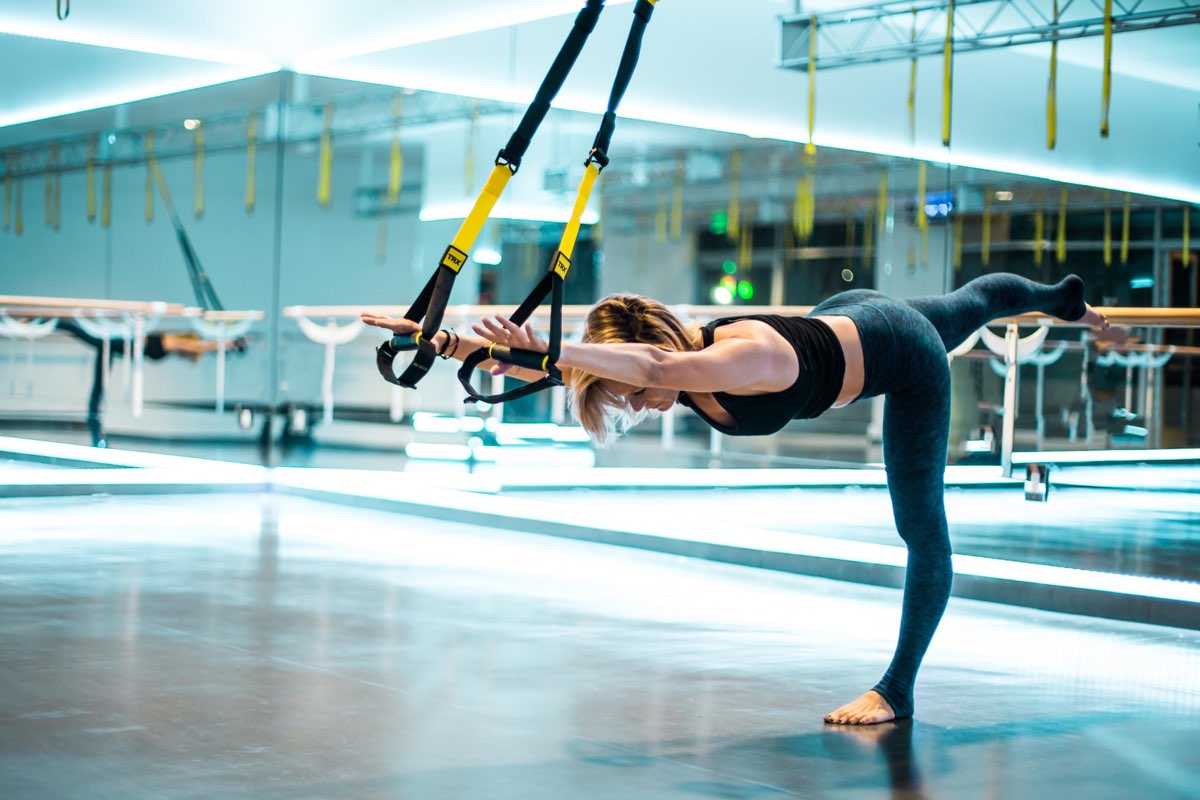 Each month they offer special workshop events, so if you're lucky, you might be in town for their sound baths to realign your chakras.
Address: 1619 N La Brea Ave, Los Angeles, CA 90028
DOWNTOWN LA
The Springs: We ventured downtown to this 'hub for wellness' and we were not disappointed. This urban oasis has literally everything we could ask under one roof.
From yoga, a wellness spa, and rotating retail pop-up shops, to a café with Kombucha on tap – although we prefer our Kombucha in our Sangria, because, probiotics, right?
Their menu changes frequently and includes dishes like their renowned 'Ugli Bowl' which utilizes 'Imperfectly Delicious Produce' which, under the IDP Program, strives to reduce food waste by choosing produce that may be otherwise sent to a landfill for not meeting a certain level of attractiveness. Fancy a treatment?
They are known for offering the Bartholomew Method, an intense treatment that uses stones heated to 165 degrees F (73 Celsius!) to heal the body and rid it of its lactic and uric acid buildup. Tip: they offer complimentary mediation M-F at 1:00pm.
Address: 608 Mateo St, Los Angeles 90021 (Free parking!)