Middle-distance runner Eilish McColgan is one of 8 million women in the UK who struggles with low iron levels, resulting in fatigue and slow recovery from her races.
Despite this, the 26 year old still managed to smash a PB at this year's World Athletics Championships. Find out which supplement helped to power her through, what it felt like growing up with sporting parents and why she thinks more young girls should choose running over social media…
Describe a typical day in the life of being an athlete…
I get up and have a big bowl of porridge, berries a banana and some protein powder. I then get out the door for a 5 mile run. On Tuesday and Saturdays – I head to the track instead for a tough interval session.
After training, I make sure I get some food into me as quick as possible in order to aid recovery before taking an afternoon nap. In the evening, I might go to the gym for some stretching, drills, rehab work and core stability before jumping on my cross trainer for 45minutes.
It's quite unusual for a runner to only run once a day and to cross train quite frequently but I've been plagued with injuries throughout my career and so myself and my coach make sensible decisions in order to reduce my injury risk.
After my evening session, I make sure I have a large meal, a lot of carbohydrates and protein alongside some Blueiron in order to make sure my iron stores are topped up. After dinner, I usually chill out with my partner and our dog, watching TV before heading to bed around 11pm. Obviously things are a lot more hectic when I'm in race season – I spend half the year abroad training or racing!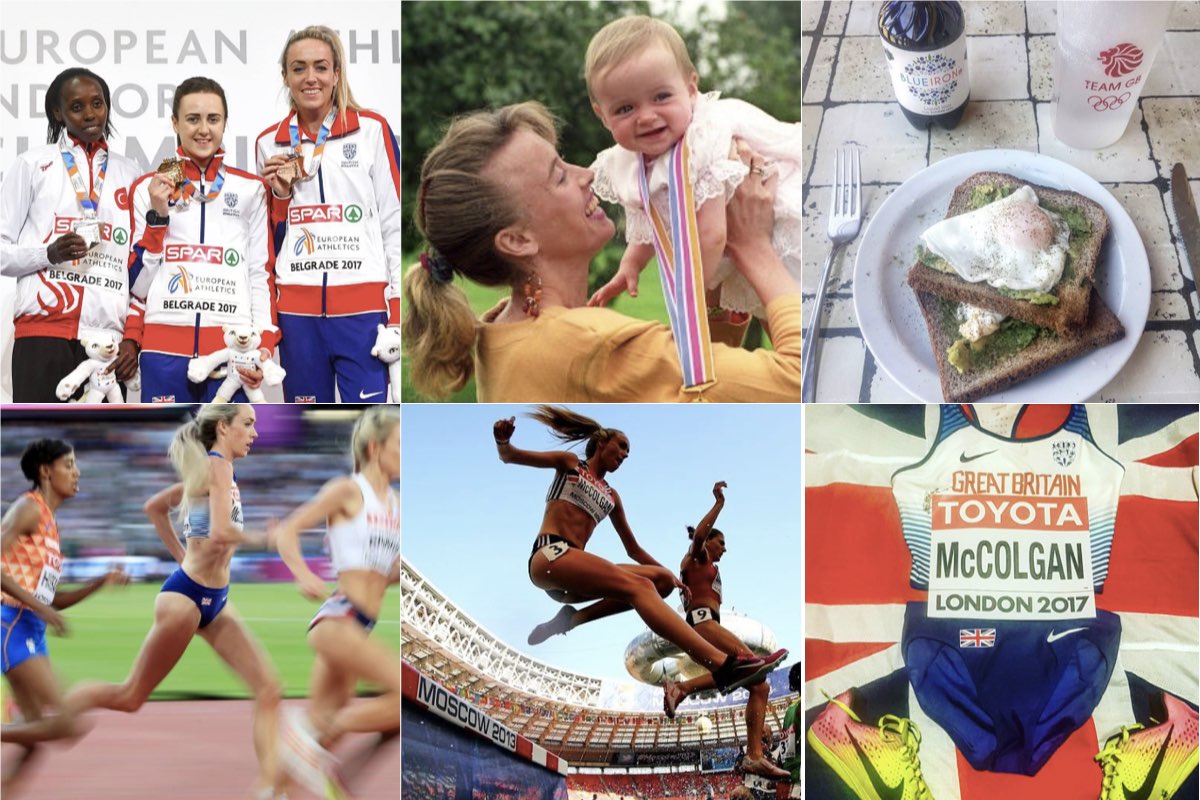 What are your 5 tips for staying healthy in day to day life?
1. Sleep is so important so make sure you're getting at least 8 hours a day.
2. Running is one of the best ways to keep fit and healthy. It doesn't cost much to get outdoors and in the fresh air – you only need yourself. It's a great way to keep fit and free your mind!
3. Cook from fresh. I really do my best to cook everything from scratch – avoiding ready meals and pre-made sauces.
4. Drink water. This is something I often forget myself but it's amazing the difference keeping hydrated will make. Not only to performance but to your skin also!
5. Snacks. I always make sure I have loads of good snacks in the house to avoid me craving rubbish! Nuts, granola bars, fruit etc.
Proudest achievement to date?
My European bronze medal indoors this year was my first ever major medal and so certainly one of my proudest achievements. Off the track, I would say my work within schools in order to inspire the next generation to keep fit and healthy!
Most memorable race experience?
It has to be the London 2012 Olympics. It was my first ever major Championship and something I will remember for the rest of my life. 80,000 people cheering for you is something I'll never forget!
What would you say to young girls to get them off their phones and onto the track?
I do love Instagram but a lot of young girls need to realise that what is posted by celebrities isn't real. I do try to post quite often and to keep people up to date – it's a great way to interact with others whom are interested in my sport. Many young girls aren't interested in sport because it's deemed to be 'uncool' – however, I hope that mindset will slowly start to change.
I've had so many amazing opportunities arise through my sport, travelled the world and met some amazing people. I try my best to get that side across as much as I can on social media. But for me the real winning side of sport is the enjoyment you get from seeing yourself improve and get faster. There's no better feeling in the world, seeing your hard work and effort pay off. Everyone wants to keep in shape and to be healthy – running is the best and easiest way to do so.
Your parents are sporting champions. What effect did this have on you growing up?
I spent a lot of my younger years abroad, travelling to races and tracks all across the world but to us it was pretty normal – I didn't know any better! I assumed that everyone's parents went for runs and competed!
It wasn't until I got to high school that I realised how unusual my upbringing was! I never felt any pressure though – even though my mother was a World Champion – I was never pushed into the sport and used to have a whole range of hobbies before deciding that running was the one I loved the most.
How can more people get into running?
Parkrun is a brilliant addition to our sport and allows people access to running but without the fear of heading down to a track. Perhaps we need something similar on the track to encourage more into the sport.
How do you relax?
I enjoy spending time with my family and especially my partner and our dog. I spend a lot of time abroad and so it's nice to finally relax at home, watching films all day!
What about guilty pleasures…
I love chocolate so I would definitely say that's my go to. I'm also obsessed with red velvet cake!
Favorite restaurant?
My favourite restaurant is Hakkasan but it's expensive so we only ever go there for my birthday treat!
Life motto?
If plan A didn't work – that alphabet has 25 more letters!