Did you think about attending a fitness festival this year, but never made it along to one? Want to know if they live up to the hype? From urban sweatfests, a yoga festival in The Cotswolds to high-intensity fitness in a forest, here's an honest account from the DOSE team…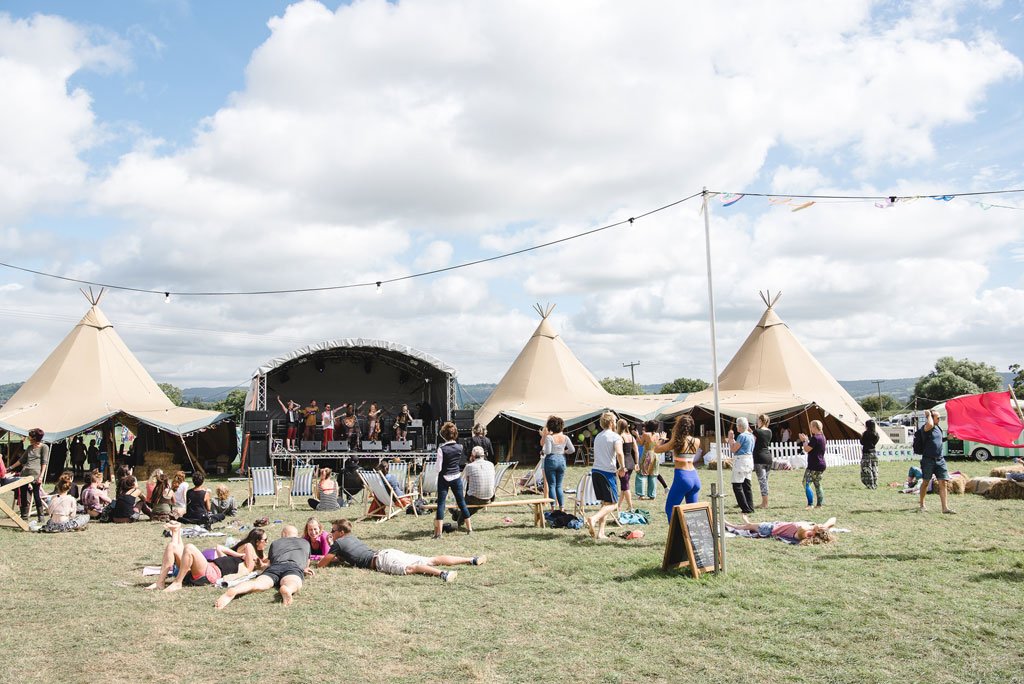 SOUL CIRCUS 
Who is this festival for?
Passionate yogis of all levels and abilities plus families. If you want to escape the city, unwind and recharge in a pretty countryside environment then this one is for you!
What was right with it?
The quality of the yoga practitioners and range of different teaching styles was excellent. No pre-booking was required and we experienced no problems getting into classes on the day. There were a handful of Pilates and Psycle Spin sessions on offer too. The vegan food was delicious and we found other festival goers to be super friendly.
What was wrong with it?
The festival is only in its second year so experienced a few teething problems. The staff at the front desk were a little slow/inexperienced and some errors in the festival programme lead to inaccurate and sometimes conflicting information. The festival also charged for absolutely everything – from shower use to mobile charging. There was also a £65 hire fee for very swish yoga mats which they deducted and refunded upon return.
How could it be improved?
A better range of entertainment and mainstream music. The festival would have benefited from some cool DJ's as well as bands. More inside hangout spaces/bar areas (much of Soul Circus is outdoors so it got pretty cool in the evenings). The on site glitter bar went down a storm – hair braiding could work well for next year. The spa area could be more spacious – the hot tubs were divine but they were tiny inly fitting up to 4 people max. Oh and another coffee van, even yogi's love coffee so the queues were lengthy!
Will we be going next year? 
Despite a few little niggles, we would definitely look at attending Soul Circus again. It's a fantastic opportunity to improve your yoga skills, meet new people, have fun and relax. We wouldn't camp next time because it was quite noisy, cold and of course there's the middle-of-the-night porter loo situation. Of course, this isn't a problem at a 'non-wellness festival' because you're likely wearing your beer vest to keep warm and drown out sound. We had a cheeky drink or two but wanted to ensure we stayed fresh to enjoy all of the classes.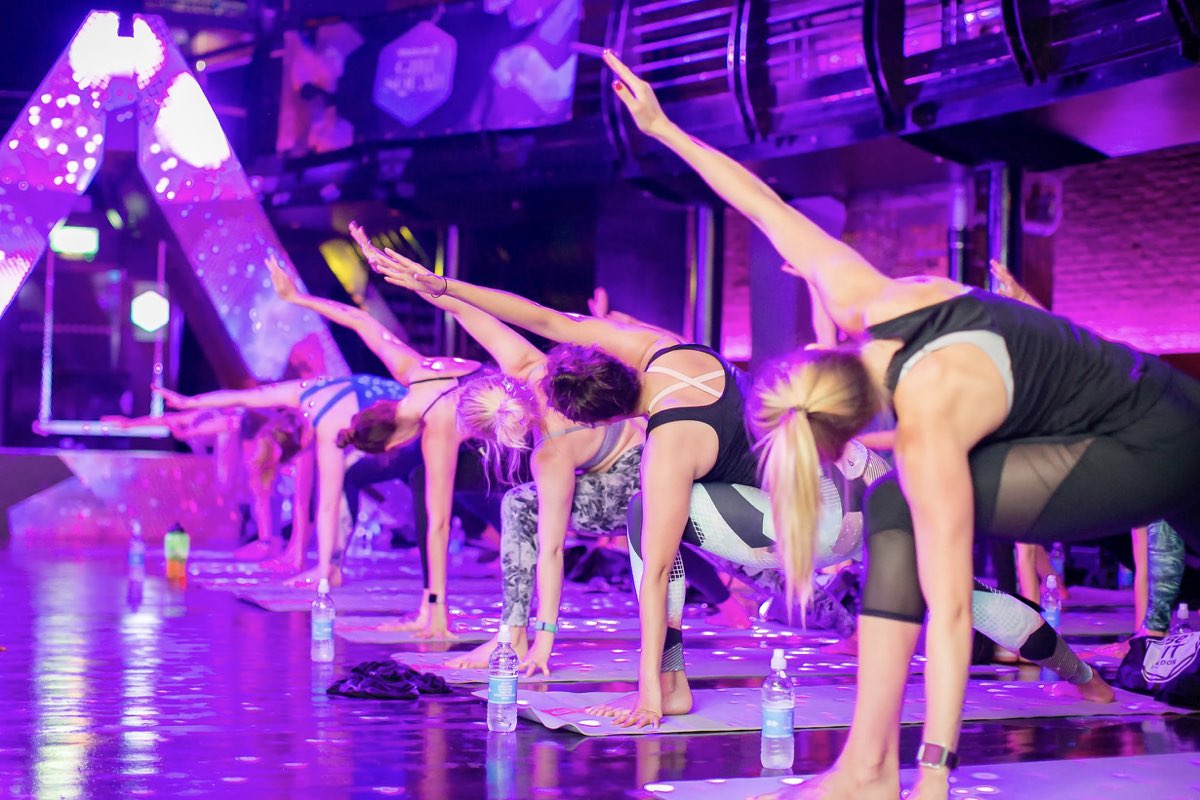 BE:FIT
Who is this festival for?
This one is aimed at a younger Gen Z crowd that are either fresh out of Uni (or still in!). It appeals to those who follow London's top fitness girl influencers and are excited to see the likes of Chessie King and Clean Eating Alice.
What was right with it?
This weekend played host to some our favourite London instructors and studios. We broke a sweat with Define by Ashley Yeater, Primal Yoga with Ida May and a Bhuti yoga session with Sarah Fakih.
What was wrong with it?
While there were tons of great classes and talks, we found it a bit difficult to stick to a schedule. Some classes started and ended late, which meant we were either skipping out early or jumping in late.
How could it be improved?
Be:Fit felt like more of a trade show than a fitness festival. We wished it could have more of a fitness studio experience, and maybe not the juiced up protein competition kind…
Will we be going next year?
Probably not. We felt a little bit old to be here. But we might send our under 30's for a fun day of sweating with London's finest. The VIP section was underwhelming and felt far away from the action.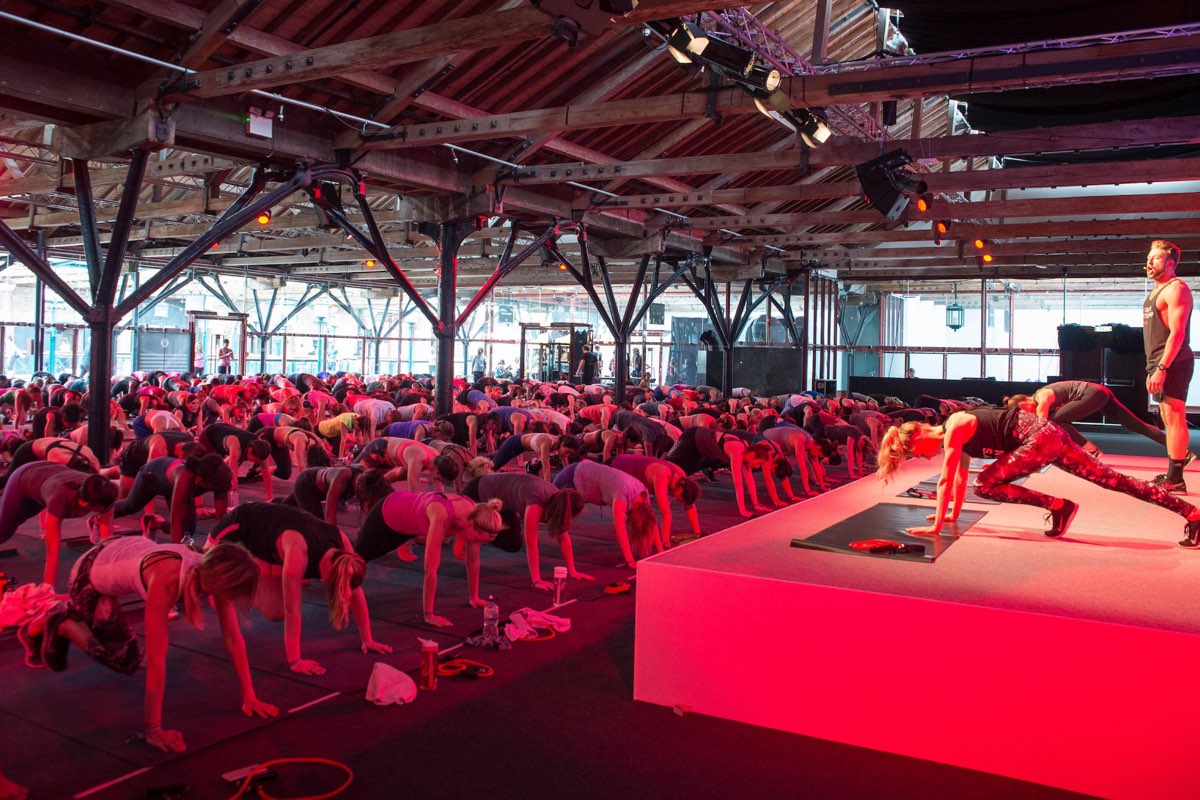 LULULEMON SWEATLIFE
Who is this festival for?
Sweatlife is aimed at every boutique class and lululemon lover in London (basically, all of us at DOSE!)
What was right with it?
The Truman Brewery's unique space is perfect for hosting this day-long event. The talks were phenomenal and we walked away with a lot of knowledge. The highlight for us was Roger Frampton's talk and Ryan Leir's closing of the festival at the main yoga event in true lulu fashion.
What was wrong with it?
For an event put on by lululemon, we were surprised to find the festival flooded with the most intense heavy-hitting workouts that London has to offer. We hope everyone took a few rest days after that weekend!
How could it be improved?
Because it is only a 1 day event, our schedule was jam-packed! We wished we had more free time to explore and hang out throughout the day, but it would come with the trade-off of missing something. As the day went on, more and more of our friends started to tire out. We weren't willing to miss out on the closing yoga session with Ryan Leir, and we were glad we didn't! We just wish our friends could've been there too…
Will we be going next year?
Absolutely, but we'll try to pace ourselves a little more next time!
LOVEFIT 
Who is this festival for?
Festival lovers looking to wave goodbye to their Secret Garden Party days and tap into a healthier form of hedonism.
What was right with it?
The walkway through a forest covered in fairy lights made for a spectacular entrance and we loved the individual fitness zones branded with logos of the studios that felt a bit like finding your favourite ride at a theme park. One minute you'd be spinning in a forest glade, next in a hot tub sipping a juice, balancing on a SUP board in a magnificent lake and stretching in a yoga tent. The food was divine (albeit expensive!) Highlights include duck wraps (and truffle fries – deserved after 5 classes) by The Rolling Duck and Almond lattes at Routes Coffee.
What was wrong with it?
Considering it was its first year, a few teething problems were to be expected. We were a little disheartened to see no spin bikes at 9am on Saturday morning but they were delivered to the sounds of whooping and cheering as we finished off our morning yoga class. The main thing that let this festival down was the weather – sadly something that cannot be helped in the English countryside. Going to a festival in the rain is one thing but adding lots of sweaty kit and aching limbs into the mix felt a little bleak at times. There was a distinct lack of ambiance and party vibes – particularly on the first night but over time we're sure this festival will attract a larger crowd.
How could it be improved?
Indoor areas with talks and workshops. Better known DJ's and bands to bring the party in the evenings, or an outdoor cinema.
Will we be going next year?
Yes, but we will definitely be staying in a B&B next time. Wet wipes and long drops are a thing of the past… Considering this festival is only a 30 minute train ride from London we may even consider a day trip.