When someone says the word 'Florida', we think of three things. Tropicana, the party scene of Miami and Disney World. Turns out, there's a lot more to the Sunshine State than meets the eye, as DOSE contributor Alice Rickard discovers…
If I am being completely honest, I had to google map Fort Lauderdale when I got the invite to explore Florida "Beyond the Beaches". Turns out you can fly there directly with BA from London Gatwick. Two movies and a little snooze on the plane later, we touch down to sunshine and 30 degree heat. After a short drive, we arrive at the W Fort Lauderdale. 
Having recently undergone a $55 million dollar renovation, this white, modern hotel is quite literally gleaming in the Florida sunshine. We head straight for the bar that is reminiscent of Miami, packed with double bed sun loungers and bronzed party-goers enjoying the pool DJ, but the vibe here is relaxed, more Toms than Tom Ford.
Despite the hotel's impressive beach views, I am reminded that we are here to explore Fort Lauderdale beyond the beaches, not something I would typically do at a destination famed for its coastlines.
DAY 1 – FAT VILLAGE 
First on the agenda is a tour around FAT Village, not a conglomerate of Taco Bells, but a local art district, famed for street performers and craft shops, peppered with food trucks.
On a peaceful street, next to an old railway line and one of those oil tankers in the background you see in American movies, it is already looking like a very Instagrammable destination. Nearby is a performer, named Psychic Dove, waxing lyrics about peace on earth, in front of a nature themed wall mural. Relaxing for many, maybe too much for some…
Around the corner from the hippy concert are several warehouses offering varying art exhibitions from up and coming local artists and indoor markets. And if you are still at a loss for things to do, there are the food trucks. Food offerings range from American burgers straight out of an episode of Man Versus Food (who remembers that epic programme?) to Vegan Vietnamese Pho and Salads.
Despite all my food beliefs and dietary requirements, I can't resist sampling a Deep Fried Oreo for the first time. I have written and deleted the sentence on how to describe these six times now and have decided that the only way you can understand the sheer joy of a Deep Fried Oreo, is quite simply to eat it.
A few drinks later in a library, turned coffee club, turned bar, it's time to turn in and get some rest for the mammoth itinerary ahead.
DAY 2 – MERMAID BRUNCH, FLAMINGO GARDENS & MILLIONAIRES ROW
So the great thing about having jet lag is that you get to enjoy the sunrise. After an early start, and a cheeky Burn Strength Yoga class on the beach, I am well and truly ready for brunch. Not your average eggs and avocado type of affair, this is a "Mermaids and Mismosa" brunch.
I head to B Ocean Resort, famed for its celebrity guests, including Joe DiMaggio and Marilyn Monroe back in the day. We're whisked into the Wreck Bar that feels like an underwater world, a dark bar with portholes into a sea of blue (which I find out later is the hotel guest pool).
By the time I have gone up for my third helping of the buffet style brunch, which has everything from omelettes to ceviche on offer, I sit back down just in time to watch a bright green mermaid float past. I know, weird right?! But to watch someone glide underwater in full make up, and an outfit to rival Aerials, is surprisingly calming, almost meditative. The famous Mermaid & Mimosa brunch takes place on Sundays.
After waddling out of the wreck bar, we take a short drive to Flamingo Gardens, a 60 acre, not-for-profit wildlife sanctuary, aviary, and botanical garden. Again, not something I would necessarily have organised on a holiday trip, but actually one of my favourite experiences from the week.
I am greeted by our guide Candy, whose passion for this project, inspired me. Flamingo Gardens wildlife sanctuary is home to the largest collection of Florida native wildlife including alligators, bobcats, eagles, otters, panthers, peacock, and of course, flamingos! All of the animals who are homed, are rescued and unable to re-enter the wild.
Peacocks casually roam the gardens that surround the original house that was bulilt on the land in 1927 by its founders Mr and Mrs Wray. It is also the home to some of Florida's largest trees, named "champions". The energy here is special and indescribable, so if that doesn't lure you in, go and see Josh the Bear. A famous rescued American bear, with his own Facebook page, unable to be released into the wild, he now lives at Flamingo Gardens. It is an incredible experience to be so close to such beautiful animals, whilst knowing that they are being so looked after and in the best home they can be.
In the space of two hours, I go from visiting injured animals to the homes of multi millionaires. Who knew there was so much to do when you aren't sprawled across the hotel loungers taking selfies of your knees.
Captain Bob, who has an entire dictionary of sarcastic jokes (you know those marmite type of tour guides), collects us in a small but comfortable motorboat to explore the waterways of Fort Lauderdale, also known as the "Venice of America".
With my hotel room balcony facing the beach, I had no idea there was this whole other world going on.
Behind the golden coastline and ocean, is a network of channels with row upon row of mansions and super yachts. In fact, Fort Lauderdale has more boats per square mile than any other place in the entire United States.
Cruising down these channels, as the sun was going down, passing mega mansion after mega mansion is like doing a tour of Beverly Hills on water. Captain Bob knows every boat owner, mansion owner and how much he or she had paid for the luxury.
I don't think I will ever forget the view of some topless bronzed adonis, doing dumbbell shoulder presses on the top deck of his mega yacht, on the Fort Lauderdale waterways, hashtag Life Goals.
Having just about gained my appetite back from my 10 course brunch earlier, we potter down Las Olas, South Florida's most architecturally unique, authentic, and eclectic shopping and dining district.
We are lucky enough to try Louis Bossi, one of the top Italian restaurants in Fort Lauderdale, famed for its incredible pizzas and al fresco garden.
DAY 3 – The Yard, Hugh Taylor Birch State Park & Pompano Beach House
I am meant to be having breakfast at Voo La Voo cafe, but am now completely sidetracked to what I can only describe as Instagram heaven. Imagine in the space of 50 square metres, a 1950s campervan, a flower wall, multiple hand painted signs with quotes about margaritas and 6 wall murals… in my element.
After adding about 297 photos to my already full iCloud memory or lack of, we finally have breakfast at Voo La Voo, which offers everything from healthy eggs to nutella loaded crepes.
On weekends, the area is jam packed, so if you want a good table and a great Instagram picture, try and head there on a week day.
Ready to work off all the food we have been eating, we head off to Hugh Taylor Birch State Park for a spot of kayaking and stand up paddle boarding or SUP for those in the know. If you have ever wanted to try Stand Up Paddle boarding this is the place as the entire lagoon you paddle down is only about 4ft deep. It is a one mile long natural built lagoon.
Next on the itinerary is dinner and cocktails at Beach House Pompano which I am pretty excited about and it did not disappoint. This brand new restaurant is obviously situated right on the beach, and as a result has a relaxed smart but casual vibe.
An impressive cocktail list to say the least and an abundance of seafood options. I opt for the sushi which is satisfyingly fresh, you know the type that you can easily chop in half with your chopsticks.
DAY 4 – Hollywood Murals, GG's Restaurant & Glass Blowing
This morning we are sadly leaving W Fort Lauderdale to explore the Hollywood area, where we will be staying at the Margaritaville Beach Resort. If the W was all straight lines and gleamingly white interiors Margaritaville is the polar opposite.
As soon as you walk in you are greeted by a giant blue flip flop in the hotel lobby, which is a reference to the song Margaritaville, that the hotel is based upon. With multiple restaurants, scheduled activities and even a surf simulator on the hotel grounds, I would highly recommend this hotel for families.
The next excursion is a guided walk around the Downtown Hollywood Mural Project. If I thought I had died and gone to Instagram heaven earlier in the week, I was wrong, this was it.
The Murals project is a government organised initiative to brighten up and decorate the walls by both local, national and internationally recognised artists.  Even if you are the type of person who still has an iphone4 with a cracked face, this place will bring out the inner photographer in you.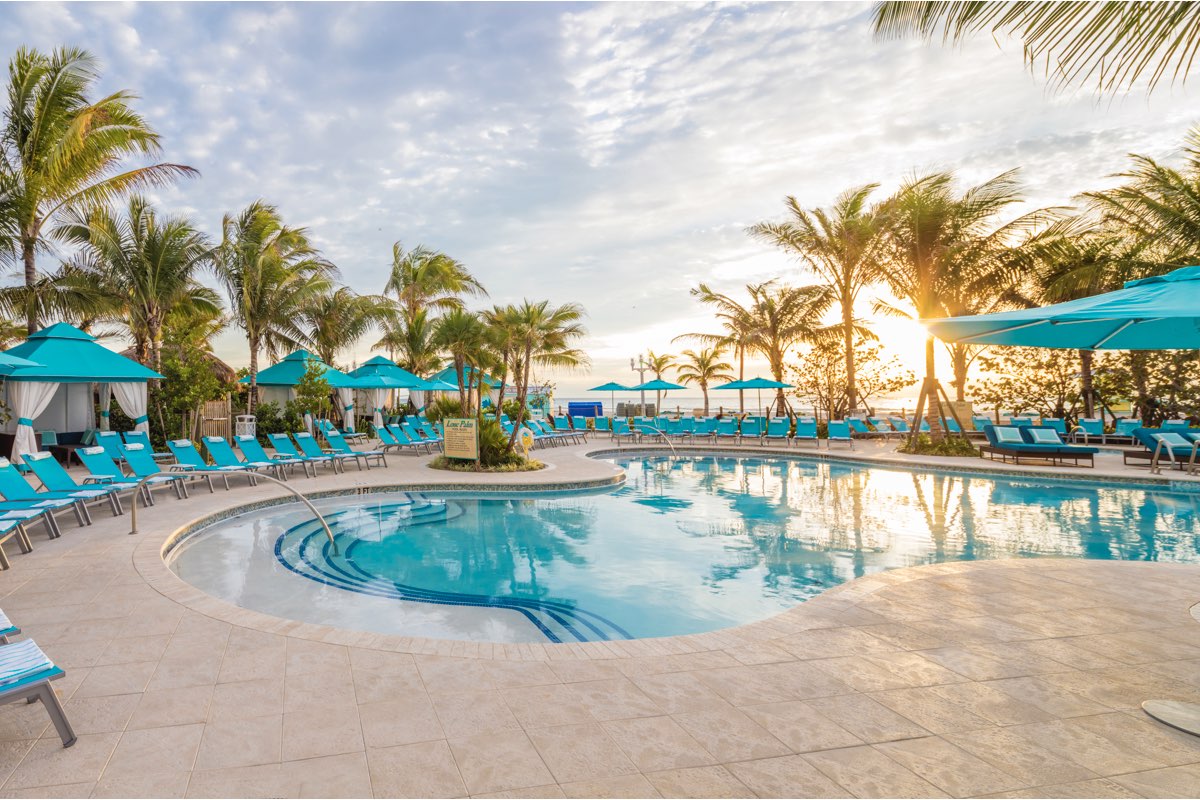 After officially filling my entire memory card on my phone, it is thankfully time for lunch at GG's Waterfront Bar & Grill. This place is right up my alley. Smart tables on the waterfront, with jazz remixes playing in the background, I can already tell the food is going to be good. Seafood lovers this is your mecca. Stone crab claws, fried Calamari and Lobster tails.
In the afternoon, I am sent to a Hollywood Hot Glass Workshop. I have to admit this is not something I would voluntarily sign up for, especially given I was advised I might fail ART GCSE if I was thinking of taking it. However, I proudly left there with a glass flower I made, which is now back in London decorating my living room.
After freshening up, I totter in my heels to dinner at Point Royal, as I was told to dress fancy. The restaurant is located at The Diplomat Beach Resort which despite not staying there, turns out to be my favourite hotel of the trip. Let me simply give you two reasons why, the Hotel Candy Store and Private Karaoke Rooms, need I say more?
DAY 5 – Alligator Safari, A Segway Tour and Dinner at TRP TASTE 
Now if you were ever going to leave the beaches in Florida, it would be to go to the Everglades, so I am super excited as Americans would say to go on the search to spot some Alligators. Before I can even turn and ask my neighbour if we need lifejackets we are halfway across Sawgrass Recreation Park aboard our airboat that hovers across the water.
I am beyond excited to see not one, not two but three Alligators swimming alongside the side of the reeds as we pass them by. Again, a memory I am never going to forget, and a reminder that it really does pay to explore places beyond their beaches. However, if you want to explore the beaches, the fastest and most fun way to do so is on a Segway. Check out @segwayfortlauderdale.
For the last supper, I head to TRPT Taste which is the first venue in Fort Lauderdale that has a rooftop bar.
We are seated at a bar that runs along the front of the Chef's Kitchen, so we are able to watch him and ask questions as he whips up some culinary delights.
They rotate guest chefs and have interactive pop up dinners, definitely a dining experience not to miss if you are a true foodie.
DAY 6 – Billy's Stone Crab 
Not a huge fan of airplane food I am relieved to discover that we are going for another huge meal before we leave. Billy's Stone Crab is everything and more you would expect from a family owned American Crab restaurant.
The waiters have all worked there for around 20 years, the service is impeccable and the food is second to none. And if that wasn't a good enough end to my trip as I sip another non-alcoholic cocktail at waiting for my desert, I look out the window to see a couple of dolphins swimming past in the dazzling ocean.