Which bags can take you from work to workout, and from workouts to weekends away, while still looking stylish? DOSE writer and spin instructor Stacey shares her pick of the best totes, backpacks and suitcases to fit every lifestyle…
I admit it, I have about a million bags: bags for work, for weekends and for workouts. They multiply in my closet, crowding out everything else – we're talking long-handled cotton bags, plastic athleisure bags, nylon and leather totes, and crossbodies.
With my schedule, which means I leave home early and go from work to teaching and then for a night out, I need a lot of things and usually end up hauling multiple bags around with me. But this means I look more bag lady than chic city worker.
Therefore my goal was clear: find a bag where I can keep everything stashed (for the record, that's a laptop, cords, workout clothes, hairbands, basic toiletries and makeup, spin shoes and a water bottle).
Fortunately, it turns out that lots of clever brands have already sussed out the need for a sleek way to carry it all. Here are the real winners…
The Style Queen Backpack
Sweaty Betty All Sport Backpack (£85)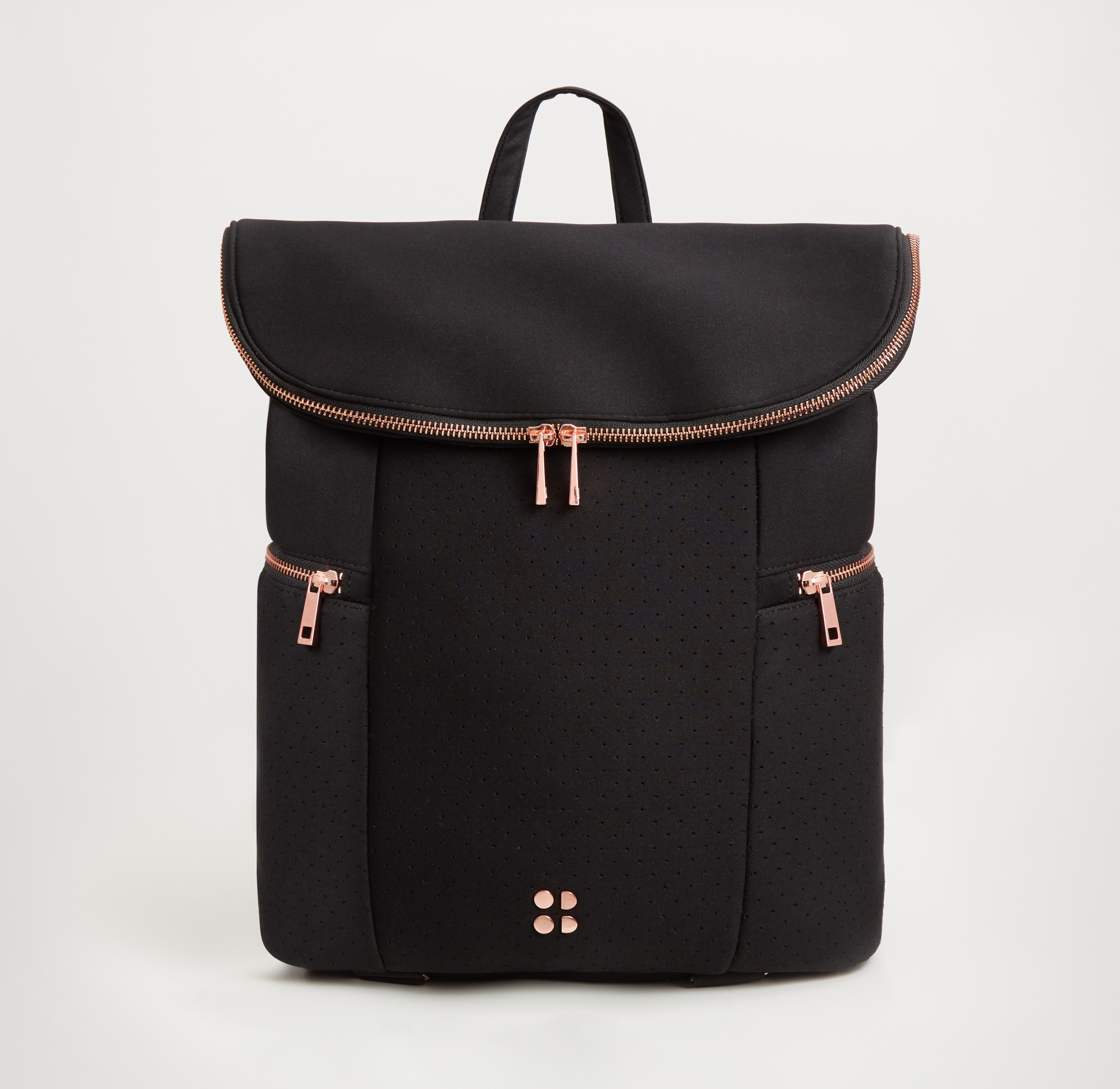 This black neoprene beauty (it also comes in grey) has convenient side pockets, a zippered inside pocket and a snap pocket, plus a cool mesh water bottle holder on the inside. It's super light, and adjustable straps allow for a yoga mat underneath. I liked it so much in fact that I took it on my holiday and carted it around several beachy locations, and the neoprene fabric meant that I wasn't worried about getting all of my stuff wet in the tropical rain. Bonus! 
Why I liked it: The rose gold zippers make it look luxurious, and I got tons of positive comments from my workmates when they saw it. Zippered pockets on the outside make it easy to stash a transit pass or reuseable coffee cup for easy access. There's a huge inside pocket big enough to hold several things (and lined to repel water from sweaty clothes), and a snap pocket that I found handy for passports when traveling. My laptop fits in with no problem. The cotton straps lost a little tension during the day, but were easily adjusted. Overall? It's light and excellent value for money.
The Light As A Feather Backpack
Lululemon City Adventurer Backpack (£98)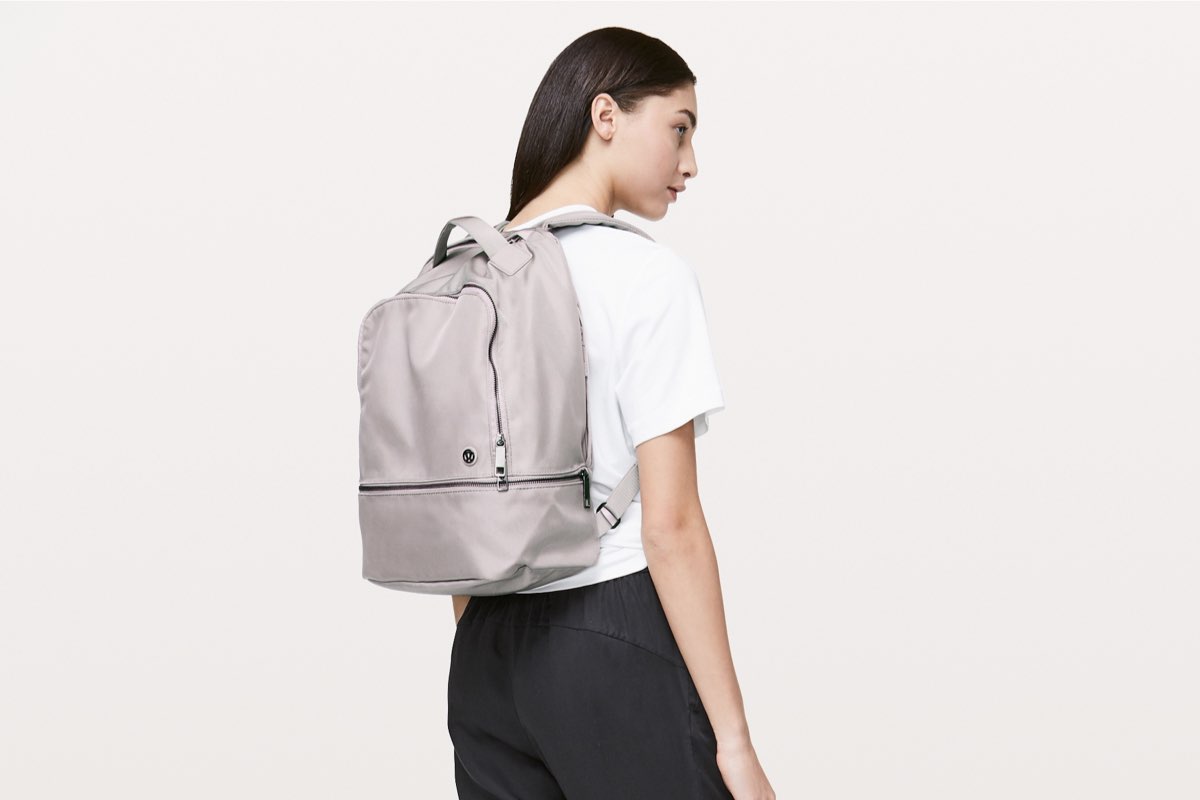 This black nylon bag (also available in a pretty stone colour) is one of the best work-to-workout bags I've tried thanks to its separate fully-padded laptop compartment. It also has a bottom compartment designed to keep sweaty gear separate. Finally, a little phone pocket makes scrambling for your phone and keys a thing of the past, and the straps are really sturdy. There's a little mesh pocket inside to hold valuables, and of course a water bottle holder. It seems to hold an endless array of 'stuff'.
Why I liked it: Lululemon's backpack handles the work-to-workout transition with ease, and you can keep your pricey electronics safe and easily accessible with the clever padded pockets. Little mesh vents at the base help get sweaty gear (or shoes – there was even space for a pair of heels!) from getting stinky in the bag, and that laptop sleeve is perfection. The straps don't stretch out during the day, even when I stick everything into the bag. They're also padded which gives my shoulders a little more love when standing on the tube. Finally, it's the lightest of the bags I tested – my back says thank you, Lululemon.
The Athleisure All-Rounder
Lorna Jane Luxe Backpack (£63)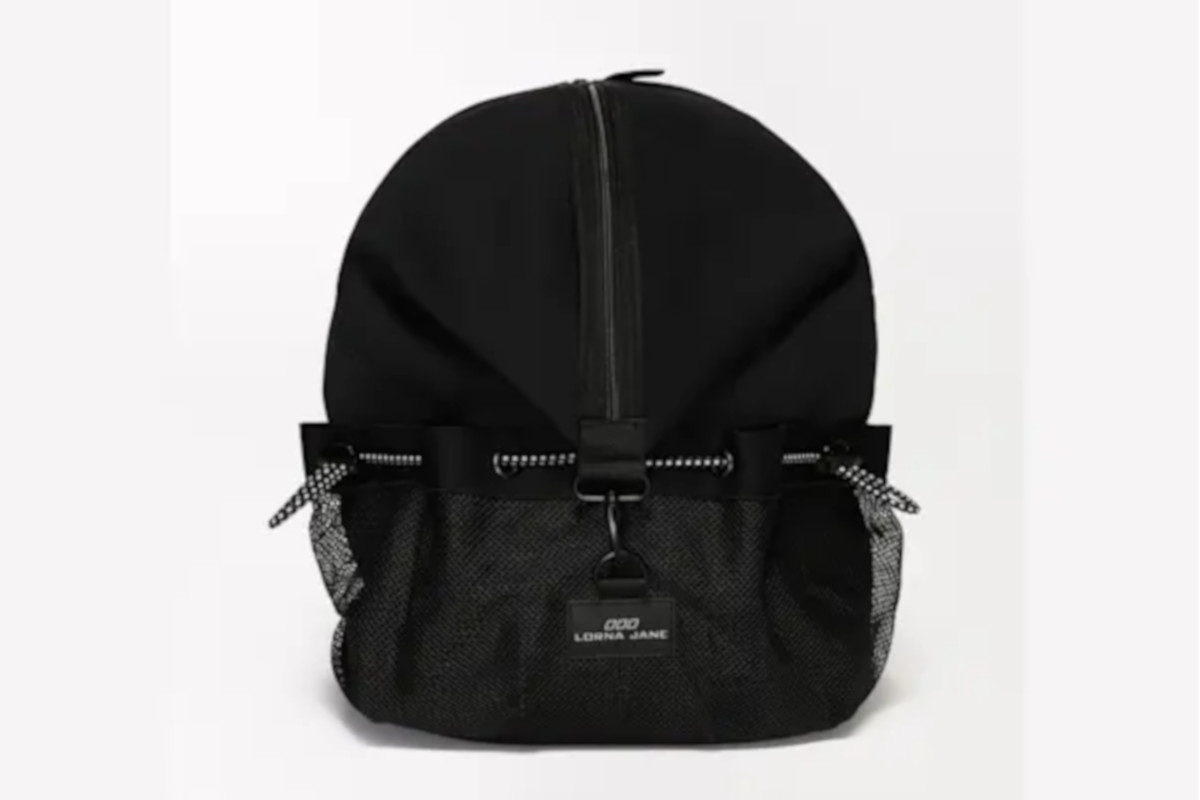 Neoprene is the name of the style game this spring. This beauty from Lorna Jane takes full advantage of the water-resistant, spongy texture to create a fantastic all-day bag. It's essentially a huge bucket with a zip top and one inside pocket. The bucket part folds down cleverly and clips to create a backpack style. Mesh side pockets help keep sweaty gear in one place post-workout. It can hold up to 5kgs: everything fits in this bag – and it looks super stylish.
Why I liked it: It's big enough for a laptop, and the neoprene keeps it from banging around during your commute. The mesh pockets give sweaty clothes a chance to dry after a workout: it also makes it easy to get to a water bottle. The straps stay adjusted and tight all day long – no stretching. You could also easily fit a yoga mat in between the bag and the straps. It's a great companion bag for a multi-class day, too, and looks really cool. Finally, it was the least expensive of the bags I tested, which is a plus for my bank balance. 
The City Tote
Under Armour Misty Copeland Tote (£90)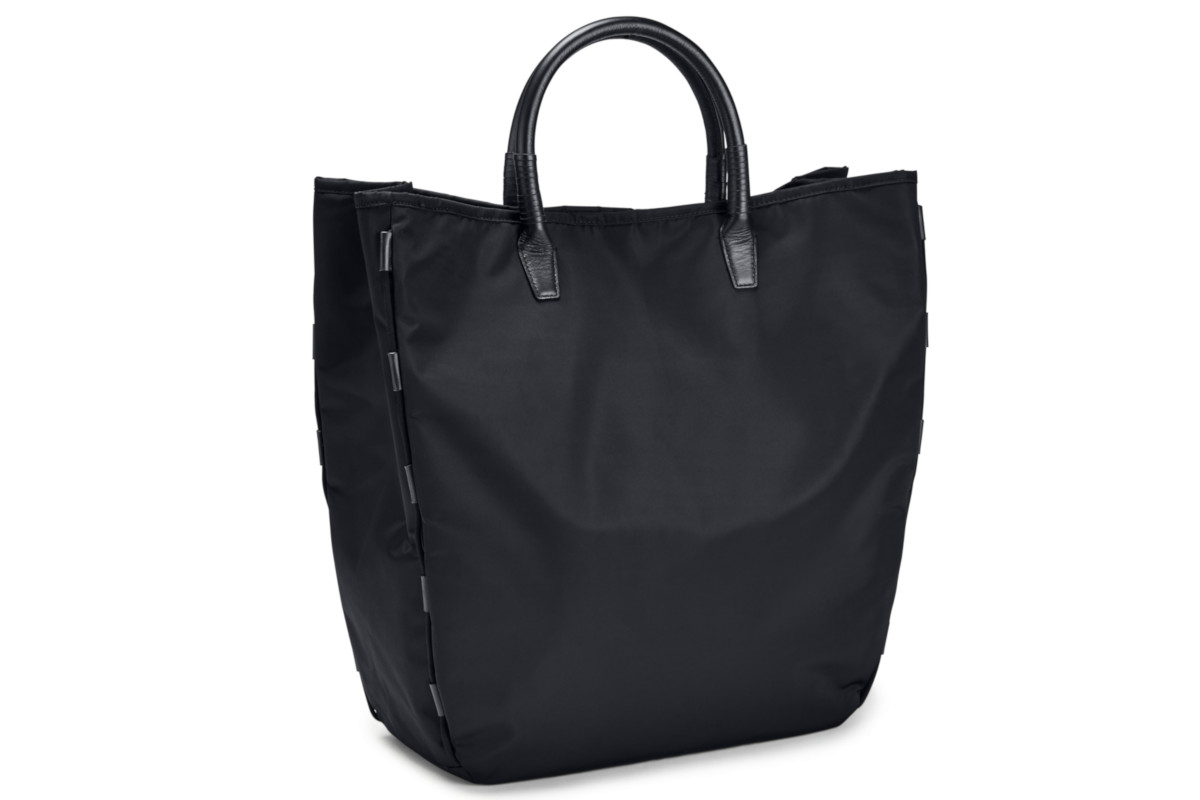 With luxe leather handles and a handy removable shoulder strap that really grips well, this well-styled tote gracefully holds everything I need for work and workout – without looking or feeling overstuffed. Under Armour cleverly arranges a large, laptop-sized zippered pocket on one side and a separate zippered pocket on the opposite side big enough to hold all of my other necessary items (wallet, phone, etc).  If you're someone who needs multiple clothing changes, this is definitely the bag for you – and even better, it looks chic while holding it all.
Why I liked it: This was the largest of the bags I tested and believe me, that really came in handy when I needed to stick in a pair of spin shoes at the last minute AND bring an extra change of clothes (including heels) for a night out. It held all of that and still had room for more – all while looking elegant. It's even roomy enough to use for an overnight trip – it's easy to co-opt the laptop pocket to separate out worn clothes (or sweaty ones) from the clean ones.
The Crease-Free Suit Carrier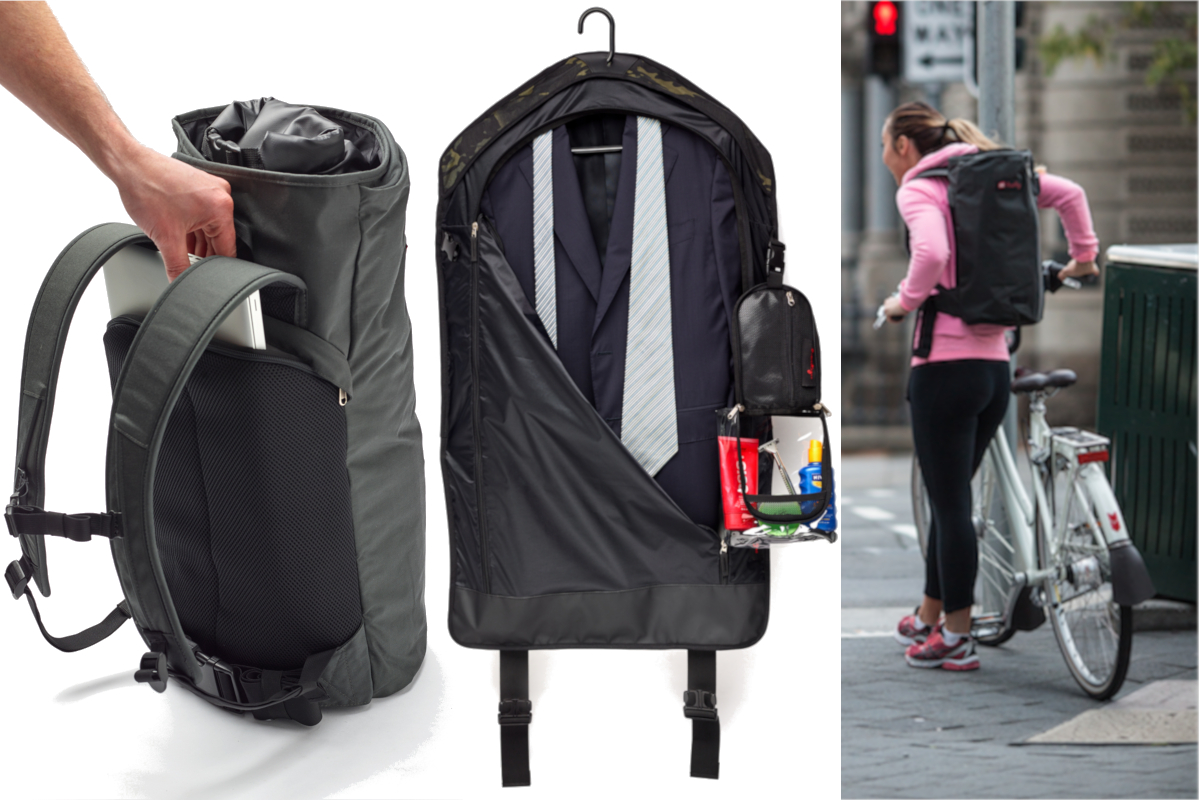 For those of us who can't just stuff their work clothes into a bag and get away with it, Henty's Wingman backpack is the perfect solution. The backpack is a multi-purpose suit and garment bag that allows you to transport work attire such as business suits, dresses and shirts, plus a dedicated laptop sleeve and an inner tube for shoes, toiletries or to keep sweaty gym gear separate – all conveniently packed in a waterproof backpack.
Why I liked it: This is the only bag I've found that allows you to roll your clothes rather than fold (or stuff) them in – so you can be sure that you won't put creases in them, nor will you have to waste precious time battling the iron in the gym changing rooms – just use the in-built hanger to hang it up ready for after the session. The inner bag means that my sweaty kit doesn't come anywhere near my precious suit, and as it's a 'dry bag' I can grab it post-class and take it into the shower with me for easy access to toiletries. It's also a nice slim shape so fits into gym lockers. Plus, when I'm travelling I can unclip the transparent bag for my toiletries at airport security, then throw the bag on my back to dash to the gate – perfect for overnight trips when time is of the essence.
The Waterproof Warrior
Horizn Studios Gion Backpack (£140)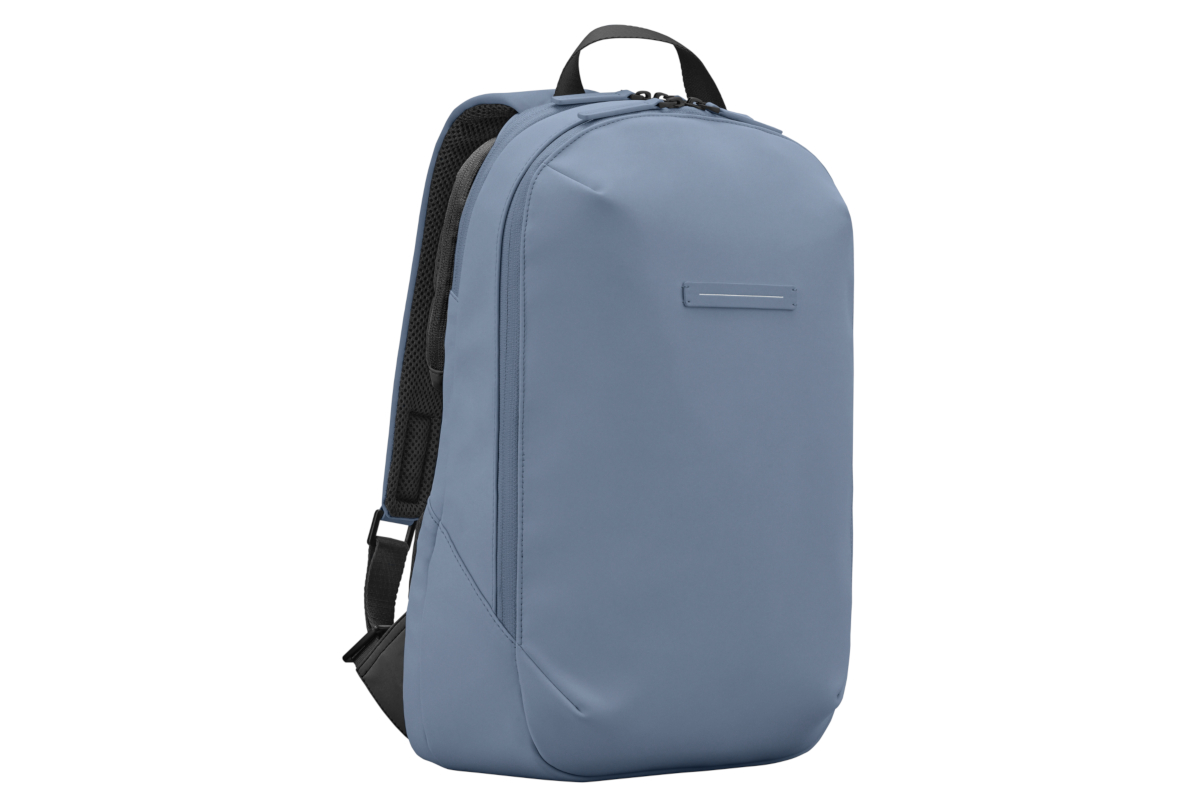 The cornflower blue hue of this backpack isn't the only thing to love about it – the fact that it's made of a waterproof, ultra-durable vegan leather and has been designed to the highest of ergonomic standards with the padded back makes it incredibly comfortable. There are smart protective compartments for valuables and luggage, and the smart strap to secure the bag to Horizn luggage makes me covet one of the matching suitcases even more. If it's good enough for Soho House to request a collaboration, it'll do for me.
Why I liked it: Even when packed with a day's worth of stuff, this bag doesn't look bulky or misshapen. It's also super comfy to wear, so I can get away with carrying everything I need without sacrificing my shoulders. The vegan leather wipes clean and the bag still looked brand new even after a month of daily wear and tear. I also like that the compartments are organised on the inside, so the bag looks sleek and unencumbered on the outside, even if it's organised chaos within!
The Never-Ending Weekender
Briggs & Riley Sympatico Expandable Spinner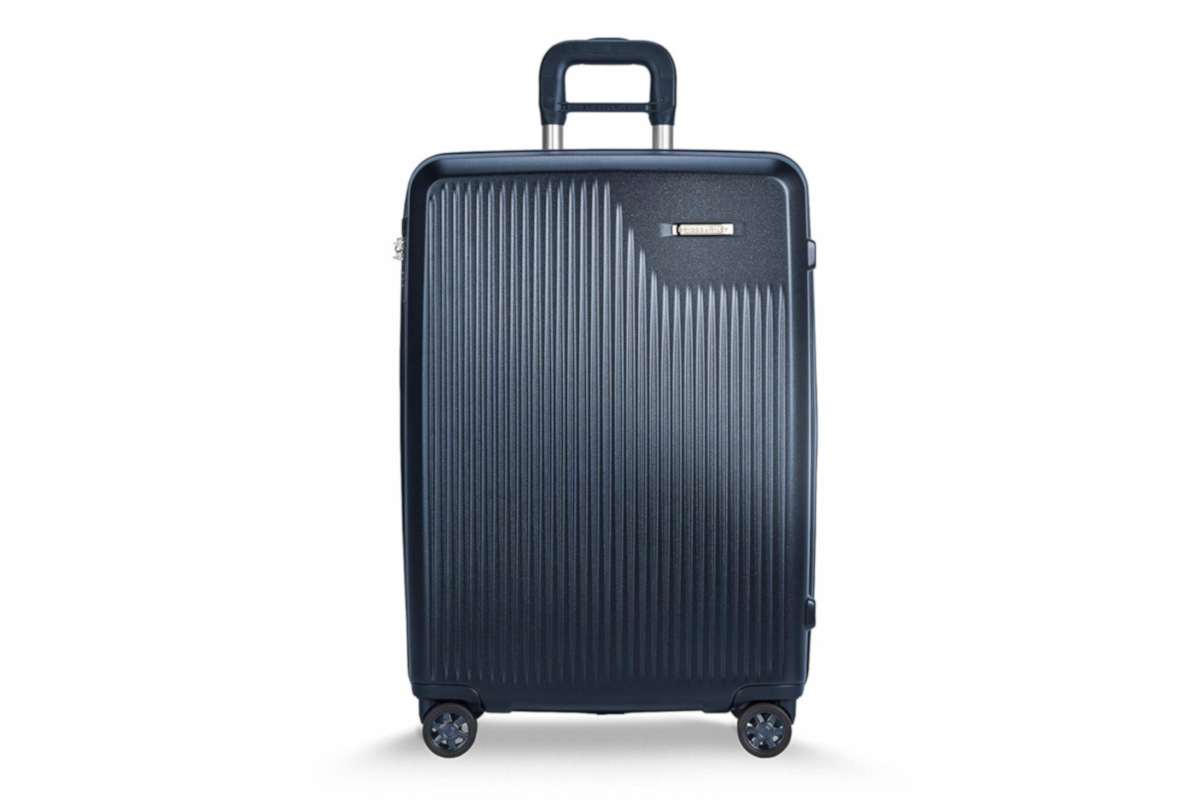 We all know the feeling of dread when it comes to repacking a suitcase after a weekend away, when you just don't have the time for the meticulous, Marie Kondo-style folding that permitted you to stuff in twenty different outfits – not to mention the extra pair of heels and handbag you might have somehow acquired on your travels. Fortunately, Briggs & Riley have developed the perfect solution: a case that can be expanded to provide 22% more space, then compressed back to original size. The Sympatico matte navy collection is simply sublime, and pulls off the impossible feat of stuffing a suitcase to maximum capacity while looking timelessly elegant. 
Why I liked it: I've hitherto been loathe to invest in luggage – I'd prefer to spend the money on experiences at the destination – but when my third cheap wheelie gave up on me and I had to haul an overweight suitcase across three changes of tube in last summer's sweltering heat, I caved in. Unsurprisingly, I've never looked back – now I watch with a smug smile as versions of my former self battle with their cumbersome carry-ons, while I glide along hassle-free. The extra expandable space has saved me on many an occasion, be it an unforeseen Parisian shopping spree, or to stuff in a handbag for the journey so I have one less thing to worry about. Next on my list is the full-size case, although my boyfriend is resisting for fear of the implications it may have on my foreign shopping habits…
The Beach Babe Basket
Bom Bom Morocco Personalised Big Basket (£110)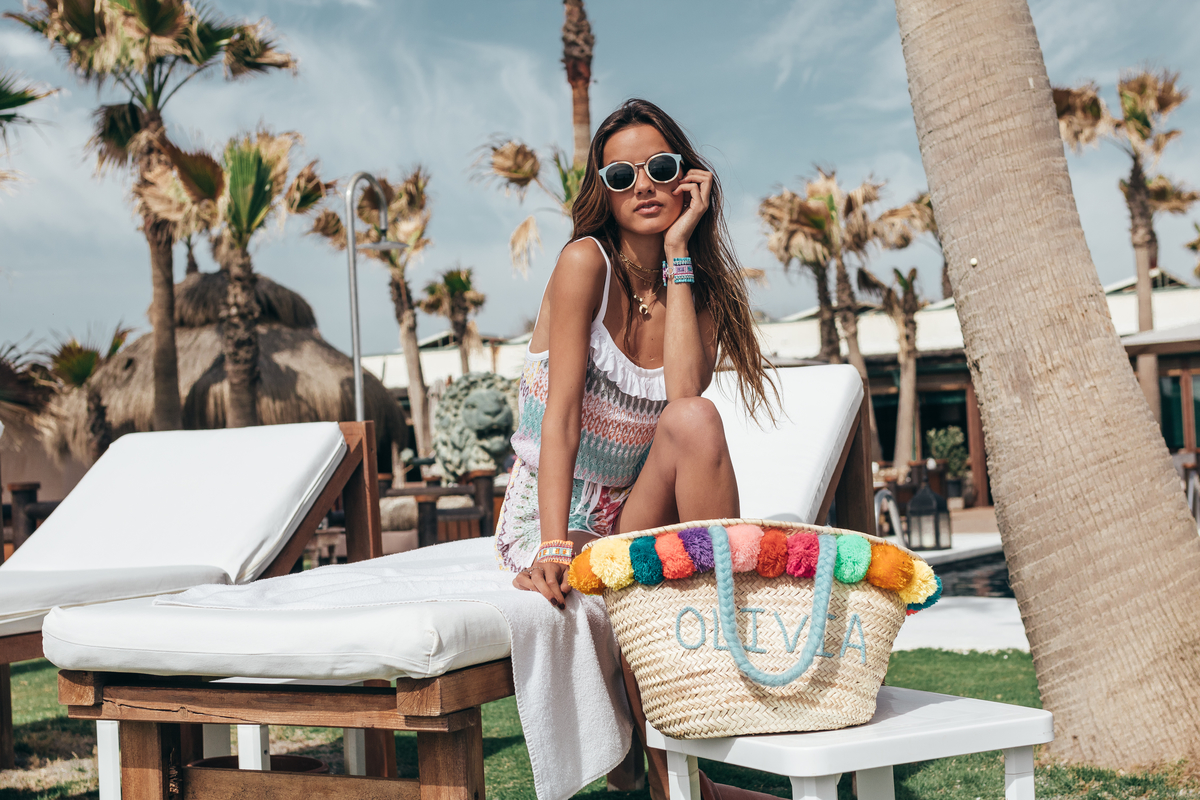 This might not be the most practical of bags out there, but it gets full marks for cuteness and wow factor. The basket can be as personalised as you like, from pompom colours to handles, to message and even font – and you can even get a straw hat to match. It's big enough to throw in towels, swimwear, a change of clothes and even a bottle of rose for a summer picnic in the park or trip to the beach. Bom Bom Morocco also puts social responsibility at the heart of the brand: every item is lovingly handmade by a women's association in the foothills of the Atlas Mountains.
Why I liked it: It's hard to resist the fun, playful and colourful nature of Bom Bom Morocco's products. They make the perfect summer gift, be it for a bride-to-be or a birthday girl – the personalised message means you can create something totally unique and eye-catching. I was also pleasantly surprised at the quality of the product, from the hand stitching through to the towel lining, and how sturdy the bag was – holding a bottle of Pimms, lemonade, strawberries and nibbles plus a picnic blanket – which, combined with the bag itself, made for the most Instagrammable picnic scene going.
Main photo: Lululemon
Get your weekly DOSE fix here: SIGN UP FOR OUR NEWSLETTER