W Hotel's Fuel Weekends are our idea of absolute heaven. In a nutshell, you detox, retox and then do it all over again while living your best life in 5-star luxury. Sam heads to hotel's fitness-focussed getaway in Koh Samui…
ARRIVAL
You don't expect to start a fitness weekend with a round of margaritas but this is how things go at W Hotel. I am lucky enough to have been invited to its Fuel Weekend in Koh Samui which is anything but your average fitness retreat. Yes, there are plenty of intense workouts but absolutely no calorie controlled diets, alcohol restrictions or bedtime curfews. Drinking is very much encouraged, as is late-night partying as long as you don't mind surviving off limited sleep.
It's around 10pm when we arrive at the hotel so after our cocktails we are shown to our fabulous villa, which has its own private pool, and crawl into bed weary from a long day of travelling.
DAY 1
Day one begins slowly with a leisurely buffet breakfast and some chill out time on the beach, which we use to plan our schedule of workouts for the next few days. There's plenty of choices and I want to try a bit of everything – although there's no obligation to do so. For later that afternoon we pick a booty-focussed workout with Bec Donlan, who founded Sweat with Bec, followed by slow flow sunset yoga.
Then it's activewear off and party outfit on as we head to the hotel's iconic Woo Bar for welcome drinks and canapés. This glitzy bar has giant circular sofas overlooking the ocean with knock-your-socks-off views out to Koh Phangan. I limit myself to three drinks tonight because #balance – and the evening ends with a dazzling firework display.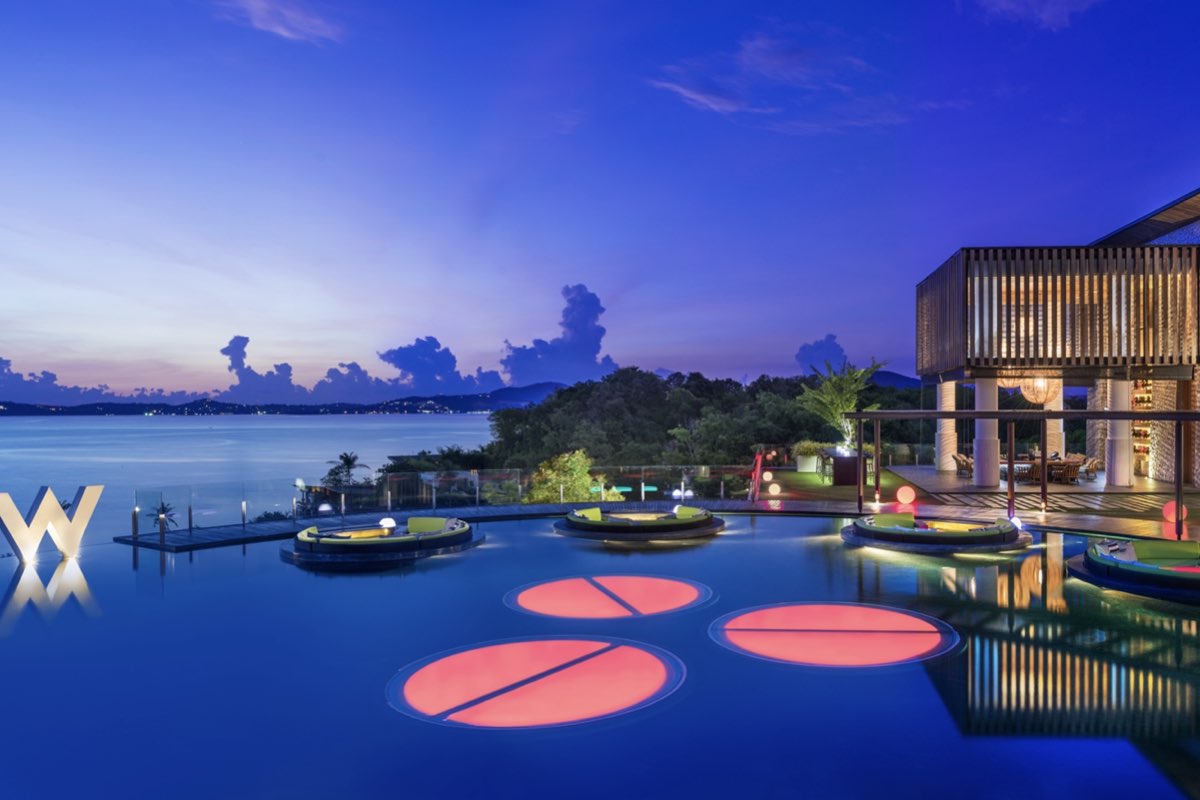 DAY 2
I'm a huge fan of F45 so I'm pumped to see this on the programme this morning. The strength session is being taken by two top trainers from L.A in the world's most Instagrammable purple tennis court. F45 is notoriously tough so I'm thinking that doing it in 30+ degree heat is surely madness? I'm relieved to hear the workout has been modified and once we get going we take breaks every few minutes to rest and rehydrate.
After channelling our inner Lucy Liu at a Muay Thai boxing class with the hotel's own trainers, we freshen up for some afternoon retoxing in the form of a Tiki-style beach picnic complete with camper van cocktail bar and live DJ.
Later we're invited to the penthouse suite to enjoy a night of Thai cuisine. The grilled salmon skewers with Thai curry peanut sauce go down a storm.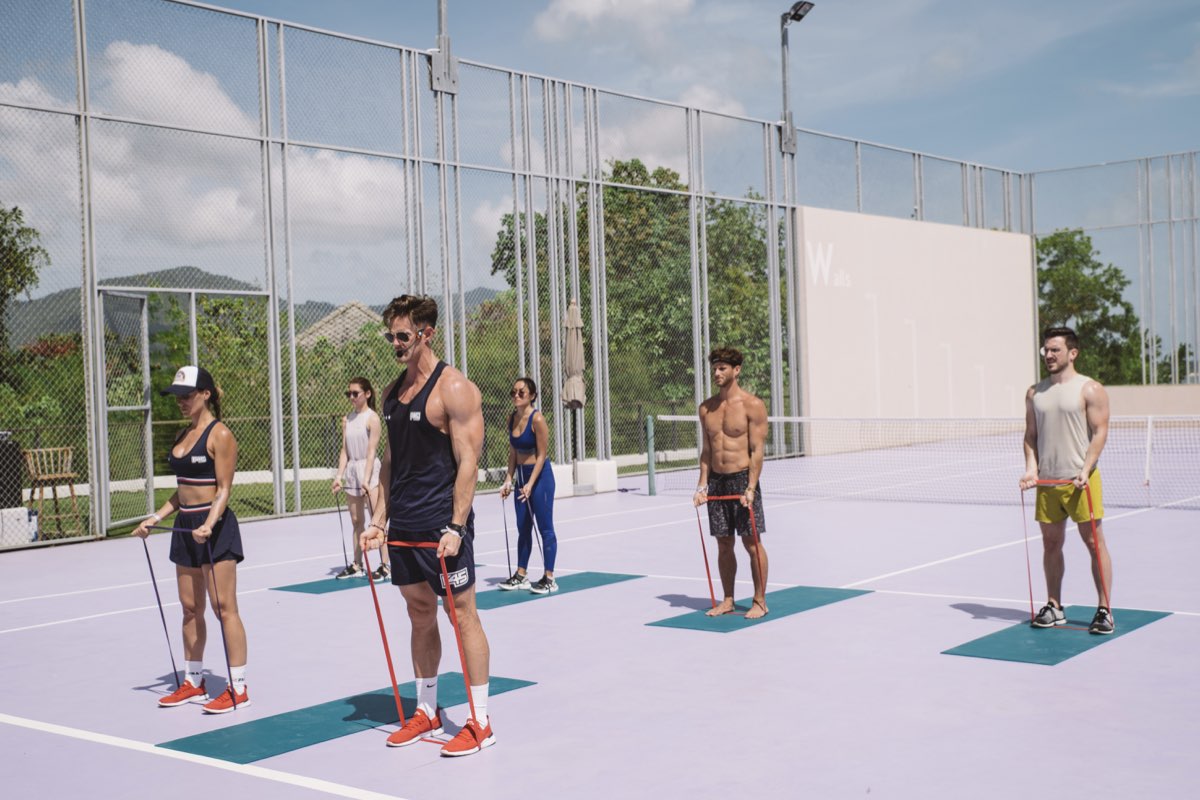 DAY 3
We opt for a triple whammy of workouts today, kicking off with Tiffany Soi's fusion of dynamic yoga and functional movement. Next up is Ervin Coty's, aka Mr Thrill Cycle, savage boxing bootcamp – and finally, we finish the day with an F45 cardio blast.
The reward: a gorgeous candlelit dinner on the beach with free-flowing booze and an epic fire show followed by a DJ set, which goes on until the early hours.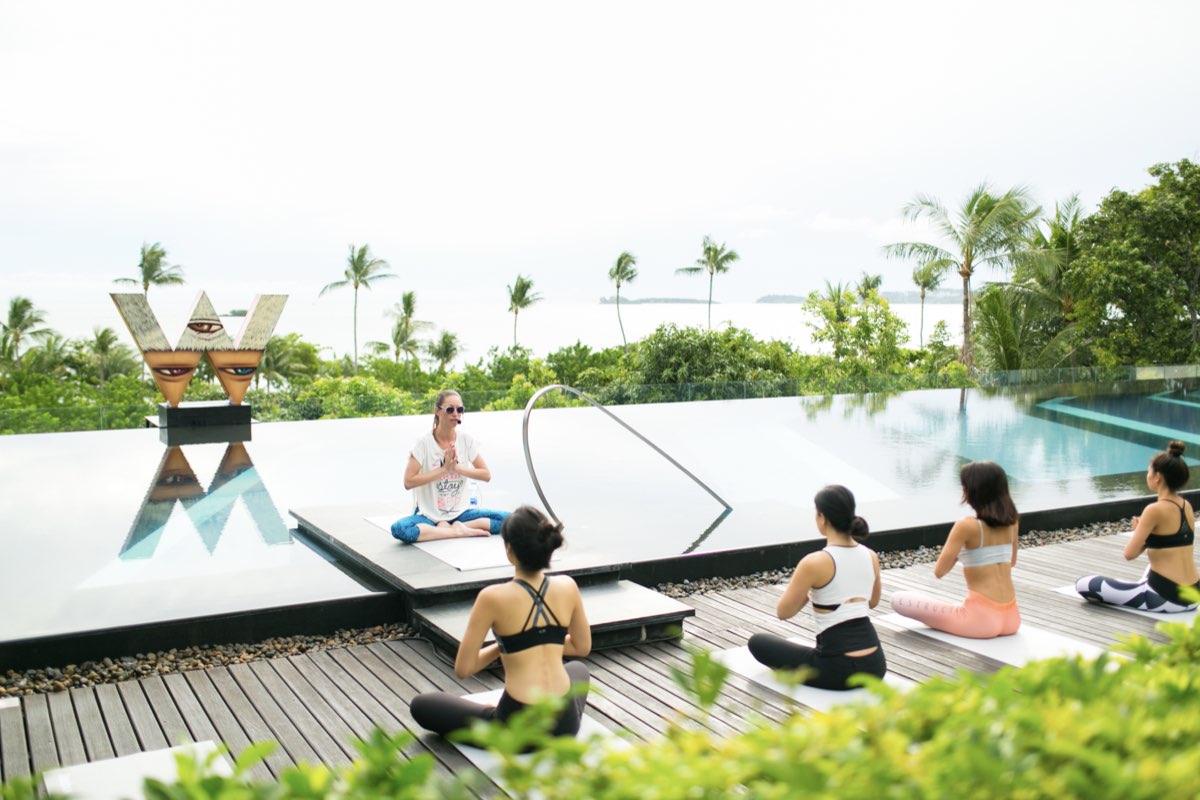 DAY 4
I've woken up with an inevitable hangover and the promise that someone will shortly turn up with a floating champagne breakfast that I'm supposed to eat in my pool. It arrives and it's extra AF with smoked salmon bagels, bowls of yoghurt and granola, fresh fruit and a bottle of bubbly.
When the breakfast bonanza is over, it's time to make our way to the airport where I reflect on an unreal weekend of training hard and partying even harder.
The next Fuel Weekends take place at W Aspen (August 23rd-26th 2019) and W Muscat (October 2019). For more information visit www.w-hotels.marriott.com/about/fuel/fuel-weekends
Get your weekly DOSE fix here: SIGN UP FOR OUR NEWSLETTER