Once reserved for vegans and the lactose intolerant, plant milks (or mylks) are now the norm. From our lattes to ice creams, protein shakes to cocktails, these plant-powered creations are making it easy for everyone to adopt a dairy-free lifestyle. They're even turning up on our door step thanks to the Mylkman.
Yes… London's first nut mylk service has arrived, delivering tasty nut mylks to our doors via bicycle. Currently their delivery locations are limited to East London but we hear they're going London wide with eco friendly electric milk floats from September. Flavours include; almond, maca and matcha, cashew, coconut, turmeric and our favorite – sweet pistachio & chai. You'll never need to visit Starbucks again.
Mylks are delivered in beautiful glass jars which you're encouraged to return in exchange 50p. 10% of all their profits go to Greenpeace and to ensure there's no wastage they turn their almond pulp into energy balls and shower scrubs.
Mylkman claims to steer away from additives, thickeners and emulsifiers (unlike a lot of their competitors), and where the "industry standard" is 2% nut content, they claim to pack 15% in every litre.
Wondering what the industry standard is even based on?
"The general percentage of nuts across all nut milks. This comes from the Nelson report", explains Nutritionist Jenna Hope. "However, brands such as Plenish and Mylkman have much higher percentages which means they contain more nutrients from the nuts themselves such as calcium and iron. They are also thicker, creamier and more delicious".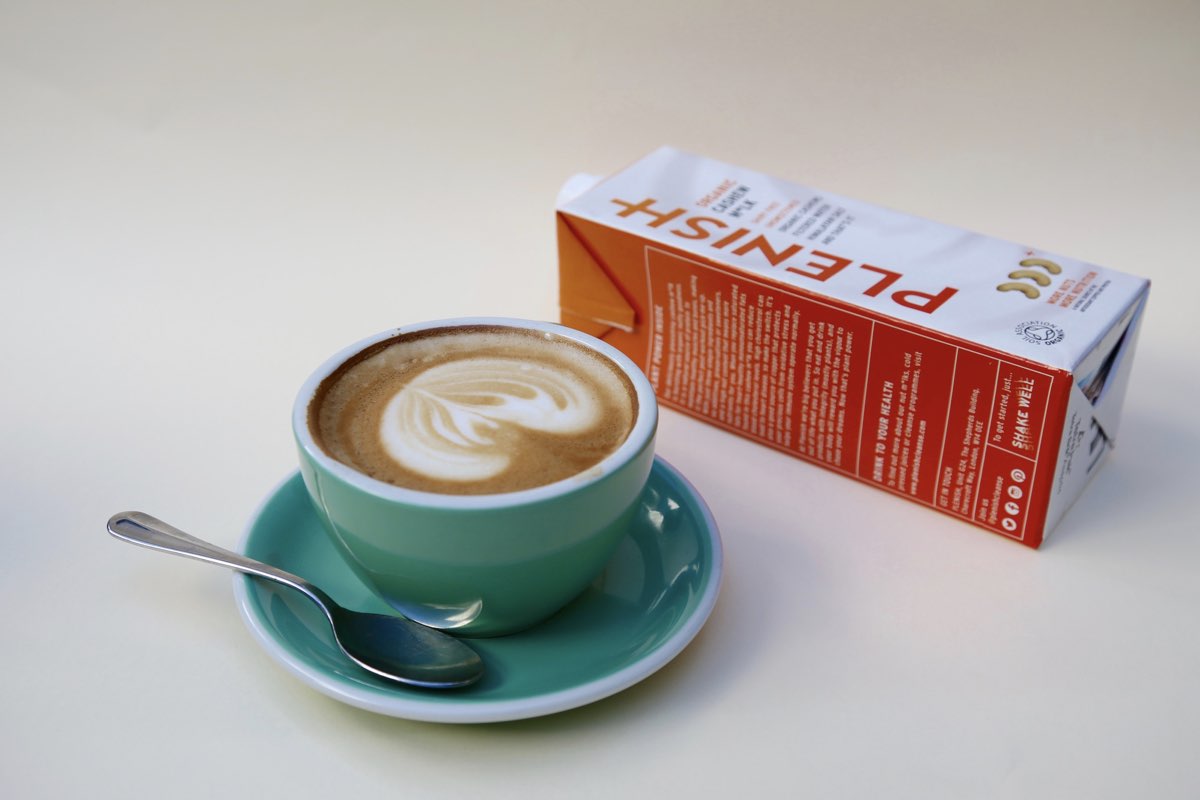 You may know Plenish for its cold pressed juices and detox cleanses, but they also offer a range of coconut, almond, cashew and hazelnut 'm*lks'. A great long life option if you haven't got all day to wait around for the Mylkman.
Plenish claims that its m*lks are made with "absolutely no added sugar, carrageenan, oil, soy or gluten". Are these the baddies to look out for?
"Reading labels and understanding ingredients is really important in today's society where marketing has become cleverer than ever", says Hope.
"Sugar, food additives, oils and gluten are not ingredients which need to be in your nut milk. Save your sugar allowance for an afternoon energy ball or something a little sweeter but don't waste it in your nut milk. With regards to soya, this is a tricky one and something which is very much debated. Whilst soya milk can be a milk and protein source for individuals with a nut and dairy allergy it's something which I suggest is consumed in moderation.
Some research suggests that soya products stimulate oestrogen production and can contribute to an increased breast cancer risk. That's not to say you should never have it but if you're drinking three lattes a day, I'd question how much you're actually consuming".
So which plant based milk is the most nutritious and tastiest?
"All plant based milks have their place, I recommend sticking to the brands which do not have added sugars, sweeteners or additives. Some brands add rice (or rice syrup) to their milks which boosts the sugar content drastically. Almond milk is a good source of calcium, iron and is low in sugar. However my personal favourite is the Plenish cashew milk… It's so creamy and froths really well in matcha lattes"
But why substitute dairy milk with plant milk? Isn't dairy milk important for our health?
"Dairy milk has its benefits too, it is a great source of calcium", she says. "However, not everyone feels comfortable with the concept of drinking dairy milk or is unable to digest it properly. Therefore plant based milks are a great alternative which also provide protein and calcium. If you're drinking dairy milk I recommend buying the organic version where possible to reduce the amount of hormones in the milk".
If the prospect of giving up that after dinner cheese board is causing you too much distress, find solace in the fact that you're keeping a lot of dairy farmers in business!
Comments by Jenna Hope (ANutr), MSc, BSc (Hons)