If you think Paris isn't the place to visit for lush green spaces and open-air swimming pools, think again. You've clearly never visited the 16th arrondissement. The home of Hotel Molitor – a haven of peace in the Parisian capital with a spa, brasserie, bar, rooftop, art gallery and historic 1930's Art Deco style pool. Hettie escapes the hordes to experience a different side of the French capital…
The last time I was in the Bois de Boulogne was at mile 22 of the Paris Marathon, battling through the dreaded runner's wall. Dehydrated and delirious, I confess I was more preoccupied with where my next jellybean was coming from than the verdant scenery. Two years later, I return to explore the 845-hectare wooded park, a former hunting ground of French kings, known as one of the "lungs" of Paris, at a more sedate pace. This time, the only sporting activity will consist of laps of Piscine Molitor – the most iconic swimming pool in Paris that sits on the park's periphery, which at the height of summer, is the only place I want to be.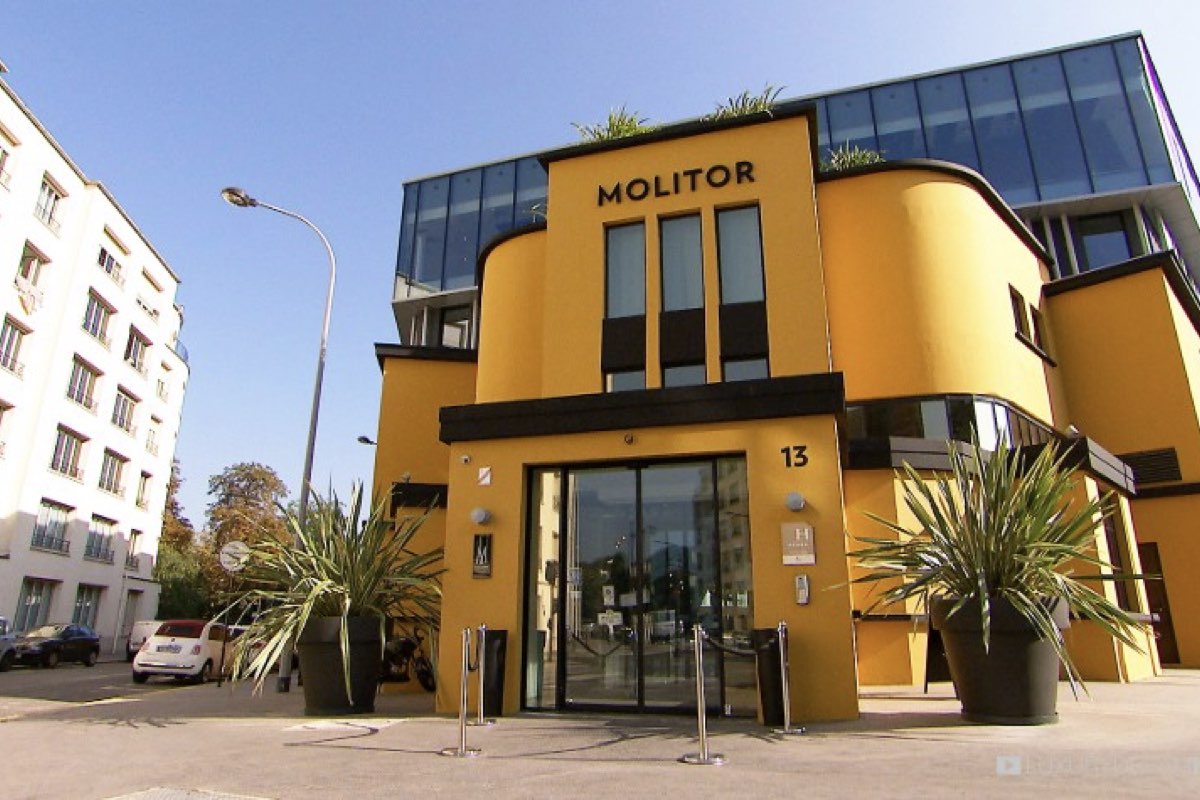 Arrival at Hotel Molitor
After a scenic Uber ride from Charles de Gaulle, I arrive at the chic entrance of Molitor, a 5-star luxury hotel, a stone's throw from Roland Garros (where they play the French open) and Parc des Princes football stadium.

A flash Rolls Royce sits proudly in the lobby (a gift from Eric Cantona apparently), conversely covered in graffiti – a nod to the artists who once resided here. While Molitor experienced a glamorous 60-year reign from 1929-89 as the most popular pool in Paris, where sunbathers lounged next to Hollywood starlets, the building fell into ruin in the 90's. It transformed into a temple of the Parisian underground scene, becoming a haven for ravers and graffiti artists.
In 2014, Molitor's famous indoor and outdoor pools were lovingly restored to their former glory and the building was modernised into a hotel. It's now a healthy hedonist's playground, where art deco and urban culture blend in perfect harmony. Home to the largest spa in Paris by Clarins, extensive wellness facilities with everything from cryotherapy to ballet barre, aqua biking and Hip hop yoga, and a seasonal roof terrace.
Lunch at Hotel Molitor
After a 5am start, a flight and a taxi across town, with a baby in tow, I had worked up quite an appetite. I head straight for the 'Brasserie Urbaine' and order beef carpaccio with parmesan and capers followed by "the special", a plate of truffle macaroni with ham and comte cheese. It might be gluten-free but is hardly a meal befitting the "home of the modern day bikini". Getting into my costume is the last thing I feel like doing after tidying away this plate of food – which I do with ease. But it is more post-marathon fuel than pool-side fare.
I notice the lithe, bronzed sunbathers appear to be skipping lunch altogether – my companion and I seem to be the only ones in the restaurant. I forgo pudding on this occasion even though a raspberry and elderflower cheesecake is calling. If you are watching your waistline, the menu does quite clearly display "Wellness" options signified by an apple and heart symbol – a salad with tomatoes, parmesan and basil sorbet for example, as well as Veggie and Gluten Free options.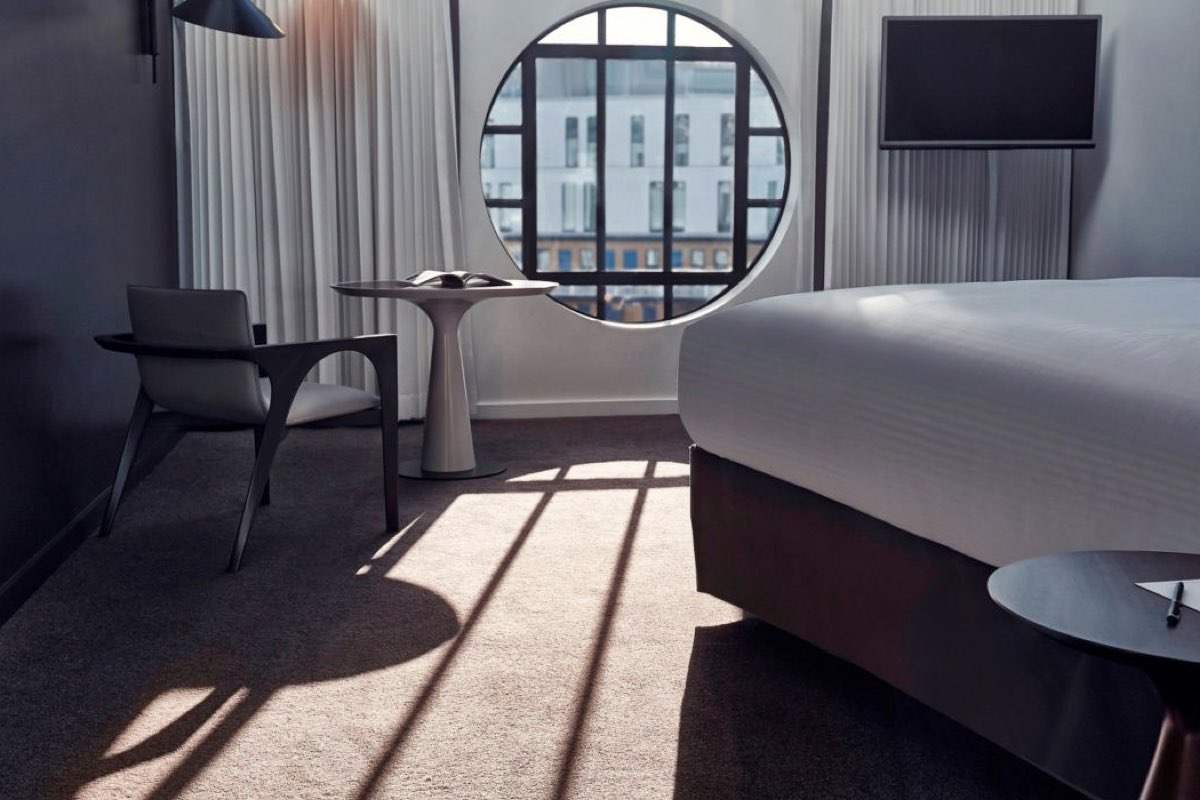 The rooms at Molitor
Molitor houses 117 rooms and 7 suites that have been decorated by Jean-Philippe Nuel. Each offers a magnificent view over the summer pool – that is all the more magical come nightfall. We stayed in a Classic room complete with slippers, robes, Clarins amenities, Dyson hairdryers, Nespresso coffee machine and a sensory shower that diffuses essential oils into the water. I wondered why my body felt so deliciously soft. For something a bit more special you can upgrade to an executive room complete with an Instagrammable porthole or pool suite with a bedroom, lounge and sofa bed – perfect for families.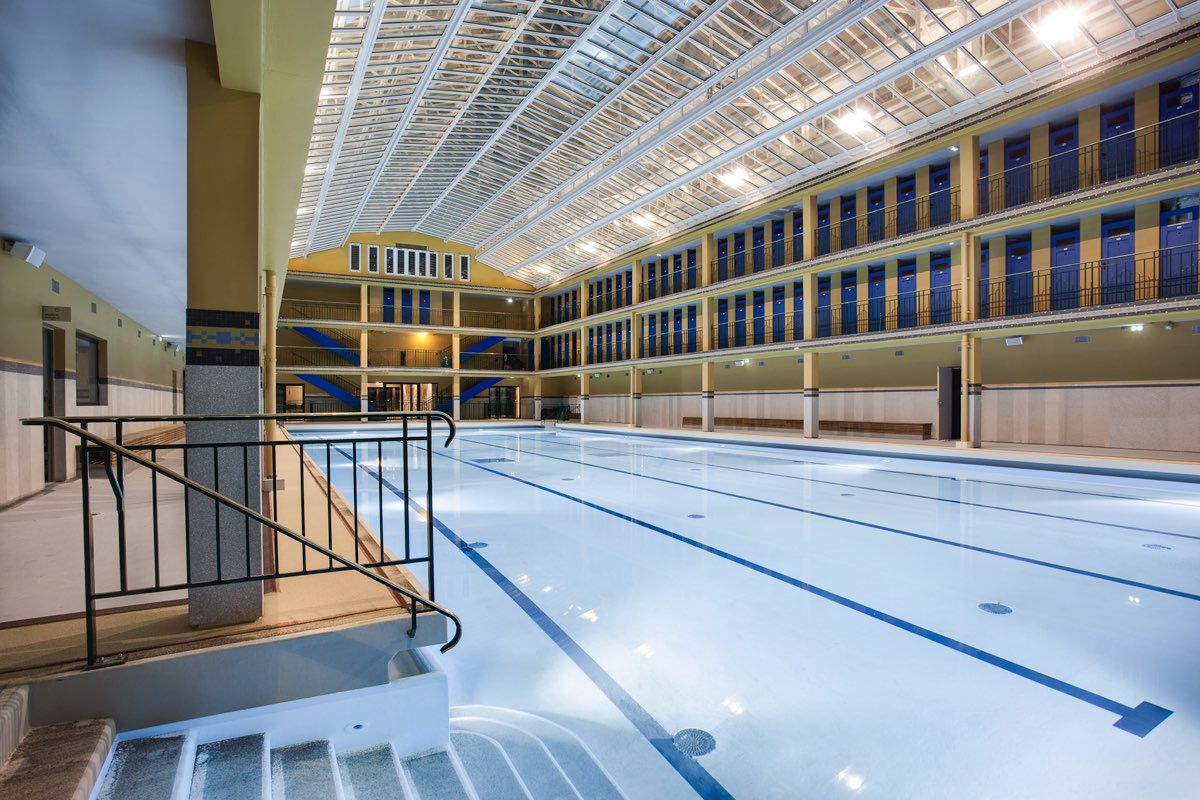 The facilities at Hotel Molitor
The outdoor pool is heated to 28°C all year round so you can take a dip come rain or shine. Be sure to pay a visit to the indoor pool where cabins pay homage to over 40 street artists from around the world.
There's also a sprawling fitness centre, sauna, hammam and of course, the largest spa in Paris by Clarins. Massages are tailored to different "athletes" whether you're a swimmer, boxer, golfer, jogger or tennis player, techniques focus on different muscle groups. I'm not sure a half hearted attempt at breast-stroke makes me worthy of "The swimmer's massage" but it proves the perfect remedy after a few lengths, not to mention years spent hunched over a laptop and months of  breastfeeding. The biggest benefit of all being the gift of sleep – I even wake myself up from snoring.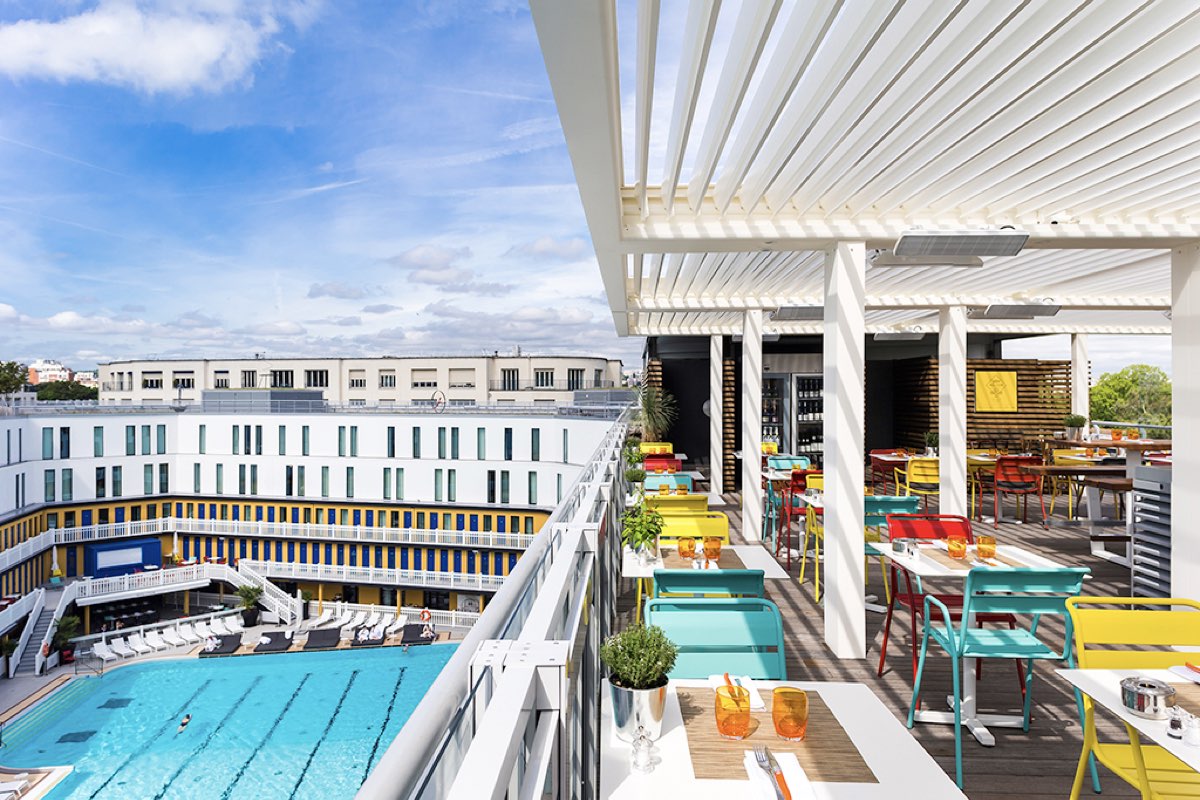 Dinner
From May to September, the roof terrace is open for lunch, dinner and cocktails. It's a chic, romantic setting, that as nightfall sets in, is the perfect spot to observe the Eiffel Tower light show. We dine on tuna tataki "a la plancha" salad and king crab salad with lettuce, avocado and citrus fruit, followed by chicken skewers and a garlic dip straight from the grill – washed down with a glass or two of champagne. For non-imbibers there are plenty of non-alcoholic options.
My companion, pram and I are treated like VIP guests from the moment we arrive. The waiters couldn't have been more charming and go as far as lifting our pram over a table of guests to help us navigate our exit. While this would have been the place to party the night away in our twenties, with a baby in tow, we find ourselves in bed by 10pm.
Breakfast
Croissants, salted butter, every conceivable type of cheese, melt-in-the-mouth gluten-free cakes and banana bread. Passion fruit, kiwi fruit, fresh juices, strong coffee, need I go on? It's a heavenly spread. If you're not a fan of a continental style brekkie, order the signature big bun eggs served on a buttery brioche (there's a vegetarian option with mushrooms, tomatoes and zucchini) or the homemade pancakes. There's a notable absence of the heart and apple symbol on this menu but for the health-conscious, you can't go wrong with avocado toast.
When in Paris…
Hotel Molitor is 25 minutes from the city-centre, 10-minutes from the Eiffel Tower and 20-minutes from The Palace of Versailles – but be sure to purchase a ticket in advance or be prepared to queue for hours. If you don't fancy battling the hordes at The Louvre to catch a glimpse of the Mona Lisa, spend a morning wandering the Luxembourg Gardens via Angelina café – a famous tea house, known as the ultimate temple of gluttony for its almost pudding-like hot chocolate and spend the rest of the afternoon walking it off. Your Fitbit will thank you.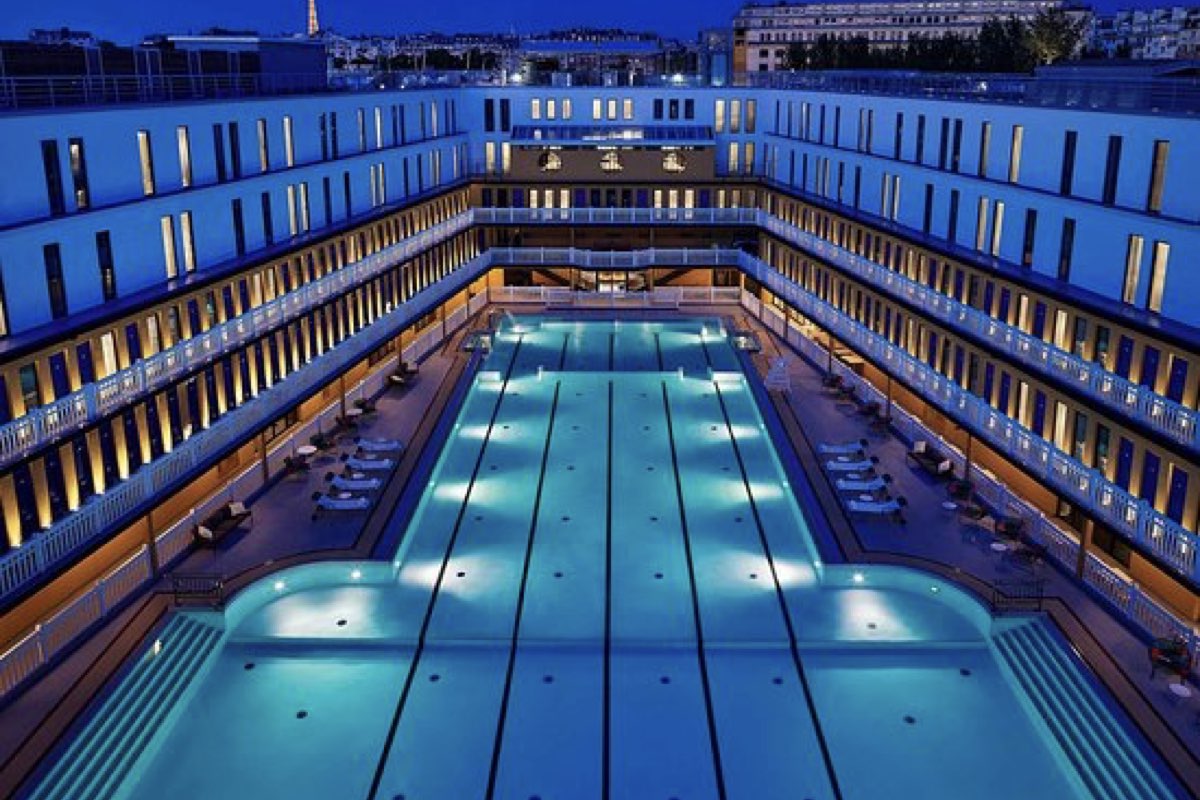 In a nutshell…
Hotel Molitor is a healthy hedonist's haven with many pleasure-filled moments to be had. From indulgent brunches and rooftop cocktails to euphoric workouts and spa sessions. A real highlight was swimming in this magical pool in the rain. It's an ideal location for active couples, families or friends as the ultimate girl's getaway.
Classic Rooms at Molitor start from £198 per person, per night on a room only basis, city tax excluded. For further information visit: www.mltr.fr 
Original article 2019
By Hettie
Get your weekly DOSE fix here: SIGN UP FOR OUR NEWSLETTER