How I recovered from an eating disorder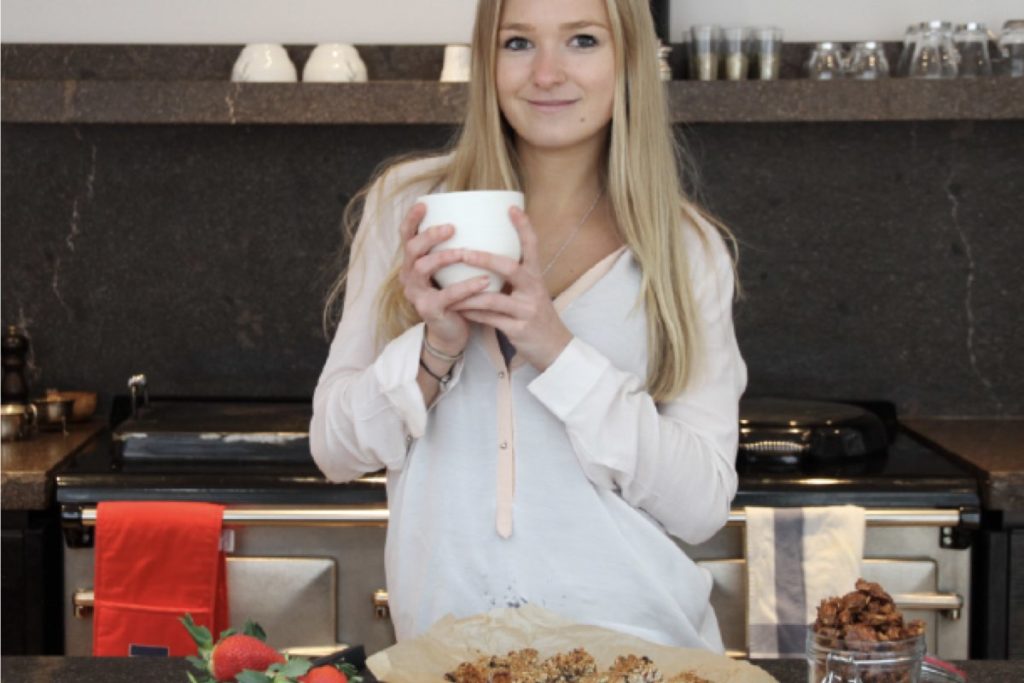 Isa Robinson, aka Goodness Guru, speaks candidly to DOSE about her battle with anorexia and how she's now living a happy and healthy life…
When did you first realise you had an eating disorder?
I genuinely don't think I accepted it until I read the letter of diagnosis from the specialist. I want to stress that eating disorders aren't diets gone wrong but diets or "healthy" eating are often a vehicle into a full spectrum disorder. I was at a time in my life where my body was changing, my hormones were changing and this coupled with exam and academic pressure plus the likely interplay of genetic factors made for the perfect storm. Obviously I've only realised this retrospectively, but my eating disorder gave me a false sense of control at a time I needed it.
I remember something having a grip on me preventing me from eating and I was engaging in some very odd and deceptive behaviours around food (not because I'm a bad person, but because I had a mental illness). I only wish now that I'd had the knowledge and strength to reach out and seek some support, but when you are achieving slenderness in a society that values it at the same time as obtaining a false sense of control this is extremely difficult.
I kept denying and saying there was nothing wrong but when my mum bought me a blueberry muffin from Starbucks, something that had always been a favourite of mine and I burst into tears after one bite I guess I knew myself that something wasn't right.
Can you describe your lowest moment?
I equate rock bottom to the time I sat on my mums lap and told her I didn't want to go on anymore. If I couldn't have my eating disorder and be safe and be thin (I had anorexia nervosa and this is characterised by an intense fear of weight gain) then I didn't want to be here at all. It breaks my heart reflecting on this.
How did you recover from the disorder?
Gosh there's lots of little things that helped although, I think recovery is quite individual and beyond therapy, time and having to battle the demons and face up to fear foods, the things that worked for me might not fit for everyone.
However, something I feel strongly about sharing is the importance of early intervention. What we do know about eating disorders is that the sooner treatment begins, the more likely the chance of a full recovery. Sadly, the reality is most individuals over 18 are waiting over 3 years between onset of symptoms and getting specialist support which is the threshold after which eating disorders become more difficult to treat. Having said this it is possible to recover from an eating disorder at any time. If you are struggling please don't give up hope.
How have your turned the experience into a positive?
I am immensely grateful for my recovery and to the people that helped me along the way. They say eating disorders aren't really about the food and when it comes to recovery this is true too. Mending my relationship with food and my body has opened up so many other amazing experiences from being able to travel, to relationships and other kinds of freedoms an eating disorder robs you of.
My whole recovery period was probably about 6 years altogether, after which the noise in my head finally gave me peace. It was 2 years later, having studied geography at university and dibble dabbled in the wellness scene that I decided I wanted to study nutrition. Food anxiety is at all time high right now and the majority of stuff we read in the papers or see on Instagram is not supported by evidence based science. When I qualify as a registered nutritionist at the end of this year I want to help people nurture their relationships with food as much of a focus on foods pleasure, emotional, social and psychological benefits as nutrients.
What are your thoughts on the orthorexia Instagram scene?
Orthorexia was first coined by Steve Bratman to define as a form of dietary extremism where individuals develop a pathological obsession with 'healthy' food.
Some of the signs include cutting out increasing number of food groups, an inability to eat something 'unhealthy', a preoccupation with thinking about meals or following 'healthy' accounts on social media, and an obsession with checking food labels. It doesn't sound a far cry from lots of behaviours endorsed by some of our favourite wellness bloggers does it?
And is checking food labels and meal planning always bad? Not necessarily. But when you become bound up with guilt, perfection and fear, there's a need to step back.
Looking at the scientific literature rather than my thoughts per se, a study in 2017 looking at 680 social media users following healthy food accounts found higher Instagram use correlated to greater tendencies of orthorexia (Turner and Lefevre, 2017).
So, do I think Instagram causes eating disorders, no! First accounts of eating disorders date back to 1873 long before Instagram or social media. Eating disorders are complex mental illnesses and causes will always be multifaceted. However, do they help the situation? Certainly not. And it's not the blatant appetite suppressing lollipops and skinny teas we need to worry about but actually more nuanced 'healthy' eating and living that on the surface appears harmless but actually has the potential to escalate into disordered eating or full spectrum eating disorder. I sincerely hope we might see some better legislation on this in the next few years.
What are some of your favourite restaurants in London?
I started dating my current boyfriend in September and thankfully a love of food is something we have in common, especially anything Asian. Yauatcha in Soho is unreal. My favourite thing is the Char Siu Cheung Fun which are rice noodle rolls filled with sticky pork. I don't think I'm doing it justice but if you go you have to try it and you'll know what I mean.
I will also never tire of Saturday mornings at the Duke of Square farmers market and whenever I have a quitter week at uni I'll treat myself to a little hygge in the form of breakfast at 26 Grains.
How do you achieve balance now in your life?
Balance has become something of a buzz word lately but I'm a huge believer in it. I guess it's just not identifying with any kind of extreme behaviours or rules, listening and trusting my body without ascribing 'good' or 'bad', 'right' or 'wrong' ways of eating or living. So, just like I love movement, rest is equally important and a slice of birthday cake is just as important as some green vegetables. It's also important to broaden the definition of health to include social, emotional and psychological aspects of health and not just the physical.
What three things do you wish you could tell your younger self?
1. Don't take life too seriously.
2. Always find something to laugh about.
3. Please don't mess around with food.
Life mantra…
Everything happens for a reason.
Visit The Goodness Guru website and Instagram page
Get your weekly DOSE fix here: SIGN UP FOR OUR NEWSLETTER