Aperol Spritz is one of the easiest alcoholic drinks to fake without losing the taste. Club Soda tells us how to make a low and no alcohol version… just in time for your next outdoor picnic party.
What kind of alcohol is Aperol?
Before we run through the no and low alcohol versions of this beloved summer tipple, for the uninitiated, you might be wondering what the original tastes like. Well, it's a bitter apéritif made of gentian, rhubarb, and cinchona, among other ingredients.  It has a vibrant orange hue and its name comes from the French slang word for aperitif, which is apero.
Is Aperol the same as Campari?
For those wondering, if Aperol is the same as Campari, they taste different. Aperol is  the sweeter of the two and contains hints of bitter orange and both gentian and cinchona flowers. Campari, is more bitter with hints of rhubarb, berries and a floral bouquet of potent (and mysterious) herbs.
Low alcohol version of an Aperol Spritz
50ml Aperol
Handful of ice
2/3 of a glass /100ml of good quality lemonade or orangeade like San Pellegrino
Dash of soda water
Slice of orange to garnish
Non-alcoholic version of an Aperol Spritz
If you like Campari and Aperol but are trying to lay off the sauce, you'll be happy to know they come in non-alcoholic versions too.
Crodino is a non-alcoholic bitter aperitif, produced since 1964. It is an orange coloured drink, made of herbal extracts and sugar, and is sold in 10 cl bottles. A Crodino topped up with soda or lemonade, or on the rocks is a great way to fake an Aperol Spritz.
SanBitters (bitters without alcohol) are great too if you've quit drinking. San Pellegrino do a SanBitter in Dry (clear in colour) and red (like Campari). They are a great base for a mocktail too, and can be drunk neat on the rocks, or topped up with lemonade or fizzy water. It will fit in your bag when you go to the pub for a 'take your own'.
Get your weekly DOSE fix here: SIGN UP FOR OUR NEWSLETTER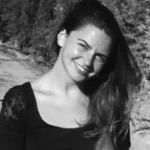 Hettie is the editor and co-founder of DOSE. A keen runner, she's also partial to a blast of high-intensity and hot yoga. A country girl at heart, she divides her time between London and the lush rolling hills of North Devon. When she's not jetting off on her next adventure, Hettie can be found in a candle-lit alcove with a laptop, a spaniel and a full bodied Malbec.