Do you dread going to the airport? The frantic last minute sprint to the gate, despite arriving with hours to spare. The long queues, when someone from your party forgets to remove their liquids. Gemma Bowles is a travel expert at search platform HolidayPirates. Stay calm, cool and collected with her tips – you may even enjoy the experience…
Prepare your documents
Keep your documents, passports, tickets, and boarding passes in an easily accessible place. You don't want to be that person who holds up the security check because you can't find your passport, or the queue for boarding because you've misplaced your ticket. Instead, put them neatly in a zipped compartment of your bag, or consider purchasing a travel wallet.
Charge your electronics
Ensure that you charge your electronics at home, because finding an empty power socket in the airport these days is near impossible. Having a smooth and stress-free airport experience is all about being prepared. Running out of battery on your phone – where you have your e-ticket and Netflix show – will definitely cause a panic.
Use technology
Speaking of electronics, make sure you have downloaded your go-to apps before heading out. Most airports have their own app these days, which will tell you where everything is located, from your boarding gate to the nearest barista. Your airline will most probably also have an app, where you will be able to download your e-ticket and also get gate updates and, in the unfortunate case of delays, the most recent updates on new timings. Some airlines also have pre-downloaded entertainment on their app that you can utilise on the plane!
Give yourself plenty of time
Make sure that you give yourself plenty of time to get to the airport and to make your way through bag drop and security. The recommended time is to arrive at least two hours prior to your scheduled departure time for short haul and up to 3 hours for long haul. This might seem like a lot, but it's better to have extra time than to have to rush and be stressed, and it also means that you'll have enough time to grab a coffee or a drink before departure!
Pack smart
Most of us will already be familiar with the 'roll, don't fold' rule. However, to make your packing even more efficient, try a few of these tricks: keep your shoes in a plastic bag or in a shower cap (available at most hotels), to prevent them making your clothes dirty or smelly. Pack two tops for every pair of bottoms: this will prevent you from taking too much, as we are more likely to wear bottoms again, rather than tops. Another good tip is instead of taking a whole guidebook, just take photos of the pages you need or scan them, to save valuable space.
If you are checking your bag, it's also worth always packing an extra set of clothes and some toiletry products in your carry-on, in case your bag is lost or your flight is delayed. Just remember to not pack liquids that are more than 100ml and that can fit in a 1L plastic zip bag.
Prepare for security
According to a study by HolidayPirates, 60% of the 500 British holidaymakers surveyed found airport security to be the worst aspect of their airport experience. But there are some quick and easy things you can do to make sure that security runs as smoothly as everything else.
Be prepared by knowing exactly what you can and cannot take in a carry-on so that you don't have to repack or throw things away when you pass security.
Make sure your water bottle is empty before you go through security, or your bag will definitely end up in the waiting lane to be checked, slowing down your progress. You can usually refill it on the other side using public water fountains. Bonus points for using a plastic-free, reusable water bottle! Also make sure that you dress sensibly.
Wear shoes that are comfortable and easy to put on and take off, and with socks, in case you have to remove them in security.
Consider using the lounge
The best way to access the lounge is to enrol in an annual membership scheme, for example, Priority Pass, Loungebuddy, or Dragon Pass. Some of the international airlines, such as Etihad and Emirates will allow you to buy a pass to access the lounge, so be sure to ask about this when you check in, or call ahead. Some credit cards also have the added benefit of access to a number of selected lounges.
If you don't want to sign up for a lounge then try to find a seat at a bar or in the waiting area from which you can still see the departure screens and keep an eye on your boarding time. This way you will be able to read your book or flip through the magazine you've just bought, occasionally checking the boards for your gate announcement.
Charlotte's tips
I may not be a travel expert as such, but in my experience:
Bring layers. Airports and planes go from hot to cold multiple times as you move through. Plus a pashmina makes for a great blanket on the plane
Bring your own snacks from home. Don't rely on Pret – you'll be much happier knowing you have your fave bits to nibble on
Headphones are everything at the airport.
Contrary to Gemma's advice, I like minimal time in the airport. For a short haul flight with no checked luggage, I find 90 minutes is the sweet spot – enough time for Boots and WH Smith but not hours at the gate.
Speaking of – I like to pretty much go straight to the gate (armed with magazines). It removes the easyJet stress of will-they-or-won't-they-make-you-check-your-hand luggage if you're first on the plane.
Get your weekly DOSE fix here: SIGN UP FOR OUR NEWSLETTER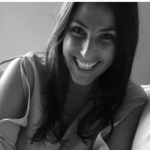 Charlotte is a London girl through and through. She sweats through spin and puffs through Pilates to justify trying the latest restaurants and devouring copious amounts of sweet potato fries, burrata and bread – preferably on holiday. Her favourite destinations include Italy, the Maldives and anywhere where the sun's shining and there's a strong breakfast buffet. She's obsessed with walking, visiting farmers' markets and reading. She's also learning to cook. Wish her (and her husband) luck.