Few things are more personal than your relationship. Even if you're pretty open with friends, it can be hard to know exactly what's considered normal when it comes to the bedroom. We asked the pros about dry spells – and how to end them…
What causes a dry spell?
The emotional
Mihaela Berciu is a mindfulness coach and founder of mindfulness subscription service, Spark Your Bloom.
"Feelings of guilt, shame and frustration are very common in the case of sexual dry spells and they can be even stronger deterrents for overcoming the dry spell than the reasons it happened in the first place. We use our filters and emotions to predict what others think and feel. Even worse, we hold these as absolute truths."
The mind is very powerful, and a dry spell can snowball from something as little as misreading your partner or a misunderstanding. A dry spell can happen due to stress, whether to do with work or family. It could be nothing more worrying that the fact that you're really, really tired. Or it could be you've argued with your partner and haven't successfully resolved it – in which case, counselling can be helpful.
The physical
Dr Galyna is an aesthetic practitioner who carries out the UltraFemme treatment. However, she also has a background in psychiatry, and when it comes the vagina, that can be interesting.
"My psychiatry background helps me understand and find the true reason why at times my patients come to see me. The majority of vaginal heath treatments and rejuvenation is done for health reasons and has nothing to do with 'dreadful' designer vagina, however I hear my patients saying that at this age and with post-partum related changes in their bodies they lose confidence, and as a result don't feel as desirable or sexual."
Vaginal issues and other physical things – like weight gain meaning you no longer feel attractive – are clearly common. But while it is clear that dry spells are normal, there is no single cause.
How to work on it
"Mindfulness helps in helping guide us to to be less judgemental and more compassionate towards ourselves. The magic of mindfulness is that it spots the limiting beliefs and the fears they come from. It exposes the behaviours and emotions they trigger and helps releasing and healing them. As a result, we act from a place of calm and understanding, rather than fear and judgement. We are more able to openly communicate our issues with others. Mindfulness teaches us to understand that there is no shame or guilt when it comes to what's going on in our lives, that being aware is half the solution. When we stop feeling shame and frustration, we also stop feeling frustrated," Mihaela says. Basically, focusing on ourselves and understanding what the internal issue is, can be really, really helpful.
Physically, if you want an actual vaginal fix, Ultrafemme could help. "Restoring vaginal health, elasticity and lubrication helps in dramatic way, with a pleasant feedback from patients that it 'transforms' their sex life making the process exciting again and the area of concern more sensitive. The Ultrafemme is proven to enhance sexual pleasure by tightening the tissues of the vagina. Using radio frequency energy via a long heated probe, the treatment stimulates growth of new collagen, giving a feeling of tightness and can help improve orgasms after treatments," Dr Galyna says.
And of course, communication is key. Dry spells can leave one partner feeling incredibly confused, hurt and rejected, and these feelings can linger and fester over time. Better to be upfront, explain how you're feeling, and find a way to either cope with the situation temporarily, together, or move past it, together.
Get your weekly DOSE fix here: SIGN UP FOR OUR NEWSLETTER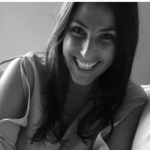 Charlotte is a London girl through and through. She sweats through spin and puffs through Pilates to justify trying the latest restaurants and devouring copious amounts of sweet potato fries, burrata and bread – preferably on holiday. Her favourite destinations include Italy, the Maldives and anywhere where the sun's shining and there's a strong breakfast buffet. She's obsessed with walking, visiting farmers' markets and reading. She's also learning to cook. Wish her (and her husband) luck.