It's a tough job, but someone has to do it… Shara reviews the trip of a lifetime.
As far as holiday itineraries go, island hopping in the Caribbean was always going to be good. I pictured sandy beaches, strawberry daiquiris, dining while overlooking turquoise waters. And it was all of that, and more.
The Caribbean is a region made up of a series of islands. Many of which would probably be ideal for honeymooners. Impossibly secluded, romantic and luxurious. Never is this truer than at two Belmond properties on the Caribbean islands of St. Martin and Anguilla.
ARRIVAL
It starts in Antigua. I land after a 12-hour flight from London and quickly board a 12-seat propeller plane bound for our first stop: The Belmond La Samanna in St. Martin. A word of warning that this teeny plane is not for the faint-hearted. While small means exclusive, it also means you feel every heart-wrenching bump. Although it's only a 50-minute journey (with breathtaking bird's eye views) nervous fliers would do better to start their journey from Paris and Amsterdam, from where you can fly direct to St. Martin.
That said, no matter how you make it to La Samanna, you will be thrilled you did. St. Martin has made an incredible recovery since Hurricane Irma, which devastated other islands such as St Barths, too. There is no evidence of the utter destruction this must have caused, but staff do refer to it in passing and it is humbling to recall. It is a truly beautiful place – lush, abundant with palm trees and pleasantly sprawling.
BREAKFAST
The staff go overboard to be helpful in all situations. A case in point is breakfast, which is taken overlooking the pool and beach, offering the best view on the whole property. While the buffet is extensive, the hotel will put together anything you want. I ask for avocado toast (you can take the girl out of London…) which isn't on display, yet it materialises in front of me in minutes and is some of the best avo I've ever had.
SPA
Later, I head to the spa for a Swedish massage from Celine (do ask for her, she's fabulous). Sisley is just one of the excellent brands used here. I opt for an Ayurvedic massage. Celine's thoroughness when it comes to my knots and aching muscles leave me blissed out for the rest of the trip.
ACTIVITIES
Admittedly, that's no hard ask when other activities include twice-weekly yoga classes (private sessions are available) overlooking the beach – truly, the best possible way to start a day. On said beach, cabanas come with complimentary champagne or wine, which feels fitting for the island that offers everything.
You name it, this hotel has it. Two pools (one of which is an infinity), water sports, snorkelling and half day trips by boat are all available. You can island hop, choosing from a 52ft Sunseeker, 36ft Fairline or 32ft World Cat as means of transport, checking out secluded coves en route,  or opt for a champagne sunset cruise. When not partaking in activities, I am more than content to spend time in my room, from which you can walk directly onto the beach. There are 83 suites and eight larger villas, perfect for families, but really, the whole place is just perfect for romance.
DINNER
I enjoy dinner at L'Oursin. The perfect place to dine on the catch of the day and people watch, as the chicest in resortwear is on parade here, but there are also more casual options, too.
Make the most of your time in St. Martin. This island, whose national symbol is a pelican and whose roots lie in French and Dutch identities, is a little slice of paradise. The only reason I am remotely able to leave is because I knew my next stop is Anguilla, to the Belmond Cap Juluca.
ARRIVAL
A hop, skip and a jump away, just arriving on Anguilla is amazing. It's accessible only via boat or flying from Antigua, and we're met with steel drums played by locals. Known as one of the last unspoilt Caribbean islands, the Belmond Cap Juluca opened mere weeks ago, and is one of the few truly luxurious resorts on the island. So much so that New Yorkers, for whom the Caribbean is more accessible than us Brits, have been impatiently awaiting its opening, following a $121 million revamp.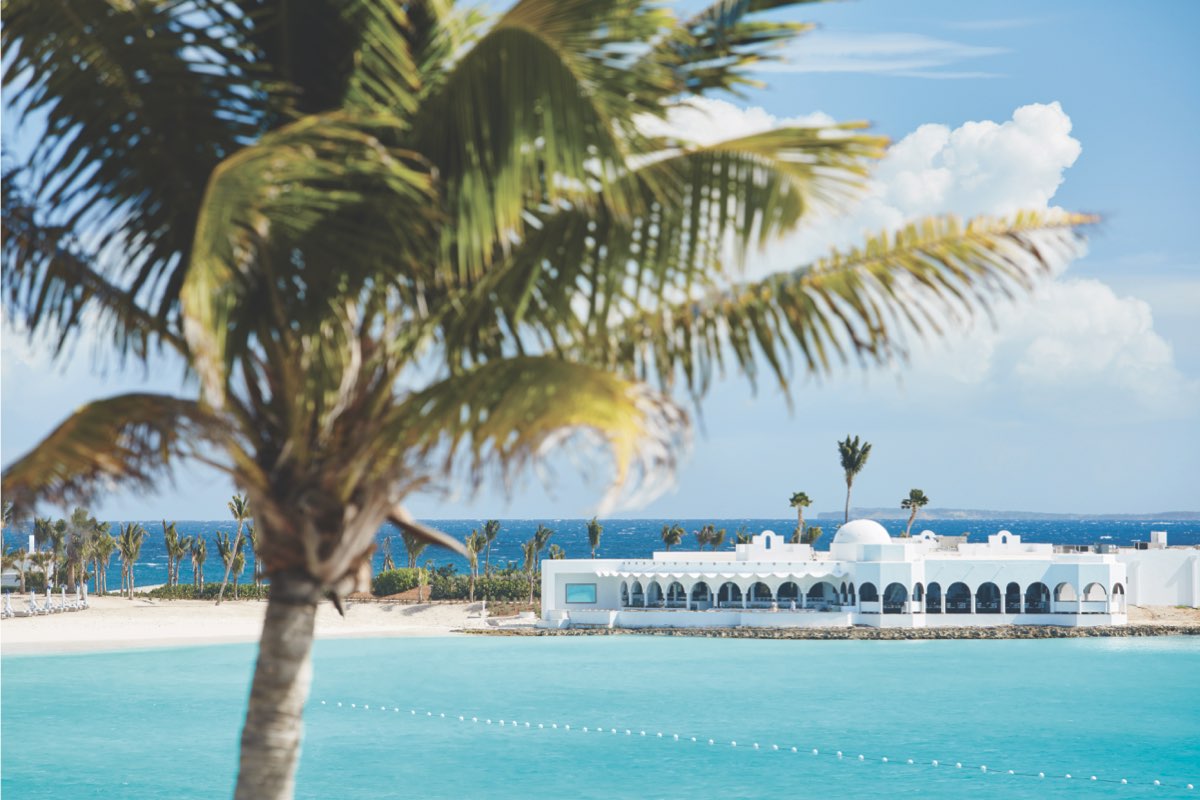 Now, I know this is a bold claim, but I am fairly sure that the Belmond Cap Juluca's beach, on Maundays Bay, is not just the best on this island but is in fact the best beach in the world: white sand, turquoise sea, unbroken vistas, the lot. A massage on the beach is the ultimate treat. Sunbathing while being gently pummelled and relaxing to the sound of lapping waves is utterly dreamy. You'll also get complimentary chilled towels and sorbet delivered to your sun lounger throughout the day; just one of many small touches elevating this experience to extraordinary.
BREAKFAST
The whole place is magical. You can bike or gulf buggy and cycle around the place, taking in the bougainvillea in all its glory. Best of all, I encourage everyone to swim to breakfast, where the fresh smoothies make the thought of a post-Tube stop at Pret back in London seem all the more depressing.
DINNER & DRINKS
Dinner is taken at Pimms, which is on the water and where you must order fish – it is delicious and so fresh. There is also an option for a BBQ on the beach each week, which is not to be missed. Do make time for sun down cocktails at The Cap Shack right on the beach – nothing feels more exclusive or holiday-ish. Visit CIP'S by Cipriani for risotto, carpaccio and, come nightfall, live music. The hotel, perhaps knowing its discerning clientele, is very good at catering for dairy-and gluten- free allergies. If you ask for sugar-free cocktails (possibly the most DOSE thing to order) your Espresso Martini will be made just so. If you want to indulge allergy-free, the lobster wrap and sweet potato fries are my daily lunch order.
If you can bring yourself to venture out, head to Bankie Banx's Dune Preserve Beach Bar. Proprietor Bankie is famous in throughout Caribbean for spending his days high as a kite and serving the strongest rum punch around.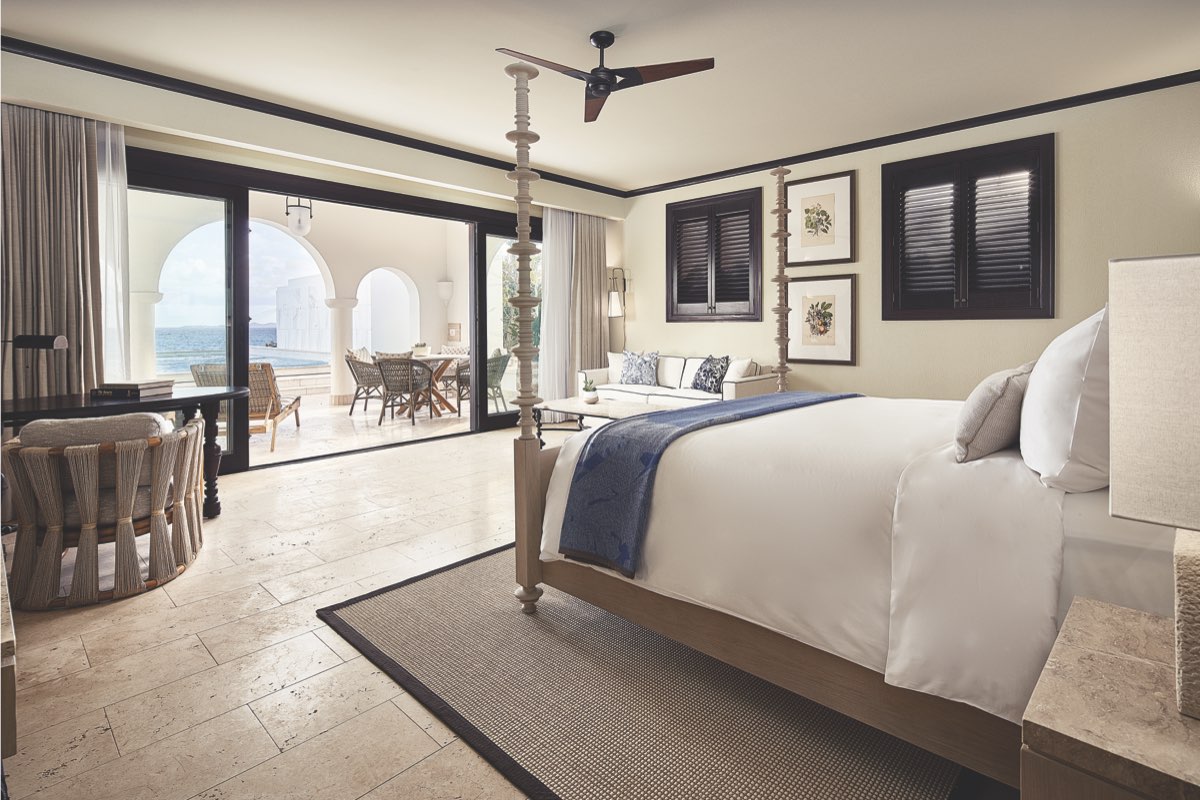 DECOR
Decor throughout the property is largely neutral. Splashes of botanical prints, blues and greens pay homage to the islands natural beauty and laid-back vibe. Interiors have been designed by Lauren Rottet of Rottet studios and have a British, colonial-inspired design, updated with handcrafted tiles, pebble mosaics and ceramics from Mexico. There's plenty of natural-coloured wicker. Lauren has ensured sunlight floods whatever space you are in, even the Library, Games Room and Boutique. (You can nab some great swimwear in the latter).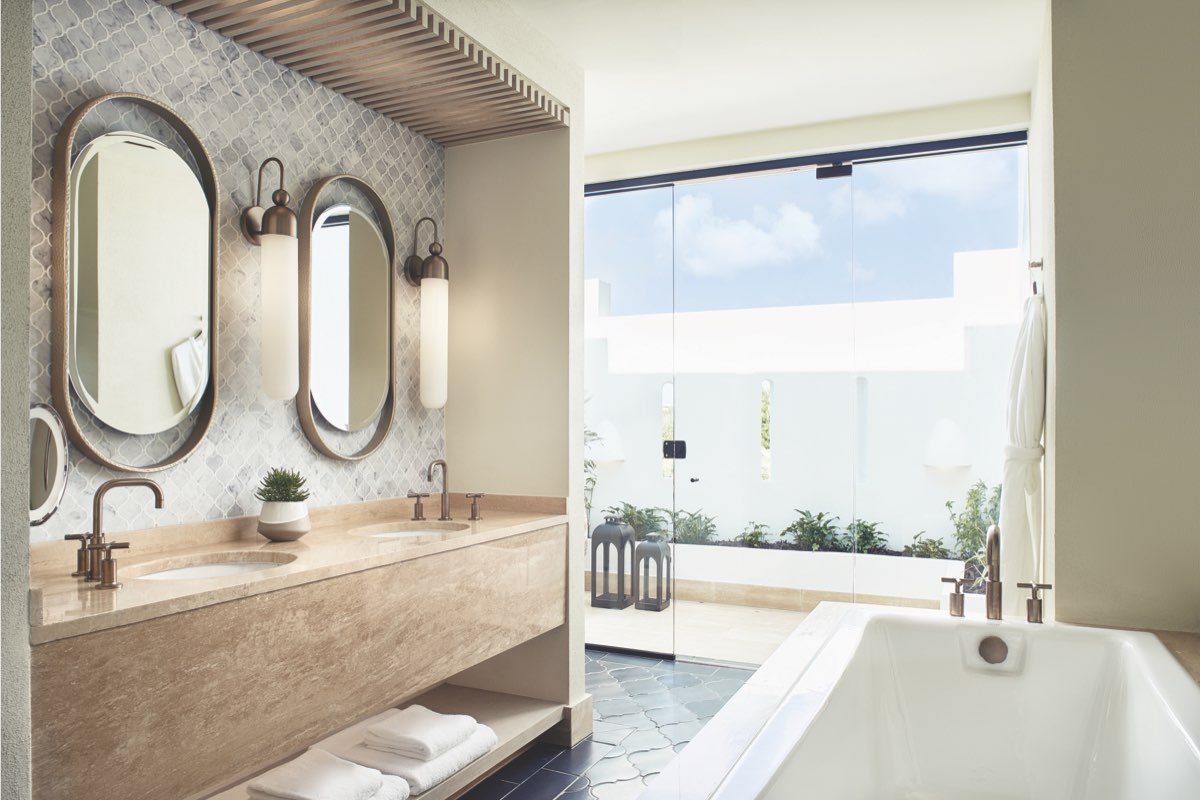 Despite being fully booked, the hotel is so spacious that it never feels busy, let alone crowded. If I were getting married again, I would come here on honeymoon in a shot. If I had the budget, I'd make an annual trip to both St Martin and Anguilla.
Truly, island hopping in the Caribbean with Belmond offers the ultimate in escapism. That the Belmond's hashtag or catchphrase is 'The Art of Belmond' couldn't be truer than at its two Caribbean hotels.
A 7-night twin stay combining both iconic Belmond Caribbean resorts – 3-nights at Belmond La Samanna, St. Martin and 4-nights at Belmond Cap Juluca, Anguilla starts from $5,265 /£4,123 and is based on two people sharing, including breakfast, round trip island transfers between the resorts and $100 resort credit per day. Excludes international and domestic flights. For bookings please visit Belmond.com 
By Shara
Get your weekly DOSE fix here: SIGN UP FOR OUR NEWSLETTER
Spin instructor by morning, co-founder of DOSE by day. Shara's fitness favourites include a sweaty yoga class, reformer pilates, HIIT and spinning of course. Her Spotify list includes nothing but tracks you can spin to. She doesn't go a day without eggs and avocado and travel is always on her mind! Dreams of Malbec and vodka cocktails.