Guilt-free indulgence has never tasted so good at this award-winning, plant-based cafe. But if it's vegan it can't be that bad for you, right? Rosie heads to By Chloe in Covent Garden to report on her findings…
Never in my life have I been defeated by a salad.
I mean, it's a pile of leaves for heaven's sake – if you can't manage a huge bowl of them, you ought to be ashamed.
Yet somehow, half way through my Spicy Thai salad at By Chloe, I was struggling considerably. As I waded through shredded kale, chopped romaine, crispy wontons, apricot-sriracha glazed tempeh, almonds, quinoa, edamame and scallion, the mighty bowl seemed like it would never diminish in size.
And while I wanted it to go on forever because it was quite possibly the best salad I have ever eaten, my stomach was simply not cooperating on this occasion.
Admittedly, I'd also worked my way through sides of mac and cheese (made vegan by using a special sweet potato-cashew cheese sauce and topped with shiitake bacon and almond parmesan) and sweet potato fries with beetroot ketchup, but accepting defeat was not easy. I wished I'd come on an emptier stomach.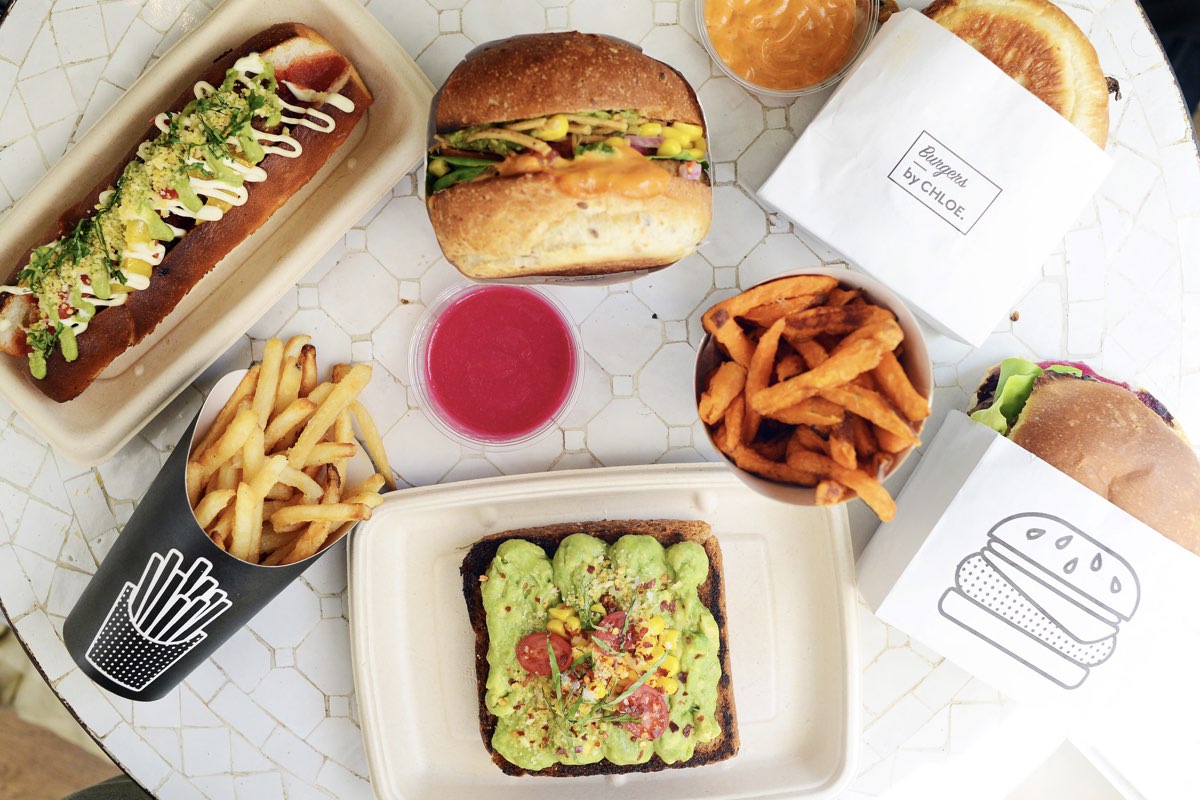 I don't know what wizardry the chefs at By Chloe are up to, but I can honestly say that salad was hands down the best vegan meal I have ever had. And that's before we even get started on the burgers, hot dogs and sandwiches – which my fellow diners reassured me are equally special.
It's a good job that By Chloe isn't closer to where I work, or I would be ordering takeout from there every day. (Though I hear there's a new location launching in Tower Bridge very soon). I never thought I'd see the day where I waxed lyrical about the virtues of a salad bowl, but this was something else. Every bite of tempeh burst with warm, sticky, apricot-flavoured goodness, the creamy dressed kale underneath providing the perfect complement alongside the salty crunch of the wontons.
I also stole a few bites of my friend's Quinoa Taco salad, and vowed to come back time and time again until I had tried every single item on the menu.
Despite being absolutely stuffed, we somehow forced ourselves to find room for one of their famous push pops for pudding – a layer of dates and cashews topped with a block of creamy salted caramel, and finished with a brownie for ultra indulgence. It was absolute bliss.
As we waddled our way to the door, we were lured in by the vast array of cookies and cakes looking all too inviting on the bakery counter. We left laden down with treats for the next day including Tiramisu cupcakes, pecan cookies and chocolate chip banana bread – some of which survived the journey home. But if it's vegan it can't be that bad for you, right? That's what we'll keep telling ourselves, as guilt-free indulgence has never tasted so damn good.
Address: by Chloe, Drury House, 34-43 Russell Street, London WC2B 5HA
Tube: Covent Garden