It's cold, dark and miserable outside, and we gave up on getting dressed up to go out once Christmas party season came to an end. This January, we're all about ordering food in, to eat in the comfort of our own homes (and dressing gowns). Rosie rounds up the best delivery options around the city…
Nothing beats a good old takeaway, and it's never been easier with Uber Eats and Deliveroo making app-based ordering extremely – some might say too – easy. But if you've ever been the victim of a ramen spillage or curry overflow in transit (trust me – it's a devastating experience, especially when hungover and hangry), you'll know that it pays to be tactical when it comes to ordering.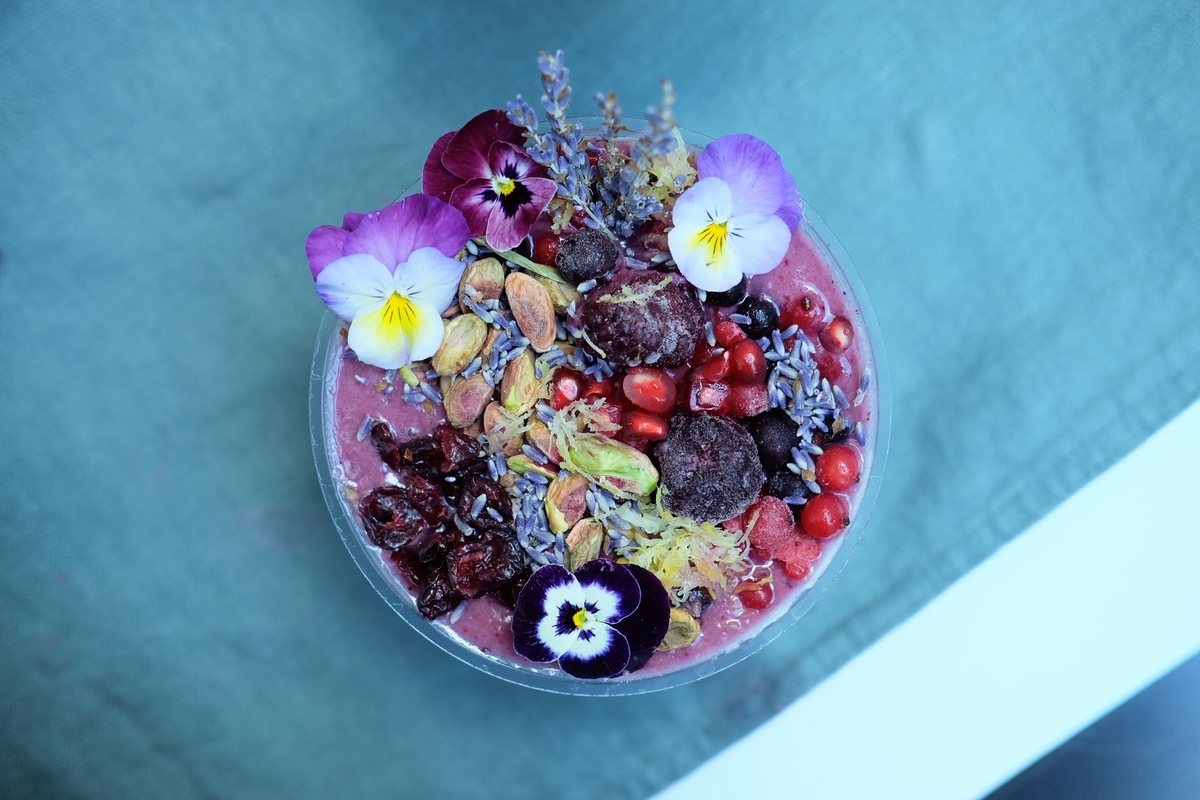 My current go-to is Darwin & Wallace's ingenious 'Cluck & Collect', available from No 11 Pimlico Road, No 32 The Old Town and No 29 Power Station West. I like to think of it as a posh version of Nando's: a lemon and tarragon marinated rotisserie chicken will set you back £11 (half) or £19.50 (whole), alongside sides such as fries and paprika aioli, crushed potato, garlic green beans and a wholesome house salad with warm quinoa, edamame, roast pumpkin, mushroom, beets, sesame wakame and miso dressing. You simply order online via 'cluck and collect' and select your timeslot to collect – making it possible to dash in last-minute when you've overslept and are expecting guests for a Sunday roast, then pass off the delicious cooking as your own (not that I've ever done this, of course). Just make sure you destroy the takeaway boxes as evidence before your guests arrive, and they'll know no better.
Sick of the long wait for a weekend brunch table at Farm Girl? Then don't bother. Get your coconut BLT sandwich and Farm Bowl delivered to your door instead and enjoy Aussie brunch classics in the comfort of your pyjamas – because who's judging? Their bowl dishes arrive looking just as pretty as they do served up in their restaurants. Our current favourite is the 'Winter Bear Bowl', a mix of kale, cabbage, beetroot & roasted heritage carrots topped with chickpea falafels, tahini mayo dressing, radish sprouts & mixed seeds. Don't forget to order a couple of Matilde's donuts to save for later either – you'll thank me later.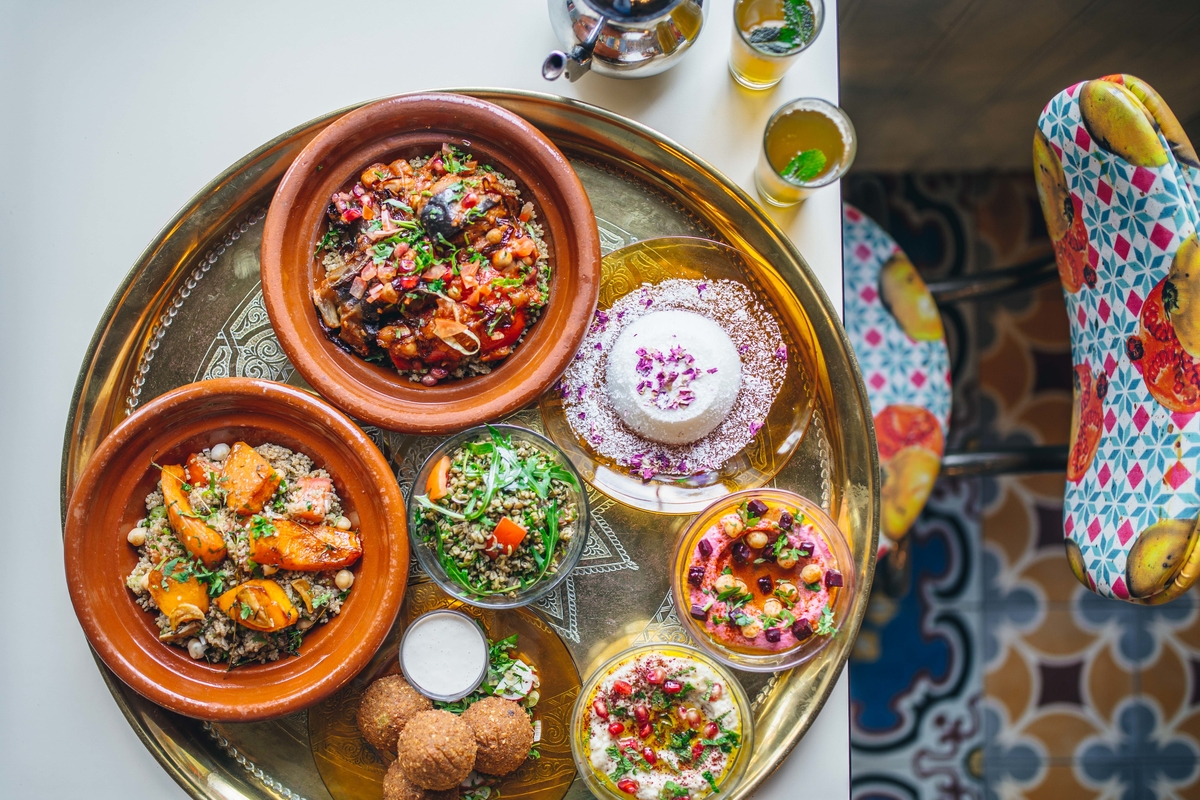 For a fancy night in, I love ordering from Comptoir Libanais. Their mezze platter features hummus, baba ghanoush, tabbouleh, falafel, beetroot labneh, cheese samboussek, flatbreads and pickles – the perfect spread to accompany a bottle of wine and a good film. Finish with a selection of baklava to nibble on for a more sophisticated alternative to nachos and popcorn…although if you do fancy the former, we'd highly recommend ordering from Cantina Laredo, where you can choose from eight different types of guacamole served with homemade corn tortilla chips. If you're feeling adventurous, the Guacamole con Chapulines is topped with grasshoppers for an extra crunch…
And finally, for those times that you fancy a blowout meal but are trying to be virtuous, nothing beats a classic burger or pesto meatball sub from by CHLOE. The former involves a tempeh-lentil-chia-walnut-patty with pickles, onion and special sauce, while their version of a hot dog features portobello mushroom and veggie meatballs in a marinara sauce, with sweet peppers, basil pesto, cashew mozzarella and almond parmesan. Sides of sweet potato-cashew cheese pasta and their famous air-baked fries are a must – make sure you double up on the beet ketchup. Finish with a raspberry tiramisu or Chlostess cupcake: the frosting alone has to be tasted to be believed. I never thought I'd see the day that hungover Big Macs were behind me, but the quinoa hash browns and cashew mac n cheese with shiitake bacon can satisfy even the most vicious of carb cravings. Now that we've taken care of vegan comfort food, can we find a way to make hangovers cruelty-free too?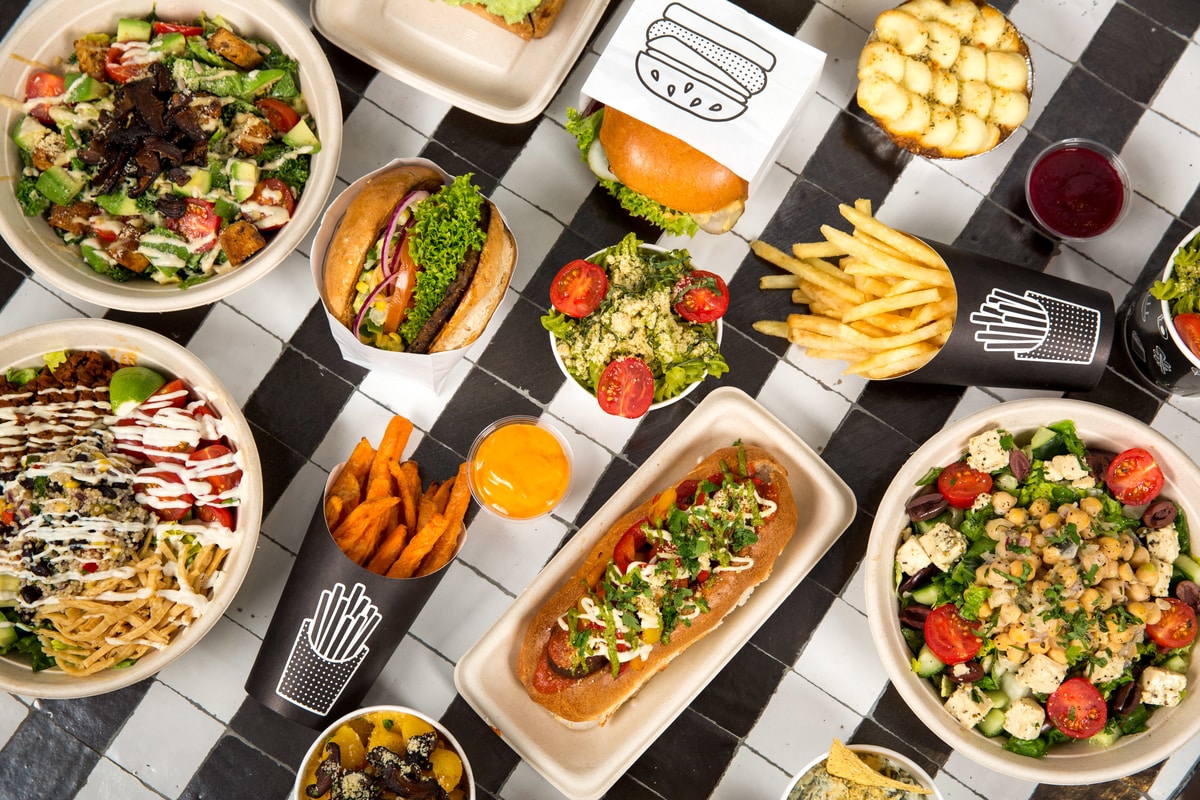 If you fancy cooking from scratch… Abel & Cole can bundle up a box of ingredients and deliver to your door. Working with the same growers, makers and bakers for years, Abel & Cole get the pick of the crop. Find everything from fruit & veg boxes, to Recipe Boxes, bakery, dairy, eggs and plenty more. Everything is delivered in minimal, returnable, recyclable packaging.
Main image: Darwin & Wallace
Get your weekly DOSE fix here: SIGN UP FOR OUR NEWSLETTER