Losing someone to suicide is more common than we might think. Suicide is the single biggest killer of men under 45 in the UK, and the cause of 18 deaths every day. In this interview, we speak to Vikki, a member of the CALM (Campaign Against Living Miserably) community, who is all too familiar with losing someone to suicide. Her husband, Mark took his life last year. He was a keen runner, and she often supported him at runs and challenges. After losing him, she wanted to keep on running. She found that it became a release for her. "I put on my trainers, strap my husky in his harness, start my music and go. It allows me to release more than just sweat"…
The CALM x PUMA Virtual Run is taking place this Mental Health Awareness week from 10th-16th May. Register and raise money for CALM here.
How Running Helped When I Lost My Husband To Suicide
Why did you join the CALM community?
It was around a month after Mark died that I started trying to understand suicide. I was looking for answers as to why Mark took his own life. To understand why I couldn't help him and find answers as to why he didn't look for help. I came across Campaign Against Living Miserably (CALM). I looked into the movement they promote and wanted to get on board.
CALM provide all sorts of support for those with suicidal feelings as well as how to support someone feeling like this, as well as supporting people bereaved by it. It had me questioning, did Mark know about CALM? Would things be different if he had? So I knew I had to help. I wanted to be a part of this, because people need to know about them and reach out to them.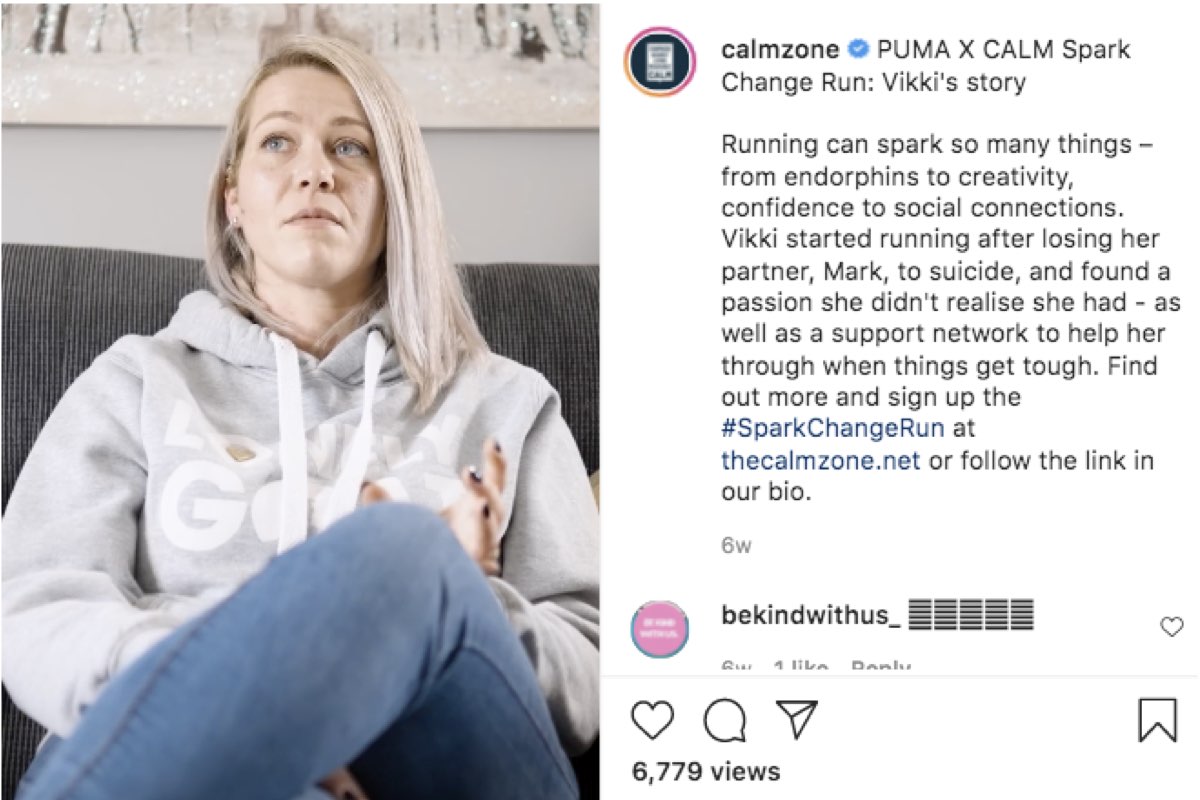 What sort of stigmas have you encountered around losing someone to suicide?
People, including myself in the very early days of my grief, don't want to talk about it. For me, it was because I felt I had let Mark down. I didn't want to say he had taken his own life because I told myself I should have stopped him. I should have supported him more. With the support of Campaign Against Living Miserably and counselling they helped me to understand these feelings and to not blame myself.
Talking about your feelings and sharing your thoughts is hard for so many, and some don't want to "expose themselves" as they see it as a sign of weakness when in fact it is the opposite. To open up and reach out is a powerful tool and incredibly brave. There is a need for people to understand depression, and suicide.
The term "I'm so depressed" is used too frivolously when people are sad or disappointed that it loses its seriousness. Your mental health matters and we need to do what we can to educate people, especially men, about this illness and to know that feeling like this is more common than they realise and asking for help is the first step to recovery. CALM can support those that need it, as well as those grieving from losing someone to suicide.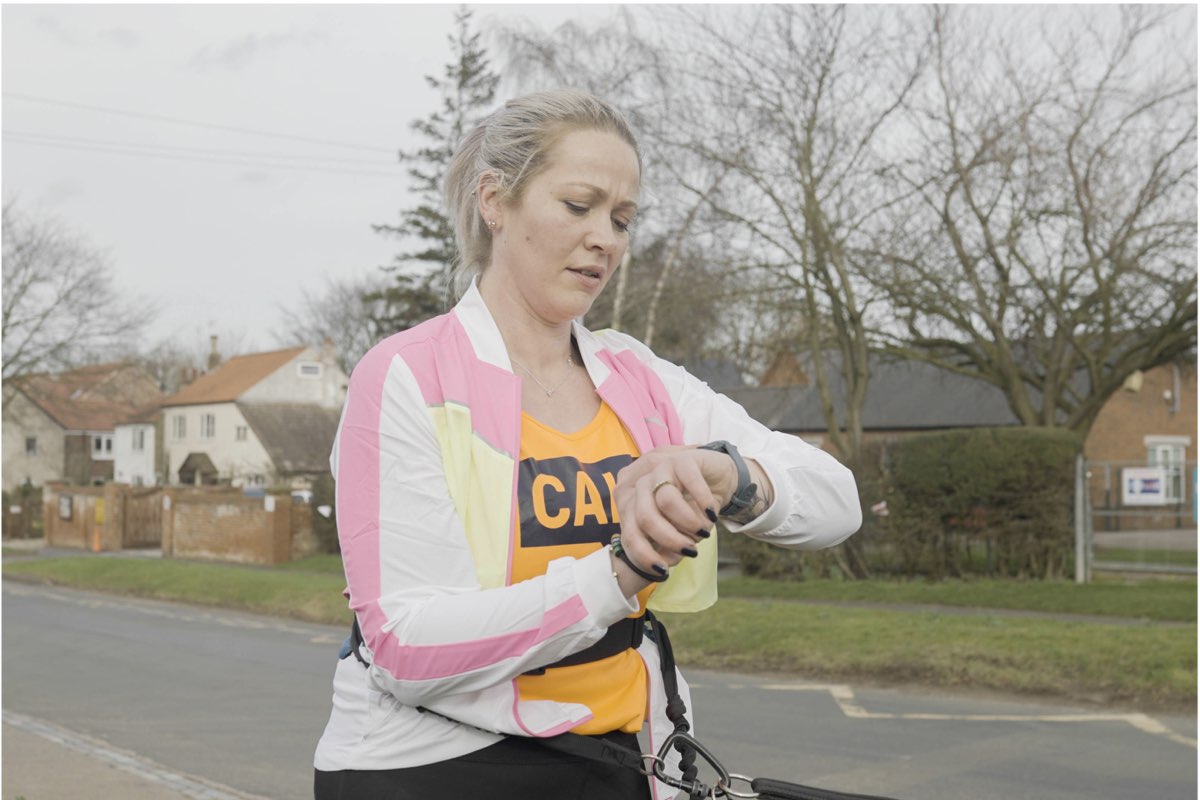 You started off running in memory of your partner, Mark, can you tell us a little about that?
When the first lockdown struck in 2020 I was restricted to my home with nothing but the empty space beside me that Mark should have been in. I was lost, alone, and struggling with the PTSD that I had been left with. With Mark's first birthday without him approaching in April I knew I wanted to do something to mark the occasion.
Running was his passion so I organised a virtual 5k run/walk/outdoor activity for people to join me to feel like I was less alone, knowing that people would be with me as we all took off running together at the same time no matter where we were.
I asked for donations to Campaign Against Living Miserably and started Mark's legacy, and that little run raised over £1,800 for them. I was then convinced by my running buddies to take on Mark's place at the London Landmarks Half Marathon. By this point, the longest thing I had run was a bath. But it's given me focus, a target and I'm proud to be able to do it for Mark. He was so excited to get a ballot place in the LLHM that it seemed right to be the one to do it in his place.
I have been training really hard for the original date of 23rd May and aim to complete my first half around my local streets on that day, with the official race being rescheduled to August 1st. I'm nervous, but I know I can do it. I'm running for the both of us now.
From this things have grown and this April just gone I took to the world of social media and invited people again to take part, offering a commemorative buff decorated in pizza slices and #thisbeardrunsforpizza (Mark's social media tag, he liked pizza after a run and had an incredible beard) as thanks for taking part.
I've sent buffs all over the UK and even sent some to France, Spain and Canada. It's raising a huge amount of money. As I write this more donations are dropping in and I have another pile of buffs to send off to the incredible running community. This is my drive. Getting people talking, supporting one another, raising awareness for a very important charity especially in our current climate and having people cheer Mark's name. The running community are an amazing group who support you no matter your ability or reason.

How has running helped you to cope with your grief?
I am a keen hockey and tennis player. Team sports were my passion but lockdown brought those things to a standstill and I needed to find something else. Running has helped me to manage my grief. It enables me to switch off for a bit and get lost in the moment. I put on my trainers, strap my husky in his harness, start my music and go. It allows me to release more than just sweat.
Being outside in any weather has a hugely positive result and when I add running on top of that it doubles. Running was Mark's thing. He used it to help manage his mental health and was also really good at it! When I started running in January 2020 I felt a closeness to him, like he is with me, by my side cheering me on. When the run gets hard I can hear him saying " come on babe, you've got this" and it reminds me I am stronger than I used to believe.
It has also brought me important friendships that I struggle to remember what it was like to not have these people in my life. They have supported me mentally and physically by helping me to become a better runner. I owe a lot of thanks to the Lonely Goat Running Club, CALM Running Collective but mostly I am most grateful for my "local herd" who have seen me at my best and my worst. Mark introduced me to them, and they helped him to find his passion and continue to provide the same support to me, encouraging me to stop doubting and start believing. They are the craziest, kindest, strongest bunch of people you will ever meet and I wouldn't change them for the world.
How do you manage your own mental wellbeing and why is it important?
Being outdoors and running. But I do want to add that my beacon of light through everything is our husky, Pesky. He has been my rock through everything and lightens up everyday. It's true when they tell you dogs have a sixth sense. They know when you're feeling down and he comes over and gives me the best snuggles. We frequently run together and he has just about come to terms with the fact that I am no speed demon!
Mark ran a lot faster with him but Pesky just loves running, not to mention the limelight from being out running. He is quite well known now! He just needs to stop the random dives in the long grass hunting mice and he is the perfect running buddy.
I do want to highlight the importance of creating a good network of people to surround yourself with. My family, my friends, my colleagues and even the runners on social media who I have never even met have all shown me incredible support and love and I can reach out and talk to any of them.
How do you think we can we fight suicide on a global scale?
Spreading awareness, educating people with the signs to look out for, supporting one another and ending the stigma. Mental health matters and the sooner we make this a high priority the sooner the stigma ends. When someone reaches out, knowing how to support them could make a huge difference and progress in prevention, because suicide is preventable.
If you are someone who is grieving over losing someone to suicide, or need help with your own mental health, please get in touch with CALM like Vikki did via their support page. 
The CALM x PUMA Virtual Run is taking place this Mental Health Awareness week from 10th-16th May. Register and raise money for CALM here.
Liked this article on How Running Can Help When Losing Someone To Suicide? Read 'Outdoor Cold Swimming For Better Mental Health'. 
Get your weekly DOSE fix here: SIGN UP FOR OUR NEWSLETTER